---
People love free stuff. One of the most effective ways to generate high-converting traffic for your website is to give away something for free.
If you sell memberships on your website, a free trial membership is an excellent example of something you can give away. This allows potential customers to experience how your membership system works, and to download a sample number of your products to see if you have what they're looking for.
In this tutorial, I'll show you exactly how you can use three Easy Digital Download extensions in tandem to offer free trial memberships to your audience.
Create a "free trial membership" on-boarding process for your website
There are three main parts to this process:
First, you need a membership system in place
Then, you need to capture the user's email address
And lastly, you want to create a seamless, easy registration process.
The membership system
All Access is the first extension you'll need, as it will handle the free trial membership that allows customers to unlock products and download them. It will also enable you to sell paid membership upgrade options, which we'll cover later in this article.
For example, you can use All Access to create a free 2-week trial membership with a download limit of 5 products in total. When potential customers register for this free plan, they get a taste for how your website works and your products.
Additionally, All Access allows you to create paid memberships which have higher download limits, like 10 files a month, 100 files a month, or even unlimited files. You can also restrict access to certain categories which are unlocked through the paid membership, and not available through the free trial.
Your free trial members will be incentivized to upgrade to become paying customers, and to do so extremely easily.
The email marketing system
Marketing to your free trial members by sending newsletters is the next piece of the puzzle. There are numerous email marketing platforms available, and arguably the most popular service is MailChimp.
The EDD MailChimp extension works alongside the All Access extension by automatically adding a customer's email to a mailing list when they register. This makes it easy for you to send valuable emails to your free members, giving them incentives to upgrade to your paid membership plan. If you use something other than MailChimp, don't worry! You can check out all of our email marketing extensions to see if we integrate with the service you use.
Optimizing the registration process
To make the on-boarding process simpler for the free trial membership, you can use the Free Downloads extension. Free Downloads streamlines the process of buying a free product so the user doesn't have to go through a checkout screen to register on your website.
You may also want to use the free Auto Register extension so your customers don't need to manually create an account when they sign up (Note: Having an account is required for a membership, because the user must be signed in to get access to downloads).
Together these four extensions can help you attract new customers, market to them, and provide them with free sample products at a rate you are comfortable with. Again, the extensions are:
Setting it all up
Now that we've clearly mapped out how we want this process to work, let's walk through step by step and set it up.
Step 1: Install All Access, MailChimp, Free Downloads, and Auto Register 
Once you've purchased and downloaded the above extensions, log into your WordPress dashboard and go to: Dashboard → Plugins → Add New → Upload
Then, select the zip files for each plugin and upload them. Once uploaded, it will ask you to "Activate" them. Do that as well.
Step 2: Create the free membership using All Access.
To create the free membership, we will use the functionality provided by the All Access extension. In your WordPress dashboard go to: Dashboard → Downloads → Add New
For the title of the product, call it something like "Free Membership".

Now, scroll down to the metabox called "All Access" and check the option "Convert this product to an All Access Pass".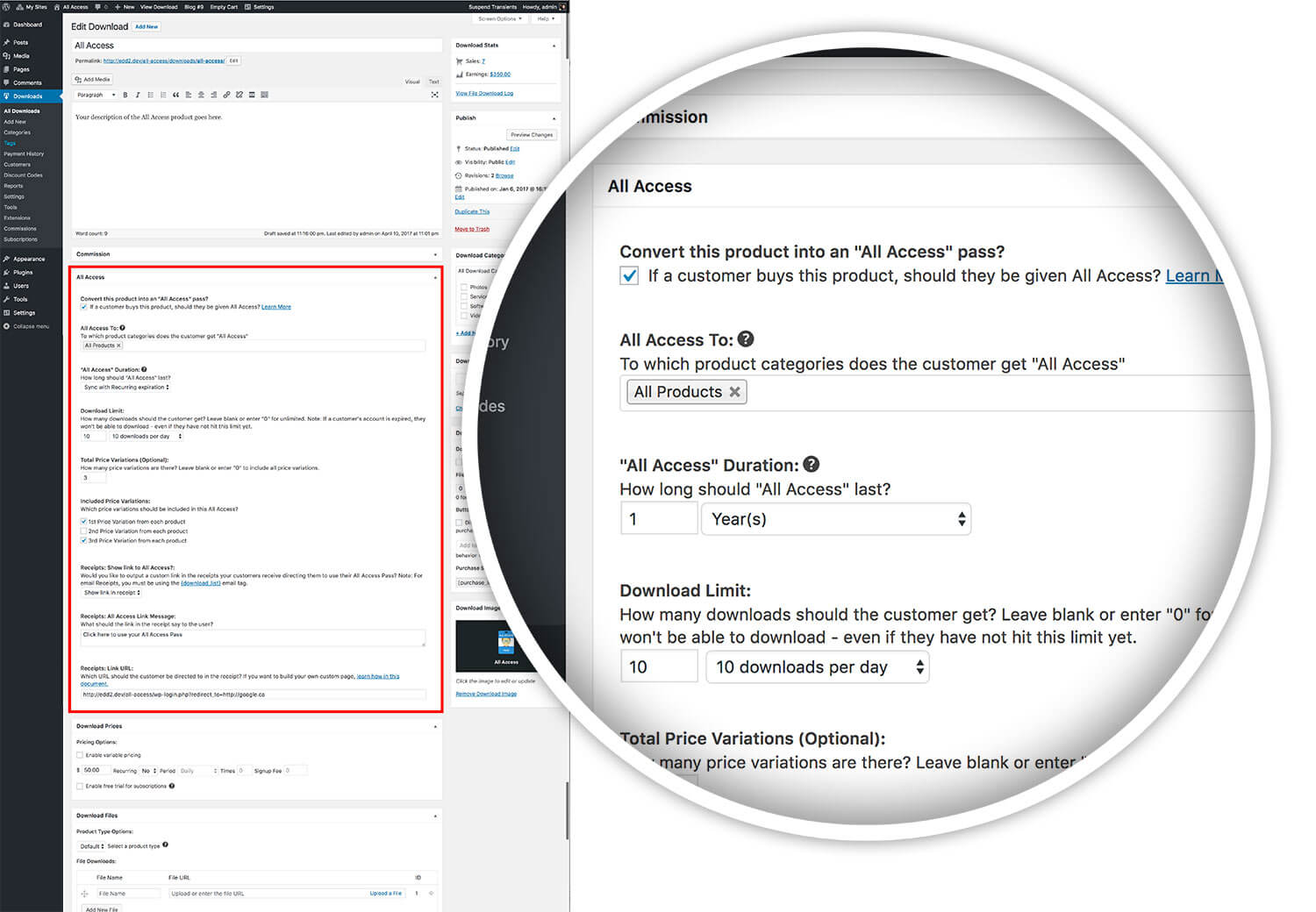 Choose which product categories you'd like to include. Most likely, you'll want to create a category of products called "Free Membership Products" for this purpose. (Note: You can put products that aren't actually free into this category, and your free members will still be able to download them for free.)

Next, we'll set the duration of the free membership. If you would like this free membership to last forever, set it to "Never Expires". Otherwise, you can set it for any time period, down to a single day. In this example, we're setting the free access to 2 weeks.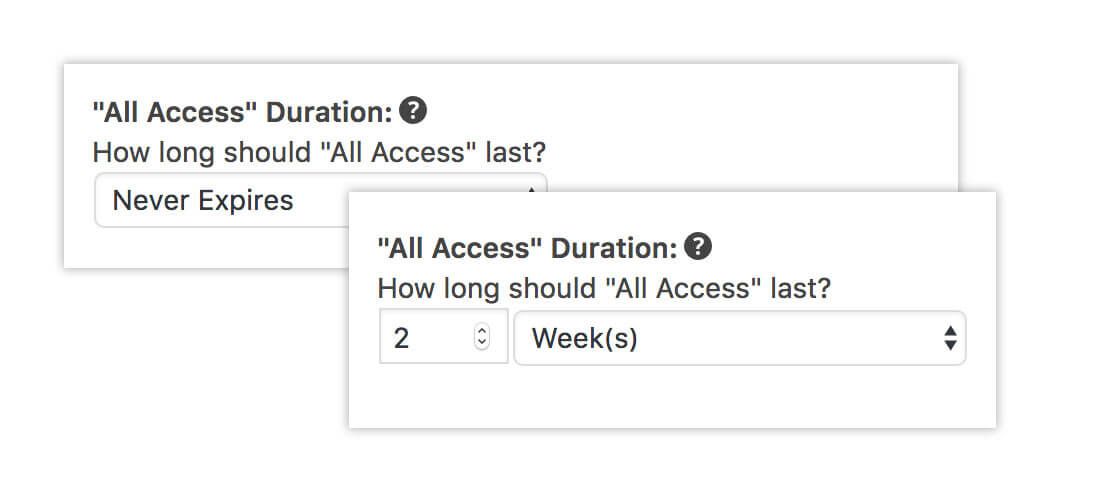 Now, we'll set the download limit. This gives users a taste of how your membership system works, and prevents them from downloading everything in the category immediately. We've set the download limit to 2 downloads per day.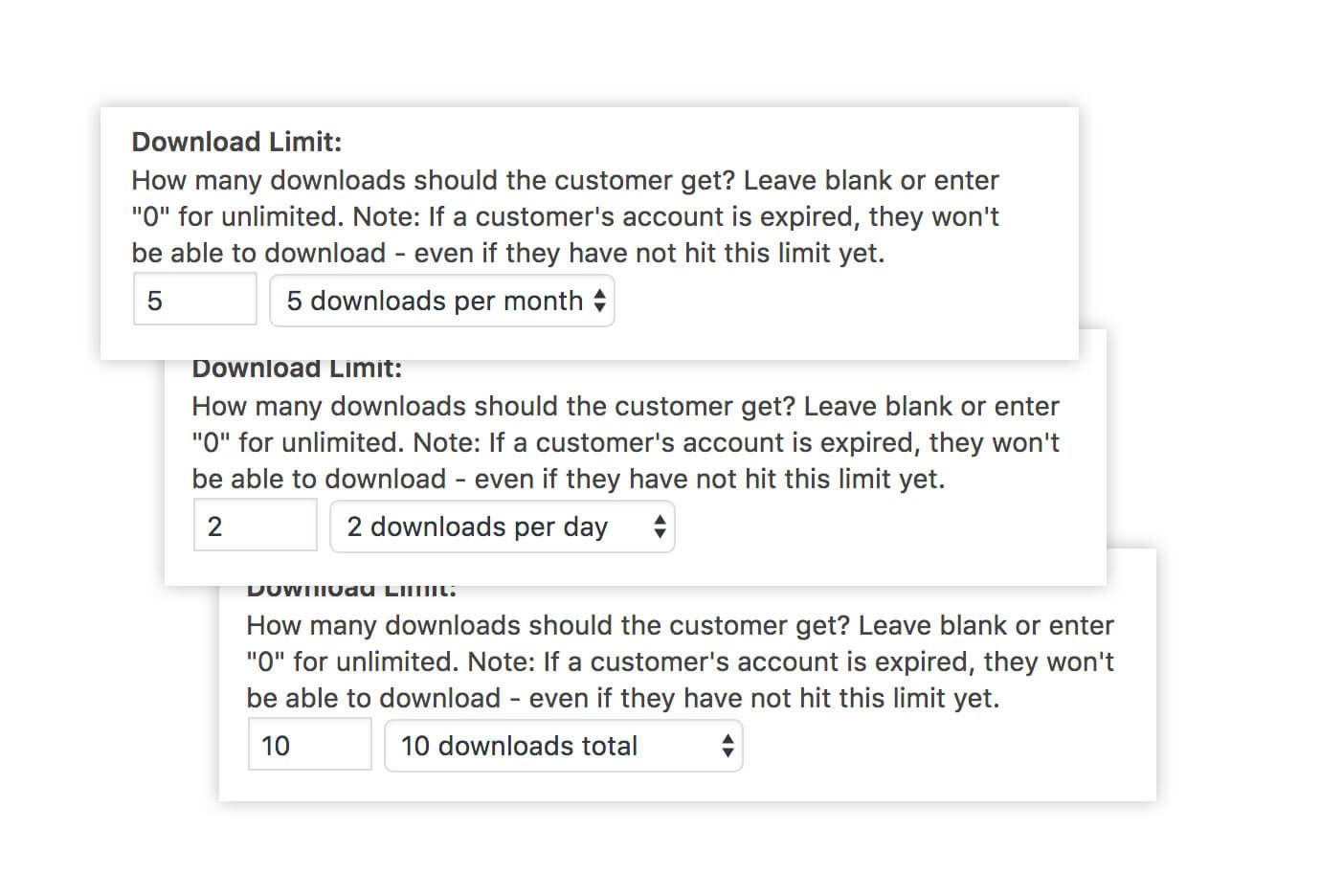 3. Setting the price

Because we want this product to be free, we will leave the price as 0. This allows customers to access this product without having to pay anything. Based on our above settings, once the user has completed the "purchase", they will immediately be granted access to 2 downloads per day from the "Free Membership Products" category, for two weeks, with a maximum of 5 downloads per month, and a limit of 10 downloads in total.
Now that all settings are complete for the Free Membership, click "Publish" at the top right.
4. Create the paid membership using All Access
Next, we want to ensure our customers can upgrade to a paid membership and get access to more products.
We will create the paid membership product using the exact same process from steps 2 and 3 above. However this time, instead of leaving the price set to 0, we'll set it to $100.
We'll also adjust the All Access settings so users who upgrade get access to "All Products", and set the duration to 1 month.
Of course, you can set the price, membership duration, download limits, and which products users can access to anything you'd like. You could even create different membership levels by simply repeating steps 2 and 3 again, and tweaking the settings for each new product.
5. Configure the MailChimp extension 
Now we're ready to configure the MailChimp extension so customers with a free membership are automatically added to a MailChimp mailing list. We'll then be able to send them more information about the paid membership level, prompting them to upgrade.
In your WordPress dashboard go to: Dashboard → Downloads → Settings → Extensions → MailChimp
Enter your API Key from your MailChimp account. To learn how to find your API Key, take a look at this documentation article.
Once you've entered your MailChimp API Key, we'll go back and edit our Free Membership product by going to: Dashboard → Downloads → Free Membership → Edit
Scroll down until you see the "Mail Chimp" metabox and select the list to which you'd like to subscribe your free members. In my setup, I have created a list in MailChimp called "Free Members".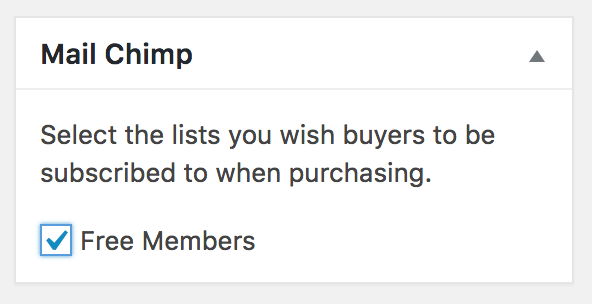 Now, all of your free members will be easy to reach with newsletters, promotions, and links guiding them to upgrade.
6. Configure the Free Downloads extension
Lastly, to make the on-boarding process simpler for your Free Membership, we will configure the Free Downloads extension. This will allow customers to register without even needing to see a checkout screen.
In your WordPress dashboard go to: Dashboard → Downloads → Settings → Extensions → Free Downloads
Look for the two settings titled "Button Label" and "Modal Button Label", and set both to show "Get Free Membership" (or whatever you would like the button to say).

Scroll down and find the setting called "Display Opt-In" and enable it. This will make it super simple for customers to opt-in to your newsletter when they register for your free membership.
Here's what that will look like to your customers.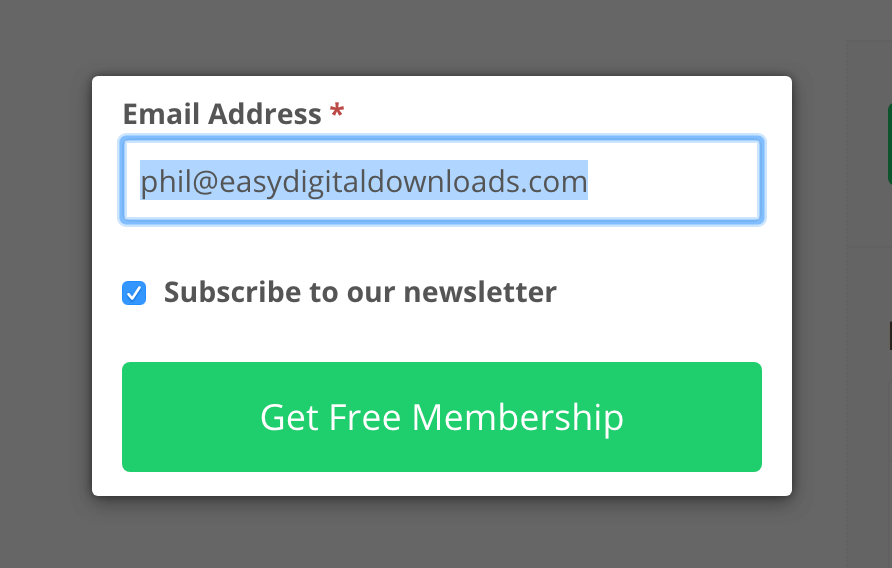 And just like that, with a single click, our customers have a free trial membership they can use to download 2 free products per day, for 2 weeks. We have their email address and permission to send them emails, and we have a paid membership they can upgrade to easily.
The extensions needed to make all of the above happen are:
Pro tip #1: If you want memberships to renew automatically for your paying customers, you can use the EDD Recurring extension to automatically charge their credit cards on a monthly basis (or whatever period you choose for your All Access membership length).
Pro tip #2: If you want to prevent your products from being purchased/downloaded unless the customer has an Access Pass, go to the settings for All Access, find the option called "Change the way purchase buttons are displayed" and choose Option #2.
Illustration by Jessica Johnston.