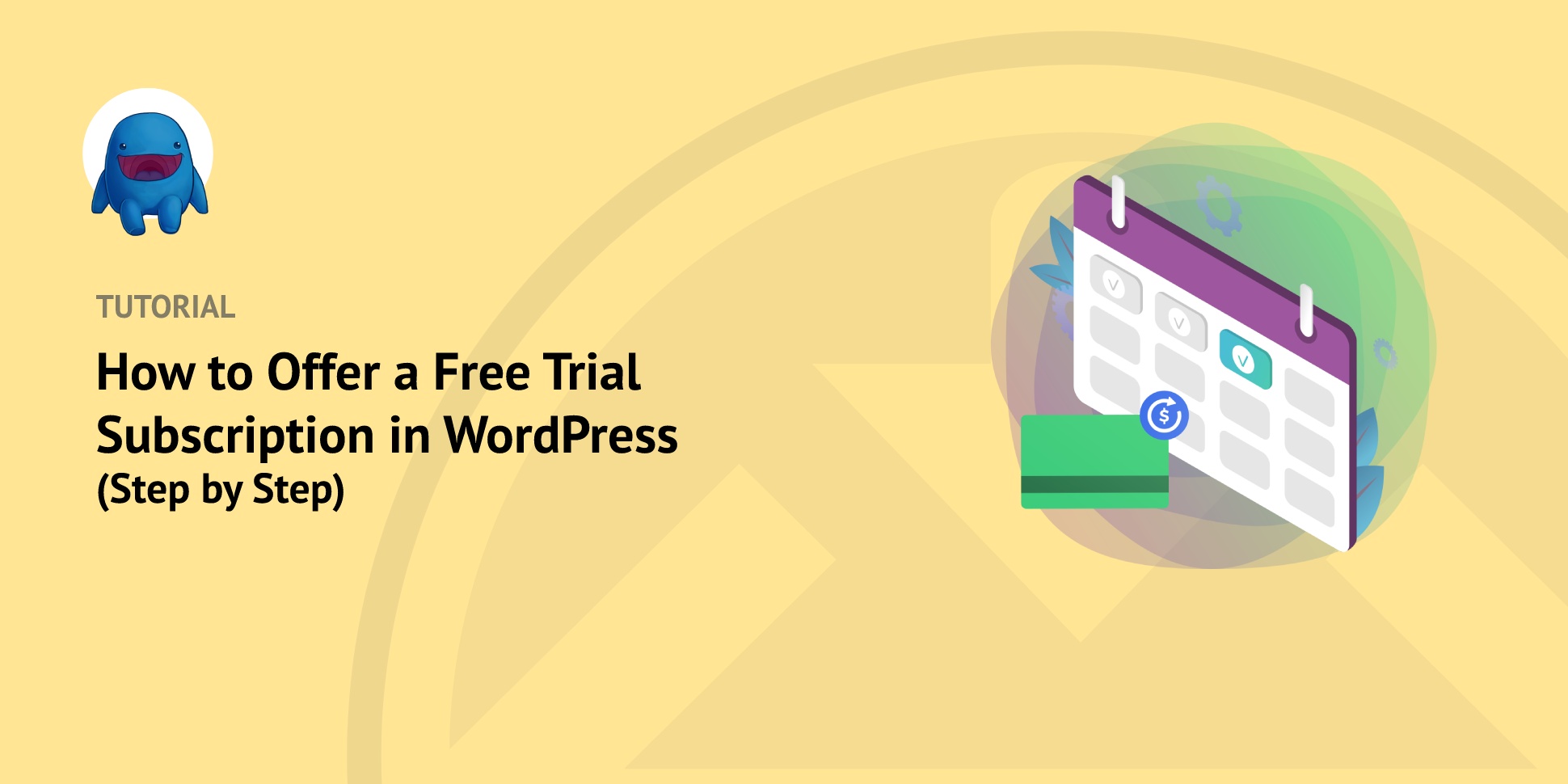 Are you wondering how to offer a free trial subscription in WordPress?
Giving away free stuff is one of the best ways to attract new customers. Offering a free trial membership lets users try your products to figure out if they're what they're looking for.
Like a money-back guarantee, offering a free trial for your website shows you're confident in the value of your products, which can help build trust and credibility. It can act as an incentive for people to eventually sign up for a paid membership or subscription.
In this post, we'll show you how you can use a few extensions to offer a free trial subscription in WordPress. We'll cover:
Creating a Membership or Subscription System
Of course, before you can offer a free trial subscription in WordPress, you first need to have your membership system in place. So if you haven't already done this, you'll want to start there.
The easiest way to create a membership or subscription website with WordPress is to use a plugin. If you need help, you can find detailed guidance in our How to Sell Subscriptions With WordPress (3 Ways) post.
We recommend using Easy Digital Downloads:

This powerful and popular eCommerce solution lets you easily sell digital products and services on your sites, including memberships and subscriptions. You can use it for software licensing, eBooks, online courses, and so much more. It supports multiple payment options. Customers can use a credit card or pay using gateways like PayPal and Stripe.
While there is a free version, the best option is to grab an EDD All Access Pass. This includes all extensions and addons available with the EDD for free, including the ones you'll need for this tutorial:
You can also use the Auto Register extension so customers don't need to manually create an account when they sign up.
Now, let's get into how to offer a free trial subscription in WordPress by following these steps:
Step 1: Install and Activate Your Extensions
If you haven't already done so, you can start by installing, uploading, and activating the All Access, Mailchimp, Free Downloads, and Recurring Payments extensions. You can find and download these extensions from your EDD account page.
Simply type in the name of the plugin, then click on Download Now: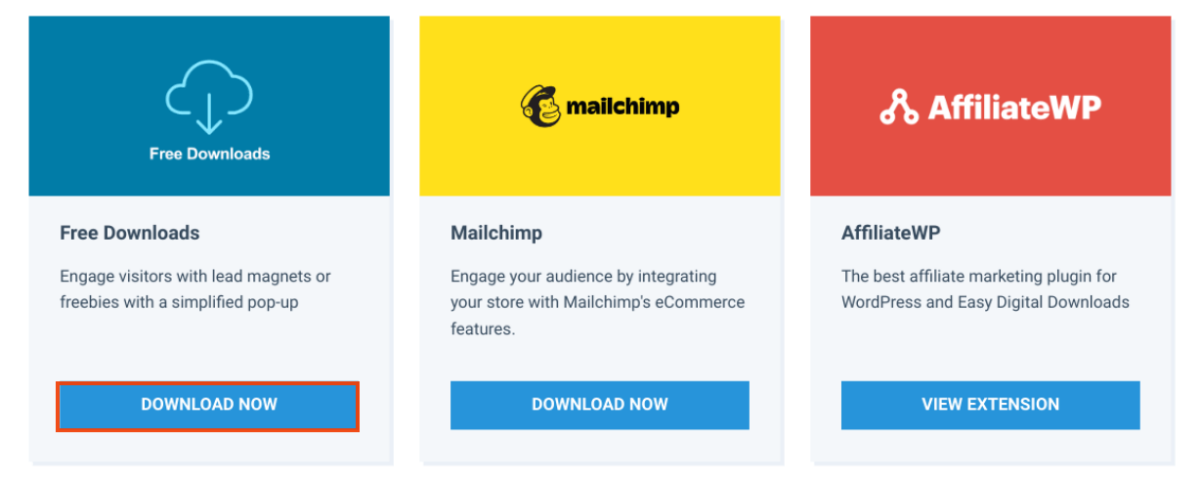 Note that you don't necessarily need to use Mailchimp. If there's another email marketing service you use, feel free to substitute the Mailchimp extension or the one that makes the most sense for you.
After downloading them, you can install the WordPress plugins by going to Plugins » Add New » Upload Plugin » Choose File:

After uploading each one individually, click on Install Now then Activate Plugin.
Step 2: Create the Free Plan With All Access
In order to offer a free trial subscription in WordPress, you first need to create a free plan and enable the free trial for subscriptions option. We will use the functionality included with the All Access and Recurring Payments extension.
From your WordPress dashboard, go to Downloads » Add New:

Create a name for the subscription or membership level. We'll use "Free Trial Subscription":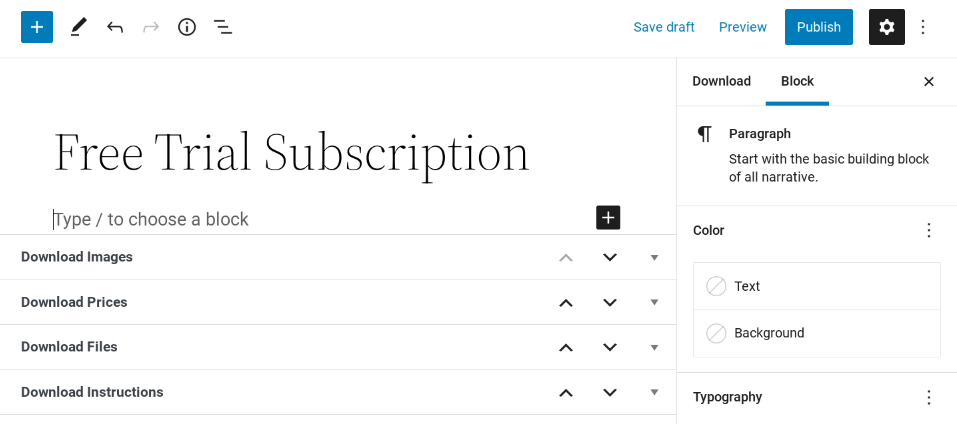 Under Download Prices, make sure the value and sign-up fee is set to 0: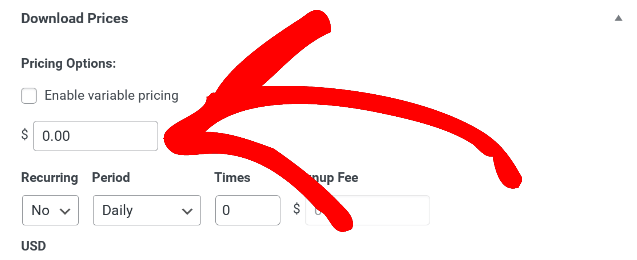 In this section, you can also click on the box next to Enable free trials for subscriptions: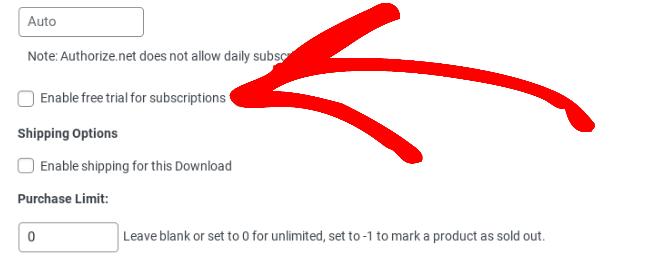 Next, go down to the All Access box and select the Convert this product to an All Access Pass option:
Then, under All Access To, you can select the product categories you want to include in the free trial subscription. Let's say we want to only include eBooks in the trial plan:

You may want to create a category specifically for products you want to give trial users access to. If you place premium or paid products in the category, your trial users will be able to download them without paying subscription payments.
Below this, you can find and click the box next to Enable free trials for subscriptions:
Step 3: Set the Trial Duration and Download Limit, and Price
The next step is to set the length of the free trial subscription. If you want the free plan to last forever, you can leave it to the default Never Expires:

But assuming you want this free trial subscription to only be for a limited amount of time, you can modify the time period. Somewhere between 7 and 30 days is usually a good range. You can choose between days, weeks, months, and years.
We'll set ours to 2 weeks:

You can also set a Download Limit. For example, we're giving trial users access to eBooks, but we only want them to be able to download 2 downloads per day:

You can specify the number of downloads per day, week, month, year, or in total. You can also customize the receipt link message given to users when they sign up for the free trial:

When you're done, click on the Publish button in the top right-hand corner of the screen.
Step 4: Create Your Paid Membership Plan
Next, we want to ensure our customers can upgrade to a paid membership and get access to more products. If you haven't already done so, our next step will be to create a paid subscription plan.
We can mostly use the same process as steps 2 and 3 above. Go to Downloads » Add New, then name your paid subscription or membership level. This time, instead of leaving the price set to 0, we'll set it to $100: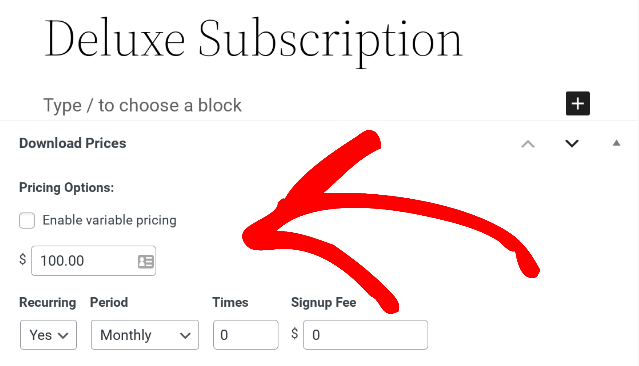 Because it's a monthly subscription, we'll change Recurring from No to Yes. Then we'll set the Period as Monthly.
Next, you can scroll to the All Access settings toward the bottom. Once again, you can click on the option to convert it into an All Access pass. But under All Access To, we'll make it so that the customer gets access to All Products:

Since we want this subscription to be part of an ongoing, monthly plan, we'll select Sync with Recurring expiration from the duration drop-down menu: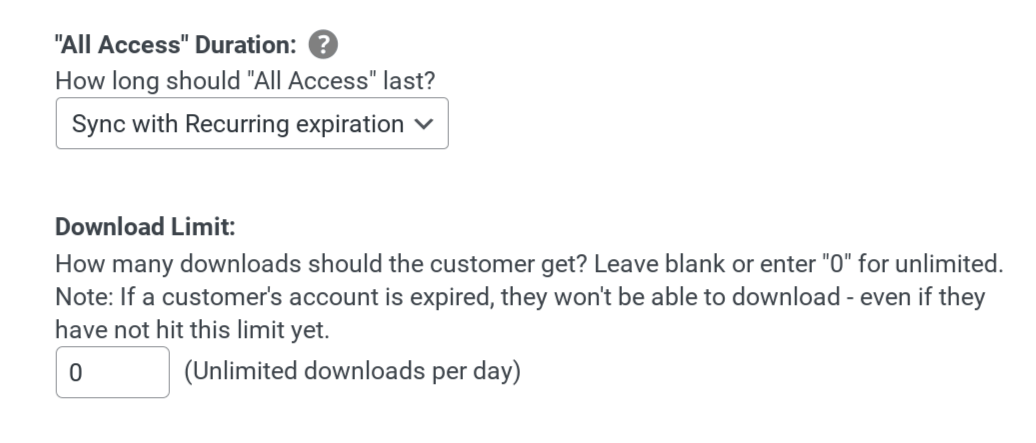 We'll also set the Download Limit to 0. That way, paying subscribers get unlimited downloads with their membership.
When you're done, click the Publish button. You can repeat this process for as many membership levels as you want to create.
Step 5: Configure the Mailchimp Extension
With our free trial subscription and paid membership plans out of the way, we can now get to the email marketing aspect. As we mentioned, you can use the Mailchimp extension to automatically add users who register for a free plan to your mailing list.
This will make it easier to send them more information about paid membership levels and encourage them to upgrade.
From your WordPress dashboard, go to Downloads » Settings » Marketing » Mailchimp:
Enter your API key from your Mailchimp account. To learn how to find your API Key, take a look at this documentation article.
Once this is done, save your changes. Next, navigate back to your free subscription product.
Scroll down to the Mailchimp metabox on the right-side panel and select the list you want to subscribe your free members to. We've created a list in Mailchimp called "Free Trial Members":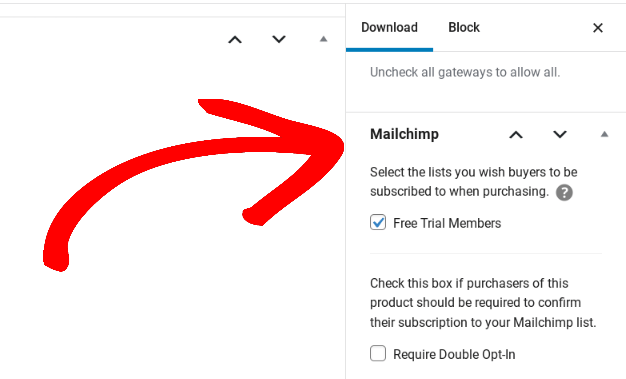 Save your changes. Now, all of your free members will be easy to reach with newsletters, promotions, and links guiding them to upgrade.
Step 6: Set Up the Free Downloads Extension
To make the onboarding process simpler for your users, we will configure the Free Downloads extension. This will allow customers to register without even needing to see a checkout screen.
From your WordPress dashboard, navigate to Downloads » Settings » Marketing » Free Downloads:

Look for the Button Label and Modal Button Label settings:
For each, you can set them as Get a Free Trial Subscription (or whatever is most appropriate for what you're offering).
Next, scroll down to and enable the Display Opt-In setting: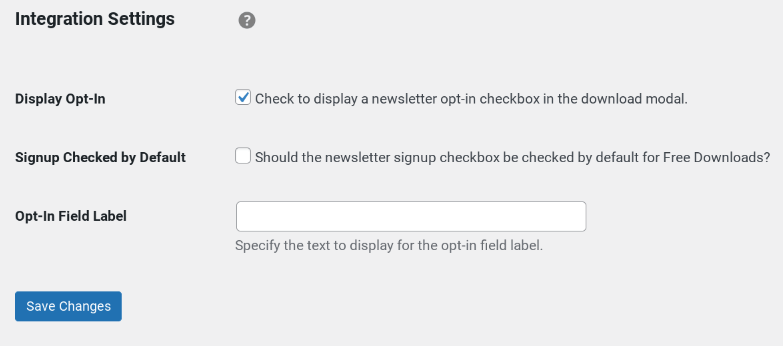 This will make it super simple for customers to opt-in to your newsletter when they register for your free trial subscription in WordPress.
Now with a single click, your customers can start a free trial membership where they can download products for the specific period of time!
Step 7: Set Up Expiration Reminders
Offering free trials can be an excellent way to attract leads. But the goal is to convert those trial users into paying customers.
One strategy you can use to increase the likelihood of that happening is to send a follow-up email when their free trial period is about to. You can let them know that they'll need to sign up for the paid subscription if they want to continue using your product or membership site.
There are plenty of email marketing options you can use from Mailchimp or other third-party providers. But if you use EDD Recurring Payments, you can also enable this feature under Downloads » Settings » Emails » Recurring Payments: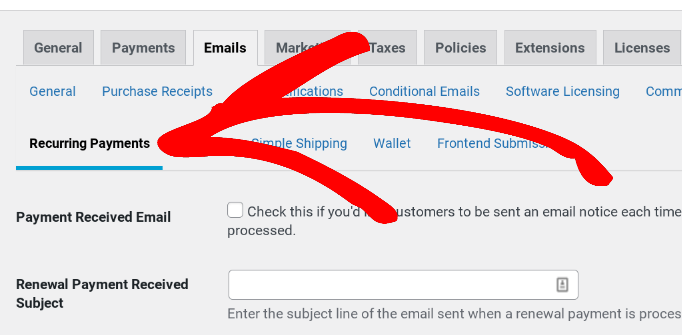 Toward the bottom, you'll find the option for Send Expiration Reminders:

If you click that box, you can automatically send your users a reminder when the subscription is about to expire or complete. Under Subscription Expiration Reminders, select Add Expiration Reminder to add your own custom one: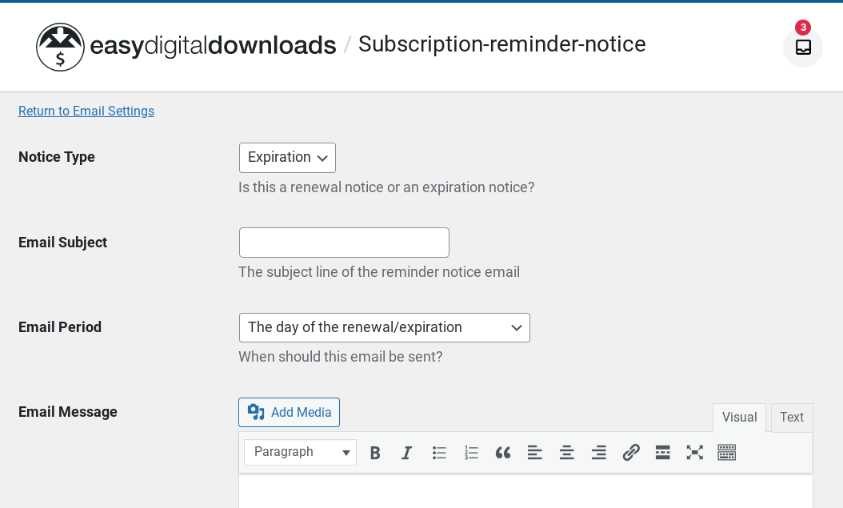 When you're done click on Save Changes. That's it!
Offer a Free Trial Subscription in WordPress
Offering a free trial subscription can be a great way to attract new customers and generate sales. To make it as simple as possible, it helps to use the right plugins and extensions.
If you're ready to get started, you can grab our Easy Digital Downloads plugin today. After installing it on your WordPress site, you can begin creating your subscription plan and enabling the features for free trials.
Be sure to follow us on Facebook or Twitter for more WordPress resources!