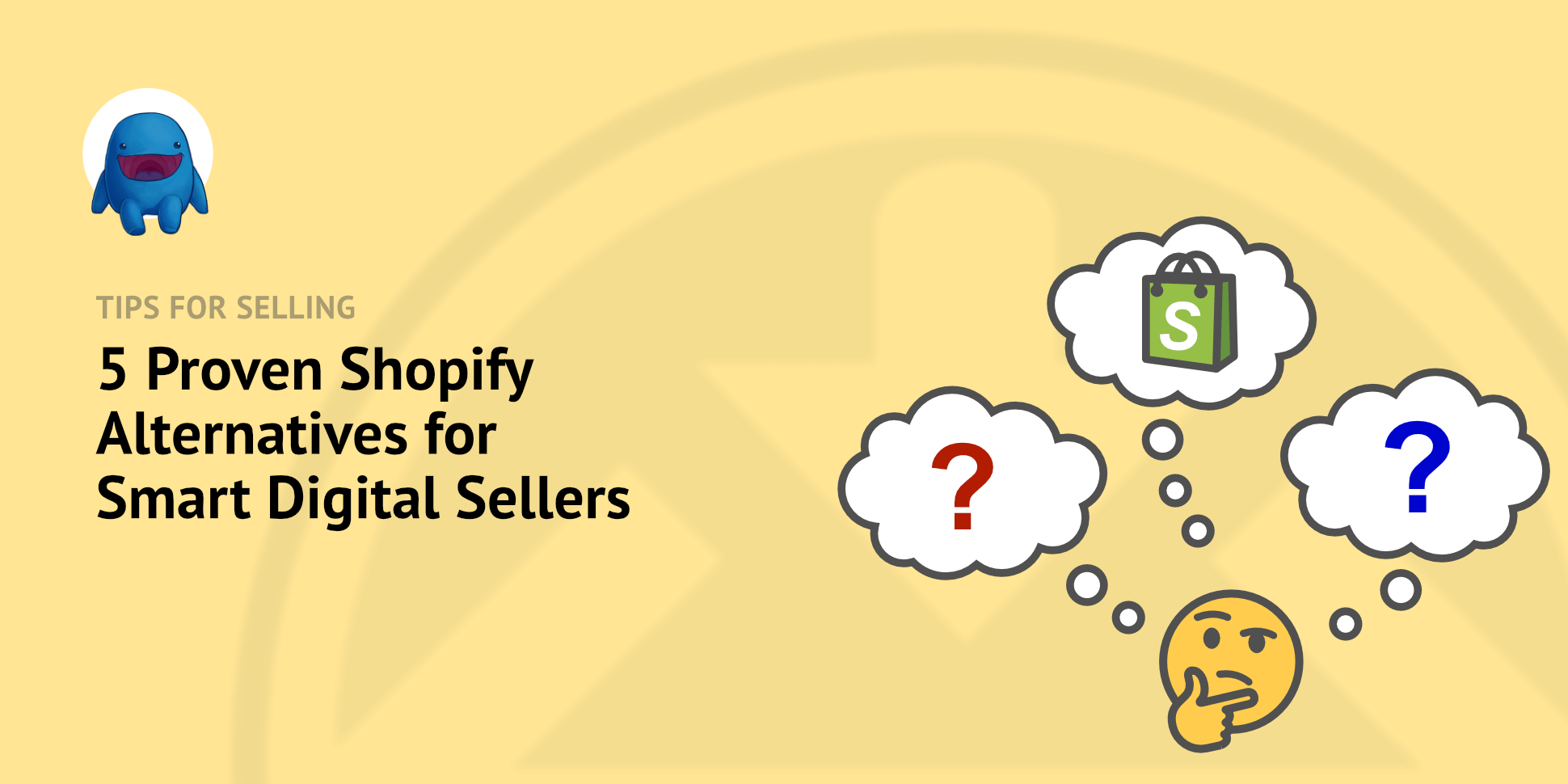 Are you a digital seller looking for alternatives to Shopify? You've come to the right place!
Shopify is powerful and popular. But it's also expensive and not designed for selling digital products. In this article we'll look at 5 proven alternatives for selling digital products.
Let's shop around together! Feel free to skip ahead, here's what we'll cover:
---
Pros and Cons of Shopify
| 🟢 Shopify Pros | 🔴 Shopify Cons |
| --- | --- |
| Easy to set up for beginners | Has no free version (just 14-day free trial) |
| Care-free operation with included hosting and unlimited bandwidth | Hefty monthly pricing fees |
| 100+ extensions (free and paid) | Limited customization options |
| | You have to pay extra transaction fees if you don't use their payment system (Shopify Payments) for credit card processing |
| | Not designed, primarily, with digital products in mind (requires extensions) |
---
The Smart Alternative: WordPress


WordPress is a free open-source alternative to closed platforms like Shopify (or Wix or SquareSpace). You own your data and have full control over everything. Overhead expenses are reduced with the many plugins with a free plan available.
Smart entrepreneurs know an open platform that they fully own and control has many advantages for building a successful business, even if it might come with a steeper learning curve.
Why WordPress?
It's huge and trusted – It's the largest website builder platform by far. WordPress powers more than 40% of the entire internet. No other platform has reached 5%. It's tested and maintained by the largest number of paid and volunteer contributors of any platform.
Flexible and future proof – WordPress has the largest ecosystem of plugins, themes and service providers. You can be sure it can adapt to any future need your business has. You never know where you'll be in a few years, but WordPress is flexible enough to be ready for anything.
Full control, customization and options – Customize everything. You can choose from several eCommerce plugins to start selling online. You can also choose from many free and paid themes to completely customize your website's appearance.
When you build on WordPress you are taking control of your future.
Shopify has:
• 100+ extensions (free and paid)
• 70+ themes (mostly paid, a few free)
WordPress has
• 59,000+ plugins (extensions, free and paid)
• 9,600+ themes (free and paid)
• These are just the ones listed on the public plugin and theme directory, there are even more paid-only (premium) themes and plugins
🤷🏽 Don't have a WordPress site yet? All you need is a domain name and web host.
Pro Tips:

1: No matter which eCommerce solution you choose, you'll have to pay for a custom domain name / URL (example: yoursite.com). Many web hosts provide domain name options.

2: You'll need an SSL Certificate to keep your site secure. Shopify includes this. Most WordPress website hosts also include this now-a-days, but be sure to check!
---
5 Proven eCommerce Platforms for Digital Sellers
WordPress has many established eCommerce plugins that allow you to sell online. One advantage of these many plugin options is you can choose just the eCommerce features you need.
A full eCommerce store and shopping cart could be overkill, more than you need. It depends on how big or complex your sales needs are.
🔑 When you build an eCommerce store on WordPress you can choose a solution designed for digital products.
5️⃣ Here are the 5 best shopify alternatives for WordPress sites. Each eCommerce solution uniquely handles your needs depending on your use case.
---
1: Easy Digital Downloads
🏗 Designed for selling any digital product in large or small stores
✅ Has a free version
| 🟢 Best For | 🔴 Not Ideal For |
| --- | --- |
| Selling digital products | Physical products (but it can be done with our Simple Shipping extension, ideally for stores selling mostly digital products, but a few physical ones) |
| Stores with lots of digital products (unlimited) | |
| Selling software or any product with licensing | |
| Shopping cart (or flexible checkout and buy now buttons) | |
| Browsing, filtering, sorting lots of products | |
Easy Digital Downloads (EDD) is the best plugin for building a digital eCommerce business. Sell unlimited products. Unlike Shopify, EDD is purpose-built from the ground up for selling digital products (aka downloadable products, downloads, or virtual products).
Sell eBooks, documents, graphic templates, software or any digital file with ease. EDD protects your files from unauthorized downloads by non-customers. The EDD plugin gives you a complete eCommerce site with just a few clicks. In the past this kind of functionality required code skills or a web designer and developer. Not now!
Get advanced features including:
Email notifications for new purchases and more
Customer support from a dedicated full-time team
Customer management (basic CRM)
Works with any theme (also check out our free themes)
Real-time sales reporting
Marketing features:

Email marketing integration
Discount codes
Product reviews

Recurring payments (subscriptions)
Amazon S3 or DropBox integration for file storage
A full REST API for data retrieval
Simply install EDD and you'll have a powerful online store without any coding.
---
2: WP Simple Pay

🏗 For selling a few products/services with buy now buttons or payment forms
✅ Has a free/lite version
| 🟢 Best For | 🔴 Not Ideal For |
| --- | --- |
| One product/service, or donations | Large stores |
| Simple eCommerce without a cart | Shopping cart (no cart options) |
| Stripe payment processor | Browsing, filtering, sorting lots of products |
| More currency/payment options than WPForms | Selling physical products (soap, t-shirts, etc), because there are no shipping/inventory tools |
| | Software or products with licensing |
WP Simple Pay makes it easy to accept one-time and recurring payments on your site without coding. It's a good option if you're selling one -or a few- services or products. It's also a great way to accept donations.
It's great for small business owners since it offers ease of use and is faster than setting up a full eCommerce site with a shopping cart and system for organizing and browsing products.
Use prebuilt payment form templates or build your own customizable payment form/s with their powerful drag and drop form builder. WPForms works with more than 135 currencies. You can use payment gateways like iDeal, SEPA Direct Debit, Alipay, giropay, Bancontact, and Przelewy24.
There is a free version of WP Simple Pay, but you'll likely want the Pro version to allow on-site payments (instead of redirects) and recurring payments (subscriptions). The pro version also adds buy now, pay later options with Klarna and Afterpay/Clearpay.
---
3: WP Forms

🏗 Designed for selling a few products/services with simple order forms
✅ Has a free/lite version (online payments requires Pro version)
| 🟢 Best For | 🔴 Not Ideal For |
| --- | --- |
| Making order forms for selling a few items | Large stores |
| Websites that need forms for other uses | Shopping cart (no cart options) |
| | Browsing, filtering, sorting lots of products |
| | Selling software (WordPress themes, plugins, desktop apps, video games) |
Just about every website needs a form builder. Whether it's for your contact page, surveys, newsletter signups or a registration form, WPForms has you covered. WPForms really is that rare mix of easy to use and powerful. We use it here at EDD!
WPForms also allows you to make order forms and take payments. This is a good option if you are just selling a few products and don't need a full store with a shopping cart.
One thing that sets WPForms apart is their huge library of prebuilt templates. These templates make things fast, simply choose the one that is close to what you need and quickly customize it.
For order forms and payments, you'll need more than their basic plan. Grab a Pro plan and easily accept credit card payments with Stripe, Paypal, or even Square. Authorize.net is available with the Elite plan.
---
4: MemberPress

🏗 For selling course, memberships, or placing content behind a 'pay wall'
❌ No free/lite version, but has 14-day money back guarantee
| 🟢 Best For | 🔴 Not Ideal For |
| --- | --- |
| Online courses | Large stores |
| Membership sites | Shopping cart (no cart options) |
| Subscriber-only content (drip content) | Browsing, filtering, sorting lots of products |
| | Software |
| | Physical products |
MemberPress is the "all in one" membership solution for WordPress. Use it to sell online courses or content that is only for paying subscribers.
They have course building tools and options for making quizzes or selling podcast memberships. If your content is your digital product, MemberPress is a good option.
---
WooCommerce

🏗 For selling physical goods
✅ Has a free version
| 🟢 Best For | 🔴 Not Ideal For |
| --- | --- |
| Selling physical products (includes shipping, logistics, and inventory tools) | Digital products (but it can do this) |
| Stores with lots of products | Software or licensing (requires addon/s, we suggest using EDD + Software Licensing) |
| Browsing, filtering, sorting products | |
| Shopping cart (flexible checkout and buy now buttons) | |
WooCommerce is one of the most popular and best eCommerce platforms with more than one million active sites. There are far more WooCommerce sites than Shopify sites.
It's not designed first and foremost for selling digital products, but if you are selling mostly physical goods and some digital products, it's worth considering.
If you are only selling digital products, you'll have an easier time getting started with Easy Digital Downloads because you won't have to mess with shipping, logistics, and inventory management settings.
WooCommerce has a huge Extensions Store (app store) with hundreds of free and paid options. You can add functionality like subscriptions, bookings, or dropshipping.
Managed Hosting
The key to building a successful online business with WooCommerce is having a good web host. If you use cheap web hosting your site may not be ready for even a modest spike in traffic (which is what you want!). We recommend using a managed web host.
We suggest BlueHost Managed WooCommerce hosting. They make it user friendly to set up a storefront by pre-installing WooCommerce and providing email marketing, analytics, and customer support.
---
Other Shopify Competitors
There are many other eCommerce solutions available. Similar 'hosted', 'headless' or store builder solutions include Bigcommerce, Big Cartel, Magento (free and paid plans), Prestashop, Sellfy, Shift4Shop (formerly 3dCart), Volusion, Wix, and Weebly.
It can be overwhelming. With this article we tried to avoid choice paralysis and focus on what we know best (WordPress).
We recommend setting up a WordPress website and selecting one of the 5 eCommerce website plugins mentioned in this article. Each provides you:
Full control
Affordability (most have a free option)
Power and flexibility
Great customer support
---
Get Started Now
After you've installed Easy Digital Downloads you'll have a new menu item called Downloads on the backend of your website. Look for it on your WordPress dashboard on the left side.
🔍 Learn more about using and installing plugins here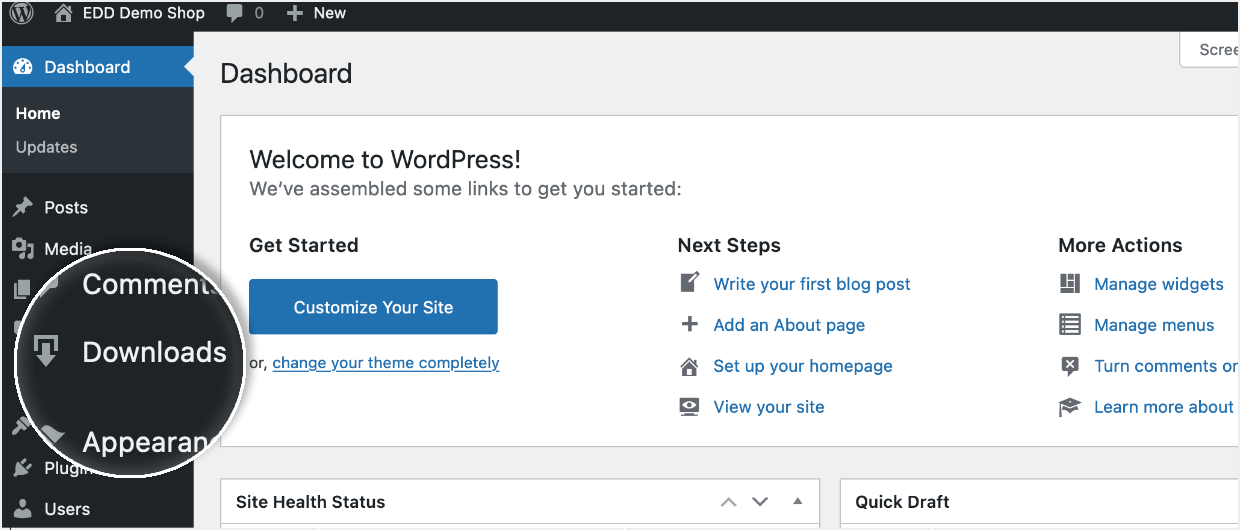 We call digital products 'Downloads' in EDD.
First, hover over Downloads and click Add New.
In this example we'll upload a font to sell.
Next, enter the name of your font. Give it a description and possibly a bullet list of specifications (like variations, weights, style, etc. in our example).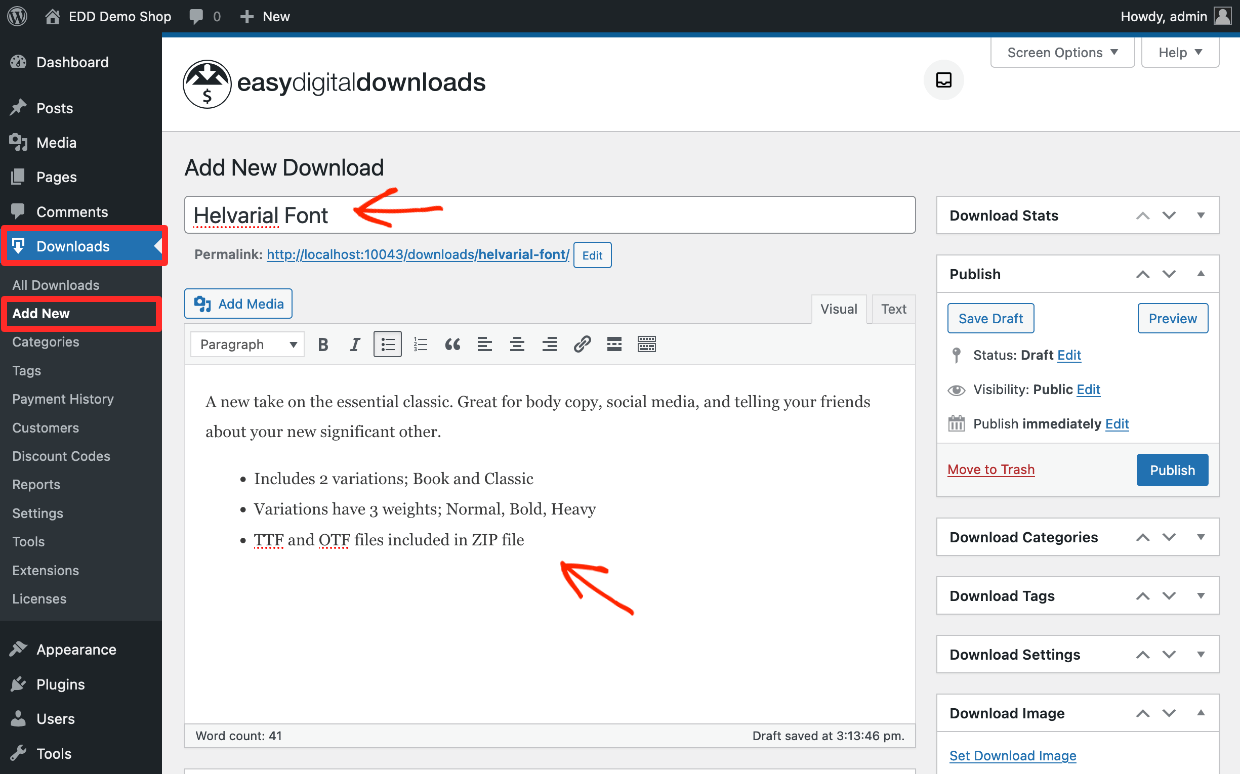 After that, give your Download (font) a price under Download Prices.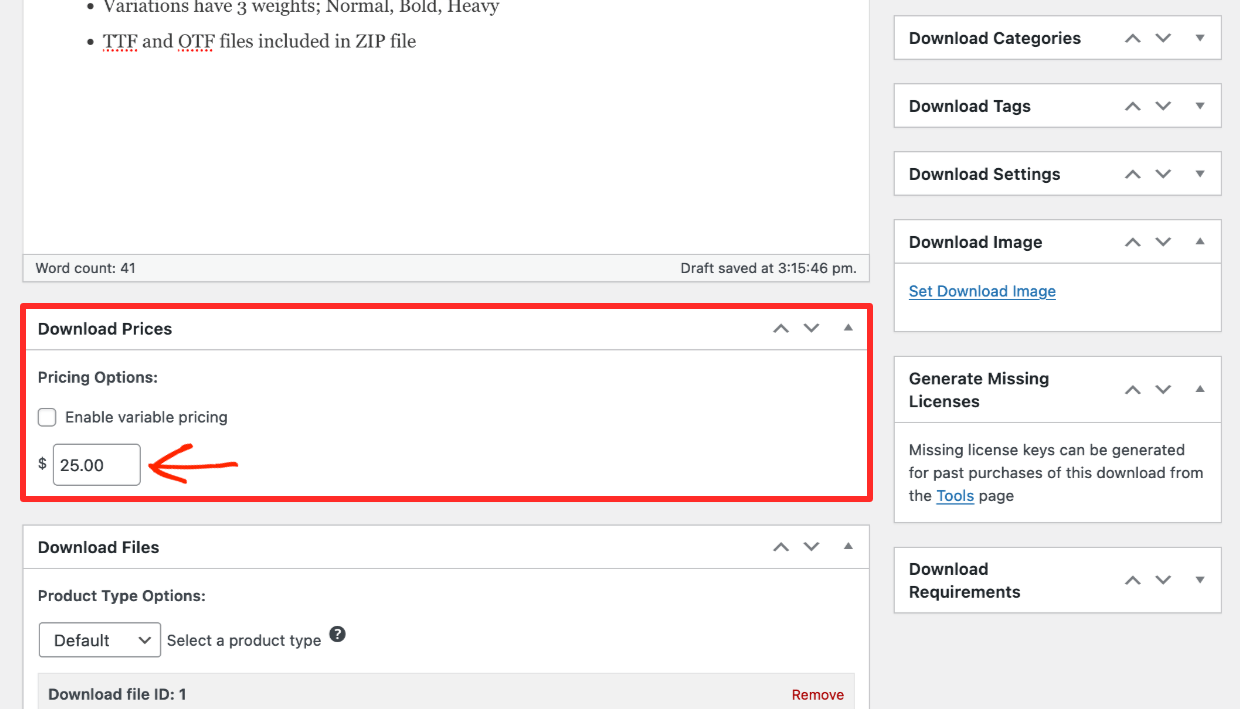 Next, we need to configure the Download File. This is the font file/s that the customer will get after purchase. Your customers get an auto-expiring link on their purchase confirmation page and confirmation email. This helps prevent piracy.
Under File Name type in a phrase that describes the product. We suggest, for our example, typing something like "My Font', or 'Download Now'. This word or phrase will be a clickable link on the confirmation page and email.
Under File URL click Upload a File and upload your font file. We recommend selling your files as ZIP files in most circumstances.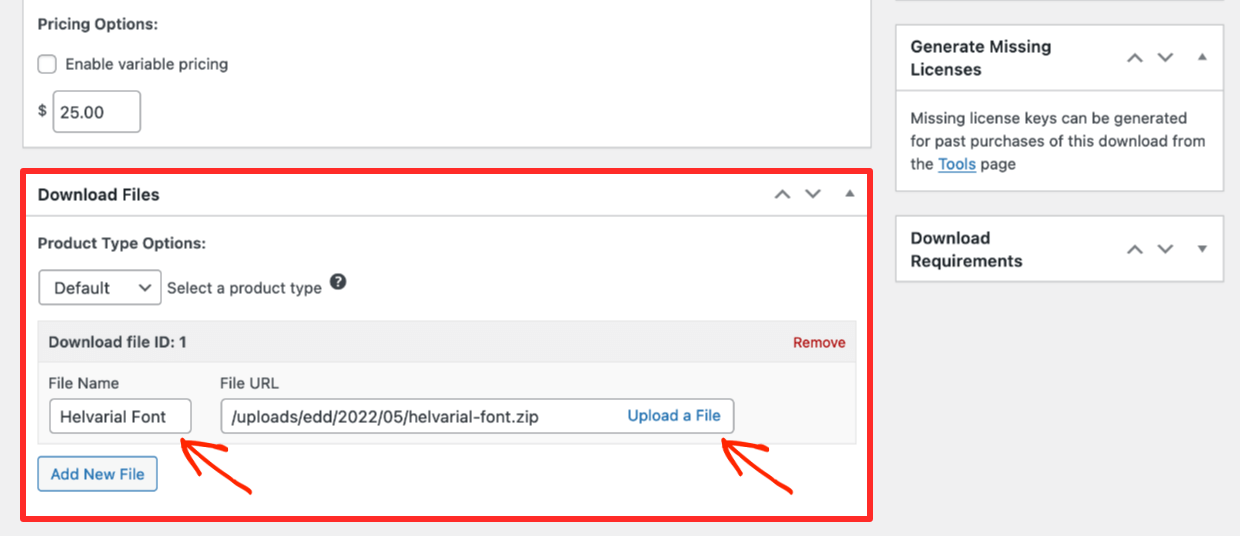 Product / Download Image
Last, you need to add an attractive Download Image. This is super important.
This is what the customer sees while they are shopping. Make sure it looks good.
🔍 Check out our guide for making product images (with free templates!)
Once you have a JPEG or PNG image ready, go under Download Image and click Set Download Image.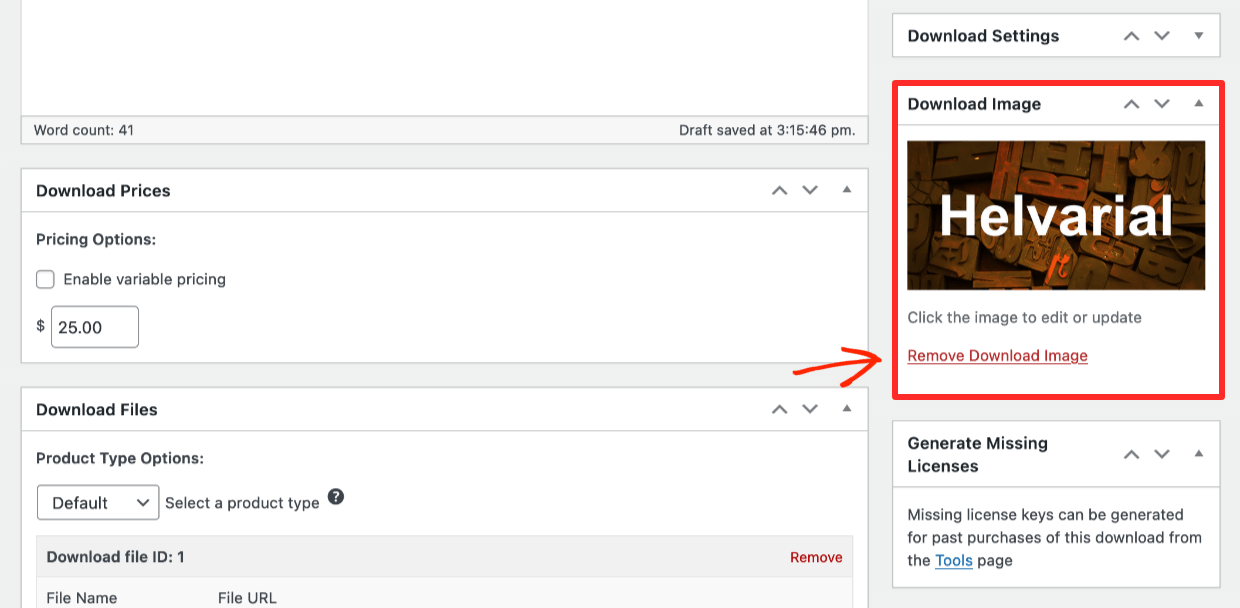 After that, it's ready to display. Great work! That was easy! Click Publish.
Here's how it looks on the frontend. In our example we are using the free Astra theme. Your site's look and style will vary depending on which WordPress theme you have.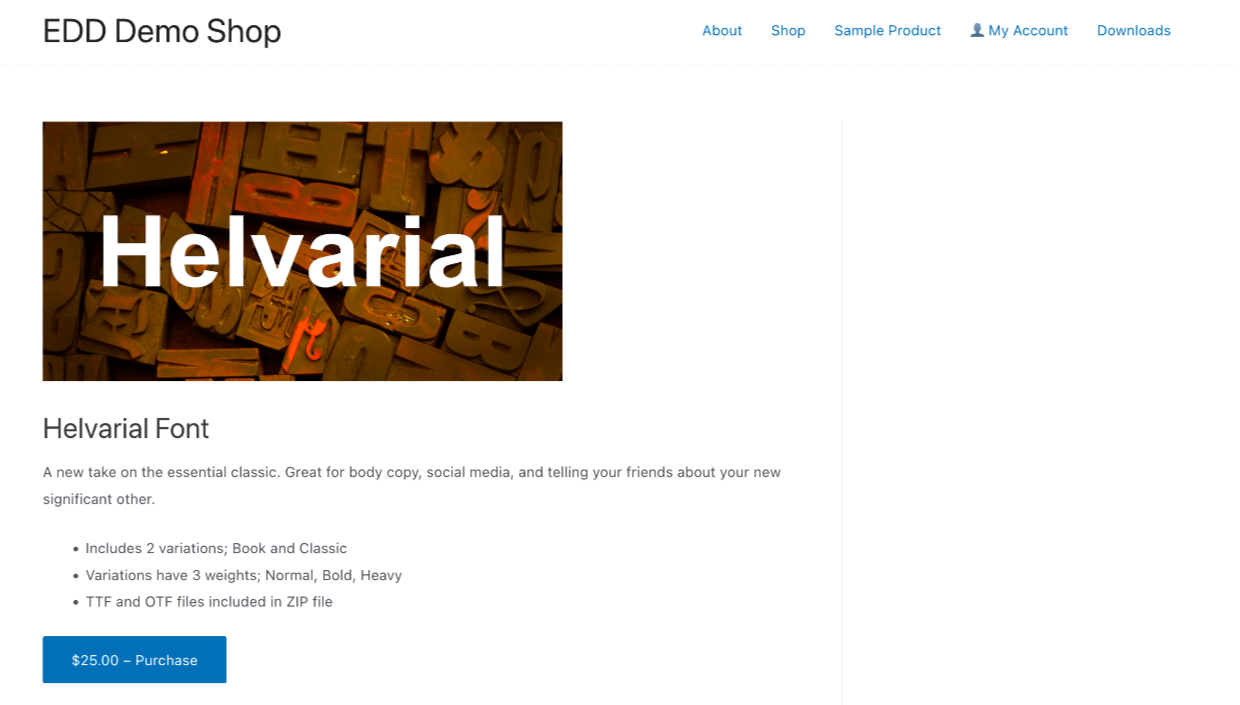 Payment Methods
Last, you need to set up a way to get paid.
We recommend using Stripe. It's easy to use and has advanced features. With Stripe you also can set up Apple Pay or Google Pay buttons. If Stripe is not available in your country, or you need other currencies, PayPal or one of our other gateways are good options.
Learn more and get started:
What the Customer Sees
When a customer makes a purchase they'll be taken to a purchase confirmation page. It has a download link: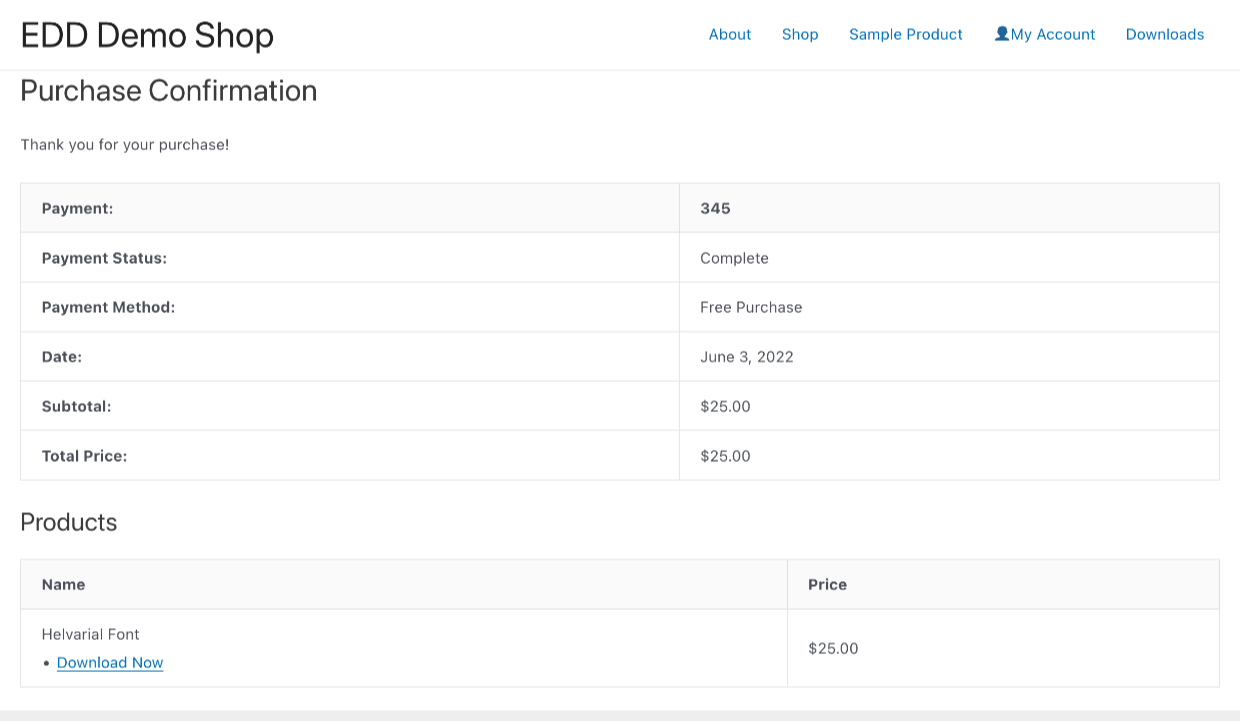 They also get a purchase confirmation email that looks like this:
The preset text for this email works well, or you can customize this email under Downloads > Settings > Emails > Purchase Receipts.
The 'My Download' link that you set up above is what the customer uses to grab their new font. The link provided expires after 24 hours.
😲 It's that easy to get up and selling with EDD!
Tips For Success
Measure! – It may not sound exciting, but this tech proverb is true; "what gets measured, gets improved". Use Google Analytics (for free) to measure your website's performance. The easiest way to do get that started is MonsterInsights. This plugin gets Google Analytics working on your site, and provides helpful reports right inside your WordPress dashboard.
Find a Good Theme – First impressions matter. A good-looking site builds trust with customers which is key to increasing sales. You don't need to know HTML and CSS to customize your website's appearance. Check out our suggested themes or learn more about our top theme picks.
Use the Marketing Tools You Have – If you have a WordPress site set up you already have a great one…your blog! And don't forget social media.
---
Conclusion
Well played! You've taken the time to consider some alternatives to Shopify for digital sellers.
If you're selling digital products, Shopify may not be your best bet. Or it might work fine for your needs. Good job doing your homework! Best of luck no matter which platform you choose.
Either way, we're rootin' for you and your startup business. We have lots of resources for digital creators. What do you want to learn about next? Lay your eCommerce plans well!
Selling Guides / Tutorials:
Be sure to subscribe to our newsletter or follow us on Facebook and Twitter to get our latest resources for digital creators.