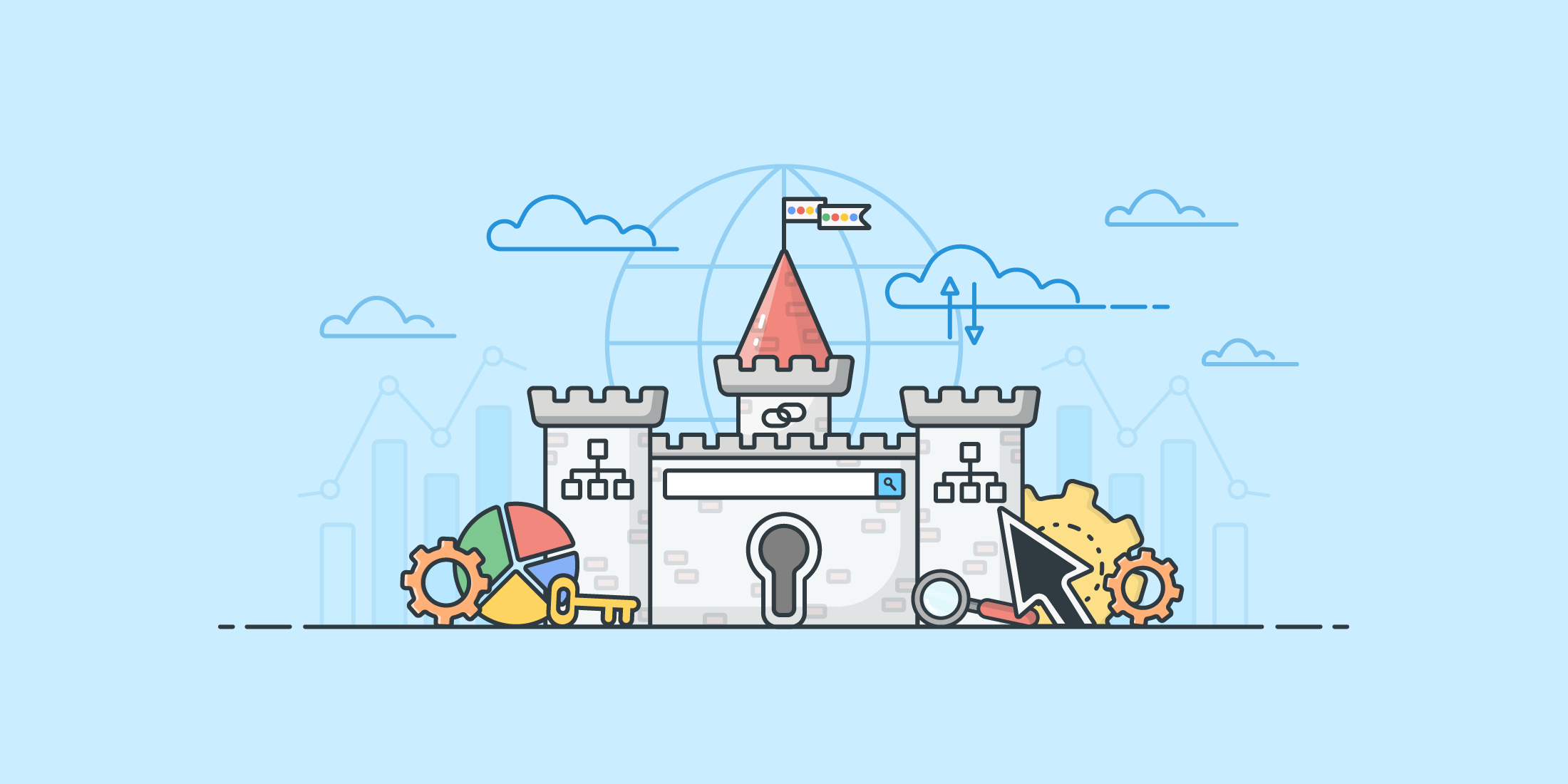 By nature, digital products are, well, digital – and existing entirely online means that in order to reach the people who will buy your products, you need to be seen.
Since the rise of eCommerce, search engine optimization (SEO) has been a seemingly mysterious code to crack. It's a core marketing tactic that every website should implement if they want to be found through search engines; but plenty of digital product business owners are often left frustrated and unsure of how to maximize their exposure through SEO. Fortunately, there are some effective tricks you can learn to master SEO and push your digital product store to the top of the heap.
In this post, we've put together a rough guide of the basics you need to get started!
The quick overview
At its most fundamental level, SEO is a method for connecting people with the information they seek; more specifically, the most relevant information via search engine results. SEO essentially utilizes a system of collecting information from web pages on the internet and running it through a search engine-specific algorithm in order to deliver the best possible results. So, how does this apply to you as a digital product store owner?
When it comes to being seen by your audience, search engines are the primary facilitators. But, with so many possible search results out there for any given query, how will you cut through the noise? The answer has to do with search engine ranking; to put your site front-and-center when people search for keywords specific to your content, you want to best utilize the search engine algorithm, resulting in a high ranking. What this means is that your prospective customers will see your website higher up in their search results, driving more traffic to your site and, consequently, increasing sales.
A word about content
Before we get into the checklist for good digital product website SEO, let's talk about the one thing that should be present above all else: good content. You can have all of the SEO pieces in place, but if your site isn't offering quality content, you may lose out. What comprises good content? Think well-structured product pages, quality blog posts, and other web pages that contain helpful, interesting, or otherwise relevant information. You want your content to be valuable and ready for consumption, so that once your SEO is on point, it's smooth sailing!
Consider creating a blog and a content marketing strategy around your digital products that will attract more traffic to your store. The effectiveness of content marketing has been proven over and over again; it's one of the best ways to provide value to your niche community while bringing in new website visitors and potential customers at the same time. And if you're just getting started, you're at the perfect point to start weaving content marketing and SEO into your marketing strategy from the get-go.
When coming up with content ideas, ask yourself some questions like:
What are my ideal customers' needs and concerns?
What end result is my target audience looking for?
What related topics might my audience be interested in?
What are the struggles my audience may face when pursuing their goals related to my products?
What other businesses, blogs, and products get the attention of my audience?
The primary elements
Ok, we've given you a brief introduction to SEO and the critical importance of content – now let's get down to the nuts and bolts of SEO on a fundamental level.
Keywords
When you think about search engine queries, what comes to mind? Words? Phrases? Questions? These hypothetical queries hold the answers to what you will want to use as your SEO keywords. For example, what would someone type into Google if they wanted to find your site? What types of products do you sell? What's your niche? If you were to boil down the purpose of your site into a few words and phrases, what would they be?
Your keywords should be as relevant as possible to your prospective customers, so that they can easily find your website amongst their search results. Imagine yourself in the customer's shoes, and try to understand your audience and their needs; what are they most likely to type into a search engine when looking for products like yours? Even outside of managing SEO, it's wise to get to know your audience, so don't be afraid to engage in related forums, Facebook groups and pages, or other niche communities to help you gather data and brainstorm ideas.
One thing to keep in mind when narrowing down your keywords is that the more specialized you get, the better chance you have of a high ranking. This is because common single keywords can come with a lot of competition; for example, the keyword "flowers" is general enough to produce results for anything related to floral design, flower shops, flower patterns, flower photography, and botanical information. On the other hand, a long-tail keyword like "floral design San Jose" is specific enough to effectively produce accurate results for floral designers in San Jose – and there's less competition with other websites, as the number of floral designers in San Jose is limited, compared to the many topics related to "flowers" in general.
You can use tools like Google Keyword Planner to help you find out the search volumes and effectiveness of certain keywords, as well as discover semantically related words. Once you have an idea of your basic keywords, knowing how to most effectively use them is your secret weapon!
Here are some tips to consider:
Include keywords in your title tags (the HTML title of the page)
Use unique keywords on each separate page
If possible, include keywords in your URL and meta description
Use a more general keyword for your homepage
Use more specific keywords and phrases for your product pages, blog posts, etc.
Keep in mind that the algorithms of Google and other search engines change over time, and what worked well ten years ago may be less effective today.
Metadata
Metadata provides search engines with information about your site, including the title, description, and keywords. To be successful with SEO, you'll want to make sure your metadata is accurate, concise, and descriptive – and there are some specific strategies for each type of metadata that you want to take into consideration.
Titles
When we talk about title tags we are referring to the section of HTML in the page source that specifies the title of a web page – one of the key ingredients that informs search engines about the page topic. Title tags are the first clickable lines of text the user sees in their search results – and in this case, first impressions definitely matter!
With digital product pages, you'll want to include the product title itself in the title tag, along with your store name. Naming your products appropriately, including primary keywords, helps your target audience find them, and establishes your store as a source for those product types.

To recap, here are a few general rules to follow when it comes to titles:
Include your store or brand name.
For product pages, include the product title.
Include keywords in order to boost page rankings and click-through rates (CTR; how many times your title is clicked on in search results) for those keywords. Place the keyword toward the beginning of the title to maximize this effect.
Create a title that gets the attention of your audience and makes your site stand out.
You can use tools like SEO Framework and Yoast SEO to preview how your titles will appear in search results. You may decide to adjust your titles based on character count, width limitations, or user behavior – for example, if you have a predominantly mobile audience, use shorter titles (under 60 characters is a safe bet).
Descriptions
This element is what gives your prospective customers a bit more information after the title tag has caught their attention; it's the text below the title tag that describes what the page is all about. The meta description is a great opportunity to communicate to the user why they should click through and visit the page, and it can utilize keywords just like the other SEO components.
Generally speaking, including one or more keywords in the description that you've also used in the title lets the search engines know that the topic is consistent with the title – and keeping it straight and to-the-point helps customers get a feel for the content quicker. Accuracy and descriptiveness is hugely important, as Google (for example) may reassign content from elsewhere on the page if it deems the description inadequate.
Again, for digital product pages, you'll want to include information like the key features and other descriptive elements that let users know what the product is, what it's for, its purpose and inspiration, or background information. Google even pulls pricing information from product pages. It's incredibly important that your digital product copy is not only engaging, but also keyed to highly-searched phrases so your site has a better chance of appearing in search results.


Links
When it comes to establishing your digital product store as an authority within your niche and ranking highly among the many search results on the internet, link building is essential – in fact, links are one of Google's three most influential factors for ranking. This is largely due to how the newer algorithms analyze web pages; content is still crucial, however the amount of links coming in to the page has become hugely important.
Some important things to remember:
The anchor text (clickable text) of a link should match the content it's linking to, however excessive keywords and exact matches can be treated like spam.
Authority is key; links coming to you from more established (and more popular) sources will have a greater effect on your rankings.
Links from pages within your niche or relevant to your main topic(s) are more effective.
Editorial links (links placed within content) are given more weight, as "unnatural links" can violate Google guidelines.
Google and other search engines may penalize you if there are a lot of lower-quality links going to your site.
User intent
Search engines are "smarter" than you might think – over time, they've begun to account for more advanced parameters, particularly in terms of recognizing the reasons behind certain search queries. Remember, the whole point is to give users exactly what they're looking for with as little digging as possible. So, while keywords may still be a fundamental part of the equation, delivering results relevant to the query, user intent goes one step further and filters according to user needs.
How do you adopt this concept for your own digital product website? Well, understanding it can affect the very content you produce in the first place. When you think about the types of concerns your target audience has, you can begin to pull together all kinds of ideas for articles and blog posts, video content, and even product types that appeal to customer needs. The bottom line is that when you produce fresh and relevant content that meets user needs on a regular basis, you've successfully integrated user intent into your SEO efforts!
Your site's reputation
The reputation your site develops over time can greatly influence your rankings, as search engines will come to know your site either as an in-demand source for the related search queries – or not! In addition to getting all of your SEO ducks in a row, the best thing you can do is produce regular content that is fresh, interesting, and relevant to your audience. The more of an authority you become within your niche, the more traffic you'll get from search results and backlinks, bumping your ranking up and increasing your brand reach overall.
Don't scam the system
Although it may be tempting to try and trick search engine algorithms, they have become so advanced that it simply doesn't work as well anymore, and even worse – it can backfire, leaving you worse off than when you started!
With little oversight, regulation, or barriers to entry, it's true that SEO has always been vulnerable to scams and manipulation; years ago, you may have gotten away with things like low-quality, irrelevant backlinks, keyword stuffing (grossly overusing keywords), using hidden text, buying links and traffic, and advertising spam – all colloquially referred to as "black hat SEO". However, the modern algorithms have systems in place to identify and penalize these actions. While it can be effective to achieve short-term gains, using black hat methods typically fails to provide long-term results and can result in penalization.
A recipe for exposure
Perfecting your SEO can take some serious time and effort, but these basic elements are a great place to start. Search engine algorithms will continue to change, keeping website owners on their toes and challenging the latest hacks and workarounds, so don't get too comfortable! That said, using the best current practices and having the mindset of creating consistent, valuable content will get you moving in the right direction!
What SEO tips do you have to share in relation to digital product websites? Is there something we missed? Let us know in the comments below!
Illustration by Jessica Johnston.