---
If content is king, social media is the king's podium. Social platforms serve to amplify your message to the masses, driving interest in your brand and products while carving out your identity.
They've also been established as effective customer support channels and convenient central hubs for communicating, educating, and engaging with your audience. However, as commonplace as social media has become, getting it right for your digital product store is an art of its own!
Here are some tips to help you master your socials so you can stay competitive, reach the right people, and convert sales.
First, have a plan
You can think of social media as an ecosystem of technologies that allow you to share, communicate, and advertise all at once – and you want to define a strategy for each of them. Different platforms can have different advantages, with corresponding variations in audience, demographics, and effective content types. So, if you have a little bit of patience – and you're willing to do some research – you can precision tune your strategies to maximize results.
Having a plan is always essential when pursuing a goal, but this is especially true when it comes to your social media strategy because there are so many options and opportunities for growth – if you know how to focus your efforts.
So, what exactly is your focus?
When constructing your plan from the ground up, consider the type of digital products you're selling; are they educational in nature, such as courses and tutorials? You might decide to draw your audience in with things like daily tips and e-learning resources. Have a graphics and digital art store? Focus on creating visual impact with your posts. Selling audio and music products? Sharing audio previews and real-world use cases can be very effective.
Choosing the right platforms for your product type
The types of digital products you sell will influence the social networks that you decide to use. For example, Pinterest is useful for digital artists and photographers who want to showcase different collections of work and appeal to a visual audience, whereas Instagram is ideal for behind-the-scenes vlogging and microblogging – bringing in customers who are looking for tips, tricks, and tutorials.
Doing a bit of research to find out which audiences are present on different platforms will help you decide where to focus your efforts. Selling nutrition e-courses? Instagram has a big fitness and nutrition crowd, with many accounts that share before and after photos, recipes, and fitness tips and routines. Design fonts and digital patterns? Instagram and Pinterest are great places to show off your work and reach people who are looking for graphic products just like yours.
Offering B2B products like software, digital services, e-learning courses, or how-to guides for entrepreneurs and lifestyle hackers? Twitter and LinkedIn have significant audiences for that. LinkedIn is designed for professional networking, so it's a natural place for B2B product creators to connect!
Audio and music products go over particularly well on Facebook, Twitter, and Instagram, with the majority of music professionals and producers largely present on those three platforms. SoundCloud has also become a standard place for sharing music and interacting with genre-specific communities, with a hashtag system that works well for people looking to connect on the basis of style and genre.
Video is so engaging for people that it can really work anywhere, so Facebook, Instagram, and Twitter definitely apply – and although it goes without saying that YouTube is the major hub for video content, lots of creators also tend to upload their videos independently to Facebook due to its algorithmic preference for native content.
Just remember: you don't necessarily have to reinvent the wheel – look to your competitors for guidance! Find out what networks they are using, and how. What seems to be the most effective for them? What post types are getting a lot of engagement? What topics are most active? Use the search function for each network to see the activity level on a topic or hashtag, and gauge a platform's suitability. If you're unsure about what kind of content you should publish on each platform, check out this article from Buffer for some ideas.
A snapshot of three major players
When it comes to developing your social media presence, you want to focus on quality content that you can actually manage, so it's okay if you decide to limit yourself to two or three major networks. It's better to build a solid presence on fewer channels than to overextend yourself trying to manage every one of them. You might also consider using different social networks for different purposes, such as Twitter for customer support, and Snapchat or Instagram Stories for product tutorials and quick tips.
For digital product store owners, the major players that get the most action tend to be Facebook, Instagram, and Twitter, so let's take a look at those first:
Facebook
Facebook is especially useful for learning about your audience demographics – and its targeted ad system gives you very granular control over your reach. Even if you have a small budget, you can run ongoing ads custom tailored to your audience, which is far more effective than traditional advertising models. For example, you can target audiences in different countries, or according to purchase habits, life events, tastes, and other personal information.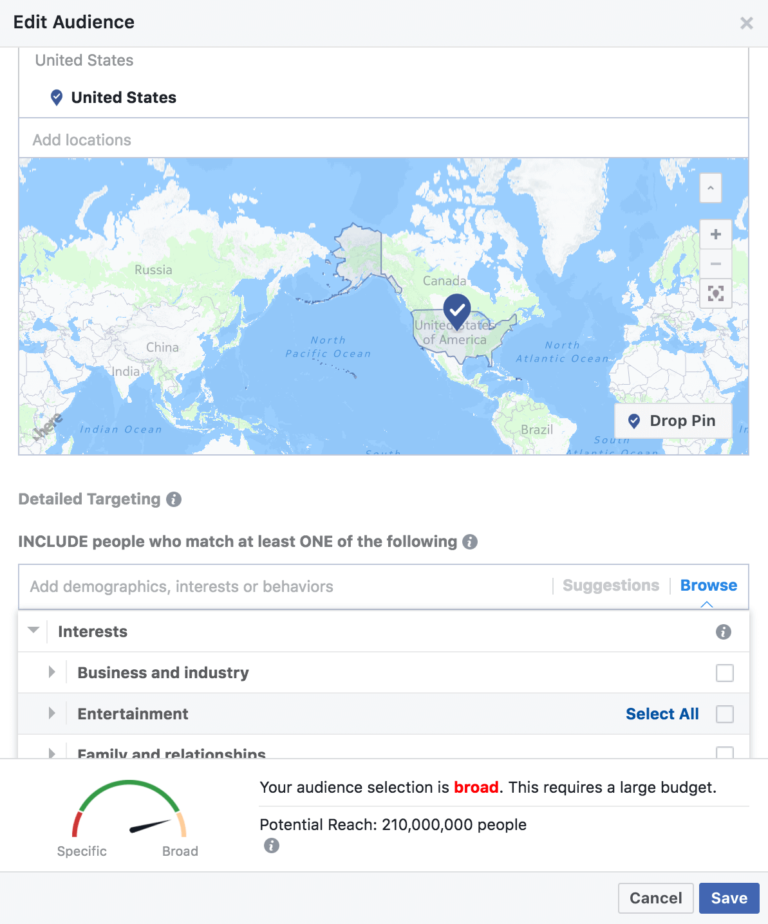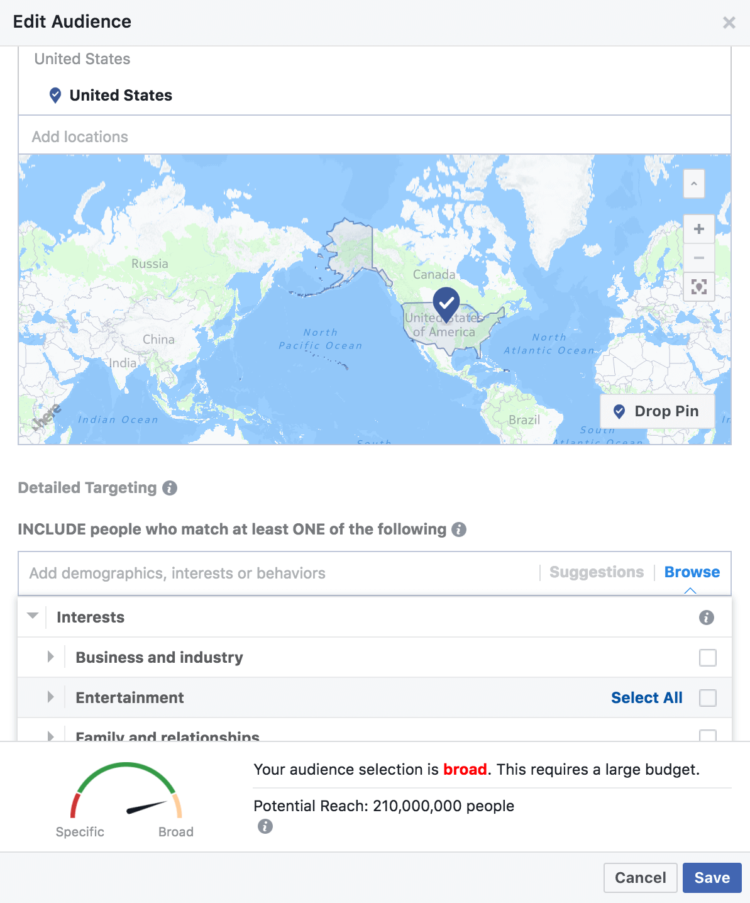 When it comes to optimizing your Facebook page and posts, here are a few extra tips to remember:
Use a call-to-action button
Create a compelling "About" section
Choose an eye-catching cover photo
Schedule your posts at the best times for your audience
Experiment with ads to see what works
Respond to comments and messages in a timely manner (set up an auto-responder if needed)
Customize your page tabs
Use images and emojis.
Instagram
In some ways, Instagram is an extension of Facebook (since Facebook do own Instagram!), but it also offers its own magic altogether. The visual nature of the platform, plus the searchable hashtag system lets you connect with people on a highly interest-based level. There's not much guesswork involved, and it can be more fun and creative than other platforms because you're ultimately curating a gallery of image-based posts to draw people in and define your brand. With a global community of one billion users, the scope for growing your digital product business using Instagram is massive.
One of the best ways to gain traction on Instagram is to like and comment on posts that are relevant to your industry and customers. For example, if you are selling vocal training tutorials, you might browse different hashtags like #vocalists and #vocalistsofinstagram to interact with people who may be interested in your products. There are bots and auto liking services available to supercharge your engagement, however with ongoing changes to Instagram's API, these may become unreliable.
When you search for a specific hashtag, you can easily see related hashtags in order of popularity (number of posts), so it's easy to discern which ones are getting the most action. It's worth noting that the top hashtags (or hashtags with over 100,000 posts in general) may not always be the best ones to include in your own posts because you will be competing for exposure against a large group.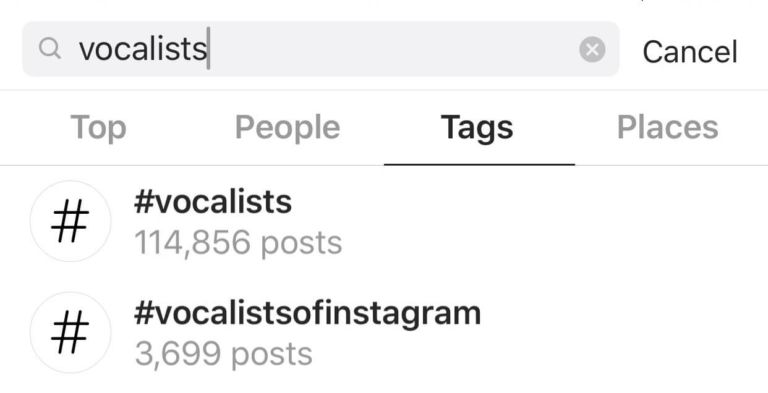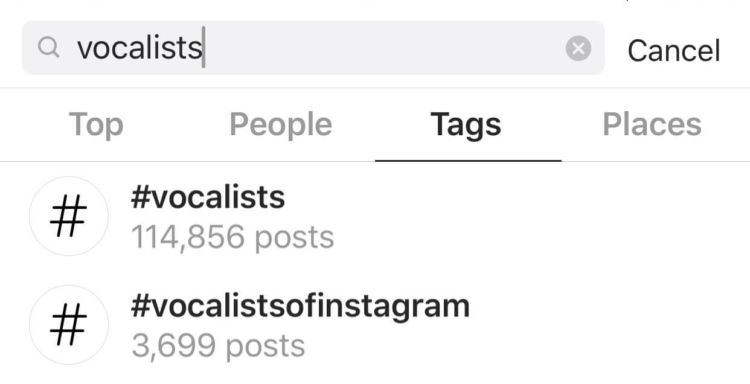 Instagram Stories, on the other hand, are the latest go-to engagement booster, making your account more visible amongst the community, more exclusive, and more up-to-date. You can use this feature as a fun and creative on-the-go vlogging tool, and a way to balance your professional, scheduled material with something more personal. On top of that, just recently they announced IGTV, so it's clear that Instagram are are focused on innovation, fresh ideas, and providing more content opportunities to users.
Here are some other tips to keep in mind when using Instagram for your digital product store:
Keep your profile succinct, accurate, and memorable; use your tagline and include your website link
Populate your account with your best images
Learn how to format your Instagram posts
Include location in your posts where applicable
Add your Instagram stories to your profile highlights to showcase your products, blog posts, and contests
Follow your competitors to learn from their strategies
Interact with your competitors' followers
Connect with influencers who are relevant to your industry.
Twitter
To some, Twitter can seem like a redundant afterthought, but it's one of the most effective networks for direct engagement with your customers in several key areas. For one, it's the perfect place to address customer support queries, as anyone with a Twitter account can quickly and easily communicate with you. Furthermore, other users can chime in if they have related concerns or want to offer solutions of their own, and it's a clear and transparent way to resolve issues.
Twitter is all about conversation, and due to its topical nature, you can use it to easily engage with other people in your industry, exposing their followers to your account every time you like or comment on a post. Try to participate in meaningful conversations, offer relevant advice and input, and make yourself known within your niche community. Start doing social listening – or monitoring hashtags that are relevant to your business to find out what people are saying about related topics, trends, and products (including yours).
For some additional Twitter tips, consider the following:
Use Twitter's built-in link service or services like Bit.ly to shorten your URLs, create custom links, and track user engagement.
Keep your posts concise – the appeal of Twitter is brevity and real-time updates
Poll your audience and ask questions
Use hashtags, but don't overdo it
Avoid repeat content; write unique copy
Share your blog posts
Mention and join conversations with big industry names
Use lists to stay updated on specific groups of people, businesses, or topics.
Three rules of engagement
No matter which social media platform(s) you decide to use, these universal principles apply:
As the owner of your business, you assume a leadership role, and it's no different on social media. Focusing on being proactive (as opposed to reactive) allows you to set the tone, stay in control, and generate interest. Being proactive can mean sharing information about your products and answering any questions you anticipate, or informing your customers about you, your company, and related industry news. It can also mean customer recognition, or reaching out to ask your customers questions about their concerns, favorite products, features, or things they'd like to see in the future.
Proactive engagement is all about showing your audience that you seek to understand their needs, and that you are constantly working to provide them with value – it's proven to increase sales and customer loyalty, too!
Want to build your brand into something trusted and recognizable? Consistency is essential. By being consistent, you let your audience know what to expect – and that they can rely on you as a source of quality content (and products). Become the go-to place for the content they seek, and you not only establish yourself as an industry authority; you also keep your audience coming back for more.
One of the more obvious ways to maintain consistency is to keep your brand look and voice cohesive. This means choosing a style that you will keep throughout your content, and it applies to your graphics, images, copy, and tone. Your presentation and message should reflect your goals and company values, with language and imagery to match. Is the vibe you're going for casual and fun, sleek and sophisticated, or modern and edgy? Define yourself and stick to it!
You'll also want to be sure to set up all of your social media accounts with the same username/handle, if at all possible, so that it's easy for people to find and follow your accounts. Use a site like Namechk to check if your desired usernames are available. If you can't get the exact name, grab the next closest handle.
Don't be afraid to interact with your social media followers on a personal, human level. The days of rigid formalities are long gone, and people appreciate the one-to-one attention and accessibility they get with social media. Simply answering questions or replying to comments can make a huge difference in the way your followers view your brand, so focus on nurturing a connection.
Remember that you're building a community, so think about what you can do to make people feel invited, welcomed, and "seen". Since the whole point of social media is sharing and interaction, engaging with your customers can make a bigger impact than simple statements and announcements alone. Ask a question, create a poll, respond to comments and concerns, or create a contest or giveaway.
Most social platforms allow you to measure the effectiveness of your posts and campaigns, so you can double down on what works, and forget what doesn't. Make your posts insightful, valuable, or enjoyable to your audience, facilitating discussion on your products, their features, and industry-related topics – and don't forget to show some personality!
Making social media work for your digital product business
Whether you're brand new to social media from a business perspective, or if you've been doing it for a while, here are some tips to consider as you evaluate your next step in this space:
Schedule your posts
If you want to take your social media marketing seriously, you might want to consider using a social media platform like Hootsuite or Buffer. These web apps take the headache out of posting, and make it easier to schedule your posts ahead of time and in batches, so that you spend less time worrying about posting at a specific time, day-to-day. Sticking to a content schedule also helps you stay consistent and build momentum over time.
Imagery is powerful
Photos and videos are by far the most engaging type of content on the internet, with video skyrocketing to the forefront of the social media landscape in recent years. Imagery evokes memories, stirs the senses, and creates emotional connections – and given that humans are visual creatures, it only makes sense that people are more responsive to these types of content. Even something as seemingly insignificant as the use of emojis can set the tone of your posts, enhancing their relatability with respect to modern trends and popular culture.
If it makes sense for your business, use images of your product, people using your product, your team, or yourself. Additionally, using quality stock photos can take your posts to the next level. There are some great free stock photo sites like Unsplash and Pexels, which provide you with industry-standard quality photos that are actually modern and stylish. Use these tools to your advantage to create a polished and professional look – you can always invest in premium images later on, once you've established a steady stream of content.
Aim to have a cohesive and relevant look across all platforms; make sure you use the same logo and brand assets for each network, taking care to create specific images that adhere to the different guidelines for size and dimensions. The more consistent your brand is, the more familiar – and ultimately more appealing – it becomes to consumers.
The value of video
When it comes to social media, the marketplace is more saturated than ever, so staying on top of the latest trends and technologies is crucial in order to set yourself apart. Video has always been captivating, utilizing the senses in a way that other types of media cannot – and it's something you want to consider incorporating into your social media strategy to stay competitive.
If you don't already have video editing skills, there are a variety of apps and programs that are available with a learning curve that is reasonably achievable for most people. You can use video to showcase your products, educate your audience, and make announcements. You can also use it to engage with customers directly in real time – platforms like Facebook, Instagram, and YouTube all have live video features, allowing you to create real-time streams where you can engage in a Q&A session, give a live tutorial, document events as they are happening, and much more. Live videos create a sense of urgency, increasing engagement by limiting access to a specific time frame, so utilize this feature if you want to join the ranks of social media success stories!
Educate your audience
One of the main reasons the internet is so dominant in our lives is that it's a rich educational resource. Now more than ever, people have limitless information and tools at their disposal, and are able to learn quickly and efficiently. So, if you want to capture the attention of potential customers on social media, you'll want to provide them with useful information – the higher quality and less redundant, the better!
You might choose to publish tips and tricks, short tutorials, how-to guides, or new developments and information relevant to your industry. Understand and anticipate what your ideal customer is looking for, and you can make great strides in growing your following and retaining your audience.  There's no harm in linking to, or reposting content from other accounts, either – just remember that native content is prioritized by most social media algorithms; being original definitely pays!
Unique content and incentives
Generally speaking, posting unique content across social media platforms is more effective than copying and pasting one post everywhere; sometimes even just making slight adjustments for variation can keep things fresh and interesting. Cross-pollinate your different channels by offering exclusive incentives to your followers – for example, let your Facebook followers know that they will have access to exclusive tutorials if they follow you on Instagram, or give your Twitter audience a special discount for following your Facebook page. But remember to check any policies for promotions on each social network before you go full-steam ahead!
In the end, it's all about community
Just like content marketing, social media aims to create value that helps build your industry authority as well as a community around your market niche. Proactive interaction, brand consistency, and engaging content create an environment that ultimately inspires people to trust  your brand – and buy your products!
These are just a few insights that have been proven to be effective for digital product stores. What are your favorite social media tips and tricks? How have you improved your own social media accounts and what impact has it had on your digital product store? Drop us a comment below!
Illustration by Jessica Johnston.