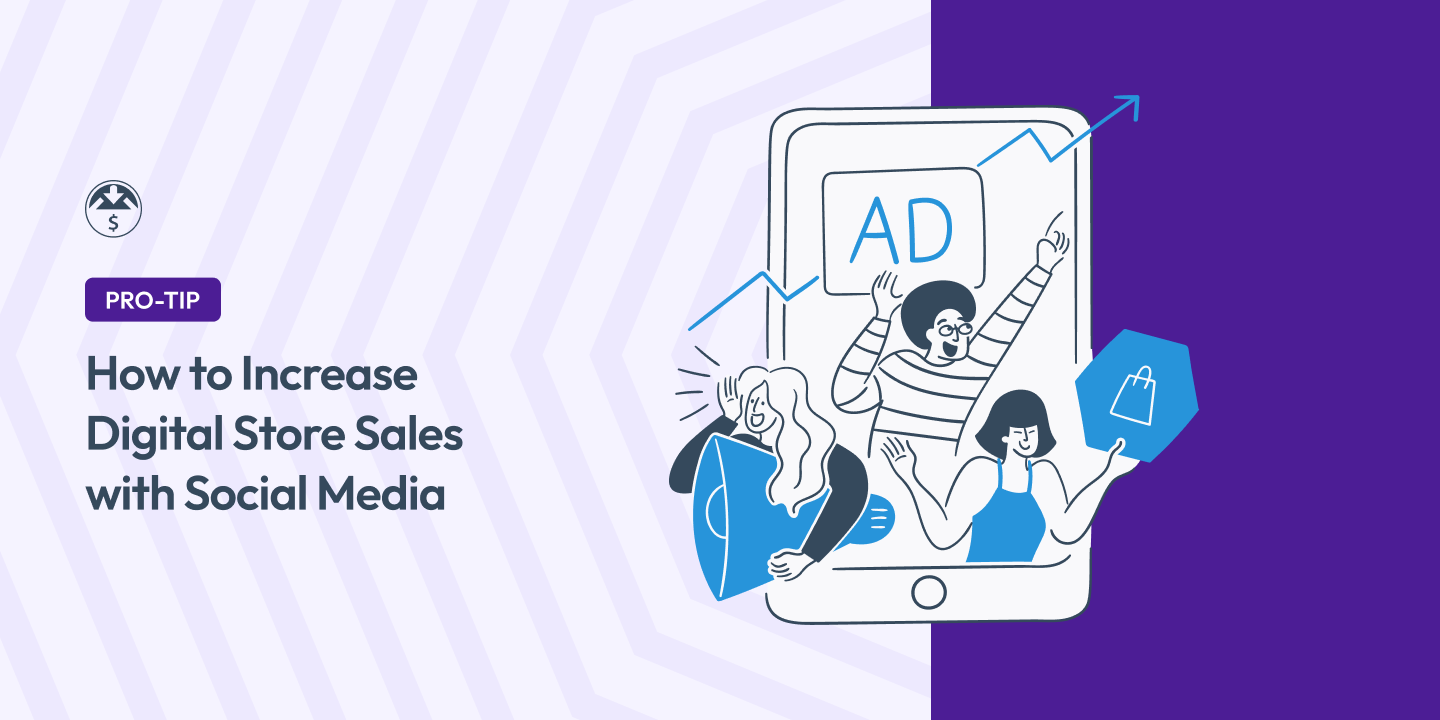 Do you want to learn how to increase digital sales through social media?
In today's digital age, having a strong online presence is crucial for businesses looking to increase their sales. Social media has become a powerful tool for achieving this goal.
🔎 In this article, we'll cover:
Why Use Social Media to Drive Online Sales?
In the fast-paced world of digital marketing, staying ahead of the curve is essential. Social media has evolved beyond a mere communication tool into a dynamic platform for businesses to connect with their audience, build brand loyalty, drive site traffic, and ultimately, boost sales.
Here are some compelling reasons why businesses should leverage social media to increase digital sales.
Broad audience reach: Social media platforms have billions of active users worldwide, making them a vast marketplace.
Targeted advertising: Social media platforms provide sophisticated targeting options, letting you tailor ads to reach specific demographics, interests, behaviors, and even previous interactions.
Brand visibility: Regular posts and interactions with followers keep the brand top-of-mind, making it more likely that users will consider it when making purchase decisions.
Customer engagement: Social media fosters direct communication between businesses and customers, which can help build trust and loyalty.
Data & insights: Social media platforms offer robust analytics tools that you can use to refine marketing strategies, content, and targeting, optimizing for higher sales conversion rates.
E-commerce integration: Several social platforms offer e-commerce features that allow businesses to showcase products and even facilitate transactions directly on the platform. This streamlines the purchasing process and reduces friction for customers.
Community building: Social media enables businesses to create and nurture online communities around their brand. These communities can provide valuable feedback, generate brand advocacy, and contribute to long-term customer relationships.
Competitive advantage: Businesses that effectively utilize social media gain a competitive edge. Those without a strong social media presence may lose potential customers to competitors who actively engage with their audience.
By embracing social media as a sales-driving tool, businesses can tap into the vast potential of these platforms to increase revenue and grow their online presence.
How to Increase Digital Sales With Social Media
Ready to get started? Below are some key tips you can use to help increase digital sales through social media.
1. Choose the Right Social Media Platforms
Understanding your target audience is crucial for effective social media marketing. Conduct market research to identify the demographics, interests, and behaviors of your potential customers. This information will help you tailor your content and advertising efforts to reach the right people, on the right platforms.
Each social media platform has its own unique advantages and ideal use cases. For instance,
Facebook: Massive user base & Facebook ads
Twitter/X: Real-time engagement & trending topics
Instagram: Visual appeal & shoppable posts
LinkedIn: B2B sales & thought leadership
Each has, to some degree, a different audience and demographics. For instance, if you want to reach millennials or Gen Z, you may take a different approach than you would for Baby Boomers and Gen X. The content that works on one platform won't really work well on another.
Also, the types of digital products you sell will influence the social networks that you use. Are they educational courses and tutorials? You likely want to go with LinkedIn and share things like daily tips and e-learning resources.
Have a graphics and digital art store? Focus on creating visual impact with your posts, probably first on Instagram.
Selling audio and music products? Share audio previews and real-world use cases, perhaps on YouTube or TikTok.
Snapchat or Instagram Stories can be excellent for product tutorials and quick tips.
2. Leverage User-Generated Content (UGC)
Leveraging user-generated content (UGC) is a potent strategy for increasing digital sales through social media. You can leverage it by encouraging users to create and share content related to your brand, showcasing products, and positive customer experiences.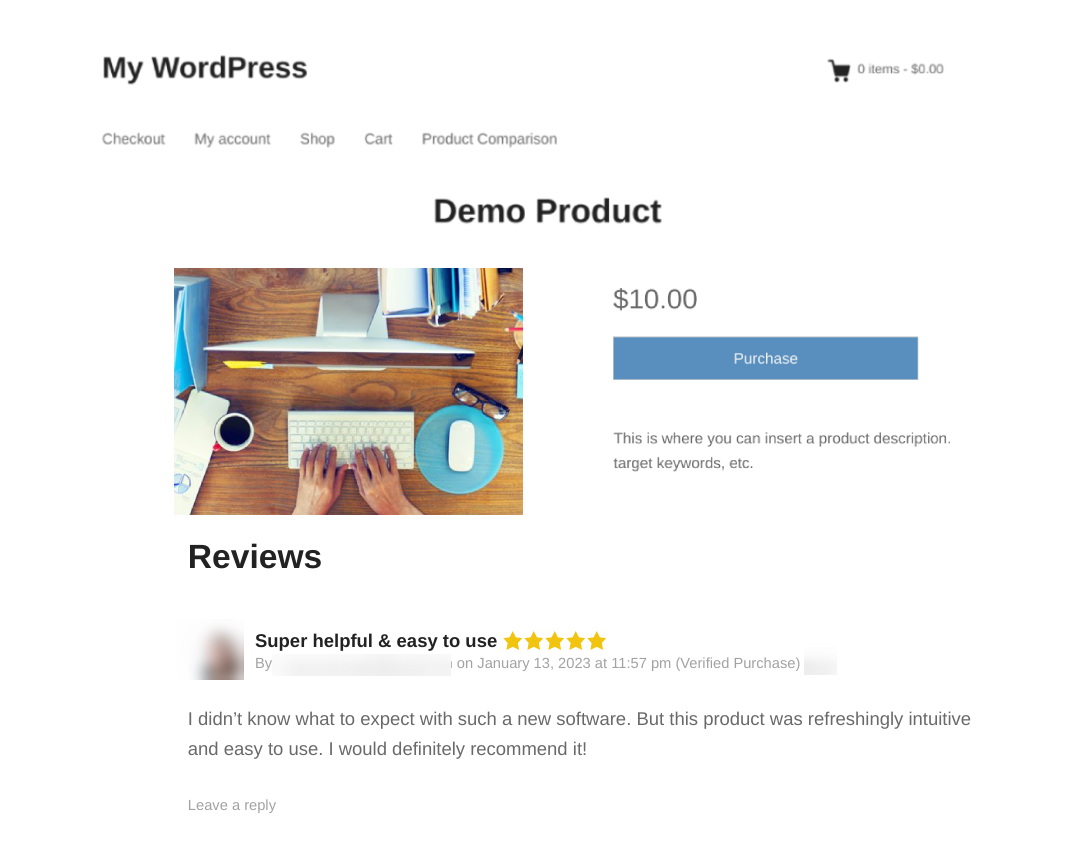 Sharing UGC on your profiles provides authentic social proof of your offerings' value, building trust and influencing potential customers. Running UGC contests or campaigns can incentivize customers to create content, further strengthening your brand's presence.
3. Share High-Quality Content
Content is the cornerstone of successful social media marketing. To capture the attention of your audience and influence purchase decisions, you need to create high-quality, engaging content.
Share informative blog posts, eye-catching product images, entertaining videos, and UGC that showcase satisfied customers. Use storytelling to create emotional connections and make your brand relatable.
Typically, posting unique content across social media platforms is more effective than copying and pasting one post everywhere. Even making slight adjustments can keep things fresh and interesting.
Cross-pollinating your social media content across channels by offering exclusive incentives to your followers. For example, you could let your Facebook page followers know that they will have access to exclusive tutorials if they follow you on Instagram.
4. Run Limited-Time Offers
Running limited-time offers on social media is a highly effective strategy for increasing digital sales.
Craft compelling offers that resonate with your audience, such as discounts, exclusive promotions, contests and giveaways, or bundle deals. Highlight the scarcity of these offers to create a sense of urgency, using phrases like "Act Now" or "Last Chance."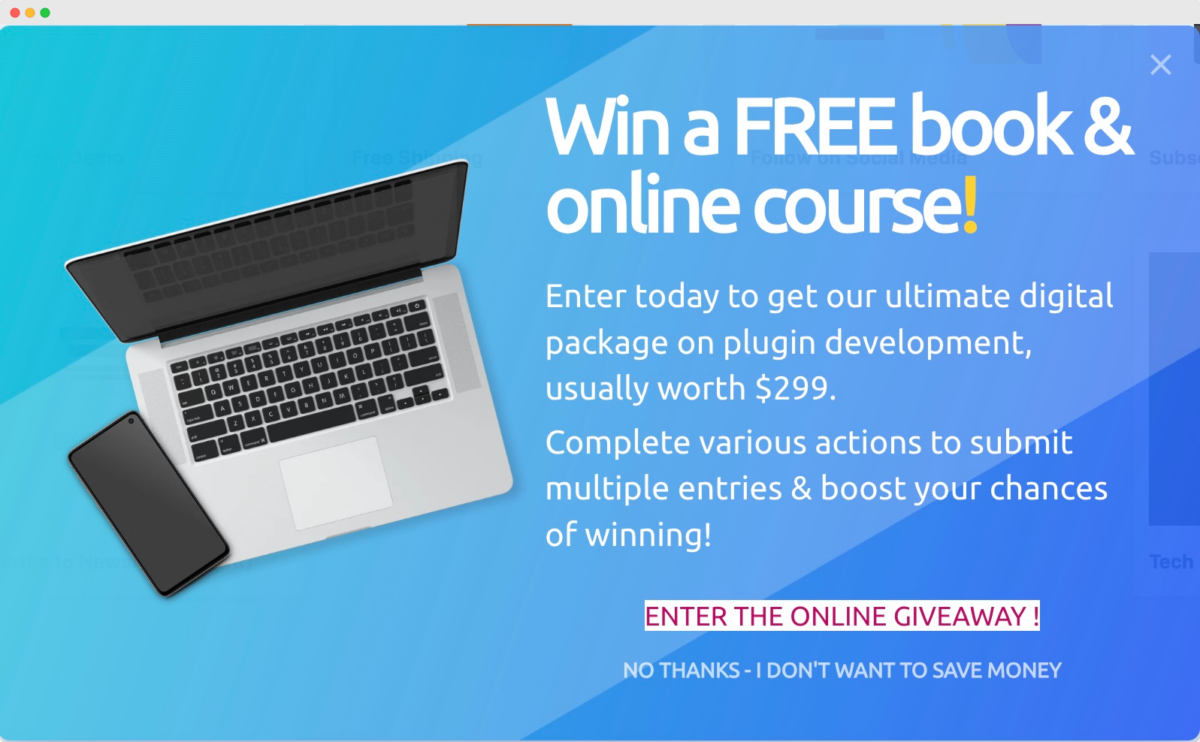 Leverage the Fear of Missing Out (FOMO) by showcasing how others are benefiting from these promotions through customer testimonials and user-generated content. Promote these offers across all your social media platforms with visually appealing posts and persuasive copy.
Track the performance of your limited-time offers closely, analyzing key metrics to refine your future campaigns. Generating excitement and anticipation around these offers is essential, so tease them in advance and create a buzz within your audience.
5. Create a Social Media Schedule
Consistency in posting is essential. To maximize digital sales, create a well-structured schedule that outlines what social media posts you'll share on each platform and when. This keeps your audience engaged and informed, increasing the likelihood of conversion.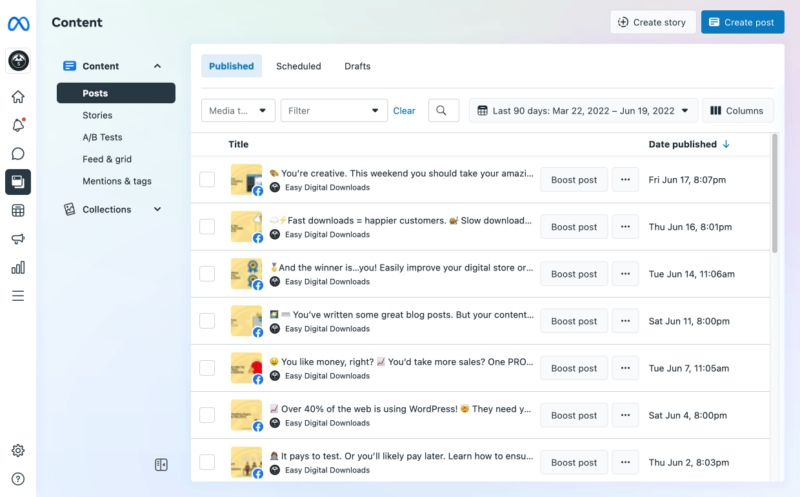 Start by identifying the best times to post content on each social media profile. This can vary depending on your target audience and their behaviors. Use social media analytics tools to gather data on when your audience is most active and responsive.
Once you've determined the optimal posting times, plan your content accordingly. Develop a content calendar that includes a mix of posts, such as promotional content, informative blog posts, UGC, and engaging visuals. Be sure to align your content with your overall marketing goals and upcoming campaigns.
Consider using social media management tools like Hootsuite or Buffer to schedule your posts in advance:
These tools allow you to automate your posting schedule, saving time and ensuring that you consistently deliver high-quality content.
Also, many platforms come with built-in scheduling tools now that you can manage from your own social media accounts.
Be sure to monitor the performance of your scheduled posts and adjust your schedule based on what works best. Social media algorithms are constantly evolving, so staying adaptable and responsive to changing trends and hashtags is crucial.
6. Engage With Your Target Audience
Social media is a two-way street. To increase digital sales, engage with your audience by responding to comments, messages, and mentions promptly. Show appreciation for positive feedback and address any concerns or questions with professionalism and empathy.
Engagement also includes actively participating in conversations relevant to your industry or niche. Join relevant groups or forums and provide valuable insights. Establishing your brand as an authority in your field can lead to increased trust and credibility, ultimately driving more sales.
7. Track & Monitor Results
To fine-tune your social media marketing efforts, it's essential to regularly monitor and analyze your results. Utilize the analytics tools provided by social media platforms to track key metrics such as engagement rates, click-through rates, conversion rates, and return on investment (ROI).
By studying these metrics, you can gain valuable insights into what's working and what needs improvement. Adjust your strategy accordingly, optimizing for the best results. Experiment with different types of content, posting schedules, and ad formats to continually refine your approach.
Best Social Media Tools for Digital Selling
There are many WordPress plugins out there that help you make use of social media for your eCommerce store. This list includes both free and paid options that are reliable and backed by solid customer support.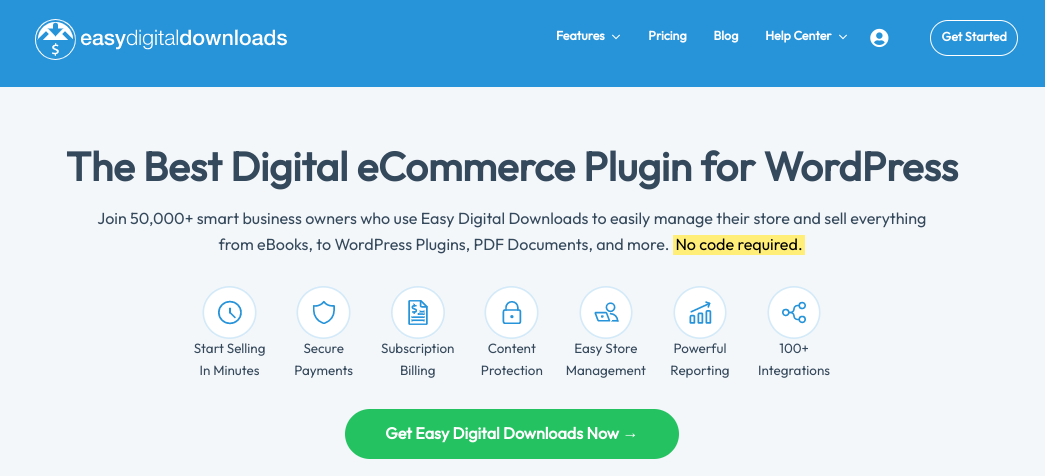 How are you selling your digital products? The best way to do that with WordPress is Easy Digital Downloads (EDD).
Unlike other eCommerce solutions, including Shopify, EDD is purpose-built for digital products (like eBooks, software, or graphics). It's faster to get set up than with other solutions that are designed for selling physical products (like t-shirts and coffee).
Some solutions require add-ons to sell digital files, but EDD specializes in selling downloadable products.
EDD offers all the powerful features you need to run an online store:
Flexible checkout options (shopping cart or buy now buttons)
Integration with Stripe, PayPal, or other payment gateways
Unlimited product listings
Download files are protected from non-customers
Subscriptions (Recurring Payments)
Sales reports
Discount codes/coupons
Works with any theme (or use one of our suggested themes)
Get started with EDD by grabbing a pass today.
eCommerce without limits!
That is our promise. Most eCommerce solutions limit your creativity
…not Easy Digital Downloads!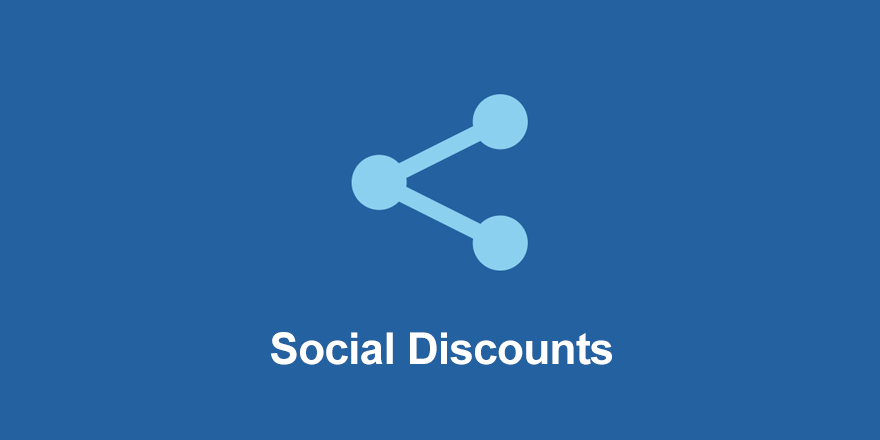 Another benefit of using EDD is that you get access to a wide range of premium extensions that can help improve the features and functionality of your online store. One of those that can help increase digital sales through social media is EDD Social Discounts.
This add-on lets you easily offer customers a discount for liking or sharing your product/pages on social media. Incentivizing customers to promote products can increase visibility and drive more sales through social media.
This extension is also simple for store owners to set up and manage social discounts. It harnesses the power of social sharing to expand an e-commerce business's reach and attract new customers.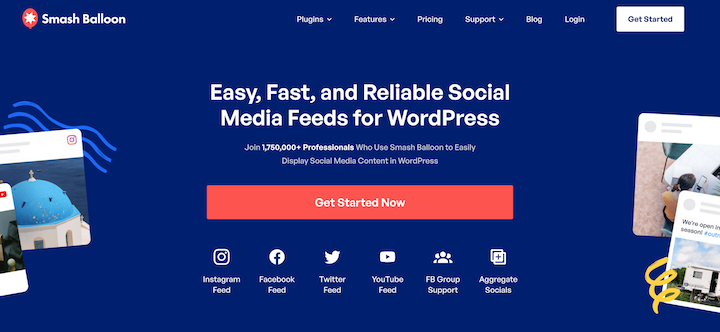 Another great way to increase sales is by showing your UGC from social media on your website. Smash Balloon makes this easy.
Smash Balloon has the best WordPress plugins for sharing social media feeds on your website. They offer five plugins:
Facebook Feed Pro
Instagram Feed Pro
Twitter Feed Pro
YouTube Feed Pro
Social Wall (Combine all 4)
1.7+ million websites trust them including many household names like Coca-Cola!
With Smash Balloon, it's simple to add your social feeds and customize the visual appearance without any custom coding. They have feed caching and backups so that your social content works fine, even if a social media site goes offline.

Want more followers on your social media channels? Run a contest or giveaway! This is a proven low-cost high-results marketing campaign.
RafflePress is the best and easiest way to run a fun giveaway or contest on your WordPress site. They offer:
Prebuilt templates to make getting started fast
Customize with a drag-and-drop builder for your contest landing page
100% mobile-friendly
Fraud prevention
Integration with Constant Contact, Mailchimp, AWeber, Drip, Active Campaign, and more (or use Zapier to connect with other apps)
There is a free version called RafflePress lite. If you want more powerful features like notifications, email verification, giveaway landing page, or entry export choose a RafflePress Pro, Growth, or Ultimate plan.
Make people feel invited, welcomed, and "seen". That can make a bigger impact than simple statements and announcements. Ask a question, create a poll, respond to comments, or create a contest or giveaway.
FAQs About Digital Sales & Social Media
Let's wrap up with some frequently asked questions.
Use EDD & Social Media to Drive Digital Sales
Increasing digital sales with social media is a must for businesses of all sizes. By following the strategies outlined in this guide and adapting them to your unique business needs, you can tap into the immense potential of social platforms to propel your business to success.
Ready to begin using social media as part of your digital marketing strategy? Download Easy Digital Downloads to easily integrate social media tools with your e-commerce store:
We have a lot more resources for digital creators. What do you want to learn about next?
📣 P.S. Be sure to subscribe to our newsletter and follow us on Facebook or Twitter for more WordPress resources!