---
Are you selling digital products or downloads? Wanting to sell more of them?
One proven way to increase digital store sales is sharing on social media. The size of the audience on social platforms is incredibly gigantic. Use social media to amplify brand awareness or directly drive sales.
In this post we'll share social media strategies to help you develop good plans. We'll also share social ideas and tips you can try out right away.
Let's social all the things! Feel free to skip around, we'll cover:
---
8 Amazing WordPress Plugins for Social Media
There are many WordPress plugins out there that help you make use of social media on your site. Some of them will slow down your site. Others are not well maintained or don't have good tech support.
We'll share some plugins you can rest easy with. These won't slow down your site, are reliable because of constant updates, and are backed by good customer support.


✅ Free
One way to increase sales with social media is to make it easy for site visitors and customers to share your products or pages. The best way to do that is with share buttons that let them do it with one click.
Shared Counts is the best way to do social sharing buttons on your WordPress site.
Social Counts helps you show social proof. Social proof describes how people's purchase decisions are influenced when they see other people are purchasing the product (and happy with it).
Display social icons with 8 preset styles. There is an option to display a count of shares by either a total count or by each social media network.


✅ Free version + 👑 Premium/Pro version
Another great way to increase sales is by showing your user generated content (UGC) from social media on your website. Smash Balloon makes this easy.
Smash Balloon has the best WordPress plugins for sharing social media feeds on your website. They offer five plugins:
1.7+ million websites trust them including many household names like Coca-Cola!
With Smash Balloon it's simple to add your social feeds and customize the visual appearance. You don't have to do any custom coding. They have feed caching and backups so that your social content works fine even if a social media site goes offline!
Everything will look great on mobile and you can get help from their dedicated support team. Save money by getting all 4 plugins with their all access bundle.
You can also check out their limited free versions on the WordPress.org Plugin directory (Twitter, YouTube, Social Photos and Social Posts).


✅ Free version + 👑 Premium/Pro version
Want more followers on your social media channels? Run a contest or giveaway! This is a proven low-cost high-results marketing campaign.
RafflePress is the best and easiest way to run a fun giveaway or contest on your WordPress site. They offer:
Prebuilt templates to make getting started fast
Customize with a drag and drop builder for your contest landing page
100% mobile-friendly
Fraud prevention
Integration with Constant Contact, Mailchimp, AWeber, Drip, Active Campaign, and more (or use Zapier to connect with other apps)
There is a free version called RafflePress lite. If you want more powerful features like notifications, email verification, giveaway landing page, or entry export choose a RafflePress Pro, Growth, or Ultimate plan.
8: Easy Digital Downloads
✅ Free + 👑 Premium extensions
How are you selling your digital products? They best way to do that with WordPress is Easy Digital Downloads (EDD).
Unlike other eCommerce solutions, including Shopify, EDD is purpose-built for digital products (like eBooks, software, or graphics). It's faster to get set up than with other solutions that are designed for selling physical products (like t-shirts and coffee).
Some solutions require add-ons to sell digital files, but EDD specializes in selling downloadedable products.
EDD offers all the powerful features you need to run an online store:
Flexible checkout options (shopping cart or buy now buttons)
Integration with Stripe, PayPal or other payment gateways
Unlimited product listings
Download files are protected from non-customers
Subscriptions (Recurring Payments)
Sales reports
Discount codes / coupons
Works with any theme (or use one of our suggested themes)
EDD has two Extensions to help you grow sales with social media:
Social Discounts – offer customers a discount for liking or sharing your product/pages on social media.
Acquisition Survey – add a 'How did you hear about us?' drop-down to your checkout page to learn where customers come from. When you know where they come from you can better plan your content marketing efforts. Learn how it works here.
Get started with EDD by purchasing a Personal Pass. This pass adds Social Discounts, Acquisition Survey, email marketing integration, lead magnets (free downloads) and more!
---
6 Social Media Strategy Tips

1: Make A Plan
Each social media channel has different advantages and disadvantages. Each has, to some degree, a different audience and demographics. The content that works on one platform won't really work well on another.
Knowing your plans and goals is essential. Take time to plan before you start. There are so many options and opportunities you can't go after them all at once. So the first part of a good social media strategy is to pause, reflect, and make a plan. Our next 4 tips will help you focus your efforts.
2: Choose The Right Social Media Platform/s
If you're a solo entrepreneur or small team, you likely should focus on one social platform. Get good at sharing on there, then expand.
The types of digital products you sell will influence the social networks that you use.
Are they educational courses and tutorials? You likely want to go with LinkedIn and share things like daily tips and e-learning resources.
Have a graphics and digital art store? Focus on creating visual impact with your posts, probably first on Instagram.
Selling audio and music products? Share audio previews and real-world use cases, perhaps on YouTube or TikTok.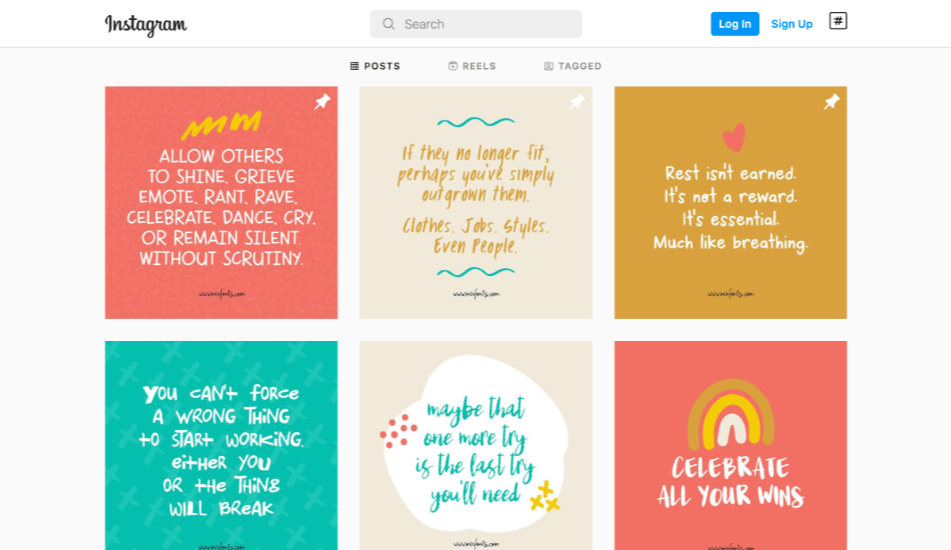 ⬆️ Check out MixFonts – an Easy Digital Downloads customer. They use Instagram to promote their fonts. They use their fonts to share cool quotes and funny thoughts. You see the fonts in action which is perfect for the highly-visual platform.
Research
Doing a bit of research to find out which audiences are present on different platforms will help you decide where to focus your efforts. For example:
Selling nutrition e-courses? Instagram has a big fitness and nutrition crowd. Lots of people share before and after photos, recipes, and fitness tips.
Design fonts and digital patterns? Instagram and Pinterest are great places to show off your visual work.
Offering B2B products like software, digital services, e-learning courses, or how-to guides for entrepreneurs? Twitter and LinkedIn have significant audiences for that.

LinkedIn is designed for professional networking, so it's a natural place for B2B product creators to connect!
You can use different platforms for different purposes. For example:
Twitter for customer support questions, and
Snapchat or Instagram Stories for product tutorials and quick tips
Not sure where to start? Look at your competitors! Find out what networks they are using, and how. What seems to be the most effective for them? What post types are getting a lot of engagement? What topics are most active? Use the search function for each network to see the activity level on a topic or hashtag.
3: The Three Rules of Engagement
No matter which social media platform(s) you decide to use, these universal principles apply:
Be Proactive
Focusing on being proactive (not reactive). Set the tone, stay in control, and generate interest. Being proactive can mean sharing information about your products and answering any questions before they are even asked.
Share about you, your company, and related industry news
Recognize and thank new customers or long-time customers
Ask your customers questions about their concerns, favorite products, features, or things they'd like to see in the future
Tell people about new products, but be sure not to only do this.
Proactive engagement is all about showing your audience that you seek to understand their needs, and that you are constantly working to provide them with value. It's proven to increase sales and customer loyalty, too!
Be Consistent
By being consistent, you let your audience know what to expect. They'll also learn they can rely on you as a source of quality content (and products).
Become the go-to place for the content they seek. You'll establish yourself as an industry authority and your audience will keep coming back for more.
Graphics and Branding
Maintain a consistent customer experience by keeping your brand and voice cohesive. This means choosing a style that you will keep throughout your content, and it applies to your graphics, images, copy, and tone.
Your presentation and message should reflect your goals and company values. Is your vibe casual and fun, sleek and sophisticated, or modern and edgy? Define yourself and stick to it!
Usernames
You'll also want to be sure to set up all of your social media accounts with the same username/handle. This important so that it's easy for people to find and follow your accounts. Use a site like Namechk to check if your desired usernames are available. If you can't get the exact name, grab the next closest handle.
Be Relatable
Don't be afraid to interact with your social media followers on a personal level. The days of rigid formalities are long gone. It's a conversation. People appreciate the one-to-one attention they get with social media. Simply answering questions or replying to comments can make a huge difference in the way your followers view your brand, so focus on nurturing a connection.
Remember that you're building a community!
Make people feel invited, welcomed, and "seen". That can make a bigger impact than simple statements and announcements. Ask a question, create a poll, respond to comments, or create a contest or giveaway.
Most social platforms allow you to measure the effectiveness of your posts and campaigns, so you can double down on what works, and forget what doesn't. Make your posts insightful, valuable, or enjoyable to your target audience, facilitating discussion on your products, their features, and industry related topics. Don't forget to show some personality!
Be Helpful
People don't go on social media because it's a marketing tool driving online sales. They go on social media for other reasons. They go to learn about stuff, laugh, relax, or get help with a problem.
Don't be sales-y or pushy on there. Find ways to be helpful. Do things like answering questions and providing useful content to help people solve people's problems.
4: Schedule Posts
If you take your social media marketing seriously, consider using a social media platform for scheduling like Hootsuite or Buffer. These web apps take the headache out of posting. The make it easy to schedule your posts ahead of time and in batches.
Focus on building your business and not watching the clock to post at a specific time! Sticking to a content schedule also helps you stay consistent and build momentum over time.
Many of the social media platforms have their own tools for scheduling now. Be sure to check them out (for some of these links you need to have an account and be logged in):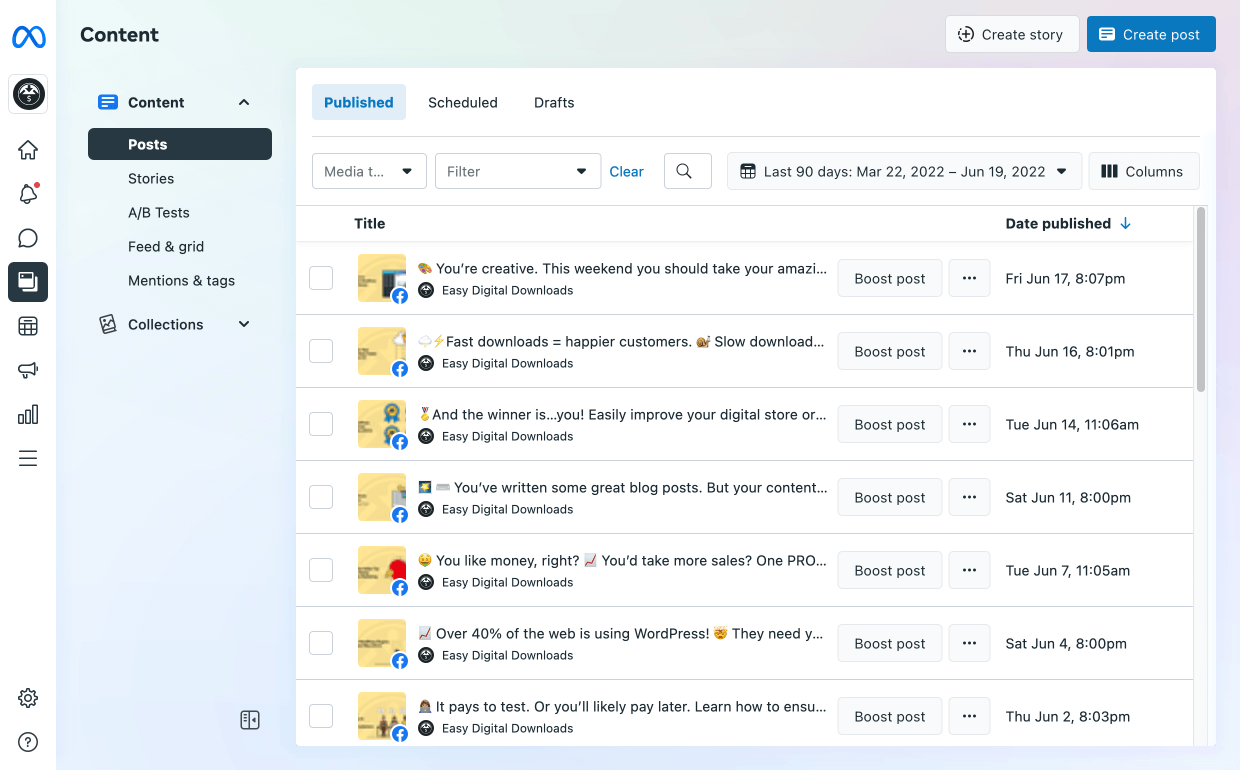 5: Tips for Engaging Content
Here are some tips that will help you think up and develop engaging content on any social media platform. Engaging content can heavily influence purchase decisions.
Images Are Powerful
Photos and videos are a very engaging type of content. Imagery evokes memories, stirs the senses, and creates emotional connections. We humans are visual creatures. People are responsive to these types of content.
👉🏾 Even something as that seems insignificant as the use of emojis can set enhance your posts.
Use images of your products, people using your products, your team, or yourself. There are some great free stock photo sites like Unsplash and Pexels, which provide you with high-quality photos that are modern and stylish.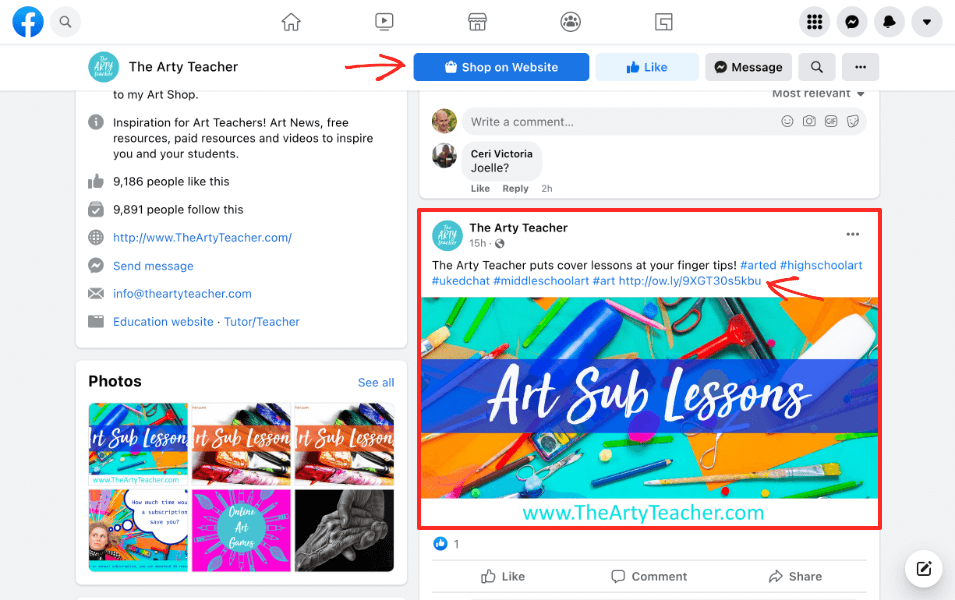 Create custom graphics with free online design tools like Canva, Adobe Express, and VistaCreate. They offer lots of templates for quick results and proper social media platform sizes and formats. They also have templates for eye-catching infographics.
Aim to have a cohesive and relevant look across all platforms; make sure you use the same logo, colors, and brand assets for each network. The more consistent your brand is, the more familiar and appealing it becomes to consumers.
Video Is Valuable
It can be pretty noisy and busy on social media feeds. Thousands of new social media posts go live every second. Video can help you stand out. Video has always been captivating, utilizing the senses in a way that other types of media cannot.
Consider ways to post content with video to your social media strategy to stay competitive.
If you don't already have video editing skills, there are a variety of video editing apps. These apps to take time to learn. A fast option can be Canva, Adobe Express, and VistaCreate. They offer easy-to-use-tools to make short videos and motion graphics.
You can use video to showcase your products, educate your audience, and make announcements. You can also use it to engage with customers directly in real time – platforms like Facebook, Instagram, and YouTube all have live video features. You can do real-time streams where you can engage in a Q&A session, give a live tutorial, document events as they are happening, and much more.
Live videos create a sense of urgency, increasing engagement by limiting access to a specific time frame.
Educate Your Audience
One of the main reasons the internet is so huge in our lives is that it's a rich educational resource. People have limitless information and tools at their disposal. We are able to learn quickly and efficiently. To capture the attention of potential customers on social media, help them learn stuff.
Tips and tricks
Short tutorials
How-to guides
New developments and information relevant to your industry
Imagine what your ideal customer is looking for, and you can make great strides in growing your social media followers. There's no harm in linking to, or reposting content from other accounts. However, social media sites have algorithms that prioritize original/native content. Making your own original content pays!
Use Unique Content For Each Platform
Most of the time, posting unique content across social media platforms is more effective than copying and pasting one post everywhere.
Try making even just slight adjustments for variation can keep things fresh and interesting.
Cross-pollinate your different channels by offering exclusive incentives to your followers, for example:
Let your Facebook page followers know that they will have access to exclusive tutorials if they follow you on Instagram, or
Give your Twitter followers a special discount for following your Facebook page
Be sure to check any policies for promotions on each social network before you do this.
---
5 Insider Social Media Resources

Smash Balloon and RafflePress are experts on many social media topics. We recommend their blogs to learn how to better use social media for your online business.
Here are some of their great articles we recommend with ideas to try right away:
---
Conclusion
Great work! You've learned how to increase sales on social media for your digital store. You're ready to begin using social media as part of your digital marketing strategy.
Best of luck out there!
We have a lot more resources for digital creators. What do you want to learn about next?
Be sure to subscribe to our newsletter or follow us on Facebook and Twitter to get our latest resources for digital creators.