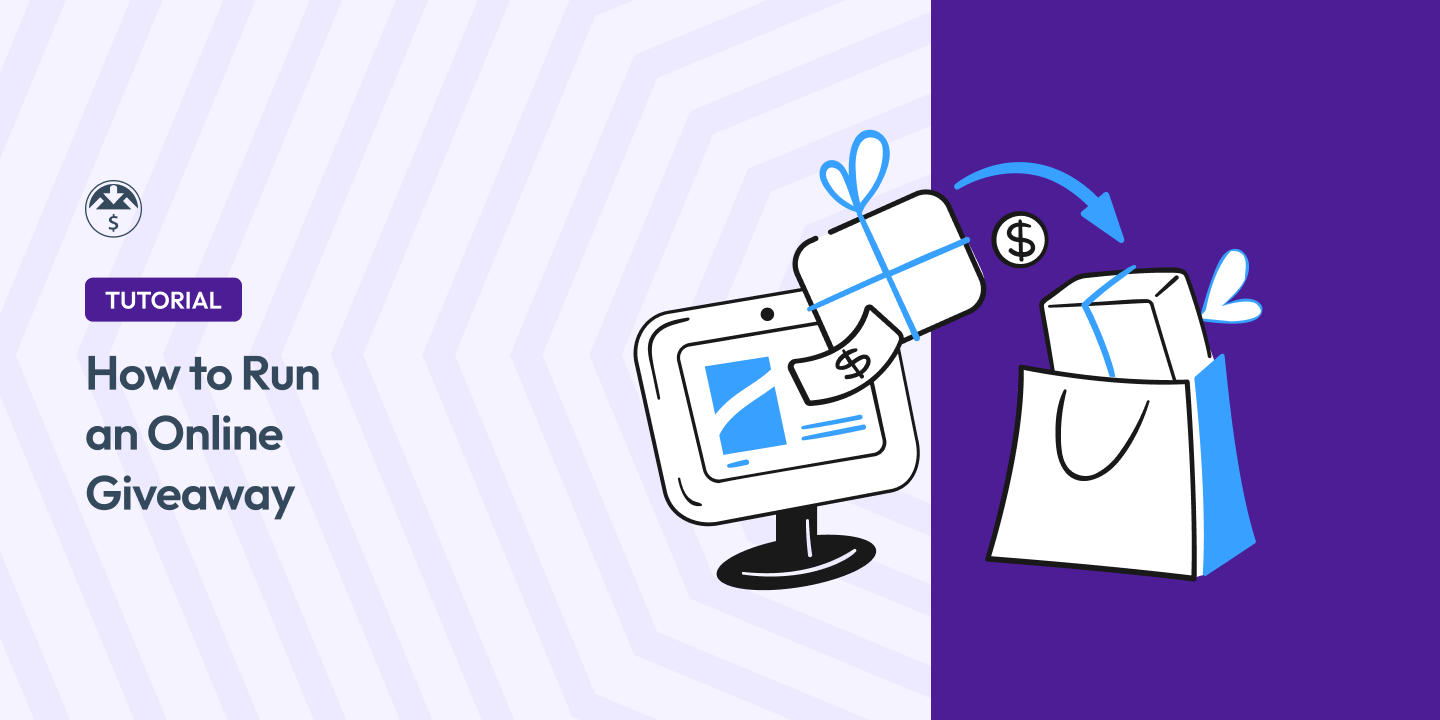 Do you want to learn how to run an online giveaway for your e-commerce business?
Running an online giveaway is a powerful strategy for boosting engagement, increasing your website's traffic, and growing your email list. If you're an e-commerce business owner looking to harness the potential of viral giveaways, this article is for you.
We'll guide you through the process of running a successful giveaway using WordPress and the RafflePress plugin.
🔎 In this article, we'll cover:
Why Run an Online Giveaway?
Before diving into the tutorial, let's explore the compelling reasons why e-commerce businesses should consider running online giveaways.
Boost Brand Visibility
Online giveaways are like a spotlight on your brand. When executed effectively, they attract attention from your target audience and beyond. People love free stuff, and they love sharing their discoveries with friends and family. Your giveaway can quickly become a hot topic on social media and increase SEO, helping to boost your brand awareness and visibility.
Grow Your Email List
One of the most significant benefits of running a giveaway is the opportunity to collect email addresses from interested participants. By requiring entrants to subscribe to your newsletter or join your mailing list as a contest entry submission requirement, you can rapidly grow your email database. These subscribers are often highly engaged and interested in your products or services.
Drive Traffic to Your Website
A well-promoted giveaway can lead to a substantial increase in website traffic. Participants will visit your site to enter the WordPress contest, explore your offerings, and check out your content. This surge in traffic not only exposes your brand to a wider audience but also provides an opportunity for potential customers to discover your products.
Build Customer Engagement
Engagement is a key factor in building customer loyalty. Hosting an online giveaway allows you to interact with your audience, respond to comments and questions, and create a sense of community. Engaged customers are more likely to become repeat buyers and brand advocates.
Generate User-Generated Content
Contests often require participants to create User-Generated Content (UGC) such as photos, videos, or written testimonials. This content can be a valuable asset for your marketing efforts. You can feature UGC on your WordPress site, social media, and other marketing materials to showcase your products in action and build trust with potential customers.
How to Run an Online Giveaway in WordPress
Now that you understand the benefits of running an online giveaway, let's walk through the step-by-step process of setting one up using WordPress and the RafflePress plugin.
Step 1: Choose Your Goals & Prize
The first step to creating and running an online giveaway is to decide on a prize that will resonate with your target audience. Your prize should be relevant to your e-commerce business and enticing enough to generate interest. Consider offering a popular product, a gift card, or a bundle of your best-selling items. You could also offer a free download, digital product, or service.
Before launching your giveaway, you'll also want to outline your goals and objectives. What do you hope to achieve with this giveaway? Is it to increase your email list, drive website traffic, or promote a new product? Having clear goals will help you tailor your giveaway strategy for maximum impact.
For instance, if the goal is to grow your email subscribers, you could make signing up for your email newsletter a requirement for entering the giveaway. You could even have an added caveat of allowing participants to submit more than one entree as a reward for subscribing.
Knowing your goals and objectives for the giveaway will also help you focus on designing, optimizing, and promoting/sharing it in a way that has the utmost impact.
Step 2: Install Your Giveaway Plugin
To efficiently manage your giveaway, you'll need a reliable giveaway WordPress plugin. We recommend RafflePress. It's among the best WordPress giveaway plugins that integrate seamlessly with Easy Digital Downloads (EDD) and tons of other services and tools:

You can choose from multiple pricing plans depending on your specific needs. Once you register your account, you can download, install, and activate the RafflePress plugin on your WordPress website.
Once you activate it, a RafflePress menu item will appear in your WordPress dashboard.
Step 3: Create & Customize the Online Giveaway
Now it's time to create your giveaway contest. To get started, navigate to RafflePress » Add New: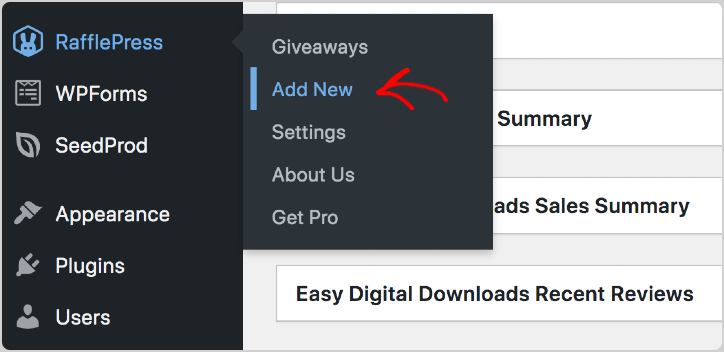 Next, you can choose a template. RafflePress offers pre-designed giveaway templates to make the process easier. For instance, some of your options include Classic Giveaway, Grow Your Facebook Page, and Refer-a-Friend Viral Giveaway: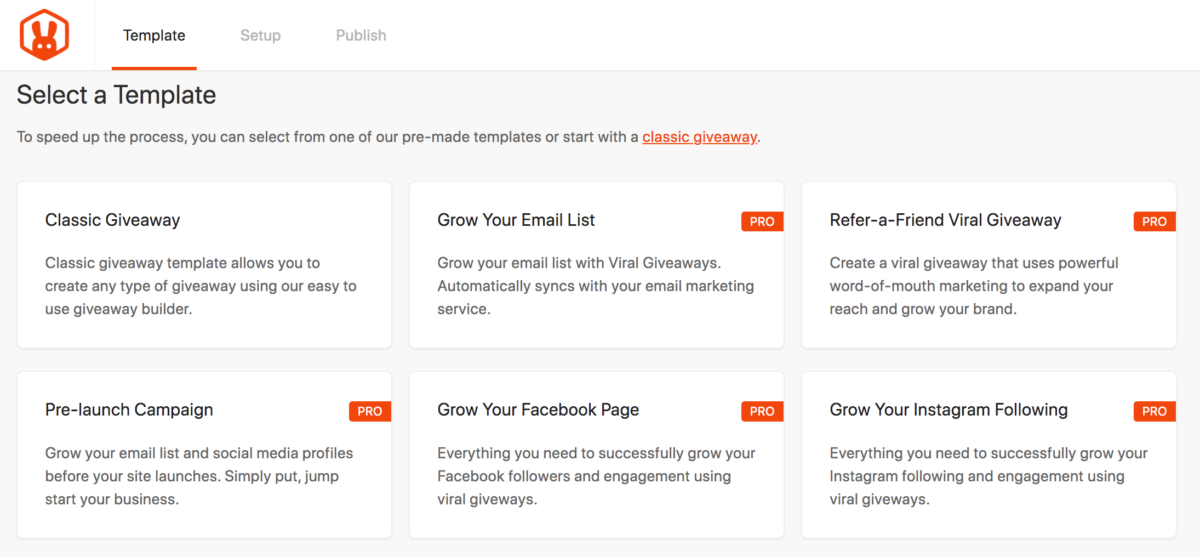 Select a template that fits your branding and objectives, or start from scratch if you prefer complete customization. I'll use the Classic Giveaway template.
Next, under the Setup » Details tab, you can configure giveaway details. Fill in the details of your giveaway, including the title, description, and start/end dates: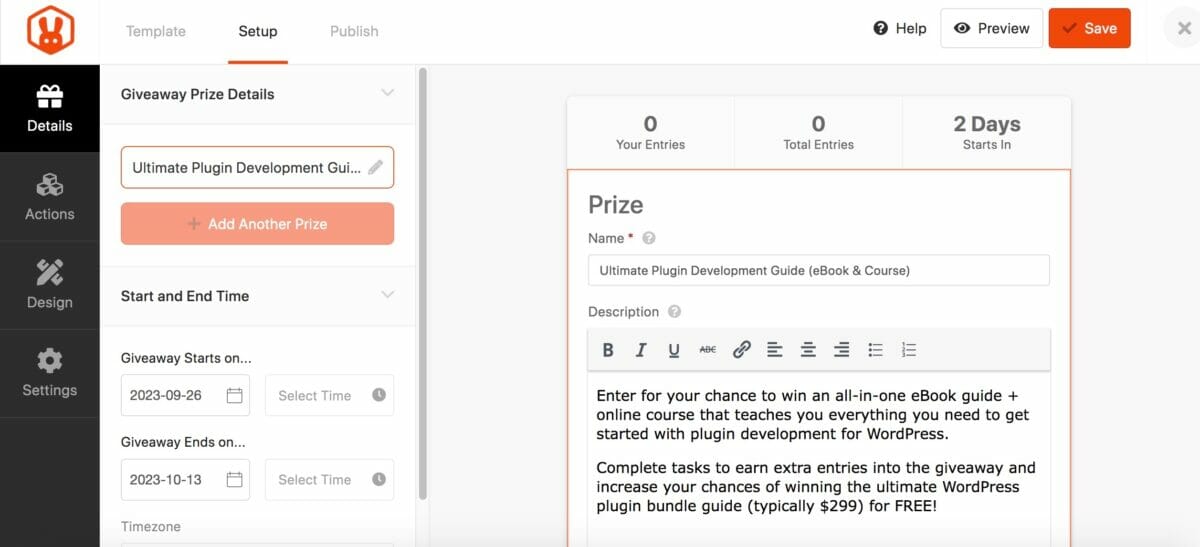 Be sure to enter as much information about the giveaway/contest as possible under the description.
Then, under the Actions tab, you can set the entry methods: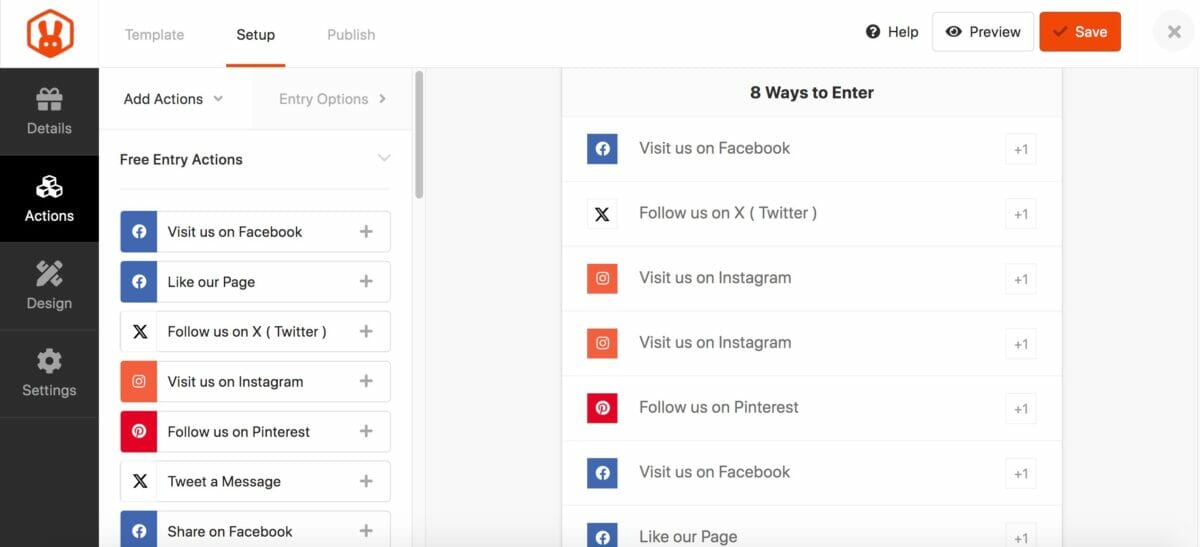 RafflePress offers various entry options such as visiting a page, subscribing to your email list, following you on social media, and more. Choose entry methods that align with your goals.
Under the Design tab, you can customize the look of your giveaway by adding images, changing colors, and adjusting fonts. Make sure it matches your brand's visual identity: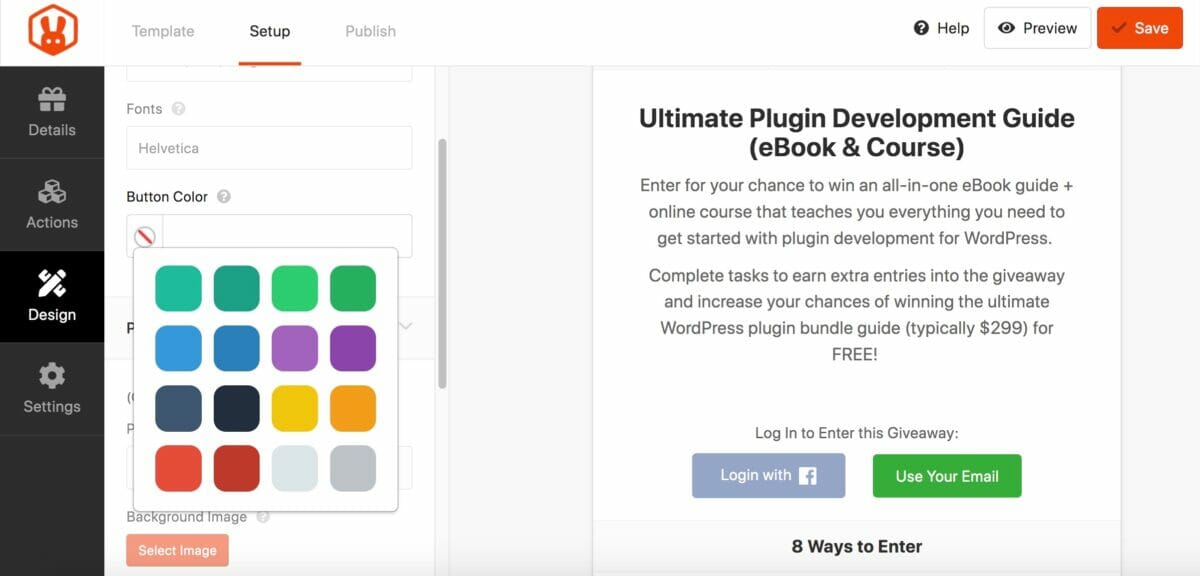 Choose where and how your giveaway will be displayed on your website. You can embed it in a post or page, create a dedicated giveaway landing page, or use a popup.
Under Settings, you can find a handful of additional options, such as Email verification, Recaptcha, etc. For more information, you can refer to the RafflePress documentation.
Once you review your giveaway settings and you're satisfied, click on Save.
Step 4: Publish/Run the Online Giveaway
After you preview and save your giveaway, you can go to the Publish tab along the top menu bar. Here, you can select how you want to add the online giveaway to WordPress:

You can use the WordPress shortcode, RafflePress WordPress block, or a landing page. I'll use the block.
Navigate to the page or post you want to add the online giveaway to. In the block editor, click on the (+) Add block button, then search and select RafflePress:

Once you insert the block, you can select your online giveaway from the dropdown menu:

After you select the appropriate giveaway, you can preview it within the block editor. When you're done, click on the Publish button: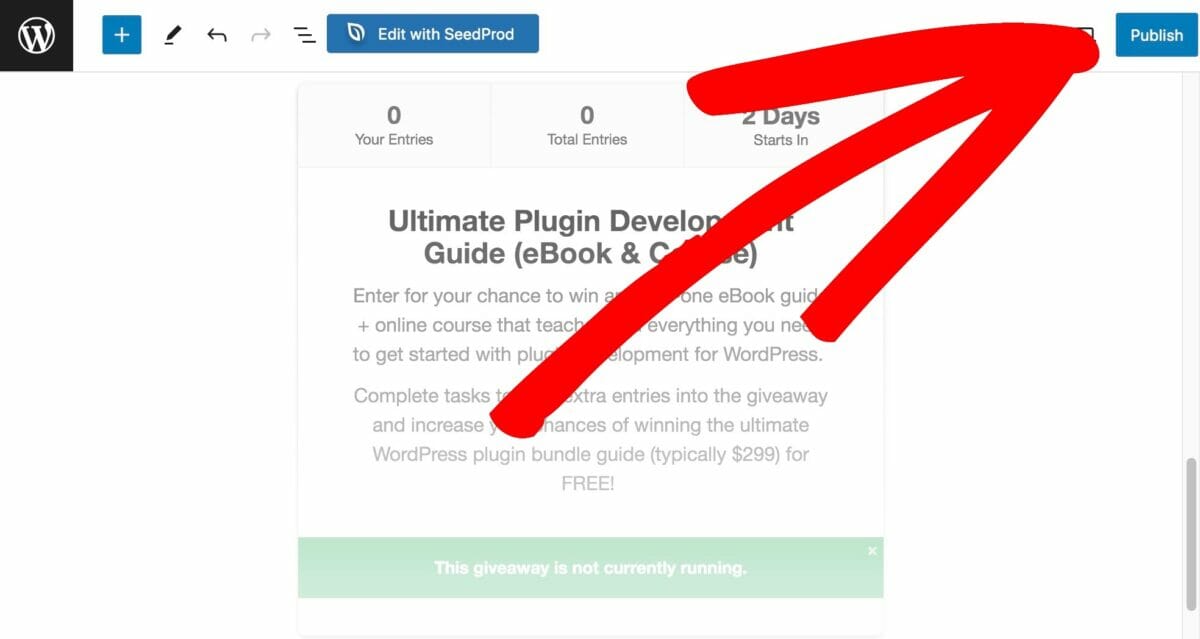 Step 5: Promote Your Online Giveaway
Now that your giveaway is live, it's time to promote it and maximize its reach.
Share your giveaway on all your social media platforms, using relevant hashtags and encouraging sharing.
Email marketing can also come in handy. Send out an email to your existing subscribers, inviting them to participate and share the giveaway with their contacts.
On your website, you can use plugins like OptinMonster to create banners or popups to drive visitors to the giveaway: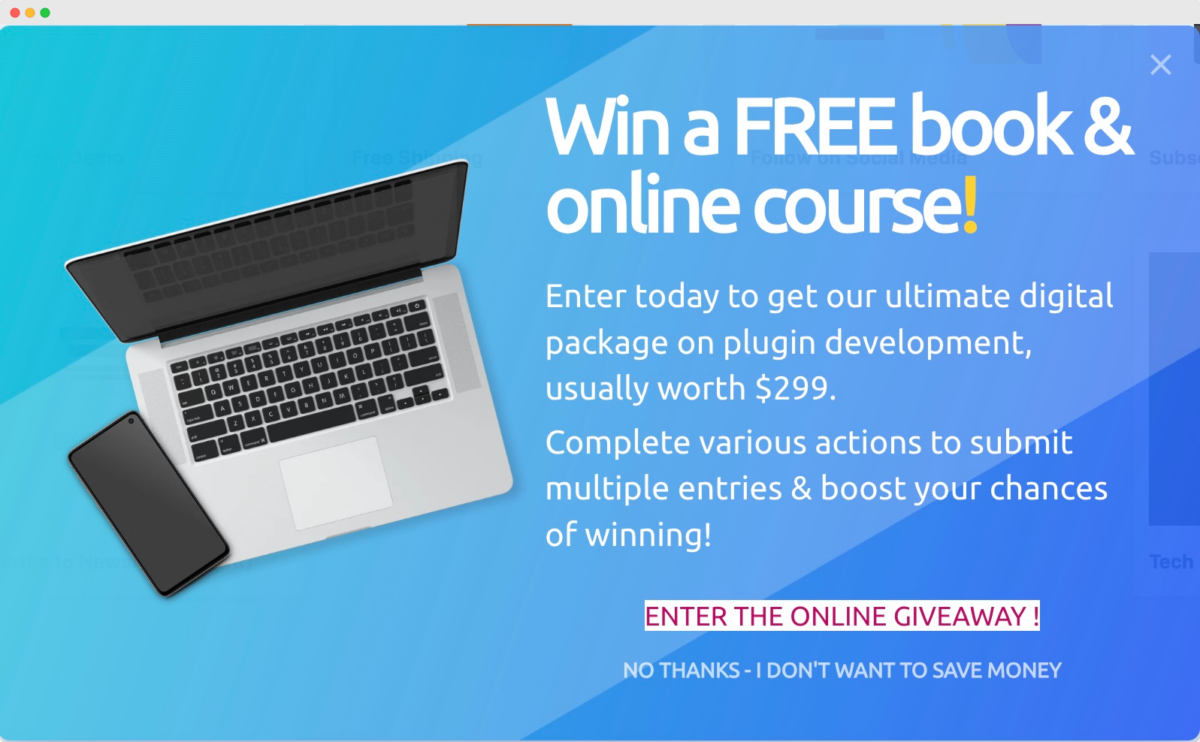 Finally, consider running targeted ads on platforms like Facebook or Instagram to reach a broader audience.
Step 6: Monitor & Engage
Once your giveaway is live, actively monitor its progress. Engage with participants by responding to comments, questions, and messages. Keep the excitement alive throughout the giveaway period.
When the giveaway ends, use RafflePress to randomly select the giveaway winners. You can do this by going to RafflePress » Giveaways, and then clicking on the Needs Winners link:

Notify them via email and publicly announce the winners on your website and social media channels. Be transparent about the selection process to build trust with your audience.
After the giveaway, continue engaging with your new subscribers and social media followers. Send them relevant content, special offers, and product updates to nurture these leads into loyal customers.
FAQs About Running an Online Giveaway
Let's wrap up with some frequently asked questions.
Can I use other plugins instead of RafflePress?
While RafflePress is recommended for its compatibility with WordPress and user-friendly interface that is suitable for beginners, you can use other giveaway plugins available in the WordPress ecosystem. Just ensure that the chosen giveaway or contest plugin provides the features and functionality you need for your giveaway.
How do I prevent fraud in my giveaway?
To minimize the risk of fraud in your giveaway, consider implementing verification steps, such as email confirmation or social media verification, for certain entry methods. Additionally, regularly monitor entries and look for suspicious patterns or multiple entries from the same individual.
Also, to minimize the risk of confusion, make sure to include clear giveaway rules, eligibility criteria, and giveaway prize details in your terms and conditions.
What is the ideal duration for an online giveaway?
The ideal duration for an online contest or giveaway typically ranges from one to four weeks. It should be long enough to give participants ample time to enter and share the contest but not so long that interest wanes. Monitor the engagement and adjust the duration based on your audience's response.
How can I make my giveaway more engaging?
To make your giveaway more engaging, consider incorporating interactive elements such as quizzes, polls, or challenges as entry methods. Encourage participants to share user-generated content related to your brand or product, and regularly update them on the giveaway's progress to keep the excitement alive.
It's also smart to integrate other WordPress plugins that can help promote your giveaway and attract participants. For instance, PushEngage lets you create and send push notifications to your users. OptinMonster is an excellent tool for creating opt-in forms and sliding bars with countdown timers to help build excitement.
Create an Online Giveaway in WordPress
Running an online giveaway with WordPress and the RafflePress plugin can be a game-changer for your e-commerce business. By following the steps outlined in this guide and harnessing the power of giveaways, you can increase brand visibility, grow your email list, drive traffic to your website, and build lasting user engagement.
Seamlessly integrate your online giveaways with your e-commerce store to engage customers. Don't have Easy Digital Downloads yet? Get your pass today:
Want more ways to drive conversions and traffic to your online store? Learn how to create and sell online courses in WordPress.
📣 P.S. Be sure to subscribe to our newsletter and follow us on Facebook or Twitter for more WordPress resources!