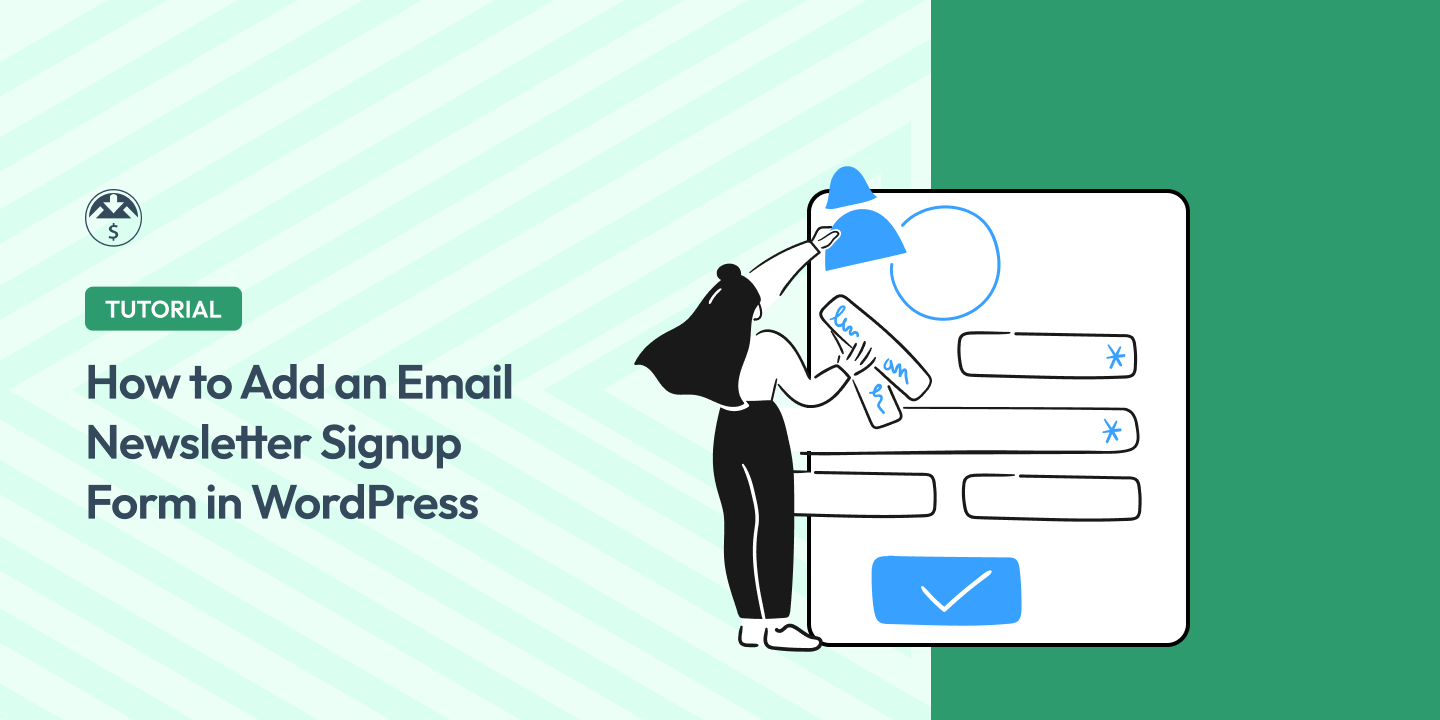 Do you want to add an email newsletter signup form to your WordPress website?
It's a smart idea. In today's digital age, maintaining a strong online presence is essential for businesses. One simple yet effective way to connect with your audience and keep them informed about your products and promotions is through email newsletters.
Adding an email newsletter signup form to your online store can help boost subscribers and grow your reach.
🔎 In this article, we'll cover:
Why Newsletters Are Important
If you're just starting out in e-commerce, you might be wondering, Why create a newsletter? There are a handful of reasons.
First, they can help increase engagement and loyalty. By regularly sending valuable content to your subscribers, you keep them engaged and foster loyalty toward your brand. Delivering valuable, quality content demonstrates your relevance and value, which can build credibility and trust.
You can also use newsletters to offer personalized content and exclusive offers to your users.
Another important reason to create a newsletter is for traffic generation. Newsletters drive traffic to your website, increasing the visibility of your content and products.
They can also be powerful tools for lead generation. Newsletter signup forms offer a clean, quick, and convenient way of capturing potential customers' email addresses. enabling you to capture potential customers' email addresses.
Add an Email Newsletter Signup in WordPress
Ready to get started? Below, I'll walk you through how to create and add an email newsletter signup form in WordPress.
Don't have a WordPress site yet? Don't worry. You can easily get everything you need to start your WordPress e-commerce site with a SiteGround Managed EDD Hosting plan.
1. Install Easy Digital Downloads
If you haven't already, the first step is to install and activate the Easy Digital Downloads (EDD) plugin: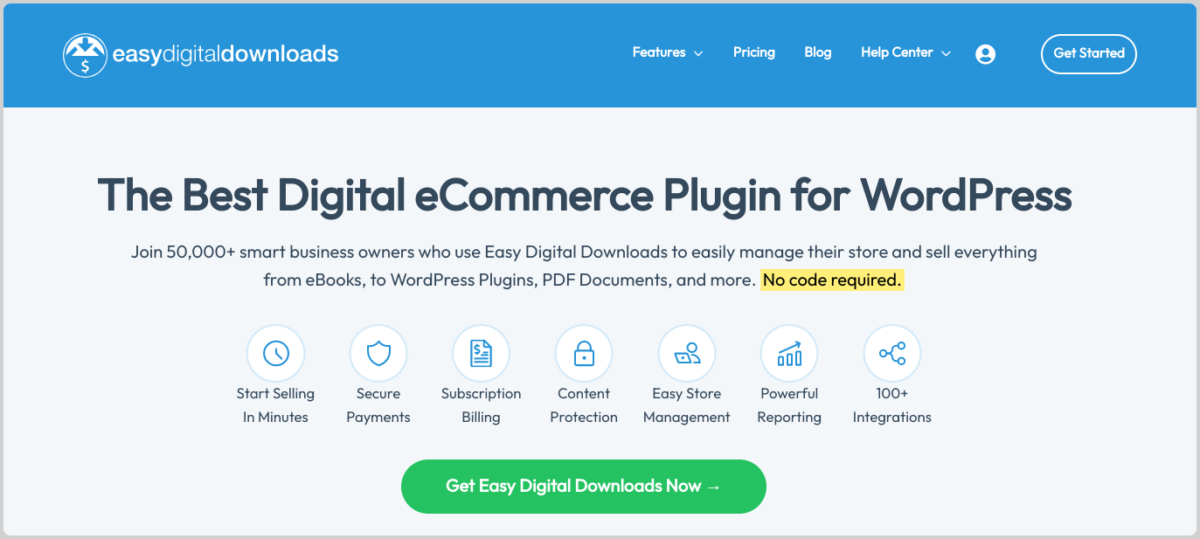 EDD is the best WordPress plugin designed to simplify the process of selling digital products and services online. This includes eBooks, software, music, courses, and more.
Not only does EDD make it easy to set up an online store, but it also offers a range of features that can help boost email subscribers and engagement. For instance, you can offer free downloads, such as an eBook or a resource guide, in exchange for their email address.
You can create a sense of exclusivity by offering special content exclusively to your email subscribers. Plus, you can integrate it with a handful of email service providers.
There is a free EDD plugin available. However, to access the full suite of features and premium extensions, I recommend grabbing a premium pass. Learn more about EDD Pro vs EDD Free.
After you select your plan, you can download the EDD Pro plugin .zip file. Then you can upload, install, and activate it on your WordPress site.
For help setting up your EDD store, feel free to refer to these guides:
2. Configure & Connect Your Email Service Provider
The next step is to connect your email service provider (ESP) to your WordPress site. An ESP is a platform or software that helps you manage and execute email marketing campaigns.
Most help with:
Campaign management (creating & scheduling)
Subscriber list management
Delivery optimization
A/B testing functionality
EDD integrates with a handful of popular email marketing service providers:
For this tutorial, I'll use Mailchimp.
From your WordPress dashboard, go to Downloads » Extensions. Search for Mailchimp, then click on the Install button: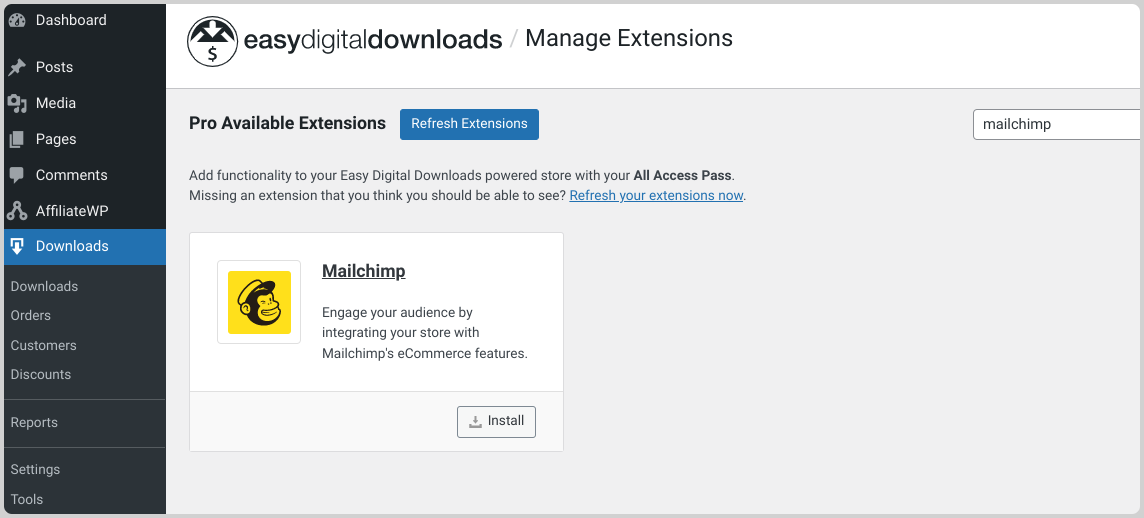 Once activated, click on the gear icon. Alternatively, you can go to Downloads » Settings » Marketing » Mailchimp:

You'll need to enter your Mailchimp API key. You can get this from your Mailchimp account (Extras » API Keys & Authorized Apps » Add A Key):
Next, click on Save Changes. The plugin auto-populates your mailing lists (aka 'Audiences') from your Mailchimp account.
Under Available Lists, select the Mailchimp list(s) you want to connect to your store:
There are a few other settings you can configure. For instance, you can select the checkbox to Show Signup at Checkout.
Click the Save Changes button again. If you need further assistance, feel free to refer to our Mailchimp Documentation.
3. Install OptinMonster
There are a handful of tools you can use to create an email newsletter signup form in WordPress. For instance, you can use a form builder plugin such as WPForms. For this post, I'm going to use OptinMonster: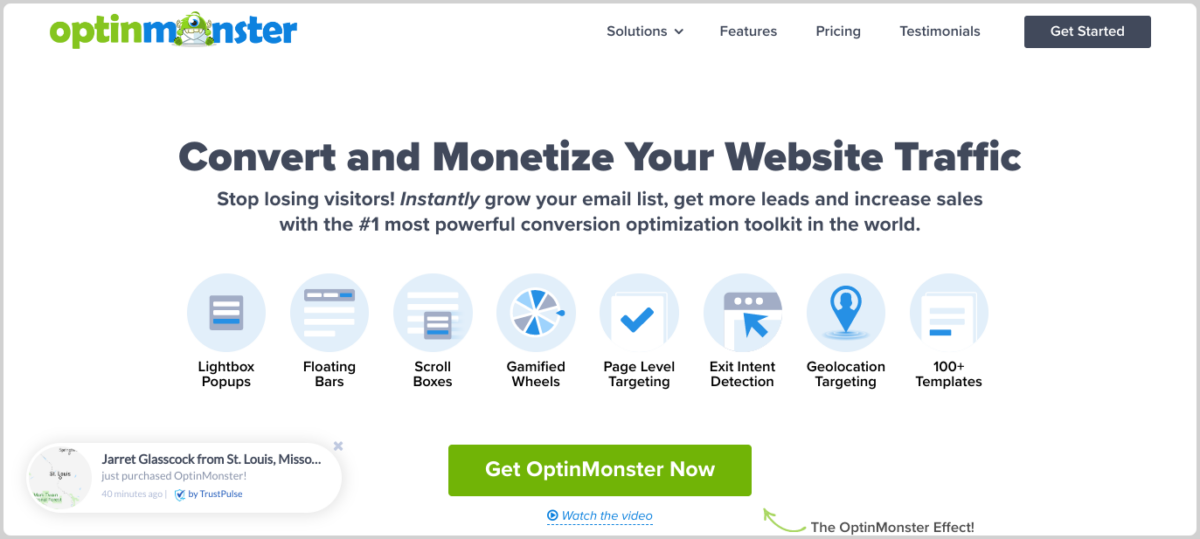 OptinMonster is a leading conversion optimization tool. You can use it to create eye-catching opt-in forms, including email newsletter signup forms.
You can purchase and download OptinMonster from the website. Then upload it to your website under Plugins » Add New » Upload Plugin:

Install and activate the plugin.
💡If you need help, refer to this guide: How to IntegrateOptinMonster + Easy Digital Downloads.
Once activated, you can integrate the OptinMonster plugin with Mailchimp. Go to OptinMonster » Integrations. Locate Mailchimp, then select Connect:

Again, paste your Mailchimp API Key in the form field: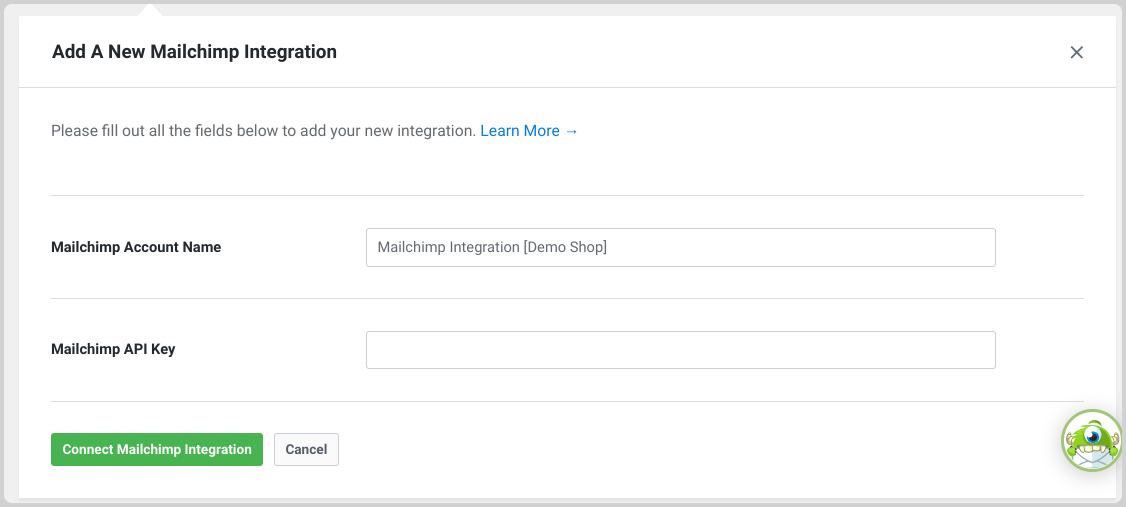 Then click on Connect Mailchimp Integration.
4. Create Your Email Newsletter Signup Form
Now it's time to create the email newsletter signup form. You can browse your options under OptinMonster » Templates: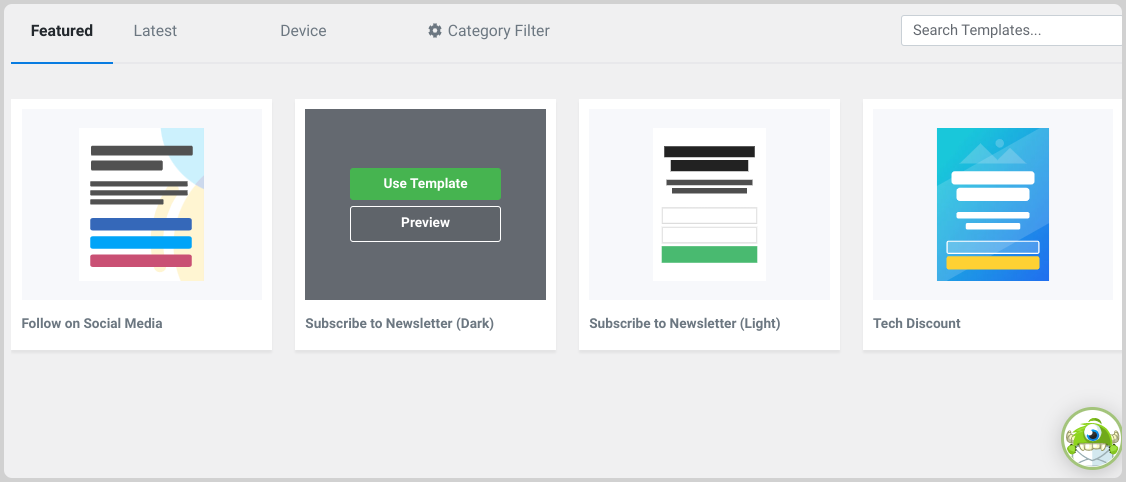 To view a template demo, hover over it and click Preview. When you find one you like, select Use Template. I'll use a slide-in Subscribe to Newsletter (Dark) form.
Name your campaign, then click on Start Building: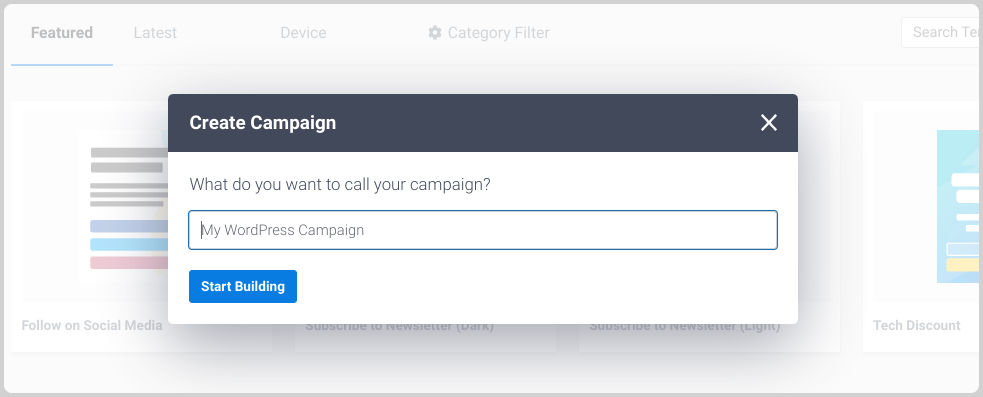 This launches the OptinMonster builder. Along the bottom, you can enable a Yes/No campaign to create a multi-step form.
Customizing the Newsletter Signup
Under Optin, you can edit and customize the email signup form template: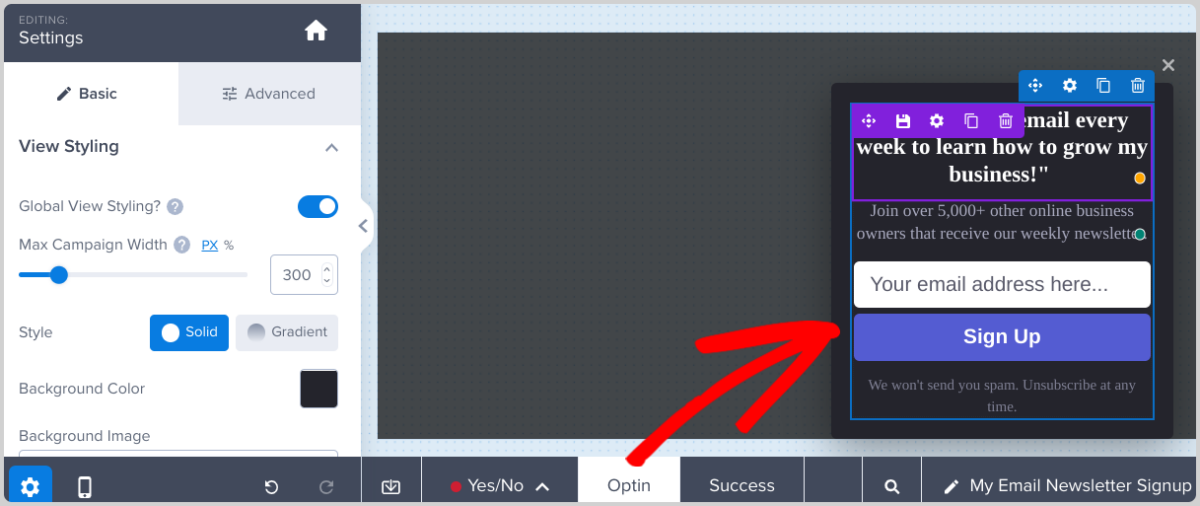 Click anywhere within the form to edit that element.
There are a variety of settings you can modify. You can change the sizing, font, colors, etc. For instance, I changed the text, adjusted the colors, and added a logo image: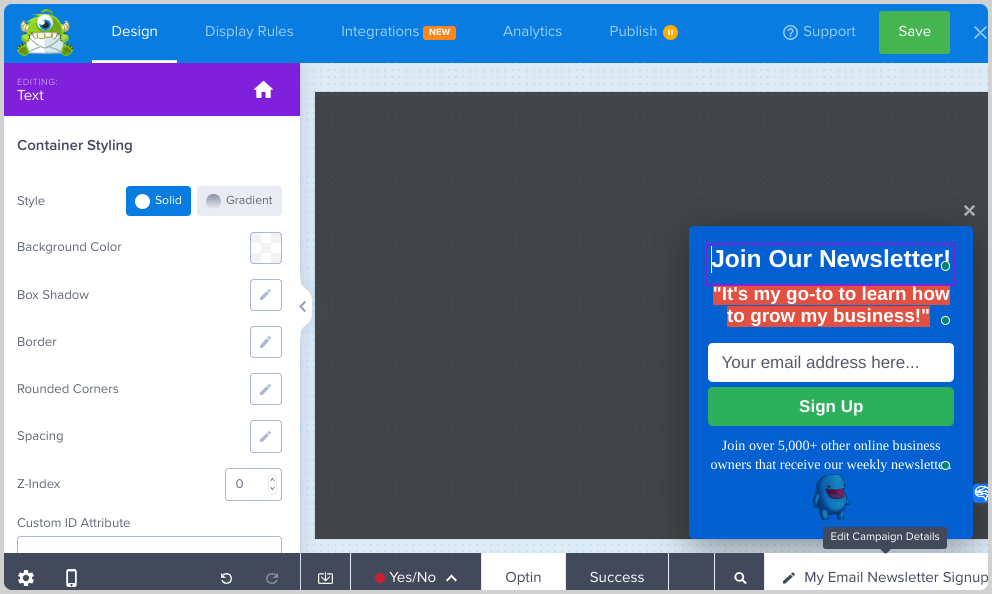 When you click on a form field, you can change the placeholder text and choose whether to make it a required field. You can also change the default Sign Up button text to something else, such as Subscribe.
Once you're done customizing the form, you can click on the Success tab at the bottom: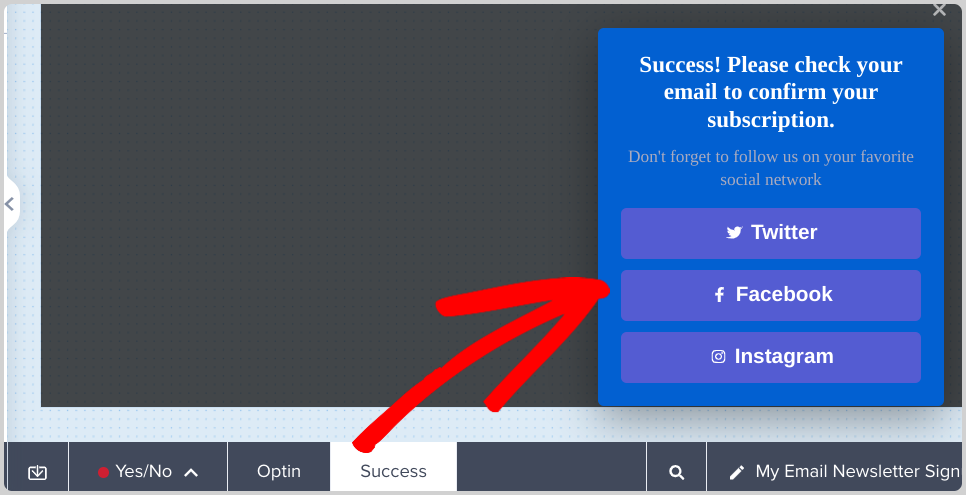 This is where you can view and edit the success message that users see after they sign up for your email newsletter. As with the optin form, you can click anywhere to access and change the settings for each element.
For example, I'm going to change the social media CTA button background color to match the green Subscribe button on the form. When you click on each button, you can modify the URL it's linked to:

When you're done, click on Save in the top right-hand corner.
OptinMonster Display Rules
OptinMonster lets you configure and customize the display rules for your email newsletter signup form. Next to Design along the top of the page, select the Display Rules tab:

You can update the display rules as you see fit. For instance, you can make it so that the form appears after a user is on the site for 3 seconds, rather than the default 5. You can also modify the URL paths/pages that display the email newsletter signup form.
Click on Done when you're finished.
5. Preview & Publish the Email Newsletter Signup Form
Return to your WordPress dashboard. To edit or preview your newsletter signup form, you can go to OptinMonster » Campaigns:

You can utilize A/B testing by clicking on Create Test under the A/B Tests column. This lets you experiment with different versions of the form to see which is more effective.
Eventually, once you've started collecting subscribers, you can access and view analytics by clicking on the graph icon.
If you're satisfied, you can push the email newsletter signup form live. Select Draft under the Status column, followed by Publish:

Now when you visit your e-commerce site from the front end, you should see the email newsletter signup form: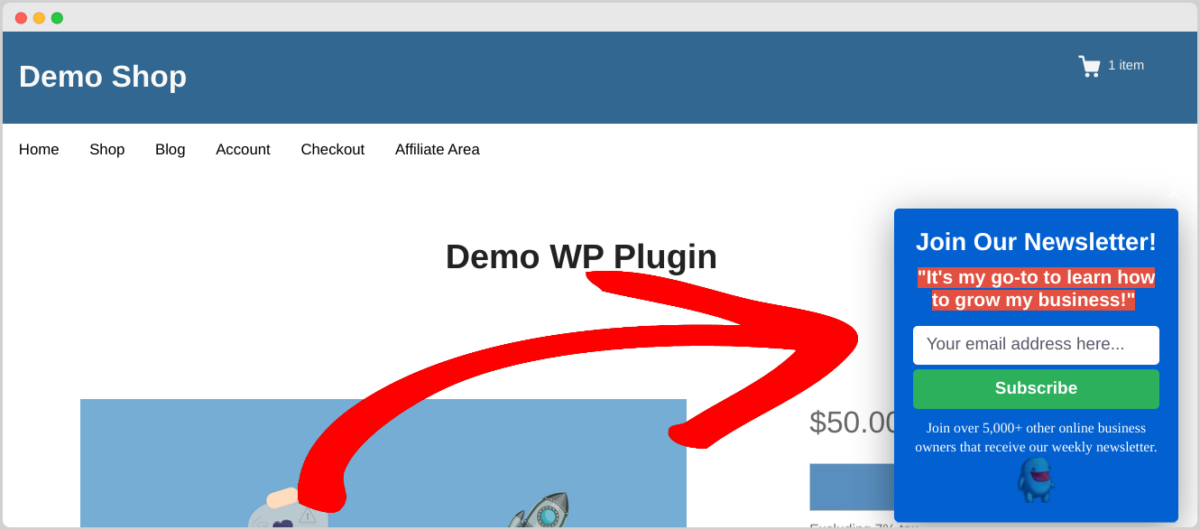 That's it!
Learn How to Create Lead Magnets to Grow Your Email List
Tips for Using EDD to Grow Your Email List
Now that you know how to add an email newsletter signup form in WordPress, you're ready to start creating your newsletter content. If you're not sure how to get started, check out this post on how to write digital store product newsletters.
To help optimize your email newsletter and boost subscribers, I put together a list of tips you can use.
Offer freebies & downloadable content. One of the best ways to motivate visitors to subscribe to your newsletter is to give something away for free. EDD makes this easy. You can use the Free Downloads extension to offer downloadable content (eBooks, templates, guides, etc.) to subscribers.
Share relevant, valuable content. Select content that provides value to your target audience. Make your newsletter a resource subscribers can use to find solutions to their common questions, pain points, and interests.
Provide exclusive content for subscribers. You can create a sense of exclusivity by offering special downloadable content exclusively to your email subscribers. This encourages more people to join your email list in order to access premium content.
Cross-promote. Collaborate with other content creators or businesses in your niche to cross-promote each other's downloadable products. This can help you tap into each other's subscriber base and reach a wider audience.
Upsell and bundle products. EDD provides opportunities for upselling and bundling products. For instance, after a user downloads a free eBook, you can offer them a related premium product at a discounted rate. This strategy can help increase your revenue while keeping your subscribers engaged.
Offer discount codes. You can incentivize users to subscribe to your email list by offering them exclusive discount codes for your digital products. This not only boosts your subscribers but also encourages sales.
Be consistent. By consistently delivering high-quality downloadable content, you build trust and credibility with your audience. This trust can translate into higher engagement rates and more conversions. To enhance the user experience, it's also smart to provide a clear and accessible way to unsubscribe.
FAQs About Email Newsletter Signup Forms
Let's wrap up with some frequently asked questions.
Boost Subscribers With an Email Signup Form
Incorporating an email newsletter signup form into your WordPress site is a strategic move to enhance user engagement, grow your subscriber list, and foster a loyal audience.
By following the step-by-step instructions outlined in this article, you can seamlessly create a compelling email newsletter signup form to add to your WordPress site. Get EDD to get started:
What's next? Learn how to auto-register users to your email lists based on which provider you use:
📣 P.S. Be sure to subscribe to our newsletter and follow us on Facebook or Twitter for more WordPress resources!