---
Do you want to sell digital downloads? You should! Selling digital downloads is a great way to make money online. This can be a great source of passive income.
You have a unique perspective on the world. You have a mix of skills, experiences, and expertise that no one else has. Share it! What are you passionate about? Craft that into a digital download that helps others succeed.
In this article we'll share ideas for WHAT digital downloads to sell and explain HOW to sell them.
We'll also weigh some of the pros and cons of different selling methods. Then, we'll show you how to easily get started for free!
Contents
---
Digital Download Ideas
What are you good at? Is there a topic you could nerd out and talk about all day with someone? You can turn that into a digital download that helps someone.
Call Them What You Want
When you are doing research on tools and best practices for selling your digital downloads, be aware that you might see them described by different terms. Be sure to search one of these other words if you're not finding what you're looking for.
Digital products ➡️
Virtual products ➡️️
Digital goods ➡️
Digital files ➡️
Digital content ➡️️
Making a digital download someone wants doesn't just have to be about 'business'. You can take any passion. With your unique perspective you can bring valuable insight to many areas of someone's life:
Personal life
Hobbies
Performing arts
Sports
Side hustle, or
Business
Here are just a few digital download ideas:
eBooks

Travel guides
Recipes
Reports

Software

WordPress plugins or themes
Mobile apps
Video games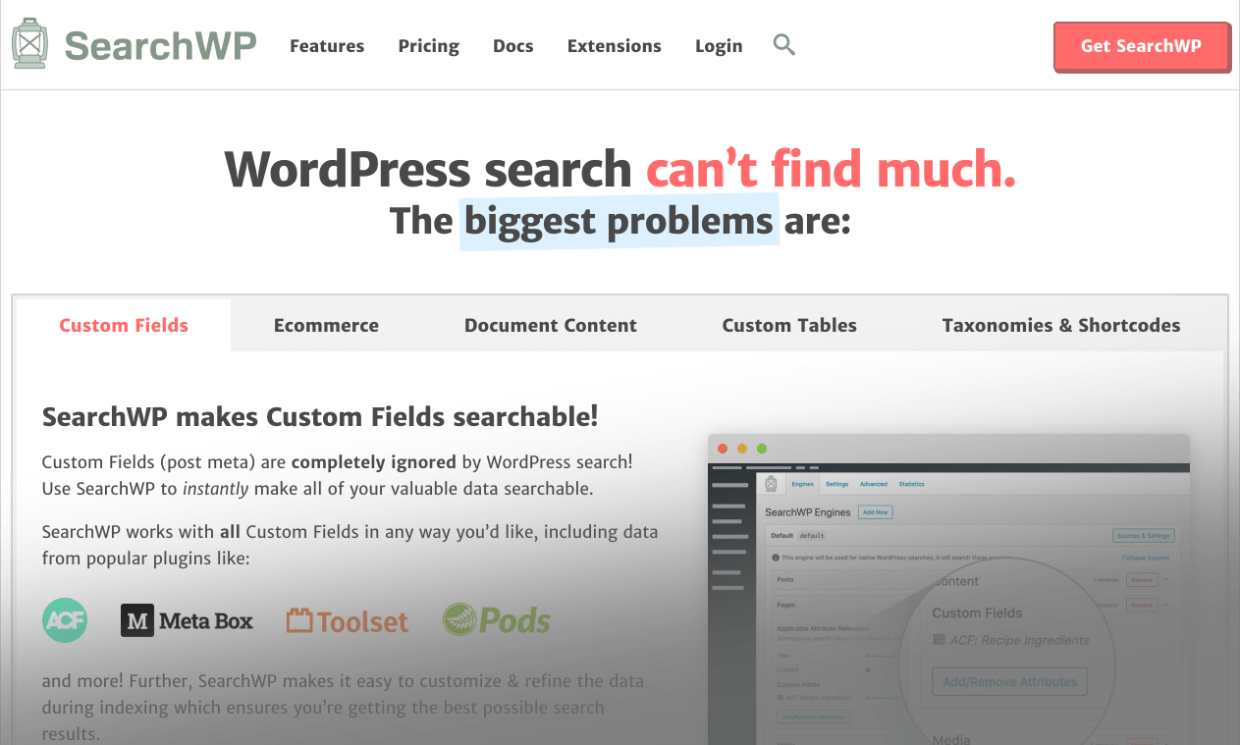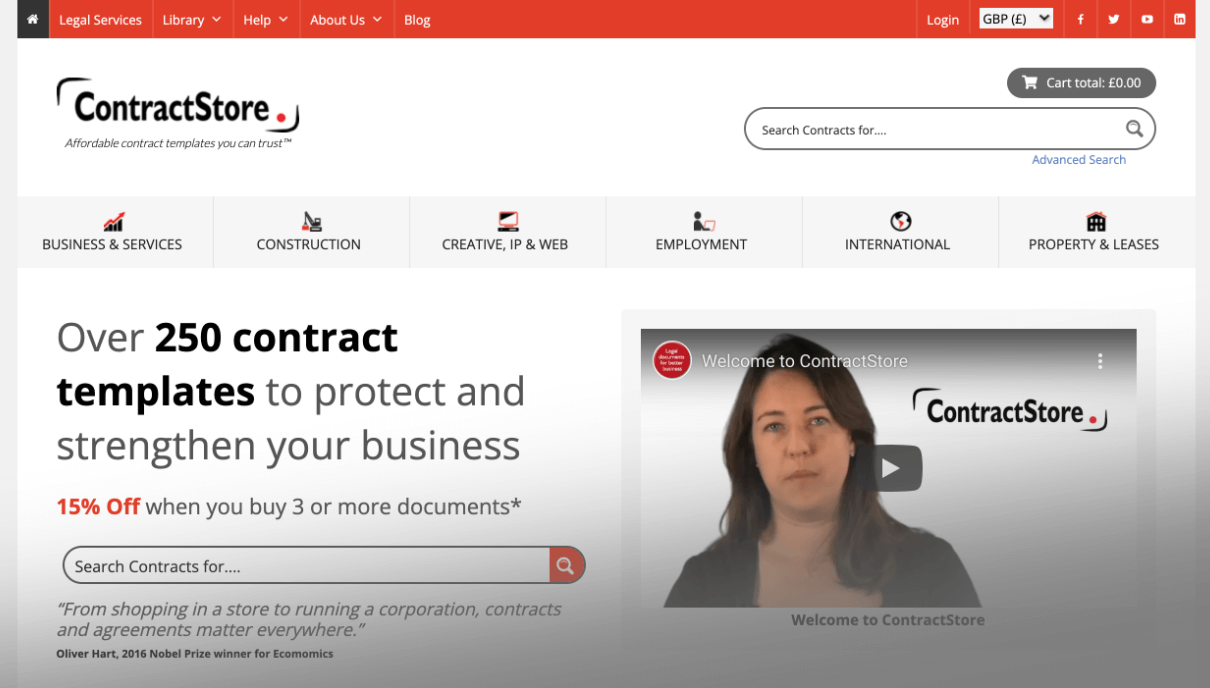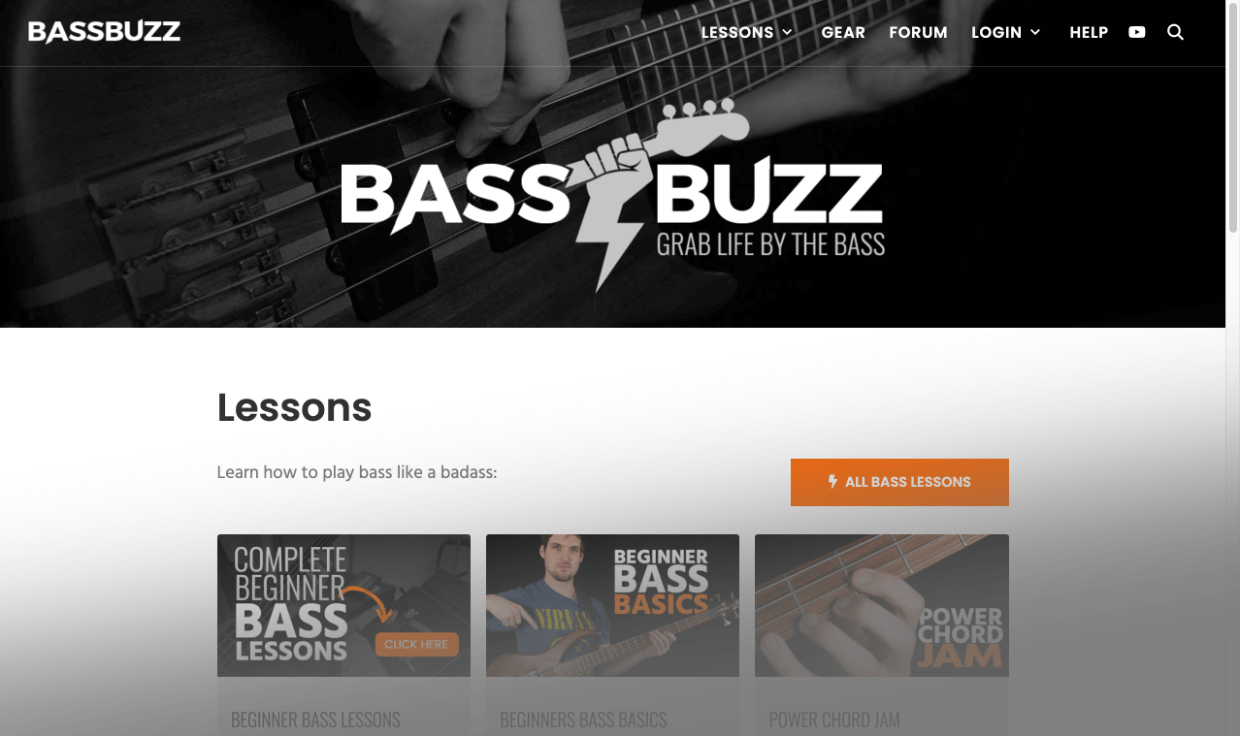 Tickets

Live events / concerts
Online events
Webinars

Fonts

Decorative type
Layered type systems
Non-western fonts
We have hundreds more ideas where these came from. Check out these articles:
---
Where Should You Sell Your Digital Downloads?
There are, generally, 3 types of places where you can sell digital downloads:
Your own website (it's easier than you think!)
Online marketplaces (other people's websites)
Pay-as-you-go service providers (SaaS)
Your Own Website
First up is selling on your own website. We recommend selling your digital downloads on your own website. It used to be pretty hard to set up your own ecommerce store. But now it's easier than you might think. Skip ahead if you are ready to get started.
Like anything, there are pros and cons to setting up your own website store.
| 🟢 PROS | Your Own Site | 🔴 CONS | Your Own Site |
| --- | --- |
| Full control of the brand, voice, messaging | Setting up your own store is more work than simply listing on a marketplace or SaaS |
| Full control of the shopping and checkout experience | It may take more time |
| Your downloads aren't surrounded by competitors and distractions | You are responsible for maintaining and securing your website (you can choose a managed web host to take care of all that for you) |
| Optimize your site to convert visitors into customers with conversion optimization (check out OptinMonster), lead magnets, and cart abandonment | |
| Communicate directly with your customers (and potential customers) | |
| Upsell and cross-sell | |
| More in control your overhead expenses | |
| You get to keep all of your revenue (minus credit card transaction fees) | |
Online Marketplaces
Next up are marketplaces. There are lots of online marketplaces where you can sell your digital downloads. These include Etsy, Amazon, Envato, AppSumo, and Creative Market.
It's pretty easy to get set up on these platforms. They can be a way to get your download in front of a large audience. But there are plenty of downsides.
Here are some pros and cons of selling your digital downloads on a marketplace platform.
| 🟢 PROS | Marketplaces | 🔴 CONS | Marketplaces |
| --- | --- |
| Platforms and Marketplaces already get lots of visitors to their site. This may make it easier for you to find an audience (but there's no guarantee). | They take a cut of your revenue. The more you make the more they take. Plus you still pay the credit card fees on most marketplaces. |
| It's easier to list on other sites than build your own website | Your customers are not your customers, they are the marketplace's customers |
| You may be able to build an audience more quickly | Your downloads are surrounded by competing products and distractions outside of your control |
| You can get help from a customer support team (at least in theory) | No way to do direct communication with 'your' customers (or potential customers) |
| | Limited or no conversion optimization available |
| | Upselling or cross-selling not available (or very limited, and not limited to your own products) |
| | No way to follow up with 'your' customers after purchase, you may want to help them succeed (sometimes called onboarding) and not be able to |
| | No control of brand, shopping experience, checkout |
| | You have to follow their terms of use, which can change at any time |
| | Many marketplaces have limitations on what prices you can charge |
| | Many marketplaces are designed for physical products, and don't always have all the features needed for digital downloads |
Building Your Own Business
You can't really build a successful online business with your digital downloads on someone else's website. With Marketplaces, you're not really building your business, you're building someone else's.
We don't recommend selling your digital downloads on a marketplace, unless you've weighed the pros and cons and it makes sense for your business plan. It might make sense to sell one, or a limited number of your products, on a marketplace, while also having your own website (your own direct-to-consumer platform).
Pay-As-You-Go Service Providers (SaaS)
Last up is a third and popular option is to sell your downloads on what is commonly called a SaaS. SaaS stands for 'software as a service'. A SaaS is a web-based application. It's software you run in a web browser and all the magic is done in the cloud. Popular providers include Shopify, Sellfy, BigCommerce, Sendowl, and Ecwid.
We recommend running your own website, and not using a marketplace. That said, using a SaaS tends to have more pros and less cons than marketplaces.
| 🟢 PROS | SaaS | 🔴 CONS | SaaS |
| --- | --- |
| Using a SaaS/platform is easier than setting up your own website (sometimes, that could be debatable) | SaaS's are often expensive with large monthly or annual subscription costs, this is especially hard when you are just getting started |
| Using a SaaS/platform is faster to set up than your own website | You do have to agree to their terms of use, but often there is more flexibility than a marketplace |
| You have some control or full control over the branding, shopping experience and checkout (depends on the platform, look for white label options) | You might find the control and customizations available for branding, shopping experience and checkout limiting (depends on the SaaS) |
| | Your SaaS can only sell stuff. A website can grow and expand however you need it to in the future. |
| | Many SaaS and eCommerce platforms are designed for physical products, and don't always have all the features needed for digital products. This is true of Shopify where you'll have to 'bolt-on' add-ons to sell downloads. |
Whitelabel
Some SaaS/platforms offer white-labeling. This means they don't show any of their branding on them, only your brand. If you are paying for a SaaS you should make sure this is an option.
White-labeling gives you more control over the appearance of your store. It allows you to better control the customer experience.
Houses, Condominiums or Apartments
You could use housing as a metaphor for setting up a digital download shop.
Do you want to own your home and have full control (but also responsibility) over everything? Sell on your own website.
Do you want to leave the exterior building to someone else and have nearly full control over everything else? Sell on a SaaS/platform.
Do you want the quickest, cheapest option? Are you OK if it ends up being in a crowded, noisey building where you have very little control over everything? Sell on a marketplace.
You can change your mind. But we all know moving is very hard. The metaphor breaks down here a bit as well. When you move, you just have to move yourself, a few close family members, and your cat. When you move your store, all your customers have to come with you. And they may not want to be bothered with that.
---
How To Start Selling Today
We recommend selling your digital downloads on your own online store. This can be easier than you might think. In the past you needed web designers or the ability to write code. But this is no longer the case.
The best way to build your own website is WordPress. It'll take some work, but it's easy enough to do all by yourself if you're a solo entrepreneur.

WordPress offers the best balance of power and affordability.
WordPress powers 43% of the internet! 43 percent!

No other web technology has ever come close to even 5 percent.

WordPress has the world's largest ecosystem of plugins, templates/themes, and professional service providers (for custom development). You website will be able to expand at any time to do anything you need it to.
What if, after selling digital downloads, you decide you also need your website to do something else? Your marketplace won't be able to change or expand. Neither will your SaaS/platform.
Your WordPress website will be able to change and expand. It will be able to do whatever else you need in the future from web forms to booking to customer relationship management.
All you need to get started with WordPress is a reliable web host. The good ones will set up WordPress for you or make it as easy as clicking one or two buttons.
⬇️ Already have a WordPress site? Good.
Just Add Easy
The best way to sell your digital downloads with WordPress is Easy Digital Downloads.
Easy Digital Downloads (EDD) is a complete eCommerce solution purpose-built for selling digital downloads (or virtual / digital products).

You can set up a shop in mere minutes. You can use it for free forever!
When you use EDD you are getting BOTH the benefits of owning your own website and using a SaaS platform.
EDD is a WordPress plugin, a platform unto itself. It's one of the most trusted plugins in the world of WordPress.
EDD has a dedicated support team ready to help you if you need it.
What Can You Get For Free?
Here's what the free version of EDD gets you:
Protected product files, only paying customers will have access to your digital downloads
Full control over pricing
Shopping cart
Flexible checkout options
Discount codes
Customer management (basic CRM)
eCommerce reports
Stripe and/or PayPal integration
White label (full control over branding)
Using WordPress and want to get Easy Digital Downloads for free?
Enter the URL to your WordPress website to install.
EDD free to use. Not free as in a 14 or 30 day trial. Free as in free. This is great if you are just getting started!
Then, later on, you can expand your store's functionality as you grow. Grab one of our Passes to add features like:
Recurring payments (subscriptions, subscribers)
Email marketing integration with popular platforms like Mailchimp, AWeber, or ConvertKit
Integration with Amazon S3 or Dropbox
Email list building with Free Downloads (lead magnets)
Even with an EDD Pass it costs less per year to run a store (that you have full control over) than many other SaaS solutions. You get to decide if, and how much, you want to spend.
EDD is used by more than 50,000 digital creators. People like you and me. We use Easy Digital Downloads and WordPress every day to run our business. EDD's first customer was EDD!
How to Sell your Documents with EDD
Install EDD
Grab a copy of EDD "core" by clicking the button below. If you have never installed a plugin on your WordPress site, here is a great tutorial.
Using WordPress and want to get Easy Digital Downloads for free?
Enter the URL to your WordPress website to install.
Make A Download
After you install Easy Digital Downloads you'll see a new menu item called Downloads on your WordPress admin menu (left side).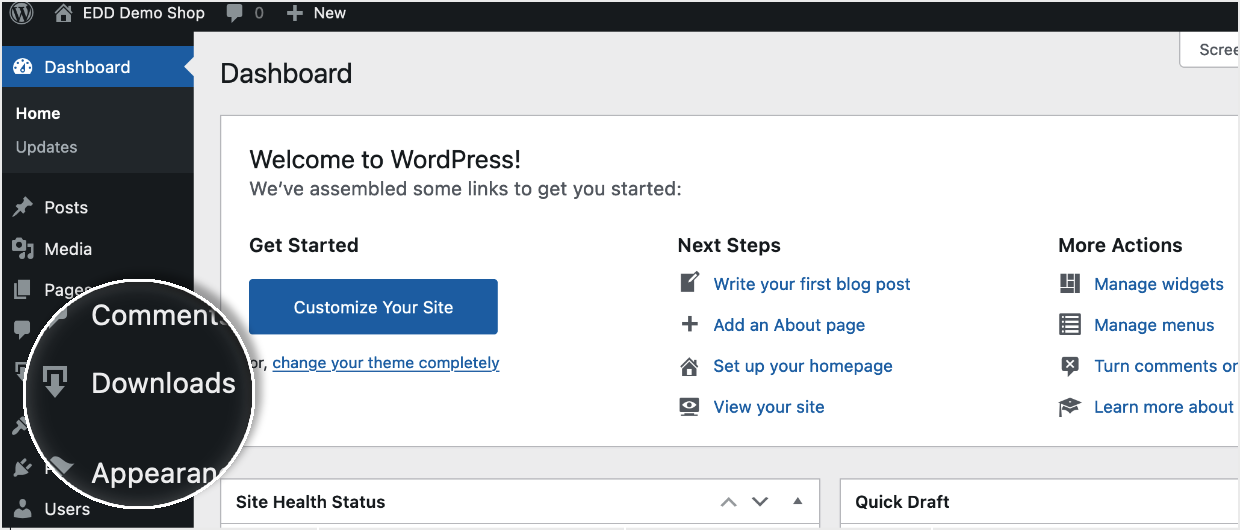 Step 1
First, we recommend selling your download files as ZIP files, unless you have a specific reason not to.
On your WordPress dashboard, hover over Downloads and click Add New.
You need to give the Download a name. Then add a description in the main text area below.
Step 2
Next, set a price for your download under Download Prices.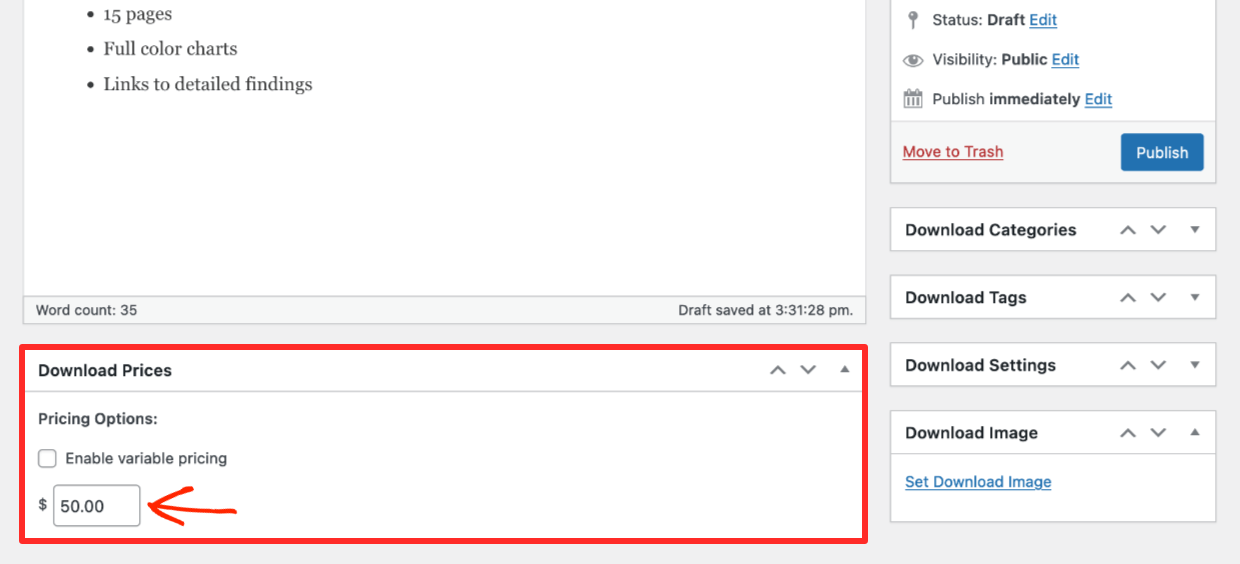 Step 3
Next, we need to configure the Download File. This is file (or download link) that the customer gets after purchase. They'll get an auto-expiring link on their purchase confirmation page and confirmation email. This helps prevent piracy.
Under File Name type in a phrase that describes the product. We suggest, for this example, typing something like "My Download". This is the clickable link text that will be used on the confirmation page and email.
Under File URL click Upload a File and upload your ZIP file. It will automatically be protected from search bots and unauthorized file downloads (by non-customers).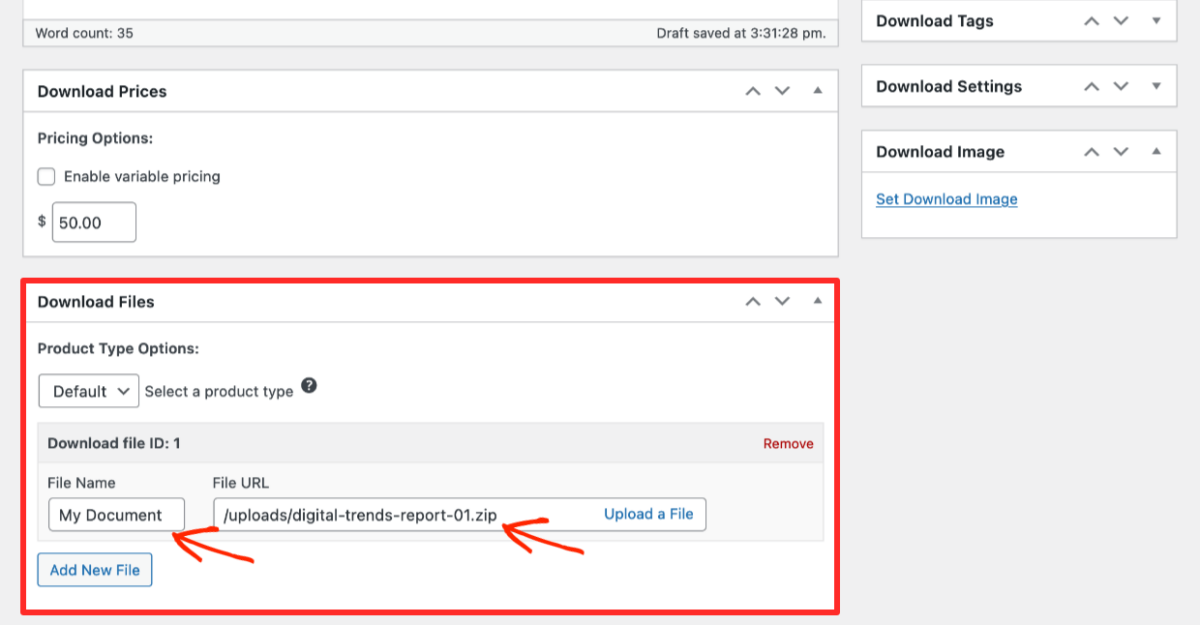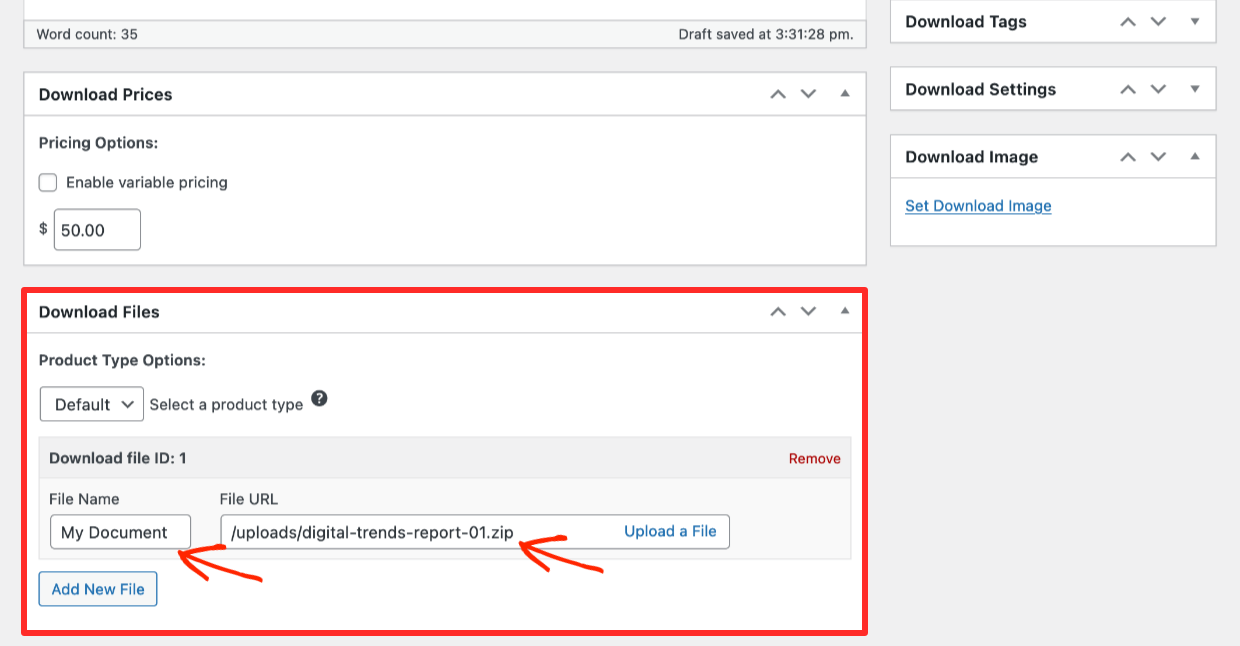 Step 4
Last, you need to add an attractive Download Image. This is important. It's the product image. It's what the customer sees as they are shopping. Make sure it looks nice.
Free Templates
Not sure how to make a Download Image right now? Snag one of our free Canva templates below to get a jump start on making a nice graphic.
You can edit the pictures, text, colors and all layers. You just need a free Canva account!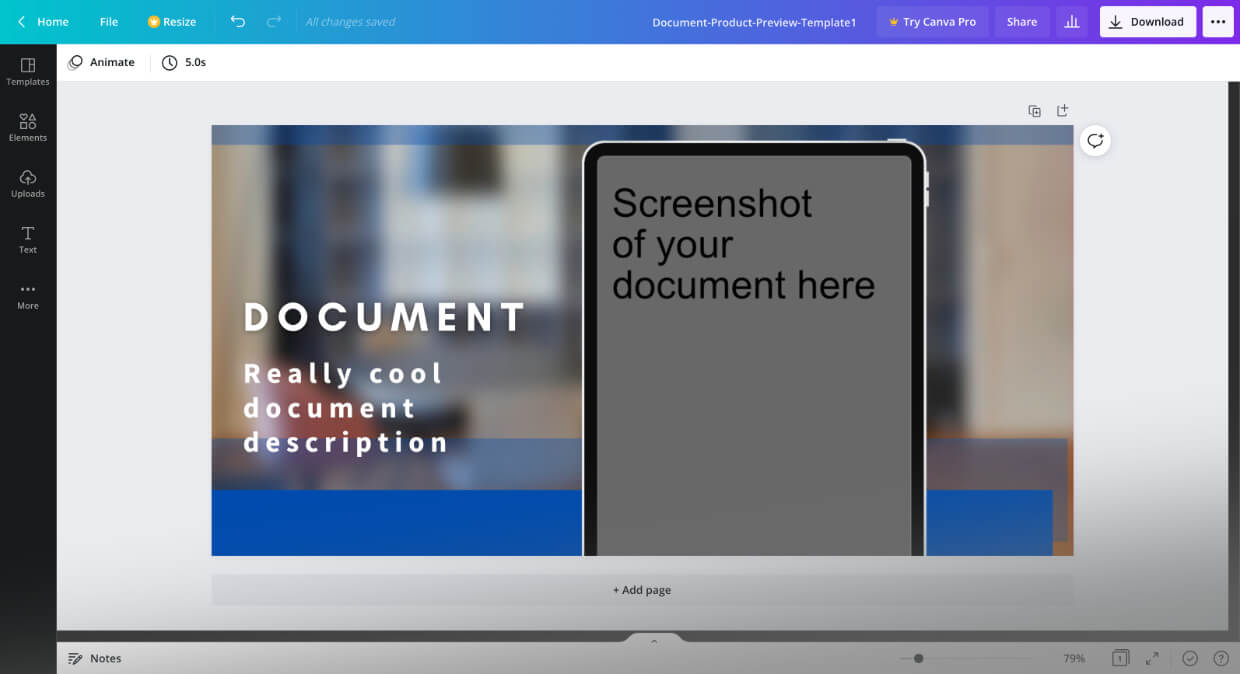 🎨 Free Document product image template
🎨 Free Spreadsheet product image template
Once you have an image ready, go under Download Image and upload your image.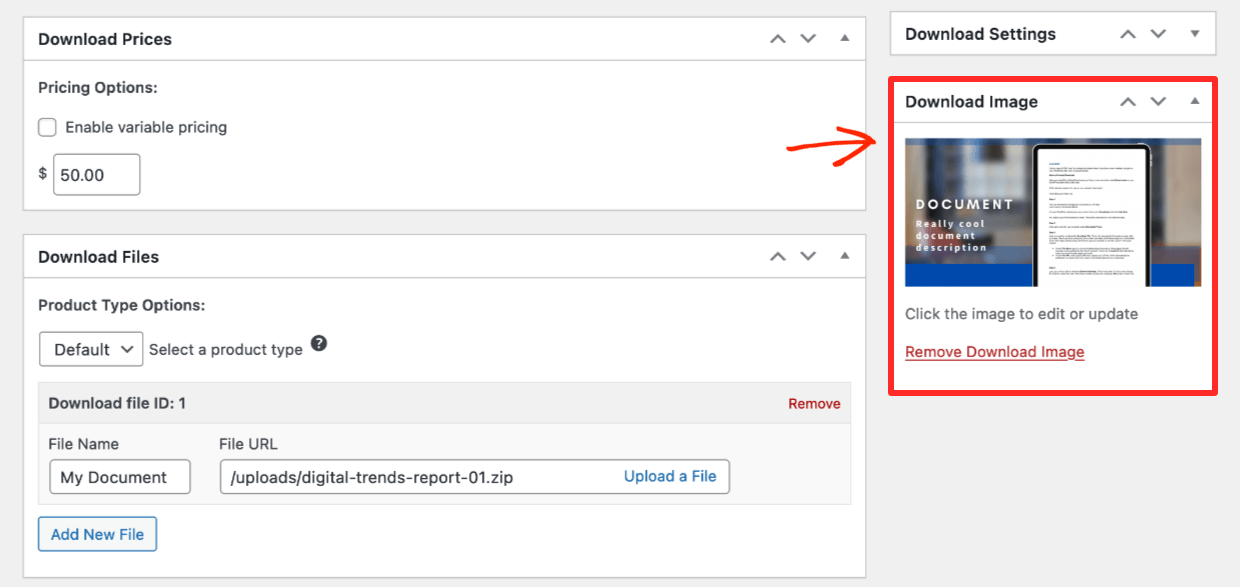 Good work! It's ready. Click Publish.
Your download is set up on your WordPress site to sell. Next, look at it as the customer will see it on the product page.
Click on View Download on the top notification banner that appeared after you published.

You'll see your download on the front-end of your website. This is the product page or download page. We are using the free WP Astra theme in the example screenshot below. Your site look will vary depending on which WordPress theme you have.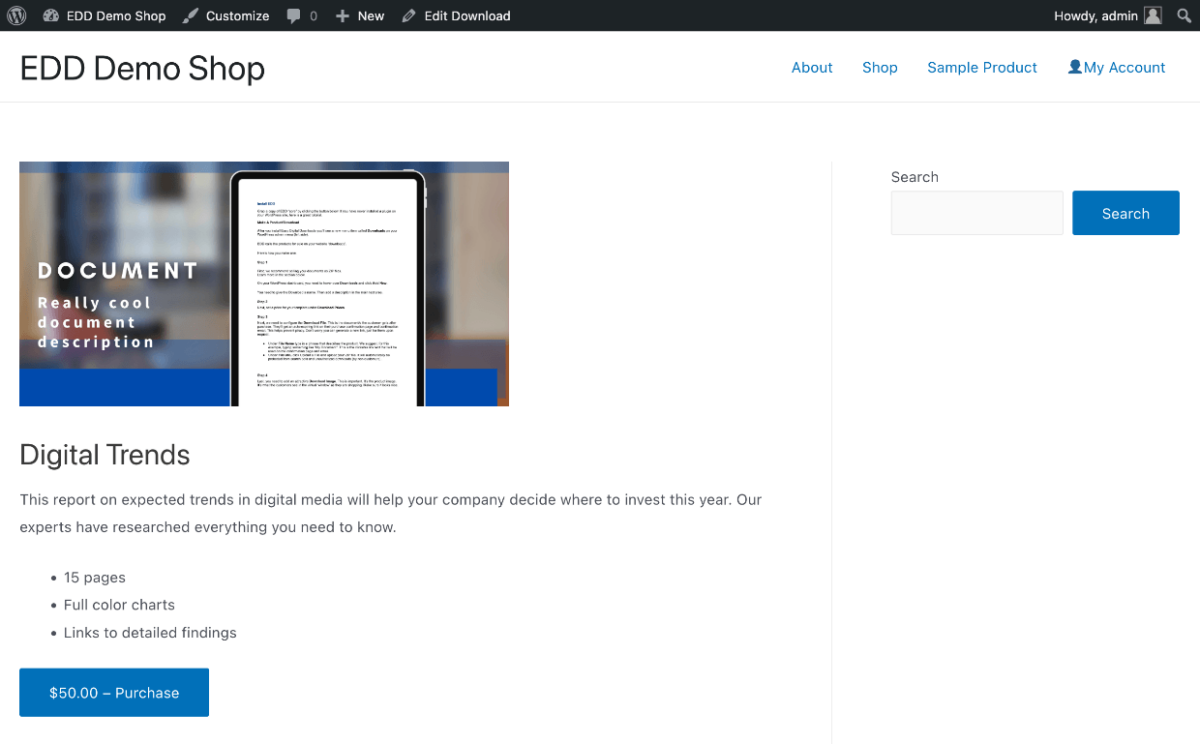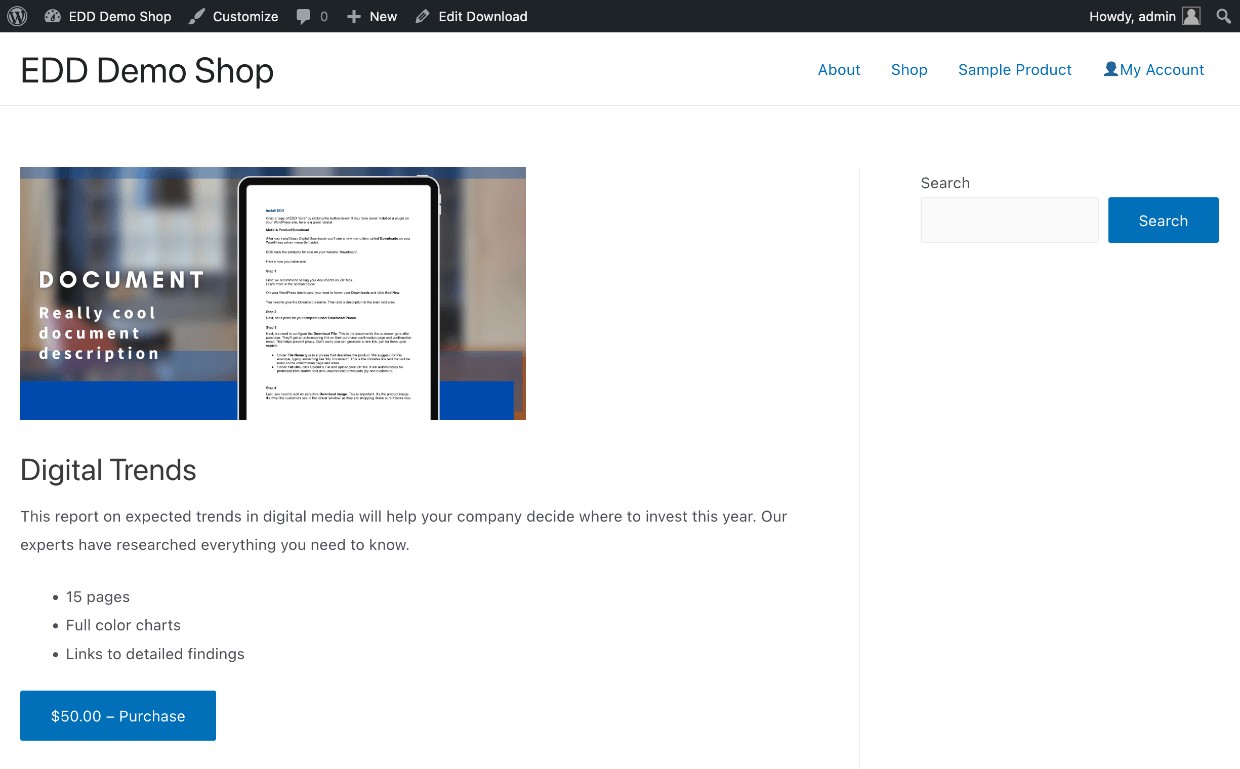 Set Up A Payment Method
Last, you need to set up a way for customers to pay with a credit card (or Apple Pay or Google Pay).

We recommend using Stripe for it's great features and ease of use. With Stripe you also can set up Apple Pay or Google. Pay. If Stripe is not available in your country, or you need certain currencies, PayPal is a good option.
Click one of the links below to get started:
What the Customer Sees
Once a customer makes a purchase they'll get a purchase confirmation email that looks like this: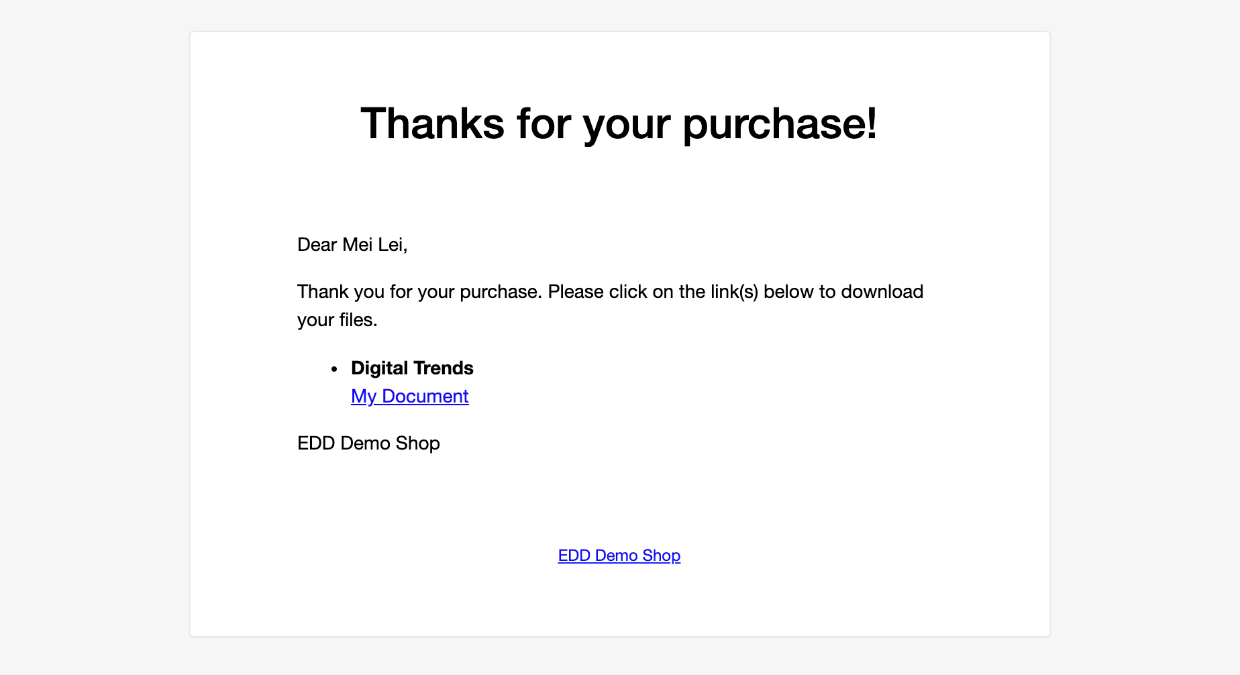 The presets for this email work fine. Or, you can customize this email all you want under Downloads > Settings > Emails > Purchase Receipts.
The 'My Download' link that you set up above is what the customer uses to grab their new download. The link provided expires after 24 hours.
You can change and set that link expiration time to be whatever you want
You can easily reissue a link at any time
🎉 It's that easy to sell your digital downloads with WordPress and EDD. We think it's the winning mix of pros and cons to help you build a successful business or side hustle.
---
Conclusion
Sweet! You just learned how to sell digital downloads online. You are unique! Put your valuable mix of skills and expertise into a digital download that makes money and helps others.
We have plenty of great resources for digital creators and entrepreneurs. What do you want to learn about next?!
Be sure to follow us on Facebook and Twitter to learn more about WordPress and selling digital products.