---
Do you want to sell or eBooks on your WordPress site? Selling eBooks is a great way to generate passive income.
Smart business owners, side hustlers, bloggers, and solo entrepreneurs are using WordPress for self-publishing their eBooks all over the world.
In this article we'll show you how to easily sell your eBooks with WordPress.
We will look at the advantages and challenges of selling eBooks and whether or not to use marketplaces.
We'll also show you the best way to give away one or more of your eBooks and why this is sometimes a good idea.
Bonus, we'll tell you what you need to know about eBook file formats. And we'll share a FREE graphic template for making striking eBook cover images. 
NOTE: If you'd rather cut straight to the chase and dive into the step-by-step tutorial, go for it!
🙌 Let's do this!
Table of contents
Click a shortcut link to skip around:
What is an eBook?
An eBook is an 'electronic book'. Ebooks are documents that are distributed on the internet (or a computer network).
eBooks are read on a dedicated reading device called an eReader. The most popular eReader is the Amazon Kindle. They can also be read on a mobile phone, tablet, laptop, or personal computer.

eBooks are made to be read visually, not to be confused with audiobooks. Audiobooks are books recorded by narrators to be enjoyed through listening.
The Advantages and Challenges of Selling eBooks
There are many reasons why eBooks make a great digital product for you to sell.
eBook Advantages
They're easy to create. You don't need special software or technical skills to create and distribute an eBook. The publishing process is way more easy than with printed books.
They scale. Unlike with traditional paper printing, you won't have ever-increasing overhead expenses when you sell more copies. If your eBook becomes a bestseller, you won't have to worry about printing or reprinting your book to meet demand.
They're easy to distribute. You just need to make a download link on your own website or list the eBook on a marketplace.
They're easy to consume. Ebooks can be downloaded and viewed on most devices, quickly and painlessly.
They're more portable. Sure a traditional paper book feels nice in your hand, but taking more than one or two anywhere is a pain. Customers love being able to store lots of books on one tiny device, especially for travel.
eBook Challenges
There are also challenges to sidestep or overcome when dealing with eBooks.
Consumers perceive traditional physical books as higher in value. The feel of the paper in your hands and the timeless prestige of a book on the shelf is powerful.
eBook Marketplaces have made it normal to buy books at a lower price than traditional physical books.

In most cases, $10 is on the high end with average prices closer to $2 or $3.

The prevalence of free eBooks makes the market crowded, it can be hard to demonstrate the value of your offerings.
These challenges make it very difficult to justify a high eBook price to customers. Customers likely expect to only spend a few dollars. This is unfortunate for content creators.
Selling and Distributing eBooks
Basically, you can sell or distribute eBooks on digital marketplaces or websites.
Selling on Digital Marketplaces
Some popular eBook marketplaces are:
Amazon

Amazon makes it pretty easy to publish a Kindle eBook on their KDP (Kindle Direct Publishing) platform. Beware the 30-65% cut they take from all your sales in most cases.

Nook (by Barnes & Noble)
Apple Books (formerly iBooks)
Google Play
Kobo (by Rakuten)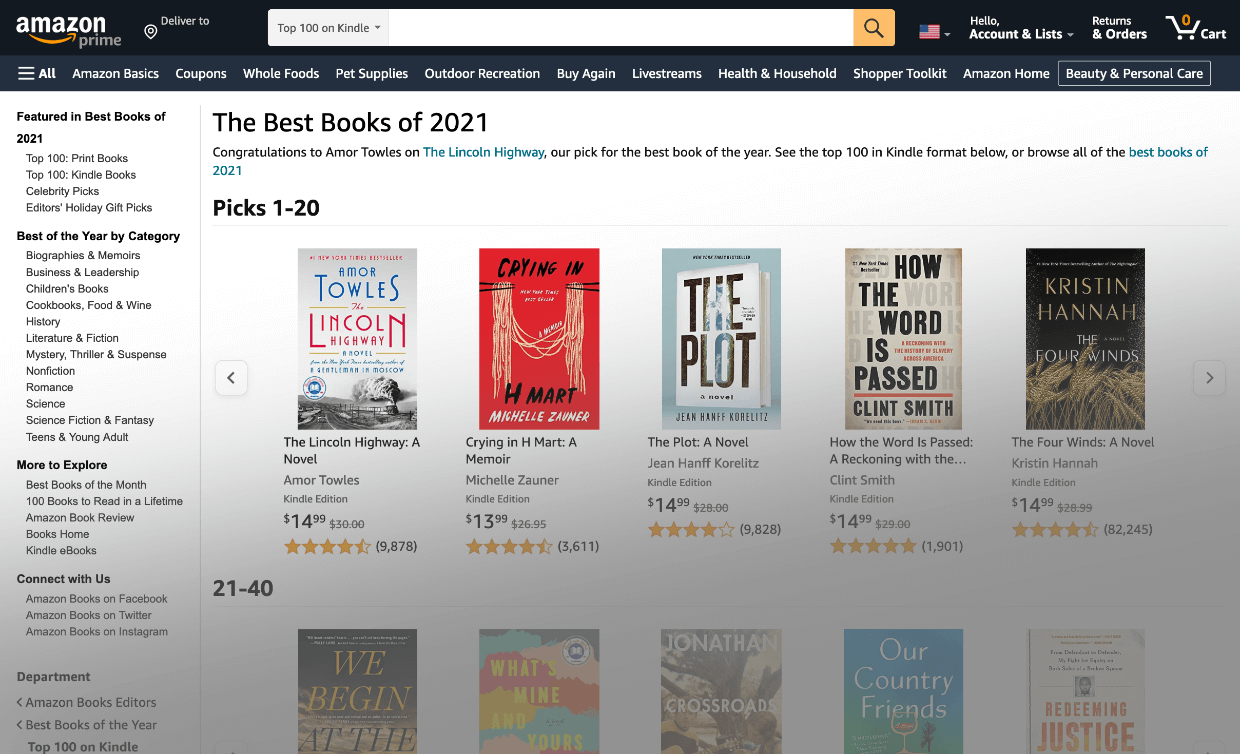 The advantages of using a marketplace are:
| 🟢 Marketplace Pros | 🔴 Marketplace Cons |
| --- | --- |
| They likely have a large existing customer base | First, most charge fees and/or take a cut of your sales revenue (the more you make the more they take) |
| Convenience; you don't have to set up an online store to manage eBook sales | Second, many marketplaces take 60 or even 90 days to pay |
| | Also, often you are only paid when you reach a certain threshold of money, otherwise they hold on to it! |
| | Many set a maximum price your eBook can cost |
| | Your customers are not your customer, they're the marketplace's customer |
| | No direct or ongoing communication with customers |
As we discussed above, it's hard to convince customers to pay a lot of money for an eBook. When you factor in marketplace fees and restrictions, your profits can be low.
Bear in mind that even if the marketplace selling your book has a large customer base, that doesn't mean their customers will find or choose your eBook. Those platforms have millions of books on them!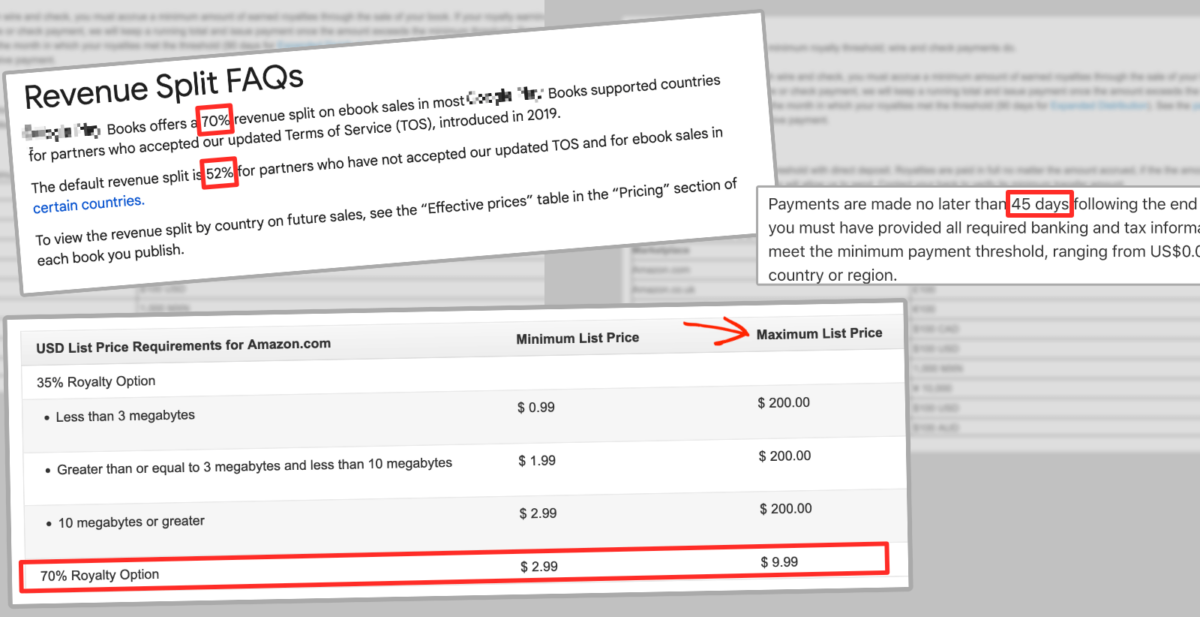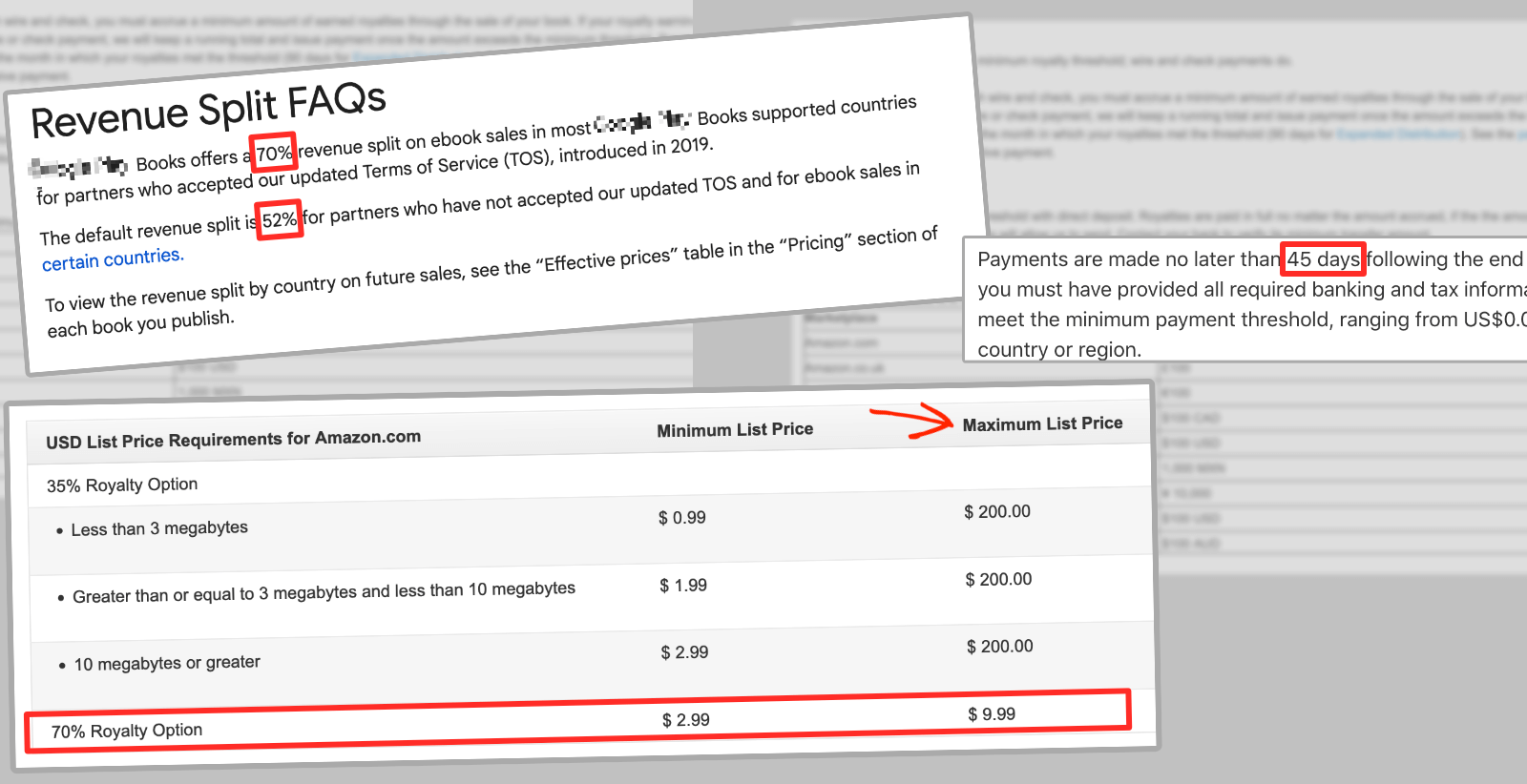 Many authors on these platforms find they still have to do eBook marketing. They still have to create social media posts, write blog posts, strive to increase SEO (search engine optimization) and even pay for ads. All just to get people to buy their book on a marketplace that takes an additional cut of their profits.
The best way to make money selling eBooks is finding ways to keep as much or your revenue as possible.
💰 Keep more of your revenue! ➡️ Self-publish. 💪
Many entrepreneurs are instead self-publishing eBooks on their own website. This way they can manage their brand, their website style, and (best of all) keep all their sales revenue.
As far as the convenience factor goes, sure marketplace platforms seem easy, but it's not hard to do it yourself. 👀
In the past it was hard to make an online store. But with WordPress it can be easy, and no coding is required.
We'll show you how you can use WordPress to sell or share your eBooks for free. You'll only pay credit card transaction fees (which is unavoidable).
How to sell eBooks with WordPress (Step by Step Guide)
The best way to sell digital products (like eBooks) with WordPress is Easy Digital Downloads.

Many WordPress eCommerce solutions are designed first and foremost for selling physical products. This is true of the popular WordPress plugin WooCommerce.
Selling eBooks on these solutions is an afterthought. A bolted-on feature. You'll likely waste time and effort setting up shipping and inventory options that you don't need for digital products like eBooks.
EDD is purpose-built for selling downloadable digital products, like eBooks. Tens of thousands of people use EDD to sell eBooks on their website.
🤑 Try EDD now and start selling ebooks today!
If you're newer to WordPress or not sure how to install a plugin, click here to view a step-by-step tutorial. You'll be ready in no time.
After you install and activate the EDD plugin, it's just 3 steps to start selling your eBook.
Set Up Your eBook as a "Download"
With EDD installed you'll see a new menu item on the right side of your WordPress dashboard called Downloads.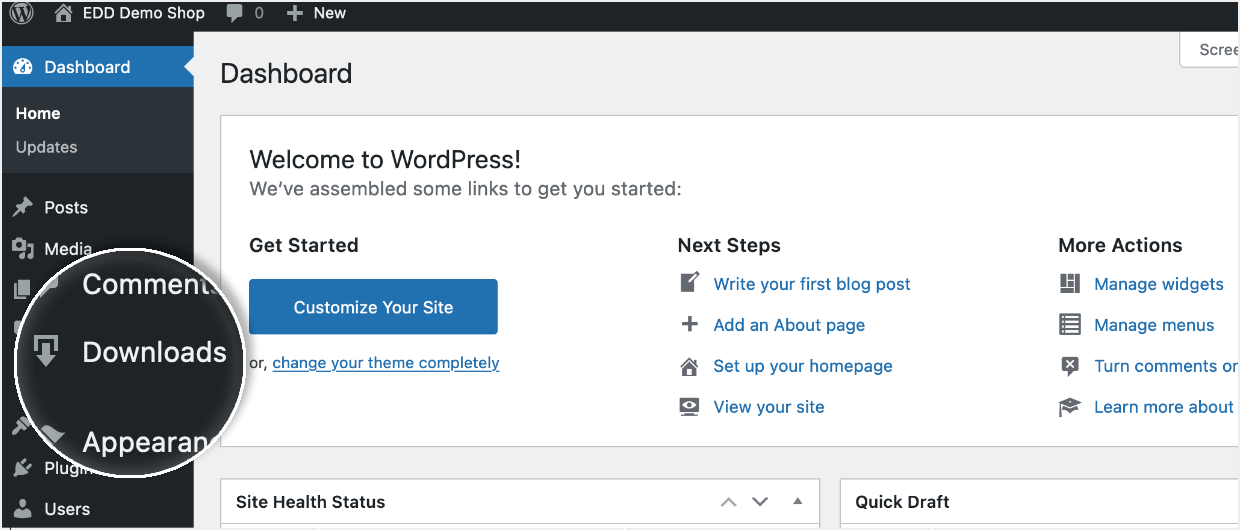 EDD calls the eBooks (or other digital items) for sale on your website "downloads".
Let's get your eBook on your site. For this example, we'll use the PDF file format. Look below for more information on file formats.
First, on your WordPress dashboard, hover over Downloads and click Add New.
Next, you need to give the Download a name (most likely your eBook title). Then add a description (blurb) of your eBook.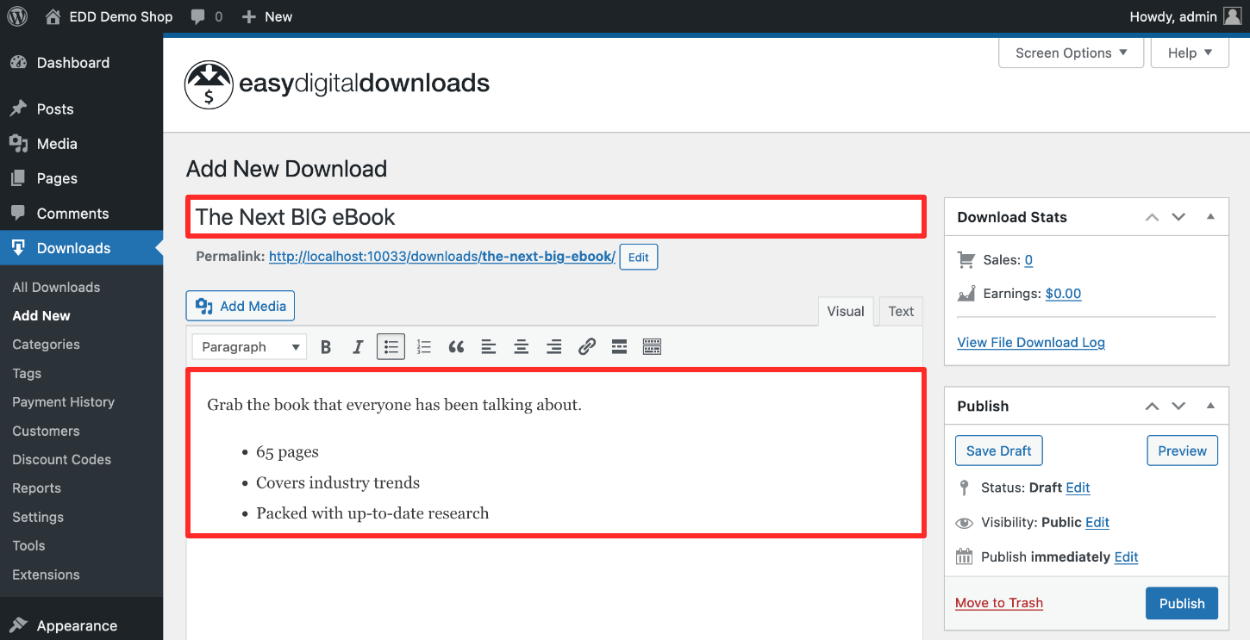 After that, set a price.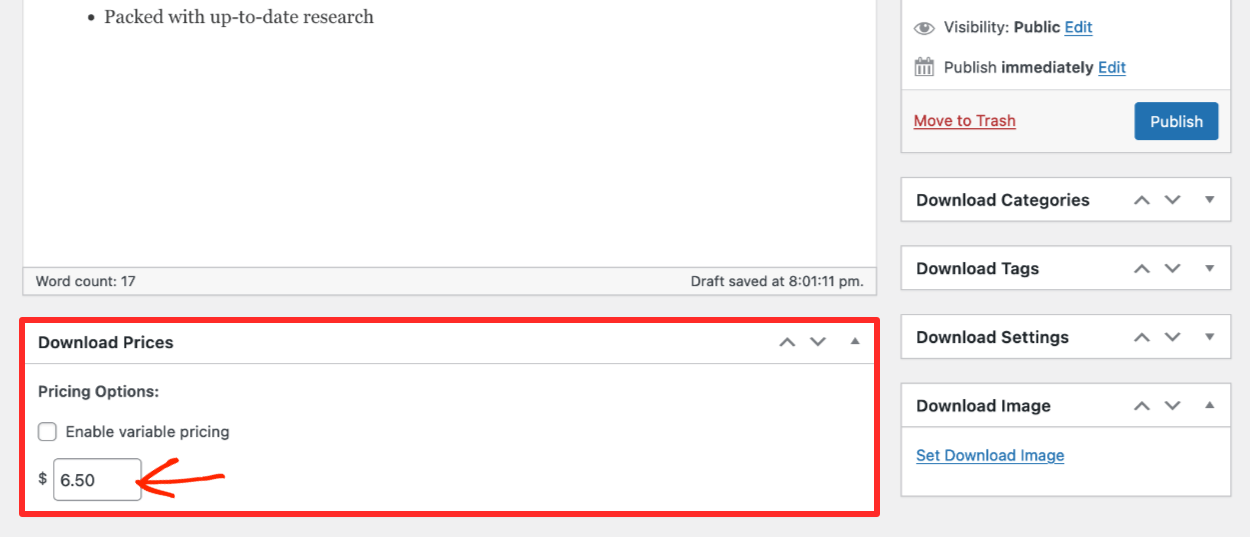 Next, we need to configure the Download File, this is your eBook file that the customer gets when they purchase.
Under File Name type "Download eBook".
Under File URL click the upload button and add your PDF file.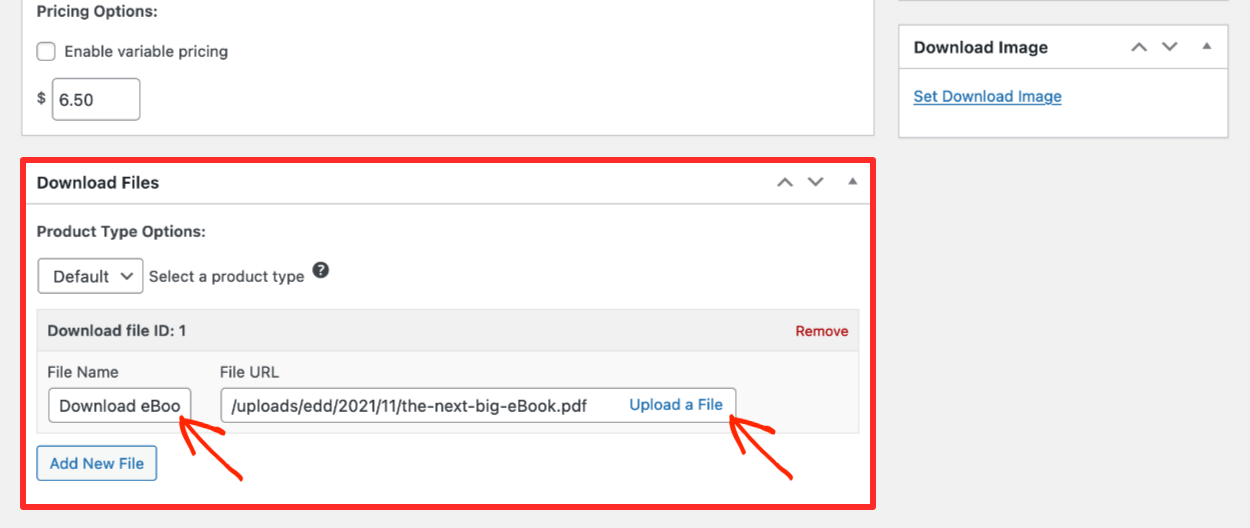 Last, you need to add an attractive product image. This will likely be the cover of your book. You can use the free cover graphic template below.
Look for the Download Image box and upload your image.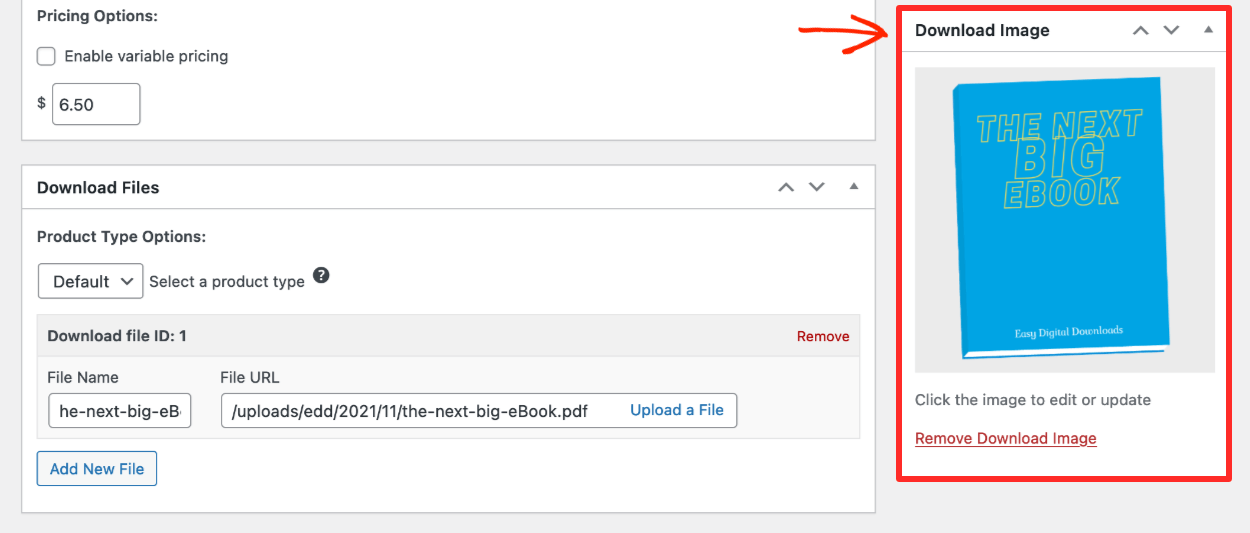 Good job! Click Publish.
Your eBook is almost ready to sell.
Click on View Download on the top notification banner that appeared after you published. This will take you to the frontend of your website.

Pro tip: right-click and open this in a new tab so you can easily go back and make tweaks on the website backend.

You'll see your new eBook sales page on the front-end of your website.

In the example below we are using the free WP Astra theme. Your website will look different, depending on which WordPress theme you have.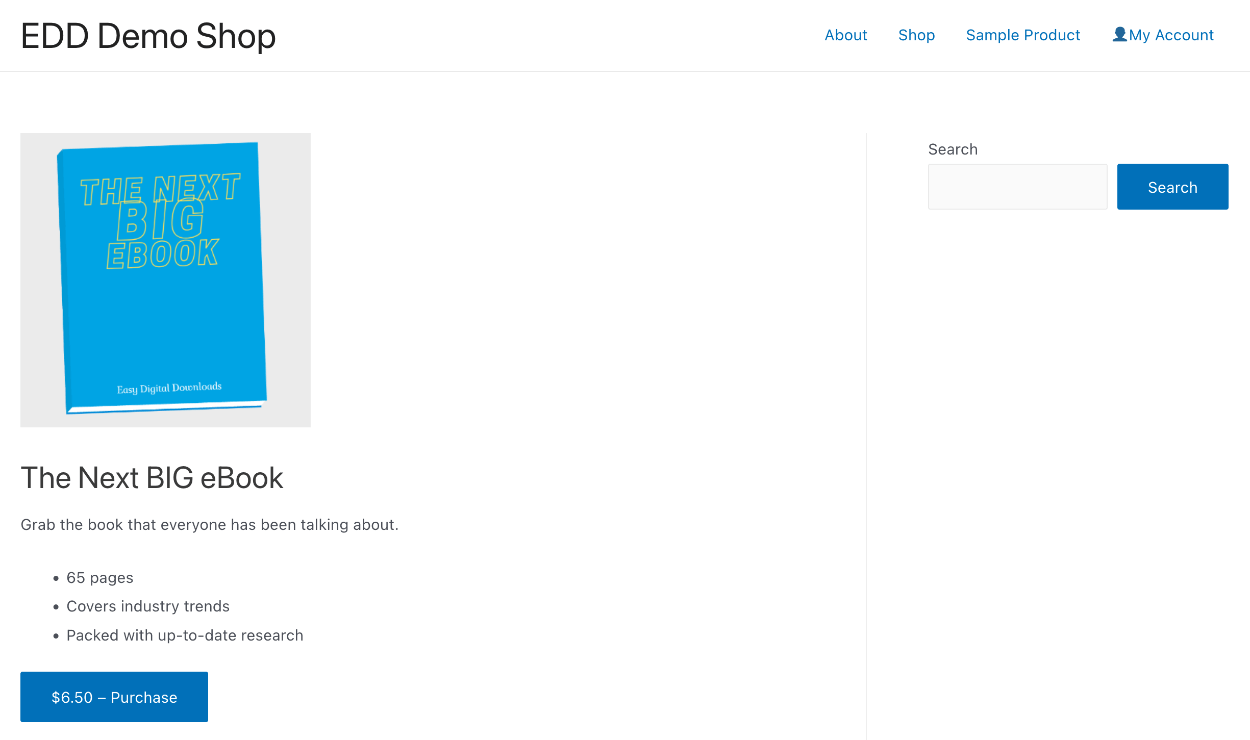 Do a Test Purchase
It's best to test out the purchase process to make sure you like the customer experience. You'll be pretending to buy your eBook as if you were a customer.
First, make sure your site is set up for test purchase. Go to Downloads » Settings » Payment Gateways.
Select the Test Mode checkbox
Select the Test Payment checkbox in the Payment Gateways section below that
Set the Default Gateway to Test Gateway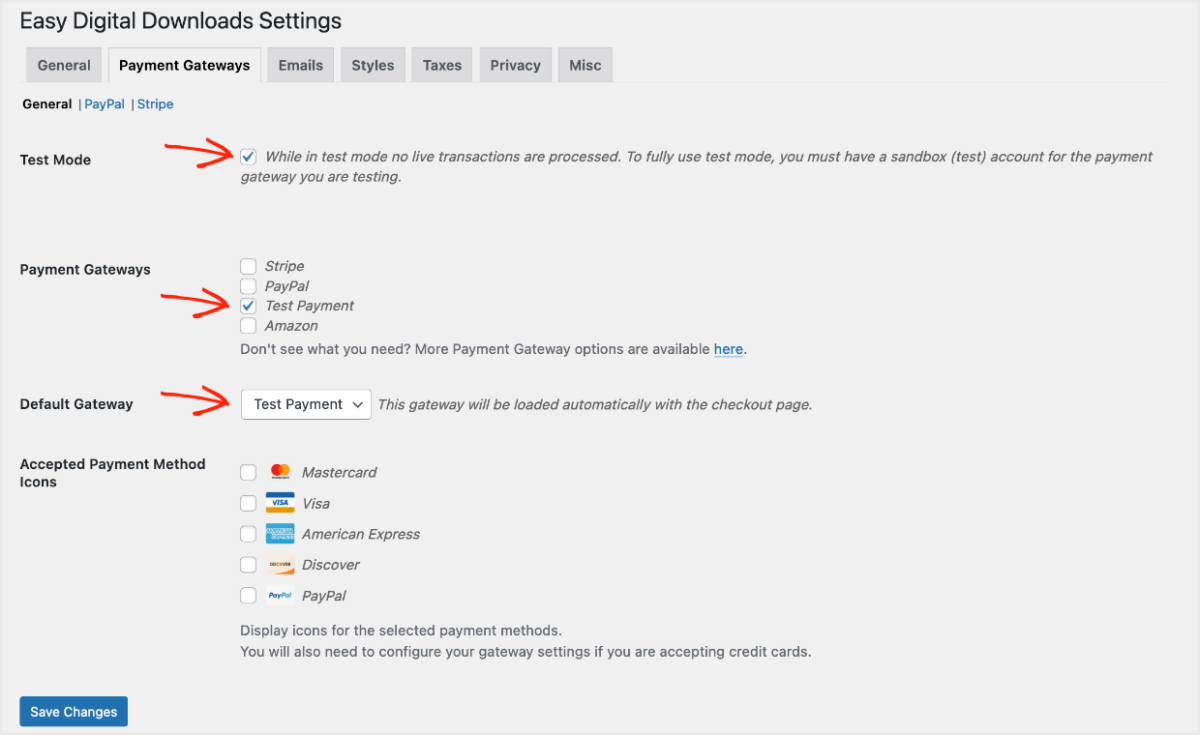 Next, go back to the front-end view of your template page.
Click the Purchase button.
The item will be added to your cart. Next, you need to click the button again, which now says Checkout.
You will be taken to the checkout page. Don't worry, you're in test mode. You won't have to enter credit card. Just enter your email address, name, and click Purchase.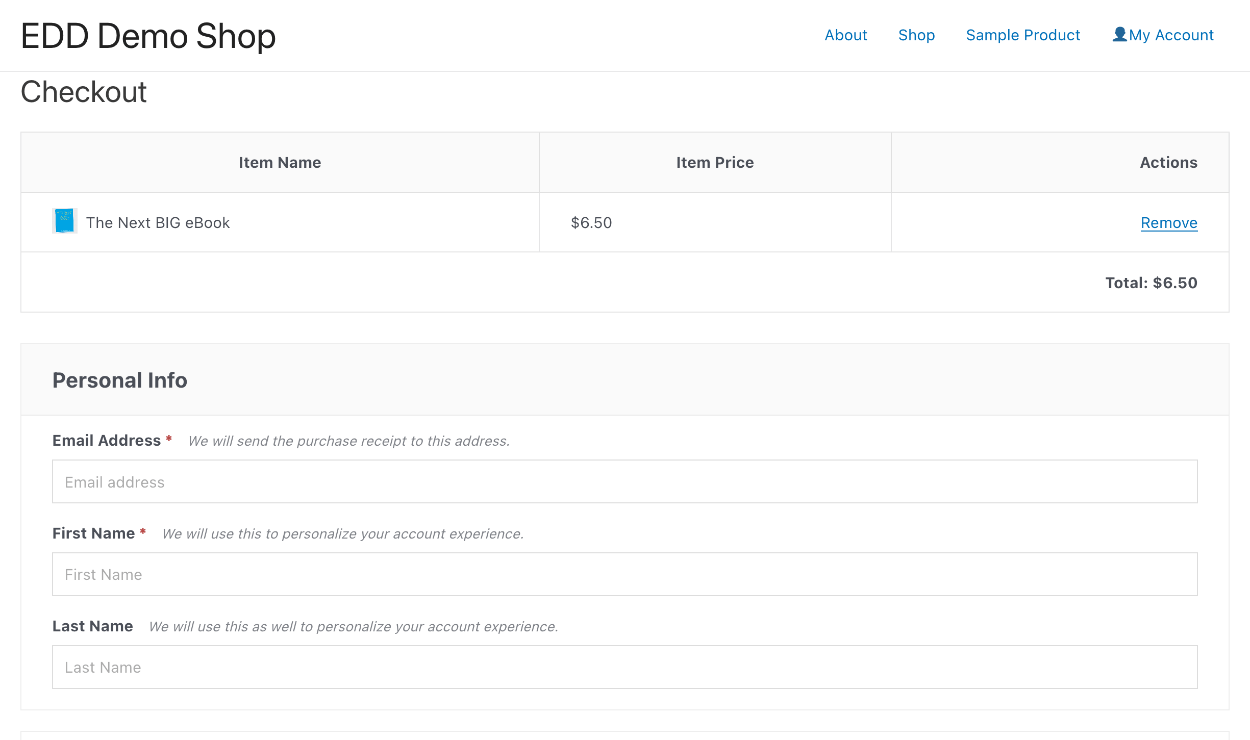 You will get a purchase confirmation email afterwards. The default email looks like this.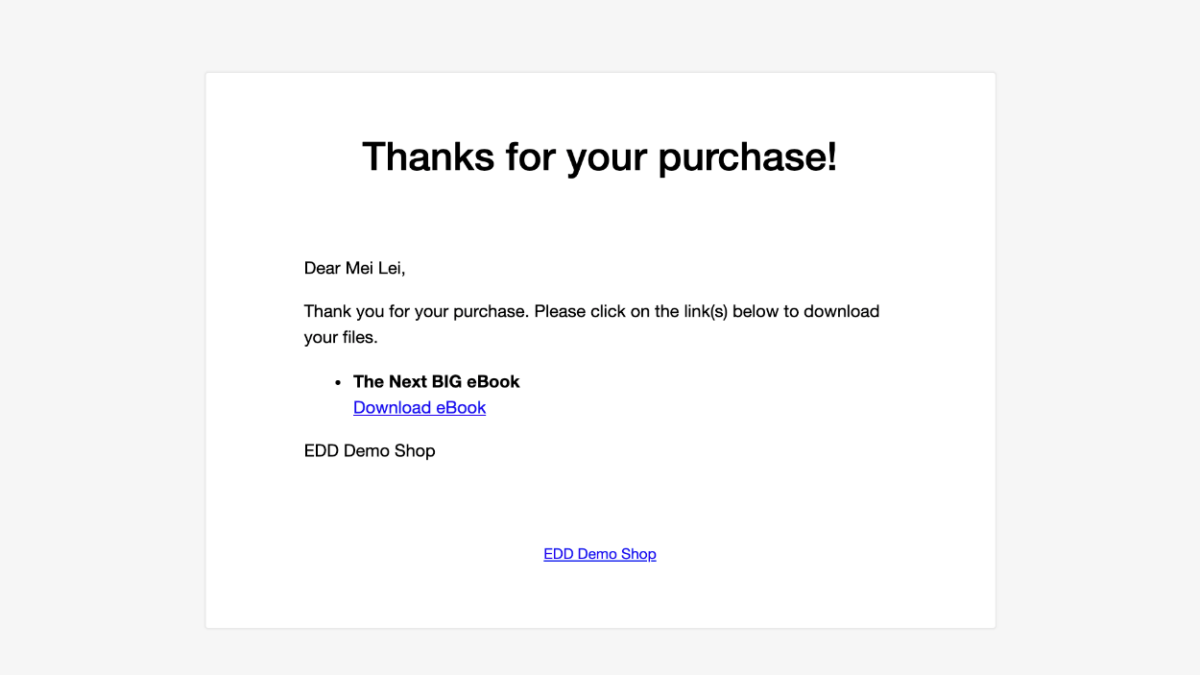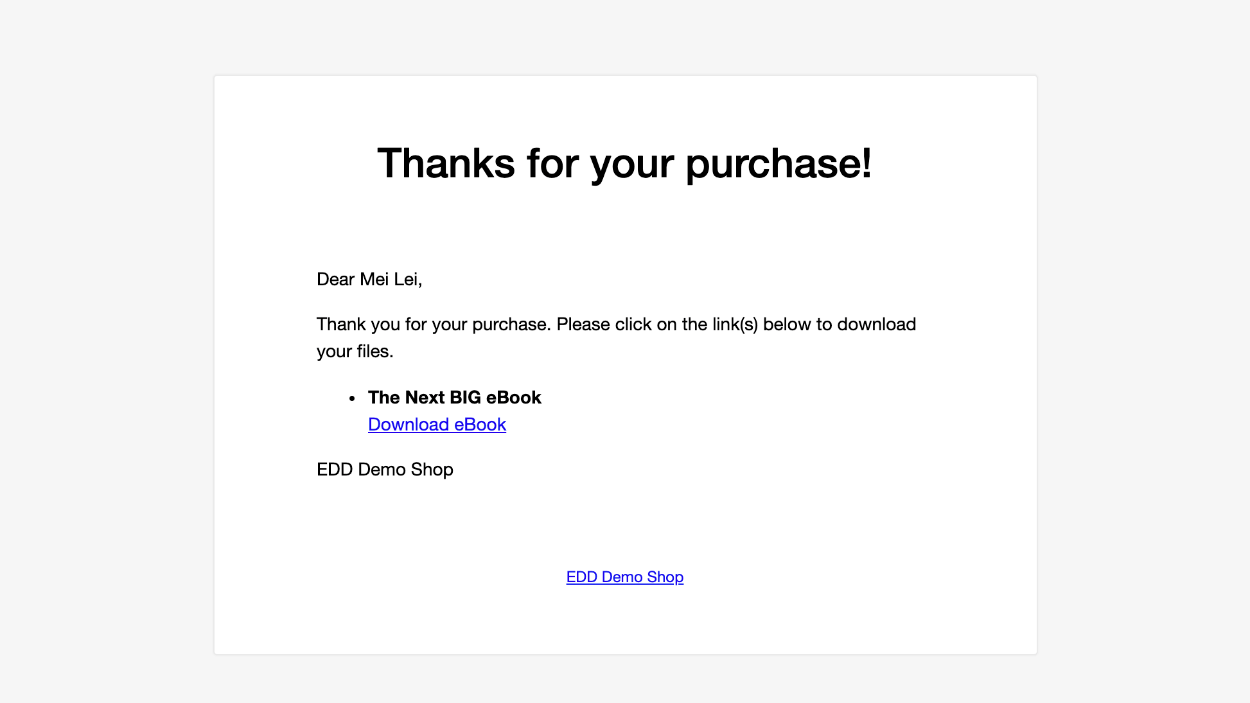 Customers click on the blue link to download their eBook.
Great work! You now have a powerful eCommerce store set up on your own site. That was easy!
That wasn't much more work than setting up an account on a marketplace and complying with their upload process! You are on the cusp of selling eBooks online.
Set Up a Payment Method
You'll need to set up a way to get paid. We suggest using Stripe if it's available in your country. PayPal is also a good option.
With Stripe you can accept credit cards, as well as Google Pay and Apple Pay.
Get started and learn more about payment methods here:
Tips for Successfully Selling eBooks
Have Your Book Proofread
Consider hiring a professional service to have your book proofread and edited. Nothing makes your work appear more unprofessional than spelling and grammatical errors. This also can lead to customers regretting they purchased your eBook because it wasn't high-quality.

A good DIY method for proofreading is reading your book out-loud, or having a friend read your book out-loud while you make edits. Pro tip: it can be hard to spot errors in your own eBook.
Provide Previews
Customers will appreciate a preview of the book's contents before buying. It will help you convert site visitors into customers.
You can show screenshots, provide excerpts in the description, or even offer a free download with a small section or preview of the book.
Using previews will help you increase sales and reduce refund requests.
eBooks Can Bring In Leads
A preview (described above) can be used as a lead magnet.
Use the lead magnet to build an email list. Afterwards, you can email them to either sell them an eBook or cross-sell to another product or service.
eBooks Can Be Great for Credibility
Being the author of or contributor to a book can be great for credibility. It can be great for your resume or bio. Or they can be useful for building trust with current or potential customers.
Use eBooks to help you get a new job. Or use eBooks to help your company demonstrate expertise and land new clients.
Use eBooks to Sell Physical Books
Consider ways your eBook could be used to sell a physical book. You may be able to charge more money for a printed version of your book. There are many print-on-demand services out there to facilitate this.
If your eBook turns out to sell well, consider making an expanded and updated version that you sell as a printed book. You can even email your current eBook customers and try to up-sell them.
You can also format your eBook as an excerpt or scaled-down version of a larger printed book. This smaller book could be given away as a lead magnet or sold at a lower price. This smaller book will be used to entice them to purchase the printed book.

A physical book, in conjunction with eBooks, can help you expand your presence. You could get into libraries or bookstores. You could even do special events and offer signed copies.
Share your eBook on Social Media
It's probably obvious that you should share about your eBook on social media. We want to emphasize the importance of making your eBook look more attractive by having a nice graphic or cover graphic.
Visual content stands out on social media. So be sure to include great graphics. Use our template (below) to do that for free!
Translate Your Book into More Languages
If your target audiences are multinational, offering versions in other languages can increase sales. There are professional translation services available for this. The popular business services site Fiverr has a large amount of freelancers available for this.

It can be costly and tedious to do translations. And you'll likely have to update multiple versions when you make a change. Be sure to carefully evaluate your business plan and market.
You may need to translate the rest of your website if you do this. Click here for a great article about ways to automatically or manually translate your WordPress website into other languages.
eBook File Formats
There are many file formats for eBooks.
Amazon Kindle devices use a variation of the older MOBI (Mobipocket) file format. They customize it a bit and call it AZW. I can't find out what AZW officially stands for, most think it stands for Amazon Whispernet (their cellular data network used for downloading Amazon ebooks to your Kindle device).
The Barnes & Noble Nook uses the newer and more standard EPUB format.
Apple Books uses the EPUB format, but adds layers of copy protection or digital rights management (DRM). You can put PDF files on Apple Devices and read them in the Apple Books app as well.
Google play uses the EPUB format and also allows PDFs.
The Rakuten Kobo will also work fine with EPUBs and PDFs.


For self-distributed eBook files on your WordPress site we recommend EPUBs and PDFs.
eBook Content Ideas
You are special. Seriously! 🤩 You have a unique mix of experiences, skills, and perspective. Because of this, you have something valuable to share with the world.
What do you love talking about? Here are some content ideas that are popular withh self-published authors and publishing houses.
Fiction

Fantasy
Historical Fiction
Crime
Romance

Nonfiction

How-to books for bloggers
Biographies
Commentary
Creative nonfiction
Critique
Do it yourself (DIY) books
Start-up guides for business owners
History
Essays
Manuscripts
Journalism
Law
Manuals
Memoirs
Philosophy
Poetry
Recipe books / cookbooks
Reference books
Religion
Reports
Self-help
Scientific writing
Textbooks
Travel guides
Songbooks
Free eBook Cover Design Template
Check out this free book cover graphic template we made with Canva. You can click the link below to make a copy and create your own cover graphic.
This graphic features an appealing 3D book cover style that will drive clicks. You can easily change all colors, text, and fonts. You can also add more graphics to it.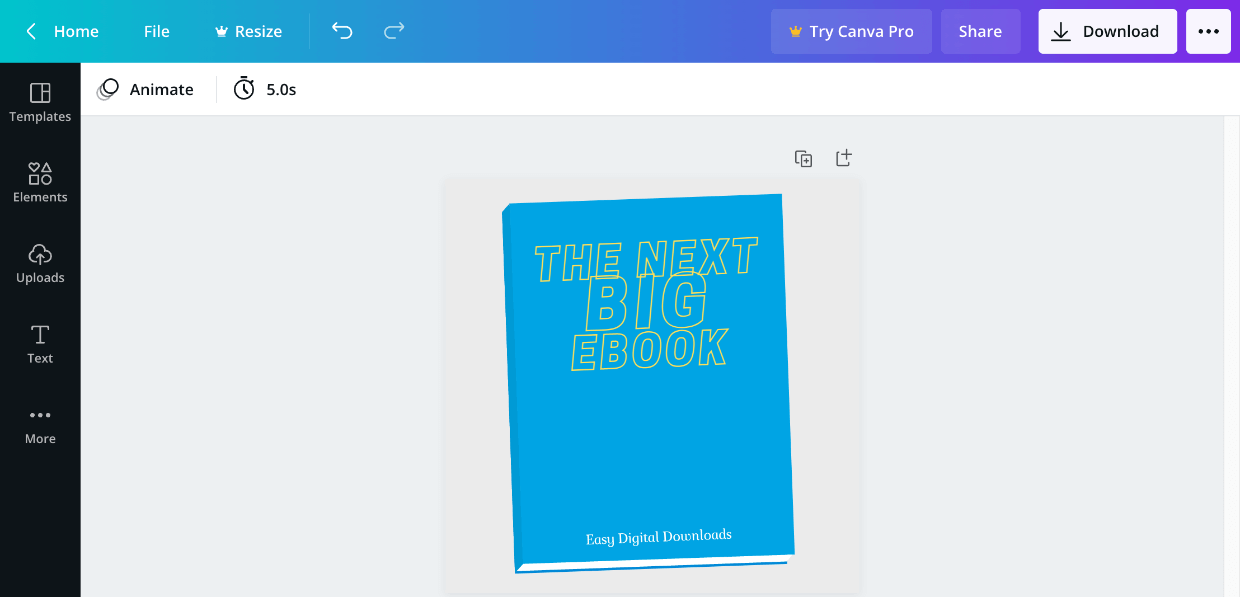 👉🏾 Click here for your free Canva book cover graphic
Canva is a great free tool for making graphic designs. Set up a free account with your name and email address, they don't require a credit card. Millions of people use their free plan with no strings attached.
They also offer a Pro Plan that has more features. Pro tip: the Pro Plan is free for registered nonprofits and NGOs.
Final Thoughts on Selling eBooks with WordPress
Nicely done! You've got your first eBook uploaded and ready. You're on your way to selling eBooks on your WordPress website.

eBook publishing is a great way to make money and share your helpful ideas with the world.
Consider giving away an excerpt of one of your eBooks as a lead magnet. Freebies like these help you to grow your site traffic. They also allow you to do email marketing. Which is; developing a list of leads and emailing them with the hope of converting them into customers. Click here for our complete lead magnet tutorial.
Selling one book is good, but selling a monthly subscription could be even better! Consider how you could create subscription-based content and click here to learn how to sell subscriptions with EDD.
Get started with Easy Digital Downloads today with 50%-off introductory pricing!
Be sure to follow us on Facebook and Twitter for more WordPress tutorials.