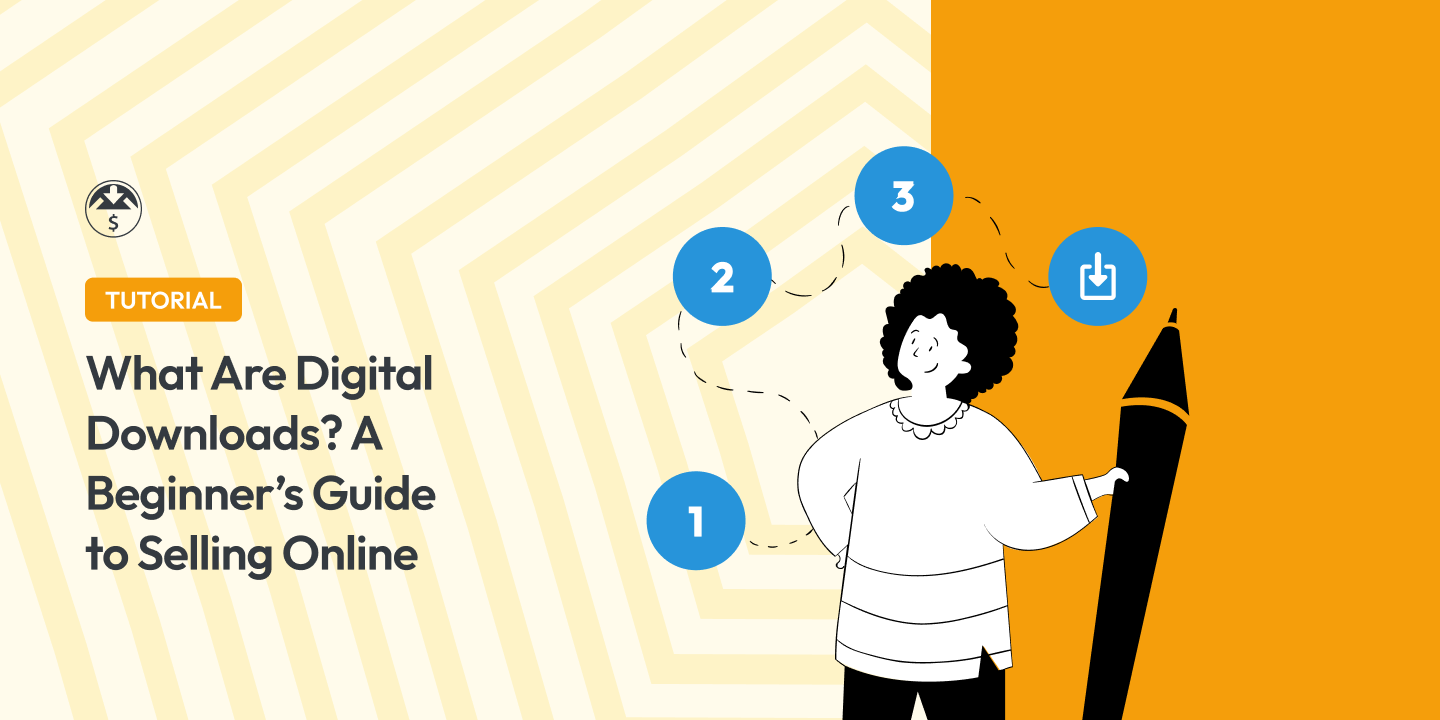 Are you an entrepreneur looking to expand your business by selling digital products online? Digital downloads can be an excellent way to achieve this goal.
Selling digital downloads can be a lucrative way for freelancers, small business owners, and other creative individuals to make a passive income. With the help of WordPress and Easy Digital Downloads, it's easier than ever to set up a digital download eCommerce store and start making money.
🔎 In this step-by-step guide, we'll cover:
What Are Digital Downloads?
Digital downloads are electronic files that can be downloaded from the internet. These files are typically delivered in digital formats, such as PDF, MP3, or video.
Common examples of digital downloads you can sell include:
Music files
WordPress themes & plugins
Stock photos
Printables/templates
Graphics & digital art
Fonts
Digital downloads have become increasingly popular in recent years due to the rise of the internet and online shopping. They offer convenience for both sellers and buyers, as there is no need for physical inventory or shipping.
For more digital product ideas to sell online, use these guides:
Why Use WordPress to Sell Digital Downloads
In today's digital age, selling digital downloads has become an increasingly popular way to start an online business. Whether you're a blogger, artist, musician, or creator of any kind, selling digital products can help you monetize your skills and expertise.
One of the main benefits of selling digital files is that it doesn't require any physical inventory or shipping. Unlike physical products, digital products can be delivered instantly to customers worldwide, making it an incredibly convenient and efficient way to sell your products.
WordPress is a popular platform for building websites, and it's an excellent choice for selling digital downloads. With WordPress, you have complete control over your website's design and functionality, and countless plugins and themes are available to help you customize your site to your specific needs.
Another option would be to sell your digital downloads on online marketplace sites, such as Etsy. However, these eCommerce platforms generally give you much less control over customer service, customization, and pricing than when you have your own website.
✅ Learn more about Marketplaces vs Your Own Store
Best WordPress Plugin for Selling Digital Downloads
Easy Digital Downloads (EDD) is a plugin for WordPress that makes selling digital downloads even easier. It's a powerful tool that allows you to create a digital download store quickly and easily, with built-in features like payment processing, download management, and customer management.
Of course, EDD isn't the only eCommerce plugin you can use for WordPress. WooCommerce is a popular alternative if you sell physical products. But when it comes to digital products and downloadable products, EDD is the ideal solution.
🏷 You can even choose between EDD Free and EDD Pro versions
Below is a summary/comparison of some popular eCommerce WordPress plugins.
| eCommerce solution | Price | Best For |
| --- | --- | --- |
| Easy Digital Downloads | Free; $199.50 – $999.50 | Selling digital goods, downloads, software, subscriptions |
| WooCommerce | Free | Physical products |
| WP Simple Pay | Free; $49.50 – $299.50 | One product/accepting donations (no shopping cart) |
| BigCommerce for WordPress | $29.95 – $299.95/month | Large stores needing separate platform to free up space |
| Shopify | $79 – $299/month | Beginners with no need for much customization/control |
| MemberPress | $179.50 – $399.50 | Selling online courses & membership sites |
How to Sell Digital Downloads With WordPress
By combining the power of WordPress and Easy Digital Downloads, you can create a professional and efficient online store to sell your digital products. In this beginner's guide, we'll take you through setting up your digital download store with WordPress and Easy Digital Downloads.
Don't have a WordPress website yet? You can sign up for SiteGround's Managed EDD Hosting! You'll be able to get your site set up in no time.
Step 1: Get Easy Digital Downloads
The first step is to download and install Easy Digital Downloads on your WordPress site:

As I mentioned, there's a free version available. However, I recommend upgrading to EDD Pro to unlock access to tons of helpful extensions and more advanced features. You have four pricing tiers to choose from.
I suggest opting for a premium plan. Learn more about EDD Free vs EDD Pro.
After you select your plan, you can download the EDD Pro plugin from your account dashboard:
Next, you can upload the zip file to your WordPress website (Plugins » Add New). Once you activate the plugin, you can click on Get Started to launch the Onboarding Wizard: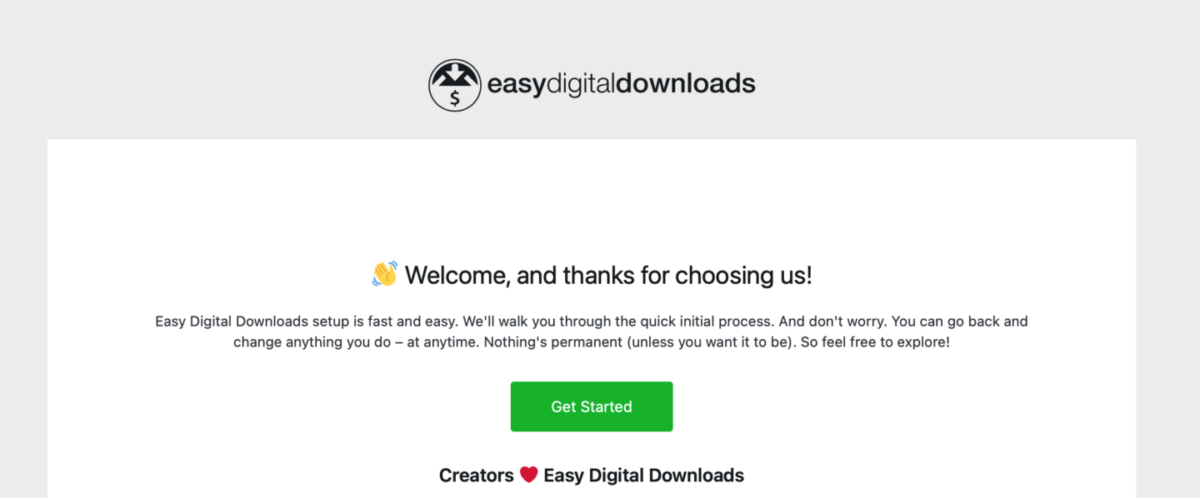 This will take you through the initial key steps of setting up your online store. For example, you can set up Stripe as your payment gateway, enter info about your business, install conversion and optimization tools, and add your first product.
⚙️ Check out our EDD Quickstart Guide for help
Step 2: Add Your Digital Download(s) to Sell
The next step is to add the product you're selling as a digital download. EDD refers to all digital products as 'downloads'.
To begin, go to Downloads and select the Add New button: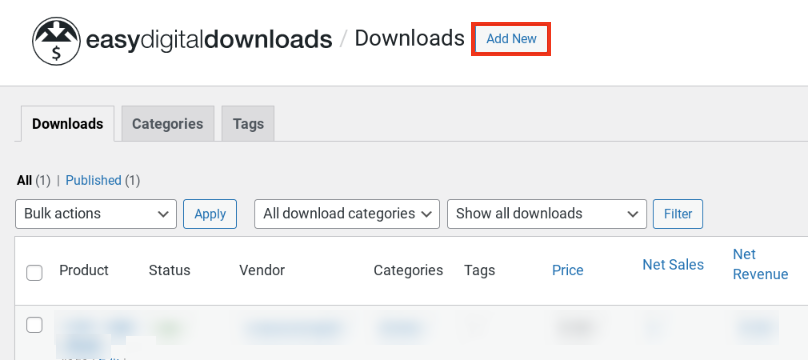 On the next screen, you can name the digital download and add a description:
I'll use a PDF guide as an example. Next, you can set the price you want to sell the digital product for under the Download Prices:

Then you can go to the Download Files section. This part is important as it's where you'll upload the file your customers will purchase and download: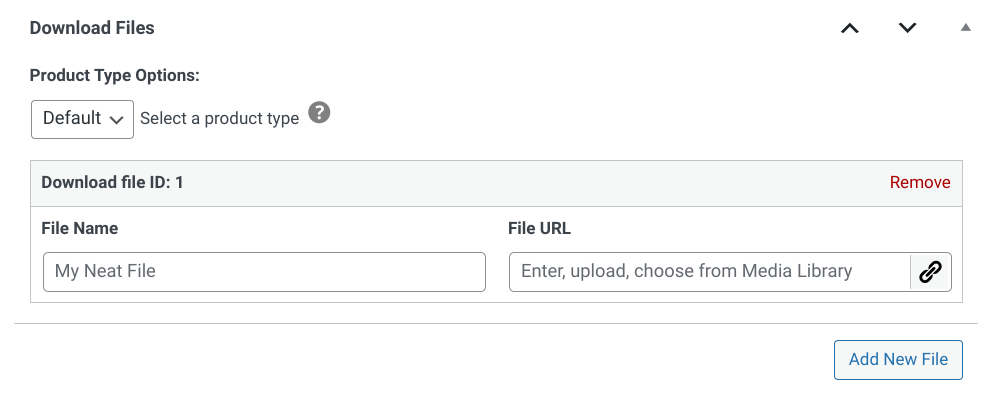 In the File Name field, you can add something such as "Download PDF". This will be the auto-expiring link included in your shoppers' purchase confirmation email and on their download page. Next, you can click on the link icon under File URL to upload the digital download file (in this case, a PDF).
Finally, you can add a Download Image under the settings on the right to display on the digital download product page: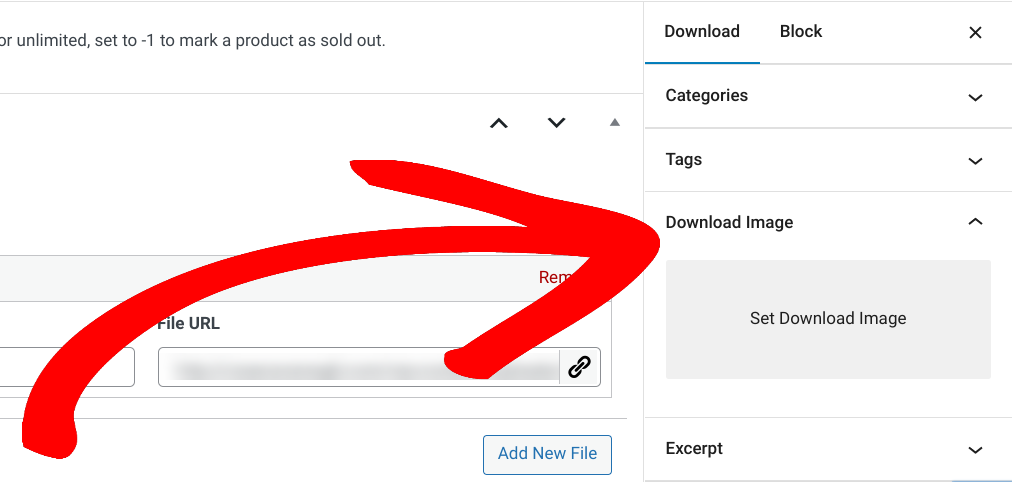 Step 3: Publish, Promote & Sell Digital Downloads
When you're done, select Publish at the top of the page. Then you can click on View download to see how your product page looks from the front end of your website: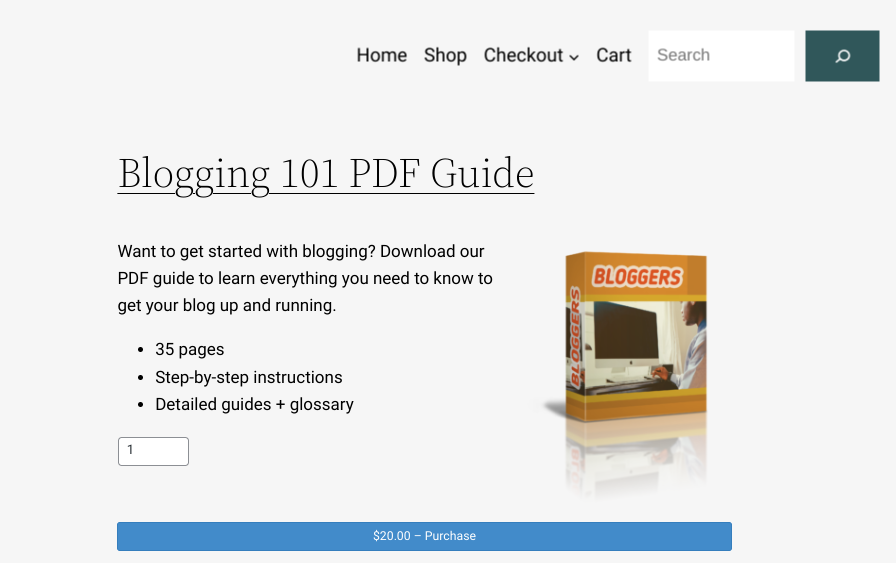 If you have a payment gateway setup, you can also go through the checkout process to ensure everything looks and functions correctly. If you need to activate a payment gateway or enable Test Mode on your site, you can do so under Downloads » Settings Payments: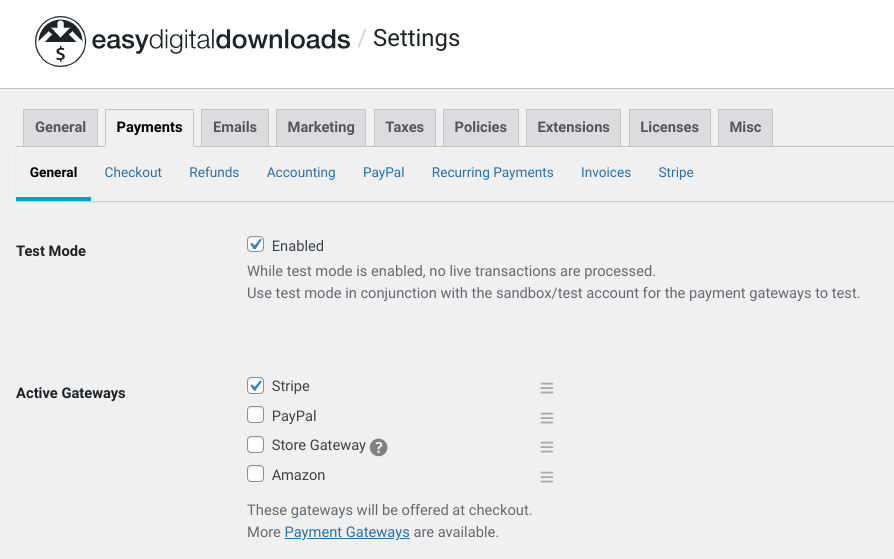 You can also find the tabs for Emails, Marketing, Extensions, and more in these settings. Explore these options and tools to help you customize your online store and develop your marketing strategy. For instance, you can integrate third-party apps and connect with email marketing services that can help you promote your digital downloads.
💡Tips for Promoting Your Digital Products
🛒 How to Get Started With Affiliate Marketing
🌐 Effective Marketing Channels for Your Digital Product Business
FAQs About Digital Downloads
What types of digital products/downloads can I sell?
You can sell a wide range of digital products, such as eBooks, music files, software, and courses. The only requirement is that your product must be in a digital format.
Can I protect my digital products from piracy?
There are several ways to protect your digital products from piracy, such as password protection or encryption. Check out our security guide for more tips.
How do I price my digital products?
The pricing of your digital products will depend on various factors, such as the type of product, its quality, and its demand. It's smart to research your competitors and set a competitive price while still allowing you to make a profit.
What are some ways I can market my digital downloads?
Marketing your digital products is essential to making sales. Leverage social media, email marketing, and search engine optimization (SEO) to promote your products. It's also a good idea to offer discounts or promotions to encourage customers to make a purchase.
How do I deliver my digital downloads to customers?
EDD makes it easy. After a customer has made a purchase, you can auto-deliver the digital product to them via email with a download link. They can also get it from the purchase confirmation page.
What's the best way to handle refunds or customer support?
It's important to have a refund policy and a customer support system in place. You can use Easy Digital Downloads' built-in refund system to process refunds and offer customer support through email or a support ticket system.
Use EDD to Sell Digital Downloads with WordPress
Easy Digital Downloads is a powerful tool that lets you create a digital download store quickly and easily, with built-in features like payment processing, download management, and customer management.
By combining the power of WordPress and Easy Digital Downloads, you can easily create a professional and efficient online store to sell your digital downloads.
Get Easy Digital Downloads today to get started!
eCommerce without limits!
That is our promise. Most eCommerce solutions limit your creativity
…not Easy Digital Downloads!
📣 P.S. Be sure to subscribe to our newsletter and follow us on Facebook or Twitter for more WordPress resources!