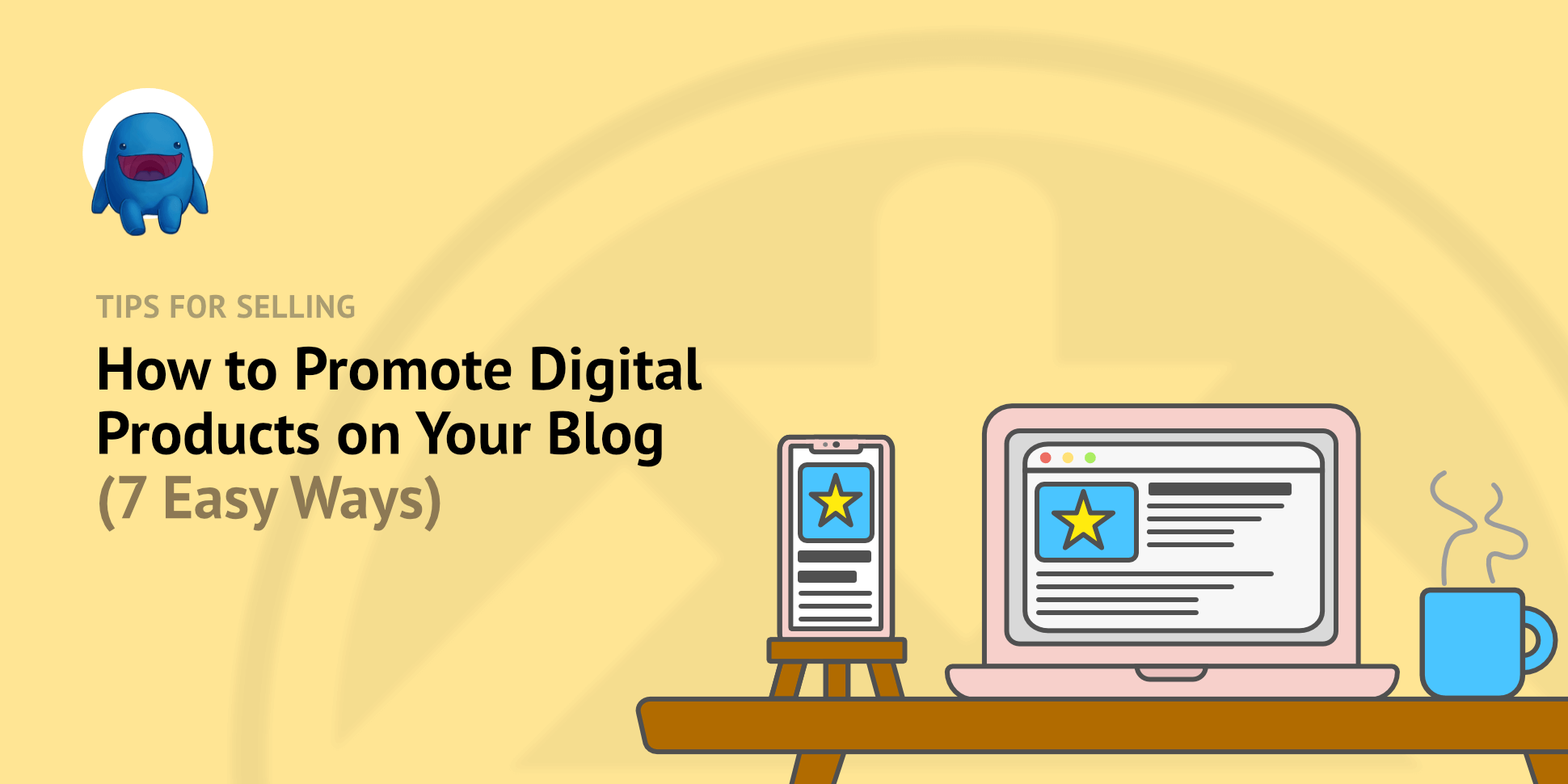 Are you wondering how to promote your digital products? Have you considered a blog? Keep reading. Today, we'll show you how to use your blog for boosting sales.
One of the best ways to grow your digital product sales is using your blog. This is often overlooked.
One benefit of creating digital products like eBooks, printables, and templates is that they are easier to create than physical products (no manufacturing, inventory or shipping!). You only have to make a digital product once, and then you can sell it repeatedly.
But you still need people to come to your site. This is where blogging comes in. It's one of the best ways to get search engines to refer visitors to your site. If you consistently write blog posts Google will help sell your product! (Bing too!)
Luckily, if you have a blog, you already have (or can build) a loyal audience that's ready and willing to buy from you.
In this article, we'll show you how to promote digital products on your blog to grow sales.
Let's dive in.
Table of Contents:
---
1. Write Content About Your Digital Products
As a creator, one of the easiest ways to promote your digital products is by writing blog posts about them.
Like we mentioned earlier, the people that read your blog regularly are your biggest fans, and they're the most likely to buy from you. So, what better way to introduce them to your digital goods than to promote them right inside of the content they love reading.
But, remember, these posts shouldn't be a sales pitch—that can be a real turn-off for readers. Blog posts are sales pages.
Instead, your content should educate readers and provide value to them. When your content shows readers (potential customers) that you can help them with their goals, they'll want to buy your product to get more of your expert advice.
For example, let's say you're selling an eBook titled "101 Cake Decorating Tips for Beginners." On your blog, you can create a post on a similar topic and include a few helpful tips from your book.
At the end of the article, you can promote your eBook and add a call to action. Here's an example from the food blog Sugar Free Londoner: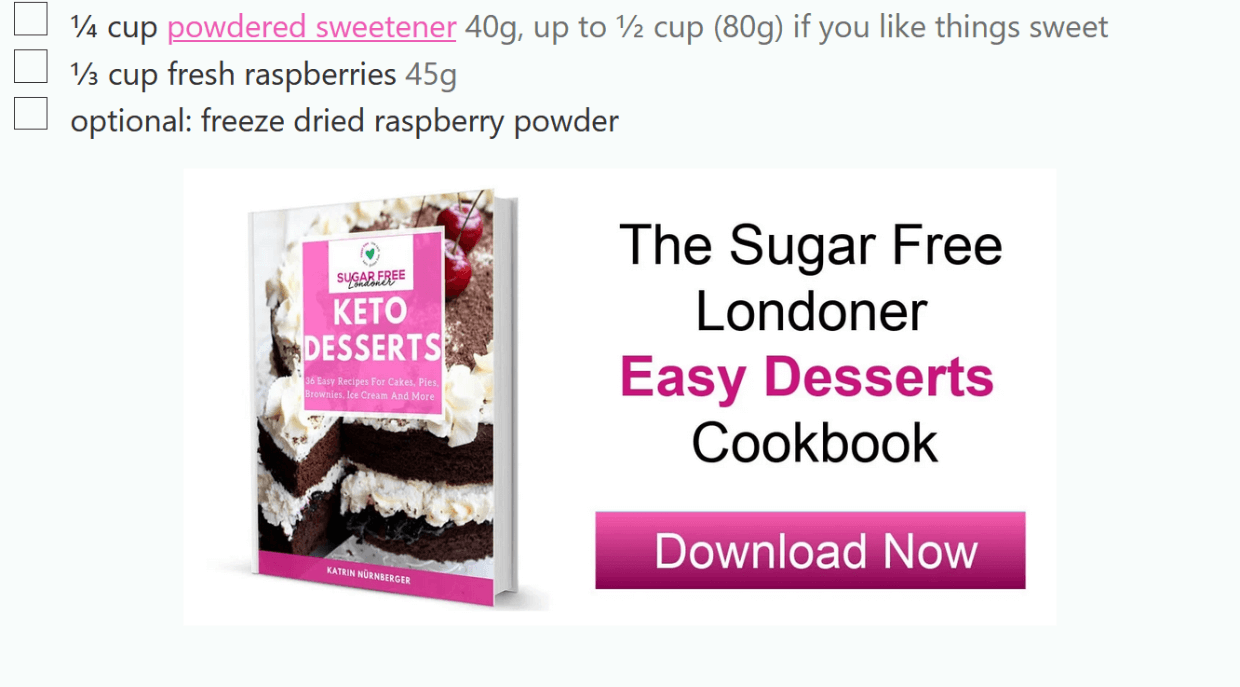 Bonus Tip: You can use this same content marketing strategy when guest posting on other blogs, which is a great way to reach a wider audience. Here's how Andy Crestodina promotes his eBook product online in the byline of a guest post.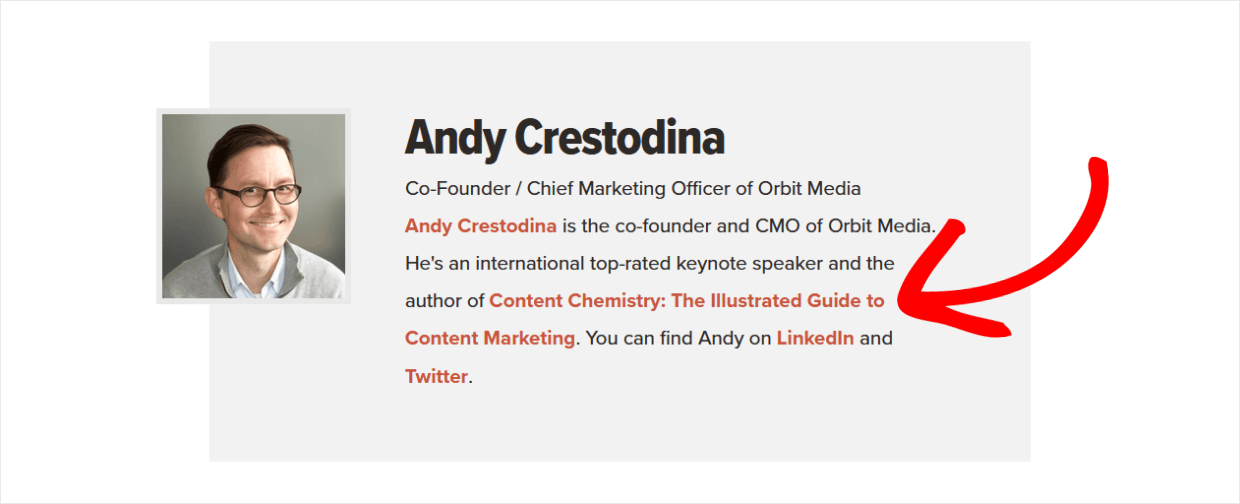 Want to get started with guest posting? Read this guest posting guide for beginners.
2. Create a Product Landing Page
If you want to capture your readers' attention and put all of their focus onto your digital product, you need to create a landing page.
A landing page is a standalone web page designed to encourage visitors to take one specific action, in this case, purchasing your digital product.
Here's an example of a landing page from Smarter Marketer: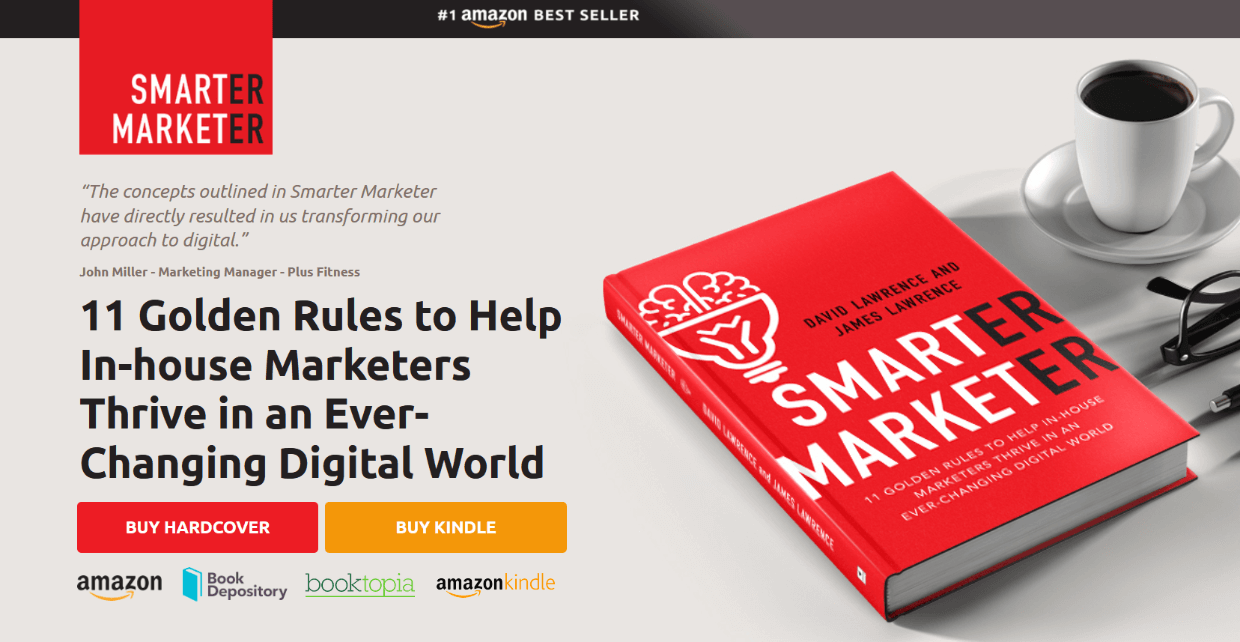 Landing pages are so effective because there's nothing else on the page to distract users from your offer.
It's not like the homepage of your blog where visitors can read your latest articles, navigate to your about me page, or click on your social media icons. A landing page removes all of these distractions and only includes elements that persuade visitors to buy, like:
An attention-grabbing headline
Copy that highlights the value of your product
Subheadings and bullet lists to improve readability
An eye-catching hero image of your digital product
Social proof to show your product's popularity
Countdown timer to increase urgency
Call-to-action (CTA) buttons to get visitors to purchase
To create a landing page for your digital product, you can use SeedProd.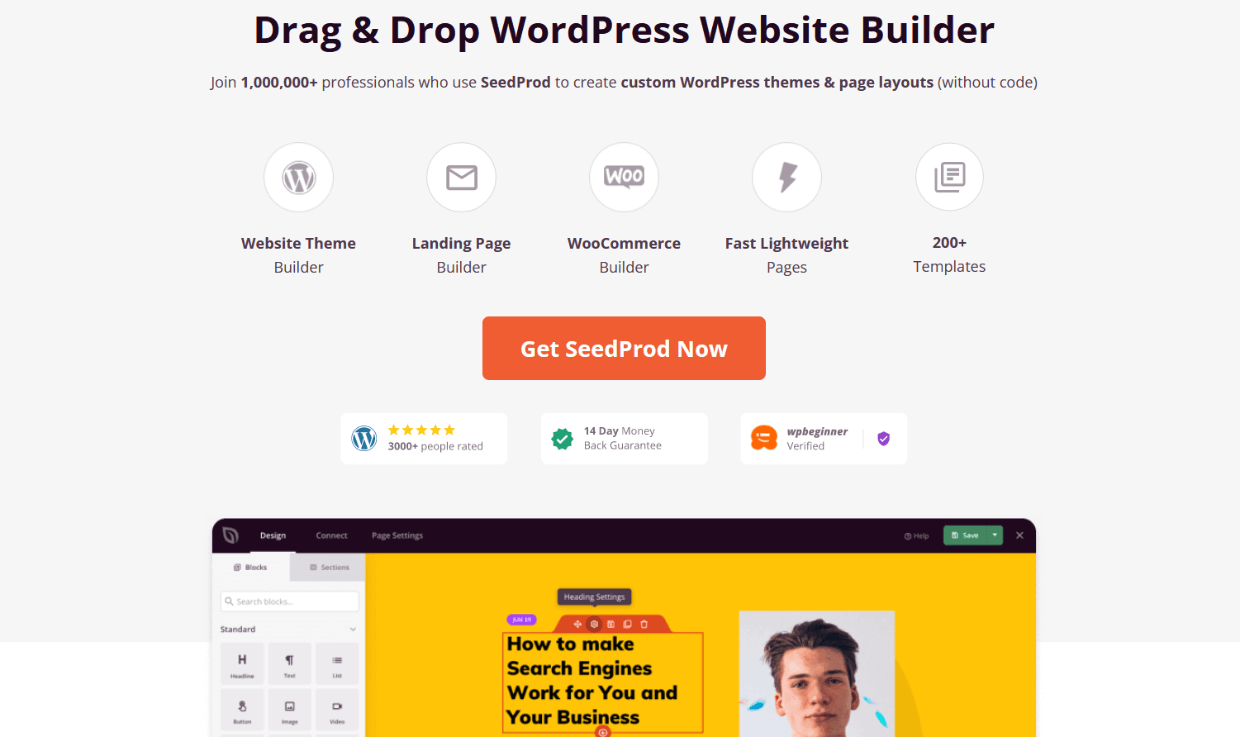 SeedProd is the best website builder for WordPress. With SeedProd, you can easily create custom themes, landing pages, and layouts for your WordPress blog without editing any code.
It comes shipped with over 200+ professionally designed templates to get you started quickly. Thanks to the drag and drop visual builder, customizing the templates is simple.
Plus, SeedProd offers 80+ ready-made blocks that you can add to your landing page to boost conversions. You can choose from blocks like, videos, countdown timers, testimonials, image carousels, contact forms, and much more.
3. Capture Abandoning Blog Visitors
Many first-time visitors to your blog won't be ready to purchase your digital products or services yet. You need to build trust with them before getting them to buy.
But what happens when users visit your blog and never return?
You obviously miss out on a ton of opportunities to turn those visitors into valuable customers.
That's why it's super important to capture your visitors' email addresses before they leave your site. That way, you can build trust with them through regular email marketing communication, which can eventually lead to sales.
The best way to capture abandoning visitors' contact information is with exit-intent popups. An exit-intent popup can track a user's mouse activity and trigger a campaign as they're about to leave your site.
For example, suppose a user is browsing your digital product page and tries to leave without taking any action. In that case, you can show an exit-intent campaign like the one below to collect their email address before they're gone forever.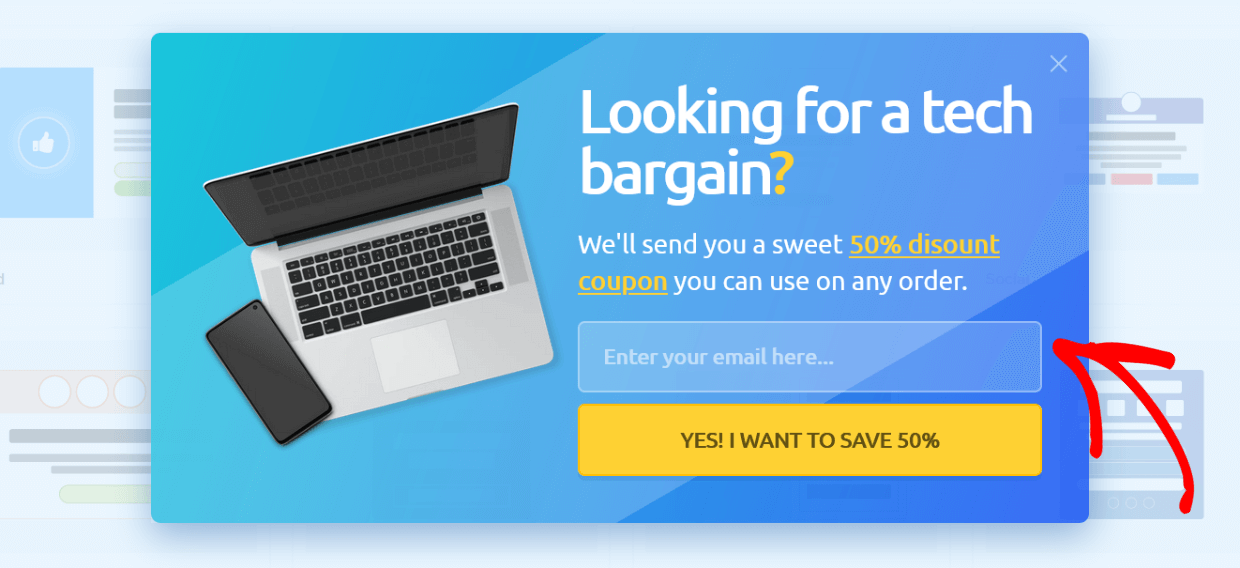 It's a powerful solution to grow your email list and boost sales.
Creating exit-intent popups can seem pretty complicated, but with OptinMonster, it's easy.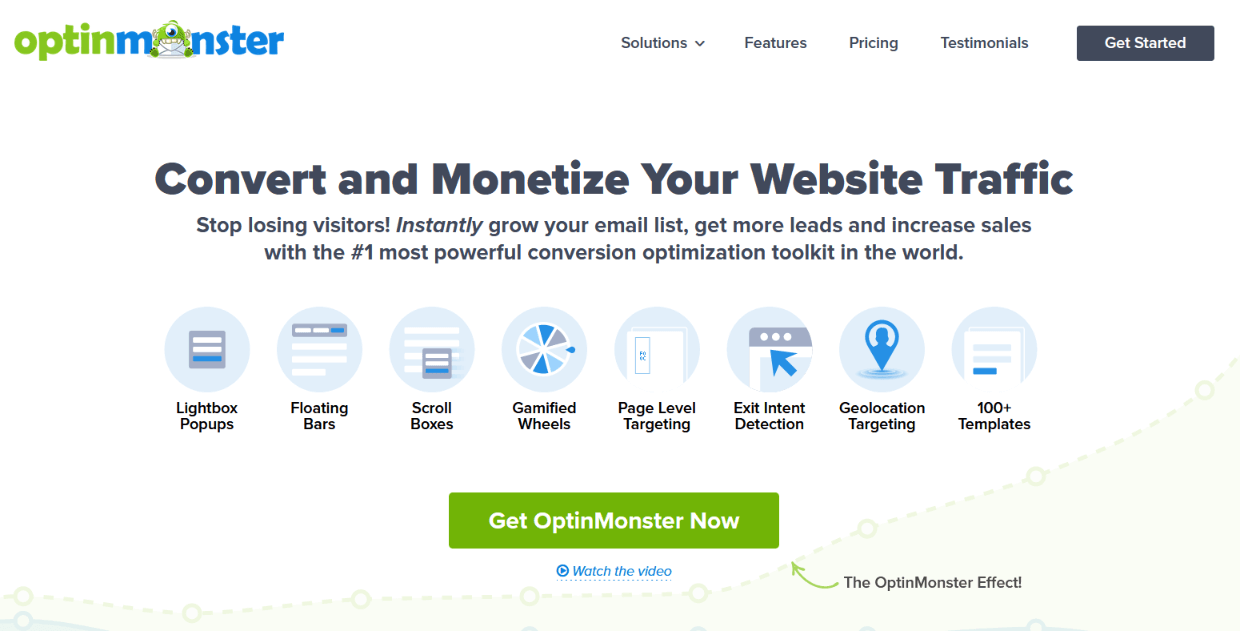 OptinMonster is the best lead generation software on the market. It is a proven way to help sell digital products online. It comes with a drag and drop builder and a built-in library of 50+ templates so that you can quickly create a high-converting exit-intent campaign for your blog.
You can use powerful targeting and segmentation features to show your offer to the right people at precisely the right time. Then, track your campaign results with easy-to-understand analytics.
Plus, OptinMonster is mobile-friendly and responsive to ensure your campaigns look amazing on all devices.
Aside from exit-intent campaigns, you can also use OptinMonster to:
Deliver digital products as lead magnets
Create in-line forms that you can embed in blog posts
Turn any content into gated content to grow your email list
Use interactive coupon wheels to increase sales
Works with any type of product
And much more
4. Showcase User-Generated Content
Before buying a product, people want to find out if it's worth their money. Of course, you can describe the benefits of your digital product and go over all of the cool features it has to offer.
But, what's more powerful, is evidence from real, happy customers.
That's where user-generated content comes in. User-generated content (UGC) is any type of content, such as images, videos, or text, that has been posted by users on social media and other online platforms.
A lot of companies get UGC by encouraging their customers to share photos on Instagram using a branded hashtag and reposting the content on their own feeds, like in this example from GoodNotes: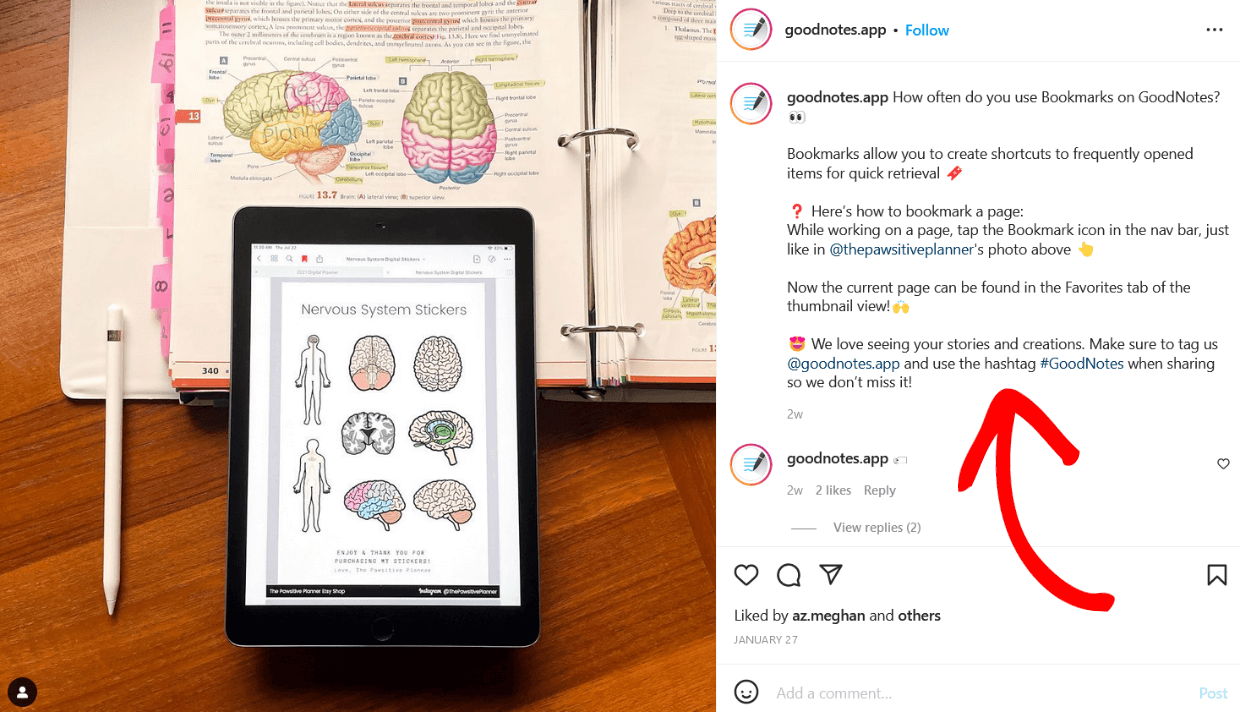 You can bring this strategy over to your blog to promote your digital products there. That way, website visitors that are on the fence about buying can be influenced by real customers that are using your products.
Here's how GoodNotes does it:

This Instagram feed is embedded on the homepage of GoodNote's website to show off the happy customers that use its note-taking app and templates.
You can easily add an Instagram feed like this to your blog using a plugin like Smash Balloon's Instagram Feed Pro.
Check out this tutorial on how to add an Instagram hashtag feed to WordPress for step-by-step instructions.
5. Run a Fun Giveaway
One of the best ways to build buzz for your digital products is to run a giveaway. Your blog readers will love getting the chance to win a prize, so a giveaway campaign is bound to get engagement.
Plus, giveaways are hugely popular on social media platforms like Facebook, Twitter, and Instagram. Your contest could go viral, introducing your online business to a ton of potential new customers.
Creating a successful giveaway isn't difficult either. First of all, you've already got an awesome prize to offer up—one of your digital products! 😉
And you can use a plugin like RafflePress to handle everything else.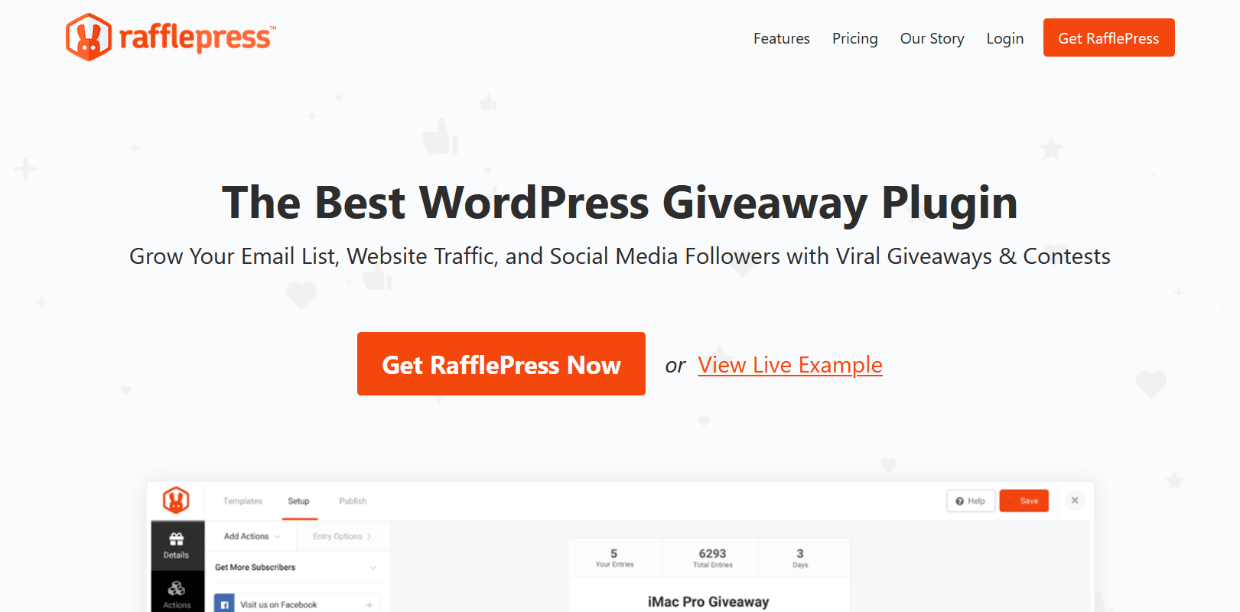 RafflePress is the best giveaway plugin for WordPress. It's got pre-built giveaway templates and a drag and drop builder that makes it easy to create a beautiful online contest.
Plus, RafflePress has over 20+ entry actions that you can use to reach your goals of going viral. These entry actions reward participants with extra giveaway entries for performing specific actions like:
Referring a friend
Following you on social media
Subscribing to your email newsletter
Watching a video
Leaving a comment
Visiting a page on your site
And much more
With all of the extra traffic you can drive to your site and the new followers you get on social media, you can significantly increase your digital product sales.
6. Display Real-Time Notifications
Another way to promote your digital products and boost sales at the same time is with real-time notifications. Here's how it works…
When users are on a website, it feels like they're the only person there. There's no way for them to know if other people are on the site buying your digital art, music, Canva templates, or whatever type of digital product you offer.
But, with real-time notifications, you can show your visitors all of the activity that's happening on your site including who's buying your digital products.
This is a form of social proof, which is a powerful marketing strategy that's based on the psychological phenomenon where people copy the actions of others.
When a user on your site sees a notification like the one below, it encourages them to buy the product too: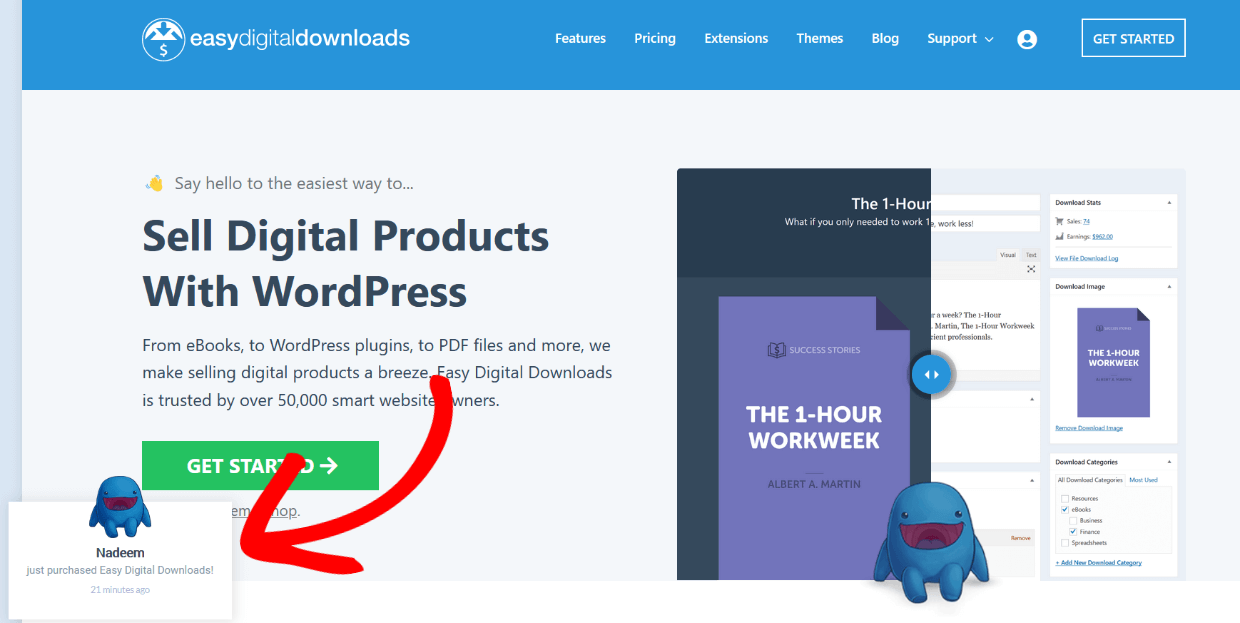 You can add notifications like this to your blog with TrustPulse, the best social proof notification app for marketers.
Setting up TrustPulse is easy. It only takes a few minutes and there's no coding required, so you can immediately start displaying purchase notifications, action messages, popular visitor activity, and more.
It also comes with flexible design options, smart targeting rules, timing controls, actionable analytics, and it works on all popular website platforms.
7. Start an Affiliate Program
Want your loyal readers to promote your digital products for you? Then, consider creating an affiliate program.
An affiliate marketing program lets you reward people that recommend your digital product or service. The people that sign up to become affiliates will get a trackable link that they can use to promote your products. Then, whenever someone purchases your product through that link, the affiliate will get a commission.💲
With your biggest fans promoting your products on their own blogs, on social media, and to their family and friends, you can dramatically increase the visibility of your online business. More people will discover your website, see your digital products, and become customers.
So, how do you set up an affiliate program?
We recommend using AffiliateWP. It's the best plugin for creating a complete affiliate program right from your WordPress blog.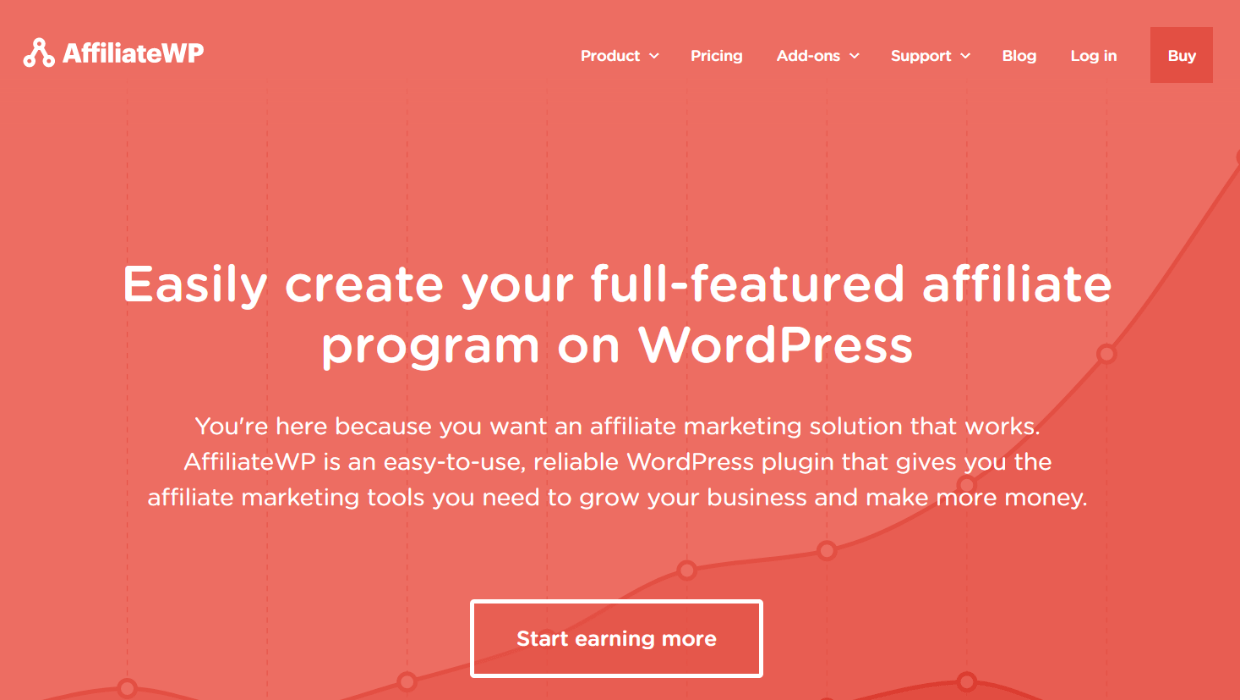 AffiliateWP is super easy to set up; simply install the plugin, activate it, and you're ready to go.
It comes with a built-in affiliate area, where affiliates can generate their own referral links and access creatives. Plus, you can easily monitor your program to see your top earning affiliates, track affiliate-referred visits, moderate affiliate registrations, and more.
Other powerful features include:
Integrated payouts service, there's no easier way to pay referral commissions
Affiliate coupon tracking
Multiple referral rate types
Real-time reporting
Seamless integrations with Easy Digital Downloads and WooCommerce
Best of all, you can have an unlimited number of affiliates actively promoting your digital products. So, you have the freedom to grow your business as quickly as you want.
Conclusion
That's a wrap! We hope this article helped you learn how to promote digital products on your blog and generate sales from your readers.
If you're looking for more resources on selling digital products, check these out:
Be sure to follow us on Facebook and Twitter to learn more about WordPress and selling digital products.