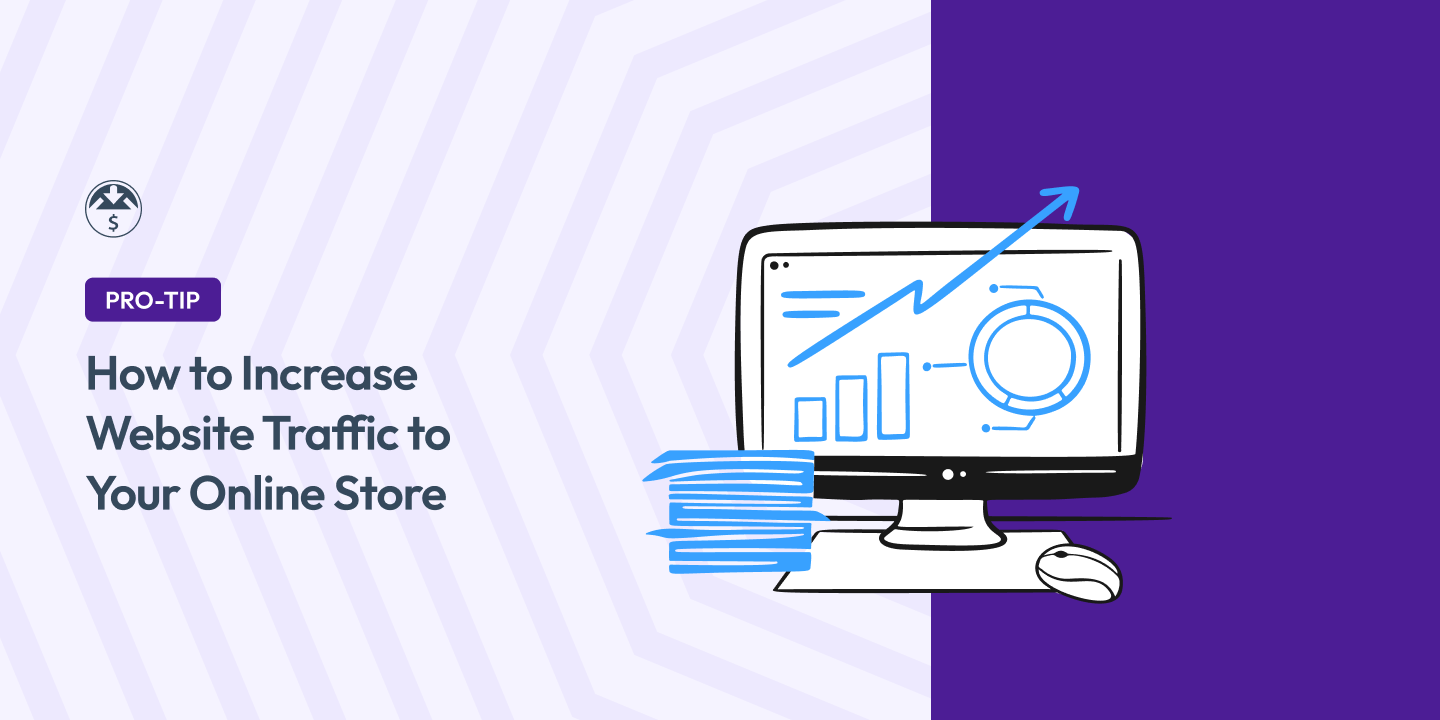 Are you looking for the best ways to increase website traffic to your online store?
One of the most crucial aspects of running a successful e-commerce business is driving consistent and relevant traffic to your website. If you're unsure where to start, don't worry.
The right WordPress strategies and tools make building, managing, and optimizing your online store significantly easier.
🔎 In this article, we'll cover:
Why Drive Traffic to Your E-commerce Site?
Having a beautifully designed online store stocked with amazing products is great. But only if people are actually visiting it. That's where the significance of website traffic comes into play.
Increased traffic can lead to higher visibility in search engines, social media platforms, and other online spaces. This exposure can contribute to greater brand recognition and recall, making your online store a go-to destination for potential customers.
Boosting site traffic can also lead to higher conversions. Whether it's making a purchase, signing up for newsletters, or engaging with your content, more traffic equates to more opportunities for visitors to become paying customers.
As your traffic grows, you'll gain access to valuable data about your audience's behavior, preferences, and interactions. This data can be used to refine your marketing strategies and tailor your offerings to better suit your target demographic.
There are a number of ways to increase website traffic, including both free (organic) and paid options. Tactics include everything from crafting high-quality content and product listings to running targeted digital ads.
10+ Best Ways to Increase Website Traffic
Ready to get started? Below, we'll go through some of the best ways to increase website traffic to your online store.
Note that this post is targeted primarily to WordPress users. However, the majority of tips and best practices are relevant even if you're using a different e-commerce platform like Shopify.
1. Focus on Site Speed & Performance
Focusing on your website speed and performance is an essential aspect of driving traffic to your e-commerce website due to its significant influence on user experience, search engine rankings, and overall online success.
Visitors expect websites to load quickly and provide a smooth browsing experience. A slow-loading site frustrates users, leading to higher abandonment rates.
Search engines, particularly Google, consider website speed as a ranking factor. Google search algorithms reward websites that deliver a great user experience, including fast loading times.
Websites that load quickly are more likely to rank higher in search engine results, making it easier for users to find your site. Improved rankings result in increased organic traffic, as users are more likely to click on websites that appear on the first page of search results.
There are a few things that can help enhance the performance of your site.
Choose a Reliable WordPress Host
One of the best ways to ensure a solid performance on your website is to choose a quality web host. If you're running an e-commerce site with WordPress, I recommend SiteGround's Managed EDD Hosting plans. They include everything you need to start and manage an online store with ease.
Use Quality eCommerce Tools
The themes and plugins you use on your e-commerce site can affect both its user experience and its performance. The goal should be quality over quantity. In other words, focus on selecting high-quality, reliable tools that can help you address a handful of things rather than multiple ones.
For instance, if you're selling digital products and need an eCommerce solution, the best plugin is Easy Digital Downloads (EDD):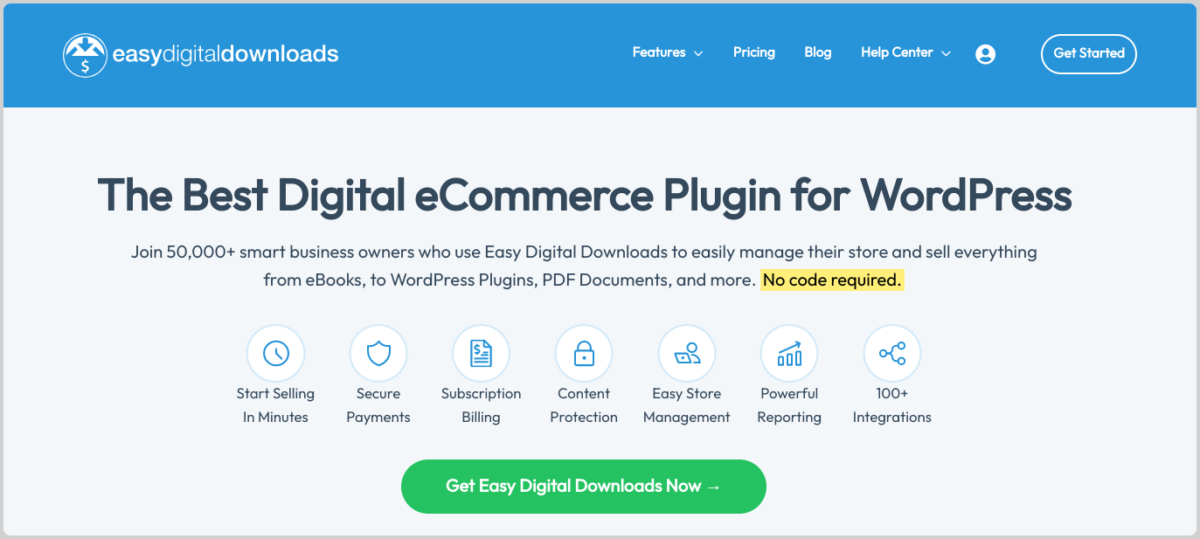 You can also streamline the design and usability of your online store by installing one of the EDD-specific WordPress themes, like Vendd or Themedd. Using e-commerce templates can help you build more engaging and effective landing and product pages. Solutions like Easy Digital Downloads also help ensure a smooth checkout process.
Test Your Site Performance/Score
If you want to test the current performance of your site, use a tool such as Google PageSpeed Insights: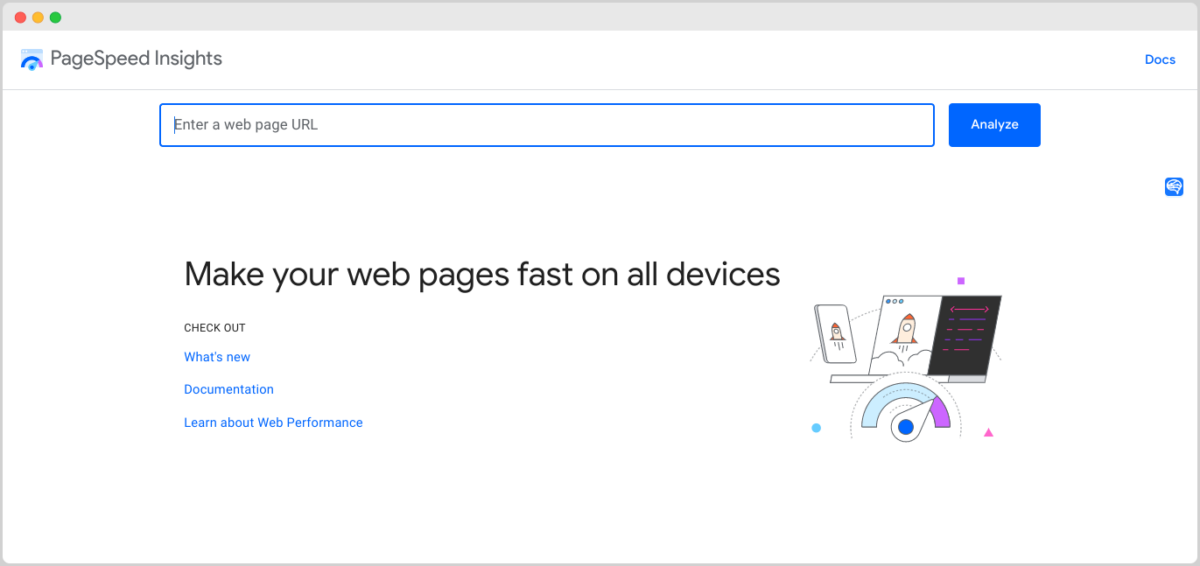 Simply enter your site URL and select Analyze. On the results page, the tool grades your site and provides specific recommendations and suggestions for how to improve it.
2. Optimize for Organic SEO
If you want to increase website traffic organically, you need a Search Engine Optimization (SEO) strategy. In a nutshell, this is the process and solutions employed to ensure your online store is search engine-friendly. There are a handful of ways to do this. Let's go over some of the biggest ones.
Utilize SEO Tools to Conduct Keyword Research
Utilizing SEO tools such as Google Keyword Planner, SEMrush, or Ahrefs can greatly enhance your website traffic by optimizing your content for search engines. These tools enable you to conduct comprehensive keyword research, identifying high-volume and relevant keywords that your target audience is searching for.
Additionally, these tools provide insights into your competitors' strategies, helping you identify gaps and opportunities to create content that stands out.
A free tool you can use to analyze the SEO strategy of any website is the All in One SEO Analyzer Chrome extension:

In just a single click, you can get tons of on-page SEO details: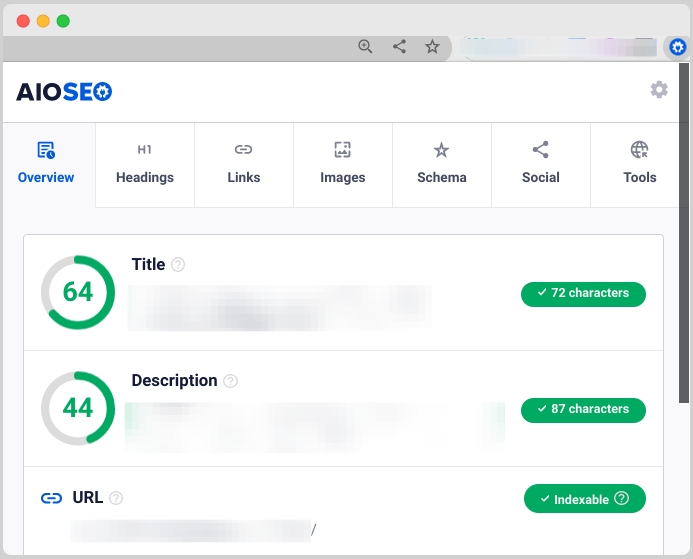 This includes internal links, keywords, nofollow links, schema settings, and more. Learn more about how to use it.
Create High-Quality Content
One of the best ways to increase website traffic and attract new customers to your e-commerce store is through content marketing. High-quality content not only provides value to visitors but also encourages them to spend more time on your site.
Regularly update your website with compelling blog posts, product descriptions, and landing pages. There are so many different types of content you can create and share to engage your target audience and position your online business as a trustworthy source.
If you need help brainstorming topics to write about, it's smart to check online forums and social media to see what kind of issues, questions, or concerns users are having regarding your industry/offerings. Crafting content to help address these pain points and provide solutions can be effective.
Install an SEO Plugin
Installing an SEO plugin can help with optimizing not only your web pages and blog posts, but your product landing pages, meta-tags, alt text, and meta descriptions as well.
One of the most powerful tools is AIOSEO: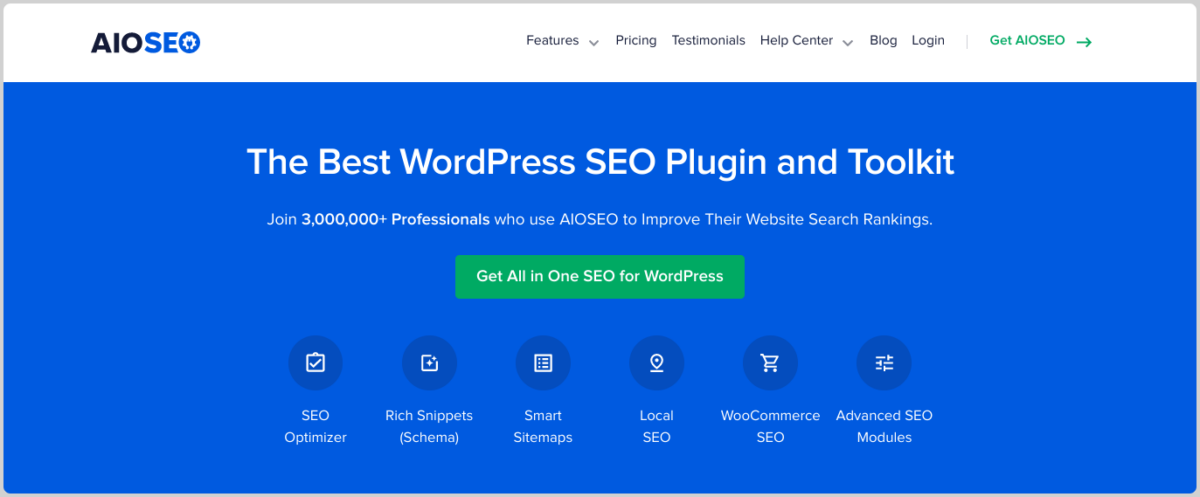 The AIOSEO (All in One SEO) plugin is perfect for optimizing WordPress websites, particularly e-commerce sites. Features like automated meta tag generation, XML sitemaps, and schema markup ensure that your content is optimized for search engines.
Additionally, it helps with enhancing on-page SEO elements, providing guidance on content optimization, and improving the readability of your content.
Build Backlinks
Another way to help generate web traffic to your online store is through link building. Quality backlinks can significantly enhance your website's authority and visibility. This can be difficult and it does take time.
But connecting with other bloggers in your niche and finding guest posting opportunities can be an excellent digital marketing strategy. Collaborate with industry influencers and bloggers to publish guest posts with backlinks to your site.
3. Leverage Social Media
Social media marketing can be an incredibly effective (and affordable!) tactic for increasing site traffic. You can use social channels to run ad campaigns, promote new products, share blog posts and other content, etc.
It's also smart to encourage customers to share your products on social media. If you're a digital seller, the EDD Social Discounts extension lets you offer users exclusive discounts for sharing or liking your products on social networks: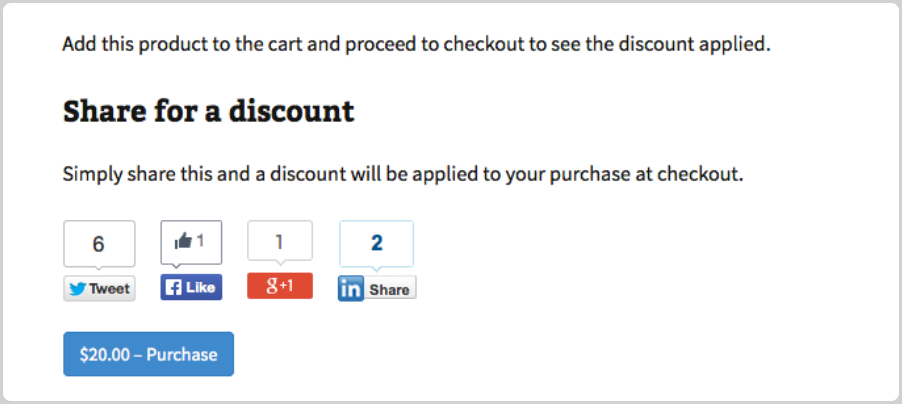 The ideal platforms depend on the type of business you have and your target customers. From TikTok to LinkedIn, each channel has certain techniques and best practices to leverage for optimal performance.
In any case, you can actively join in on social conversations to position your brand as a credible and authoritative source. Using relevant hashtags and keywords helps your target audience find your posts, which can lead them to your website.
4. Use Influencer Marketing
Another way social media can come in handy in growing brand awareness and increasing your conversion rate is through influencer marketing. Collaborating with influencers in your niche can help you expand your reach and get your products and promotions in front of audiences likely to be interested in them.
Partner with influencers in your niche to tap into their existing audience and drive traffic to your store. Influencers can provide authentic reviews and endorsements that resonate with their followers.
You can search for and contact influencers organically. Alternatively, there are dedicated tools for discovering influencers, such as Upfluence. You could also check out these free influencer marketing tools recommended by WordPress.
5. Run Viral Giveaways/Contests
One of the most effective ways to grab the attention of people is to offer something for free. Organize and run online contests and giveaways to create excitement around your brand: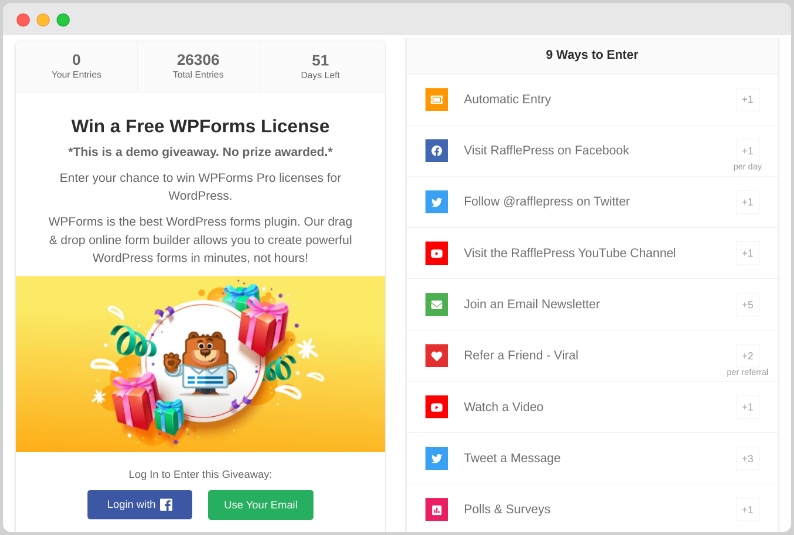 These events can help foster a sense of community. Perhaps more importantly, running a giveaway or contest on your WordPress website or social media platforms can boost traffic.
You can use a plugin such as RafflePress:

This is also an excellent way to build out your email list. You can create sign-up and opt-in forms from giveaway participants that give them a chance to win in exchange for their email address.
6. Start an Affiliate or Referral Program
Another method to increase website traffic in WordPress is to start a referral or affiliate marketing program: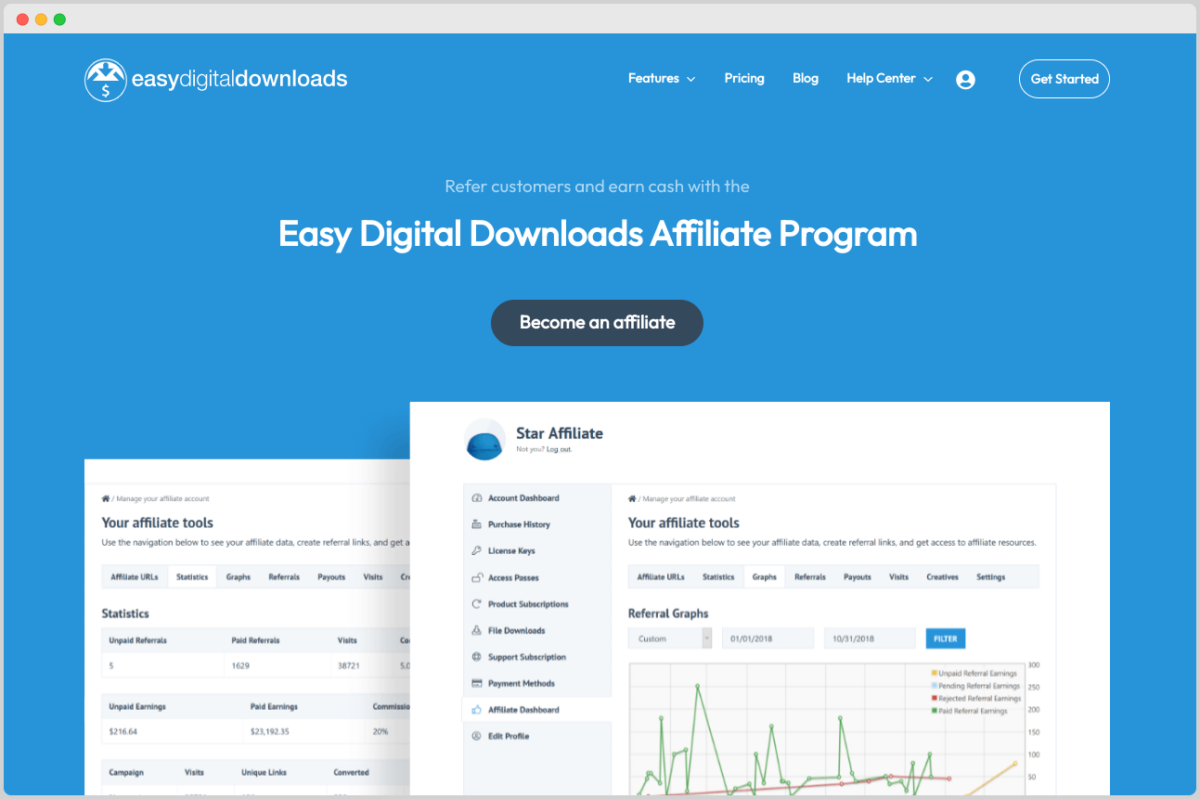 These programs encourage your existing customers and users to refer friends, family, or colleagues to your online store, incentivizing them with rewards for successful conversions.
WordPress offers various plugins for starting referral and affiliate marketing programs. Integrate with a tool such as AffiliateWP to easily track referrals, manage rewards/payouts, and automate the entire process.
💡 Learn How to Start an Affiliate Program in WordPress
7. Use Email Marketing Campaigns
Email marketing remains an effective way to bring repeat traffic to your online store.
Email campaigns make it easy to directly communicate with your subscribers and engage them in ways that can drive traffic and conversions for your online store. Build an email list and send out regular newsletters with exclusive deals, updates, and valuable content.
Easy Digital Downloads integrates with a handful of popular platforms like Mailchimp, AWeber, and ConvertKit: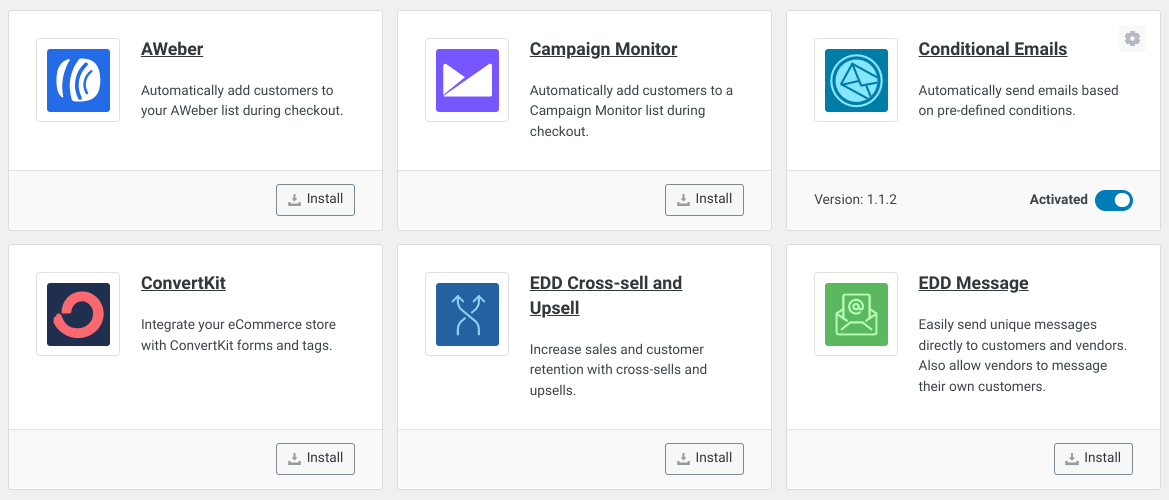 To help build your email list and boost subscribers, it's important to make it easy for visitors and users to sign up.
💡Check out How to Add Email Newsletter Signup Forms in WordPress
8. Send Push Notifications
Push notifications are short, attention-grabbing messages that are delivered to users' devices. These notifications provide a direct way to communicate with your audience. You can use them to deliver important updates, promotions, announcements, and content in real time.
When harnessed effectively, push notifications can significantly enhance user engagement and drive traffic to your website. One of the best tools you can use to create and automate these notifications is PushEngage: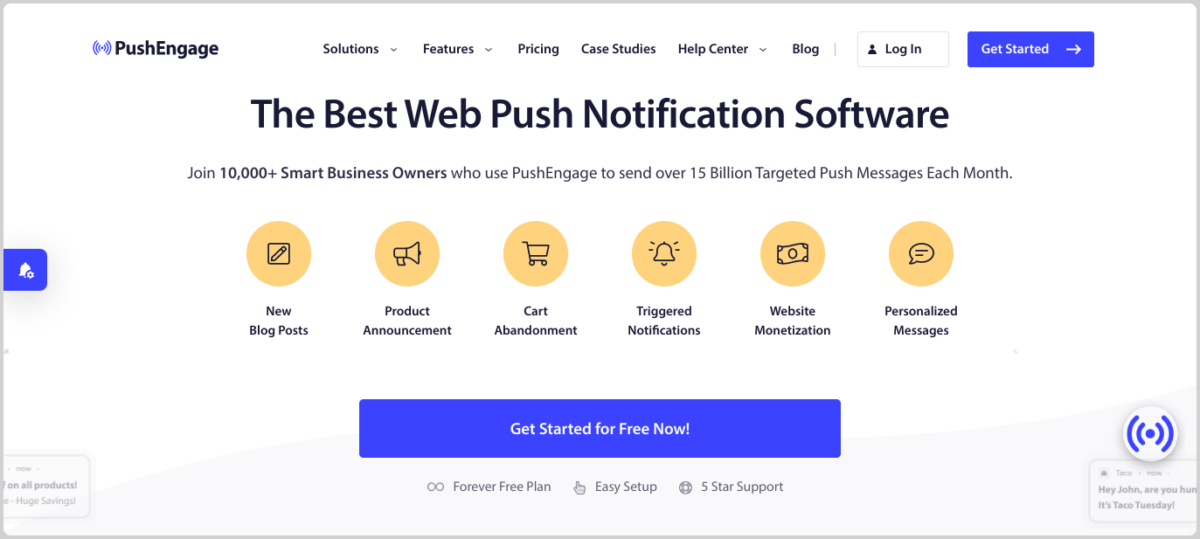 This user-friendly solution lets you customize the Call To Action (CTA), add your own test and images, and schedule the delivery timing and duration of each one. It's a great method for small businesses to use to boost click-through rates (CTR) and generate more traffic & conversions.
9. Track & Monitor Website Analytics
Tracking and monitoring site analytics is essential for driving website traffic as it provides valuable insights into user behavior, preferences, and engagement patterns. Understand which pages are most visited, how users navigate your site, and where they drop off to identify areas for improvement.
The MonsterInsights plugin for Google Analytics in WordPress offers a user-friendly solution to this task: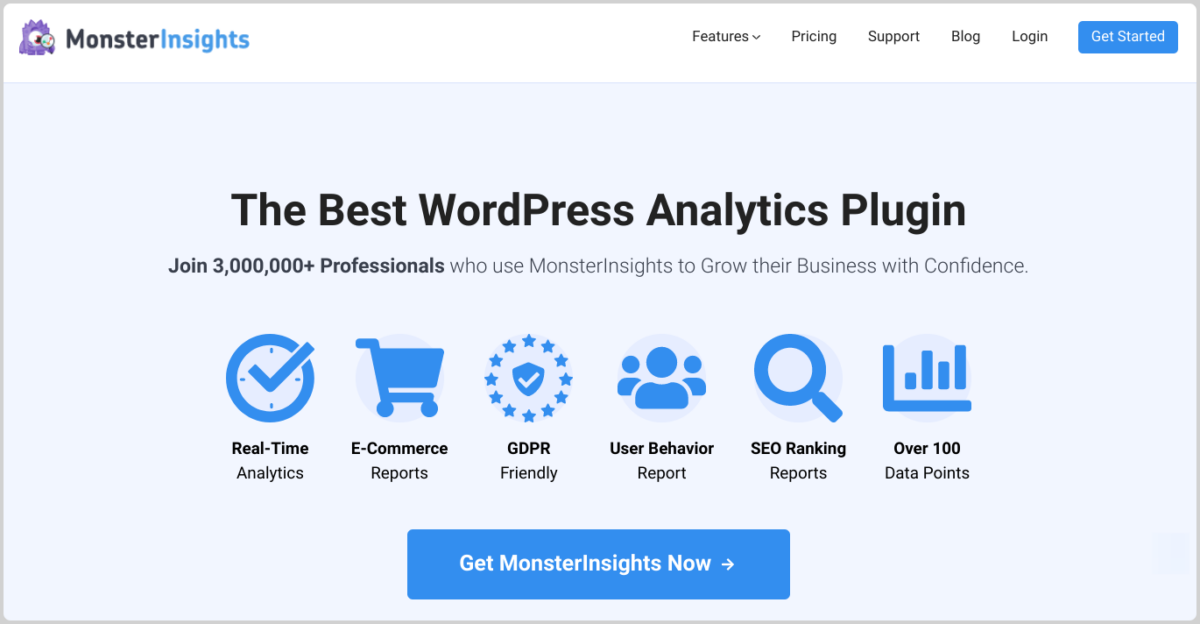 It seamlessly integrates with your WordPress site, enabling you to access comprehensive analytics directly from your dashboard. With MonsterInsights, you can make data-driven decisions, refine your strategies, and enhance user experience, ultimately driving more targeted and relevant traffic to your website.
10. Consider Pay-Per-Click (PPC)
If you're comfortable with paying for Google ads in the search results, you might consider investing in Pay-Per-Click (PPC) strategies.
This digital advertising model involves paying a fee each time your ad is clicked. These ads appear on search engines, social media platforms, and other websites. They provide a powerful way to drive targeted traffic to your website.
You can reach a highly specific audience by targeting keywords, demographics, interests, and geographic locations. This precise targeting ensures that your ads are shown to users who are most likely to be interested in your products or services: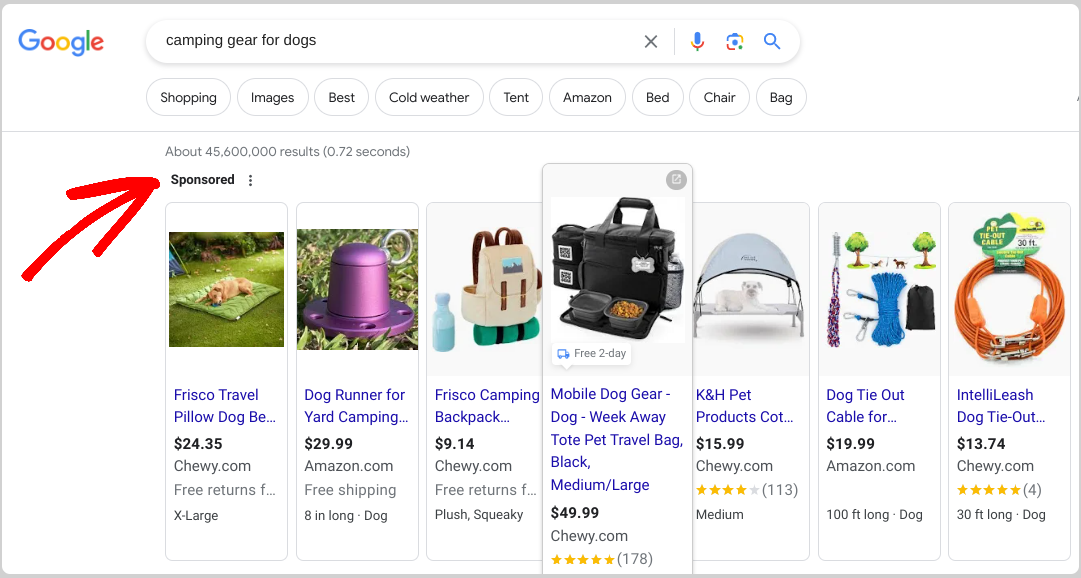 Plus, PPC ads offer immediate visibility, putting your website at the top of search results or in prominent positions on social media feeds. Pricing can vary. But, if it's in your budget, allocating spend to PPC campaigns and optimizing ad performance can attract qualified traffic, generate leads, and increase the chances of conversions.
FAQs About How to Increase Website Traffic
Let's wrap up with some frequently asked questions.
How can small businesses increase website traffic?
Start by optimizing your website for search engines using relevant keywords, creating high-quality content, and ensuring a user-friendly experience. Leverage social media platforms to engage with your audience and promote your products. Implement email marketing campaigns to keep your audience informed. Collaborate with influencers, run promotions, and consider using PPC ads to drive targeted traffic. Monitor site analytics to understand what's working and refine your strategies accordingly.
Does website traffic increase sales?
It can. Increasing website traffic is crucial because it impacts your online store's visibility, engagement, and revenue. More traffic means more potential customers, higher chances of conversions, improved brand exposure, and valuable insights into your audience's preferences.
What are the best ways to increase website traffic for free?
Take advantage of content and email marketing. Conduct keyword research and incorporate the keywords naturally into your product descriptions, blog posts, and other content. Use email newsletters and social media to promote high-quality, informative, and engaging content that resonates with your target audience.
How can I monitor my website traffic in WordPress?
Both Easy Digital Downloads & MonsterInsights can be used to track and monitor analytics for your e-commerce website. MonsterInsights provides insights into user behavior so you can understand what's working and what isn't. Monitoring bounce rates, page views, and referral sources helps you identify opportunities for improvement.
You can integrate these analytics with EDD for advanced eCommerce tracking & reports.
Increase Website Traffic to Your Online Store
Driving substantial website traffic to your online store is an ongoing process that requires dedication and strategy. Leveraging the power of WordPress, Easy Digital Downloads, and various marketing techniques helps effectively enhance your store's visibility, engagement, and ultimately, your bottom line.
Remember, the key lies in consistency, quality content, and a deep understanding of your target audience's needs and preferences. Start implementing these strategies today and watch your e-commerce website traffic flourish.
Want even more ways to help boost conversions? Check out 11+ Best Lead Generation Plugins for WordPress.
📣 P.S. Be sure to subscribe to our newsletter and follow us on Facebook or Twitter for more WordPress resources!