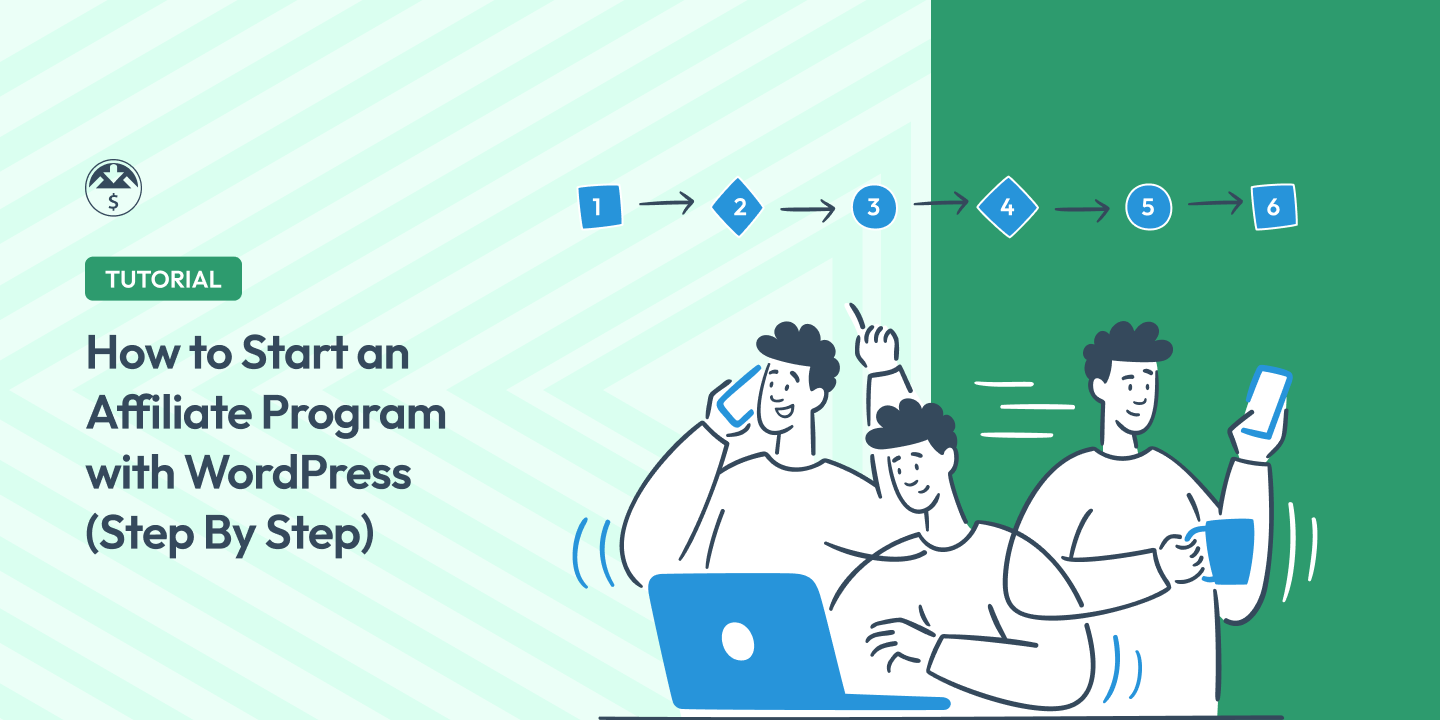 Are you interested in learning how to start an affiliate program with WordPress?
There are so many benefits to affiliate marketing, especially if you already have a WordPress and/or e-commerce site. With the right tools, setting up an affiliate marketing program is relatively quick and simple.
In this guide, we'll explain the concept of affiliate marketing, discuss its benefits for e-commerce businesses, and provide a beginner's step-by-step affiliate marketing for businesses guide.
Feel free to jump around:
What Is Affiliate Marketing? Intro for Beginners
Affiliate marketing is a performance-based marketing strategy where businesses reward affiliates for driving traffic to their website and increasing sales. The goal could also be another desired action, such as signing up for a newsletter or filling out a form.
Affiliate marketing programs are a win-win model for both merchants (you) and affiliates (people who join your referral program). You gain exposure and sales; your WordPress affiliates earn a commission for their marketing efforts and referrals.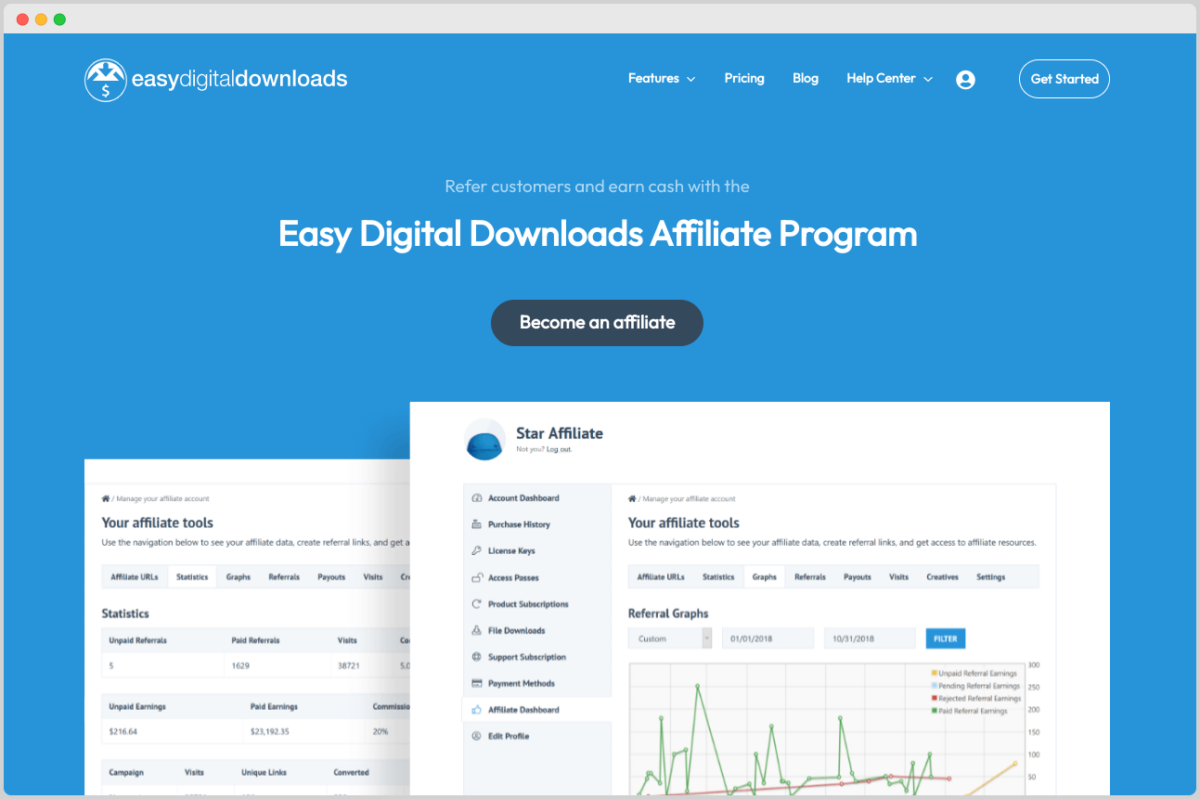 Let's say an existing customer loves your products and wants to share them with others. When they join your affiliate program, they're assigned a unique affiliate ID. This identifier is connected to the referral links/banners they're given to promote your products on their own channels, be it a blog, social media, email, etc.
If new customers visit your site via affiliate links and complete purchases, the affiliates earn a commission, typically a percentage of the sale or a fixed amount.
Why Start an Affiliate Program for eCommerce
If you're looking to generate additional revenue for your WordPress website, starting an affiliate program can be a fantastic approach. It's why so many businesses are getting involved.
For instance, according to The State of Affiliate Marketing: Benchmark Report of 2023, the global affiliate marketing industry is expected to grow to more than $14 billion this year, and to as much as $15.7 billion by 2024.
Between 2020 and 2022, interest in affiliate marketing increased by a whopping 264%, with over 80% of advertisers now using it.
In short, affiliate marketing is a lucrative and prevalent marketing strategy.
There are a handful of key benefits of affiliate marketing, including:
Increased reach & exposure. Affiliates promoting your products to their own audiences, can expand your reach, help you tap into new markets, and increase brand awareness.
Cost-effective marketing. Few strategies guarantee results without any upfront costs. Affiliate marketing is performance-based, so you only pay commissions when affiliates generate sales.
High conversion rates. Skilled affiliates can act as an extended sales team, leading to higher conversion rates and sales for your e-commerce business.
Improved SEO. Affiliates create content and backlinks to your site, which helps drive traffic and positively impacts your search engine rankings.
Building strong relationships. Affiliate partnerships can facilitate long-term collaborations and mutually beneficial partnerships. They can also provide third-party validation to help build trust and credibility for your business with potential customers.
Measurable results. Detailed performance tracking and analytics make it easy to measure the effectiveness and success of each of your affiliates.
Overall, setting up a network of affiliate partners for your online business can drive sales, expand your reach, create a passive income stream, and build a strong brand presence in the e-commerce space.
Choosing the Best Affiliate Program Platform
There are two main ways to go about starting an affiliate program: using third-party affiliate networks or using your own website. For a handful of reasons, I recommend opting for a self-hosted WordPress site.
When it comes to both e-commerce and affiliate marketing, managing your own self-hosted WordPress website gives you more control over your:
Landing page/web design, branding & user experience
Commission structures, payment methods & tiers for affiliate sales
Affiliate relationships & communication
Real-time analytics & performance metrics
The other option is third-party affiliate marketplaces, such as Amazon Associates, ClickBank, and ShareASale. These platforms can be useful for connecting small businesses with potential affiliates.
Setting Up a WordPress eCommerce Site
WordPress is the world's most popular Content Management System (CMS), and for good reason. Its user-friendly interface, extensive plugin ecosystem, and flexibility make it an excellent choice for creating an affiliate program, especially for online sellers.
You can choose from a variety of WordPress themes, extensions, and third-party integrations to personalize your site based exactly on your desired features and functionality. Plus, with such an extensive availability of plugins, you can add all the tools, from email marketing services to an affiliate dashboard, to manage from a single place.
You can easily transform your WordPress site into an e-commerce store using a plugin like Easy Digital Downloads (EDD):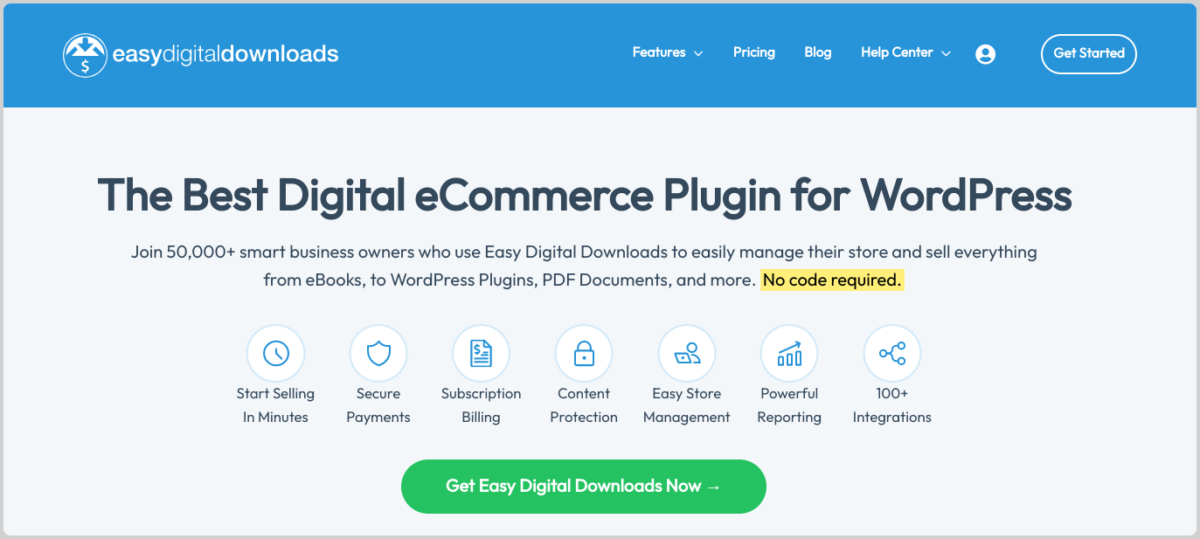 Moreover, you can add and integrate AffiliateWP, a top-rated affiliate marketing plugin, to create and manage your affiliate program effectively.
If you don't have a WordPress site yet, you can get started by choosing a quality web host, like SiteGround's Managed EDD Hosting. Each plan includes everything you need to start an e-commerce store, including reliable hosting, a free SSL certificate, and the Easy Digital Downloads plugin: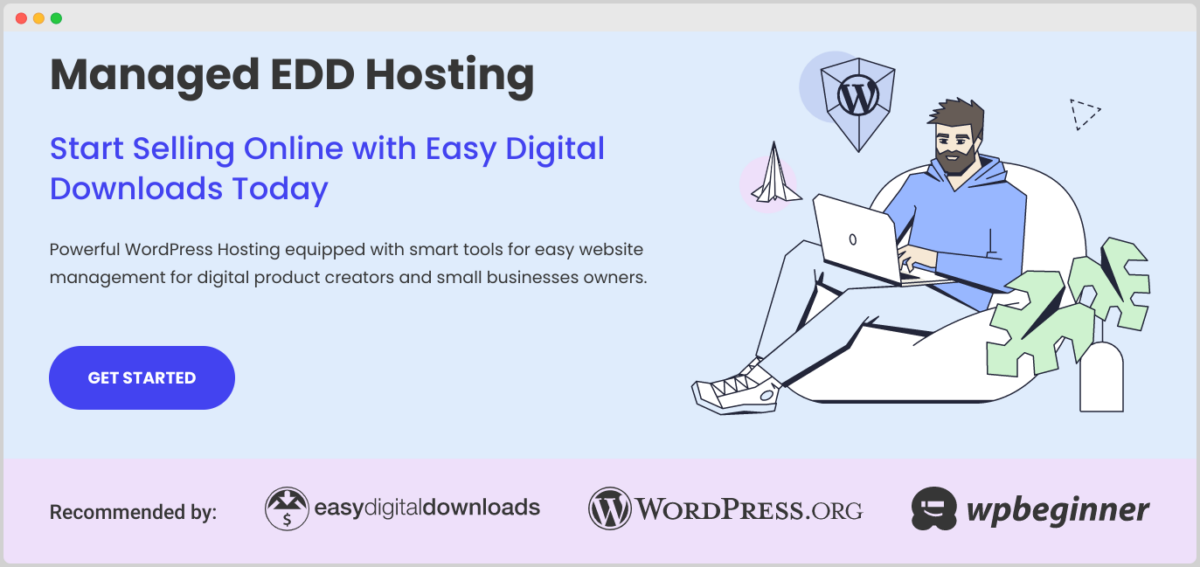 Once installed and activated, you can configure a payment gateway, enter your business details, and begin adding your digital products/downloads. I won't go into the detailed process of setting up your store.
⚙️ Feel free to refer to these beginner-friendly tutorials and step-by-step guides:
eCommerce without limits!
That is our promise. Most eCommerce solutions limit your creativity
…not Easy Digital Downloads!
How to Start an Affiliate Program in WordPress
Ready to get started? Below we'll go through the step-by-step process of how to start an affiliate program with WordPress using AffiliateWP and Easy Digital Downloads.
Step 1: Install AffiliateWP
Assuming you have your e-commerce site set up and products added, the first step to start an affiliate program with WordPress is to select and install an affiliate plugin.
There are a handful of options to choose from. Some of the most popular options include Thirsty Affiliates, Easy Affiliate, and AffiliateWP. I recommend the AffiliateWP plugin: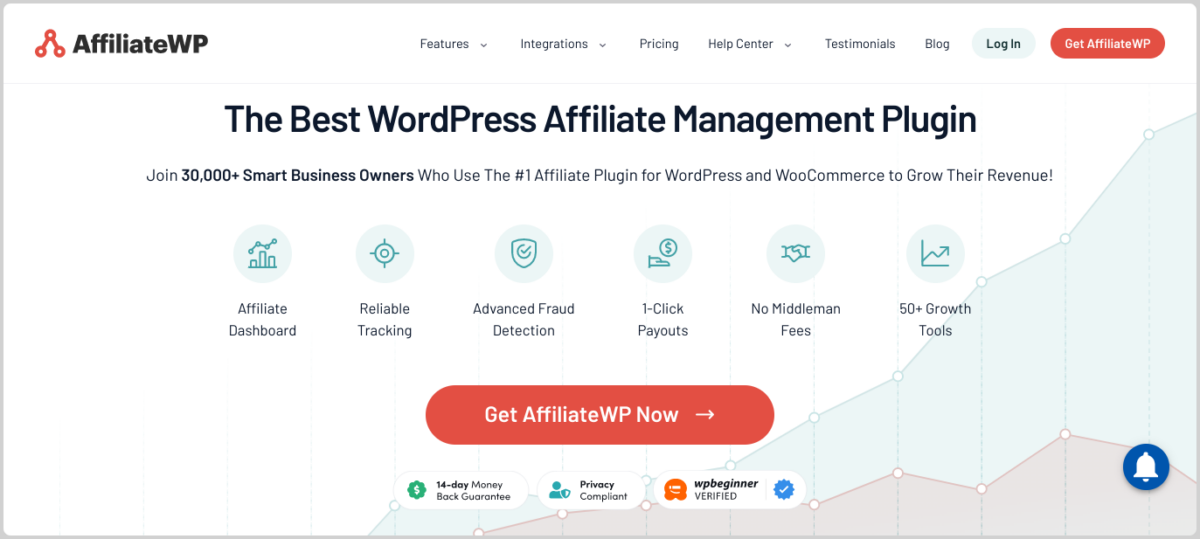 It's the best WordPress plugin for creating and managing your own affiliate program. AffiliateWP is packed with robust features for affiliate management and integrates seamlessly with Easy Digital Downloads.
To get started, navigate to the AffiliateWP website, click on Get AffiliateWP Now, and choose your plan. Once you complete your purchase, you'll receive an email with your login credentials: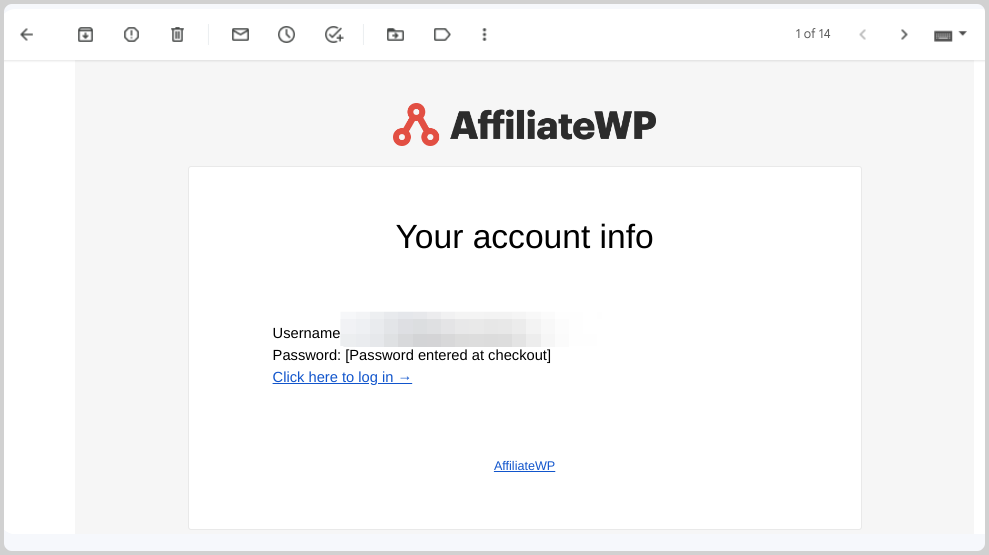 From your account dashboard, select Download AffiliateWP. Then copy the license key, found to the left of the screen:
Next, upload it to your soon-to-be affiliate website. From your WordPress dashboard, go to Plugins » Add New » Upload Plugin » Choose File. Then select the Install Now and Activate Plugin buttons:

Upon activation, an AffiliateWP menu item will appear in your admin area. Hover your cursor and select Settings. Under General » License Settings, paste your license key and click Active License: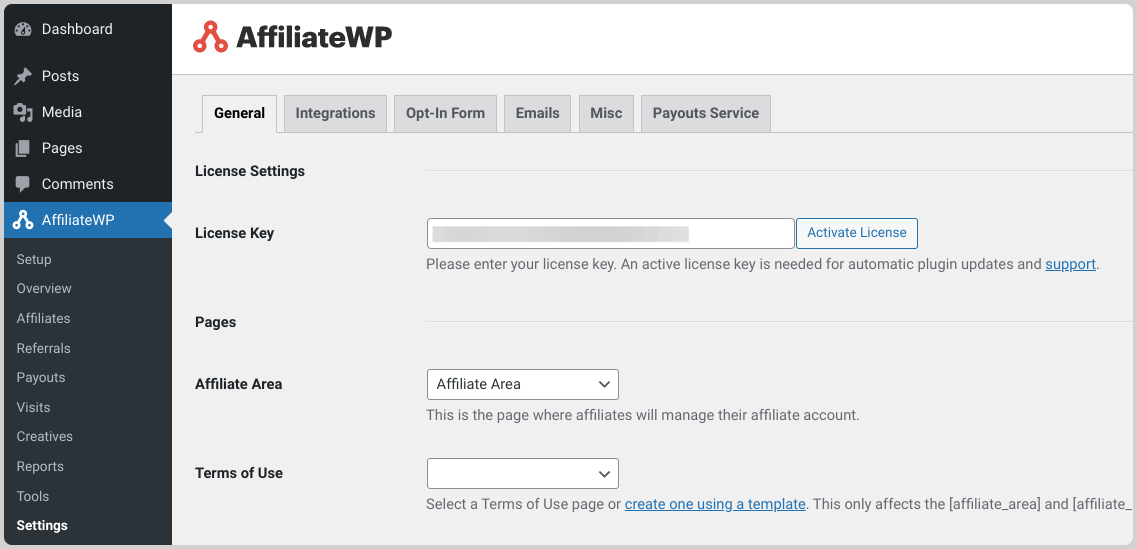 At the bottom of this page, select Save Changes.
As you scroll, you'll notice a wide range of settings. The amount may seem a tad overwhelming at first. But they're easy to navigate once you break them into steps, starting with the Setup Wizard.
Step 2: Launch the Onboarding Wizard
At the bottom of the General Settings page, just above the Save Changes button, click on Launch Setup Wizard:

This takes you through the initial setup steps: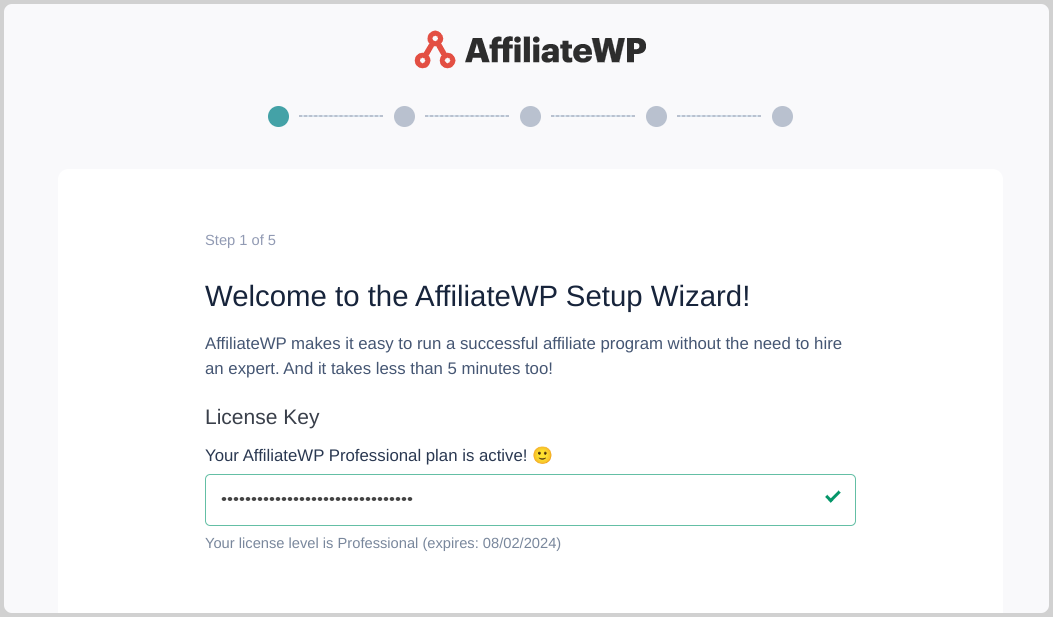 On the second screen, you're prompted to select the WordPress plugins you want to integrate with AffiliateWP. This depends on your specific business, website, and needed features and functionality.
For simplicity purposes, we'll stick to Easy Digital Downloads. If you've already installed and activated the e-commerce plugin, this option should be selected by default: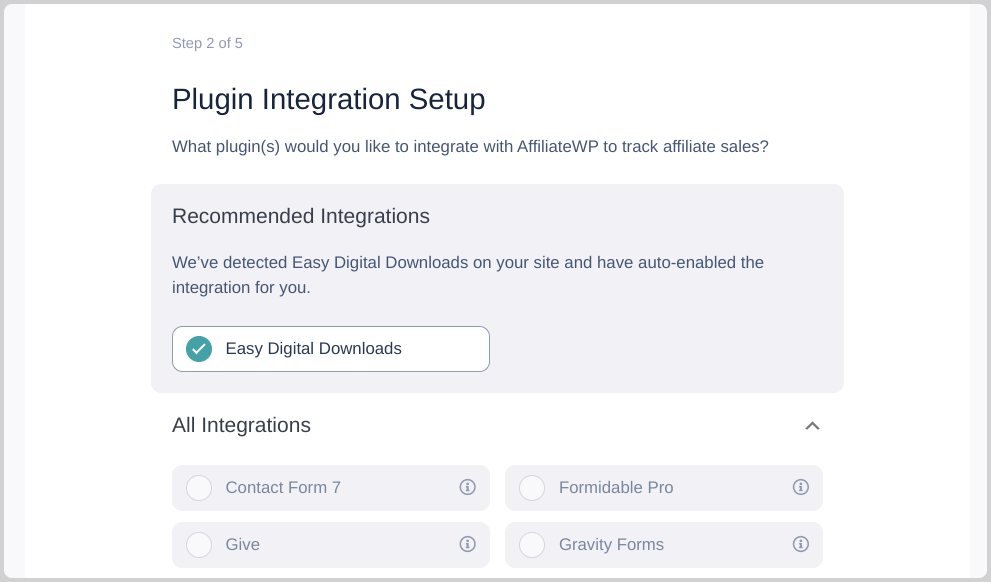 You can click to expand the All Integrations panel to explore and connect additional plugins. Then you can select Continue to move to the third screen, Affiliate Payouts: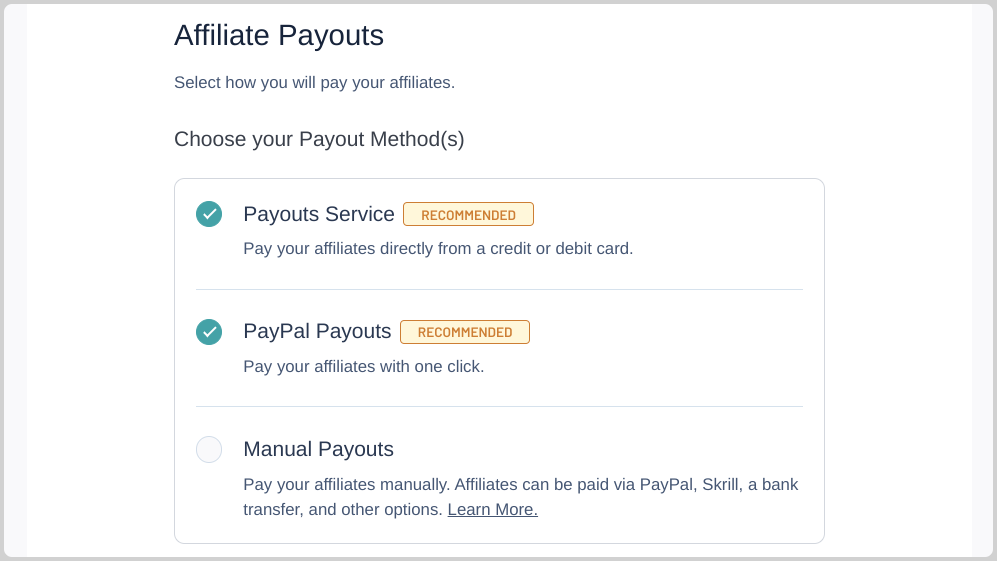 Here, you can adjust settings for how your affiliates receive commissions. For now, feel free to leave the default settings as is.
On the next screen, you'll find Commissions and Growth Tools: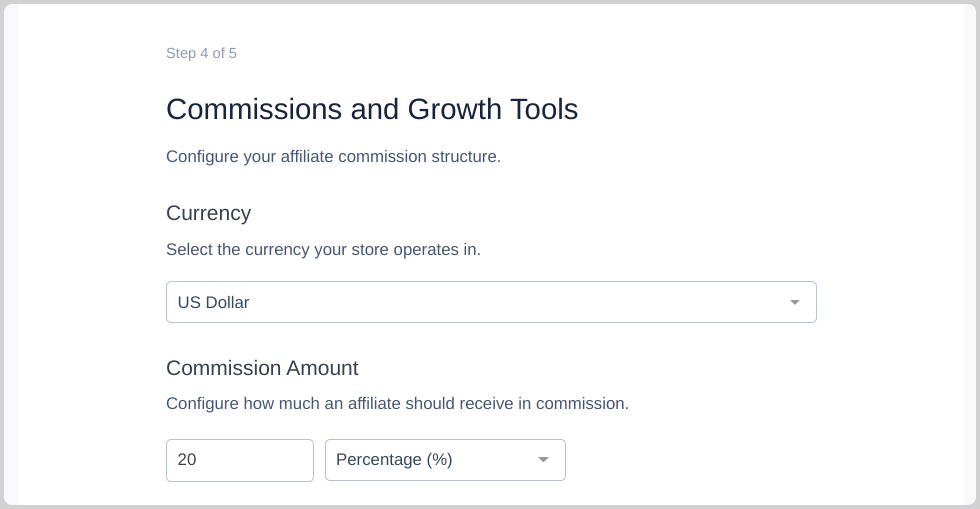 These settings let you choose the currency for your store and enter the percentage amount of commission for your affiliates to receive (the default is 20%). Again, these options can always be changed later.
The last screen of the Setup Wizard presents summarizes your setup. Click on Finish Setup and Exit to complete the process: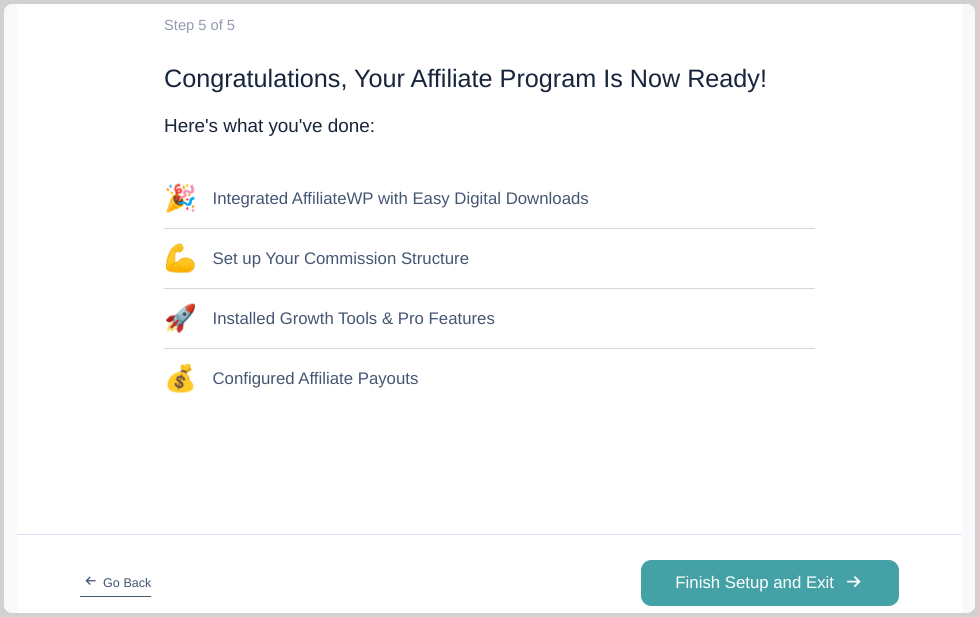 Beyond the Setup Wizard, you can visit the General settings tab anytime to find and/or modify just about any aspect of your affiliate program, including your Terms of Use, referral rate, cookie expiration, and payout option.
I'll expand on some of these options in the following steps. But for more detailed guidance and instructions on all AffiliateWP settings, you can check out the comprehensive AffiliateWP Getting Started documentation.
Step 3: Customize Your Affiliate Area
The next order of business is to customize what's referred to as the Affiliate Area. This is where affiliates go to complete the registration form for your affiliate program and, if accepted, log in: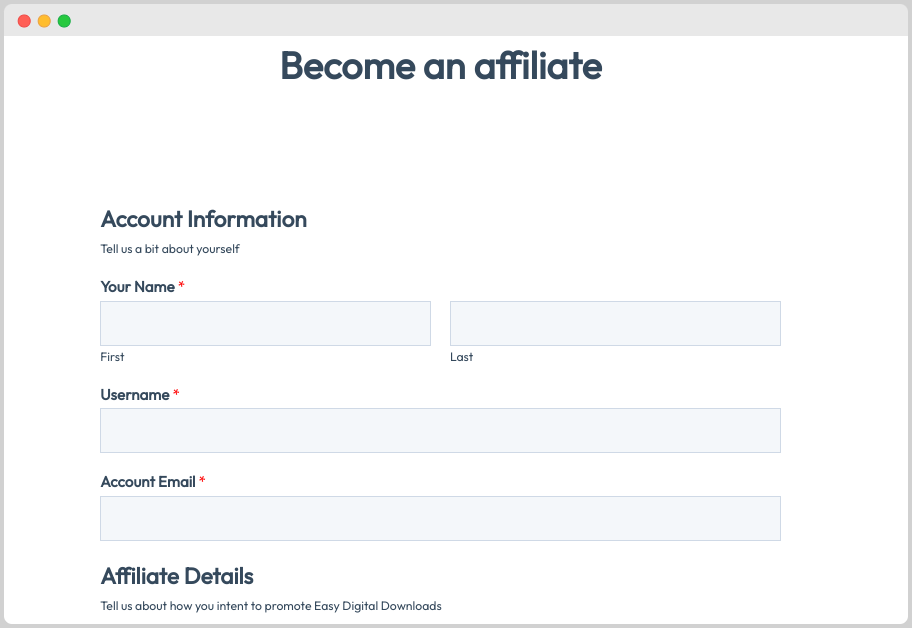 It's also where they can generate affiliate links, monitor analytics, track payouts, and more.
AffiliateWP automatically creates an Affiliate Area page. If you don't want to use the default template, you can create your own. Under Pages » Add New, insert the 'affiliate area' shortcode.
Be sure to update the page selected under the Affiliate Area drop-down menu under the General settings tab: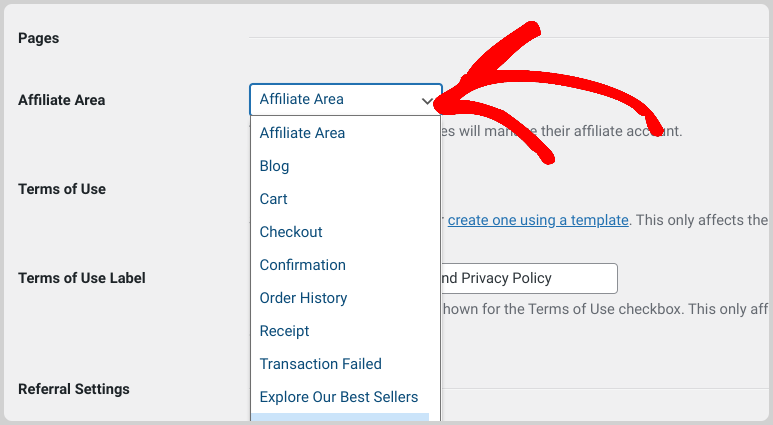 To view and edit the registration form, go to AffiliateWP » Setup. Next to Create Your First Affiliate Form, click Edit Form:

Here, you can edit, add, and delete the form fields: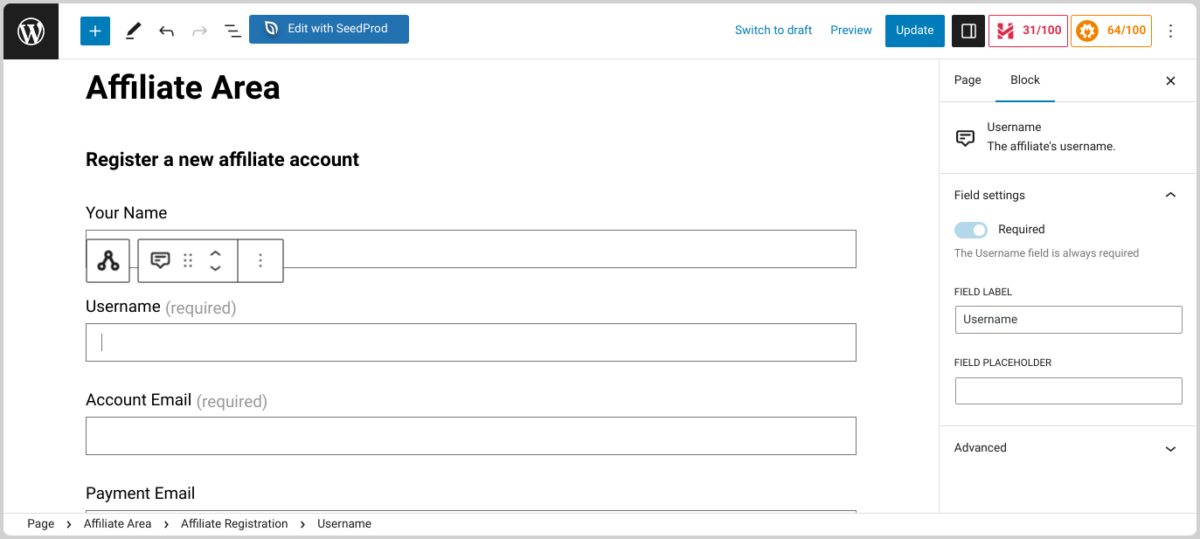 If you have an AffiliateWP Pro plan, you can also install the Affiliate Portal add-on (AffiliateWP » Setup » Level Up Your Affiliate Area » Install/Activate Now):
You can find the settings under AffiliateWP » Settings » Affiliate Portal: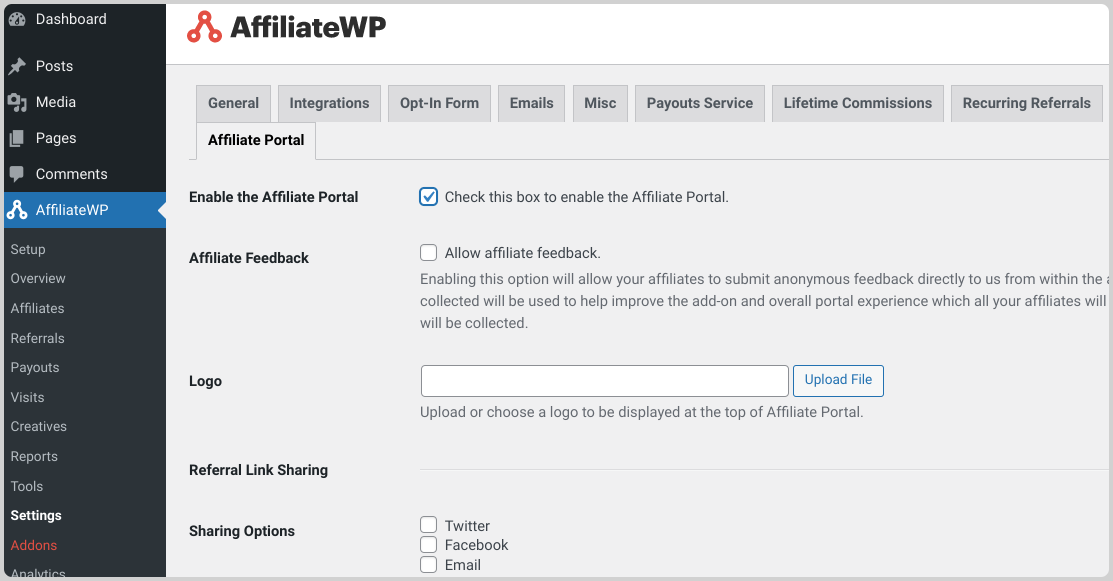 Click the checkbox to enable the Affiliate Portal. You can add a logo, email messages, and new menu links, and update the number of creative assets displayed: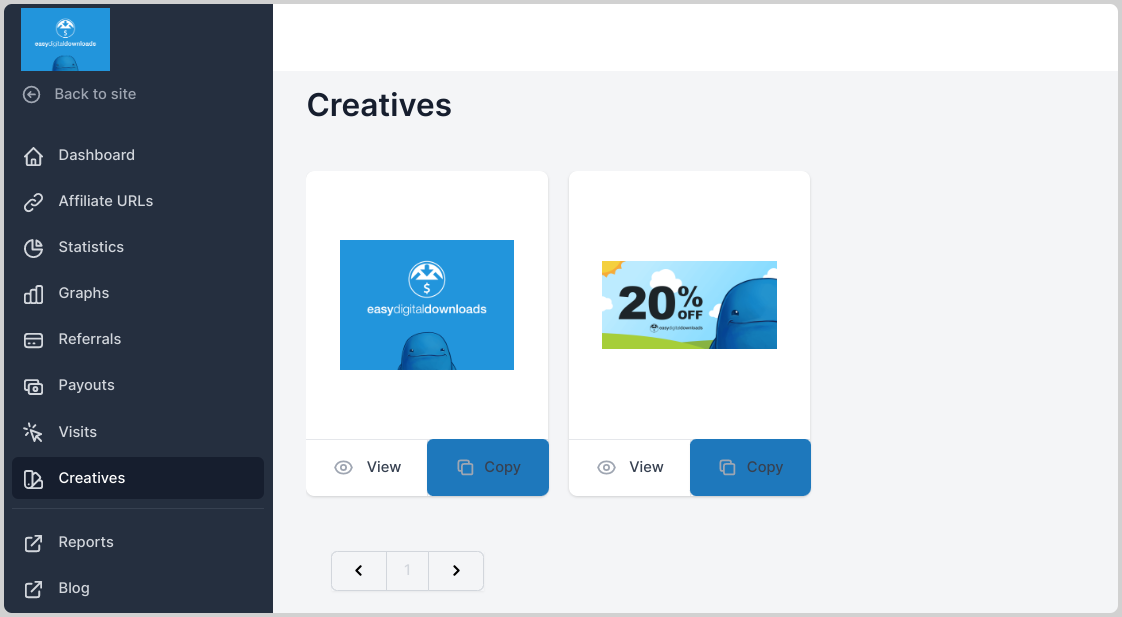 Under AffiliateWP » Creatives, you can add the marketing materials you'll provide affiliates to use to promote your products. Typically, they're text links, banners, or social graphics: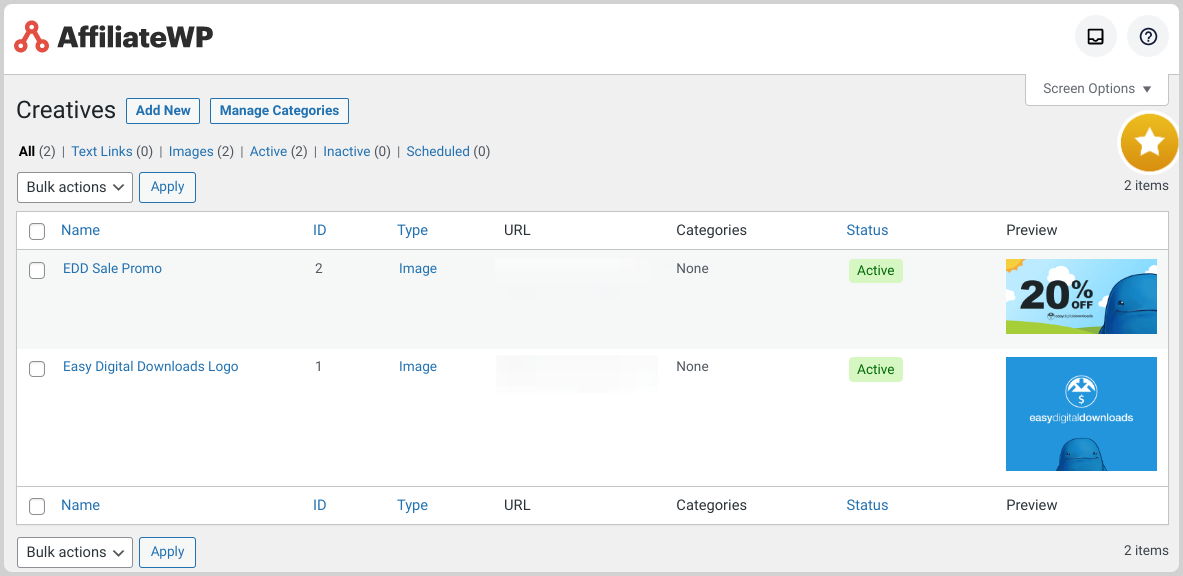 Once set up, your affiliates can access their Affiliate Area dashboard to generate referral URLs, download creatives, and more: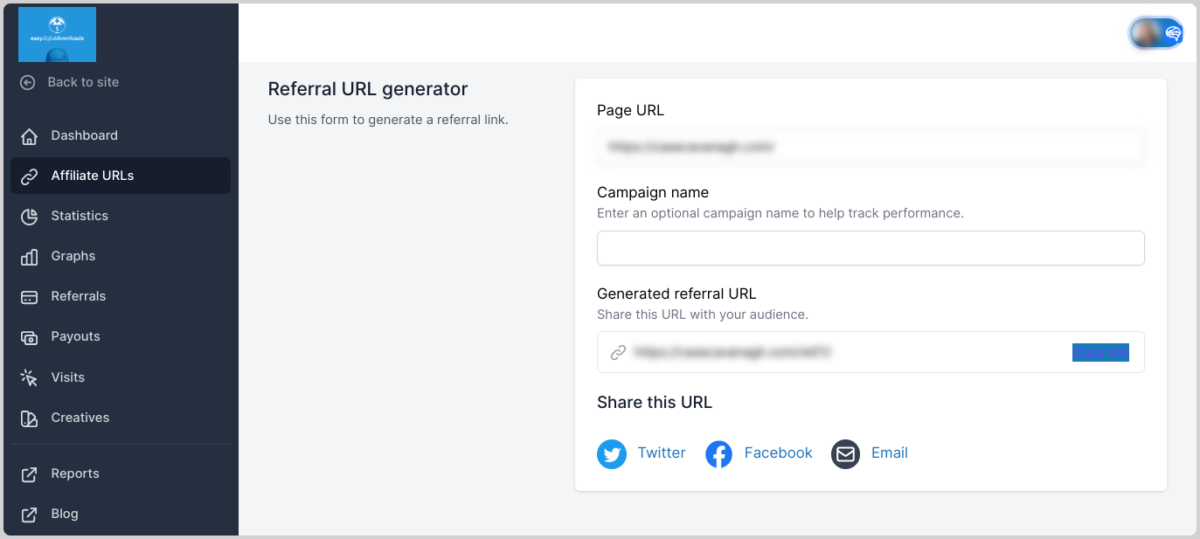 Step 4: Add, Test & Manage Affiliates
Since you're in the beginning stages of learning how to start an affiliate program with WordPress, you likely don't have any affiliates (yet!). That's okay. AffiliateWP lets you add yourself as one to preview and test how the system works.
Under the AffiliateWP » Setup screen, click Add Affiliate, followed by Edit Affiliate:

Then you can preview what the page to add a new affiliate looks like. Yours will have your own information auto-completed in the fields: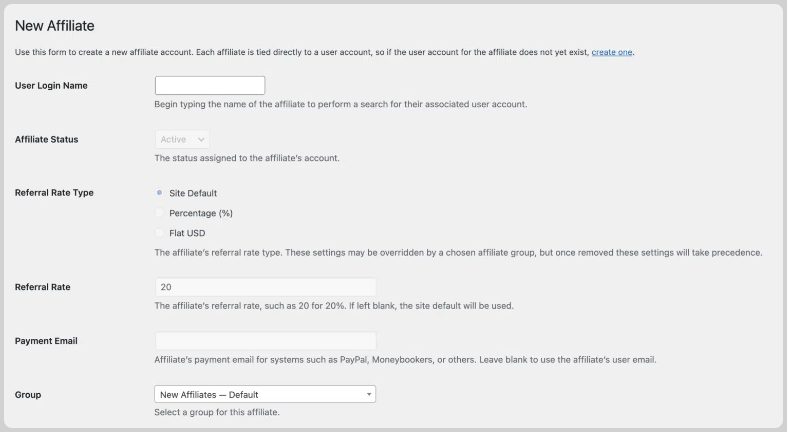 By default, AffiliateWP settings require you to manually approve affiliate registrations. While this may seem like an unnecessary hassle, it can be important for maintaining the quality and integrity of your affiliate program. You want to make sure anyone joining is a good fit.
However, if you do wish to change it to auto-approve registrations, you can do so under AffiliateWP » Settings » Misc: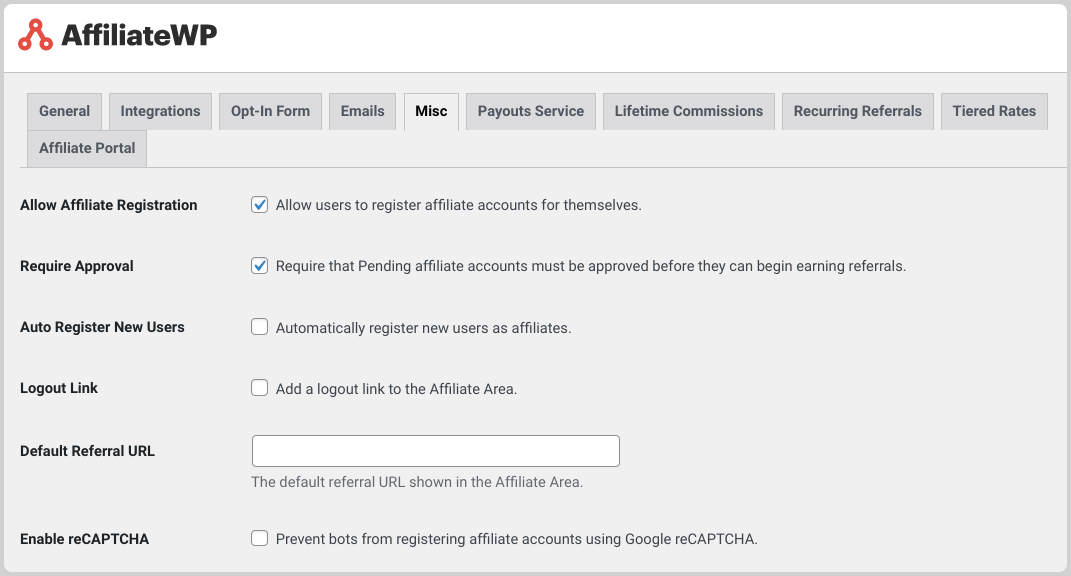 Under AffiliateWP » Affiliates, you'll find a list of your affiliates and key stats. This is also where you'll go to approve/reject applications.
Step 5: Set Up Your Payouts Service
There are a plethora of ways you can configure and customize your affiliate program. Too many to cover in this post.
However, one of the last necessary steps we want to cover is setting up your affiliate payouts. One of the advantages of AffiliateWP is that it gives you multiple payment options, including by using PayPal and Stripe.
Another option is to pay affiliates through direct transfers. If this is the route you want to take, the easiest method is to sign up for the AffiliateWP Payouts Service.
Navigate to AffiliateWP » Payouts Service, then select Connect to the Payouts Service link: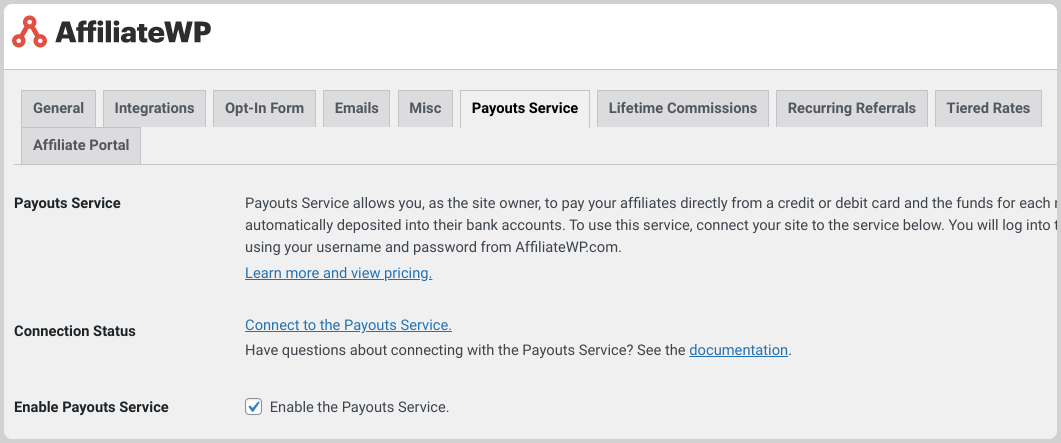 After you can complete the form with the appropriate information, return to the Payouts Service screen and select the checkbox next to Enable Payouts Service.
Later, your affiliate recruits will be able to sign up for direct payments to their bank accounts directly from the Affiliate Area.
Step 6: Recruit & Monitor Affiliates
We've covered the basics of how to start an affiliate program with WordPress. But there's still the task of recruiting affiliates.
While there is no one-size-fits-all solution for finding and retaining high-quality affiliates, there are a few tips you can use to boost your chances.
First, it's a smart idea to reach out to bloggers, content creators, and influencers in your industry/niche who might be interested in your products. The more authentic the enthusiasm and endorsements surrounding your affiliates' promotions, the higher the likelihood they'll resonate with the target audience.
Take advantage of any existing social media contacts and email lists you have to help spread the word about your new affiliate program. Consider adding a widget to the header, footer, or sidebar of your site to promote it.
As it continues to grow, a critical aspect of running a successful affiliate marketing program is clear communication and consistent support. You can set up personalized email notifications for affiliates under Settings » Emails: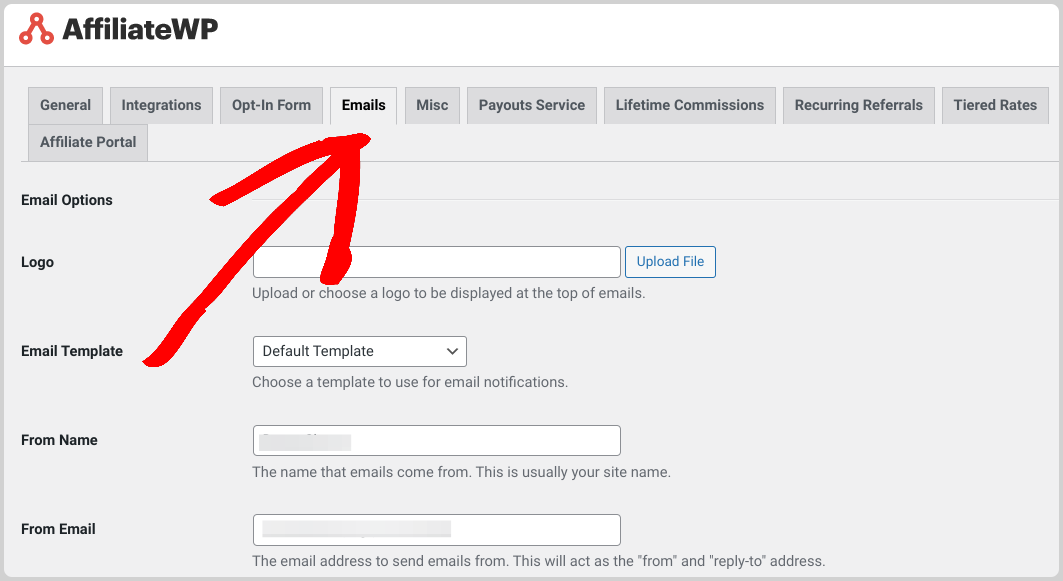 This is a good way to communicate with your affiliates about referrals, payouts, updates, new promotions, etc.
On that note, one of the most effective strategies for attracting potential affiliates is offering competitive commission rates and incentives.
🔎 Check out this Complete Guide to Setting Affiliate Commission Rates
In addition to marketing assets for affiliates to use, there are other AffiliateWP tools and add-ons that can come in handy. For example, the Vanity Coupon Codes add-on enables affiliates to create coupon codes with their own branding. Branded referral codes can be much easier to remember than overly generic or random-generated ones.
Finally, regularly monitor affiliate performance. Utilize AffiliateWP Reports to access key insights and metrics, such as sales and commission rates: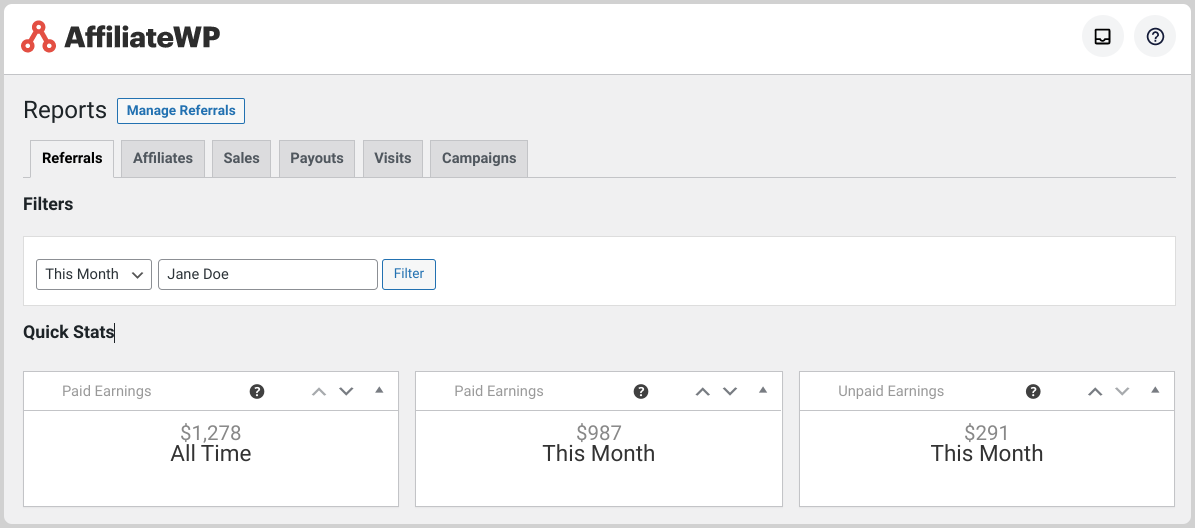 The more data you can collect about your affiliate program (and individual affiliates), the easier it will be to optimize and improve it.
FAQs About Setting Up an Affiliate Program
Hopefully, you have a pretty solid grasp on how to start an affiliate program with WordPress. But to ensure we're covering all our bases, let's wrap up with some frequently asked questions.
Is setting up an affiliate program expensive?
No, WordPress offers affordable and powerful plugins like Easy Digital Downloads and AffiliateWP that make it cost-effective to start an affiliate program.
Can I use AffiliateWP with other eCommerce plugins?
Yes, AffiliateWP is compatible with other popular plugins for WordPress, including WooCommerce and MemberPress.
Can I track the performance of individual affiliates?
Yes, both Easy Digital Downloads and AffiliateWP provide detailed performance reports, allowing you to monitor, track, and analyze the performance of each affiliate as well as all your eCommerce sales and activities.
Do I need tech skills to start an affiliate program in WP?
No, these plugins (and WordPress as a platform) are designed to be user-friendly. You can set up your affiliate program without any advanced technical knowledge.
Start an Affiliate Program Today
Creating an affiliate program with WordPress using AffiliateWP and Easy Digital Downloads is a strategic move to boost your e-commerce business.
By harnessing the power of affiliate marketing, you can expand your reach, increase sales, and build valuable partnerships within your industry.
Still need to set up your e-commerce store? Grab an Easy Digital Downloads pass to get started, then integrate with AffiliateWP within a matter of minutes:
📣 P.S. Be sure to subscribe to our newsletter and follow us on Facebook or Twitter for more WordPress resources!