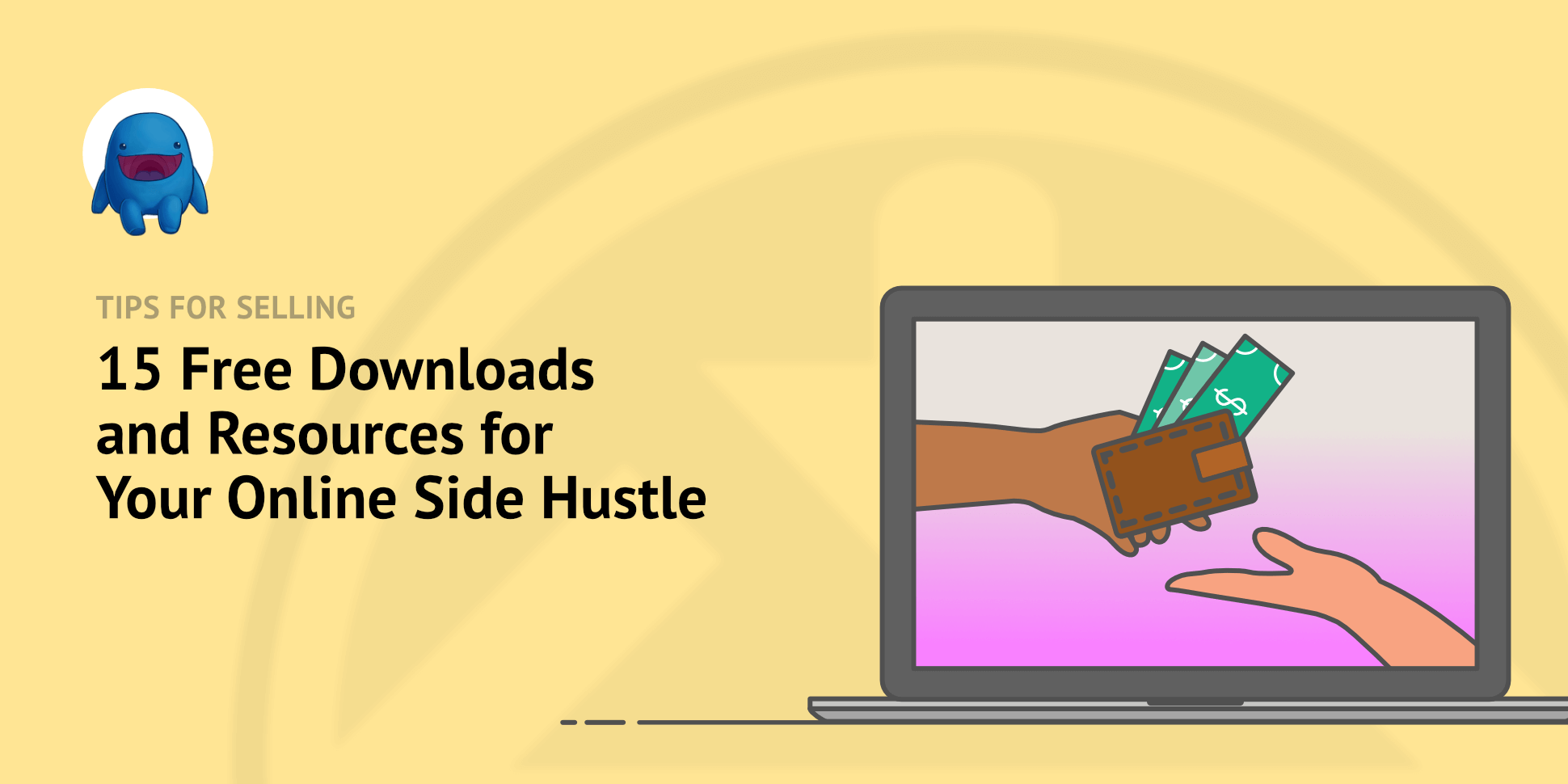 Are you running a side hustle? Thinking about starting a side gig? A digital product side hustle is a great way to make passive income, learn new things, and achieve your dreams.
Whether you're on your way or just getting started, we have some free downloads and resources for your online side hustle. We also have tips on how to make more money.
This extra income can help with day-to-day expenses or even turn into an online business that allows you to quit your full-time job.
Here's the hook up from one digital creator to another. We've grouped these 14 groups of freebies into 4 loose categories:
---
Two Big Picture Tips

We have two big-picture tips for you as you start or grow your side hustle. These apply to just about any side hustle idea or business model you may have in mind.
1: Think Passive Income
The gig economy is cool. It empowers lots of people to make lots some of money online in new ways. But there's a catch: the amount of extra money you can make is limited by how much time you have.
You can only do a limited amount of gigs like dog walking on Rover, focus groups, or online surveys for a few bucks (or gift cards). If you have a day job (part-time or full-time) you just don't have enough spare time for some gig work to be profitable.
The Best Side Hustle
A great side hustle is one that generates money while you sleep. Passive side income.
We suggest thinking about how to package up your valuable skills and experiences into a product that can be sold. And sold while you sleep!
⏭ Skip ahead for more a list of side hustle ideas
2: Get A WordPress Website
A key to generating passive income is having your own digital property. That's what a WordPress site is. WordPress is open source, you own it, and you can do whatever you want with it. A WordPress site really can do just about anything you can dream up.

Other cloud platforms and website builders have a way of charging you expensive subscriptions to access them. And/or they take a big cut off each of your sales.
You can use marketplaces and set up profiles on sites like Fiverr and UpWork. You might score some side gigs, but the compeition is high, and they pay can be low.
Platforms like these are someone else's digital property. They are using you to make money for themselves. Why not figure out ways to make money for yourself!? Join the millions of smart entrepreneurs who are powered by WordPress.
🤷 How do you start? You just need a good web host. Click here for a guide to choosing a web host, there are discount codes to sweeten the deal!
⬇️ Many of our free resources are WordPress plugin suggestions we know can really help you build a successful side hustle.
---
Free Resources for your Side Hustle

Here are our must-have recommendations for an online side hustle. We use most of these ourselves here at EDD!

How many people are visiting your website? What pages are they visiting? How do you increase sales? These are things you need to know. MonsterInsights has the answers.
MonsterInsights is the best Google Analytics plugin for WordPress. Google Analytics (GA) is the free, industry-standard, method for gathering data and insights on how visitors use your website. Grab this free plugin to start measuring, learning, and improving. It's essential.

Every website needs a good form builder. As you grow your online presence, you'll need contact us forms, email sign-up (opt-in, registration) forms, surveys, and more. You can even create order forms and accept credit cards for your side hustle gigs!
Why not start with the best WordPress form builder there is? WPForms is that rare mix of powerful and easy to use. Unlike other form builders WPForms has:
A free version
Templates that make it easy to get started or build the most complex of forms (premium only)
Quickly grown to 5 million users in a crowded market
Received 11,000 5-star reviews
There is a free (lite) version of WPForms, or, we suggest getting the premium version to add features like templates, entry management, and smart conditional logic.

The good news is WordPress (and other platforms) are making it easier every day to make a website. The bad news is it's getting awfully crowded out there. How do you get your website noticed and get traffic to it?
One major way to get traffic is through search engines like Google. Your website pages need to be formatted in just the right way to show up on Google searches. The process of making your pages search-ready is called search engine optimization (SEO). The best SEO plugin for WordPress is All In One SEO.
It takes the guess work and tech work out of optimizing your website. Grab the free version, or, like we do, go for the premium version to get sitemap controls, unlimited keywords, and social media integration.
MonsterInsights, WPForms and All In One SEO are must-have plugins for any site. Next, let's look at the best ways to sell things.

If you develop a side hustle selling products, you'll unlock passive income! This is the best way to make extra cash.

Making an online store used to require coding know how or hiring developer. But not any more! WordPress allows you to add this functionality with no custom coding.

⬇️1️⃣ You'll probably only need one of these eCommerce plugins listed below, depending on what you're doing.
Easy Digital Downloads (EDD) is the best WordPress plugin for selling digital products.
Digital products (aka virtual products, downloads, files, downloadable products) are a side hustler's best friend. Why? Tons of reasons. For one, it's easy to get started with selling digital products, with very little overhead expense.
EDD makes this easy. With just a few clicks, EDD turns your website into a full-featured eCommerce solution. Sell an unlimited number of products (unlike some solutions). Stripe and PayPal integration is built right in. You control your expenses, and skip the high per-sale fees of marketplaces (such as an Etsy Shop).
Get started with an EDD Pass to add features like email marketing integration, subscription / recurring billing, or Amazon S3 / Dropbox integration.
😉 Get EDD preinstalled and hosted on a managed server that is perfectly configured for you. Check out EDD Managed Hosting with SiteGround.

WooCommerce is a great plugin for selling physical products (like t-shirts, coffee, or home decor). You can even do dropshipping with Woo, with the Wholesale Suite extension. Drop-shipping is a popular side hustle.
Woo is trusted by millions and supported by a great ecosystem of extensions.
One trick when working with a WooCommerce site is being sure you have a good web host. You want to be ready for spikes in traffic. Be sure you're ready if, say, your product is featured on TV, and you suddenly get 22,000 visitors all at once.
We recommend a managed host. Our recommendation is BlueHost Managed WooCommerce Premium hosting. They install WooCommerce and set up your server just right so you don't have to worry about anything. It's all done for you.

WP Simple Pay is the best Stripe WordPress plugin for simple payment collection. It's good for accepting credit cards for services, one or two products (without a store and shopping cart), or accepting donations.
This is a simple alternative to building a full eCommerce store, if you don't need one.
Try out the free version, or get the premium version to get ACH payments or even buy now pay later options with Klarna and Clear Pay / After Pay to give potential customers lots of options.

MemberPress is the best WordPress plugin for online courses. It's also great for any type of site where you want customers to pay for access to content.
It has powerful tools for creating courses (with quizzes) for learning management (LMS). It also has powerful tools for controlling access to content, including drip content. Drip content is where you release content to paying users over time.
🤷🏾 Should I use MemberPress or Easy Digital Downloads? It depends, check out this article that will help you decide which one to use for your side hustle.
Pro tip: An alternative would be to sell your online course on a marketplace like Udemy. The downsides are pressure to have low prices and being surrounded by competitors. Consider "coexisting" on a marketplace/s and having your own online store. Click here for more suggestions.

Once you have a website set up, you need to get visitors to come see it. Otherwise how can you increase sales?
Set up an affiliate marketing program. This is a proven way to increase traffic and sales. AffiliateWP makes it easy to set up your own program, instead of relying on an expensive service with high fees. Take full control of the user experience and overhead costs.
In affiliate marketing you recruit happy customers, influencers, and bloggers, to share about your products on social media, blogs and other websites. They only get paid when they refer a paying customer, so it's very cost effective.
AffiliateWP provides simple tools for each step:
Recruiting affiliates
Approving or rejecting affiliate applications
Monitoring reports
Providing self-serve resources for your affiliates, and
Paying affiliate commissions (there's no better way to pay than their Payouts Service)
🎓 Click here to learn more about how affiliate marketing works
🍊 These next two plugins help you squeeze the most value out of every minute of hard work you put in on your side hustle website.


Even when you do everything right, most visitors to your site just pop in then leave. They never take any action, like make a purchase or fill out an email opt-in form. They just leave. 😿
There is something you can do about it! Join the more than 1.2 million small business owners (and large businesses) who use OptinMonster to grow their email list or increase sales. OptinMonster enables pop-ups, slide-ins, welcome mats, and exit intent technology to send a relevant message at just the right time.
It works. Just read a few of their case studies.
Target and personalize the messages
Recover abandoned shopping carts
Control everything with a simple drag-and-drop editor
OptinMonster is a stand-alone SaaS/platform, but there is also a WordPress plugin. Try setting up an account from inside the plugin, there is a limited free version. We use the full version for it's targeting, segmenting, and integration options.

If your website is slow, people are less likely to hire you or buy something from you.
WordPress page load times can be slow. All CMS websites can be. Each page is being loaded on the fly, dynamically. This is good, because customers always see up to date content. But you run the risk of having a slow website. You fix this with caching.
Caching – Generating static HTML and CSS versions of your web pages that load fast.
CMS – Content management system – database-driven websites like WordPress, Drupal, or Shopify.
WP Super Cache is a powerful and free caching plugin to speed up your website. Install it and it will automatically serve site visitors fast-loading static pages, unless they are logged in.
There are other caching plugins like WP Rocket and W3 Total Cache that you can research.
While caching is important, we recommend you worry about this last, or later in the game, and focus on getting a good website up and running first.
Note: Many WordPress web hosts, including the ones we recommend above, will already be using a caching system. Check with your hosting support team before using your own plugin in case you end up with two running at the same time, which can cause issues.
---
Free Downloads for Your Side Hustle

Here are some graphic templates geared towards digital products. These files are 'layered' meaning you can change anything within them however you want.
You'll need either a free Canva account, an Adobe Photoshop or Creative Cloud license, or a copy of Affinity Designer or Photo.
13: Free Graphic Templates
---
---
---
---
14: Free Stock Images
Here are a few great websites with free stock photos and vector graphics:
Streamline – A collection of great vector icons, illustrations, and custom emoji. They have free and paid collections.
Unsplash – A great site with free stock photos, including textures for backgrounds
Pexels – Another site with free stock photos and videos
---
Side Hustle Ideas

Last, but not least, here is a short list of side hustle ideas. Click below for our more complete lists.
We want to remind you to think about how to convert these side hustle ideas into digital products. This way you can generate passive income. We'll group them by which online platform you can best use for selling.
15: List of Side Hustle Business Ideas
🪧 For more digital product ideas check out our list of most popular downloads to sell, or our complete list of digital product ideas.
---
Conclusion
Good work. You just learned about a bunch of free downloads and resources for your side hustle.
Best of luck as you develop your side hustle business plan, score some gigs, and chase after your dreams.
We're here to help you with resources for digital creators.
Selling Guides / Tutorials:
Be sure to subscribe to our newsletter or follow us on Facebook and Twitter to get our latest resources for digital creators.