---
Want to sell WordPress plugins? Good idea! Building and selling WordPress plugins is a great way to help others and build a business.
In this article we'll show you how to sell WordPress plugins and the pros and cons of different ways of doing it.
The Potential Customers Are Out There
WordPress is the largest and best content management system. It powers 43% of the internet. 43%!

No other open-source CMS platform has even approached 5%. The two other biggest open-source CMS systems, Drupal and Joomla, each power less than 2% of the web.
If you can build and market a plugin that helps WordPress users, there is a huge and expanding market waiting for you.
💪 So let's do this. Here's how we'll break this down. Skip around as needed!
---
What Is A WordPress Plugin?

A WordPress plugin is an app you add to your WordPress site to allow it to do more.

You can install a plugin to add forms, integrate with social media, or to sell things.
Plugins are usually composed of PHP, HTML, CSS, and Javascript files. The code in these files must comply with the basic WordPress framework.
Anyone can build a WordPress plugin. You can even look at another person's plugin, copy it, split it off and modify however you want (called 'forking').
There is a great article on WPBeginner that explains in more detail what plugins are and how they work.
🔍 Click here to learn more about plugins
Plugins Vs. Themes
The other very common WordPress product that people install on their site is a theme. A WordPress theme is similar to a plugin.
They are composed of PHP, HTML, CSS, and Javascript files as well. You install them on your site in a similar way.
WordPress themes (templates) control the visual look-and-feel of your website.
Freemium Vs. Premium
Many WordPress plugins (and themes) are given away for free. You can then add more features to them if you want, by paying some money for the 'premium version'. This is called the freemium pricing model.
There are also themes and plugins out there that are only available if you pay for them. These are often called 'premium WordPress plugins' or 'premium WordPress themes'.
We'll discuss pricing your plugins in more detail below.
---
How Do I Make A WordPress Plugin?

You make a WordPress plugin by writing properly-formatted code, mostly PHP.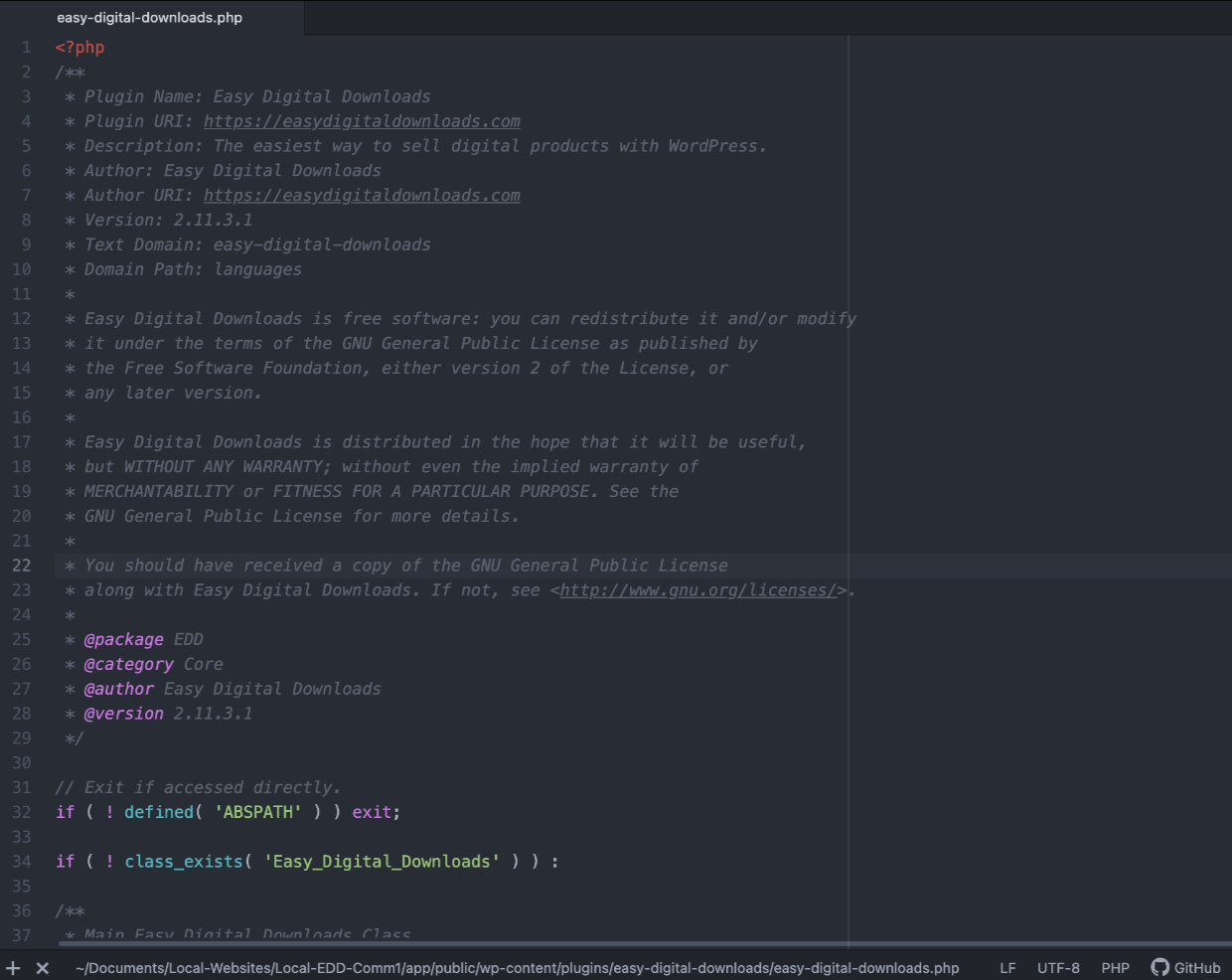 Then you bundle the files up into a ZIP file, install it on a test site to test and hone in the functionality.
Once your plugin is ready for use by others you can share it (or sell it). There are three main ways to share or sell your plugin:
Upload it to the official WordPress.org Plugin Directory where people can download and install it for free.
Place it on a marketplace where it can be sold or shared for free
Upload it to your own website for sharing or selling
There Is More To It
The above was a very brief overview of how to build a plugin. It takes quite a bit of know-how and code skills.
But anyone can get started and do it. Probably for free! That depends on what you already have. Here are a few things you need:
A computer/laptop (it's hard to make plugins on a tablet or other mobile device)
A code editor (you can use the free NotePad app on your PC or TextEdit app on your Mac
A WordPress website to test the plugin on (we recommend using a test site or staging site)
Don't worry. It's very doable. Check out this great tutorial on WPBeginner. It will guide you step by step to creating your first basic WordPress plugin.
🔍 Click here for a step by step guide
Distribution Format
In terms of format, it's pretty much set in stone: WordPress plugins are sold as downloadable .zip files. These files are uploaded and installed onto a WordPress website.

The .zip file includes PHP files for the core plugin functionality, a CSS style sheet/s, as well as a Javascript (JS) file for any interactive or front-end elements.
---
How (Where?) Do I Sell My Plugin?

As we mentioned above, there three main places to sell (or share) your WordPress plugin:
The official WordPress.org Plugin Directory / Repository
On a marketplace
On your own website
The WordPress.org Plugin Directory
You'll hear WordPress developers sometimes refer to this simply as 'the directory, 'the repo', or 'the plugin repo'.
This is because it is THE plugin directory. It's the official plugin directory for the open-source WordPress project. It's a huge repository of plugins.
It's the go-to. There are more than 59,000 plugins there! That is both a blessing and a curse.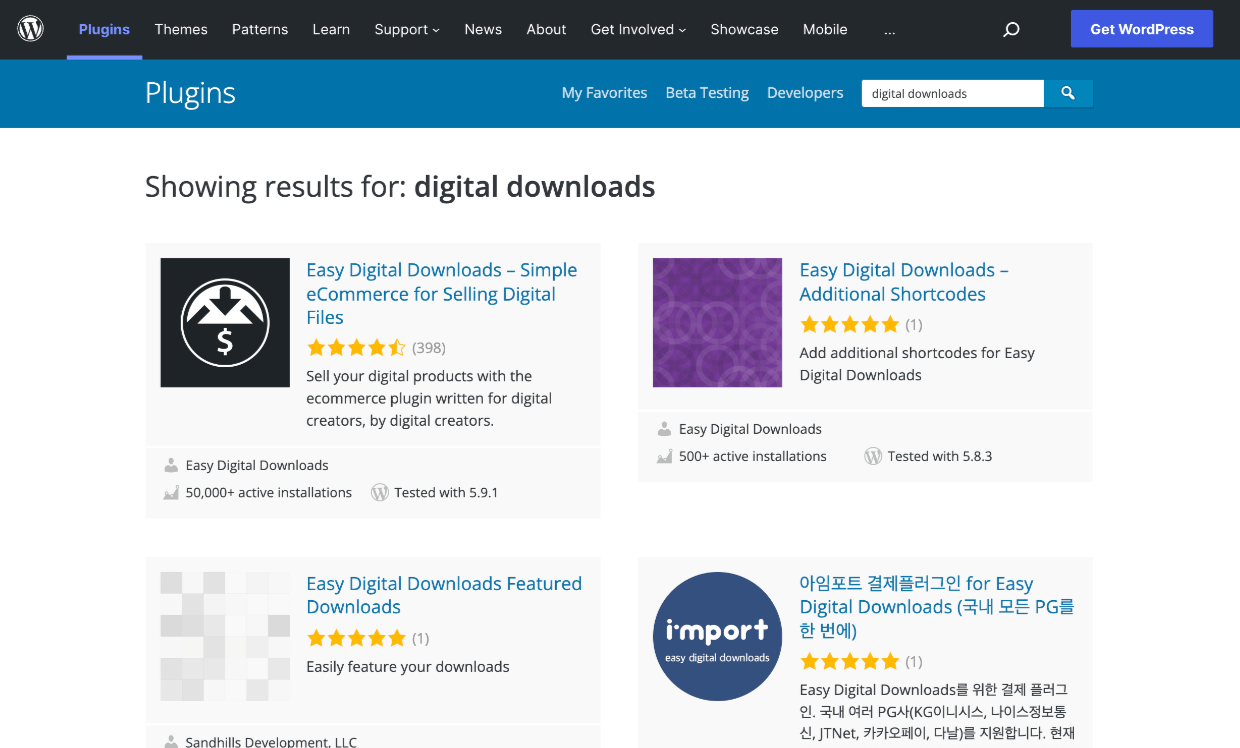 There's really only one pro/con to weigh out when considering 'the directory':
| 🟢 WP Plugin Directory | 🔴 WP Plugin Directory |
| --- | --- |
| Lots of people visit the repo, it gives you a great way to get discovered | The repo is only for free plugins, you can't make any money there |
We recommend, for most use cases, having a free version of your plugin on the WordPress.org Plugin Directory. Include the most bare essential features.
This allows you to do several things:
Have exposure on this very high traffic web page
Help others WordPressers by offering a basic solution to their problem, for free! That's how we do in the WordPress world, we help each other.
Acquire more users faster so you can learn and improve your product
Count The Cost
If you have a plugin on WordPress.org, you have to support it, on WordPress.org. People using your plugin for free might ask you questions on how to use it.
You'll have to keep an eye on the 'dot org' support forums. If you don't, and you ignore these users, you might get bad reviews. This is the plugin life.
Sell On A Marketplace
Marketplaces pretty much exist for the people who:
Don't want to run their own site
Or for people who don't have the technical expertise
Or those who might rather have the details of selling taken care of for them.
Here are some pros and cons to think about:
🟢 Marketplace (Pros)
🔴 Marketplace (Cons)
Marketplaces might already have a wide audience, there for the taking
Prices are generally lower on marketplaces. Even if you get more sales, you still might not make as much as if you ran your own store
The audiences likely looking for a plugin to buy
On many marketplaces you can't control the price, the platform does
With the likely wide audience and reach, you have a good chance to get more sales, and fast
Marketplaces often charge fees and/or collect portions of your sales
It's a good place to test out the viability of your products.
It can be hard to stand out against the competition, and there is so much of it.
Sometimes, marketplaces neglect quality control. Other people selling on there might have a bad reputation, which in turn reflects badly on you
Your customers are not 'your customers', they are the marketplace's customer
Often you have no direct communication with customers:
– You can't build a mailing list for future up-sells or cross-sells
– You can't help your customers succeed with onboarding/instructional emails
Building The Best Experience
If you want to build a premium brand, a marketplace might not be the place to do it.
You might find you still have to do marketing of your product when on a marketplace. You might want:
A landing page that looks nice
To start an affiliate program for bloggers and influencers
To write SEO (search engine optimized) content
To do email marketing
If you want to do things like this, you really need your own website. It's very hard to build your own successful business on someone else's website.

Imagine. What do you want your business to look like 5-7 years from now? Then, decide if using a marketplace helps you achieve that.
Sell On Your Own Site
If you sell on your own website, you have full control over everything.
There are pros and cons to each option. So let's look at them for selling on your own website.
One thing to note is that the first pro/con is huge, on both sides.
| 🟢 Your Own Site (Pros) | 🔴 Your Own Site (Cons) |
| --- | --- |
| HUGE – You can make the most money when you own the platform! | HUGE – You don't have an audience like the WordPress Plugin Repo and marketplaces likely do, you'll have to figure out how to get people to your site. |
| You have control over pricing | You are responsible for maintaining and securing your website (you can choose a managed web host to take care of all that for you) |
| No marketplace fees or revenue sharing | Setting up your own store is more work than simply listing on a marketplace or SaaS |
| Full control of the brand, marketing, voice, messaging | It will likely take more time |
| Control of the shopping and checkout experience | |
| Your downloads aren't surrounded by competitors and distractions like they are on a marketplace | |
| Communicate directly with your customers (and potential customers) | |
| Upsell and cross-sell | |
| More in control your overhead expenses | |
It used to be really hard to set up a store on your own website. It's not anymore.
You can use Easy Digital Downloads (EDD) to set up a store without any coding skills!
---
How To Start Selling Your Plugin Quickly and Easily

We recommend selling your plugins on your site.
EDD is the best WordPress plugin for selling digital products, like plugins.

EDD is a full-featured eCommerce solution focused on digital products. With other solutions, like WooCommerce, selling digital products is an after-thought. Although WooCommerce is great for selling physical products like t-shirts, coffee beans, and all the rest. Respect!
EDD is purpose-built for digital downloads and digital products. More than 50,000 businesses trust EDD for their ecommerce needs.
Many of the top WordPress developers in the world use EDD to sell and manage their WordPress plugins. For example:
WPForms is powered by EDD and has over 5 million users
MonsterInsights uses EDD to power it's plugins used by more than 3 million users
All In One SEO uses EDD for its 3 million+ users
We use it too! EDD powers EDD. So. Meta…
Here's what you get with the free version (this is not a trial, it's free forever):
White label (full control over branding)
Full control over pricing
Protected product files, only paying customers will have access to your digital downloads
Shopping cart
Flexible checkout options (including Apple Pay and Google Pay)
Discount codes / coupons
Customer management (basic CRM)
eCommerce reports
Stripe and/or PayPal integration
If you are selling a WordPress plugin you'll want to add our industry-leading Software Licensing extension.

➡️ To get that, grab an EDD Professional Pass with 50%-off introductory pricing.
Software Licensing features:
Creation of license codes
Manage license activations, cancellations, renewals, and upgrades
Manage users and user verification
Upgrade paths and product variations
One-click updates for WordPress plugins
New version notifications for users in their WordPress admin
Using WordPress and want to get Easy Digital Downloads for free?
Enter the URL to your WordPress website to install.
---
Pricing Plugins

WordPress plugins have a wide range of prices. There are tons of free plugins available to customers.
Competition. 😥
With so many free options out there, your plugin has to stand out.
If you can solve people's problems, you'll have a competitive advantage. What do people need? What are you uniquely good at doing that can help others?
Your plugin can provide game-changing features to help people achieve things they simply couldn't before.
Often, plugins pay themselves back over time. The initial investment is easily covered by the income-generating benefits.

If your plugin can make the customer money, that extra value provided can allow you to charge a higher price.
Coming Up With The Number
So, where do you start? There are some common prices seen throughout the world of WordPress plugins.
For example, some simple plugins that are sold on larger marketplaces can go for as low as $5-10. Others that provide highly specialized functionality or unique benefits cost several hundred dollars per year.
Some factors you should consider in your calculation include:
Your industry or niche:

What does it need?
What does it already have?
Are there things that are working well?
What are people willing to pay?
Is the market saturated?

Your competition:

What do they charge?
What do they include?

Your plugin's features and benefits:

What real-world value do they provide the customer?
How do they compare to your competitors' product(s)?

Your competitive advantage:

What can you offer that your competitors can't?
How much time, money, or headaches can your plugin save the customer?
Can your plugin take the customer's website, business, or content to a new level?
Is your plugin lightweight and bloat-free?
Remember that you can and likely will adjust your prices over time. Most digital product sellers do. Often. So don't be afraid to pick a final number and run with it.
Check out our article with tips for pricing your digital products.
🔎 Tips For Pricing Digital Products
Ongoing Revenue
Plugins are perfect for ongoing / recurring / subscription revenue. Why? Because many plugins are sold using the license model.
Licenses allow people to 'purchase' – technically speaking, license – your plugin to use it for a period of time. Usually plugins are licensed per month or per year.
The license must be renewed which provides you with regular recurring income. Subscription revenue like this lets you forecast your earnings for the following year, making your income a lot more predictable!
Often, WordPress plugin licenses are sold in three or four pricing tiers. Each tier adds more features or the ability to install it on more than one site.
You should attempt to structure the pricing tiers to entice customers to opt for a higher price point.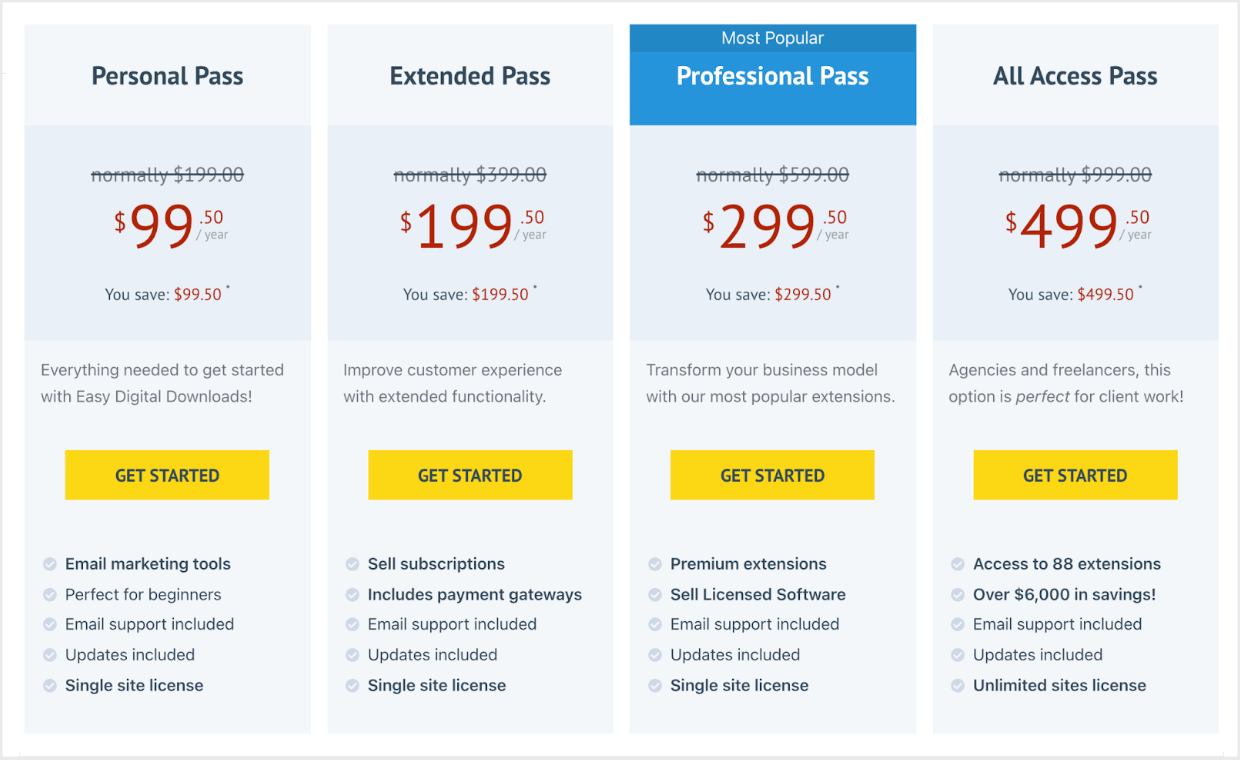 Many plugin makers emphasize a mid-range pricing tier. This tier is priced high enough to generate significant income, but low enough that target customers won't find paying for it painful.
Extensions and add-ons
In addition to licenses, there's always the potential for developing add-ons or extensions.
Using add-ons or extensions has many benefits:
👍🏾 It's good for you. It allows your plugin to be small, fast, and nimble. If your plugin does too many things, it won't do them well. It may also slow down the site it's running on.
👍 They are good for your customers. They make your software as affordable as possible. Customers only pay for what they need. For example, EDD is free, but you can pay for additional features if you need them.
Some plugin developers create entire ecosystems around their plugins. They provide options for:
License levels
Add-ons / extensions
Support packages
Discussion groups
Podcasts
Video tutorials
Even all-inclusive memberships to customer-only content
---
Managing and Marketing Plugins

Once your plugin is launched for public use, there will still be ongoing work to do. 😩💪
Support and Updates
Software evolves and changes over time. This is why the subscription license model works so well for plugins.
With the ongoing regular income you get from your license fees you'll have resources to:
Support customers and help them succeed
Provide regular updates to your plugin for both compatibility and new features
Customer Support
When your plugin gains momentum, you'll need to be ready to deal with the increased amount of support requests.

Having an adequate support team and ticketing system is crucial if you want to build a brand with a good reputation.
Note; WordPress plugins contain code that is licensed under the General Public License (GPL or GRU). This means it's free to copy and distribute.
When someone purchases a license, they are really purchasing access to support and updates.

Especially keep this in mind if you offer an unlimited or lifetime license. You'll need to be ready to provide support to customers who don't contribute to your subscription income.
Important Policies
In order to protect yourself, your customers, your products, and your time, you'll want to have support and refund policies in place.
🔍 Check out our article about refunds
Have terms of use that describe the kind support customers get by purchasing your plugin license.
For example, you may have a free version of your plugin. You might decide that you're not going to provide support unless a customer has made an actual purchase. Or you may provide a lesser/slower form of support for free users.
This protects you from spending your time or your support team's time without any benefit to you. Or running out of money!
Regular Updates
"Make sure there is a mechanism in place for customers to get access to (and easily install) updates for your plugins. Outdated plugins can easily become a support nightmare so giving your customers an easy way to install updates can really help."

– Pippin Williamson (EDD's founder)
Our Software Licensing extension makes this easy to manage. It allows one-click plugin updates.
Custom Development
Your plugins might not end up getting used exactly like you planned. Your customers may be trying to do something different.

This has the potential to create new problems for you and the customer.
"People frequently find very creative and even off-the-wall ways to use plugins for non-intended purposes and use cases. You need to anticipate this as much as you can by keeping your tool sets flexible. Learn defensive development practices and you can do a lot to help avoid unexpected conflicts that can harden your customers' experiences and put undue burdens on your support teams."

– Pippin Williamson (EDD's founder)
Sometimes, customers will want additional functionality from your plugin. Maybe the plugin does 90% of what they need, but they have a special case. Be careful here.
You can try to make everyone happy, but in the end you'll just bloat your plugin. It could end up with so many features that few people use that it is hard to use or doesn't work correctly.
Think hard about each request. Sometimes it's better to focus on your core customer's needs and suggest the edge cases pay for custom development.
For example, we partner with Codeable for special requests like this. If someone is doing something truly unique with EDD, we suggest they work with their team of top-notch developers that we trust.
Showcasing Your Plugins
To increase sales, most digital products probably need a demo. It's one of the best ways you can give customers the confidence to purchase your product!
These often include:
A live demo site, with the plugin installed and shown in action
High-resolution screenshots and descriptions of the plugin's features
Testimonials
Use-case examples (hypothetical or real-world examples)
Video tutorials walking through the plugin features
API documentation that is thorough and easy to understand
If you're using screenshots, remember that you will need to keep them updated as time goes on and new features are added, or updates and bug fixes are released.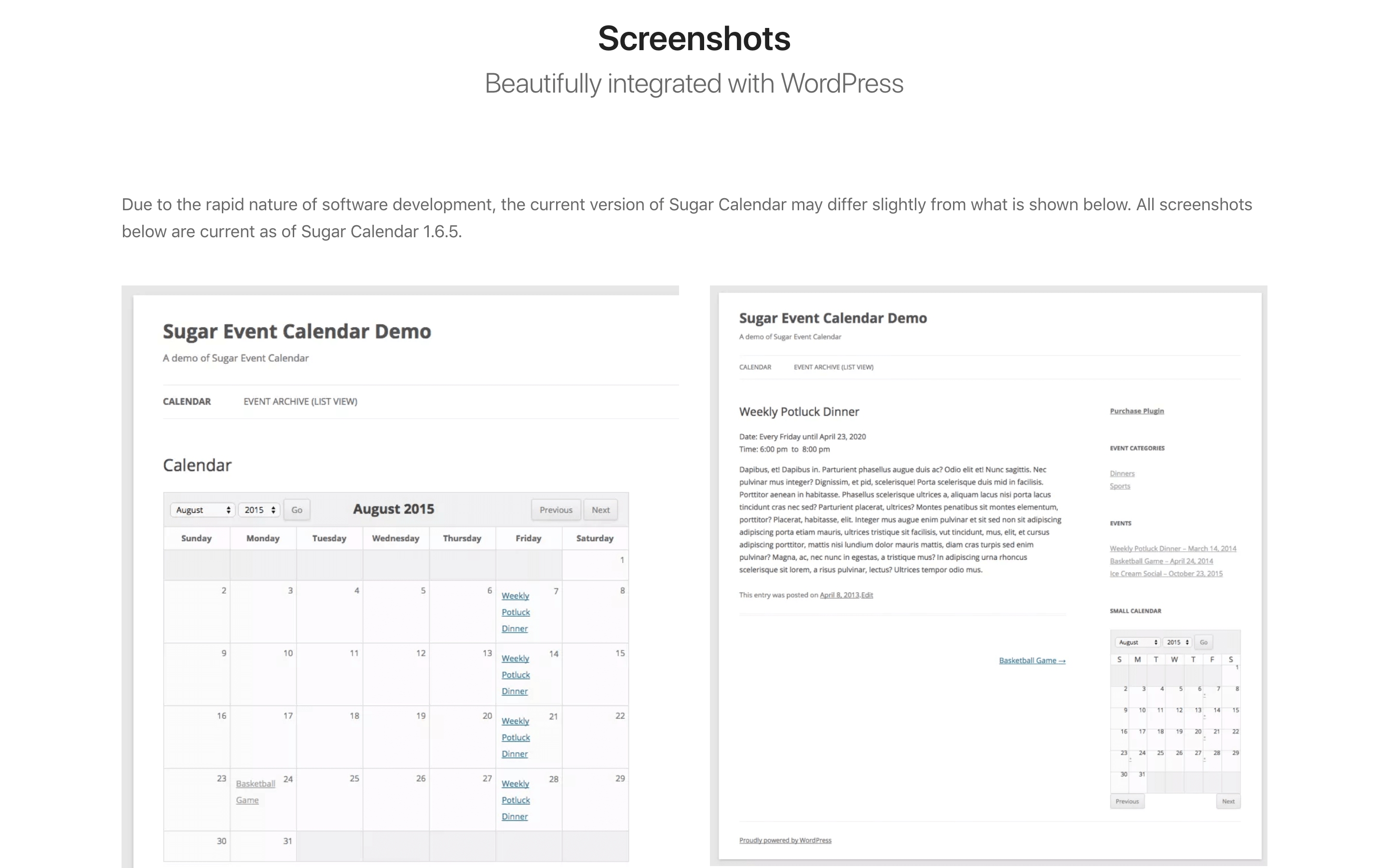 Use-case examples are another great way to help prospective customers visualize the different ways your plugin can be used.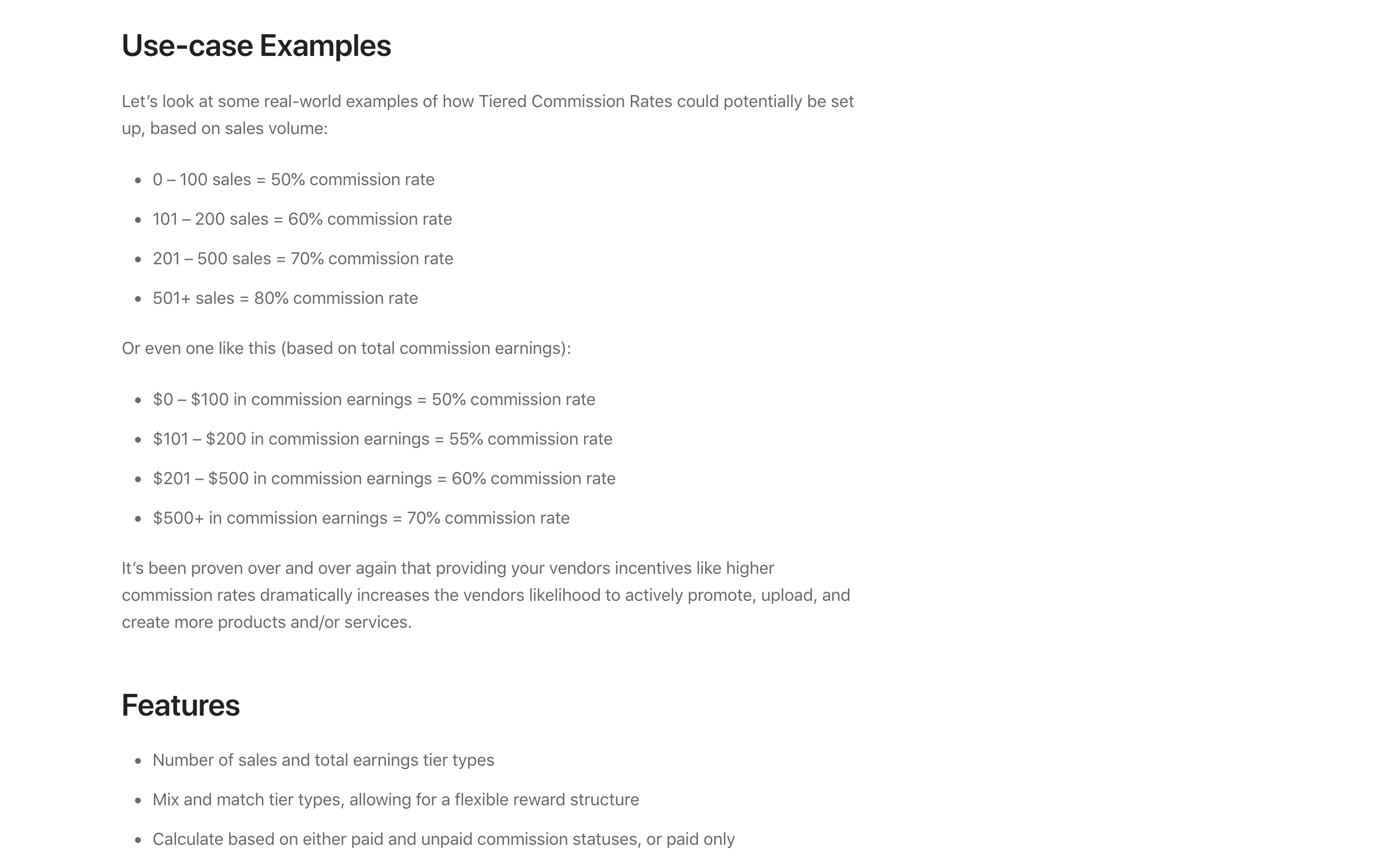 Marketing Your Plugin
After your plugin is built and out in public, you'll need to be thinking about marketing and promoting it.
This is a large topic for another day. If you're ready, check out some of our articles to help you get started:
Conclusion
Good work code genius! You've learned how to sell WordPress plugins. You've learned some of the pros and cons of different approaches to selling plugins. We hope this helps you empower other WordPress users and build a profitable business or side hustle.
We have a lot of resources for digital creators like you. What do you want to learn about next?
Be sure to follow us on Facebook and Twitter for more resources about selling digital products and WordPress.