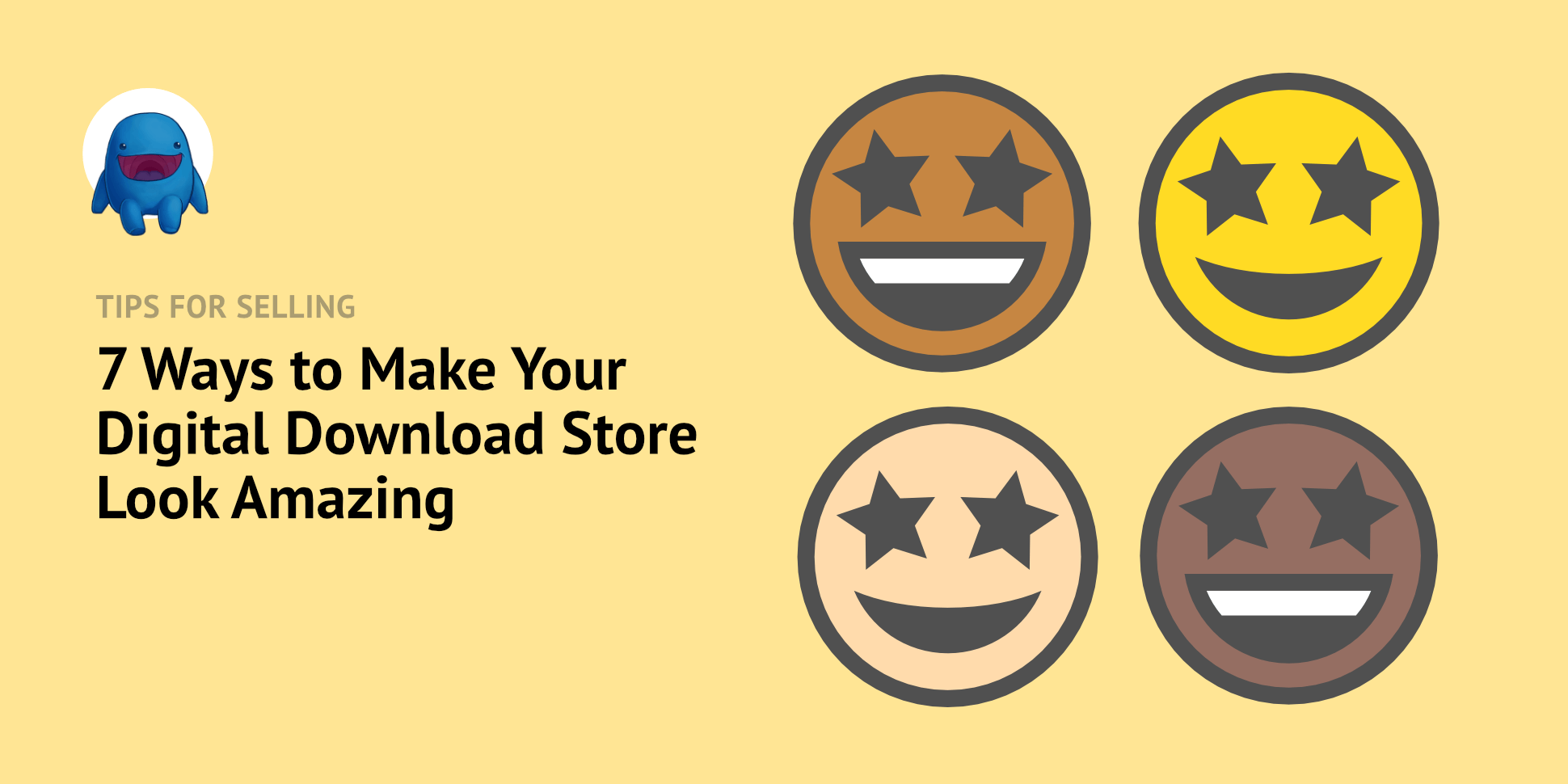 Have a digital store? You need a WordPress theme that looks amazing. A nice looking online store builds trust with customers. Trust leads to increased sales.
In this article we'll show you how to make your digital downloads shop look great.
We'll be using WordPress and Easy Digital Downloads. We'll look at some free and paid options for controlling your website's appearance.
Here's how we'll break this down. Feel free to skip around!
---
About WordPress Themes

First things first. Let's talk quickly about what a WordPress theme is and why you need to know.
Every WordPress blog or website has a theme. Themes control the visual appearance of the website. Some other website platforms call them templates. Same idea. WordPress-folk call them 'themes'.
WordPress templates = WordPress themes
If you want to make your WordPress website look good, it's up to your theme.
📚 WordPress themes are a package of related PHP, Javascript, CSS, and HTML files that control your site's look and feel.
WordPress is hands-down the best way to build a website. WordPress powers more than 43% of the internet. No other web technology has even 5%.
One secret behind the success of WordPress is the hugely robust ecosystem of themes. There are tens of thousands of themes. No one can be sure how many. There are many companies that can build or customize existing themes. There are over 9,000 free themes on the WordPress.org Theme Directory.
🔑 The key takeaway is that with so many options you can know with confidence that a WordPress site can be powerful and beautiful. And that it can grow and adapt with you as your needs change.
---
Selling With WordPress and EDD

The best way to build your website is with WordPress. It's future proof, capable of anything, and also affordable. There's no better mix of powerful and inexpensive out there.
The best way to sell digital downloads (aka 'digital products' or 'virtual products') with WordPress is Easy Digital Downloads (EDD).

Get WordPress
Don't have a WordPress site yet? All you need is a good web hosting service. A solid web host will make it easy to install WordPress, in many cases doing it for you, or making it as simple as a few clicks.
➡️ Check out this guide to choosing a WordPress web host. Includes discount codes!
Get EDD
EDD is purpose-built for selling digital products, from PDFs to software. Like WordPress, there is no better mix of powerful and inexpensive.
You can use EDD for free, and use it free forever.
EDD has a 10-year proven track record. It's one of the most trusted WordPress plugins for ecommerce out there. It's trusted by more than 50,000 businesses – of many sizes – to run their digital stores.
Pros and Cons
⚖️ 👎🏾 With many other eCommerce solutions selling digital products and downloads is an afterthought. You'll waste time setting up a shop made for physical goods with shipping, logistics, and inventory tools you don't need.
⚖️ 👎 It's tempting to go the cheap and quick route and list your products on existing marketplaces. This has its place for some business strategies. But for most, you can't really build your own business on someone else's website.
👍🏾👍 Try Easy Digital Downloads with no risk. The free version (not trial) includes:
Fully customizable branding and shopping experience
Direct communication with customers
Full control over pricing
Shopping cart
Flexible checkout options
Stripe and/or PayPal integration
Apple Pay and Google Pay available with Stripe
Discount codes
Customer management (basic CRM)
eCommerce reports
What are you waiting for? Get after it and grow your business!
Using WordPress and want to get Easy Digital Downloads for free?
Enter the URL to your WordPress website to install.
EDD/Stripe Quick Start Guide
Check out this quick-start guide to get up and selling on your EDD store. It covers installing EDD, getting payments set up with Stripe, and building your first product (called a Download in EDD).
🏁 How to Quickly Sell Digital Downloads with Stripe
---
6 Theme Options for Amazing Looking Sites

Ok! Once you have that killer combination of a WordPress site and a shop powered by EDD, you'll want to make it look nice. Below we have ways to get your site looking nice and sharp.
We'll start with free options and then move to paid options.
1: Themedd
We use EDD here at EDD. Of course we do! We sell digital products and we use our own digital products to sell them! It's all a bit meta. This website is built on WordPress and EDD.
For our website we use the 'Themedd' theme! More precisely we use a child theme of Themedd. That's what you're looking at right now when you look at our website.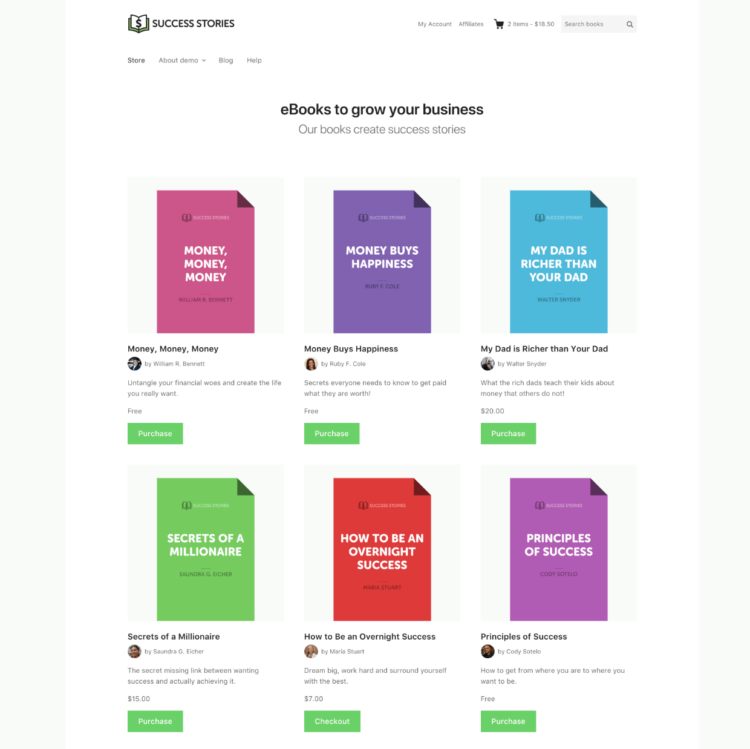 You can use Themedd for free. Click here to download it from our themes directory.
Themedd Features
40+ color/visual controls and logo upload via The Customizer
Custom page templates
Custom widgets
6 sidebar widget areas
Responsive design for desktop, tablets, and mobile
Mobile-device-only menu options
---
Note: Child Themes
Child themes are copies of a theme that inherit traits from their parent theme. You can make a sort of copy of a theme, that allows you to customize things to your liking, while allowing the parent theme to handle the 'heavy lifting' (basic appearance and functionality).
🎓 Learn all about Child Themes here
---
2: Vendd
On the EDD Themes Directory we also offer the 'Vendd' theme as another free option.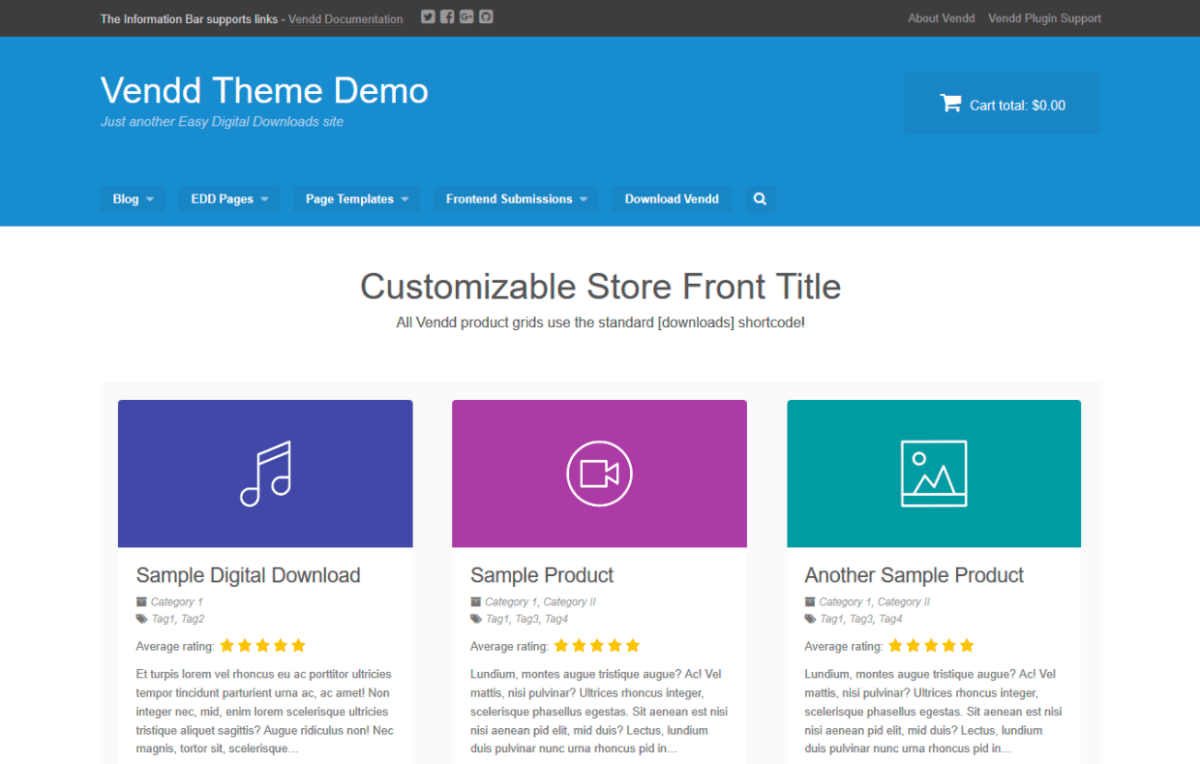 Vendd Features
Visual controls for site colors and logo via The Customizer
Page templates; focused checkout, page/full width, landing
Custom widgets
Responsive design for desktop, tablets, and mobile
---
3: SeedProd
SeedProd is a fantastic visual website builder. You can use it to make amazing landing pages. Or you can use it to build an entire WordPress theme with no coding required! It's all drag and drop.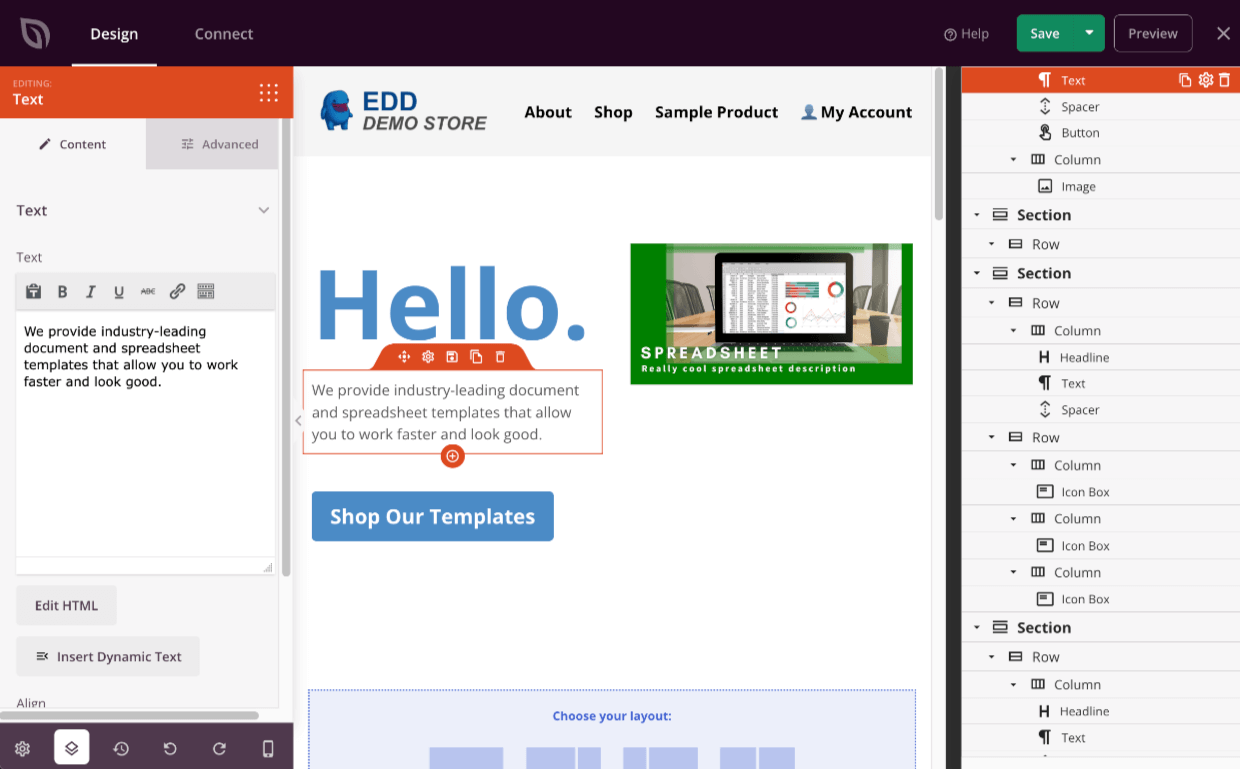 SeedProd Features
Easy-to-use visual page builder
Prebuilt themes to get you started
Page templates for landing page or other pages
80+ Pro Blocks for displaying static and dynamic content
Responsive and mobile-ready
Faster page performance than many other page builders
SeedProd has a free version mostly designed for making Coming Soon, Maintenance Mode, or simple lading pages. Or you can opt for the Pro version to add all their advanced features, including the full website theme builder.
🎓 Or, check out our detailed guide to using SeedProd with EDD
---
4: Astra

Astra is the most popular theme for WordPress. It features full EDD integration. Astra is a flexible and powerful option. It's trusted by more than 1.6 million websites and is known for loading fast.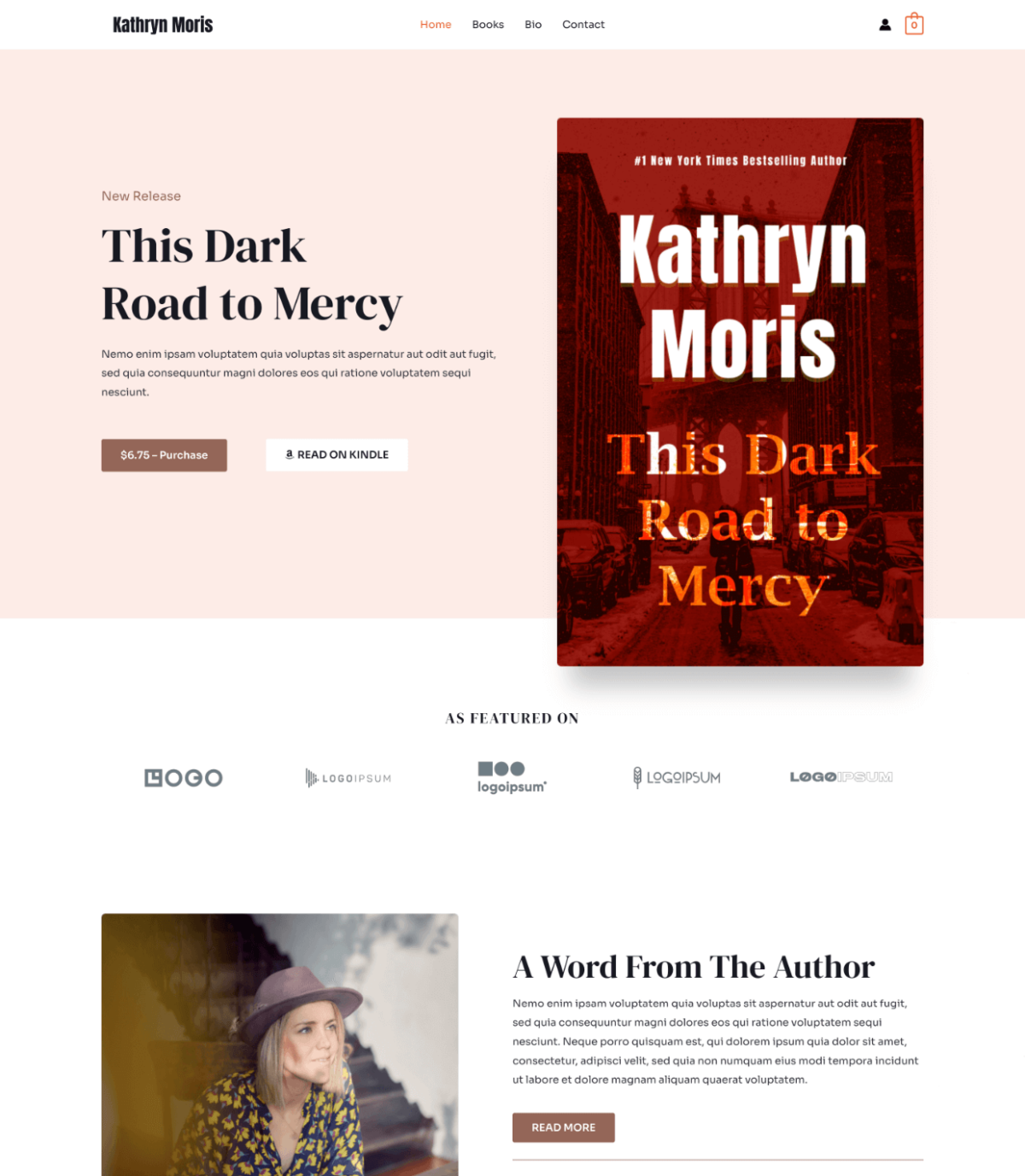 Astra features:
Visual controls for EDD store pages
Integration with popular page builders like Elementor and Beaver Builder
100+ Starter Themes (180+ when you get the Essential or Growth bundle)
A free and paid Pro option

The free version offers powerful controls for customization
The Pro version adds more controls, cart customization, and the header, menu, and white label options that come with Astra Pro
Astra is flexible and integrates with many popular WordPress tools. You can trust that it will always be able to grow and adapt to your needs.
📝 Learn more about EDD + Astra on our detailed announcement
---
These next three theme options have two powerful features in common:

1: They offer a one-click setup option that is oh-so-handy

2: They are built on the Genesis Theme Framework, which is highly respected in the WordPress world for its reliability and fast page loading. Genesis powers more than 600,000 WordPress sites.
5: Karma Digital
Karma Digital is a sleek elegant theme from OsomPress. It's ready to help you sell your digital products.
Best of all with Karma Digital you also get a Starter Pack. The Starter Pack installs everything you need to run a digital store on your WordPress site, in one click.
The Starter Pack instantly installs:
The Karma Digital theme
Easy Digital Downloads plugin (EDD)
WPForms plugin and a prebuilt contact form!
Sample Downloads (products)
Sample blog posts
Store layout and content pages
Custom block collections and block patterns for EDD
Check out, for example, this block collection for doing pricing tables. 🤩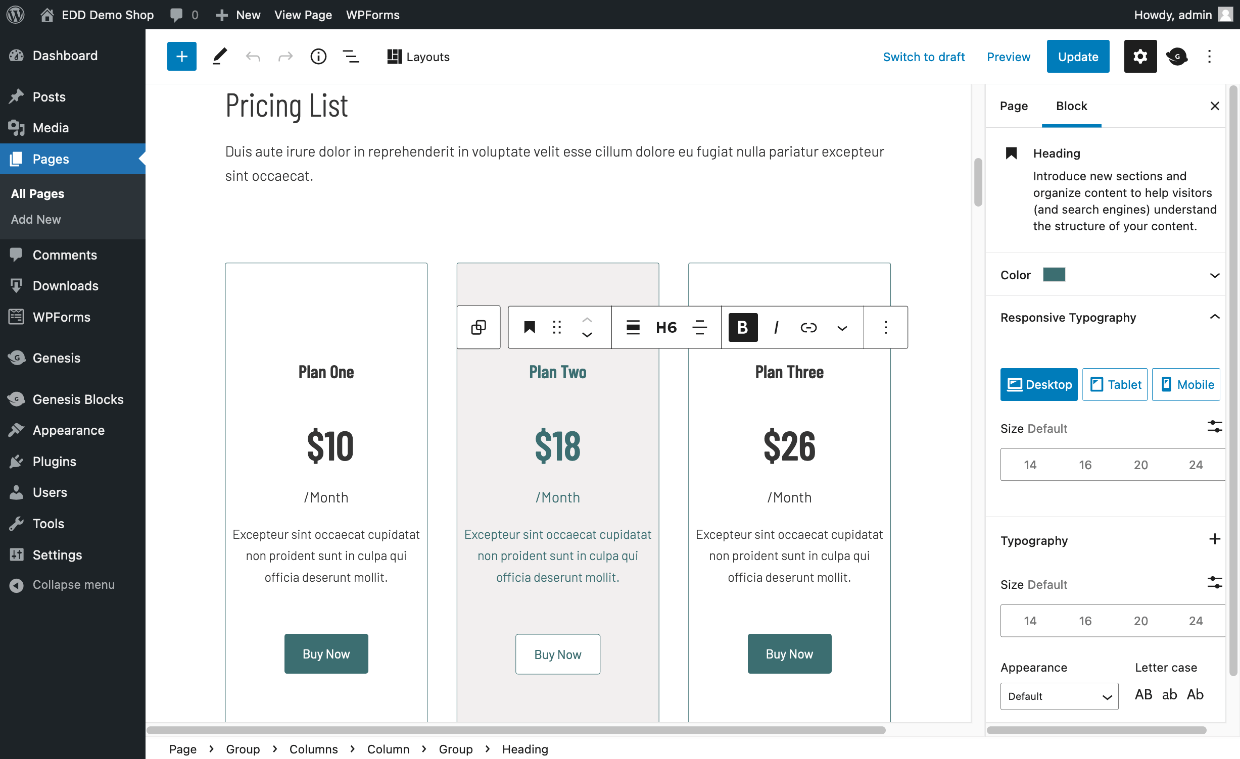 With Karma Digital and the Starter Pack, you simply swap-in your own images and text!
📝 Or, check out our detailed Karma Digital announcement with more information on how to work with Genesis and the Starter Pack
---
6: Coaching Pro
Coaching Pro, by brandiD, is a great theme for a business built around you (or another person). This theme is perfect for consultants, life coaches, business coaches, public speakers, influencers, or authors.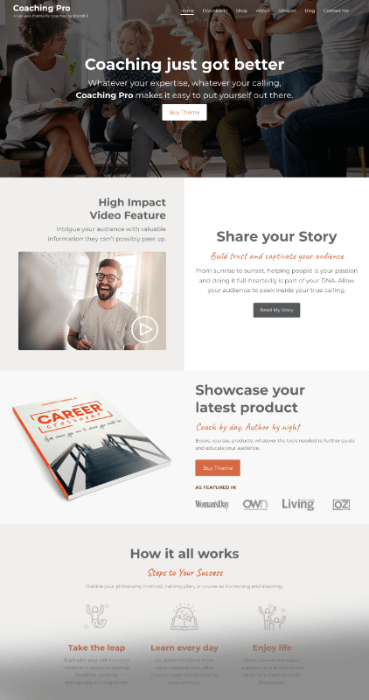 Coaching Pro has a well laid-out homepage template for introducing yourself (or your client) for an impactful first impression. It also has a cool eBook (or lead magnet) block, product page templates, and Social Media share buttons.
Similar to Karma Digital, there is a one-click setup feature. They call it the 'One-Click Setup Wizard'. With just a click it will save you time by installing:
The Coaching Pro theme
Easy Digital Downloads plugin
Simple Social Icons plugin
Social Proof (Testimonials) Slider plugin
WPForms
Page templates, store layouts, and sample content
With this theme and the setup wizard you'll be on your way to done, fast!
📝 Or, check out the brandiD announcement with more information on how to work with Genesis and their setup wizard.
---
7: Hello! Commerce
Hello! Commerce is a great option as well. It's also from brandiD. It's geared towards solo entrepreneurs, specialty shops, or agencies. The homepage has a bold hero/top banner, portfolio grid, clients/brands served grid, and sections for featuring products.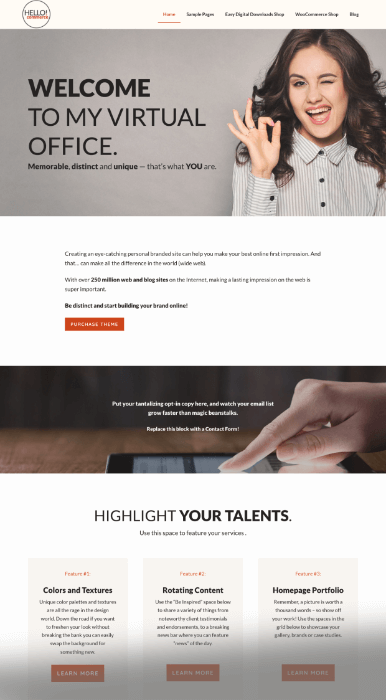 Similar to Coaching Pro, this theme comes with the One-Click Setup Wizard. It's so convenient to get everything installed in one click:
The Hello! Commerce theme
Page templates and sample content
EDD plugin
Simple Social Icons plugin
Social Proof (Testimonials) Slider plugin
WPForms
📝 Or, check out the brandiD announcement with more details on working with Genesis and their setup wizard
---
Conclusion
Beeeee-autiful! Thanks for reading. You've learned how to make your digital download store look amazing with one of these WordPress themes. We've looked at several free and paid options. We're confident any of these can get your store looking professional and building trust with customers.
Bottom line, we're confident any of these themes can get your store looking professional and build trust with customers.
We have plenty of resources for visually-savvy digital creators like you. What else do you want to learn about today?
Be sure to subscribe to our newsletter or follow us on Facebook and Twitter to get our latest resources.