---
Do you want to learn how to sell digital products in bundles with WordPress?
Bundles are one of the simplest ways to get more of your products into the inboxes of your customers, all whilst giving your customers the extra value they want. Plus, selling your digital products in bundles is incredibly easy with Easy Digital Downloads (EDD).
🔎 In this article, we'll cover:
Why Sell Digital Products in Bundles?
There are many benefits to selling digital products in bundles. When you sell digital products in bundles, you can offer your customers more value while also making more money. Bundles are a great way to package together several related products and create a larger offering to attract more potential buyers.
By selling a bundle of multiple digital products, you can increase the perceived value of all the items included, which could lead to better sales results and increased profits. Additionally, customers appreciate getting a good deal when they purchase bundles; as such, bundling digital products together is an effective way to incentivize shoppers to buy digital goods from you instead of seeing what's available elsewhere.
Lastly, bundling digital products together allows for greater customization options for consumers who may be interested in certain items but not others. This helps ensure that no matter what type of customer you have, you can craft a unique bundle to meet their needs.
WordPress makes selling digital products incredibly easy. With our Easy Digital Downloads plugin, you can start an online store and offer digital products in no time.
How to Sell Digital Products in Bundles With WordPress
Ready to get started? In this step-by-step tutorial, I'll walk you through how to sell digital products in bundles using WordPress.
Step 1: Set Up Your WP Site
If you haven't already, the first step is to create your WordPress website. If you already have one, feel free to skip to the next step.
However, if you don't have a website, you can get one using SiteGround's Managed EDD Hosting:
This gives you everything you need to start your eCommerce store and sell digital products. Every plan comes with a WordPress installation, secure web hosting, free SSL certificate, and essential plugins, including Easy Digital Downloads.
After you select your plan, you can follow the WP Setup Wizard to get started. It automatically brings you to the WordPress dashboard where you can start building your online store: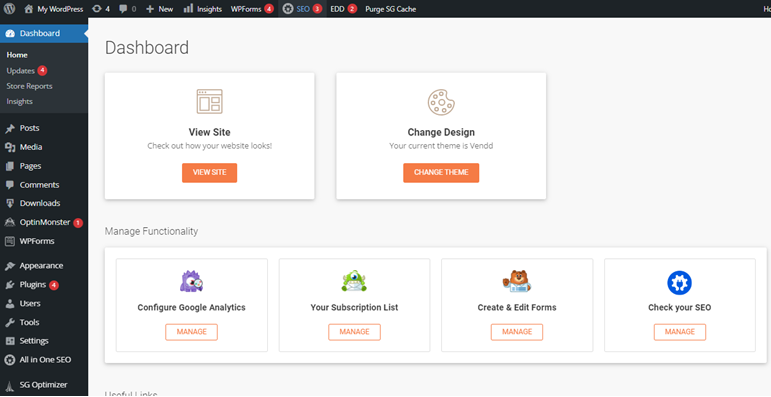 Step 2: Get Easy Digital Downloads
Easy Digital Downloads (EDD) is a complete eCommerce platform solution for WordPress:

The powerful plugin lets you create, manage, and sell digital products from your site. It also provides all the tools to securely process payments, track sales, and deliver downloads to customers post-purchase.
eCommerce without limits!
That is our promise. Most eCommerce solutions limit your creativity
…not Easy Digital Downloads!
To start, visit the Easy Digital Downloads website and choose your plan. Once you buy your license, you can download the EDD WordPress plugin from the File Downloads tab of your dashboard: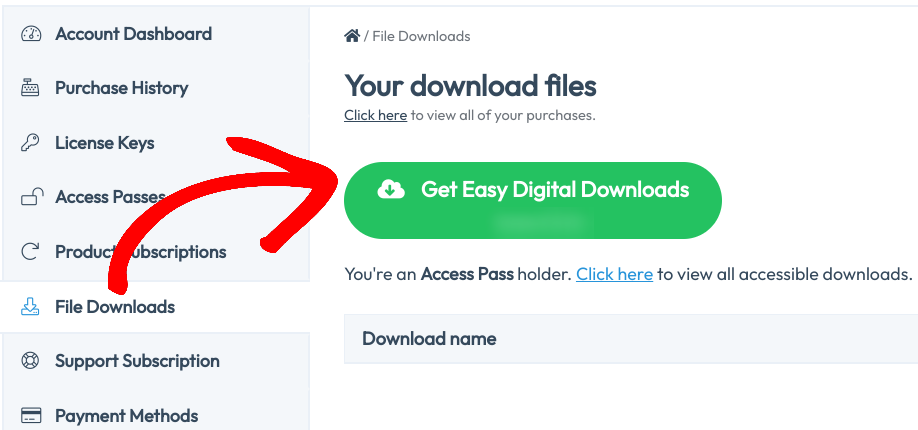 After you download the plugin, you can upload it to your WordPress site under Plugins » Add New:

Once you activate the plugin, a Downloads menu item appears on your admin dashboard: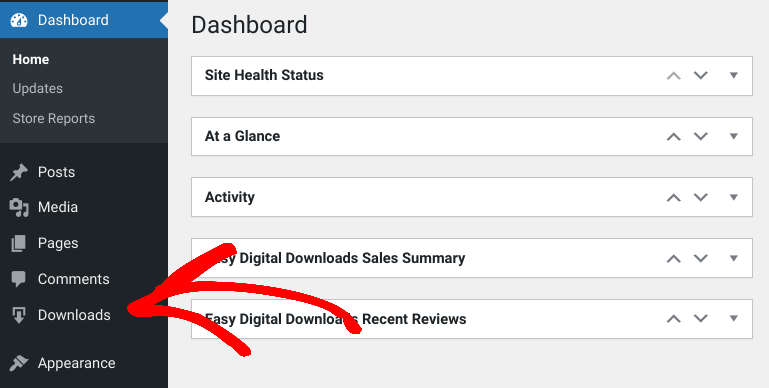 ⚙️ You can use these guides for more detailed instructions on choosing payment gateways and setting up your store:
Step 3: Add Your Products
The next step is to add the products or digital content you want to sell. EDD refers to digital products as 'downloads'. To add a new product, go to Downloads » Add New:

Next, name the product and add a description: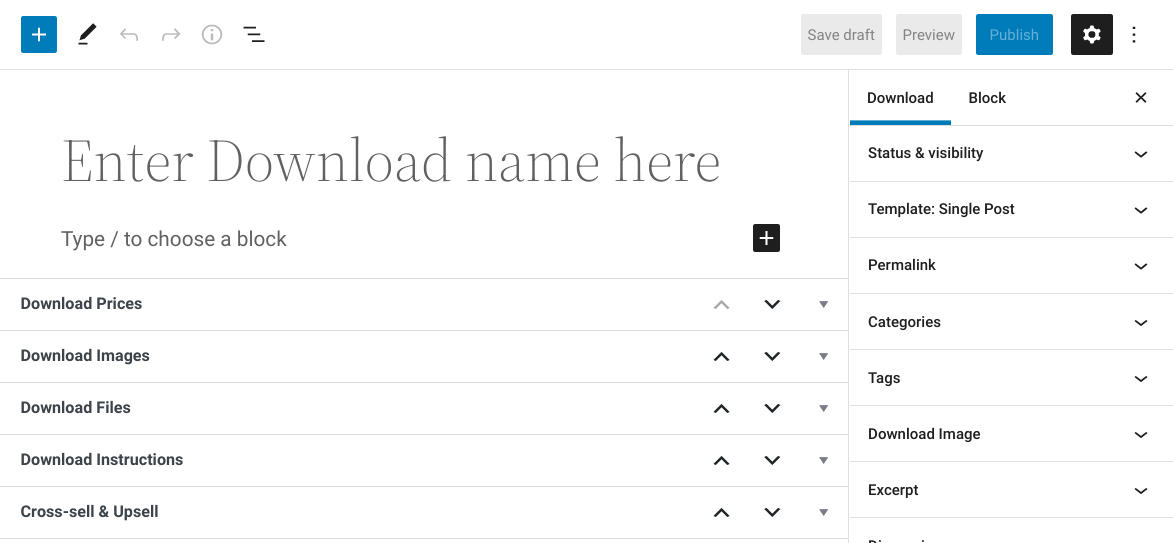 You can use the description text field to describe your product and highlight the benefits of it.
Under Download Prices, enter the amount you want to sell the single product online for: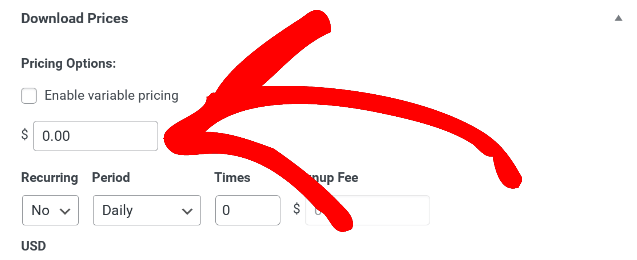 💰 Tips For Pricing Digital Products
You can also set a download limit. This functionality can come in handy when selling digital products online that have a certain amount of availability. For4 instance, you can use it for online courses, subscriptions, printables, audio files, and other types of digital files.
Under the Download File settings, you can add the files for customers to download after purchase. There are two product types: Default and Bundle.
The Default type is simply a file or collection of files uploaded right in this box: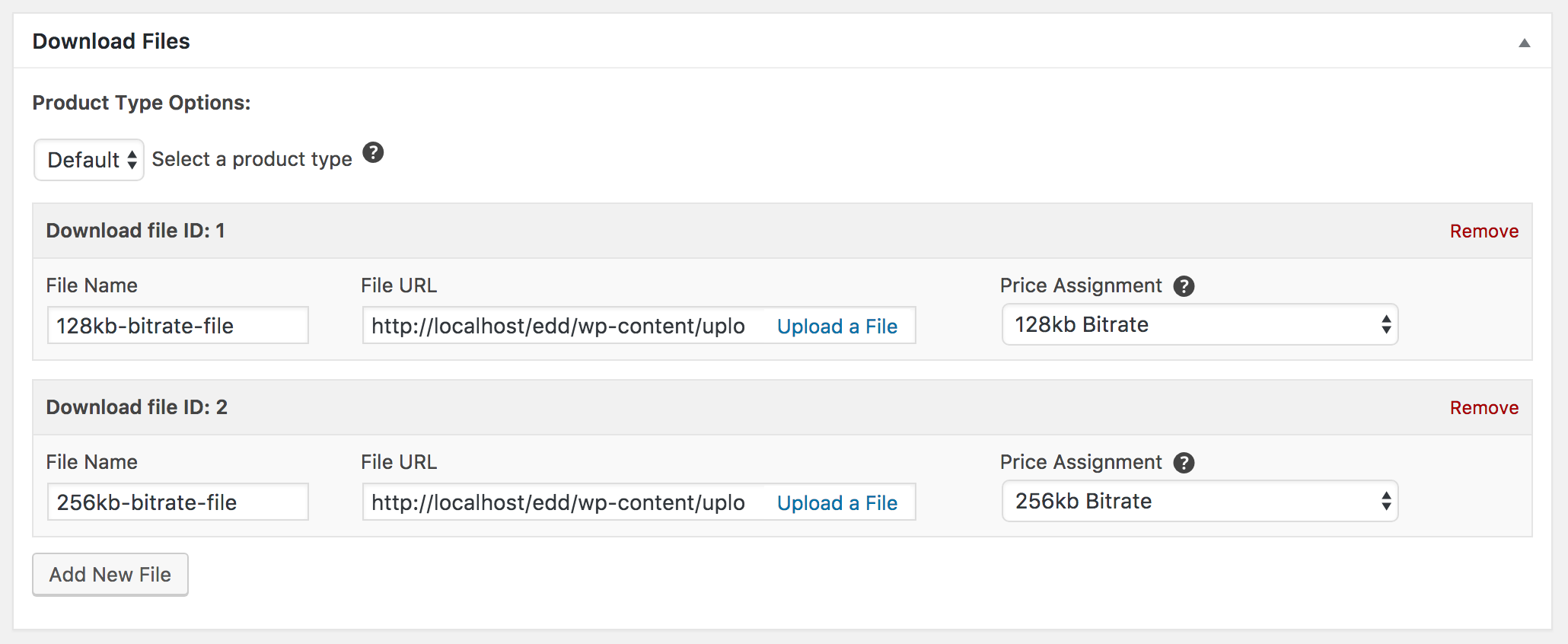 Next, you can add an attractive Download Image: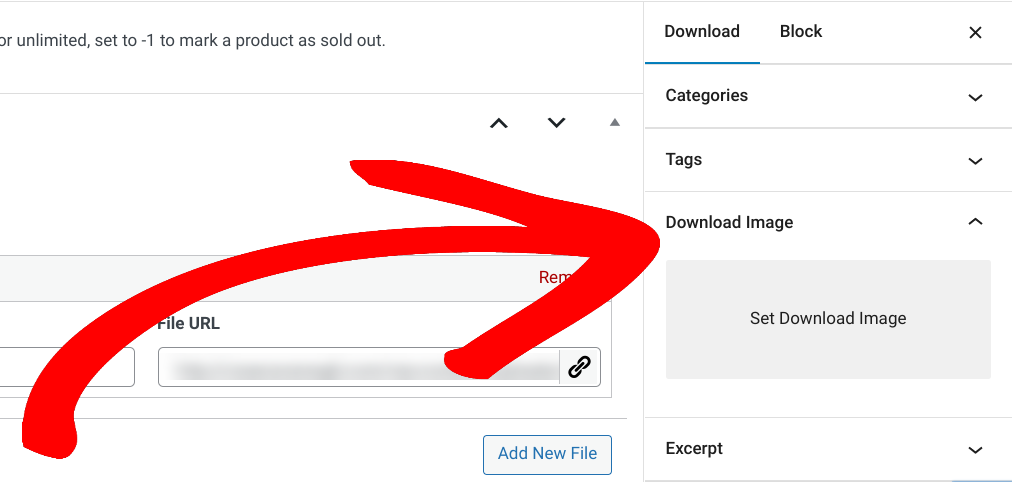 You can repeat this process for as many digital products as you want to add to your store.
Step 4: Create Your Product Bundles
The last step is to create the package you want to use to sell digital products in bundles. To do this, you can add a new download, then add a name and description for the product.
However, under Download Files, you'll select Bundle from the dropdown menu to combine multiple products into a package: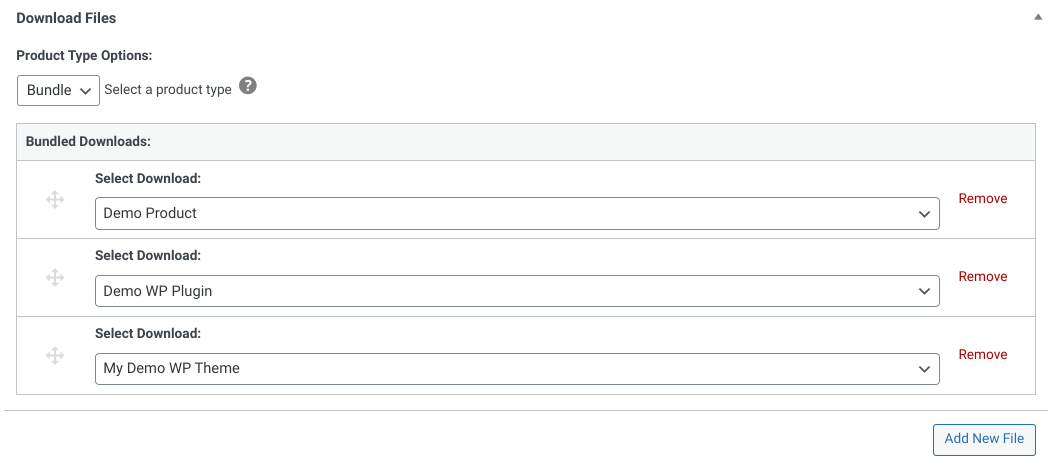 You can use this video for a tutorial:
When you're done, you can save your changes. Then visit your site from the front end to see how the product page looks: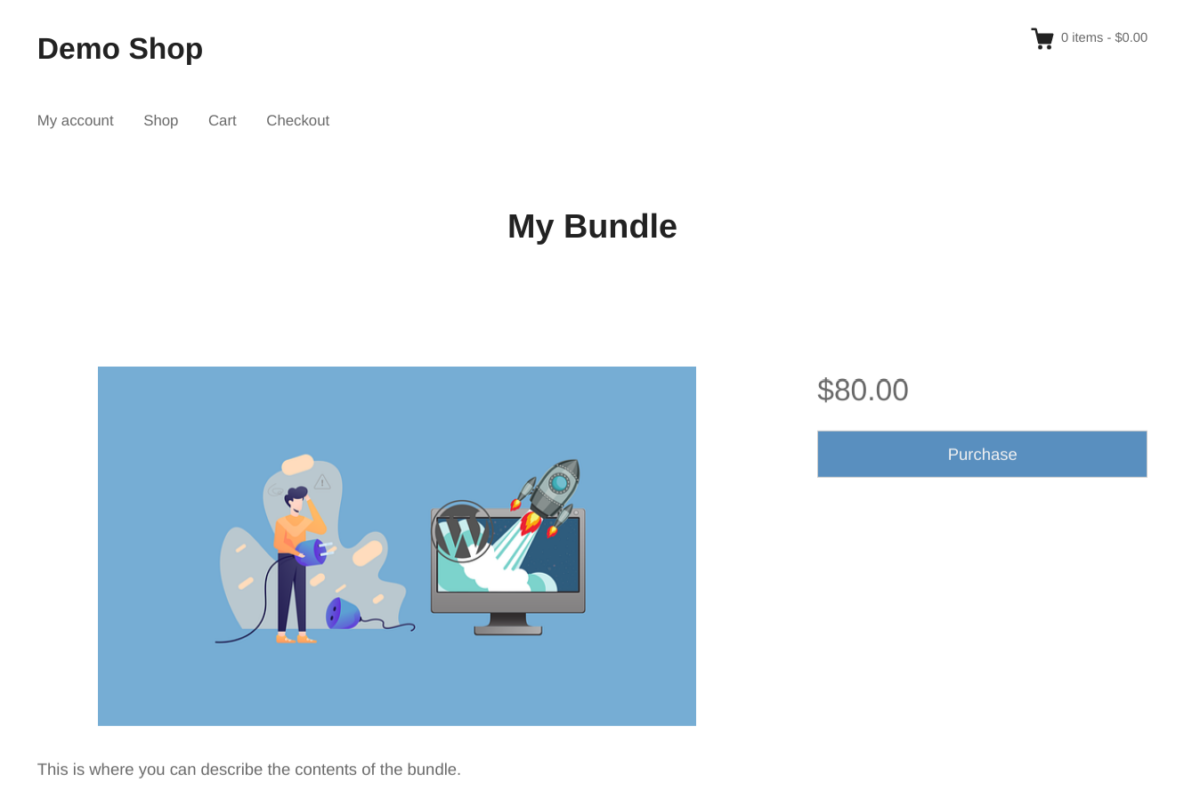 If you're happy with everything, you can start selling! To help increase traffic and sales, I recommend leveraging SEO and email marketing. You might also consider starting an affiliate program to help promote your products.
Tips to Sell Digital Products in Bundles
Repurpose Your Products
If you've got products that have been sitting on the digital shelves for a while, consider bundling them with newer products to get them moving. You can combine mature products with similar or related newer products, or include them in larger "extra value" bundles. Repurposing doesn't just apply to older products, though. You can replenish your storefront by creating new and different variants of bundles containing all kinds of different products.
Combine Similar Products
Another classic strategy for creating product bundles is to sell similar products. This appeals to people looking for a specific product type, as they can walk away with a significant amount of content that is relevant to them. Since these customers are already predisposed to be interested in products of a certain nature, they are more likely to be willing to spend more to get the combined value of those products at a reduced price.
Upsell Bundles at Checkout
Another way to come at similar (or complementary) products is to upsell them at the checkout, where you can further entice customers who have already shown they're willing to pay for your products. Just like product add-ons, bundles allow customers to easily add value to what they are purchasing – and you can present the offer in several ways, from percentage savings to dollar-off amounts and limited-time offers.
For example: "Save 25% on this product with our exclusive bundle," or "Receive $20 off by purchasing these products together", or even, "get these additional products at a 50% off with your purchase (today only)." These might not technically be referred to as bundles, but the same principle of volume savings applies.
Sell Popular Products Together
You might also combine top-selling products to amplify the effect even further. A bundle of sought-after products can be one of the most appealing offers in your digital store, giving customers a super high-value option that they can't refuse. You could make this a limited-time, exclusive offer to stimulate sales quickly, or offer the bundle at certain times of the year to cash in on popular holidays and trends.
Create Specialized or Themed Bundles
Perhaps you create digital art and graphic products, and you want to incentivize your customers interested in learning graphic design. You could create a bundle that contains everything they need to get started, such as Adobe Illustrator project files, how-to guides, vector packs, textures, and fonts – all in one.
Maybe you're selling software, and want to offer your customers extra deals on related templates, presets, and tutorials. Or, you might have a comprehensive music production course that could be bundled with relevant audio sample packs, project files, and tutorials!
In any case, you can create bundles that are specific to certain use cases or levels of experience (such as "starter packs", "intro" bundles, or "pro" bundles), covering all of the assets, content, or other material customers need to achieve a specific goal or skill level. You might also consider themed or seasonal bundles; for example, bundles of holiday graphics, wedding stationery designs, medical stock photos, etc.
Get Creative With Product Types
Another way to get creative with your bundles is to focus on combining different types of products. This could cover a variety of formats like audio, video, images, and text, or include different product categories like eBooks, photographs, and digital courses. Maybe you want to create a bundle that includes your latest video content, along with an accompanying podcast and PDF worksheet, or you want to add value to your WordPress themes by including extra plugins and graphic assets.
FAQs About How to Sell Digital Products in Bundles
Can you sell digital products on WordPress?
Yes. You simply need an eCommerce plugin, like Easy Digital Downloads. EDD is an excellent WooCommerce alternative for site owners that don't offer physical products.
How to sell downloadable products in bundles with WordPress?
Easy Digital Downloads is the best and easiest way to sell downloadable products in bundles with WordPress. When creating your digital product, the plugin lets you automatically include a download link for your customers to use.
Sell Digital Products in Bundles
To offer your customers more value and make money in the process, it's smart to sell digital products in bundles. Thanks to Easy Digital Downloads, doing this with WordPress is incredibly easy.
eCommerce without limits!
That is our promise. Most eCommerce solutions limit your creativity
…not Easy Digital Downloads!
📣 P.S. Be sure to subscribe to our newsletter and follow us on Facebook or Twitter for more WordPress resources!