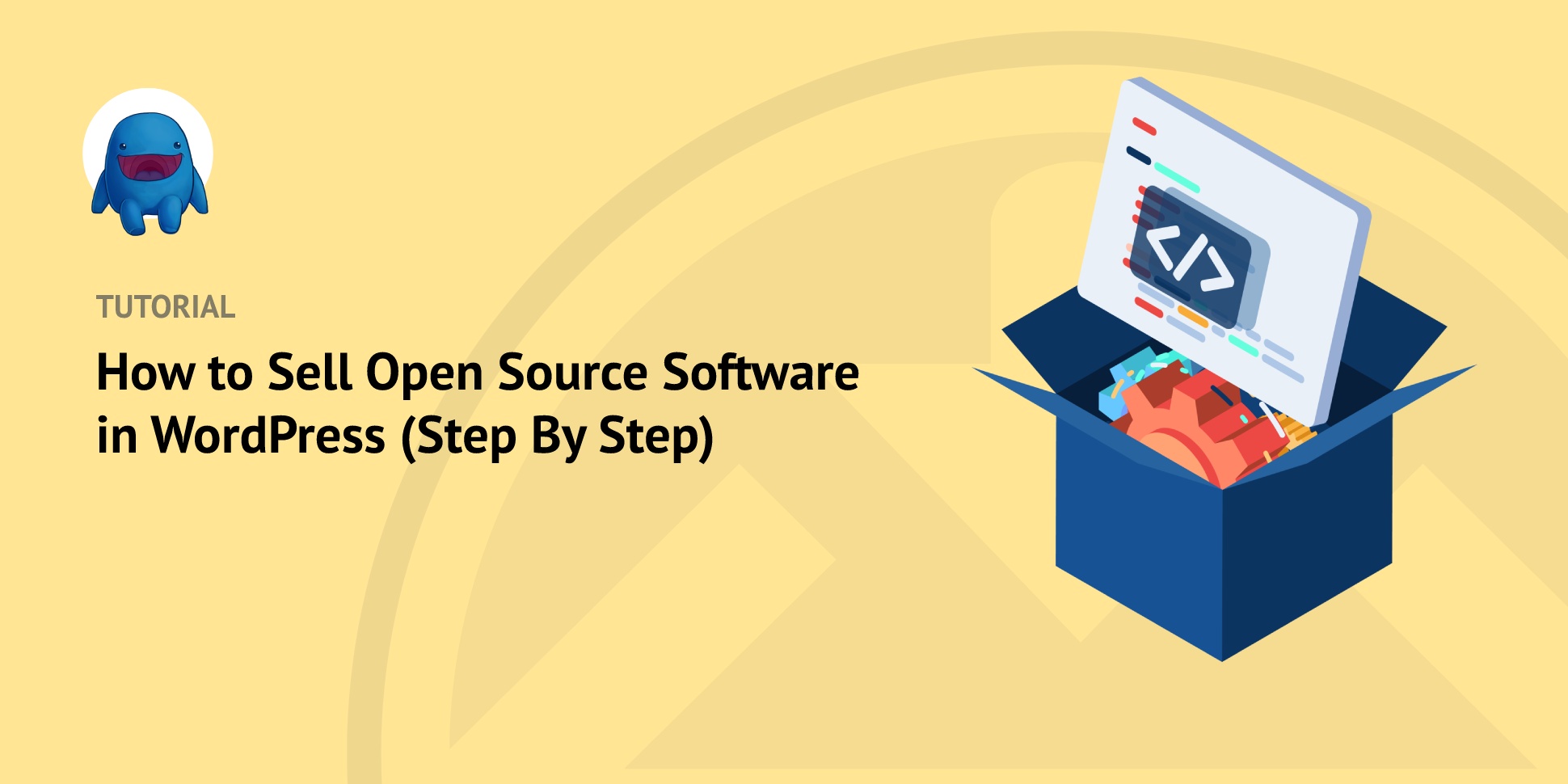 Are you looking for the easiest way to sell open source software in WordPress?
You're in luck! With Easy Digital Downloads, you can monetize your software products to help grow your online business.
Whether you want to sell digital addons to complement your free open-source projects, establish a subscription-based model, or offer premium software licenses, there are plenty of options.
🔎 In this post, we'll cover:
What Is Open Source Software?
You might be wondering what open source software is. Or, more specifically, how is it different from closed source software?
Open source code is freely available and licensed. Anyone with access to the software can study, use, change, and distribute it for any purpose.
Perhaps the most popular open-source example is self-hosted WordPress. The free Content Management System (CMS) is available on WordPress.org for anyone to download. Users can modify the source code as needed for their own purposes or to improve existing features.
Among the many advantages that make it an attractive alternative to closed-source proprietary software are:
Cost savings
Security improvements
Community engagement
Open source projects aren't just for the advanced developer community. Both beginners and experienced programmers can contribute to these projects. Online forums, repositories, and version control systems (VCS) like Git and GitHub are available to offer help, collaborate, ask questions, and generally share experiences.
Can You Monetize/Sell Open Source Software?
If these types of projects are freely available, can you actually sell open source software? The simple answer: Yes. Most open source software is free.
But this isn't always the case. There are certain instances when an open source license is too restrictive to be considered free.
That said, some popular examples of open source software you can sell include:
Software libraries
Mobile and web apps
There are also various ways you can monetize your free open-source software. You can use certain strategies to help ensure you both benefit financially and provide valuable resources to the community. For example:
Premium Support and Maintenance Services – To help customers troubleshoot any issues
Consulting Services – For a fee, you could offer additional guidance on using or integrating the software into existing systems
Software Licensing – You could create a premium licensing option for certain users, like those who wish to use your software in a commercial setting or want additions built-in that aren't included in the open-source free version
Associated Content – Sell other downloads or digital products that are related to your software, such as an eBook or other content upgrades
Once you decide what type of open source software you want to create, you'll be better prepared to start selling it. There are a few places you can sell software.
One option is to use an online marketplace. But if you want to increase your profits and exercise the most control of your product, we recommend selling directly from your WordPress website.
➡️ Learn How to Move From Marketplace to Your Own Online Store
How to Sell Open Source Software in WordPress
Ready to learn how to sell open source software in WordPress? In the following tutorial, we'll walk you through the four steps:
Step 1: Install Easy Digital Downloads
First, we're going to install the Easy Digital Downloads plugin (if you haven't already):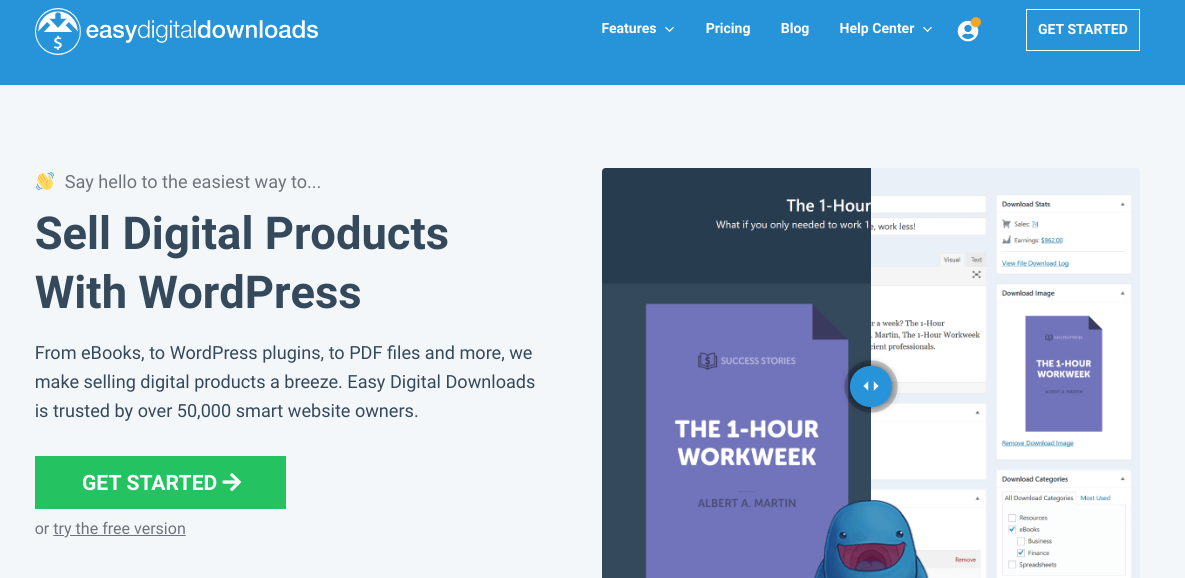 Our complete eCommerce solution is an excellent WooCommerce alternative. It's designed specifically for those selling digital goods, including software. You can choose from any of our pro plans to get access to premium extensions and features. This includes the ones we'll use in this tutorial.
After you purchase your plan, you can visit your account dashboard and go to the File Downloads tab. Then click on Get Easy Downloads:

Once the EDD WordPress plugin finishes downloading, you can go to your WordPress dashboard. Next, navigate to Plugins » Add New » Choose File to upload it:

Select the Install Now then Activate Plugin buttons.
🏁 For more guidance, you can also use our quick start guide. It covers:
Installing EDD
Creating product pages (also called 'downloads')
Getting payments set up
Step 2: Add Software Licensing & Recurring Payments
As a standalone plugin, EDD is a great way to sell digital products. But if you want to license and sell software, we also recommend adding two premium extensions: Software Licensing and Recurring Payments:

With Software Licensing, you can generate license codes. You can also manage license activations, cancellations, and upgrades. The Recurring Payments addon lets you set up subscription payments and free trials.
To add them, you can go to Downloads » Extensions from your WordPress dashboard. Look for both extensions. Under each, you can select Get this Extension: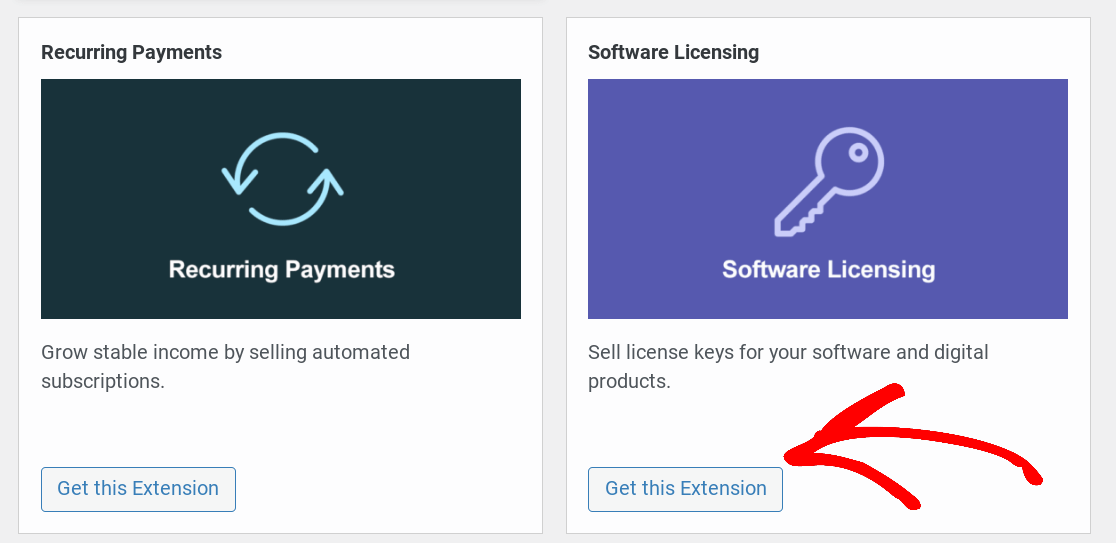 Next, on the extension page for each addon, click on Download Now: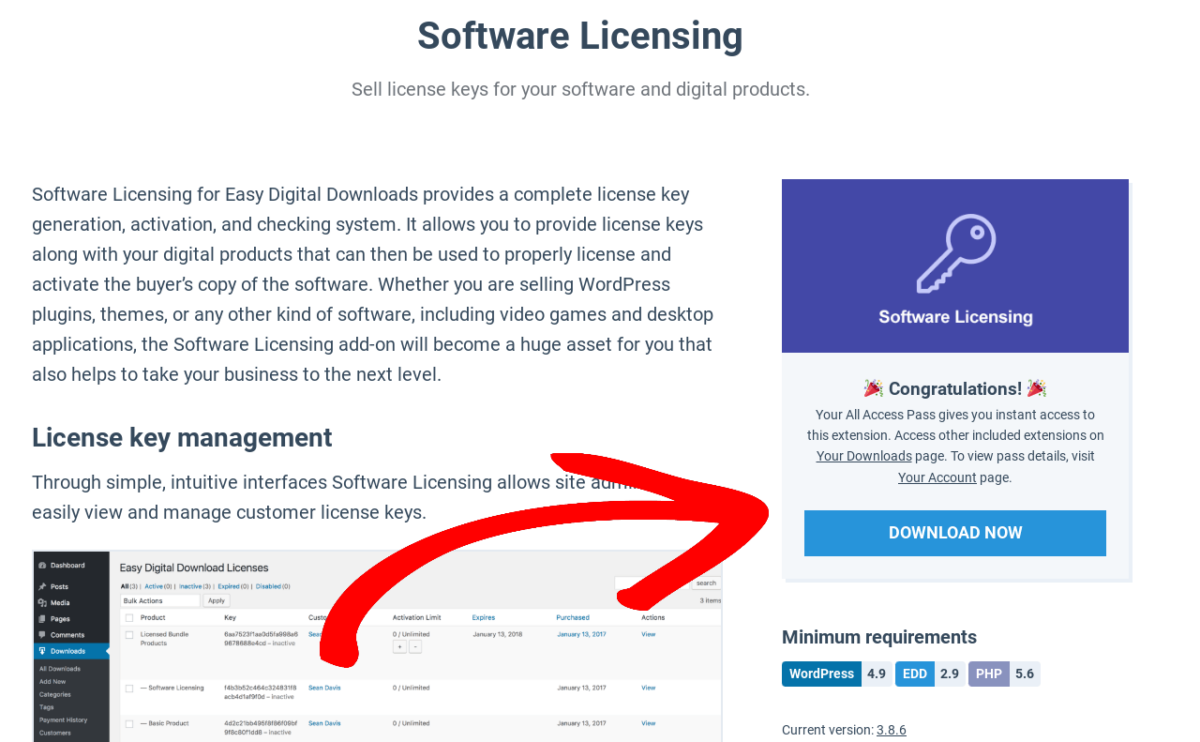 Then you can upload both plugins to your WordPress site. Make sure they're both activated.
Step 3: Set Up Your Open Source Software Product
The next step is to create your open source software product. For help getting started, you can refer to any of the following:
To add it, you can go to Downloads » Add New:

Next, you can add a name and description. You can set the pricing details under Download Prices: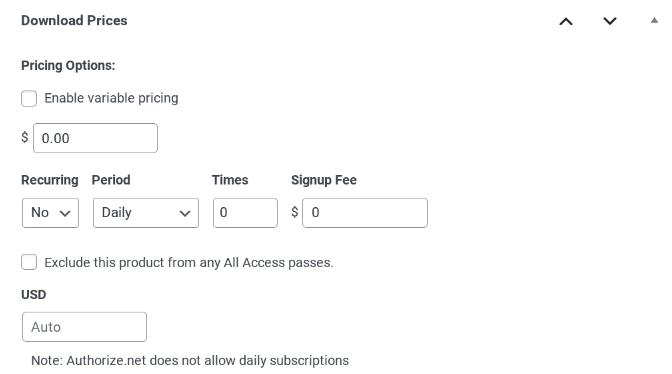 Of course, to make it free software, you can enter 0. If you want to make your software license a recurring payment (whether it be monthly, yearly, etc.), you can do so under Pricing Options » Recurring.
The pricing model you use to sell your open source software is completely up to you. If you don't want to add subscriptions, feel free to skip this step. You can also check out our Proven Tips for Successful Pricing of Your Digital Products if you need help deciding.
Next, you can choose a Product Type under Download Files. To keep it as a single item, leave it as Default.
Enter a File Name. Next, select the link icon under File URL. Select and upload your open source software product file:

If you want to configure the license, go down to the Licensing box. Next, select the Check to enable license creation option:

Next, you can set your Activation Limit, Version Number, and License Length. You can also add a license upgrade path, which is great if you want to sell premium versions, etc.
When you're done, you can click on the Publish button in the top right-hand corner of the screen.
Step 4: Promote & Sell Open Source Software
Once you're done, the only thing left to do is to start promoting and selling your software! There are many tools and features within Easy Digital Downloads you can use for this.
For instance, you can integrate with a handful of email marketing service providers. This includes Mailchimp, AWeber, and more. You can also promote your software on social media and through blog posts. Want some ideas to help you get started?  📣 Learn about simple ways to promote products on your blog.
Start Selling Open Source Software in WordPress
There are many different types of open source software you can sell in WordPress. With Easy Digital Downloads, you can create subscriptions and premium licensing options to make selling software easier.
Are you ready to start sharing and selling your open source software on your eCommerce platform? Grab an EDD Extended Pass today and get your site up and running within minutes! If you're looking for more downloadable assets to sell, check out How to Create a Digital Product That Sells.
🎉 Be sure to subscribe to our newsletter and follow us on Facebook or Twitter for more WordPress resources!