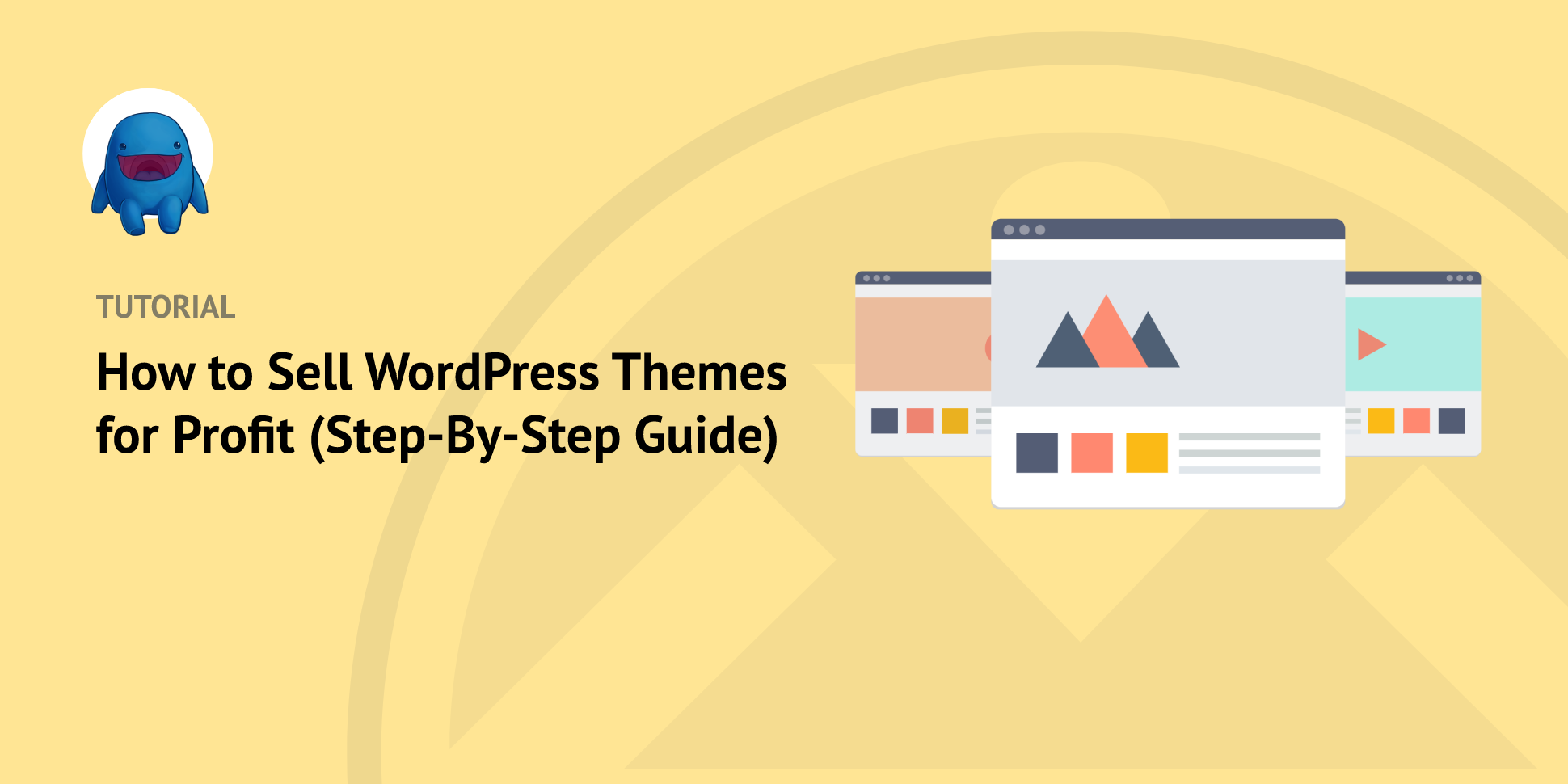 Want to know how to sell WordPress themes? It's a smart idea. Selling WordPress themes is a great way to help others while building a passive income.
With your own website, it's easy to sell WordPress themes and maximize your profits. I'll walk you through how. I'll also explain why selling on your own site is the best approach and some important things to know about the WordPress ecosystem.
🔎 In this article, we'll cover:
Why Sell WordPress Themes?
Selling WordPress themes online is a good way to make money. With the right tools, it's easy to do. A lot of people use WordPress, so there are many potential customers.
WordPress is one of the most popular site-building platforms in the world. Currently, a mind-boggling 43% of the internet is built on WordPress. No other tech has even hit 5% of the entire internet.
Every WordPress site uses a theme. That means there's a huge market to sell WordPress themes. Many site owners are interested in high-quality themes, also known as templates, because they control so much of a website's overall feel and design.
Themes give your customers the freedom to change how their site looks without having to learn to code or go through a lengthy design process. With WordPress themes, you can create different designs that will appeal to many different customers.
Additionally, if you get good at selling themes, you could make money from other things too. For instance, you could offer customizations or support alongside your themes.
Where Can You Sell WordPress Themes?
There are a few options for where to sell WordPress themes. While each option has its pros and cons, the best option is usually to create your own website. Let's take a closer look at the pros and cons of each.
Marketplaces/Shops & WordPress.org Directory
There are many theme shops or theme marketplaces where you can sell your theme, including Envato, ThemeForest, or Creative Market.
| 🟢 Marketplace Pros: | 🔴 Marketplace Cons: |
| --- | --- |
| Relatively high amount of traffic that can give you momentum | Marketplaces tend to keep portions of each sale and the more money you make, the more they take |
| Pre-qualified audience that's ready to buy | Little or no control over your prices |
| Quick & easy to get started | Competition can be extremely high; a crowded environment can make it difficult to get noticed |
| | Lack of quality control and customer communication |
You can also list your theme on the WordPress.org directory. However, you can't sell your theme there. Those themes are free. You can use freemium pricing for themes listed in the directory. This is smart because lots of people visit the directory.
Your Own WordPress Website
Using your own website to sell WordPress themes is the best way to maximize your profits. It gives you control over all aspects, from your pricing structure and storefront design to the communications you have with customers.
| 🟢 Your Website Pros: | 🔴 Your Website Cons: |
| --- | --- |
| You can make the most money when you own the platform! | You won't have an audience like the marketplaces likely do, you'll have to figure out how to get people to your site. |
| You have control over pricing | You are responsible for maintaining and securing your website (you can choose a managed web host to take care of all that for you) |
| No marketplace fees or revenue sharing | Setting up your own store is more work than simply listing on a marketplace or SaaS |
| Full control of the brand, marketing, voice, messaging | Building your own site will likely take more time |
| Communicate directly with your customers (and potential customers) | |
| Your downloads aren't surrounded by competitors and distractions like they are on a marketplace | |
| More in control of your overhead expenses | |
| Upsell and cross-sell | |
Given the pros and cons of selling your theme on a marketplace, I recommend selling your own new WordPress theme on your own WordPress website.
This allows you to:
Have direct communication with the customer (and potential customers)
Create and control a unique brand experience
Provide support and updates to your customers
The best way to sell your own theme on a WordPress site is with Easy Digital Downloads (EDD):

EDD is one of the most trusted WordPress plugins ever created. It has a proven 10-year track record of empowering businesses large and small.
The powerful eCommerce solution, which is an excellent choice if you sell themes or any type of digital product comes with a wide range of features. This includes:
Full control over pricing
Protected product files, only paying customers will have access to downloads
Shopping cart
Flexible checkout options
Discount codes
Customer management (basic CRM)
eCommerce reports
Stripe and/or PayPal integration
White label (full control over branding)
You can choose between the free and premium versions. I'll get more into that in a moment. But feel free to check out EDD Free vs Paid to learn more!
How to Sell WordPress Themes Online (Step By Step)
Ready to get started? Let's look at how to sell WordPress Themes for profit in five simple steps.
Step 1: Create Your WordPress Site
Already have a WordPress website? Feel free to jump ahead to the next step!
If you don't already have a WordPress site, don't worry. Creating one is super quick and simple. I recommend using a managed web host like SiteGround's EDD hosting. It comes with everything you need to easily and quickly set up an eCommerce site with WordPress.
Each Managed EDD Hosting plan includes a few SiteGround-specific features.
Managed WordPress: WordPress comes pre-installed with WordPress and includes a WP Starter site-building wizard.
eCommerce solution: The Easy Digital Downloads plugin comes pre-installed with a full shopping cart system so you can start selling themes immediately.
Free SSL: SSL comes pre-installed at no extra cost.
You also get access to a ton of essential tools for growing your eCommerce website: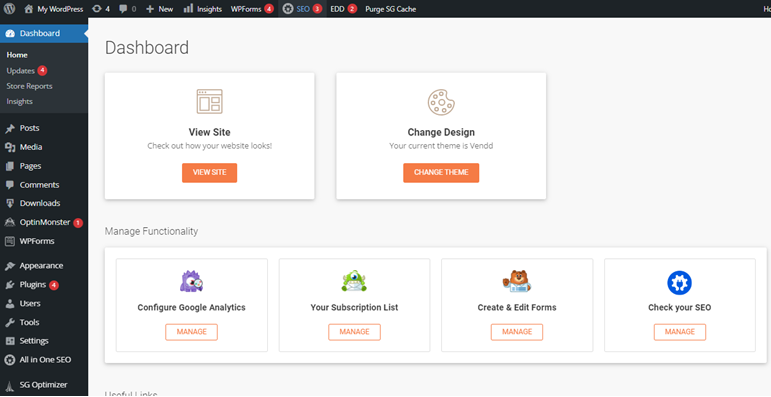 This includes plugins like:
To get started, visit the SiteGround Managed EDD Hosting site and click on Get Started. Select your plan, then follow the prompts to get your site set up.
Step 2: Get Easy Digital Downloads
Easy Digital Downloads (EDD) is trusted by over 50,000 web developers, businesses, and freelancers to sell WordPress themes and other digital products. That's one of the many reasons it's an ideal choice for your eCommerce WordPress plugin.
Therefore, the next step is to download the plugin. You can visit our website to choose a pass from the pricing page.
EDD is free to use. You can create your themes, archive them into a ZIP file and sell them with EDD. All for free.
However, if you want to be a successful theme developer, you'll likely want to purchase our Professional Pass. This gets you access to two of our industry-leading extensions:
Software Licensing – for issuing, activating, and managing license codes
Recurring Payments – for setting up subscription billing for theme customers
Dozens of other powerful extensions!
Why use software licensing and/or subscriptions to sell WordPress themes? 🤔 So you have resources to maintain your themes.
Well-maintained themes = happy customers. 😀
Also, another bonus of using EDD is that we have two free themes (Themedd and Vendd) that you can use on the site you build to sell WordPress themes. We also have a little directory of EDD-integrated themes for you to consider. These can be particularly helpful if you don't want to use the theme that you created to sell. For instance, perhaps it's very niche.
Check out the EDD theme listing
Once you get your pass, you can download the EDD plugin from the File Downloads tab of your account dashboard: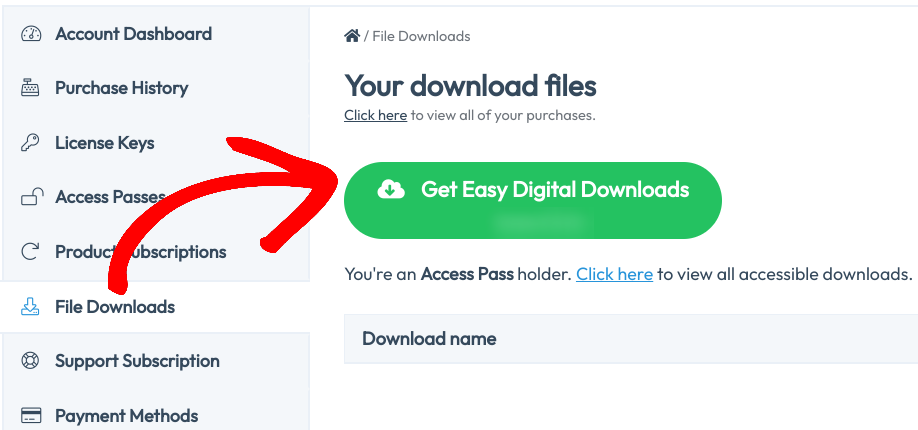 Then you can add it to your WordPress site under Plugins » Add New » Upload Plugin:

Once you activate the plugin, a Downloads menu item appears on your dashboard: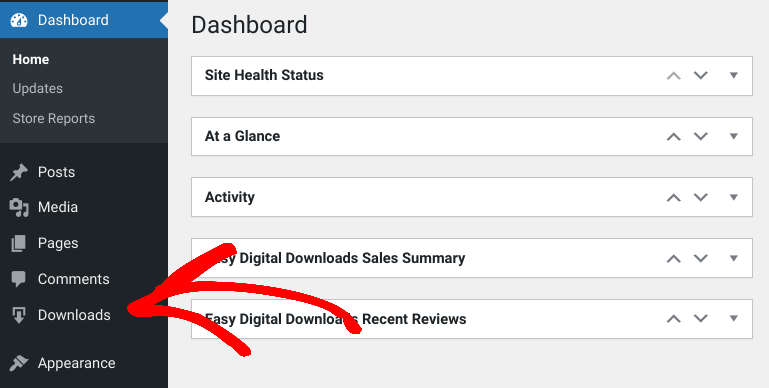 Go to Downloads » Settings to enter your business details, choose a currency, etc.: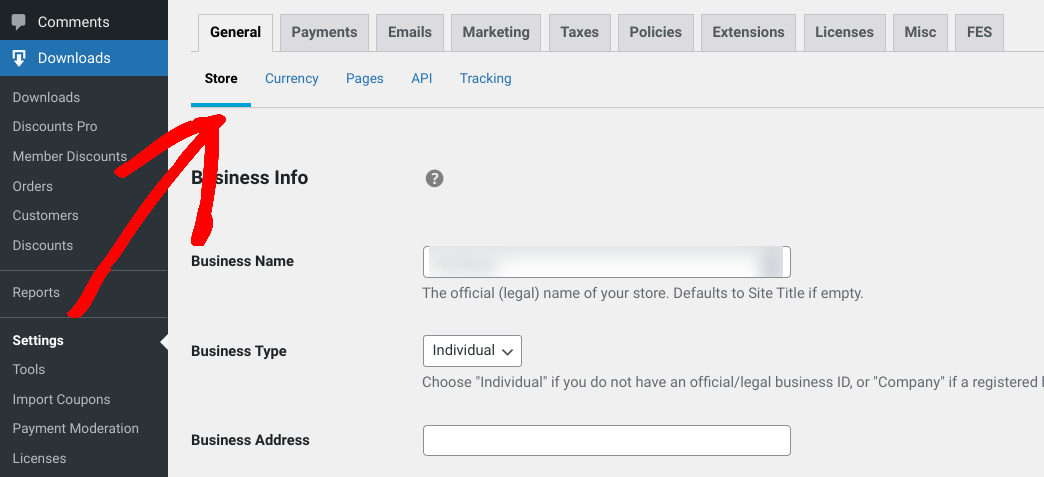 ⚙️ There are a lot of settings to cover. If you need help you can use these guides:
Step 3: Add Your WordPress Theme as a Download
After you set up your store and configure a payment gateway, the next step is to add your WordPress theme to sell.
In this post, I'm not going to go into details about how to create a WordPress theme. There are plenty of online tutorials. You can also visit our FAQs section at the bottom of this post for a general overview of the process.
But in terms of format, WordPress themes are sold as downloadable .zip files. The collection of interrelated PHP, Javascript, CSS, and HTML files that control your site's visual appearance is uploaded and installed onto a WordPress website.

Once it's ready, you can add the theme you want to sell. EDD refers to digital products as 'downloads'. To get started, go to Downloads » Add New:

Next, you can name the theme and add a description: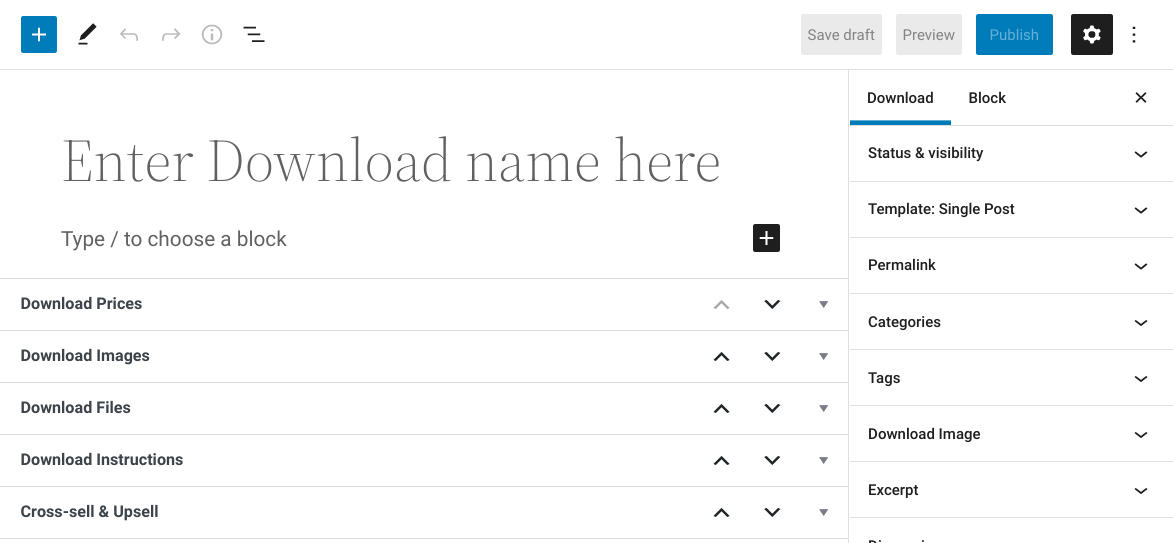 Step 4: Configure the Theme's Pricing & Settings
Next, you can configure the theme settings. Under Download Prices, enter the price you want to sell the WordPress theme for: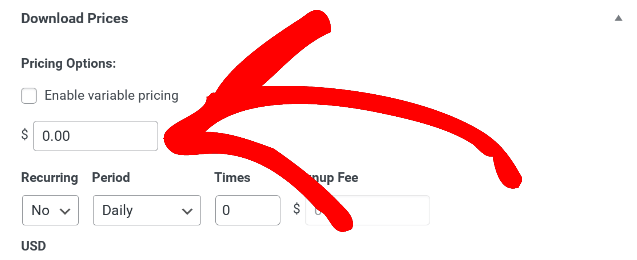 There is no set way to price your themes. But there are different factors to consider.
Understanding your target market is the first step, but how do you go about it?
What themes are being used by your target audience?
What are the prices of those themes?
What features do they include, and how do your themes compare?
This can give you a sense of the general price range you're dealing with.
💫 Pro Tip: use IsItWP to see what theme a website is using
A popular option is to use freemium pricing. This involves having a free version, as well as the option to pay for add-ons and more features.
The paid version of a freemium theme is called the premium version. Pay-only themes are called premium themes or premium WordPress themes.
💰 Tips For Pricing Digital Products
Next, under the Download File settings, you can upload the theme .zip file for customers to download.
In the File Name field, enter a phrase that describes the theme. Under File URL, click the Upload a File (the link icon) and upload your theme file:

To the right, you can add a Download Image: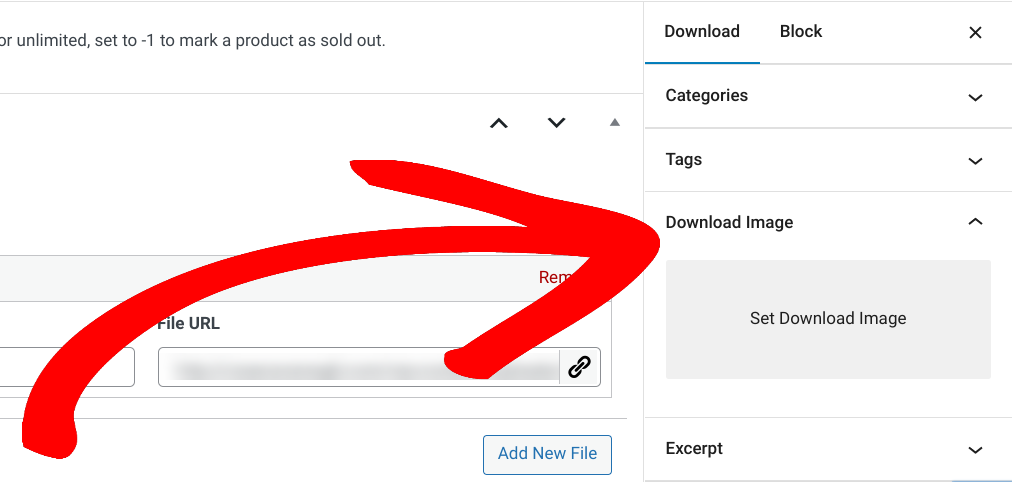 Finally, you can select Save draft/Preview to see how the theme product page looks on the front end of your site: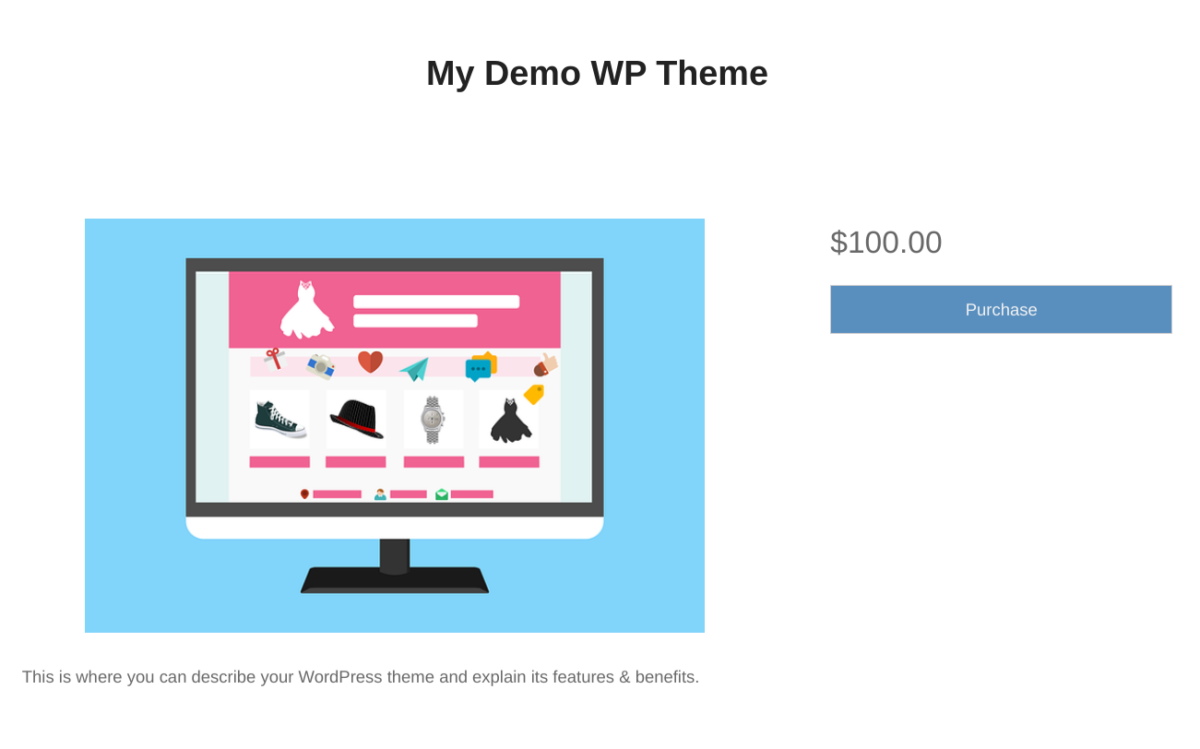 Step 5: Market, Promote, & Sell WordPress Themes
Now the only thing left to do is market, promote, and sell your WordPress theme(s). Here are some tips for getting discovered by an audience and making sales.
Create Documentation & Support
Be prepared to provide support! Even tech-savvy customers will have questions or need help.
Having a good support ticket system can be hugely beneficial.

If you want to cut down on your support requests, predict what your customers will need. Describe how to use it and troubleshoot common issues.
This is called documentation (docs).
The best themes come with quality online documentation that makes it easy for people to work with the theme. Docs should be thorough, easy to read, and easy to navigate.
You might even consider implementing a commenting system or discussion forum where customers can go to ask questions.

Remember: your audience is a source of knowledge as well. They can teach each other, and even you! This can take some of the support load off you and your team.
Offer a Product Demo
Selling your themes isn't complete without a demo – and a live demo site is the most effective.
Live demos allow customers to experience your theme's features and functionality first-hand. You'll want to include live versions of different page templates and post types using custom demo content, as well as widgets, shortcodes, different customization options, and any standout features.
Here are some great examples of live demo pages from themes that we recommend on our themes page.
It's a standard practice to showcase a theme's responsive design by demonstrating desktop, mobile, and tablet displays.
Make a Free/Lite Version
Consider making a free or lite version of your theme. Make it available on the wordpress.org theme directory, which gets lots of traffic.

Then, have some theme options and add-ons only available in the premium version (paid version).
Promote Your Theme on Your Blog
Many small businesses look to sell ads on Google, YouTube, Facebook, or Instagram in the early days of their business. There is a time and place for ads.
But smart entrepreneurs know that the best first place to start promoting their products is by using what they already have. Their blog!
You already have a blog! Or you should. It's free to set one up right on your WordPress site.
🔍 Click here for a guide on setting up a WordPress blog.
Writing about your products on an ongoing basis allows people to find your site via organic search. Don't overlook this key marketing channel!
We suggest starting with your blog and building it out. You can also incorporate social media and email marketing strategies.
✍️ Check out this article with easy ways to get started promoting your digital products on your blog.
Ask Plugin Developers To Recommend You
If your theme integrates or is compatible with certain plugins, see if you can get a highlight and link from them.
We have a theme listing page with EDD-integrated themes we recommend.
FAQs About Selling Themes
Is selling WordPress themes profitable?
Yes. There are TONS of websites out there, and every single one of them needs a theme. So themes are very popular WordPress products, and there are many ways to monetize them.
Many WordPress experts consider the market crowded and competitive. But anyone can enter the market with little upfront expense even if you're a beginner.
How can you create WordPress themes to sell?
The answer to this deserves its own post. But, generally speaking:
The first step is to decide on the type of theme you want to create. Do you want to create a blog-style theme, an eCommerce-focused design, or something else? Targeting a smaller segment/niche in this big market can help you stand out. You could even have various versions of your theme customized for various niche uses, like bloggers, entrepreneurs, or WooCommerce users.
When designing your theme, consider features that will make it stand out from the crowd and attract users. Choose colors and fonts that are modern and visually appealing. Also, think about including custom widgets and shortcodes so that users can customize their sites with ease. You should also test the functionality of your theme before releasing it for sale so that it is as user-friendly and bug-free as possible.
Can you sell themes in the WordPress.org Directory?
The Core WordPress team makes a new theme every year. Since they are installed by default they are very popular themes. Other (and only) free themes are available in the WordPress.org theme directory, which is the official WordPress place for getting WP themes.
Because all themes listed here are offered for free, you can't technically sell your theme here. But you can list a free version of your theme in the directory, then sell a premium version on your own website.
You can't sell a theme there, all themes must be free. You can sell a freemium/lite version of your theme and try to communicate with them afterward, but there is no established way to do this type of communication on the directory.
Use EDD to Sell WordPress Themes Today
Nice work! You've learned how to sell WordPress themes. We discussed the pros and cons of the different ways to sell them. Best of luck as you continue to empower other WordPress users and build an online business or side hustle.
💻 If you want to expand your online business, you can also check out How to Sell WordPress Plugins!
Ready to get started? Download Easy Digital Downloads today:
eCommerce without limits!
That is our promise. Most eCommerce solutions limit your creativity
…not Easy Digital Downloads!
📣 P.S. Be sure to subscribe to our newsletter and follow us on Facebook or Twitter for more WordPress resources!