---
Want to know how to sell WordPress themes? Cool idea. Selling WordPress themes is a great way to empower others and build passive income.
In this article we'll show you how to sell WordPress plugins on your own website.
We'll look at the pros and cons of selling other ways. We'll also look at things you need to know about the WordPress ecosystem related to themes.
🏁 Let's go!
---
What is a WordPress Theme?

Every WordPress site uses a theme. A theme controls your site's look-and-feel or overall design.

Sometimes 'themes' are called 'templates'. It just depends on the technology platform.
WordPress, Drupal and Shopify use the term 'theme'
Joomla, Wix and SquareSpace use the term 'templates'.
It's all the same thing.
➡️ A theme is a collection of interrelated PHP, Javascript, CSS, and HTML files that control your site's visual appearance.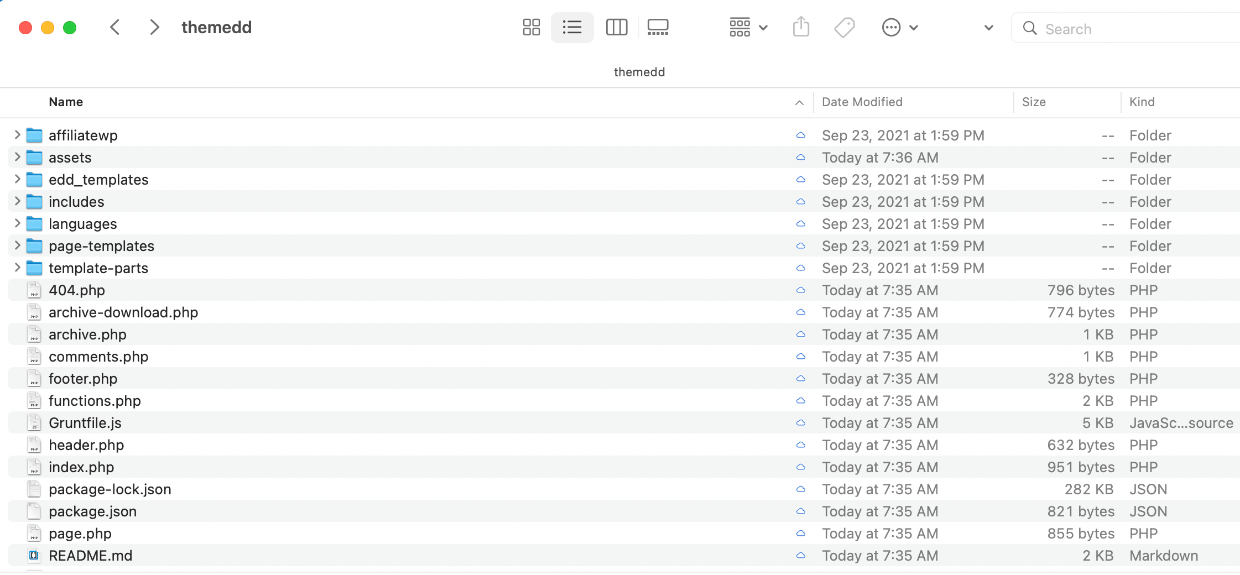 When you set up a WordPress website it comes with a stock theme built by the WordPress Core team. It will already be installed and activated.
The Core team makes a new theme every year (most years). Since they are installed by default they are very popular themes. They are named for the year they were launched (Twenty Twenty Two, Twenty Nineteen, and so on).
Choosing A New Theme
A WordPress site can have multiple themes installed but only one can be activated and visible on your website's front-end. Themes are stored in the wp-content folder.
To add a new theme, go to your WordPress dashboard and navigate to: Appearance > Themes. Next, at the top click Add New.
Below you'll see free themes available from the wordpress.org theme directory.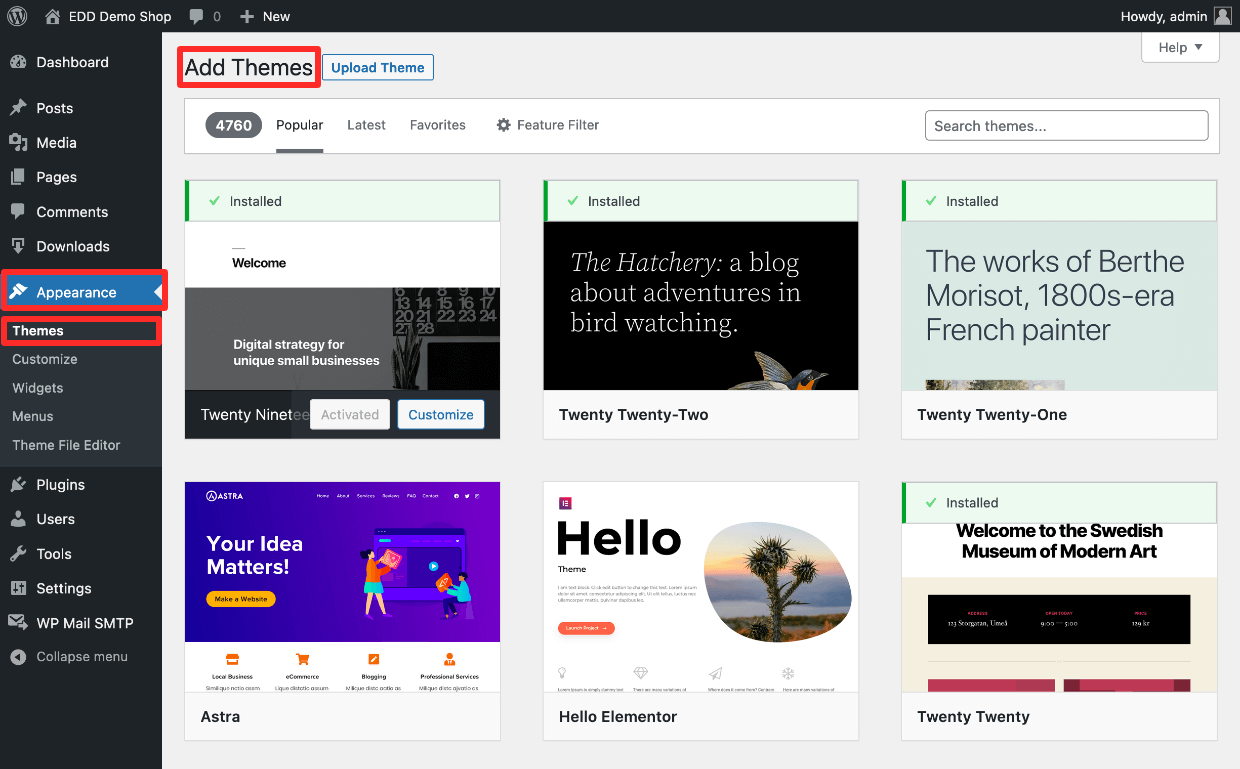 The wordpress.org theme directory is the official WordPress place for getting WP themes. You can also sell your theme at various theme shops or your website.
All themes on the wordpress.org directory are free. Many of them are 'freemium' themes.
Freemium Themes
Freemium means they have a free version, and you can pay for add-ons and more features.
The paid version of a freemium theme is called the premium version. Pay-only themes are called premium themes, or, premium WordPress themes. When searching about this topic, you'll want to try those terms.
Child Themes
A 'child theme' is a theme that inherits parts of its functionality and style from a 'parent theme'.
Sometimes if you want to customize a theme you make a copy, or child theme. Then, when you make changes, it won't affect the original theme.
You also make use of child themes if you build on a theme framework.
---
Is There a Market for WordPress Themes?

Yes! Totally. WordPress has grown a lot over the years. Currently a mind-boggling 43% of the internet is built on WordPress. No other tech has even hit 5% of the entire internet.
So the market is huge. There are TONS of websites out there and every single one of them needs a theme. So themes are very popular WordPress products.
That said, many WordPress experts consider the market crowded and competitive.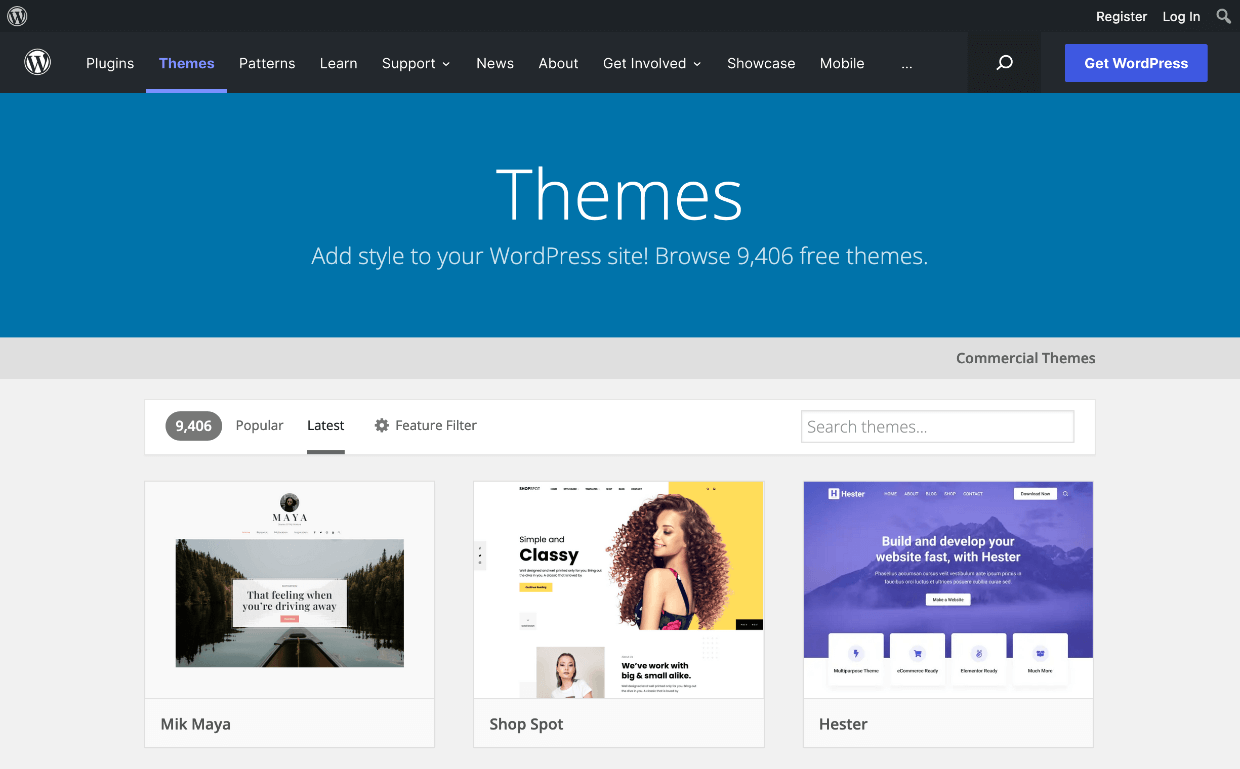 Anyone can enter the market with little upfront expense. This is good news if you are a beginner. But, also not good news, because you can bet that lots of other WordPress developers and companies that have already got started.
Getting Started in the Market
You can do it! We can help. Even a crowded market, especially one this huge, has plenty of opportunities.
💂 You just need to bring your A game. You need to focus on three things:
Building a great theme (code and visuals)
Finding an audience
Providing a way to sell and manage customers
Easy Digital Downloads (EDD) can totally handle #3 for you! EDD is trusted by more than 50,000 web developers, businesses, and freelancers to sell WordPress themes and other digital products.
⏭ Skip ahead if you want to get started. For free!
---
Where and How to Sell

There are many theme shops or theme marketplaces where you can sell your theme.
You can also list it on the wordpress.org directory. However, you can't sell your theme there. Those themes are free. You can use freemium pricing for themes listed in the wordpress.org directory.
Marketplaces / Shops
There are pros and cons to selling your theme on a marketplace or theme shop like Envato, ThemeForest, or Creative Market.
Let's think em' over.
| 🟢 Marketplace Pros: | 🔴 Marketplace Cons: |
| --- | --- |
| They have a relatively high amount of traffic. This can give you momentum and help you get sales. You can even use a marketplace to build a name for your products and build traffic to your own website. | Marketplaces have lower prices in general. Even if you make lots of sales, the amount of money you make may not be large. |
| You get a pre-qualified audience that's ready to buy. With wider reach marketplaces can provide you with potential customers who are want your product. | You have little or no control over your prices, Most marketplaces have guidelines for pricing that you must adhere to. You might not be able to set the price you want for your own creations! Even if they don't, the competition can end up dictating your price. |
| Faster than setting up your own website | The marketplace keeps a portion of each sale. The more you make, the more they take. This can really eat into your revenue! |
| | Competition can be extremely high. With so many sellers, it might be difficult to get noticed. You're also surrounded by competitors. |
| | Quality control can be lacking. Sometimes quality themes can get overlooked due to the sheer number of themes, and with so many multi-purpose themes – some with excessive bells and whistles (along with extra bloat) – specialized themes, or lightweight and bloat-free themes might not get the recognition they deserve, simply because they have less features (even if they are better themes!) |
| | Customer details belong to the marketplace. You may be unable to build a mailing list or communicate with your customers to help them succeed. |
| | They aren't your customers, they're the marketplaces customers. 🤔 |
WordPress.org Theme Directory
The pros and cons of the WP Themes directory are pretty straightforward.
| 🟢 WordPress.org Directory Pros: | 🔴 WordPress.org Directory Cons: |
| --- | --- |
| Lots of people visit the directory | You can't sell a theme there, all themes must be free. You can sell a freemium / lite version of your theme and try to communicate with them afterwards, but there is no established way to do this type of communication on the directory. |
| | Many visitors are looking for something free, and may not be willing to pay anything. |
Selling On Your Own Site
Let's look at the pros and cons of selling on your own WordPress site.
| 🟢 Your Website Pros: | 🔴 Your Website Cons: |
| --- | --- |
| You can make the most money when you own the platform! | You won't have an audience like the marketplaces likely do, you'll have to figure out how to get people to your site. |
| You have control over pricing | You are responsible for maintaining and securing your website (you can choose a managed web host to take care of all that for you) |
| No marketplace fees or revenue sharing | Setting up your own store is more work than simply listing on a marketplace or SaaS |
| Full control of the brand, marketing, voice, messaging | Building your own site will likely take more time |
| Communicate directly with your customers (and potential customers) | |
| Your downloads aren't surrounded by competitors and distractions like they are on a marketplace | |
| More in control of your overhead expenses | |
| Upsell and cross-sell | |
Even if it's a bit harder and takes longer to set up, many smart entrepreneurs know that selling on your own site is often the way to go.
It's really hard to build your own business on someone else's website.
⏭ Skip ahead to learn how to sell your plugin/s for free!
---
Current Trends in WordPress Themes

There are a few major trends in WordPress themes to be aware of as you decide what kind of theme to make and what kind of features to include.
Full Site Editing (FSE)
First is a big one; Full Site Editing (FSE). The WordPress core team is working to make every part of a website editable in a visual interface similar to the Gutenberg Page Editor.
Anyone with administrative access on their website and a compatible theme, will be able to edit their theme visually. This includes:
Headers
Footers
Sidebars
Page templates
Basically anything
In the past this was controlled by you, the theme developer, via the PHP, JS, CSS and HTML code you write. Now users will be able to edit any part of their site similar to how they draft a post.
FSE has been in development for a long time. It is currently in beta as of January 2022 when WordPress version 5.9 was launched.
Hardly any themes are FSE-compatible right now. You could consider making your theme FSE-compatible and having an edge over your competition.
Whether you want to make your themes FSE-compatible or not, it's a good idea to stay in the loop with what is and will be happening here. It could be the beginning of a big shift in how many users experience WordPress themes.
🔖 Bookmark WordPress.org News Page
Page/Site Builders
Page Builders and Site Builders are visual drag-and-drop tools for building WordPress pages or even entire themes.
They have their fans and haters in the WordPress ecosystem. But there is no denying they are extremely popular.
These Page Builders might be your competitor. Or there may be ways to integrate your theme with their platforms to expand your market.
Be sure to research some of the top page builders to consider what they mean to your business. Below is a short list with links.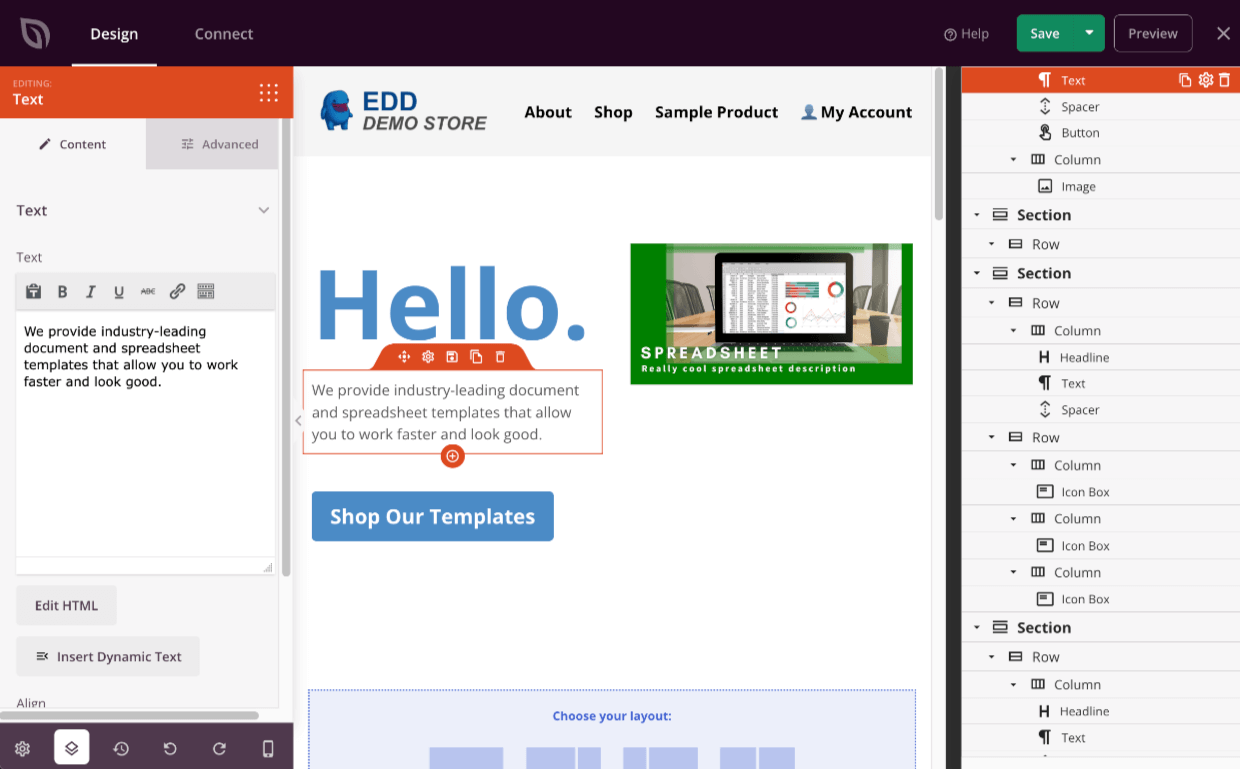 🔍 Check out this guide to Page and Site Builders on WP Beginner
Theme Frameworks
A theme framework is when you use a 'parent theme' and make a 'child theme' out of it.
The parent theme does a bunch of the heavy lifting. It defines a common set of bare-bones functionality. Then, you add the detailed styling with your child theme.
When you use a theme framework, the user, or your customer, has to install both the parent theme and your child theme that you are selling.
It's a complicated topic. Click here for a great article with more details.
The quick takeaway is that using a theme framework can help you get discovered and gain customers. That is, if you build on a popular framework with lots of fans and a good reputation.
Being on a framework also limits your creative and technical options.
---
How to Price Your Theme

There is no set way to price your themes. No guidebook. There are different factors to consider.
Understanding your target market is the first step, but how do you go about it?
Do Some Research
What themes are being used by your target audience?
What are the prices of those themes?
What features do they include, and how do your themes compare?
This can give you a sense of the general price range you're dealing with.
💫 Pro Tip: use IsItWP to see what theme a website is using
For example, you might find that high-end eCommerce shops tend to use themes with more advanced features and a sleek design (along with premium prices). You might see that themes designed for showcasing audio or video may call for a certain price point that reflects their special functionality.
Once you have a good first estimate after researching, reflect on your theme.
Reflection Questions
Is your theme of premium design quality? Does it stand up (and stand out) against the competition?
Is it niche-appropriate? Does it suit your target customer?
Is the market saturated? It may be more difficult to get people to pay higher prices when there are many other options for customers to choose from.
Is your theme lightweight and bloat-free? This can be extremely valuable in and of itself!
Does your theme have extensive features, or one standout feature that makes it unique? Advanced features, or simply the right combination of features can add to your price tag.
Is it highly customizable? Many people expect at least some degree of customization when they purchase a theme.
Is your theme multi-purpose or specialized? Multi-purpose themes cover a lot of bases and can be used in all different kinds of scenarios and applications, while specialized themes are designed to be perfectly suitable for specific niches.
Overall, the market for WordPress themes is very competitive. To make a lot of sales you have to consider WordPress customer expectations.

Larger marketplaces have made $30-50 one-time purchase costs normal. You'll find some as low as $20.
The range can extend upwards of $150-200 for premium or niche themes. $60-70 is a common mid-range price.
Add Value
Here are features you can use in your theme design to make it more valuable:
Select beautiful fonts that are up to date with current design trends, pair them in a way that is unique
Use high-quality, attractive, and clean graphic design

If you're not a designer, hire a freelance graphic designer to help

Make it user-friendly to make use of your theme, with both:

Easy visual customization tools like 'The Customizer' or 'Full Site Editing' and
How-to guides or Docs that explain everything clearly (many of your customers will not be experienced web designers)

Including landing page templates or even landing page builder functionality
Utilize Responsive Design to make sure it works on all devices (desktop, mobile, and tablet)
Make your theme compatible or integrated with other popular platforms. This can really help you stand out in the crowd. Popular platforms to integrate with for WordPress include:

Easy Digital Downloads
WooCommerce
BuddyPress
---
How and Why to Offer a Demo

Selling your themes isn't complete without a demo – and a live demo site is the most effective.
Live demos allow customers to experience your theme's features and functionality first-hand. You'll want to include live versions of different page templates and post types using custom demo content, as well as widgets, shortcodes, different customization options, and any standout features.
Here are some great examples of live demo pages from themes that we recommend on our themes page.
It's a standard practice to showcase a theme's responsive design by demonstrating desktop, mobile, and tablet displays.
---
How to Sell Themes with Your Own Website

Given the pros and cons of selling your theme on a marketplace, we recommend selling your own new WordPress theme on your own WordPress website.
This allows you to:
Have direct communication with the customer (and potential customers)
Create and control a unique brand experience
Provide support and updates to you customers
The best way to sell your own theme on a WordPress site is with Easy Digital Downloads (EDD).

EDD is one of the most trusted WordPress plugins ever created. It has a proven 10-year track record of empowering businesses large and small.
💻 Plugin Developers! – Making WordPress plugins? EDD is also perfect for selling plugins. It's trusted by tens of thousands of developers. Click here to learn more about selling plugins.
You can get started with EDD for free. This isn't a free trial, it's a free version. The free version includes:
Full control over pricing
Protected product files, only paying customers will have access to downloads
Shopping cart
Flexible checkout options
Discount codes
Customer management (basic CRM)
eCommerce reports
Stripe and/or PayPal integration
White label (full control over branding)
Get started now risk-free!
Using WordPress and want to get Easy Digital Downloads for free?
Enter the URL to your WordPress website to install.
Using Software Licensing
EDD is free to use and you can use it free forever. You can create your themes, archive them into a ZIP file and sell them with EDD. All for free.
However, if you want to be a successful theme developer, you'll likely want to purchase our Professional Pass.
A Professional Pass gets you access to two of our industry-leading extensions:
Software Licensing – for issuing, activating, and managing license codes
Recurring Payments – for setting up subscription billing for theme customers
It also includes more than 50 other powerful extensions!
Why Use Software Licensing and Recurring Payments?
Software Licensing handles the license codes. Set it up so customers must have an active license to get updates (and support).
Recurring Payments handles the subscription billing. Make it easy for your customers to pay for their annual license each year.
Why do this? 🤔 So you have resources to maintain your themes.
Well maintained themes = happy customers. 😀
WordPress is the most popular website builder, or CMS (content management system) in the world for many reasons. One, is that the Core team strives to make it backwards compatible.
I've worked with Joomla and Drupal sites over the years. Don't get me started about how often upgrades broke stuff and I had to rebuild things. 😡
WordPress is very methodical in their improvements. They make sure old sites don't get broken as much as humanly possible. This is a large part of its success.
But this is the internet. And the internet changes fast.
You'll need to occasionally make updates to your theme's code to keep it working for your customers.
Because of this, we recommend selling access to your theme as an annual subscription. This allows you to have regular income. That income allows you to dedicate time and effort to maintaining your themes.
Theme Support and Documentation
Be prepared to provide support! Even tech-savvy customers will have questions or need help.
Having a good support ticket system in place can be hugely beneficial – we like Help Scout.

If you want to cut down on your support requests, predict what your customers will need. Describe how to use it and troubleshoot common issues.
This is called documentation (docs).
The best themes come with quality online documentation that makes it easy for people to work with the theme. Docs should be thorough, easy to read, and easy to navigate.
You might even consider implementing a commenting system or discussion forum where customers can go to ask questions.

Remember: your audience is a source of knowledge as well. They can teach each other, and even you! This can take some of the support load off of you and your team.
Tips For Marketing Your Plugin
Here are some tips for getting discovered by an audience and making sales.
Start with What You Have (Your Blog)
Many small businesses look to sell ads on Google, YouTube, Facebook, or Instagram in the early days of their business. There is a time and place for ads.
But smart entrepreneurs know that the best first place to start promoting their products is using what they already have. Their blog!
You already have a blog! Or you should. It's free to set one up right on your WordPress site.
🔍 Click here for a guide on setting up a blog
Writing about your products on an ongoing basis allows people to find your site via organic search. Don't overlook this key marketing channel!
We suggest starting with your blog and building out.
✍️ Check out this article with easy ways to get started promoting your digital products on your blog
Choose a Niche
Consider making a theme that services a particular niche well. Targeting a smaller segment/niche in this big market can help you stand out. You could even have various versions of your theme customized for various niche uses.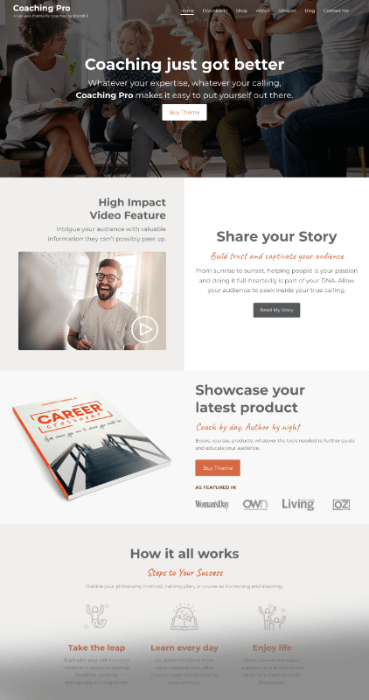 Here are some example niches to build themes for:
Bloggers
Copywriters
Business/life coaches
eCommerce (consider integrating them with popular WordPress eCommerce platforms like WooCommerce and Easy Digital Downloads, and WP Simple Pay)
Apps / mobile app showcases
Chefs, culinary, or recipe sites
Online courses or tutorial sites
When you have a niche, it's easier to reach a target audience. It's often faster and easier to write blog posts that are targeted. Targeted posts are more likely to show up when people use Google/Bing search.
Make a Free/Lite Version
Consider making a free or lite version of your theme. Make it available on the wordpress.org theme directory, which gets lots of traffic.

Then, have some theme options and add-ons that are only available in the premium version (paid version).
Ask Plugin Developers To Recommend You
If your theme integrates or is compatible with certain plugins, see if you can get a highlight and link from them.
We have a theme listing page with EDD-integrated themes we recommend. So does WooCommerce.
---
Bonus: You Don't Need a Theme For Selling Themes
Here's some good news. You don't need a theme to sell your theme/s.
Maybe you're a bit tired after all that coding and designing. And maybe your theme is very niche.
If that is the case we have themes for you! We have two free themes we make ourselves (Themedd and Vendd). We also have a little directory of EDD-integrated themes for you to consider.
🎨 Check out the EDD theme listing
Anything we can do to help! 🙌🏾
---
Conclusion
Nice work! You've learned how to sell WordPress themes. We discussed some of the pros and cons of the different ways to sell them. Best of luck as you continue to empower other WordPress users and build an online business or side hustle.
We have a bunch of resources for digital creators like you. What do you want to learn about next?
Be sure to follow us on Facebook and Twitter for more resources about selling digital products and WordPress.