---
Do you want to move your digital product off a marketplace to your own store? It's worth considering. This is a great way to increase profits and grow your business.
In this article we'll show you how to make your own online store. In the past this functionality required a developer or coding skills. But not anymore.
We'll show you how with no custom coding required!
Let's get started. We'll cover a lot. If you already know something, just skip ahead!
---
What Is An Online Marketplace?

An online marketplace is a website, or app, where customers can purchase products from multiple sellers or sources.
Popular marketplaces include Amazon, Etsy, or even eBay. Although eBay is not known for digital products, but they can be sold there as 'electronically delivered items' 🤨. If you are creating digital products (aka downloadable products, downloads, or virtual products) you probably listed on a marketplace for one of two reasons:
It was quick and easy
And because they can give you access to an audience quickly
There are many pros and cons of being in a marketplace. Let's look at them…
---
The Pros and Cons of Selling on a Marketplace

Selling your digital products via online marketplaces is great for many things, especially when you are a beginner. They're great for:
Establishing your product with an online presence
Building an audience
Testing out your product/s when it's new or an MVP (minimum viable product)
Most likely, eventually, there will be a time when you should go your own way. You can only go so far without your own website.
Going solo comes with many benefits, including more control over everything from marketing to pricing. You'll have more freedom to experiment with new products too.
Let's weigh the pros and cons.
Marketplace Pros and Cons
| 🟢 Marketplace Pros | 🔴 Marketplace Cons |
| --- | --- |
| Marketplaces already get visitors to their site. This may make it easier for you to find an audience (but there's no guarantee). | They take a cut of your revenue. The more you make the more they take. Plus you still also pay the credit card fees on most marketplaces. |
| It's easier to list on other sites than build your own website | Your customers are not your customers. The customers are the marketplace's customers |
| You may be able to build an audience more quickly | No direct communication with the customer. Often there is no way to follow up with 'your' customers after purchase, you may want to help them succeed (sometimes called onboarding) and won't be able to. |
| You can improve your new/MVP product with your first few customers | Upselling or cross-selling not available (or very limited, and not limited to your own products) |
| You can get help from a customer support team (at least in theory) | Your downloads are surrounded by competing products and distractions outside of your control |
| | No control over the customer experience (brand, checkout, look and feel |
| | You have to follow their terms of use, which can change at any time |
| | Many marketplaces have limitations on what prices you can charge |
From Beginners to Business Owners
You've likely noticed that the pros for marketplaces are good for beginners. When you're just getting started you want an audience, and may not care about profits and controlling the customer experience as much.
The cons of marketplaces become apparent as you begin to think like a business owner. Smart entrepreneurs know that you can't really build your own online business on someone else's website.
You're going to need your own online store to grow from a solo side hustler to a small business to a thriving eCommerce business.
In order to transition seamlessly, there are some important steps to keep in mind.
---
Do This First!

If you are on a marketplace and even just thinking about moving to an online store of your own you have to answer this question…
🛑How you will communicate with your customers ⁉️
In most cases the marketplace has already stacked things against you running your own online business. You may not have realized it.
Your marketplace has made it hard or impossible to have direct communication with your customer base.
You probably don't have their email address
They are likely not a follower on your social media
You have no way to contact them
With Etsy, for example, you are not allowed to contact a customer outside of the purchase process 😱. The only way to contact them is if you had them opt in to an email newsletter or mailing list at the time of purchase.
Build an Email/Contact List
It's crucial to keep the audience you've built as much as possible. After spending the time and effort, you don't want to start all over from scratch!
Most marketplaces don't allow you access to customer details. That's why we say your customers are not actually your customers on the pros/cons.
Check with your marketplace terms, FAQs, or support team to be totally sure.
1️⃣ The first thing to do is build a contact list. Now. Before you make your move.
Give current customers a reason to give you their email address. Offer them:
A free resource (called a lead magnet)
Discounts on future purchases
Loyalty points
Special resources just for customers
For example, Etsy sellers can give customers special offers (such as monthly coupons) for opting into a mailing list in the order notes.
Pro Tip: Don't just think about new customers, or current ones. Think about potential customers. It's good to build a contact list from those just considering your products as well.
Bridge The Gap With Social Media
2️⃣ The second thing to do is use of social media.
If you haven't expanded your brand to social media channels, you should. You are and will be missing out on a lot of opportunities.
Plus, if you are moving to your own store, social media is even more important. It's a bridge to cover the gap as you move. It's part of your stable foundation.
Facebook, Instagram, Twitter, LinkedIn; these platforms provide a home for your brand — before, during, and after the move.
All through your transition, social media apps are reliable places to make announcements. You can inform your audience about what's going on and what they can expect from you in the future.
Plus, if you don't have access to customer details, if your marketplace is a closed-down place, social media gives you a lifeline. It might be the only place you can reach people.
We have to point back to #1 above now. Having an email contact list is essential. Many entrepreneurs would argue it's more important than social media.
Just because someone follows your social media account doesn't mean they'll see your post in most cases. Emails are more likely to get the message through.
Keep It Consistent
Don't forget: It's important to be as consistent as possible across all platforms. Make sure your logo and colors are the same on your social media profiles, your marketplace profile, and your (new) ecommerce site.
Lot's of beginners overlook this. It's important to keep a cohesive brand that doesn't confuse or disorient your audience as you move.
---
Coexisting (And When To Do It)

Should you stay or should you go? Sometimes neither.
It can be a good strategy to do both! We call this coexisting. There's no law that says you can't haul in online sales on both your own site and a marketplace.
🚨 Remember, some marketplaceS do require that you only sell on their eCommerce platform. If that's the case you can just sell a different version of your product/s.
When should you coexist?
As you transition to independence. While you are getting your domain name set up, established on search engines, and developing your marketing strategy.
While you're first building your brand. Marketplaces can be helpful in getting brand recognition.
Permanently Coexisting
It may make sense for you to sell products in both places for the foreseeable future.
Do you have lots of different products? Consider offering only a small selection on the marketplace, and redirecting to your online store for the full catalog.
Is there a path for upselling or cross-selling other products? Provide a way to get started in both places, while upselling or cross-selling on your website, possibly with discount codes.
---
Prepare To Move/Migrate

Similar to moving to a new home, moving your brand requires some preparation. You can't just pick up and leave. If you do, it will probably be a mess, don't expect perfect results!
Communicating with your customers
It can be tricky to notify your marketplace customers that you're opening your own store. This is because you're kinda taking business away from the marketplace.
As we discussed, the marketplace may have already stacked the deck against you by making direct communication with 'your' customers hard or impossible.
However, if you've built an email marketing list and/or grown your social media following, you'll be in a good position.
To make the transition from marketplace to store smooth and seamless, send notifications to customers about what's going on before the switch.
For example, you could send a newsletter to your mailing list in order to:
notify customers that you're moving to your own store (and when),
inform them that customer support, refunds, and other questions will be handled entirely through your website,
let them know where else they can find you (social media, etc.), and
explain any incentives you're offering for purchases on your new store (consider discount codes)
Make sure you have a website, or at the very least a welcome/landing page set up. Be sure to update your marketplace profile so that all links are going to the right place.
Pro Tip: Use SeedProd on your new website. SeedProd has great tools for making an attractive landing, welcome, or coming soon page. Then, when you're ready, they have an easy-to-use drag-and-drop full website editor. You can make your own theme and beautiful product pages with no code!
---
How to Build Your Own Digital Store


The best way to build your digital ecommerce store is WordPress and Easy Digital Downloads (EDD).

Why WordPress?
WordPress is the best website builder in the world. It powers more than 43% of the internet. No other web technology platform has even got to 5%.
You can trust it to be your eCommerce platform and more. That 'and more' part is important. You never quite know what you'll need your website to do in the next year or few years.
WordPress has the largest ecosystem of themes (templates), plugins, and professional service providers of any other platform. You can trust that it will be able to grow and adapt to whatever your business needs…now and in the future.
Control and Freedom
You also have full control and freedom over your data with WordPress. Some platforms and marketplaces are closed. They limit what you can do. Not so with WordPress. WordPress is open source, the platform and any data you put into it is yours to use however you like.
🤷🏾‍♂️ Don't have WordPress. No problem. You just need a good web host. Click here for a guide on choosing one. There are discount codes too!
Why EDD?
EDD is one of the most trusted WordPress plugins available. More than 50,000 businesses, big and small, rely on it for selling online.
We use EDD too! Easy Digital Downloads is a powerful way to build a full featured ecommerce website…without any code!
Why Not The Other Ecommerce Platforms?
There are many ways to do online shopping. The downside of many other websites, services, and platforms is that they are not designed from the ground up to sell digital downloadable products.
WooCommerce, BigCommerce, and Shopify are powerful platforms. But they are physical stores not digital stores. They are designed for physical goods first and foremost. In some ways selling digital products for them is an afterthought.
You'll waste time setting up shipping, logistics, and inventory tools you don't need. Some solutions even require paid add-ons to sell digital or virtual goods.
Not so with EDD.
EDD is purpose-built for digital creators. It lets you get started selling your digital products for free.
EDD has a free version, not a free trial.
Here's what the free version includes:
Protected product files, only paying customers will have access to your digital downloads
Full control over pricing
Full control over the customer experience and branding (white label)
Shopping cart with payment options
Flexible checkout options
Discount codes
Customer management (basic CRM)
eCommerce reports
Stripe and/or PayPal payment gateway integration
Get started now with no risk whatsoever.
🏎 Check out our quick start guide. It covers:
Installing EDD
Creating product pages (called 'downloads' in EDD)
Getting payments set up with Stripe
---
How to Move/Migrate Your Digital Store

If you have a lot of products to move over from your marketplace, we have two great options for you.
Use EDD's Built-in CSV Import Tools
EDD has a way to mass import payment history and products/downloads!
After you have installed EDD, look on your WordPress dashboard under Downloads > Tools > Import/Export.
Click on the Import CSV buttons and you'll be guided through the import process.
🤓 CSV stands for 'comma separated values' it's a file for transferring data between apps or spreadsheets. You can open a CSV in Google Sheets or Excel.
Where Do I Get A CSV?
🎲 This could get dicey. Some marketplaces don't want to give you any controls or freedoms. Your data may be locked away from you. WordPress is the opposite, which is why it's so powerful and appealing.
Check your marketplaces documentation. Buried in their menus or settings, somewhere, they likely offer a CSV export option.
For example, here is the link for downloading your listing information on Etsy.
Take the CSV file your marketplace vendor provides and use the Import CSV button described above. We'll walk you through it from there on your WordPress dashboard.
Use LitExtension
Have lots of products to transfer? Don't have time to bother with CSVs? Can't get a CSV from your marketplace vendor?
There's almost always a way. And LitExtension can find it.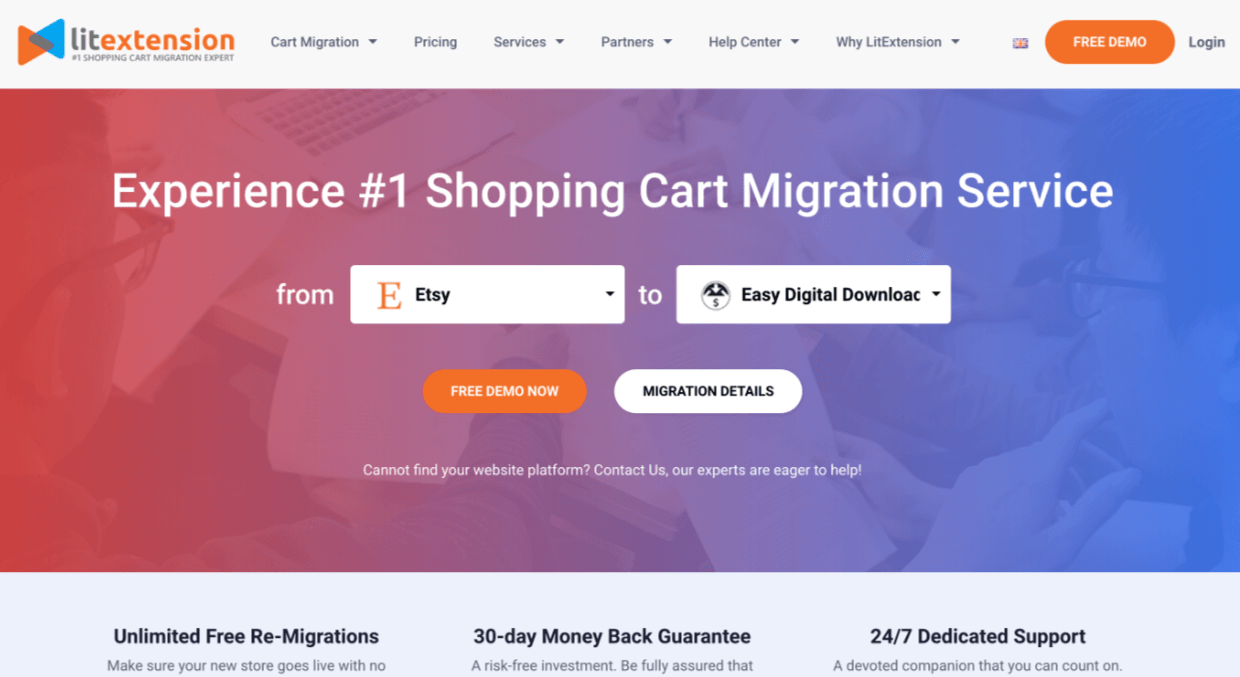 LitExtension's Cart Migration Service has been used to migrate more than 200,000 ecommerce stores. They integrate with more than 120 platforms.
We've worked with the team to get Easy Digital Downloads working with their systems.
Migrating from Etsy to EDD starts at $118! That's if you have 100 or fewer products, orders, or customers (entries) to move over.
New Responsibilities
Now that you're moving to your own store, you're going to have a few new responsibilities.
We've written about a lot running a digital product store. You may want to check out our articles on the anatomy of a store, or accepting credit card payments, or pricing your products, and maybe even choosing a business model.
Here are some things to keep in mind. Things that your marketplace may have taken care of.
Taxes
The laws for digital product taxes are constantly changing. Check with your local government for specifics. We also have articles about digital product taxes and dealing with EU VAT.
Terms and Conditions
In order to protect yourself, your customers, and your products, you're going to need a set of terms and conditions on your website. If you're not sure how to go about this, you can either hire a specialist to do it for you, or copy the format from an existing digital product store and modify them to fit your needs.
A Refund Policy
Whether or not you decide to offer refunds, you should have a clear refund policy in place. Learn more about refunds for digital products here.
Pro Tip: Consider using a service that writes and keeps your terms and policies up to date for you. We recommend Termageddon. Learn more about writing policies here.
Site Management
Easy Digital Downloads and WordPress make managing an eCommerce website as easy as possible. As time allows, learn more about site security and site performance on our blog.
Support
Be aware that you'll now be responsible for supporting your products and responding to customer questions. Want to know how to be amazing at customer support? Check out this post.
Protecting Your Products
No worries here! EDD has you covered. If you want to be more in the know, read our article about protecting your digital products.
Helpful Articles
It might be more work, but you get to keep more money when you run your own store.
Here are some articles from one digital creator to another. We know you'll find them helpful.
Remember we use EDD too. And we run a digital store on WordPress just like you're about to be doing. We're in this together. 🙌
---
Marketing and Promotion Tips

Remember, the biggest thing going for marketplaces is that they, most likely, have traffic coming to them.
Your first challenge will be getting traffic to your site. No traffic, no sales.
Here are some tips, fellow creators. 💪
Um, Blog, Totally
If you do as we suggest and use WordPress and Easy Digital Downloads, don't forget you also have a powerful tool ready and waiting…your blog!
🎉 WordPress is the best blogging platform!
Why blog? It's a proven way to get your target audience to visit your site. Write optimized posts (SEO – search engine optimization).
What do you blog about? Your product! You are passionate and knowledgeable about helping solve people's problems. That's why you're making downloadable products.
Online shoppers search for solutions to their problems. So talk about how you can help them. Don't be too salesy, but if your product can help them, tell them about it!
Blogging Works
We reduced the amount of blog posts we were writing in early 2021. Our traffic tanked. We're back at it – with the help of All In One SEO – and we've hugely increased traffic to our site!
Do A Giveaway
Moving from a marketplace to your own store is an exciting moment. Invite your customers to celebrate with you.
Generate some excitement with a giveaway. There's an app plugin for that. Check out RafflePress to make it easy to do a giveaway or contest.
This is a great way to get more website traffic, grow your email/contact list, or even get social media followers.
Make The Most Of Every Visitor
The sad fact is, on most sites, 70% of visitors stop in for a few minutes and leave forever.
Consider using conversion optimization software like OptinMonster.
Increase the amount of visitors that convert to paying customers or email list subscribers. You do this by displaying relevant offers with pop-ups, sliders, or floating bars at the top of your website. OptinMonster uses exit-intent technology.
Exit Intent is detecting when someone is about to leave your website and displaying a special offer before they go.
More than 1.2 million websites use OptinMonster, including ours! They have thousands of jaw-dropping success stories.
Give Away Lead Magnets
Lead Magnets are free resources you give away in exchange for a site visitor subscribing to your email newsletter.
They are a proven way to grow sales.
🧲 Check out our guide on creating lead magnets with EDD
Offer Discounts
Get current customers active on your new site by giving them a compelling reason to visit. Offer a discount code. Consider making it a limited-time offer.
This can help you get things started, and also helps Google and Bing 'see' (crawl and rank) your possibly-new website.
If you already know who your biggest spenders are, you could offer them exclusive discounts for making purchases on your new site. You could also offer site-wide limited-time discounts, or special free bonuses for existing customers or first-time buyers.
🎟 EDD has discounts built right in. Learn more about using them.
Consider Pricing Changes
You can also take this opportunity to rethink your pricing.
Your marketplace may have forced you into their pricing limits
You no longer have to worry about (or pay) their fees
Keep your prices the same — taking advantage of that extra income that will no longer be deducted by the marketplace middleman fees. Or, it might be wise to lower your prices to get the sales coming in. You still stand to make more profit.
Consider how to bundle your products. Now that you have full control over everything! Learn more about product bundles here.
---
Conclusion
Good work! You've learned how to move from a marketplace to your own digital store. We've looked at pros and cons and strategies.
🛒 We're confident setting up your own storefront with EDD can help you succeed with your business and empower others!
We have a lot more resources for digital creators like you. What do you want to learn about next?
Be sure to subscribe to our newsletter or follow us on Facebook and Twitter to get our latest resources for digital creators.