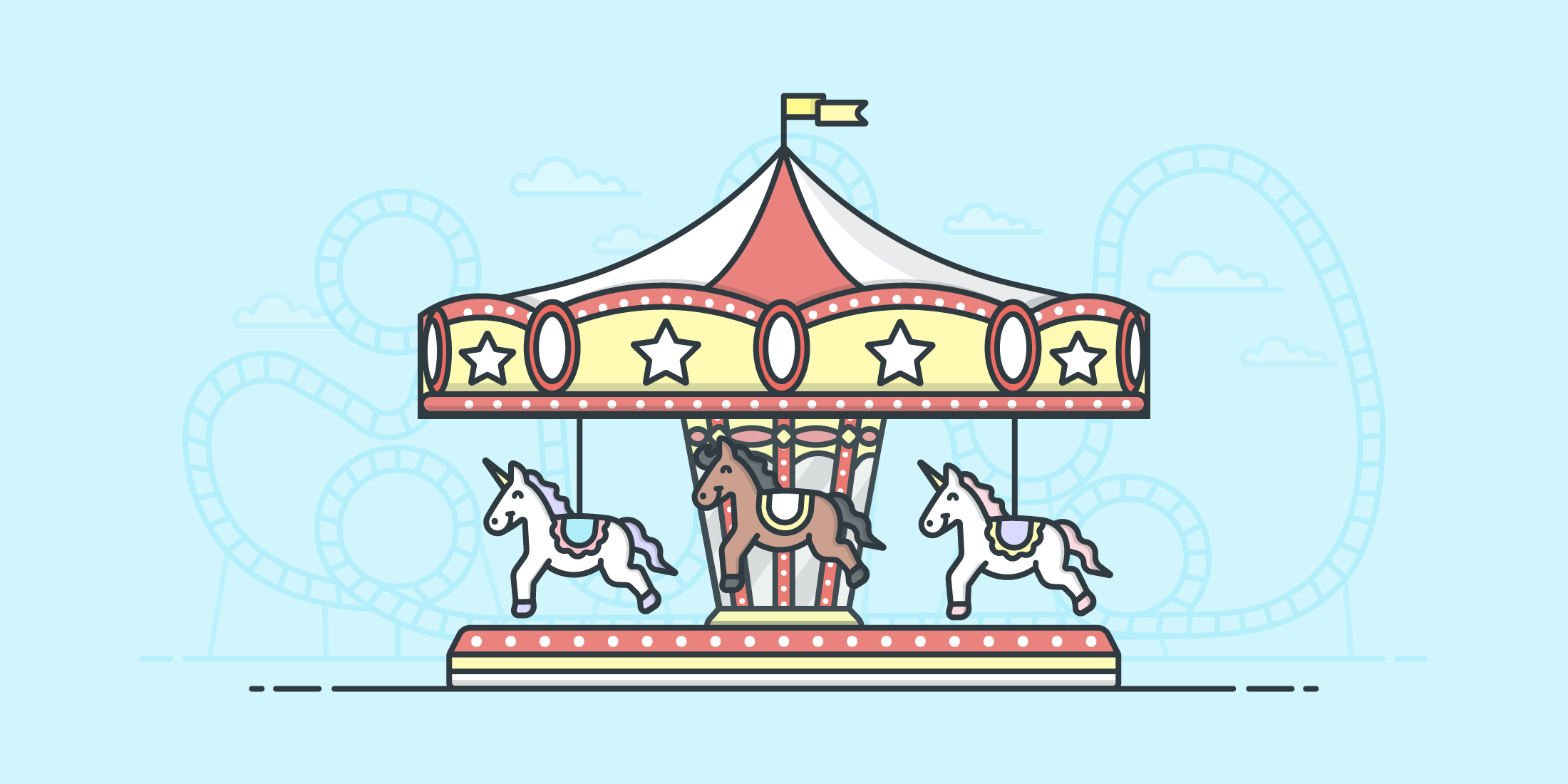 Whether you run your own digital product store or some other type of business, going your own way can be a roller coaster ride – there's no doubt about it!

Common difficulties of working for yourself include things like the pressure of increased responsibility, social isolation, the expectations of your friends and loved ones, as well as all of the creative and technical elements that go into making a business work. But it's more than that; consider things like variability in sales, new trends, tools, and industry methods, plus a constantly evolving eCommerce landscape with new rules and regulations popping up (or changing) all the time.

It can be quite a challenge to keep your head straight through all of this!

Never fear – in this post, we've put together some of our tips for staying inspired through the highs and lows of entrepreneurship.
Make products you need
Necessity is the mother of invention.

English proverb
As an entrepreneur, one of the biggest ways to guard yourself against disappointment is to make products that you actually need yourself. This isn't just because you want to avoid the feeling of failure, per se; it's because creating things for yourself means that there's always a positive outcome, regardless of your sales performance.

Now, that's not to say you shouldn't pay attention to lulls in sales, or that you shouldn't be concerned about money at all. Rather, it's the idea that when your business is born from your own needs and desires, you benefit no matter what. Plus, solving your own problems first shows your customers that your products actually work.

This strategy makes the whole process of creating and running your business a lot more organic for you as well, and gives you a more personal investment to hold onto during the more difficult times. If your investment is purely financial, your outlook tends to be tied to your financial success alone.
Keep daily inspiration on hand
Running your own business can use up a lot of your ideas and energy – and if you want to be able to withstand the highs and lows, it helps to find ways to replenish those things.

Daily inspiration can help. This can be anything from blogs and podcasts, to Pinterest boards and YouTube playlists. Whatever you prefer, curate a collection of materials that get you moving, calm you and help you focus, or provide you with some kind of inspiration.
Here are a few examples:
A YouTube playlist of videos that motivate you. Talks and speeches by people you admire and want to emulate are useful when you need a boost. Look for strong entrepreneurial role models who are action-oriented, accomplished, and have made an impact beyond just pure financial gains.
Music that helps you get in "the zone". Ambient or repetitive music that doesn't have vocals or loud elements can be helpful for focus and concentration.
Subscriptions to niche or industry newsletters and blogs. New developments, news, and interesting content can give you new ideas and spark your motivation. There are also sites like Hacker News, which is often years ahead with content relevant to entrepreneurs, and Product Hunt, which is helpful for staying up-to-date on the latest new and notable products.
Plug into your community
When things get hard, having a support system can be everything. When you have people that you can relate to, you at least feel like you're not alone in your decisions and struggles.

Plus, getting involved with communities centered around entrepreneurship, maker culture, small business, etc. gives you access to more resources, and a place to learn, ask questions, and find successful people to emulate.

Discussion groups are great places to challenge your ideas, and they provide a safe place to brainstorm, express new ideas, and get feedback from like-minded people. Networking events and niche meetups can also be especially good for holding you accountable to your goals and promises, and helping you find what entrepreneur Chris Guillebeau refers to as your "small army" of colleagues and supporters.

If you want to take over the world, or at least change it in a positive way, you're going to need an army to back you up. Your army does not need to be large, nor does it need to consist of full-time troops. Some of the best armies are purposely lean on bodies, but never on overall commitment to the cause.


Chris Guillebeau (The Art of Non-Conformity)
You can find meetup events, discussion groups, and professional groups and events on Meetup.com, Facebook, and LinkedIn, for reference.
Don't forget about your family and friends! Take note of the people in your life who lift you up, the ones that motivate you, as well as those who will be real and honest with you, no matter what. It's good to know who's available for different purposes. Sometimes we just need to vent or be comforted; other times, we might need some tough love.
Also, living the entrepreneur life isn't easy, and some people might not relate to your struggles. There's no shame in limiting your time to the people who inspire you the most, or customizing your social life in the way that works for you. For example, if you're used to saying 'yes' to specific events or certain people that tend to leave you feeling drained, or take up too much of your time, maybe it's time to practice saying 'no'.
Create more structure
One of the more difficult things about entrepreneurship is staying on top of everything yourself – but if you can bring some structure to your creative, technical, and business processes, it can help ease that burden.
Here are a few tips:
Automate anything you can. Use tools like Zapier to create automated workflows that free up your time and energy.
Answer emails at routine times of the day, instead of checking every push notification.
Set reminders and alarms, so you don't have to worry about remembering everything.
Use productivity tools like Trello, Basecamp, and GSuite to organize and manage your projects and schedules.
Make running lists of your goals, To-Dos, ideas, and problems that need to be solved.
Set specific goals and delegate tasks accordingly. Vague or unspecified priorities lead to stalled projects, inefficiency, and waste.
Don't be afraid to hire a virtual assistant or freelancers to help you out with tasks that overwhelm you. If something is causing you a lot of stress, outsourcing it might be worthwhile!
Think about anything you can do to systematize, automate, and simplify your business; we even wrote a post about productivity for digital product creators over here. You can apply some of the same principles to your life outside of work, too!
Be conscious of your work-life balance
While it's true that greatness requires a lot of sacrifice, at the end of the day, you're only as successful as your health and happiness. That means different things to different people, but there are some common concerns to think about.

If your goals require you to work long hours and you can't afford to hire help, for example, you may not be getting adequate sleep, relaxation, and stress relief. Your health can take a serious hit in this situation.

It's important to create a plan that will eventually allow you to step back a bit and address your wellbeing, but in the meantime, you can do certain things to mitigate negative effects. Remember, a healthy body is a healthy mind; your brain is an organ, after all!
Regardless of where you fall on the work/life balance spectrum, here are a few ideas to consider:

Take regular breaks, even if they're just for a few minutes each. Get up, walk around, stretch, or just close your eyes. At the least, break every few hours, but getting out of your chair once per hour is ideal.
Stay hydrated. Keep water on hand at all times. It's easy to get so involved in what you're doing that you forget to eat, drink, or take bathroom breaks. If this is relatable to you, consider setting reminders so that you're prompted to do these things at certain times.
Sign up for a meal delivery service, or prepare meals in advance, so you don't have to think about what to cook or resort to ordering unhealthy food, or grabbing whatever is convenient at the last minute. Some people find meal replacement shakes and bars useful for this reason.
Get a standing desk, so that you can avoid the physical costs of sitting – even consider a treadmill desk, so you can get adequate exercise while working.
Design an environment that you find comfortable and conducive to your productivity. This can include things like an ergonomic chair, ergonomic peripherals (mouse, keyboard, etc.), and better monitors, for example. Acknowledge the things that make you happier while you're working, and try to accommodate them.
Keep your workspace as uncluttered as possible to reduce chaos in your environment.
If you have the budget, schedule home cleanings. It's one less thing to stress about!
Once you get to a point where you have stable turnover, you can focus on making up for the stress, long hours, and any other health effects. Scheduling in vacations or dedicated time away from work where you completely unplug can be especially important.

Physical activity and rejuvenation are also essential if you want to counteract the effects of the entrepreneurial lifestyle, which often includes a lot of sitting, many hours looking at computer screens, etc. Join a gym, take an exercise class, or engage in some other activity you enjoy.
Whatever gives you an outlet for discharging stress and pent-up physical energy is a good thing. Need a punching bag? We're not judging!

Keep track of your gains
Right in the midst of a low point in your journey as an entrepreneur is when you're most vulnerable to forgetting all of the progress you've made and getting down on yourself. To avoid this potential spiral, keep track of the positives – gains, wins, accomplishments, positive feedback – so you have something reassuring and inspiring to refer to when you need it most!
You could create Pinterest boards, vision boards, frame and hang your accomplishments on the walls of your office, or enlist the help of a friend to remind you of all the good stuff. Nothing is too silly when it comes to finding a way to keep your head in the game.
Forgive yourself
Most of all, you can't be expected to be perfectly motivated, inspired, and happy all of the time – and that's okay. You're human! Know that you're not alone when it comes to experiencing the highs and lows of entrepreneurship, and forgive yourself for experiencing negative emotions and frustrations.
Modern digital life paints a picture that everyone has perfect lives and is doing perfectly well, yet society shows signs of being more disconnected than ever. It's good to have high standards for yourself – just remember that you're probably doing better than you think!
What has helped you the most as an entrepreneur? We'd love to hear from you. Drop us a comment below!
Illustration by Jessica Johnston.