---
Do you want to learn how to sell files online? It's a fantastic idea!
Selling digital files online can be a lucrative and efficient way to monetize your content and products. It's also an excellent opportunity to package up your unique skills and knowledge to help others.
Leveraging the power of e-commerce and technology, you can expand your reach, reduce costs, and grow your business. In this article, we'll show you how to easily sell your files online with WordPress. We'll also compare some pros and cons of other platforms.
🔎 In this article, we'll cover:
Why Sell Files Online?
In today's digital age, selling digital files online has become an increasingly popular way for creators, entrepreneurs, and small businesses to monetize their content and products. Unlike physical products, you can sell files online and distribute them globally with ease, without the need for expensive shipping and handling costs.
It can be a great way to generate additional revenue streams. By creating and selling digital products like eBooks, online courses, software, and other digital downloads, you can tap into a new source of income that has the potential to be highly profitable.
If you sell files online, you also eliminate many of the costs associated with producing and selling physical goods. There are no manufacturing or shipping costs to worry about, which can significantly reduce your overhead expenses.
Online selling also offers a ton of flexibility. You can easily update and improve your digital offerings over time without having to produce and distribute new physical products.
Unlike traditional retail, e-commerce doesn't limit you to physical proximity. You can use your online store to reach customers anywhere in the world and expand your market beyond the limits of a physical storefront.
Where Can You Sell Files Online?
There are two main types of solutions you can use to sell files online. One is to use a Software-as-a-Service (SaaS) platform. The other is to use a self-hosted website.
SaaS vs. Self-hosted Platforms
SaaS platforms, like Shopify and Wix, are cloud-based software services that let you use the apps via the web. In other words, you don't need to install or manage the platform yourself. Hosting, maintaining, and updating the platform is handled by the SaaS provider.
One of the key advantages of this option is that it can be a quick, user-friendly, and relatively cheap way to create an e-commerce shop. However, there are a handful of limitations and downsides compared to using a self-hosted website like WordPress.
With a SaaS platform, you have limited control and customization options. With a self-hosted website like WordPress, you have complete control and can customize it in any way you want.
Another consideration is pricing. SaaS platforms usually have monthly fees. You may need to pay for additional features or services. A self-hosted site can be more cost-effective in the long run. WordPress itself is free to download. You only need to pay for hosting and any premium plugins or themes you may want to use.
That said, if you are considering a SaaS platform to sell files online, you have a handful of options to choose from. Below is a comparison of some of the most popular ones.
SaaS Options to Sell Files Online
SaaS Platform
Free Version
Pricing 💲
Pros 🟢
Cons 🔴
Sellfy
✅
Not for digital products
$29-$159/month
Provides a storefront if you have no website
No software licensing tools, free version doesn't do digital products, has sales caps in each tier
SendOwl
✅
$15-$39/month
Sell digital products & physical products as well as content/memberships
Each pricing tier has a limited number products
Shopify
✖️
$29-$299/month
Designed primarily for physical products; offers point-of-sale
Selling digital files requires an add-on;
BigCommerce
✖️
Requires custom quote
'Headless' solution can work on WordPress sites and other sites, designed for larger businesses, also offers point-of sale (retail)
No software licensing tools
Gumroad
✖️
10% flat fee
You can use their storefront builder or embed on your own website
They take 10% of sales
SquareSpace
✖️
$23-$65/month
A website builder that can also sell products
You pay monthly fees and 3% per-transaction fees on base plan, not designed primarily for selling files, no software licensing tools
Wix
✖️
$16-$45/month
A website builder that can also sell products
Not designed primarily for selling files/digital products, no software licensing tools
Why Use WordPress to Sell Files Online?
WordPress is a powerful platform for selling digital files online because it offers a lot of flexibility, control, and customizability.
WordPress powers more than 40% of websites on the internet! It has the largest ecosystem of themes, plugins, web hosts, and service providers in the world, by far. You never really know what you'll need in a few months or years, but you can trust that WordPress can handle it. It's also free!
Using WordPress + EDD to Sell Files Online
The best WordPress plugin to use to sell files online is Easy Digital Downloads (EDD). It's one of the most trusted e-commerce plugins in the WordPress ecosystem and powers more than 50,000 e-commerce sites. Unlike other plugins, EDD is designed specifically for selling digital products and files.

WordPress + Easy Digital Downloads is a cost-effective solution for creating an online store. Both the core WordPress software and EDD plugin are free. You also have the option to upgrade to a premium plan for additional extensions or features.
While starting your own website may seem daunting for beginners, EDD makes it easy. The user-friendly interface allows you to upload files, set prices, and manage sales with ease.
WordPress + EDD is also highly customizable, with many themes, plugins, and extensions available. This means you can create a store that looks and functions exactly how you want it to.
EDD + Alternative WordPress Plugins to Sell Files Online
However, there are a handful of other popular tools you can use with WordPress to sell files online. Below is a brief comparison.
| WordPress Plugin | Free Version | Pricing 💲 | Pros 🟢 | Cons 🔴 |
| --- | --- | --- | --- | --- |
| Easy Digital Downloads | ✅ | $199-$999/year | Focused on selling digital files, powerful software licensing tools, unlimited products | Not ideal for physical goods |
| WP Simple Pay | ✅ | $99-$599/year | An easy way to sell a few products or services with Stripe, with no checkout process or shopping cart | Not designed for selling lots of products |
| MemberPress | ✖️ | $179.50-$399.50/year | Great for membership sites, subscription content, or online courses (with quizzes) | No free version or free trial |
| WPForms | ✅ | $99-$599/year | A powerful form builder that you can also use to create order forms for selling a few items | Not a full-featured eCommerce store, not well suited for selling a large amount of products |
| WooCommerce | ✅ | Varies by extension | Very popular and well-supported, customizable with lots of extensions | Designed primarily for physical products |
How to Sell Digital Files Online With WordPress
Ready to get started? In this step-by-step tutorial, I'll show you how to sell files online with WordPress and Easy Digital Downloads.
Note that we'll assume you already have a WordPress site set up.
Don't have a WordPress site?
Step 1: Install Your eCommerce Plugin
The first step is to download and install your e-commerce plugin. We'll be using Easy Digital Downloads.
There is a free version available. However, to get the most out of EDD, I recommend upgrading to the Pro version or a paid plan. Learn more about EDD Free vs Paid.
Once you choose a pass, go to your account area to download the Easy Digital Downloads plugin. Then you can upload it to your WordPress dashboard under Plugins » Add New » Upload Plugin » Choose File:

If you've never installed a WordPress plugin and need help, here is a great tutorial.
After you install and activate the plugin, a Downloads menu item appears on your WordPress admin: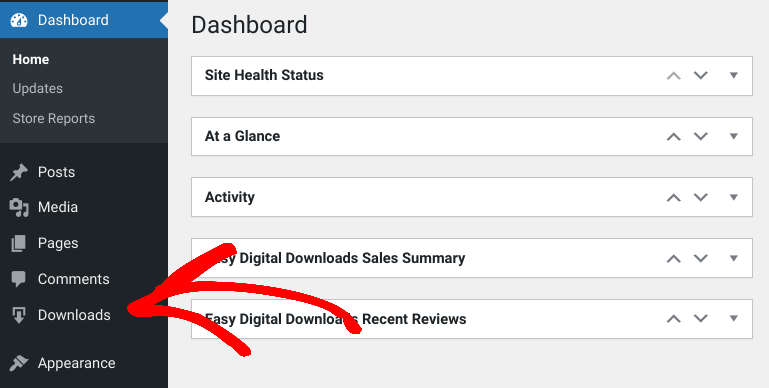 You can go to Downloads » Settings to begin setting up your store: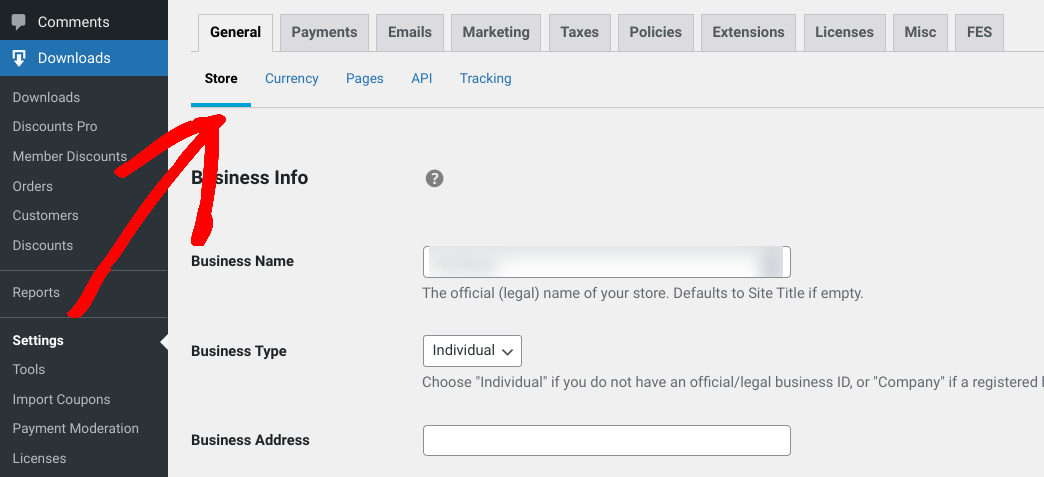 This is where you can enter basic business details, currency, etc. For more detailed guidance, check out our EDD Quickstart guide.
eCommerce without limits!
That is our promise. Most eCommerce solutions limit your creativity
…not Easy Digital Downloads!
Step 2: Connect a Payment Gateway
The next step is to connect a payment method so that your customers can purchase your file. To start, you can go to the Payments tab: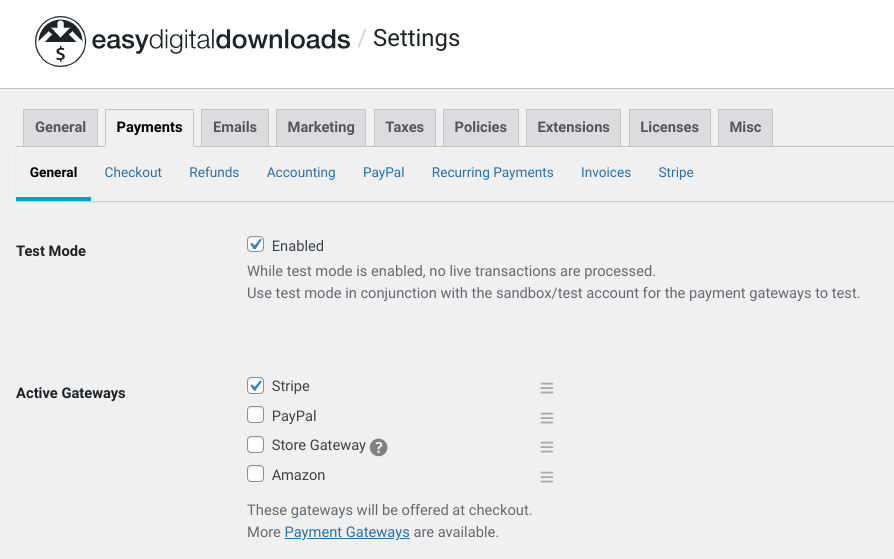 We recommend Stripe to accept credit card payments on your website. It's easy to use and has great features. You can even add buy-now buttons with Apple Pay and Google Pay.
Click here for quick step-by-step guide for setting up Stripe
If Stripe is not available in your country, we suggest PayPal as another great option. Or check out one of our other many payment gateways (some of these require an Extended Pass).
Step 3: Add Your File as Digital Product
After you install EDD and connect your payment method, you can add the file you want to sell.
From your WordPress dashboard, hover over Downloads and click Add New: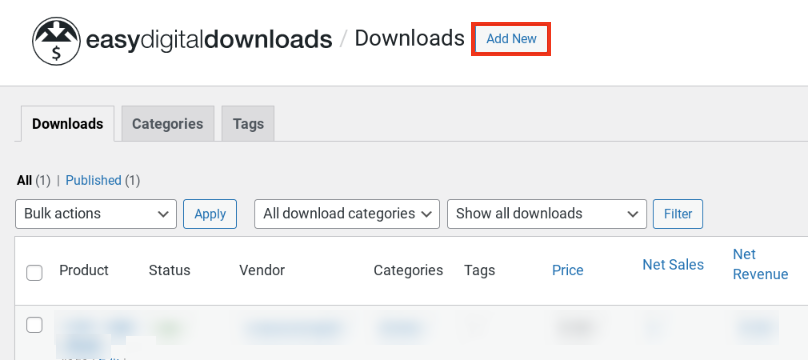 Next, you can give the Download a name/title and add a description:
You can add the amount to sell the file for under Download Prices.
Now, we need to configure your Download Files. This is the file link that the customer will be given after purchase: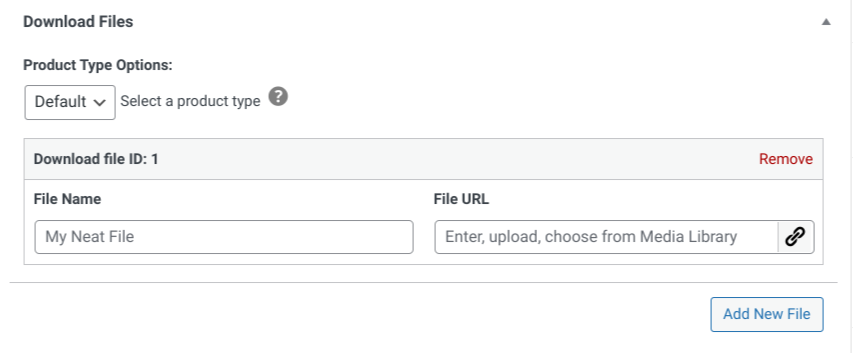 First, under File URL click Upload a File and upload your file. It will automatically be protected from search bots and unauthorized file downloads by non-customers.
Second, under File Name, enter a phrase that describes the product/file. It can be the file name or even something like 'Download now'. This is the clickable link text that will be used on the confirmation page and email.
Finally, you can add a Download Image: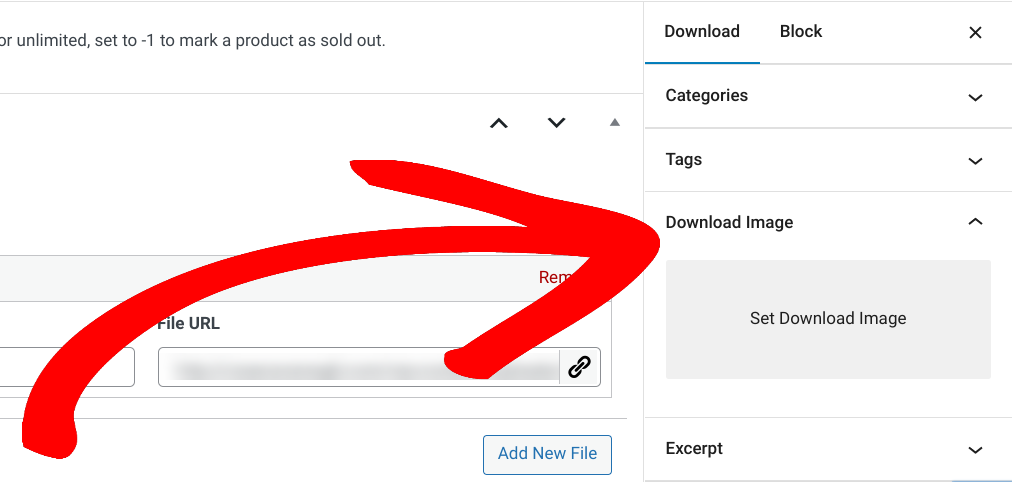 This is the product image that potential customers see when shopping. For help, you can check out our guide on making good images (it includes Canva, Photoshop, and Affinity templates!).
Step 4: Promote & Sell Files Online
Once you're done, you can click Save draft/Publish to push your file product live. Then you can select View download to see how the product page looks on the frontend of your website:

Your site will look different depending on your theme. EDD works fine with any theme. Click here for suggested and free theme options.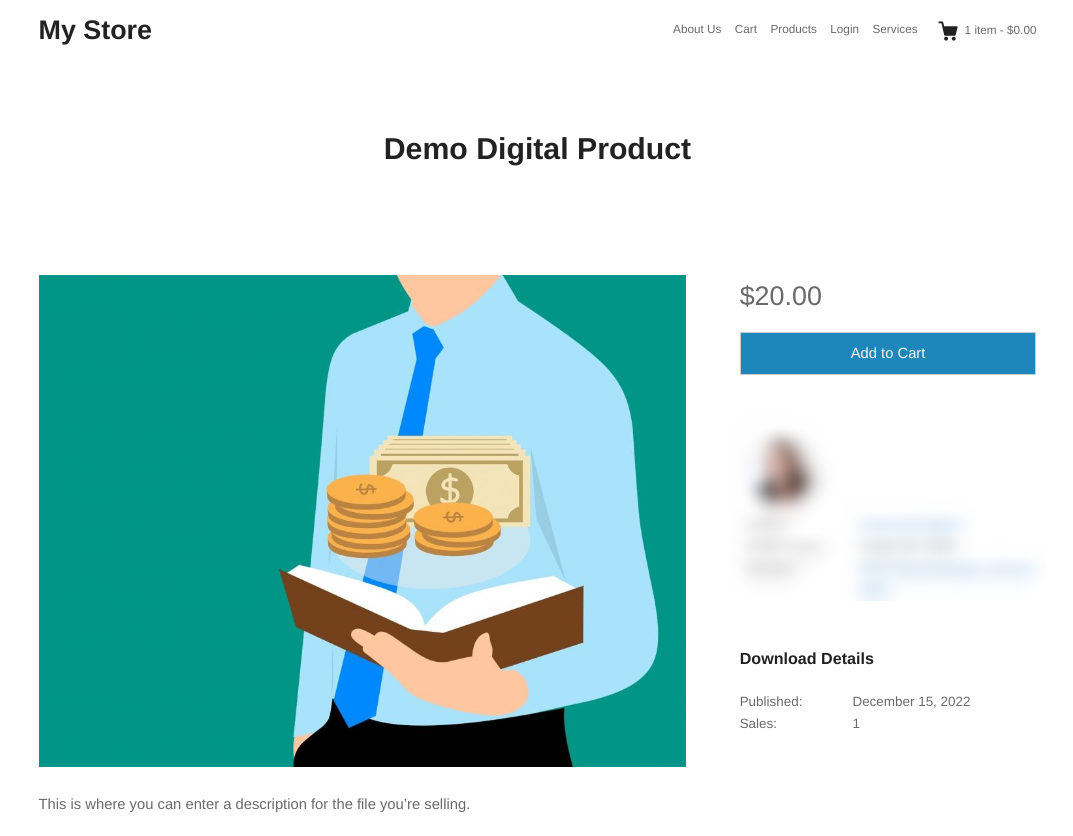 Potential customers click on the Add To Cart/Purchase button, add their credit card and personal info, and check out.
Then they will be taken to a purchase confirmation page that includes a link to download their file. They're also sent a receipt email with the download link: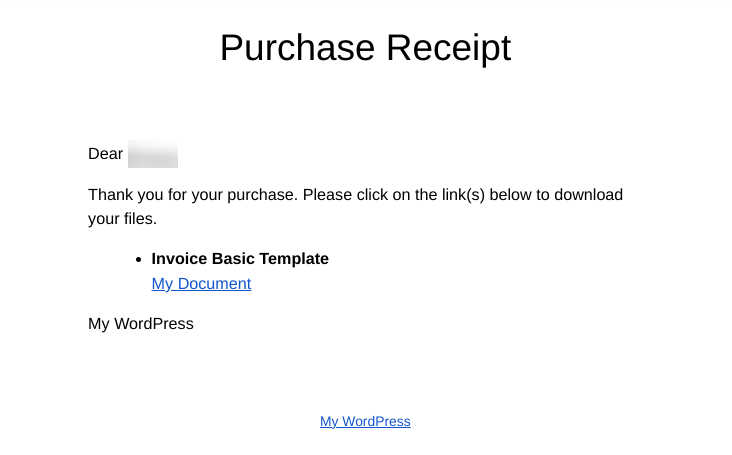 Your new customer will also get a purchase receipt email. This email also has the download link.
This link expires after 24 hours with the default setting. You can change these (and other) settings under Downloads » Settings » Misc » File Downloads. You can:
EDD Extensions and Integrations
Purchase an EDD Pass to add features or integrate with your favorite platforms and services. What does your store need to do? EDD has it covered:
FAQs About Selling Files Online
Should I use marketplaces to sell digital products?
The best place to sell your own digital files is on your own website. You'll have more control of the customer experience, direct communication, and keep more of your revenue.
Marketplaces are easy to get set up on, and may offer an existing audience and traffic.
However, marketplaces usually charge high fees (+ transaction fees), the more you make the more they take. You also have no control over customer experience, are surrounded by competitors on a busy page, and have little or no direct communication.
🔎 Read our guide on marketplaces vs. your own website
What types of digital products can I sell?
There are a ton of different types of products you can sell online. Here is a list of some of the most popular options.
| | | |
| --- | --- | --- |
| eBooks | Audio files | Podcasts |
| Videos | Music | Sound effects |
| Graphic templates (like Photoshop) | Spreadsheets | Documents |
| 3D Graphics and Assets | Embroidery Patterns | Software templates |
| Presentations | Resume templates | Printables |
| Guides or checklists | Fonts | + Anything you can dream up! |
🔎 Check out our complete list of digital product ideas
How do I market my products and increase sales?
There are lots of ways to increase sales, build awareness, and market your products. Here are some proven tips and marketing tools:
Your Blog – An important way to increase sales is to explain to others how your files and products can solve their problems. Potential customers are using Google and Bing search to find answers to their questions. Your blog posts can be the answers they find.
Search Engine Optimization (SEO) – Your Download pages and blog posts need to actually appear in search results. How? There are lots of things you need to do.
Lead Magnets – Give away a free resource on your website to build your email list.
Affiliate Marketing – Get your happy customers and like-minded bloggers to share your products on their websites, blogs, and social media. Pay them a small commission for referring paying customers. It's a proven way to increase traffic and sales.
Use EDD to Sell Digital Files Online
Nice! You just learned how to sell files online with WordPress and EDD. We've also looked at other platforms and their pros and cons.
We trust that Easy Digital Downloads can power your online business. Click below to get started!
eCommerce without limits!
That is our promise. Most eCommerce solutions limit your creativity
…not Easy Digital Downloads!
📣 P.S. Be sure to subscribe to our newsletter and follow us on Facebook or Twitter for more WordPress resources!