---
Are you trying to find the best platform for online selling? If so, it makes sense to compare Easy Digital Downloads vs. Etsy vs. Sellfy.
All three of these options are powerful solutions that can help you build a successful online business or side hustle. Each has its own unique advantages. The more familiar you are with them, the easier it will be to choose the best one for your needs.
✍🏻In this post, we'll cover:
Overview: Easy Digital Downloads vs. Etsy vs. Sellfy
Before we compare Easy Digital Downloads vs. Etsy vs. Sellfy, we want to give you an overview of each. All three are used for eCommerce, but they provide slightly different services and solutions.
Easy Digital Downloads (EDD) is an eCommerce WordPress plugin:

You can use it to sell digital products, software, and downloads. This includes PDFs, eBooks, audio files, etc. It comes with a full, customizable shopping cart, advanced reporting, discount codes, and more.
Together, WordPress and EDD make it easy to create your own website and build an eCommerce store in no time. They also give you the most control over your customization and branding.
Like EDD, Sellfy is a selling platform mainly for digital products and downloads: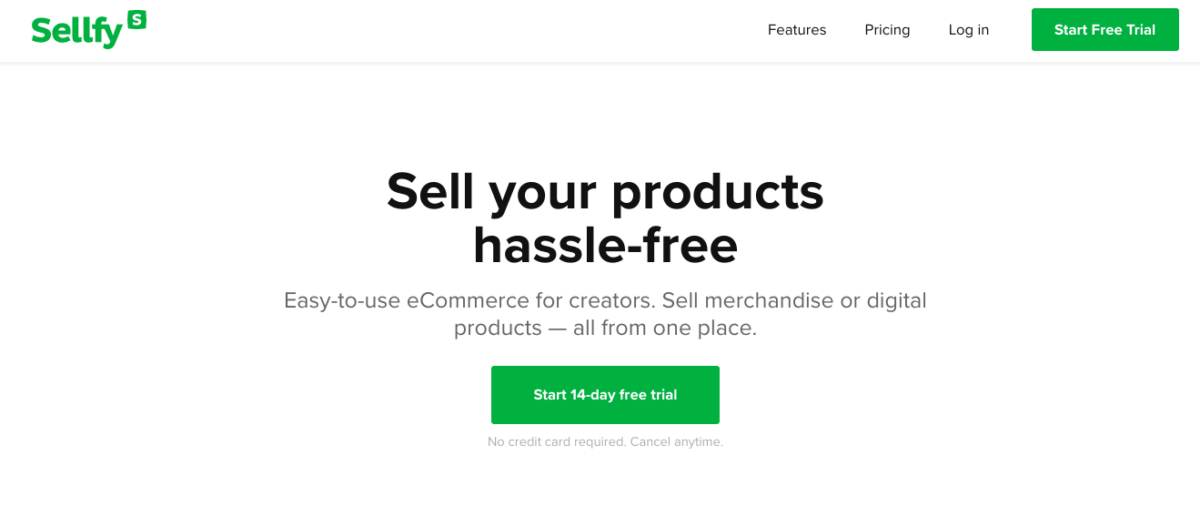 You can use the SaaS solution to create an online storefront to sell digital goods, print-on-demand products, and subscriptions. It's not as popular as WordPress/EDD. But it can be a solid option if you don't want to create a WordPress site.
On the other hand, Etsy is an online marketplace primarily used for selling handmade items, vintage goods, and craft supplies:

With a marketplace such as Etsy, you essentially rent your digital real estate. You don't have as many customization options or granular control over your store as you would with EDD. Online marketplaces, while providing a simple setup process, tend to have higher fees.
The most notable example of an online marketplace is Amazon. Sellers can create individual storefronts and reach a wide audience with their products. But it all happens under the Amazon umbrella. This limits direct customer communication and opportunities to use unique branding and marketing strategies.
🤔For more info on creating your own eCommerce store vs. selling via marketplace, check out:
Easy Digital Downloads vs. Etsy vs. Sellfy
Now it's time to take a closer look at Easy Digital Downloads vs. Etsy vs. Sellfy to see which is best for your needs. We'll explore key areas, including:
Summary: Easy Digital Downloads vs. Etsy vs. Sellfy
| | Easy Digital Downloads | Etsy | Sellfy |
| --- | --- | --- | --- |
| Pricing 💰 | $199 – $999/year | $0 – $10/month (+ transaction, listing, & payment processing fees) | $264 – $1,468/year |
| Platform/Type 💻 | WordPress/Self-hosted website | Online marketplace | Software-as-a-Service (SaaS) |
| Transaction Fees 💸 | No | Yes | No |
| Custom Domain🌐 | Yes | No | Yes |
| Themes 🎨 | 9,000+ | No | 5 |
| Coupons 🏷 | Yes | Yes | Yes |
| Email Marketing 📬 | Yes | Yes | Yes |
| Best For 🏆 | Selling digital products & subscriptions on your own website | Selling homemade goods on a third-party platform | Selling digital content without WordPress |
Pricing
There are a variety of pricing factors to consider. This includes the plugin or platform, hosting, premium themes/extensions, etc.
The three eCommerce options have different pricing structures and features. It's important to compare the various options to make an informed choice.
Easy Digital Downloads Pricing
Easy Digital Downloads has a free version. But if you're a serious seller with multiple products, we recommend a paid plan to maximize your chances of eCommerce success.
There are four annual pricing plans to choose from:
Personal: $199.00
Professional: $599.00
Extended: $399.00
All-Access: $999.00
All plans come with a 14-day money-back guarantee.
A paid pass gives you premium extension, support, and much more. EDD doesn't charge any listing fees. Most transactions are processed for free.
EDD is an affordable and robust eCommerce plugin that gives you everything you need to build and manage a digital store with WordPress. Even the free/lite version includes features and functionality that other eCommerce plugins only include with paid plans.
An EDD pass doesn't just unlock advanced selling features. It also gives you unlimited access to an extensive library of premium addons that you'd otherwise have to pay individual, extra fees for.
Etsy Pricing
Etsy has minimal upfront costs. The Standard plan doesn't come with monthly fees. But there are listing fees, payment processing charges, and transaction costs.
Listing fees start at $0.20 per product. This cost is for publishing your listing. Listings stay active for four months or until the product sells.
Additionally, after selling products, there's a 6.5% transaction fee and a 3% + $0.25 payment processing charge. These fees can vary depending on the payment provider/gateway.
An Etsy Plus plan is available for $10 per month.
Sellfy Pricing
Similar to EDD, you can choose from multiple pricing tiers with Sellfy. Billed annually, these pricing options include:
Starter: $264 ($22/month)
Business: $708 ($59/month)
Premium: $1,428 ($119/month)
There are no transaction fees. But you have to cover payment processing fees of PayPal or Stripe. Typically, this is ~2.9% + 30¢ depending on which gateway you use.
Sellfy offers a 14-day free trial and a 30-day money-back guarantee.
Setup
Regarding setup and ease of use, Easy Digital Downloads vs. Etsy vs. Sellfy offers no significant difference. All three are suitable for beginners. But if you're a WordPress user, EDD is the simplest option.
EDD Setup
You can get started with EDD by choosing the Pass that best meets your needs. Then you can install it the way you would any other WordPress plugin. After you activate it, you can create and manage all aspects of your store from the Downloads menu item:

You can easily create a product and then add a name, description, price, image, etc. using the familiar WordPress interface: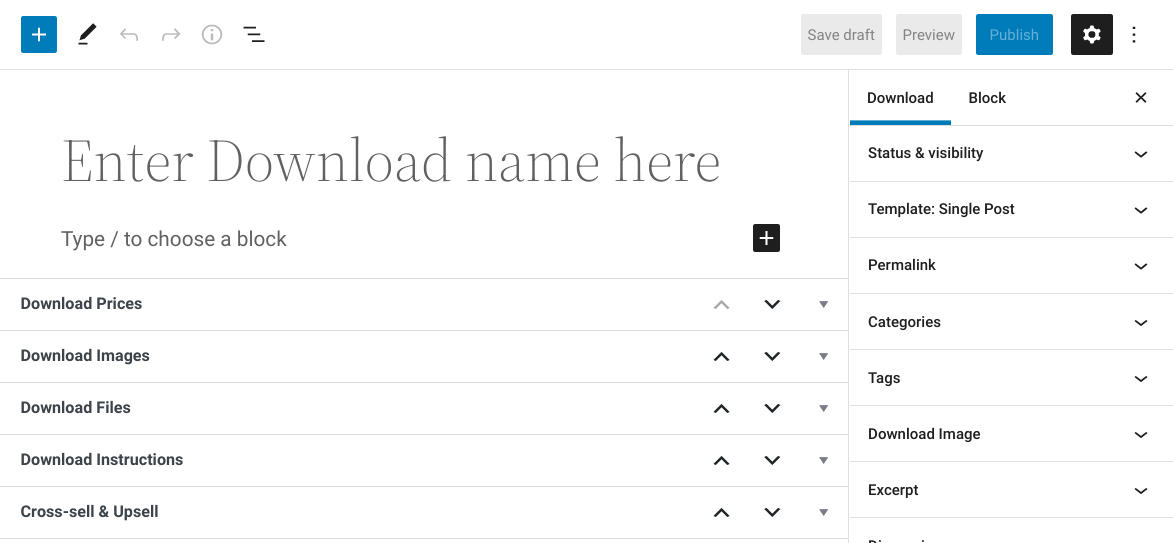 You can set recurring payments for subscriptions and upload download files. When you're done, you can click Publish and then View Download to see the product/download page as the customer will see it: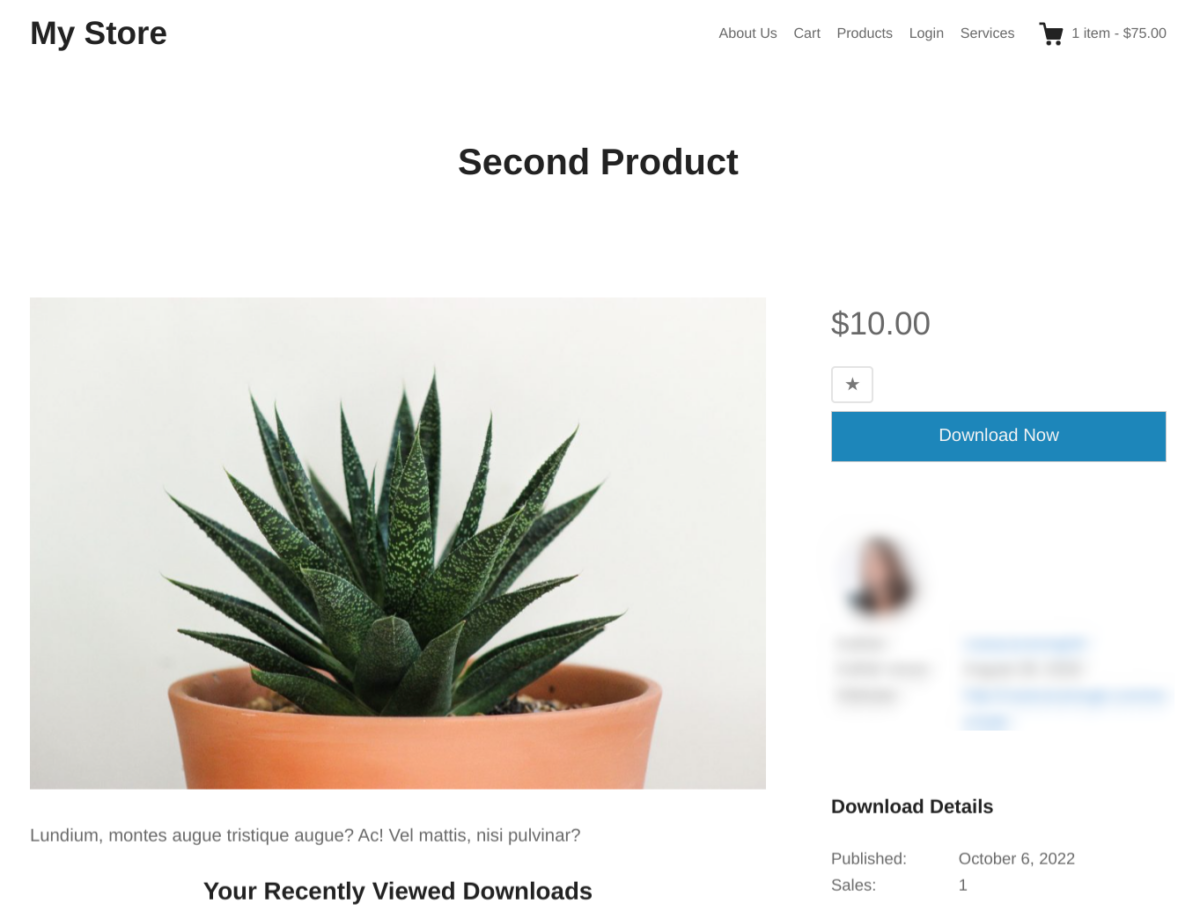 The EDD plugin automatically creates Products, Cart, and Checkout pages for you. Plus, thanks to EDD Blocks, you can easily build and modify them: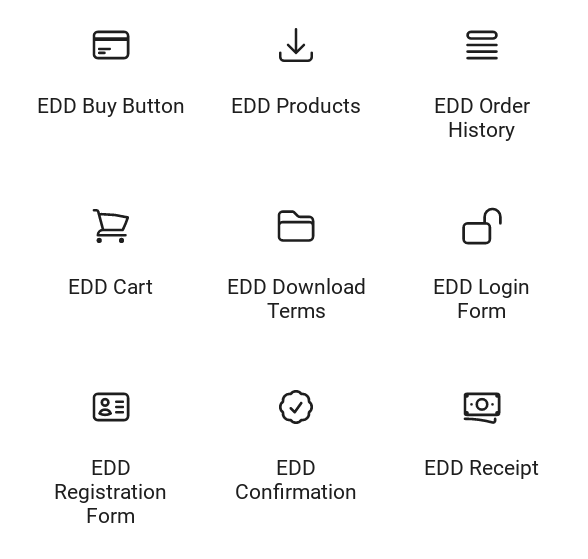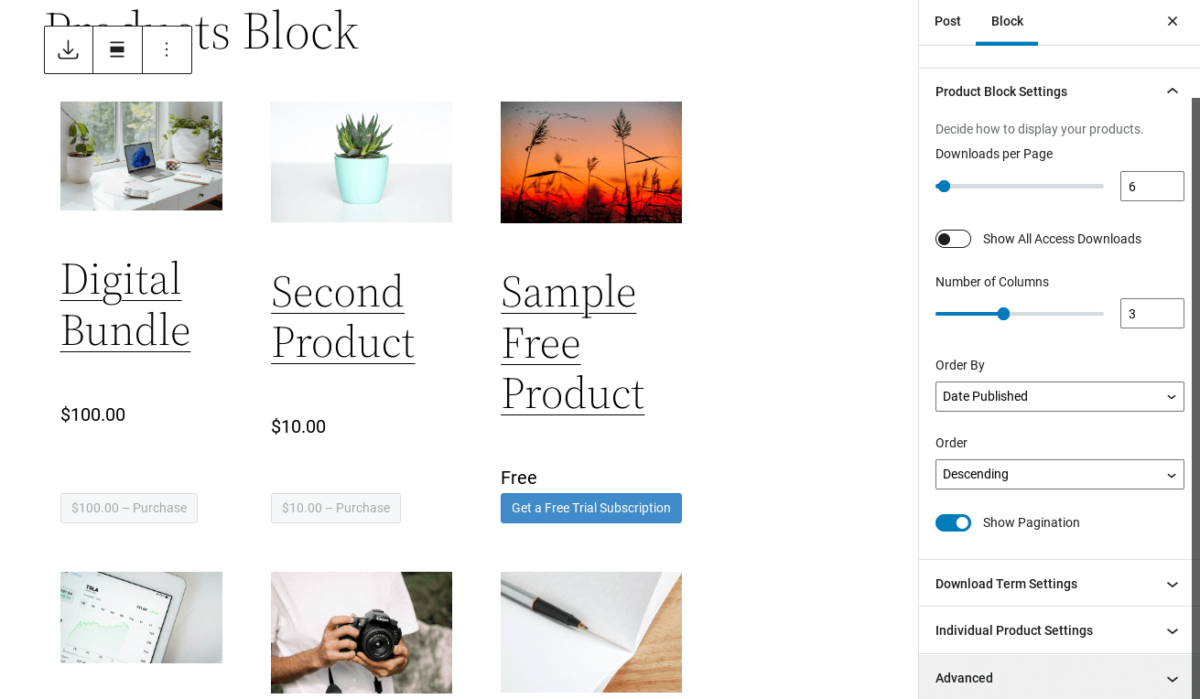 Etsy Setup
Etsy also offers a simple setup. After you create your account and choose a plan, you can name your store and begin adding products. The setup wizard lets you track your progress throughout the process: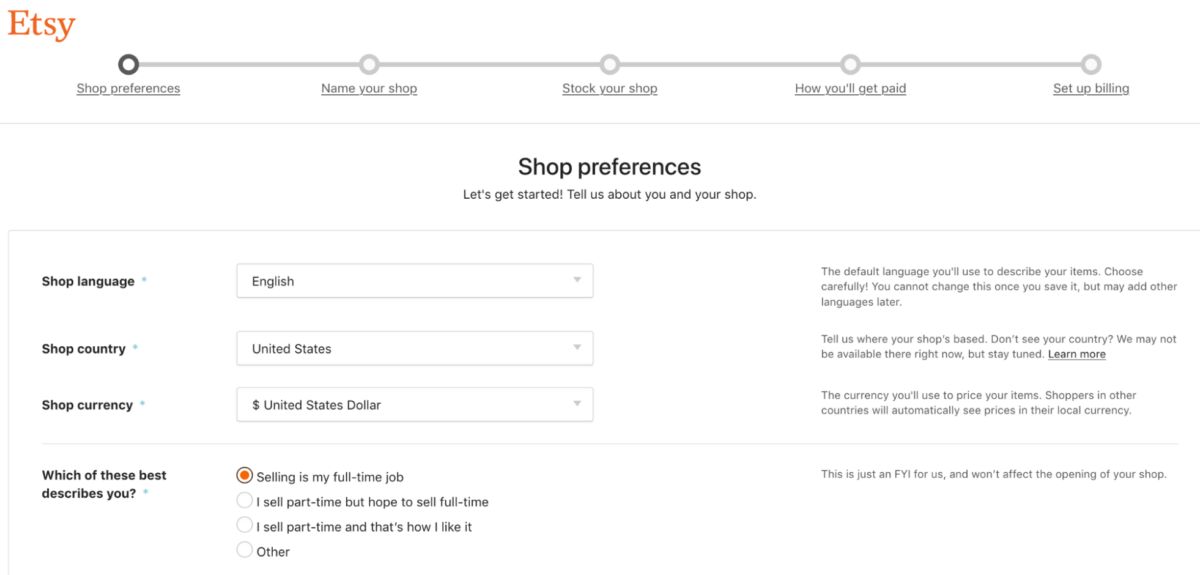 You can get your Etsy shop up and running in under an hour. As we mentioned, it's not the same as creating your own online eCommerce website as you would with WordPress. This can mean a quick and seamless setup. But it also translates to fewer customization and configuration opportunities.
Once you create your store, you can manage it from the easy-to-navigate Store Manager. You can add a new product listing and enter the details, such as photos, pricing, and descriptions: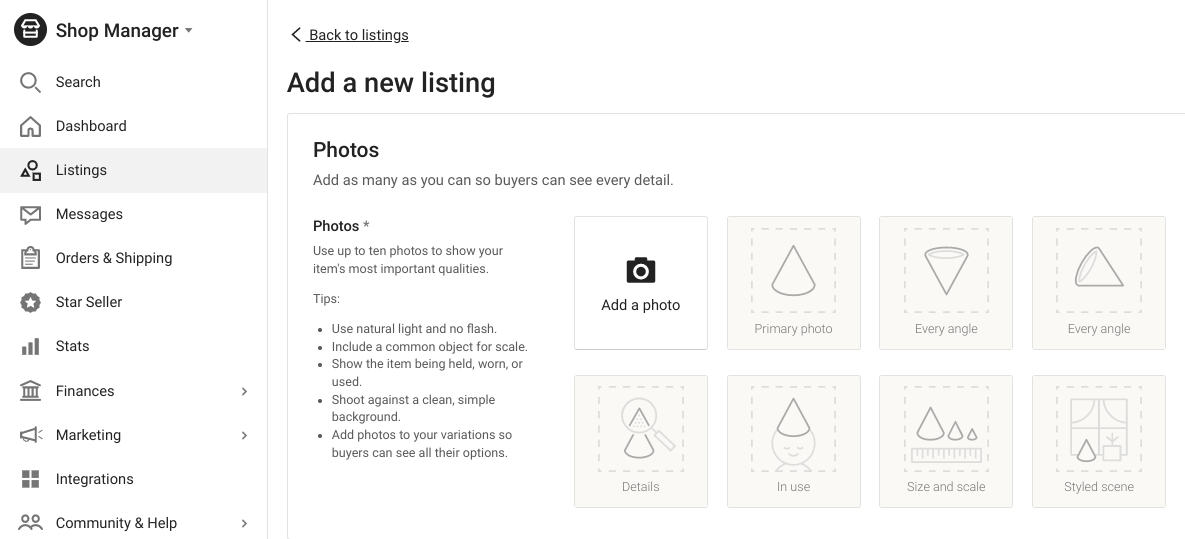 You'll also find basic stats, messaging and marketing options, etc. You can preview how your product listing would look on the front end. All Etsy listings follow the same format: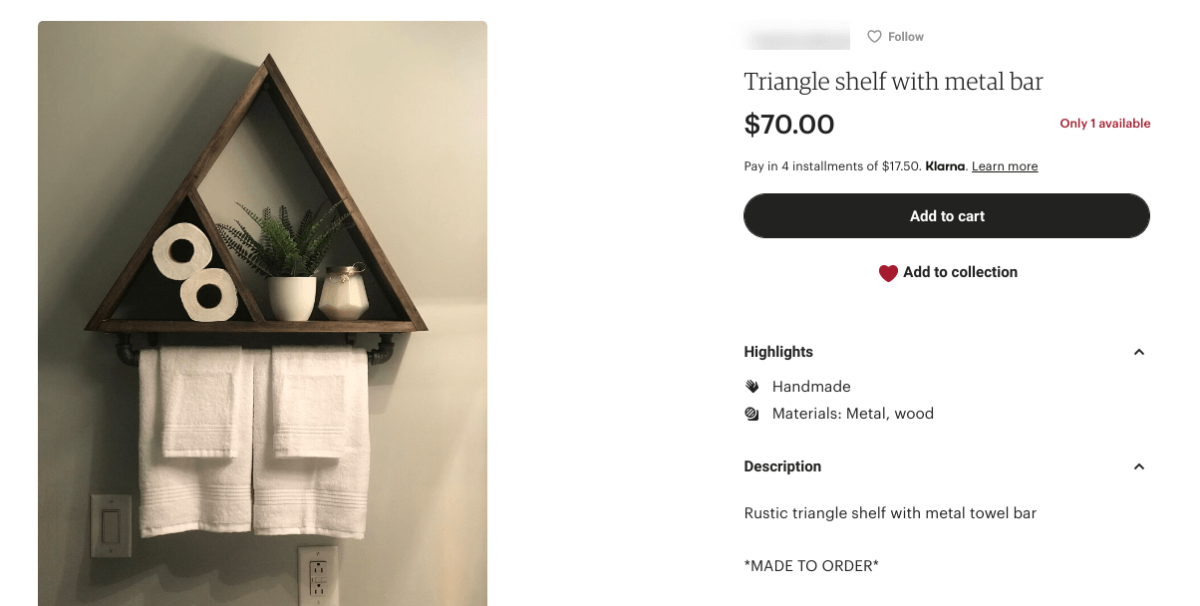 Sellfy Setup
Sellfy delivers a quick and smooth setup process. After you purchase and create your account, you can follow the prompts to get started: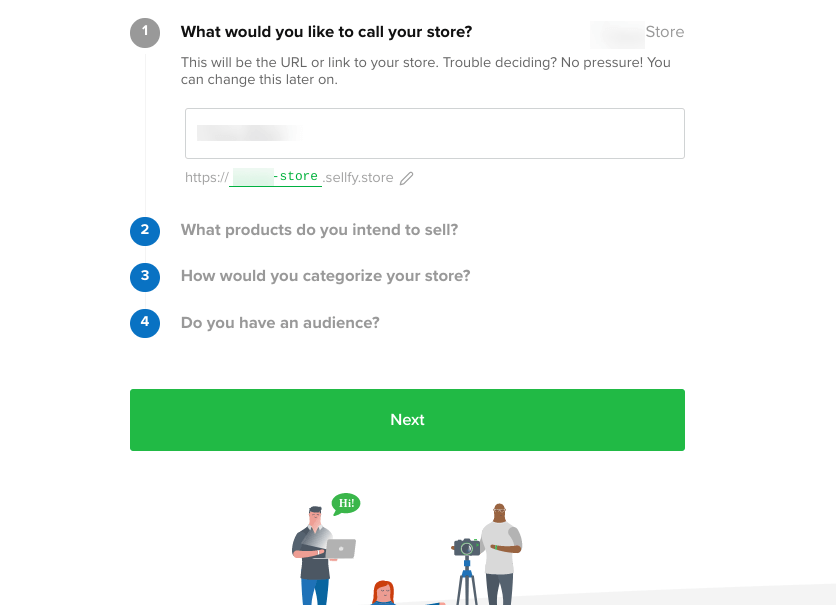 You can find everything you need to configure and manage your store from your dashboard: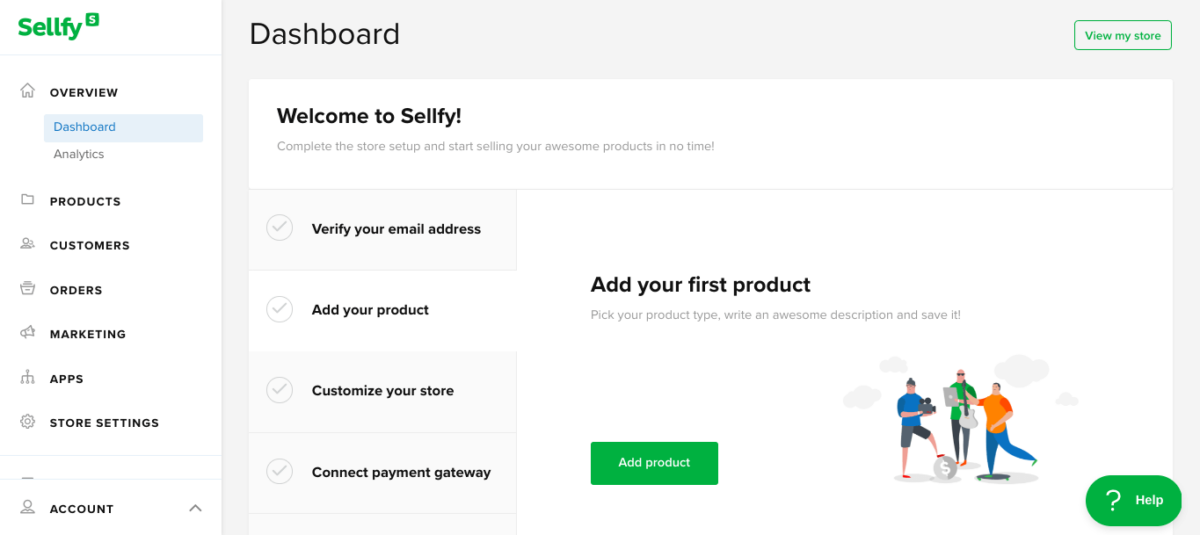 Similar to EDD and WordPress, you can customize the appearance, add products, and set up a payment gateway. At any point, you can preview the live version of your store by selecting View my store.
Customization
When creating an eCommerce website, it's important to choose a solution that's easy to customize. This is especially essential if you want to establish a strong online presence.
For customization features, Easy Digital Downloads far exceeds the other two options. When you purchase a managed hosting plan and download WordPress, you can register a custom domain name. This can help strengthen your branding.
🖌In addition, EDD offers:
Tons of paid themes
Full compatibility with page builders such as SeedProd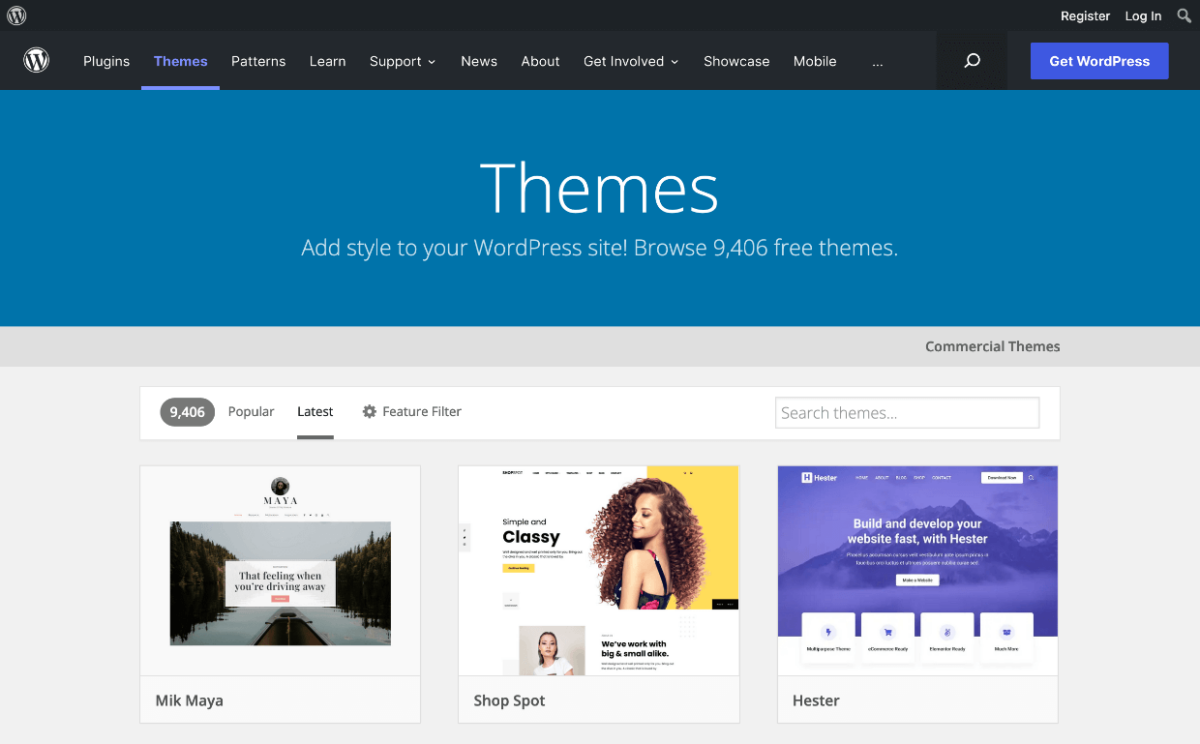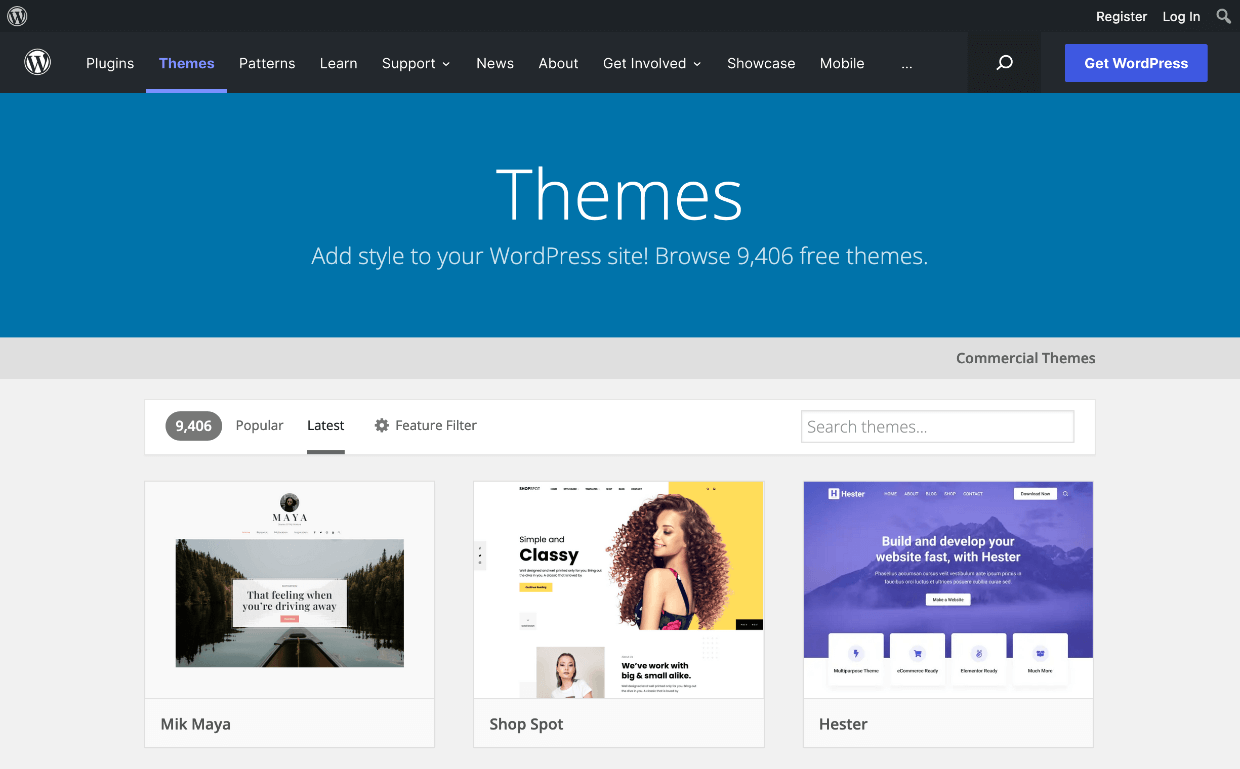 EDD works well with any WordPress theme. With the Customizer, you can easily tweak the visual appearance of your site and store: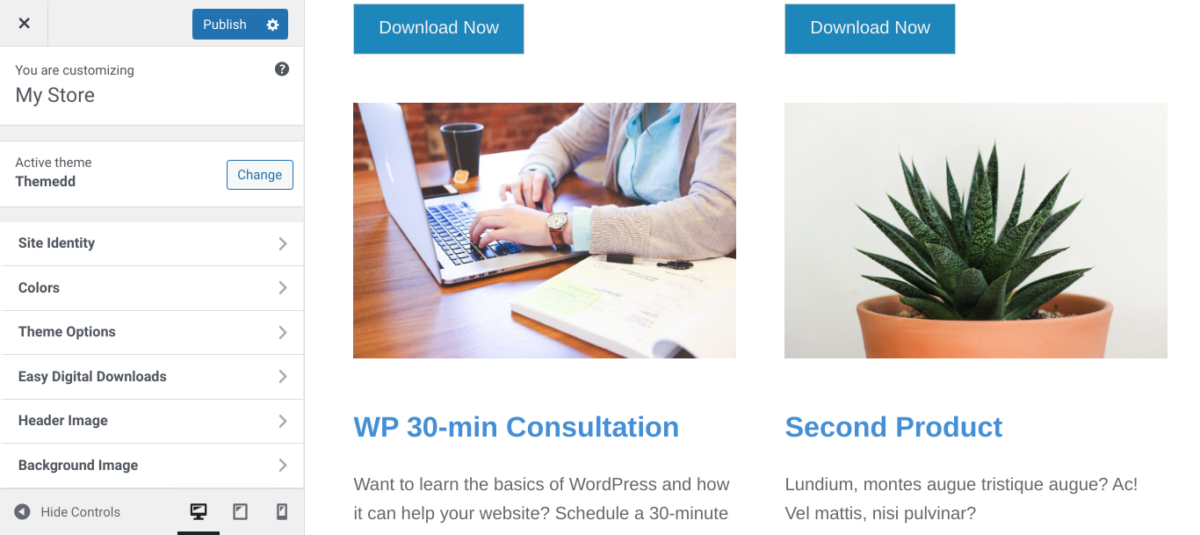 Used by over 60% of websites with known CMSs, WordPress has a massive ecosystem. Therefore, you always have access to tons of themes and plugins to help customize, expand, and enhance your eCommerce site.
⚙️To learn more about WordPress themes, you can:
Etsy is pretty limiting in terms of customization. It's one of the platform's biggest drawbacks, at least for certain sellers. Your storefront will match Etsy's overall design and layout. You can only add a custom logo, name, and products/descriptions: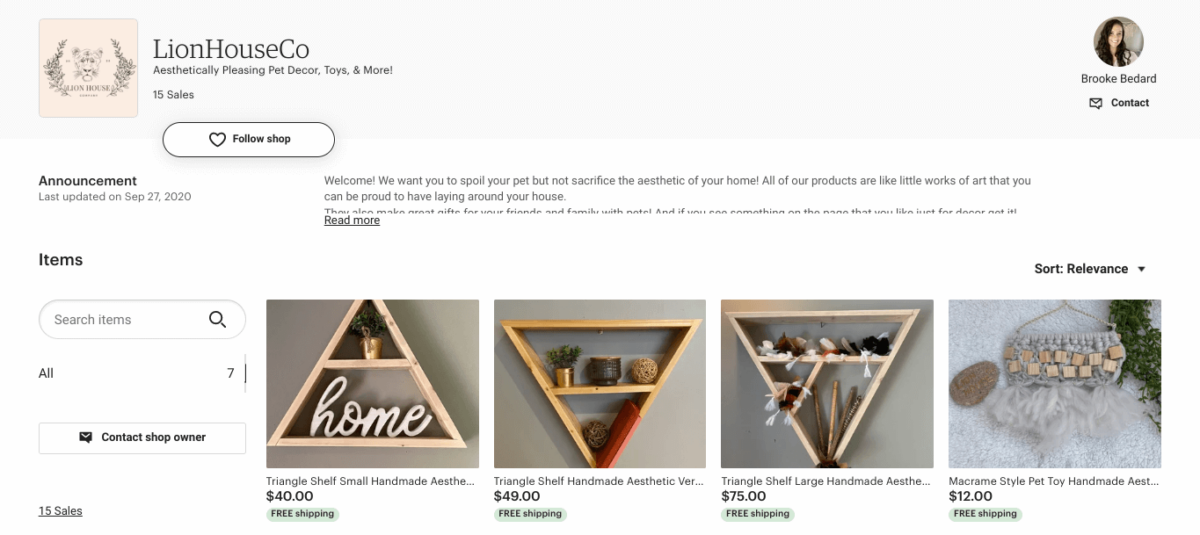 The seller store pages are clean and attractive. But the uniform look does make it a bit harder to distinguish yourself from competitors.
You also don't get a custom domain with Etsy (unless you buy Etsy Pattern). Instead, you'll use the "www.etsy.com" domain name, followed by "/your-store-name". This can make your site more difficult for customers to remember.
Sellfy provides a decent number of customization options. You can modify the appearance using the Store Customizer: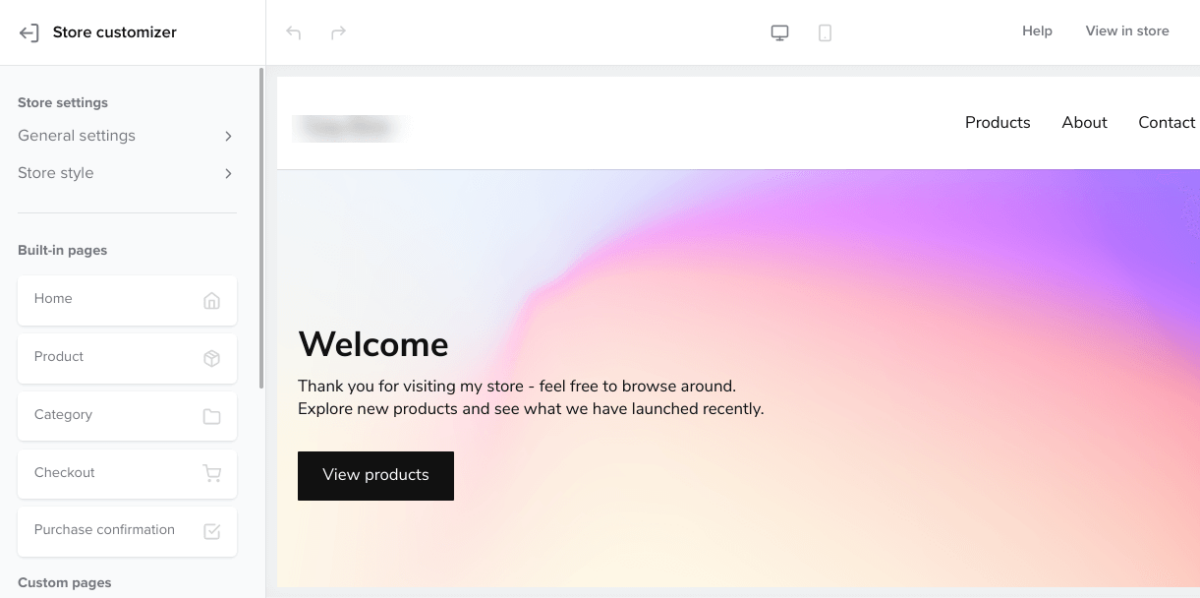 The settings and options aren't as advanced or abundant as EDD/WordPress. For instance, there are only five Sellfy store themes to choose from (compared to the thousands in the WordPress Theme Directory). But it has a user-friendly interface that is both intuitive and organized.
eCommerce Selling & Marketing Features
All three platforms help users manage their stores effectively and efficiently. But how does Easy Digital Downloads vs. Etsy vs. Sellfy compare in terms of eCommerce and marketing-specific features?
Built specifically for online sellers of digital products, EDD comes with a wide range of eCommerce and marketing tools. Many are included with the Core plugin.
For instance, you can easily add the "Buy now" and "Add to cart" buttons directly to your WordPress site. You can opt for a mini cart and/or one-click checkout to help enhance and expedite the purchasing process.
Other features and capabilities are available via extensions. You can integrate with a wide range of third-party marketing tools and automatically add customers to email lists at checkout.
🛒Additional EDD eCommerce and marketing features include:
Etsy offers a handful of both free and paid marketing and advertising tools. You can share your storefront across social media platforms such as Instagram and Twitter: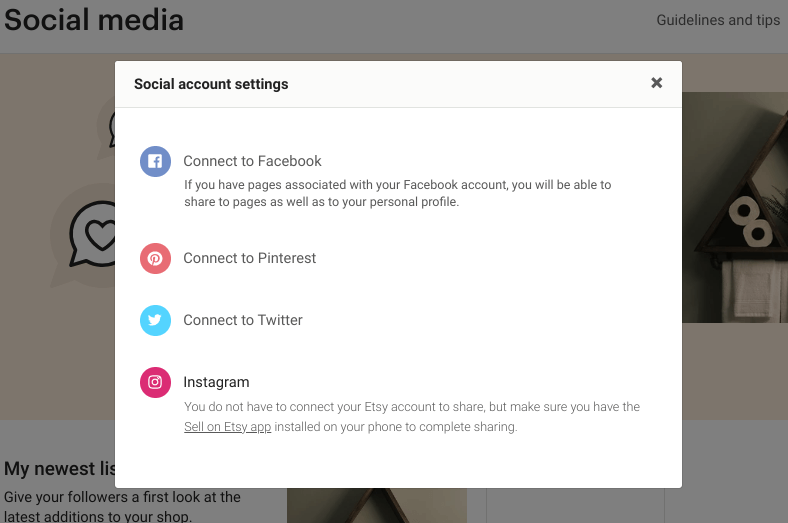 You can also create discounts and integrate with third-party tools such as Google Shopping. If you upgrade to Etsy Plus, you get:
Customizable banner templates
Discounts on marketing materials (i.e., business cards)
Stock & inventory email notifications to customers
Advertising credits
Sellfy also includes an impressive set of tools: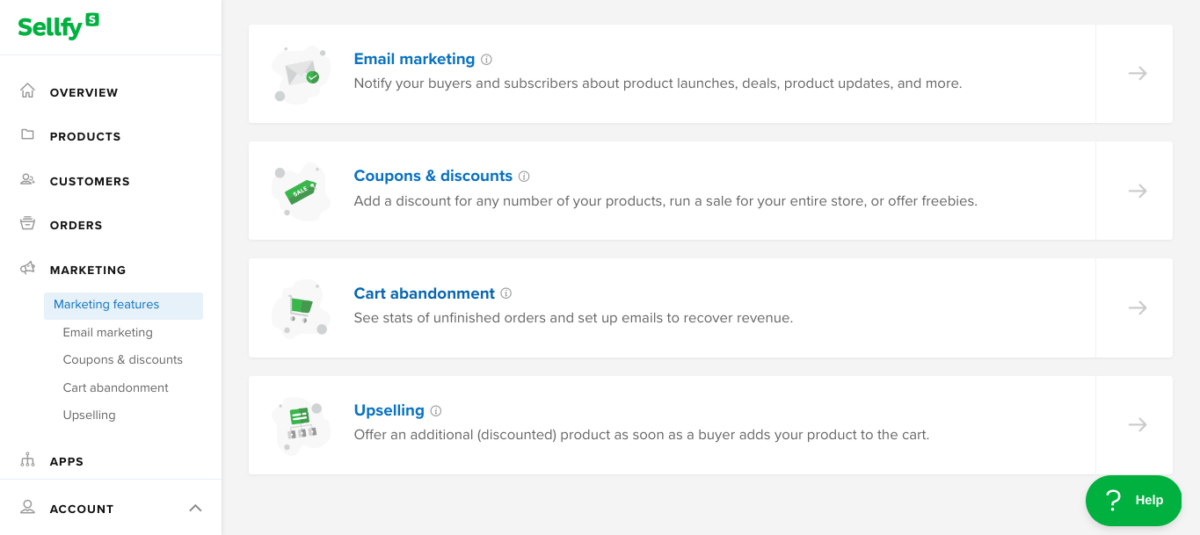 This includes options for email marketing, promo and discounts, upselling, and cart abandonment. It doesn't support anywhere near the number of apps that Easy Digital Downloads does. But you can connect your site with basic services, apps, and tools such as Google Analytics and Facebook Pixel.
Payments
As an eCommerce owner, it's critical to provide your customers with a positive shopping and checkout experience. One way to do that is by offering convenient payment methods.
Easy Digital Downloads has integrations with many of the most popular payment gateways. Besides credit cards, payment options include:
When you purchase an Extended Pass, you'll have access to all payment gateways. You can also use the Recurring Payments extension to sell subscriptions and accept payments on a weekly, monthly, or yearly basis.
✅ Other addons that can help enhance and streamline your payment and eCommerce pricing options include:
Etsy allows users to accept payments using PayPal, credit cards, Google Pay, or Apple Pay. Sellfy supports these gateways as well as Stripe.
Support
Easy Digital Downloads, Etsy, and Sellfy all have helpful customer service teams that are available to answer questions and address any technical issues.
Easy Digital Downloads offers a knowledge base with articles, tutorials, and setup documentation.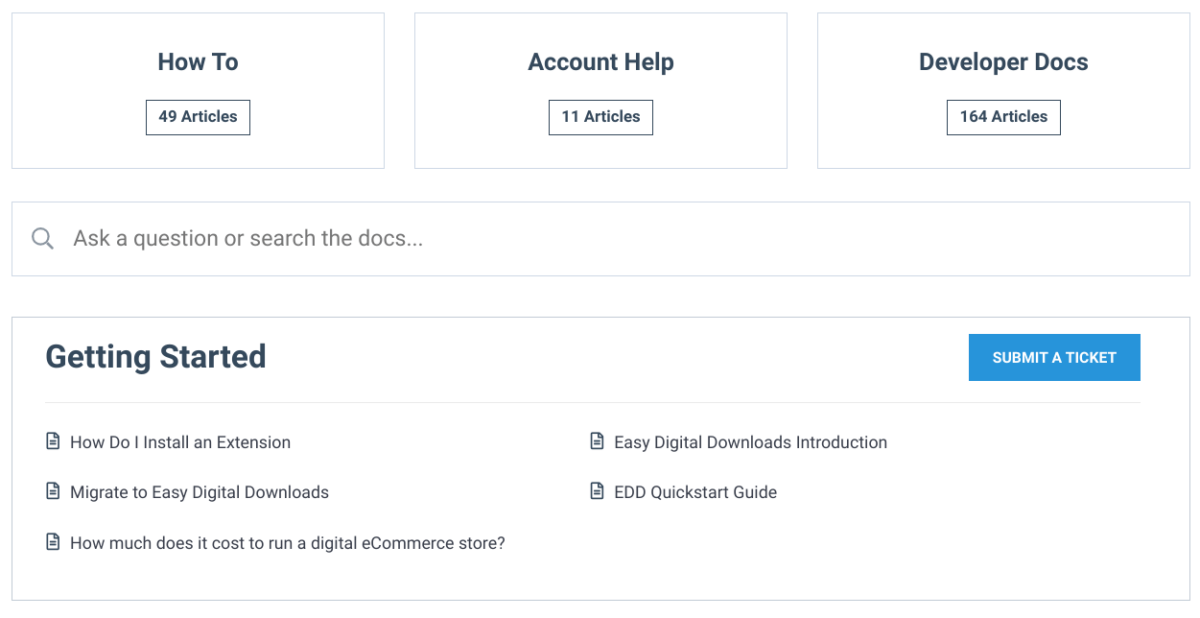 The dedicated ticket and email support team is always ready to help. Also, because EDD belongs to the robust WordPress community, there is a plethora of online guides, resources, and developers readily available.
Etsy has a help center with search functionality. You can find a variety of articles to help with your questions or you can submit a request. Plus, there's a forum you can use to join the Etsy community, ask questions, etc. For direct support, you can email the Etsy support team or schedule a phone call.
Sellfy has a dedicated customer service team that can be reached via live chat or email during working hours.
Final Verdict: EDD vs. Etsy vs. Sellfy
When deciding between Easy Digital Downloads vs. Etsy vs. Sellfy, it's important to consider the eCommerce products you're selling. For a complete solution that lets you sell everything from digital products and downloadable files to subscriptions and software, you can't go wrong with EDD.
Trusted by more than 50,000 websites, EDD has all the tools needed for selling digital files and products. Download Easy Digital Downloads today to get started. 💡
To see how it compares to even more eCommerce solutions, check out Easy Digital Downloads vs. Shopify vs. BigCommerce.
📣 Be sure to subscribe to our newsletter and follow us on Facebook or Twitter for more eCommerce resources!