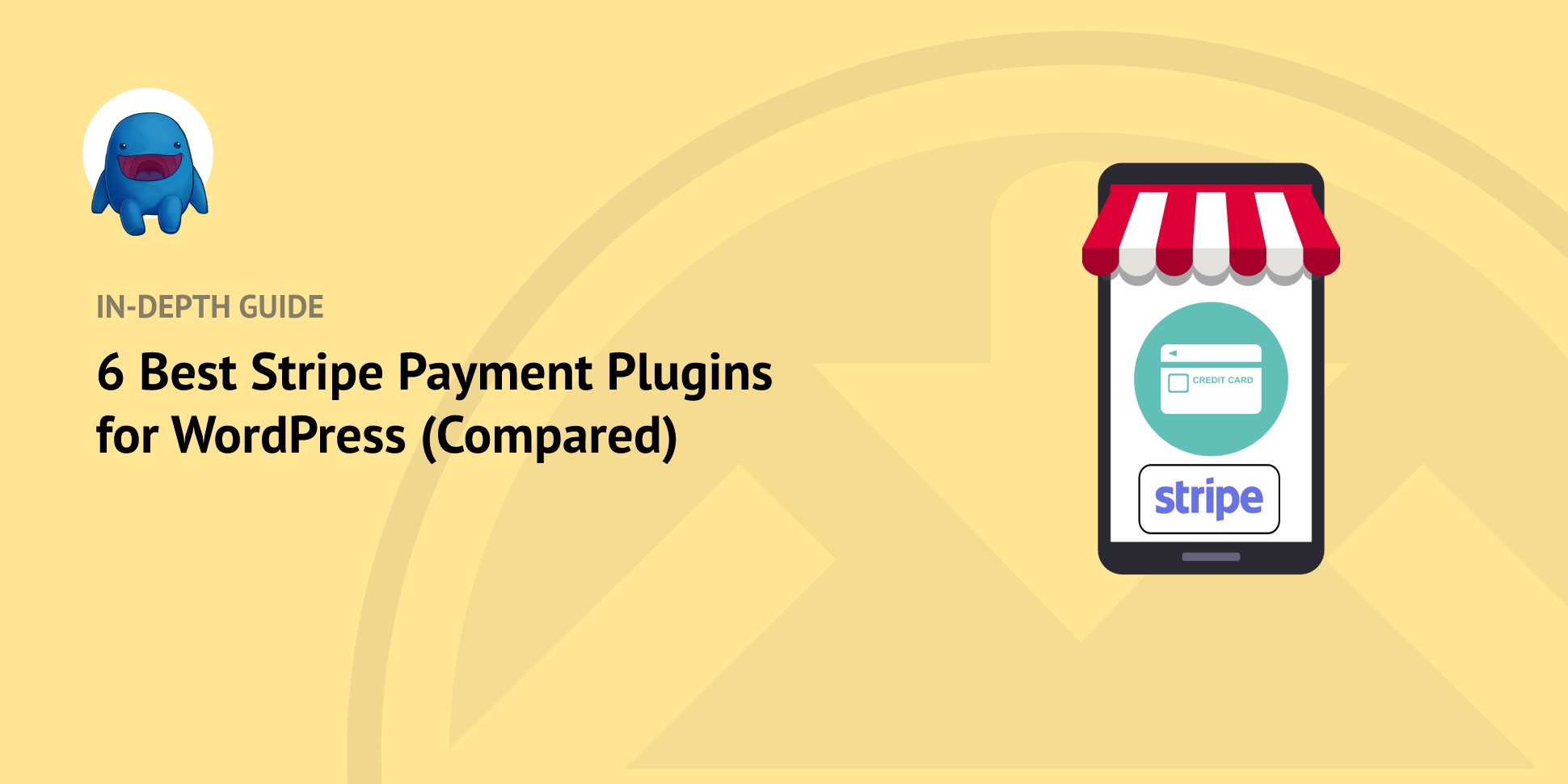 Are you trying to decide between the best Stripe payment plugins for WordPress?
If you're running an eCommerce store, it's important to provide a convenient payment gateway for customers. Stripe is one of the best options.
But figuring out which extension to use on your site might be challenging. There are a handful of quality ones to choose from. We're here to make the decision process easier.
In this post, we'll cover:
Why Use Stripe Payments On Your WordPress Site?
Stripe is one of the most popular and trusted payment platforms in the world. It powers payments for many of the biggest companies around, including Target, Lyft, and others.
Stripe lets you easily accept payments on your WordPress site. If you want to accept credit card and PayPal payments with ease, it's an excellent choice. It doesn't have any hidden costs or fees.
Using a Stripe payment plugin on your WordPress site will allow you to create a smooth, seamless checkout experience for shoppers. Customers can complete on-site checkout, so there's no need for them to leave your site. They don't even need to have a Stripe account.
You also won't have to go through a lengthy, complicated process to get it running, either. As an eCommerce business owner, you can simply create a Stripe account. Then you can install a Stripe payment plugin in WordPress to connect it with your site. The entire setup can be completed in a matter of minutes.
6 Best Stripe Payment Plugins for WordPress (Compared)
It's important to note that you must have an SSL certificate installed on your WordPress website to accept Stripe payments. If you don't already have one, you can follow this guide to learn how to get a free SSL certificate.
Now let's take a look at some of the best Stripe payment plugins for WordPress, including their key features and pricing options.
1. Easy Digital Downloads
Easy Digital Downloads is the best WordPress plugin for selling digital goods, including eBooks, courses, documents, and more. It's also one of the best Stripe payment plugins for WordPress:

It's an excellent alternative to WooCommerce if you don't sell physical goods. By default, EDD lets you accept payments through Stripe, PayPal, and Amazon Pay. If you purchase a premium plan, you can also add a ton of extensions for additional payment gateways, such as Authorize.net, Braintree, and more.
With EDD, you don't have to worry about any setup or configuration. With a pro license, you can also get the Stripe Pro Payment Gateway extension. This lets you accept credit cards and other payments via Stripe without the additional transaction fee.
Key Features:
Allows for Stripe subscriptions and Recurring Payments
Manually approve or decline payments
Flexible checkout options, including a full or mini shopping cart and Buy Now buttons
Remove additional fees from each transaction
Premium extensions for a more sophisticated and customizable online payment system
Let users store saved card information for faster checkout
Integrated refunds
Ability to pre-approve payments and charge at a later date
Multiple payment options including Touch ID and Face ID
Software Licensing
Test mode simulating customer actions without affecting reporting
Onsite checkout and other conversion optimization tools and features
Verified member of Stripe Partner program
Pricing: Easy Digital Downloads has a free version. But for the Stripe Pro Payment Gateway, you'll want a premium license, starting at $199.50 per year.
2. WP Simple Pay


WP Simple Pay is one of the best Stripe payment plugins for WordPress when you don't need a full online store or shopping cart. For instance, it's a solid option to consider if you offer services with online billing or accept donations through your website.
This plugin makes it easy to accept credit card payments through Stripe or PayPal on your site, with no additional fees or setup requirements. You can also accept one-time or recurring payments. WP Simple Pay Pro also includes an advanced form builder. You can customize the fields and even include pricing tables.
Key Features:
Accept donations
One-time or recurring payments
Payment buttons and forms
Drag-and-drop interface
Dedicated landing pages
Subscriptions, installments, and free trials
Coupon code field
Other payment options such as Apple Pay, Google Pay, etc.
Verified Stripe Partner
Pricing: WP Simple Pay Pro pricing starts at $49.50 per year, with plans up to $299.50.
3. WPForms

Like WP Simple Pay, WPForms is an excellent option for accepting Stripe payments in WordPress when you only need a simple checkout form rather than a complete eCommerce solution. This popular, beginner-friendly form builder plugin lets you create unlimited forms for your website.
With WPForms Pro, you can accept payments using the Stripe add-on, as well as other payment processors, including Authorize.Net and PayPal. You can create simple order, payment, and donation forms without building an entire online store.
Key Features:
Robust form builder for contact forms, email registration forms, surveys, and much more
Payment form templates
Drag-and-drop builder
Unlimited forms
Conversion optimization features, such as landing pages and conversational forms
Recurring payments
Custom fields
No transaction fees
Pricing: WPForms offers a free/lite version. But for Stripe payments, you'll need a Pro or Elite License (starting at $199.50 per year).
4. WooCommerce

If you sell physical items, WooCommerce is a good option for accepting Stripe payments. If your focus is more on digital products and downloads, we recommend Easy Digital Downloads.
WooCommerce is one of the most popular eCommerce plugins out there. It offers a plethora of extensions that you can use to enhance the functionality and features of your store, including the free Stripe add-on.
There are some features that you would need to purchase a premium extension for. For instance, to accept recurring payments, you would need the WooCommerce Subscriptions plugin ($199).
Key Features:
Buy Now buttons
Flexible checkout options
Premium extensions and plugins
Stripe integration and refunds
Supports Strong Customer Authentication (SCA)
Pricing: The WooCommerce plugin is free.
5. LearnDash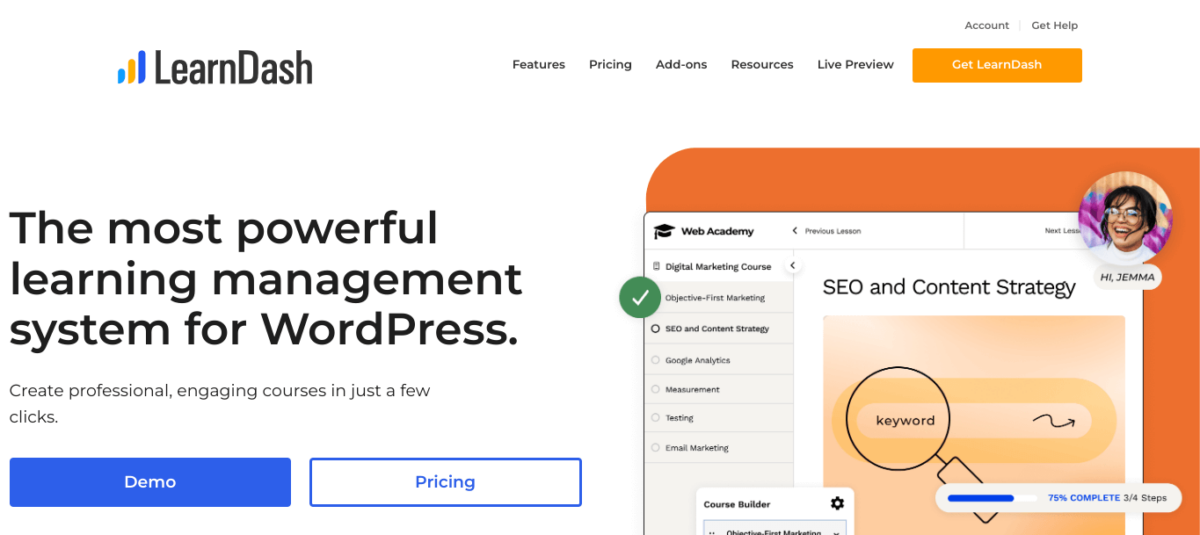 LearnDash is a powerful Learning Management System (LMS) WordPress plugin that offers free Stripe integration. You can use it to create and sell online courses, offer digital badges and certificates, and more.
The platform also lets you offer flat-rate or percentage-based discounts. In addition to Stripe, you can let your users check out using PayPal or 2Checkout. It also integrates seamlessly with some of the other WordPress plugins included in this post, such as Easy Digital Downloads and WooCommerce.
Key Features:
Courses, assignments, quizzes, etc.
Support for multiple payment methods (Stripe, PayPal, 2Checkout)
Payment box overlay with lightbox style
Bundles, memberships, and subscriptions
Automatic renewal notifications
Refund protection
Automatic user account creation/enrollment
Stripe or PayPal payments
Pricing: The pricing starts at $199 per year for one site.
6. Accept Stripe Payments

If you want a completely free Stripe payment plugin for WordPress, Accept Stripe Payments may be a sufficient solution. It's simple, straightforward, and a solid option if you're not looking for a lot of bells and whistles or advanced functionality.
If you have a Stripe merchant account, you can use this plugin to sell digital files and downloads. It's a bit limiting in its customization and integration features, especially compared to EDD. But it may be ideal if you're looking for a budget-friendly extension and don;t want to build an entire online store.
Key Features:
Stripe "Buy Now" button shortcode
"Remember Me" feature for returning customers
1-click payment option
Stripe payment history
Simple and quick setup
Pricing: Free.
Accept Stripe Payments in WordPress
Giving your customers an easy way to check out of your eCommerce store can help boost sales. Using a Stripe payment plugin for WordPress is one of the simplest solutions. If you sell digital products, we recommend using Easy Digital Downloads. If you don't need an online store but rather a basic payment or order form, you could use WP Simple Pay or WP Forms.
Get Easy Digital Downloads today to start accepting Stripe payments through your WordPress website!
Be sure to subscribe to our newsletter and follow us on Facebook or Twitter for more WordPress resources!