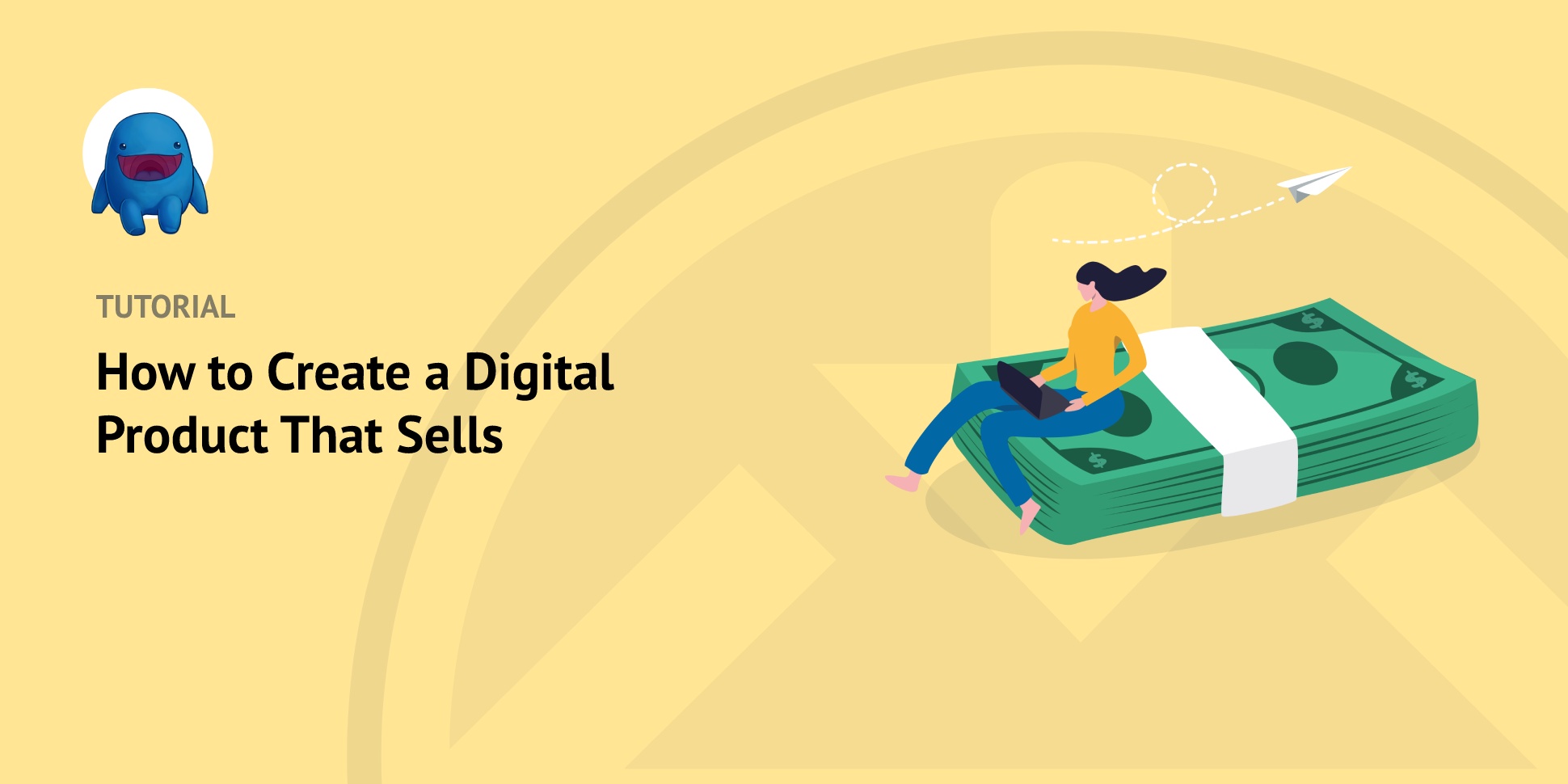 Do you want to learn how to create a digital product that you can sell?
With more consumers turning to eCommerce for their shopping needs, there's so much opportunity to reach audiences and generate passive income online. One of the easiest and most cost-efficient ways is to sell digital and downloadable products.
The challenge is figuring out how and where to start. Fortunately, with the right guidance, tools, and tips, you'll be able to start an online business in no time.
In this post, we'll walk you through the process. We'll cover:
Why You Should Create a Digital Product to Sell
There are many reasons why it makes sense to sell digital products. First, there are no physical costs associated with manufacturing or shipping the product. This means that you can keep your prices low and still make a good profit as long as you have a large enough customer base.
Another benefit of selling digital products is that they can be easy and relatively inexpensive to market. You can use social media, email marketing, content marketing, SEO, and paid advertising to promote your products. These methods allow you to get more exposure without having to invest in expensive marketing campaigns or materials.
Digital products are also highly scalable. They provide great flexibility when it comes to creating new offerings. You don't have to deal with physical inventory or packaging. As a result, you can quickly add new products to your line whenever inspiration strikes. This gives you the ability to experiment and try out new ideas without a lot of risks.
Most Profitable Digital Product Ideas
If you want to capitalize on the potential of eCommerce and online marketing, then creating a digital product to sell is a great way to do it. Whether you're an expert in your field or have unique insights and knowledge, there's always room to create something new that can help others.
Even if you're new to eCommerce, there are plenty of easy digital products to sell. To get a better idea of your options, it might help to look at some of the most popular and profitable digital product examples, such as:
eBooks/audiobooks
Memberships and subscriptions
Newsletters
Workbooks and planners
Podcasts
If there's a niche, industry, or skillset that you're particularly well-versed in, there's probably a way for you to turn that knowledge into a sellable digital product. Once you know how to approach the process, the endeavor will feel a lot less overwhelming.
5 Tips for Creating a Digital Product That Sells
Many times, it's not coming up with the idea for a digital product to sell online that people get stuck on. It's figuring out how to successfully navigate the journey from ideation to creation. But there are a handful of helpful tips and tools that you can use along the way to make it easier.
You can use the following five tips as a general guide:
1. Conduct Market Research and Define Your Niche
Conducting market research and tracking industry trends are key steps in building a successful digital product business. This research can help you identify what customers are looking for in your type of digital product, as well as the specific needs and pain points of your target audience. Knowing these things will allow you to create products that meet the needs of your buyers, which can increase conversion rates and drive sales.
Additionally, keeping up with market trends can help you stay competitive by adjusting your offerings or pricing as needed in response to new developments or shifts in consumer behavior. The more insight and knowledge you have, the easier it will be to develop a business model and marketing strategy that ultimately boost profit margins.
Social media platforms such as Facebook, Twitter, and Instagram, as well as online forums and blogs, are great places to find discussion threads about specific topics related to your product.
Additionally, there are many websites and apps that can help you track industry trends, such as Google Trends:

By using these kinds of tools effectively, you can gain valuable insights into the needs of your customers and stay up-to-date on important market developments to better position yourself for success.
2. Choose a Reliable eCommerce Solution
When it comes to eCommerce, the importance of a professional, optimized website cannot be understated. There are a handful of eCommerce platforms out there. One of the most popular options is WooCommerce. But that plugin is geared primarily toward physical products.
Easy Digital Downloads (EDD) is a popular eCommerce platform specifically designed for selling digital products in WordPress:

Its many features and integrations make it an ideal choice for online sellers. It allows you to easily:
Manage your orders
Set up sales promotions
Process payments
Track sales and activity
Deliver digital downloads to your customers
Additionally, EDD works seamlessly with popular website platforms like WordPress and Shopify, making it easy to integrate into your existing site or set up a new store from scratch. You can even use EDD + SiteGround Managed Hosting to make it effortless.
Another major advantage of EDD (and its extensions) is that everyone from beginners and small business owners to bloggers and influencers can use it to sell nearly any digital product imaginable. You can create a membership site to sell exclusive content, start marketplaces for graphic design and presets, and so much more.
The plugin itself is free. But we recommend upgrading to a premium plan to get unlimited access to all extensions, support, and integrations. You can use this guide to learn how to get started with EDD!
3. Use High-Quality Images and Product Descriptions
Once you have your digital products website set up, the next step is to fill it with quality content. This includes engaging images and optimized product descriptions to maximize conversions.
Images can help your customers visualize the benefits of a product, making it more likely that they will purchase it. Additionally, having clear and thorough product descriptions can help address any questions or concerns they might have, which can also increase their likelihood of buying.
Choosing a quality WordPress theme designed for eCommerce can help enhance the appearance and presentation of your product images and descriptions. For example, Astra is a popular theme that can be fully integrated with EDD: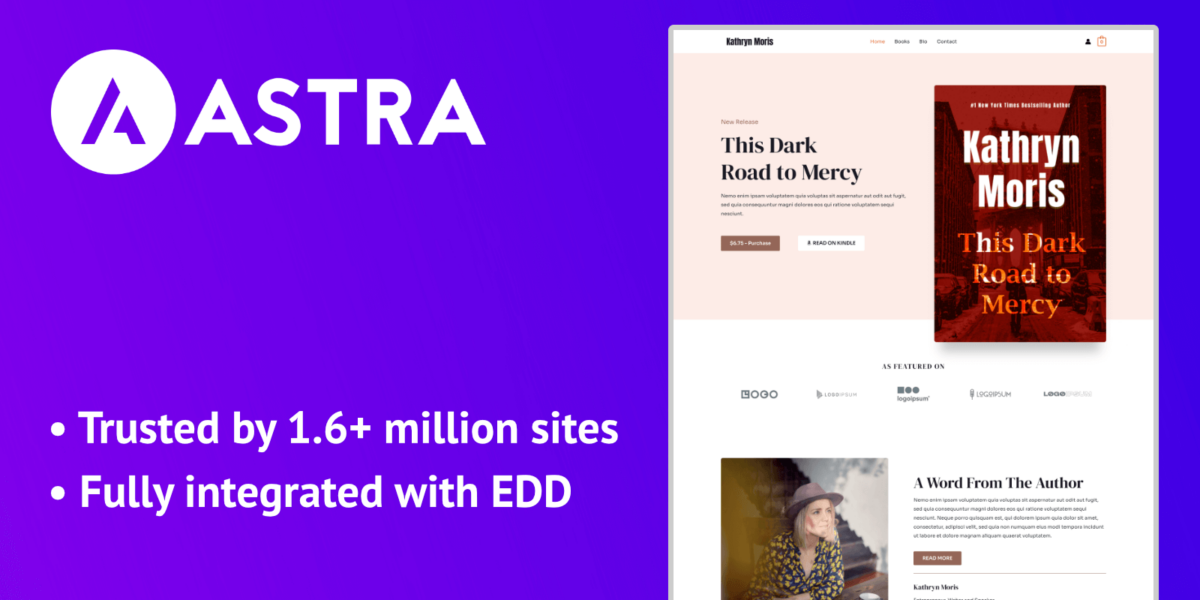 Astra offers a ton of starter sites you can use based on the digital product you sell, such as an eBook.
4. Create a Quick, Clean Checkout Process
Consumers today expect a quick and efficient online shopping experience. If you have a lengthy or overly complex checkout process, you may face high cart abandonment rates. Making it easy for your customers to purchase your products will ultimately lead to more sales.
This is another reason we recommend EDD. The Cart and Checkout blocks let you easily configure the settings to make it as convenient as possible for your customers: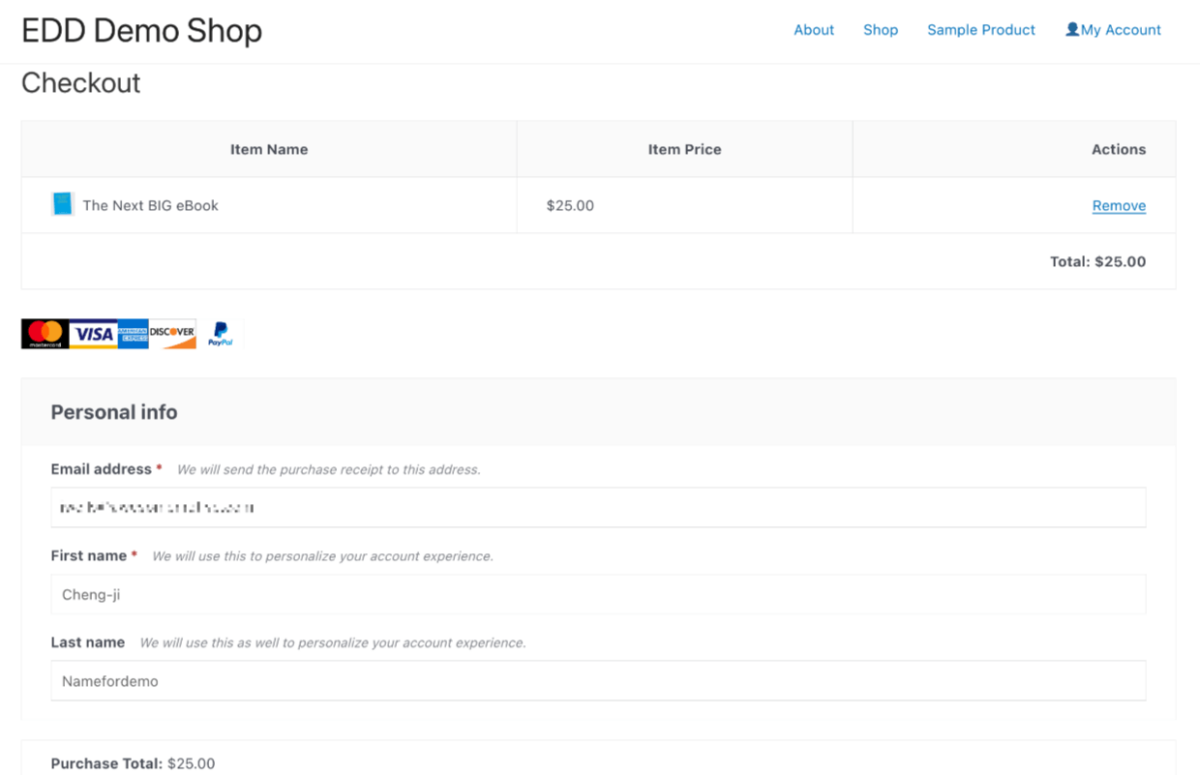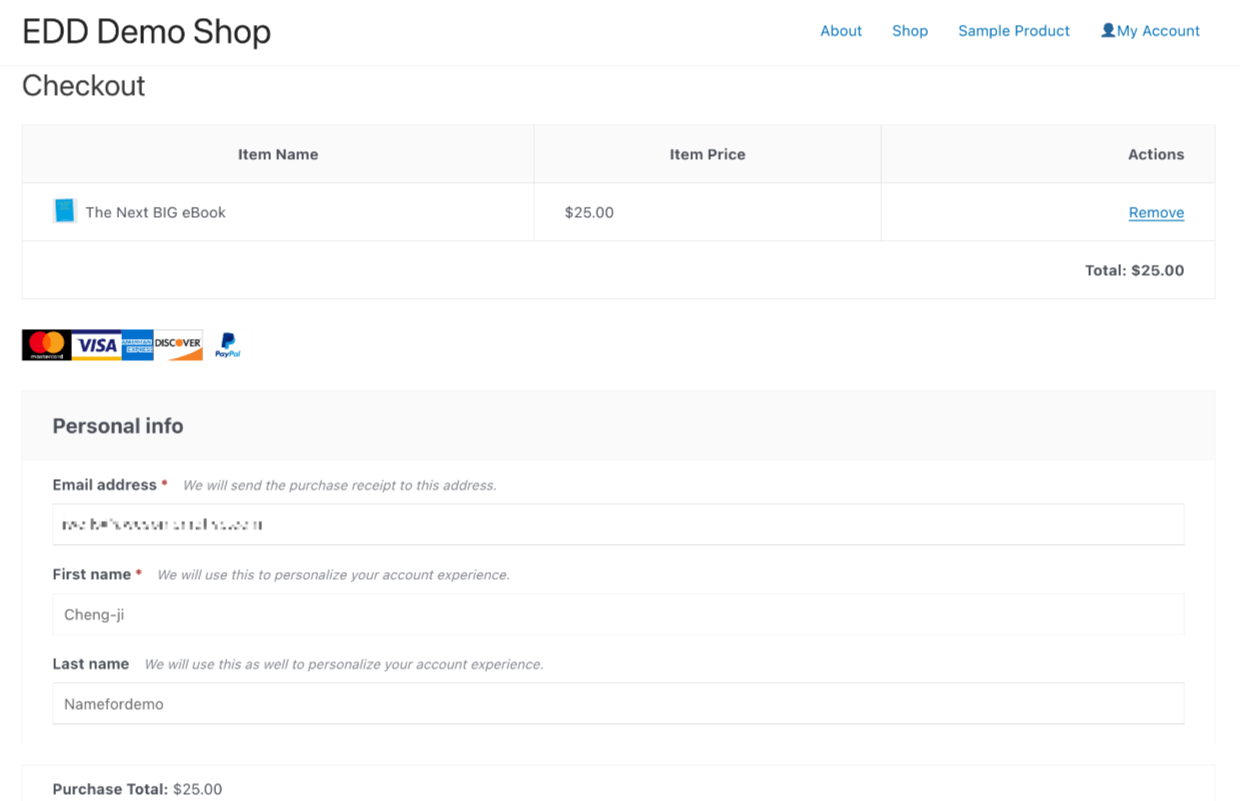 You can also use the Checkout Form builder to easily create a professional, concise checkout form:

In addition to making sure your site is optimized for mobile devices, it's a good idea to offer multiple payment methods so customers can choose their preferred option. All of your payment processing options should be secure and reliable. With EDD, you can choose from a variety of trusted payment processors, including PayPal or Stripe.
For more tips, you can refer to How to Optimize Your Checkout for Selling Digital Products.
5. Build an Email List
There are many reasons to grow your email list.
First and foremost, creating a newsletter allows you to interact directly with your customers or potential customers. You can:
Send them special offers and discounts
Share content that they may be interested in
Provide helpful information about your product
Having a direct line of communication with your audience also allows for more personalized marketing, which can increase the likelihood of conversions.
Additionally, if you offer a digital product such as an eBook or membership site, having an email list is one of the most effective ways to market these products since you can easily deliver sales materials through email promotions.
To help collect leads and build your email list, you can use a tool such as OptinMonster to create high-converting email capture forms: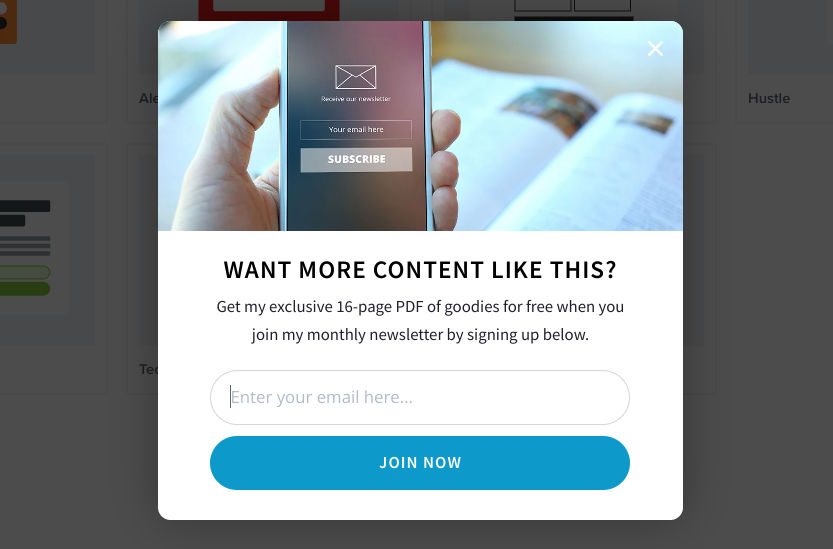 When you use EDD, you can also easily integrate your online store with a wide range of email marketing tools and services, including Mailchimp, Sendinblue, and AWeber.
Create and Sell Digital Products in WordPress
If you're looking for a way to make money online, creating and selling digital products is definitely worth considering. Easy Digital Downloads will make the process a breeze. You can use it to showcase and sell your products, engage your target audience, and manage all aspects of your eCommerce store.
What are you ready to learn about next?
Be sure to subscribe to our newsletter and follow us on Facebook or Twitter for more WordPress resources!