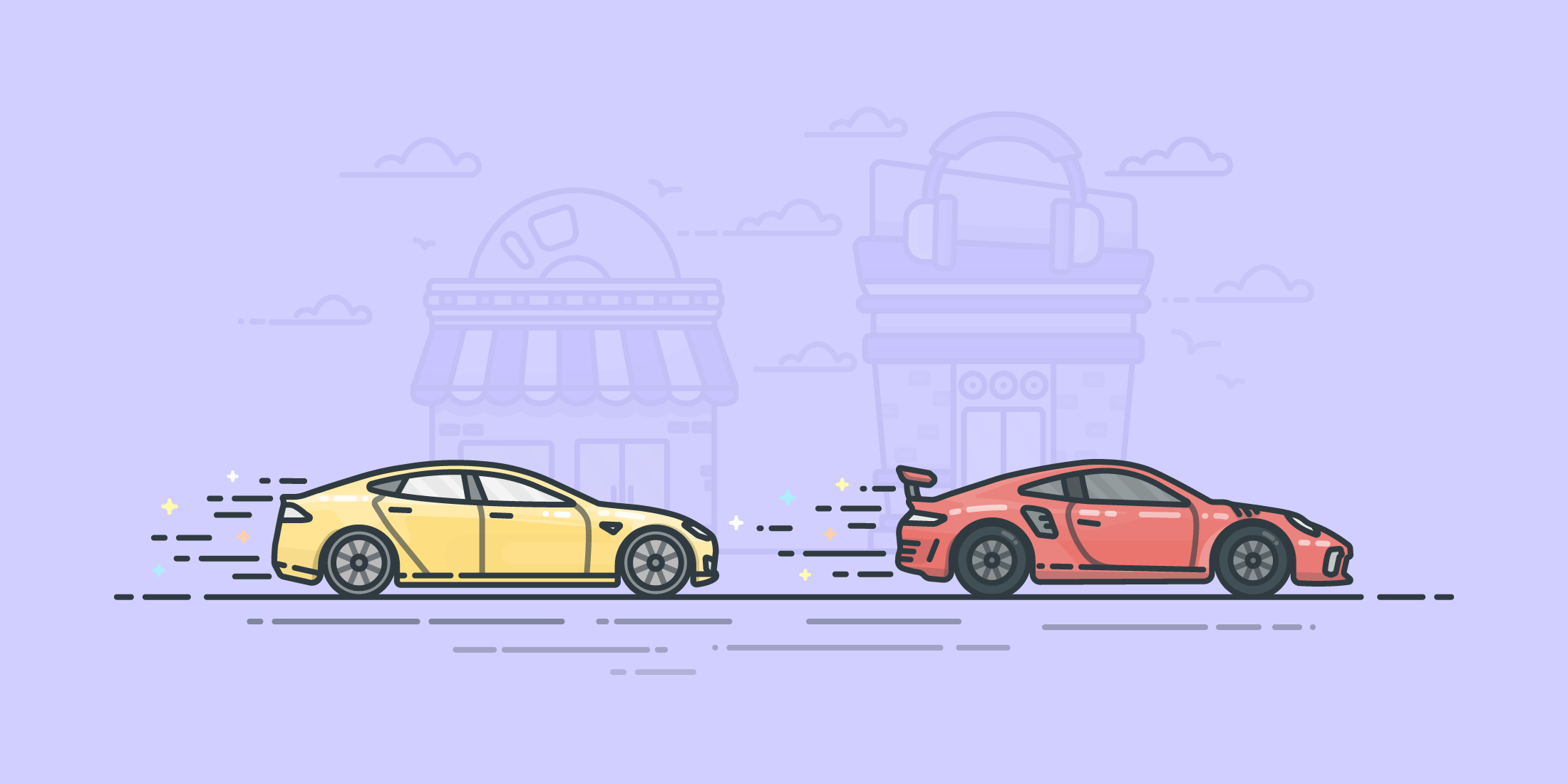 For most digital product niches, competition comes with the territory – eventually someone will come around and either try to duplicate what you're doing, or provide customers with an interesting alternative.

It can certainly be anxiety-inducing to feel the looming threat of lost customers when you've worked so hard to create quality products, establish yourself, and build your brand. But, does knowing that it's just a normal part of running a digital product business help? No? Okay, well let's talk more about what you can do about it then!

In this post, we cover 3 things you need to do when there are competitors in your market.
1. Take inventory and do some research
Auditing your own business
I'm going to go ahead and guess that you probably run your store in a way that reflects your values and what you think is best. In fact, you might think you have no reason to think that your methods aren't the right ones, because you're seeing the sales roll in, and hey, that's all the proof you need.

Everything's cool, right? Well…yes and no.

It's so, so important to be proactive and protective of your brand, even during times of relative comfort. It may be that your brand is thriving today, but competitors can come out of nowhere and surprise you.

This is especially true when it comes to digital products because in many cases, the barrier to entry is fairly low. Is the type of product you're selling something that can be easily replicated? Is it something that doesn't take that long to learn how to make? These are important questions to ask, because you want to be as prepared as possible for the effects of competitors on your market.

If you're in a relatively new niche, it may just be a matter of time before someone else figures out how to do the same thing you're doing. And if you're in an already competitive niche, well then…competitors are a given!
What are your weaker points?
What does the customer want? The best product, the best value, and/or the best experience, right? With this in mind, try to view your brand from the customer's perspective.

What are the potential vulnerabilities you can identify within your own business? Is there something left unattended, something that you've needed to update for a while, or something you're behind on?

eCommerce changes all the time; what works today might not work tomorrow. So, what does this mean when it comes to competitors on the scene?
It's research time
Long-term digital product store success doesn't happen in a vacuum; if you want to stay in the game, research is important. Without the right information, how can you make decisions going forward?

"Shopping your competitors" is not a new concept. It might feel sneaky, but it's simply necessary.

It's time to find out: What are your competitors offering? Take notes on what they're doing – from their pricing, product features, and marketing, to the website experience, purchase process, and brand elements.

Here are some more questions to ask:

What do your competitors do well?
What could they improve?
How do their products compare to yours in quality, scope, and size?
How does their product pricing compare to yours (accounting for quality, scope, and size)?
Does it seem like they have a lot of customers? Positive reviews? Social media followers?
If your competitors seem to be doing well, what marketing strategies are they using?
What kind of posts are they making on social media?
Are they doing giveaways, competitions, or other engagement campaigns?
Is their website more modern and up-to-date than yours?
Is the shopping experience efficient and pleasant?
How's the checkout experience? Have you gone through the process of purchasing a product (without necessarily actually completing the purchase)?
What are their products like? Maybe it's worth buying one to find out.
Do they offer interesting or high-value product bundles?
What are their product descriptions like?
How about the product artwork?
Are they cross-promoting with other brands?
What content formats are they using to bring in traffic?
2. Differentiate yourself
Once you're armed with all of this data, you can get a better picture of how your business stacks up against the competition. Figuring out how to differentiate yourself is the next logical step.

In general, when you have competition within your market, it's important to make yourself stand out in some way. Why should customers choose to shop at your store when there are other options? What can you offer that your competitors can't?
Should you compete on price?
Undercutting the competition is one way to get some attention, but it may not necessarily be the best strategy if you don't want to have a "budget" brand. If your brand is considered premium, or even standard quality, competing on price can limit your options; in other words, the only way to go is down.
Add value to your products
Boosting your product offering, on the other hand, does two things: It makes your store look awfully good compared to competitors who are offering less, and it communicates to the customer that you care about giving them maximum value for their money.

What extra content can you include with your products? What about other products in the same series? Or downloadable materials like workbooks, project files, and creative assets?

Instead of charging less for your products, think about what you can do to give customers more.
Change up the business model itself
Sometimes, you're better off making changes to your business model, as opposed to changing your products. For instance, if you have competitors that can more-or-less replicate everything you're doing, and you're not seeing effects from upping the value of your products, this could be something worth considering.

The membership / subscription model is one option that gives your customers a whole new experience. Some people really prefer memberships, paying a lower monthly fee to have access to the same products they would otherwise buy once in a while. Plus, it can mean more reliable revenue for you, too!

If you're not into recurring monthly memberships, think about options like one-time all access passes, or selling smaller portions of individual products. The bottom line is that offering a unique business model distinguishes you from the competition and gives customers who prefer that model an additional reason to buy from you.
Utilize buyer personas
Are your competitors using a one-size-fits-all approach? If so, catering to different buyer personas is another way to differentiate yourself.

What's a buyer persona? Well, think about the different types of people who buy your products. Are some professionals, while others are hobbyists? Are some coming from certain areas of interest? What about demographics, buyer behaviors, and preferences?

Buyer personas essentially represent different segments of your audience – and they can be extremely useful for directing your marketing efforts to the right places. But it's not just that; structuring your digital product store around different buyer personas gives your customers a much more personal experience, catering to their specific needs and desires.

In short, buyer personas can make your brand more engaging, compelling, and helpful, giving you that extra competitive edge you need to stand your ground within your niche.
3.Strengthen your brand
Although focusing on growing your brand is always a good idea, it's particularly important when competitors are on the scene. If you've managed to research your competitors and differentiate yourself from them, doubling down on your brand can fortify your entire business.

This might mean getting really clear about your brand image and brand voice, if you haven't already. Or, it could be that you haven't spent much effort on branding, and now it's time.

Regardless, there are some things to think about when it comes to strengthening your brand:

Have you claimed your brand name on any social media platforms that you plan to use? If not, do it!
Do you have consistent branding across all of your social media accounts? A uniform look across platforms is key if you want customers to immediately recognize and become familiar with your brand. This applies to images, language, emojis, and hashtags, for example.
Are you making use of all of the tools available to you? For instance, if you're active on Instagram, but you're not utilizing stories or IGTV, there may be untapped possibilities for growing your brand.
Are your branding assets all up-to-date? Outdated logos and mismatched graphics have got to go! Consider getting your brand assets updated if they haven't been for a while.
What's something new you can do to keep things fresh? Has your interaction with customers become stale? Are your methods predictable? Maybe it's time to introduce something new, like a live Q&A session, a new community forum, video content, or a fresh new website design.
Have you thought about cross-promotion? Consider partnering up with other complementary businesses, influencers, or industry professionals in order to expand your audience.
Is it time for an affiliate program? If your brand has been around for a while (or even if it hasn't), you could be missing out on the magical effects of affiliate marketing. 
You can also focus on inspiring customer confidence by utilizing social proof, such as a review system, or testimonials from bigger names, if you can get them. Keep in mind that some industry figures are happy to provide testimonials in exchange for free products!
Stay the course
Unless you've decided that the competition is just so fierce that you're forced out of your niche, stay the course and keep these strategies in mind. Maybe you can get away with just tweaking a few small things to stay competitive, or maybe you feel the need to completely reinvent your brand.
Regardless, competition certainly keeps you on your toes. It can be a good thing, if you take it as an opportunity to audit your own business, research what your competitors are doing, differentiate yourself, and strengthen your brand. All of those things can be net positives when all is said and done, so embrace the concepts of growth and change, and you'll figure it out!
How have you handled new competitors? How has the competition affected your own digital product business, and what did you do about it? We want to know! Comment below.
Illustration by Jessica Johnston