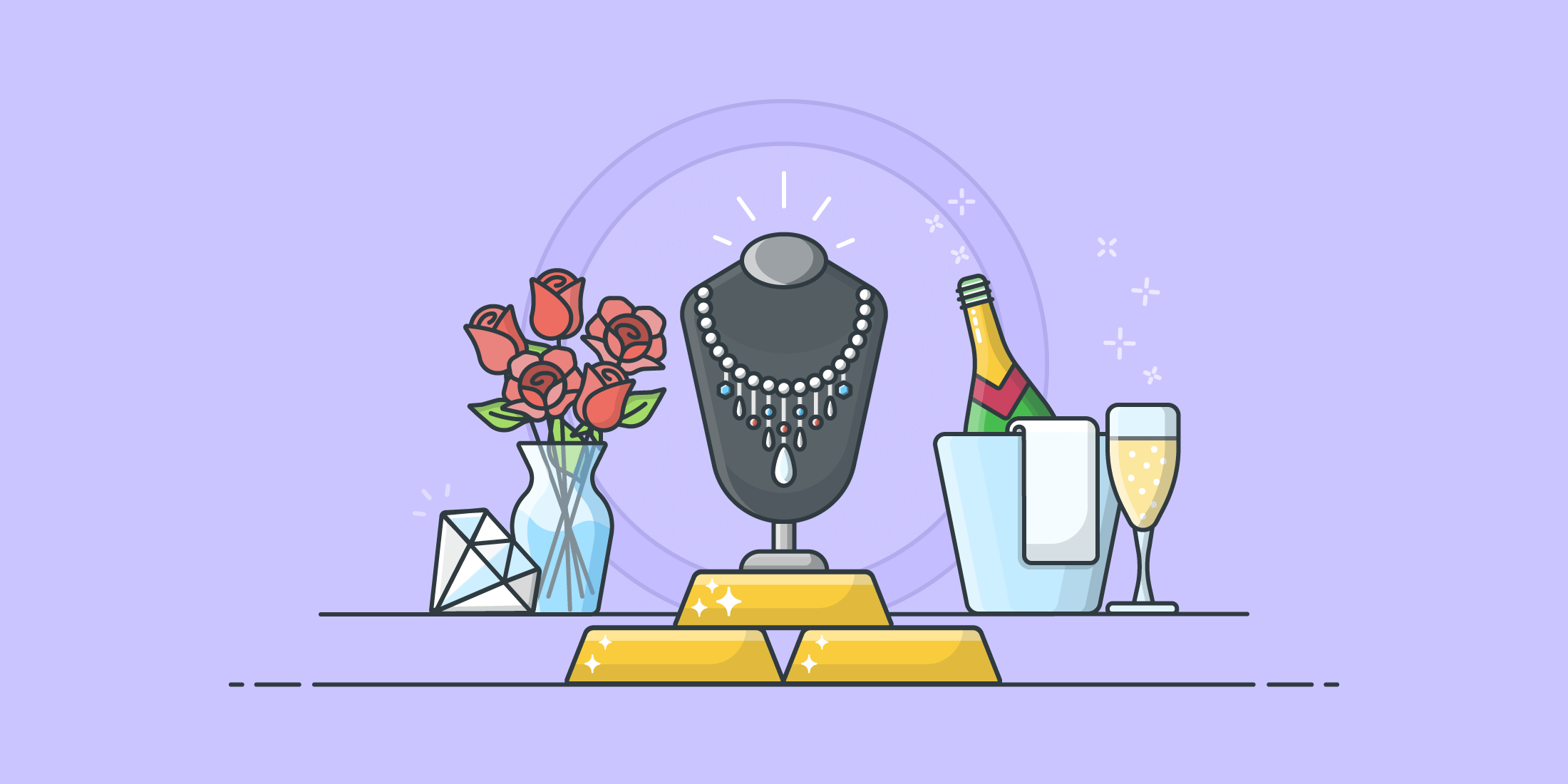 Lately we've been talking a lot about customer confidence and the different types of digital products you can sell online.
Whether you're selling eBooks, digital artwork, audio, or services, certain marketing elements and strategies are essential if you want to get customers to buy – but this especially true for high-priced products!
Maybe you're selling software and you're not sure how to get more sales conversions, or you're a digital service provider and you want to up your game. Whatever the case, customers want to see congruence between the price you're asking and the quality they perceive; this means that your website, branding, copy, communications, support, and other essential components of your business must be on point.
In this post, we've pulled together some important tips to help you make the most of your marketing efforts and inspire customers to confidently spend on your high-priced, big ticket products or services!
First, let's look at a few examples
There's no limit to the variety of possibilities available when creating digital products, but there are certain types of products in particular that usually command a higher price point. Some examples include:
Software
Web apps / SaaS
High-end / comprehensive courses
Consulting, coaching, and mentorship services
Audio / video production services
Graphic design services
Social media management
Web development and design
Themes and plugins
To successfully sell these higher-priced products, you want to operate on a different playing field in comparison to standard or bargain-priced products – and your efforts should adjust accordingly. The following tips are just a few strategies that can help you meet the higher expectations that come along with asking a higher price.
1. Create solid documentation
One of the main things customers are looking for when deciding to purchase a more expensive product is quality documentation. If they are going to invest in your product, they want to know that there is adequate information they can refer to if they get stuck or have questions.
Depending on the nature of your product, you might house the full documentation on your website for maximum accessibility, allowing customers to refer to it anytime, from anywhere. Of course, many digital products come with a downloadable PDF guide, but the recent trend has been toward searchable online documentation and FAQ databases, which gives customers the ability to troubleshoot easily (particularly when it comes to software).
Overall, your product documentation should be:
User-friendly and easy to navigate with clearly defined sections
Well-written, with correct spelling, grammar, and syntax
Straight to the point, without filler
Easy to understand, with friendly language (only as technical as is necessary)
Mobile-friendly and easily searchable (if applicable)
Visual elements, such as screenshots, demonstration videos, audio or video tutorials, or similar media can be very helpful when it comes to getting your customers up and running quickly with your web app, software, or creative templates.
2. Polish up your copy
Imagine you're shopping for premium digital products and you come across a beautifully-designed website, only to see sloppy or amateur-sounding copy that's hard to follow, or even worse – full of embarrassing mistakes! It's pretty hard to take a website seriously if it seems as though the creators haven't bothered to adhere to the most basic standard of professionalism, and even seemingly minor mistakes can take your brand down a notch, turning off customers in the process. As a digital business owner, you not only want your customers to be impressed when they visit your site; you also want them to walk away having zero questions about your legitimacy.
Putting in the extra time and effort to write engaging digital product copy in the first place is one of the most effective things you can do to ensure that you're presenting customers with a polished image that merits a premium price. Pay attention to your tone and style; "casual and friendly" might work well for selling standard-priced products, but there is a certain art to premium language (as long as it's consistent with your brand voice).
Remember, you want to create an atmosphere around your brand that enables the customer to envision how their lives will benefit from using your product. Sure, you don't want to come across as stuffy or rigidly formal, but you do want to let your customers know that your business is professional – and your products are high-quality. If you don't feel like writing copy is your strong suit, consider hiring a professional copywriting service to make things easier.
3. Make sure your product specifications are clear
With the lower barrier to entry, digital products can be (at times) a somewhat hit-or-miss market, which means that transparency is more important than ever! Your customers want to be 100% sure that your product really is what you say it is, so it's up to you to be as clear as possible in order to inspire their confidence to buy.
Any important product specifications should be accurate and upfront, including:
File sizes (zipped and unzipped)
File formats
Number of files
Skill or software prerequisites
Terms of use / essential license information / publisher information / rights
Anything else included with your product
Anything else required to be able to use your product
4. Provide social proof via testimonials
In the age of social media, social proof is more important than ever. People have relied on word-of-mouth and referrals for centuries, and due to the intangible nature of modern digital goods, testimonials and other forms of collective approval (ratings, social media support) are crucial. For high-priced products in particular, the customer's purchase decision is scrutinous at the very least!
From quoting customers and big industry names to implementing a product rating system on your website, there are a variety of ways to ramp up your social proof. Consider inviting customers to rate your Facebook page, retweeting and reposting any reviews on Twitter, Instagram, or other platforms, and use social listening to keep track of what everyone is saying about your products to show customers that you're listening and willing to make improvements where necessary.
5. Show customers how your product can be used
Let's face it – people are busy, and when they browse your website, they often aren't looking to do extra detective work. Customers want to understand the gist of what you're offering (and how it will benefit them) as quickly and efficiently as possible, and it's your job to connect the dots for them if you want to increase sales on your high-priced products.
The less work they have to do to understand your message, the better, so showcase different use-case examples that illustrate how your product can function in different settings. This can include varying scenarios that highlight the different features of your product, as well as the different types of people and businesses that might benefit from them.
6. Create a stellar product demo
When it comes to high-priced digital products, creating a high-quality (and accurate) product demo does wonders for customer confidence. Conceptual possibilities are just not enough – the customer must see, hear, or otherwise experience your product in order to complete the purchase decision. A good digital product demo goes a long way when it comes to building trust in your brand, and it safeguards against any disappointment or dissatisfaction customers may experience from making an uninformed purchase.
To justify a higher price tag, your demo should showcase things like:
Premium quality
Advanced functionality
Versatility or extensive application
Long-lasting value
Measurable results and benefits
Competitive edge
Extras and bonus features
7. Make an emotional connection
Why should your customers want your premium product? Why do they need your product? Sales wisdom indicates that the fear of missing out (FOMO) is one of the biggest driving factors for people when making purchases, even more so than the actual desire for the product itself. It's also been proven that enabling customers to visualize experiencing emotional outcomes such as enjoyment and satisfaction or other relatable results (aka benefits) can boost conversions. What is the emotional result that comes from experiencing the benefits of your product?
Consider incorporating language and concepts that are relatable to the customer emotionally when describing these benefits, such as:
Enjoyment / feeling good
Making more money / attaining success or security
Making life easier / saving time and hassle
Improving relationships
Creating / gaining skills
8. Use premium branding
Just like with your website copy, if you want to sell your products at a premium price, they should be showcased with premium branding. In a sense, this is the icing on the cake that wraps up your entire presentation into a nice, polished package for the customer. It can be off-putting when a company charges a hefty price for their product, but the branding looks like a 90s infomercial! If you're not sure where to start, do some research and take notes on what your competitors are doing. You want your brand to be as modern and up-to-date as possible, showing your customers that your brand is "with it" enough to warrant the price you're asking.
Design is the silent ambassador of your brand.Paul Rand
Your premium design and branding should extend across all touchpoints of your product; from your website, to the product they receive when they purchase, to your email newsletter design, to your social imagery, and to any other livery such as your business cards or merchandise. Ensure every touchpoint reflects the premium nature of your business.
9. Ensure that support is easy to reach
If you want your customers to feel confident in spending on your premium product, you're going to need to show them that you're easily available should they need assistance. Making your support process straightforward and convenient makes a big difference to the customer; nobody wants to pay a high price for something unless they have some feeling of security, a guarantee that it will work for them, or at the very least, the knowledge that someone will help them if needed.
Include a simple contact form on your Help / Support page so that customers can easily reach you if they have any issues or concerns. Depending on the complexity of your product (such as software) you may even implement a support ticket system. Either way, being easy to reach will give customers the reassurance they need to take the risk of spending a significant amount of money.
10. Have a clear refund policy
When it comes to digital products, it's important to address refunds in an honest and forthcoming manner – and this is especially true for high-priced products. In addition to converting sales, your goal should always be customer satisfaction. After all, customers are your best source of social proof and, of course, revenue! Big ticket items require fewer (but perhaps more researched/qualified) sales to meet the same revenue goals as larger amounts of lower-priced items, and you want to foster an open and transparent relationship with your customers to attain these high-priced sales.
Making your full refund policy readily available on your website, written in clear and easy-to-understand language, can make all the difference between a skeptical website visitor and a confident customer.
A premium experience to match your pricing
If you're pricing your product at a premium, every single touchpoint should be a premium experience: From the very first impression (website and branding) to the product demo and the actual product itself, to communication (emails, social media), to support and documentation. This also includes following up with customers after their purchase to make sure that they're happy with the product! Ultimately, every single experience the customer has with your product and your business should feel premium, creating a consistent experience from start to finish that sets the stage for the customer's confidence in your high-priced product as something well worth the cost!
Have some feedback for us? What has helped you succeed in selling high-priced digital products? Is there anything you've found particularly effective? Do share!
Illustration by Jessica Johnston.