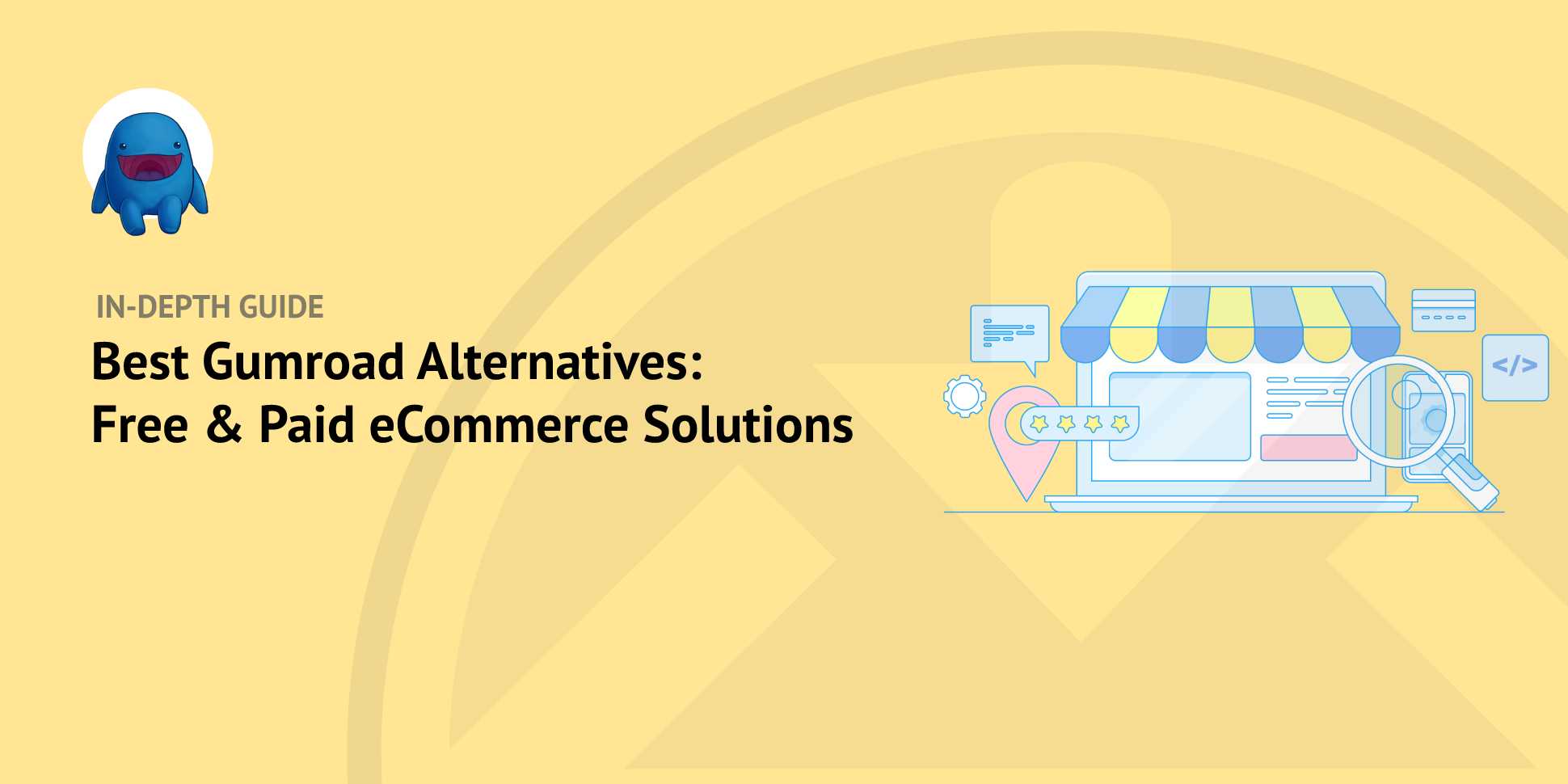 Are you looking for the best Gumroad alternatives?
You're not alone. Gumroad recently announced that it's raising prices to 10% — plus credit card processing fees — in January. This price hike (nearly 3x the original cost for some users) comes as a major disappointment to a lot of sellers and creators.
Fortunately, there are plenty of affordable and powerful eCommerce alternatives you can use.
🔍 In this post, we'll cover:
Why Consider Gumroad Alternatives for eCommerce
Gumroad is an eCommerce platform for creators to sell digital products directly to customers. It lets users create an eCommerce store, manage sales, and build customer relationships.
But it isn't without its faults. The most notable is its new pricing structure. As of the end of January 2023, Gumroad will charge creators a 10% flat fee. For some, this means as much as a 300% increase!
High processing fees aren't the only con.
👎🏽 Other Gumroad disadvantages include:
Limited payment options (only accepts payments from major credit cards or PayPal accounts)
No refund feature
Minimal customization options
No inventory management system, making it difficult to track product availability in real-time
Lack of upsell/cross-sell features
Few integrations
No Learning Management System (LMS) features
Licensing API doesn't deliver updates, only the option to activate/deactivate & track activation limits
Discount codes are 'per product', preventing you from sharing a discount code across multiple products
The good news is that there are many eCommerce alternatives to choose from. You can easily migrate from Gumroad to WordPress or another platform. The first step is familiarizing yourself with the best options.
Summary of Best Gumroad Alternatives
| Gumroad Alternative🛒 | Starting Price💸 | Transaction Fee(s)💰 | Best For💡 | Platform/CMS |
| --- | --- | --- | --- | --- |
| Easy Digital Downloads | Free | $0 | Digital products, downloads, & subscriptions | WordPress |
| WP Simple Pay | Free | 3% | One-time payments & donations | WordPress |
| WPForms | Free | $0 | Billing and order forms for selling a few products | WordPress |
| MemberPress | $179.50/yr | $0 | Membership sites & drip content | WordPress |
| LearnDash | $199/yr | $0 | Online courses | WordPress |
| Sellfy | $22/month | $0 | Digital products | Fully hosted |
| Payhip | Free | 2% – 5% | Digital products & memberships | Fully hosted |
| Teachable | Free | 5% | Online courses | Fully hosted |
🌐 Note: Gumroad is a fully hosted platform. If you want to create and manage your own website, we recommend WordPress. To learn more about using WordPress for eCommerce, check out this helpful guide: How to Start an Online Store With WordPress (Best Way).
8 Best Gumroad Alternatives
Thinking about making the switch from Gumroad to a more cost-efficient eCommerce platform? Below are 8 of the best Gumroad alternatives, including both free and paid options:
1. Easy Digital Downloads

If you're looking for Gumroad alternatives for selling digital products, the best option is Easy Digital Downloads (EDD).
This popular eCommerce solution caters to digital creators and sellers. Like Gumroad, EDD lets you set up an online store and sell digital products directly to customers. This includes downloads, files, software, eBooks, and much more.
There is a considerable amount of EDD features that are similar to (and in many cases better/more flexible than) Gumroad's. For instance, it appears Gumroad doesn't let you download products from your library. In contrast, EDD lets you easily export digital products, subscriptions, and other data into CSV files with just a few clicks.
The beginner and user-friendly WordPress plugin lets you handle all aspects of your eCommerce website with ease.
🔑Key Features
Various payment gateways (Stripe, PayPal, Apple/Google Pay, etc.)
Recurring payments & subscriptions
Discounts & coupons that can be applied individually or across multiple products
Email marketing tools
Advanced reporting & analytics
One-click checkout process with Buy Now buttons
Full shopping cart with optimized checkout page
Invoicing & purchase receipts
Content upgrades, cross-sells, & upsells
MultiCurrency/Currency switching & automated sales tax
Perhaps most importantly, Easy Digital Downloads is incredibly affordable. The free EDD core plugin provides an impressive set of features for creating and managing a digital store. It includes many features that other eCommerce solutions only offer with their premium plans.
If you do want more advanced features, functionality, and tools, you can choose from multiple pricing plans designed to fit any budget. These premium passes give you access to an extensive library of (otherwise paid) addons. These extensions cover nearly every aspect of eCommerce, including customer support, SEO, cart abandonment, email lists, and much more.
Easy Digital Downloads is completely transparent when it comes to pricing. You won't have to deal with transaction or payment processing fees, hidden costs, etc. The subscription-based model lets you pick and choose exactly which features you need for your online business and upgrade as necessary. There are no middle-man fees; just one flat rate per year, no matter how much you sell.
➡️ If you want to learn more about Easy Digital Downloads as a Gumroad alternative, check out:
2. WP Simple Pay

For a free, straightforward Gumroad alternative, WP Simple Pay is worth considering.
This WordPress plugin is an easy-to-use solution for creating online payment and donation forms. You can use it to build forms and connect them to the Stripe payment gateway to accept payments/donations directly from your WordPress website.
It's ideal if you're a small business and don't need/want a full shopping cart system.
🔑Key Features
eCommerce without a cart
One-time payments
Payment form templates
Sell one product/service & accept donations
Subscriptions & recurring payments
Form customization
You can download WP Simple Pay for free. Premium plans start at $49.50. The Pro versions include more advanced payment features, like buy now/pay later options with Klarna and Afterpay/Clearpay.
3. WPForms

WPForms is one of the best form builder plugins for WordPress and an excellent alternative to Gumroad. If you want a simple way to accept credit card payments on your site without setting up a full shopping cart system, WPForms could be the perfect solution.
It lets you easily add forms to your WordPress site using an intuitive drag-and-drop builder. This includes online order and payment forms for selling products, as well as contact, registration, survey, and newsletter forms.
Another benefit of using WPForms for eCommerce is that it's loaded with conversion tools. For instance, you can create custom, distraction-free form landing pages to boost conversions and use user journey tracking to collect key marketing insights.
🔑Key Features
Online billing & order forms
400+ template library, including order & payment templates
Drag-and-drop interface
Conditional logic & advanced form fields
Entry management
Support for multiple payment gateways (Stripe, PayPal, Square)
Recurring subscriptions
Surveys & polls
Customizable, automated notifications & confirmations
There is a free/Lite version of WPForms. However, to create order forms that connect to Stripe or PayPal, you'll need to upgrade to a Pro license (starting at $199.50 per year).
Like Easy Digital Downloads, WPForms doesn't charge additional transaction fees. You only have to pay the standard credit card processor fees.
4. MemberPress


MemberPress is one of the best eCommerce plugins for selling membership sites and placing exclusive content behind a paywall. It lets you set up subscription payments, membership levels, and custom content.
It's an excellent option for monetizing your WordPress site. You can use it to create and sell an online class, digital newsletter, product bundles, and more.
🔑Key Features
Online courses
Membership and subscriber-only (drip) content
Quizzes, podcasts, and other media
Member activity tracking
Automated emails
Subscriptions & recurring payments
If you're only interested in free Gumroad alternatives, MemberPress probably isn't what you're looking for. However, although there's no Lite version, there is a 14-day money-back guarantee. Plans start at $179.50.
5. LearnDash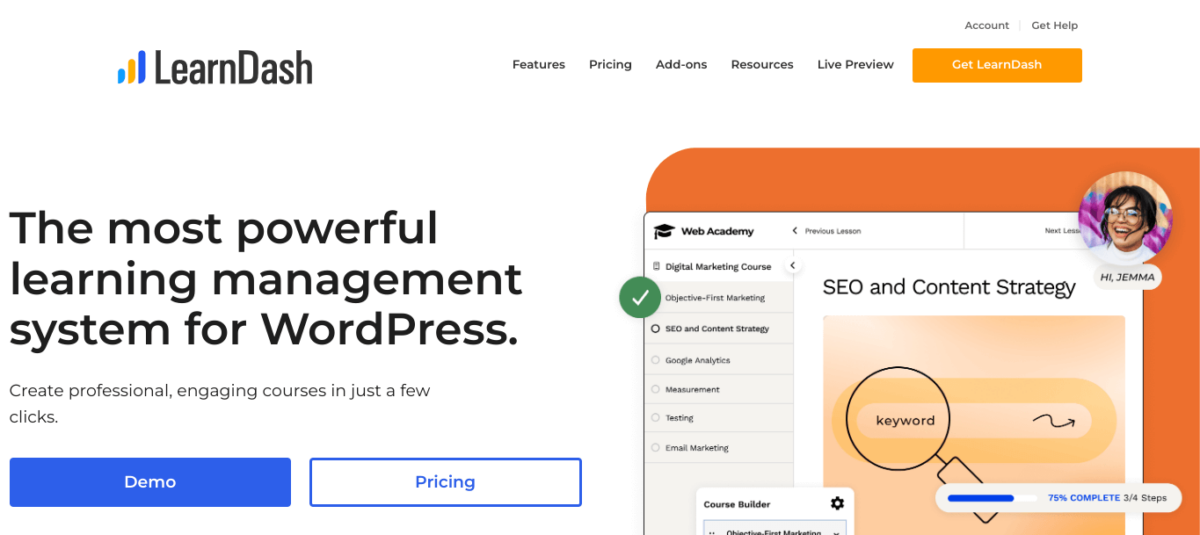 If you're looking for Gumroad alternatives for selling online course content, another option to consider is LearnDash.
LearnDash is different in that it focuses specifically on LMSs for WordPress websites. This feature is largely lacking with Gumroad. With LearnDash, you can create engaging lessons, quizzes, and surveys. Additionally, you can use gamification features such as badges and rewards.
🔑Key Features
Complete learning management system
Drag-and-drop course builder
Multimedia support
Multiple payment methods (Stripe, PayPal, 2Checkout)
Gradebook tracking
Videos, tutorials, and webinars
Badges, rewards, and other gamification tools
Automatic renewal notifications
Refund protection
LearnDash is a premium WordPress plugin. Plans start at $199 per year for one site.
6. Sellfy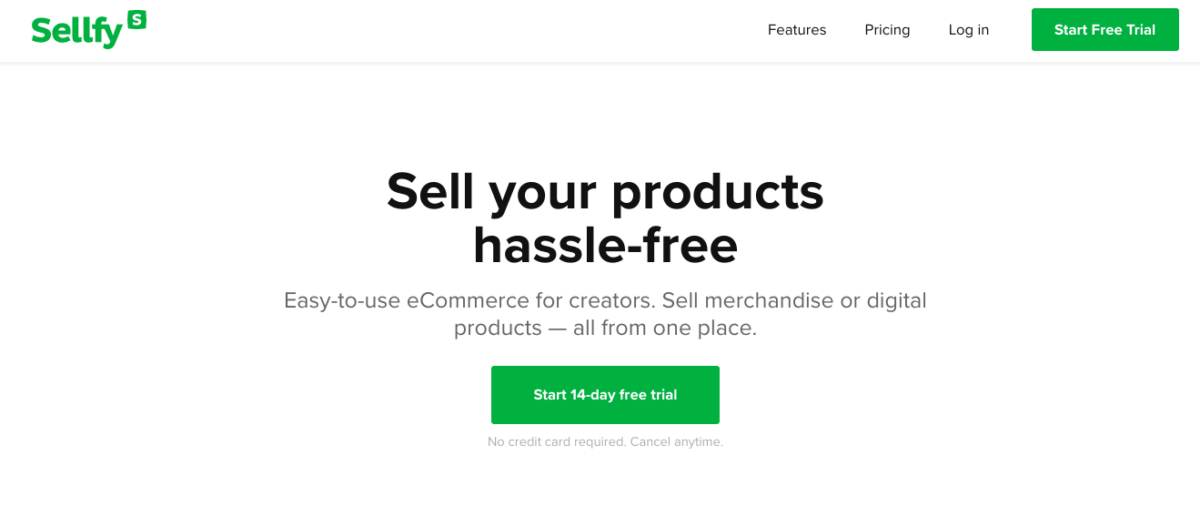 If you don't want to use WordPress but sell digital products, Sellfy is a premium Gumroad alternative.
It's a Software-as-a-Service (SaaS) platform that lets you easily create an online storefront for digital goods, print-on-demand products, and subscriptions. It's not as popular as WordPress/Easy Digital Downloads, nor does it offer as many customization features.
However, it does come with a solid number of tools for selling and marketing products. You can integrate with email marketing services, create discount and promo codes, and leverage upselling features.
One of the biggest advantages of using Sellfy vs. Gumroad is that it doesn't charge transaction fees. There's just a payment gateway fee, which is typically 2.9% + 30¢.
🔑Key Features
Promo and discount codes
Store builder + landing pages
Integration with Google Analytics and Facebook Pixels
5 Storefront themes
User-friendly interface
Store customizer
Unlike EDD, Sellfy doesn't offer a free version. You can choose from multiple pricing tiers, with plans starting at $22 per month (when billed annually). There's also a 14-day free trial and a 30-day money-back guarantee.
🛒 To learn more about how Sellfy compares to EDD, check out Easy Digital Downloads vs. Etsy vs. Sellfy (Which Is Best?)
7. Payhip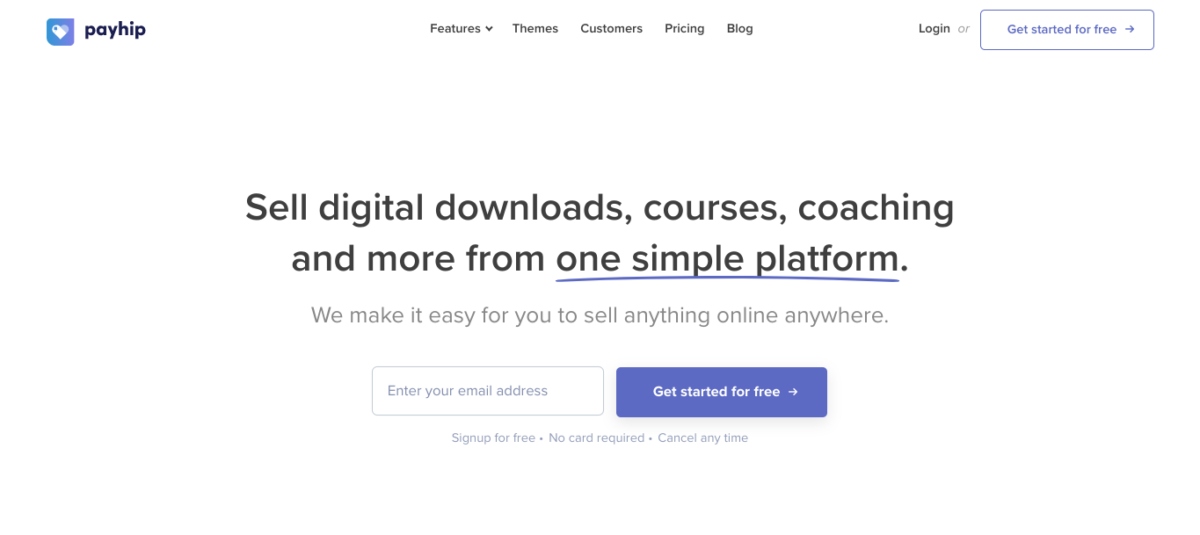 Payhip is another eCommerce solution for selling digital products. Of all the Gumroad alternatives, Payhip is probably the most similar. But there are a handful of key differences.
It combines a powerful set of tools with a simple and intuitive user interface so you can quickly create and publish your product for sale. You can set up payment systems like PayPal, Stripe, and Apple Pay. All payments are tracked in real time.
Payhip also comes with many more features and customization options than Gumroad. This includes an integrated marketing suite for promoting your product through email campaigns and social media platforms.
🔑Key Features
Simple checkout solution
Support for digital or physical products, as well as memberships
Basic customization
Easy setup
Discount and coupon codes
2-5% transaction fee (depending on plan)
Affiliate marketing
Although Payhip does charge a transaction fee and payment processing costs, it's still cheaper than Gumroad. It also offers a free plan, with premium plans starting at $29 per month.
8. Teachable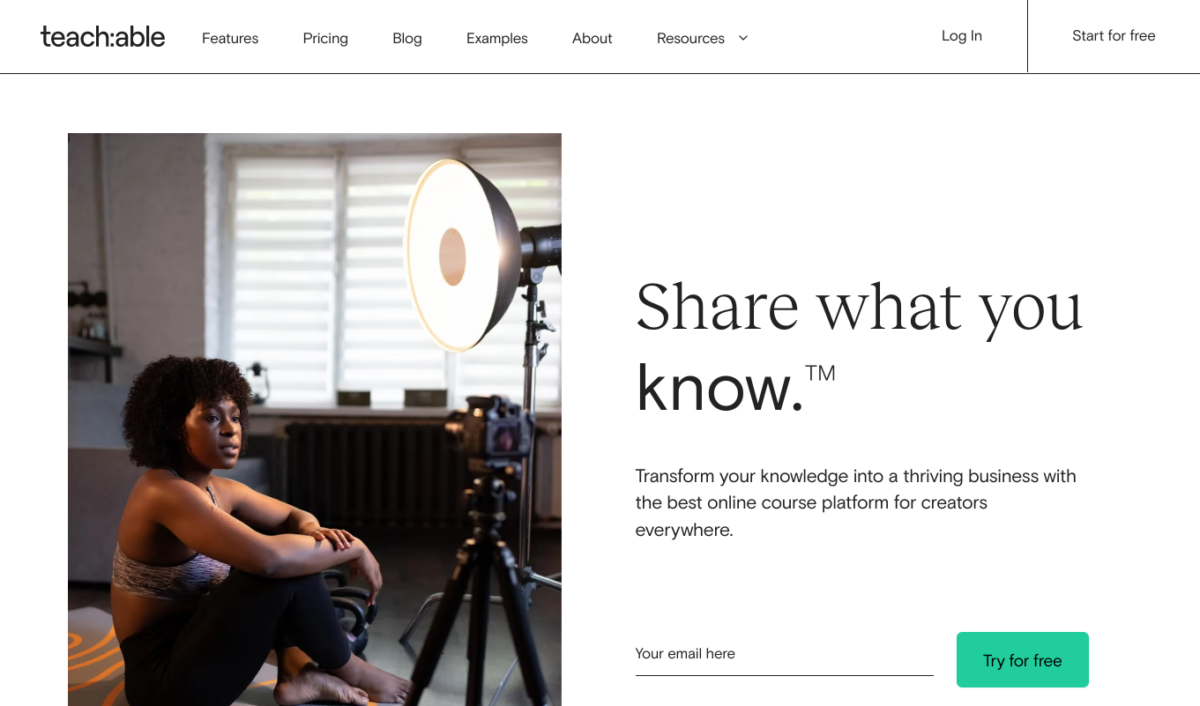 Rounding off our list of the best alternatives to Gumroad is Teachable. Similar to LearnDash, Teachable is a comprehensive online learning platform that makes it easy to create, sell, and promote online courses.
You can use it to securely host content, customize courses, track student progress, collect payments, and more. It's super easy to use and set up, even for beginners. You can also use plenty of marketing features to sell your online courses, including automated emails and discounts.
🔑Key Features
Digital course content
Support for multiple file types (audio, video, PDFs, etc.)
Landing page builder
Coupons and discounts
Email automation
Referrals and affiliate program
Quizzes and projects
Teachable lets you get started for free, but that plan is pretty limiting. Paid plans start at $29 per month, which includes a 5% transaction fee.
Migrate from Gumroad to WordPress
Ultimately, the best Gumroad alternative depends on your specific needs and budget.
However, if you're looking for an eCommerce solution that is flexible, powerful, and affordable, you can't go wrong with WordPress and Easy Digital Downloads. In addition to the impressive and robust free, core plugin, you have various pricing plans to choose from.
Ready to make the switch? Migrate from Gumroad to Easy Digital Downloads today to lower costs and optimize your eCommerce website. If you need help making the switch, we're always here! Just fill out this form and we'll get you started ASAP.
📢P.S. Be sure to subscribe to our newsletter and follow us on Facebook or Twitter for more eCommerce resources!