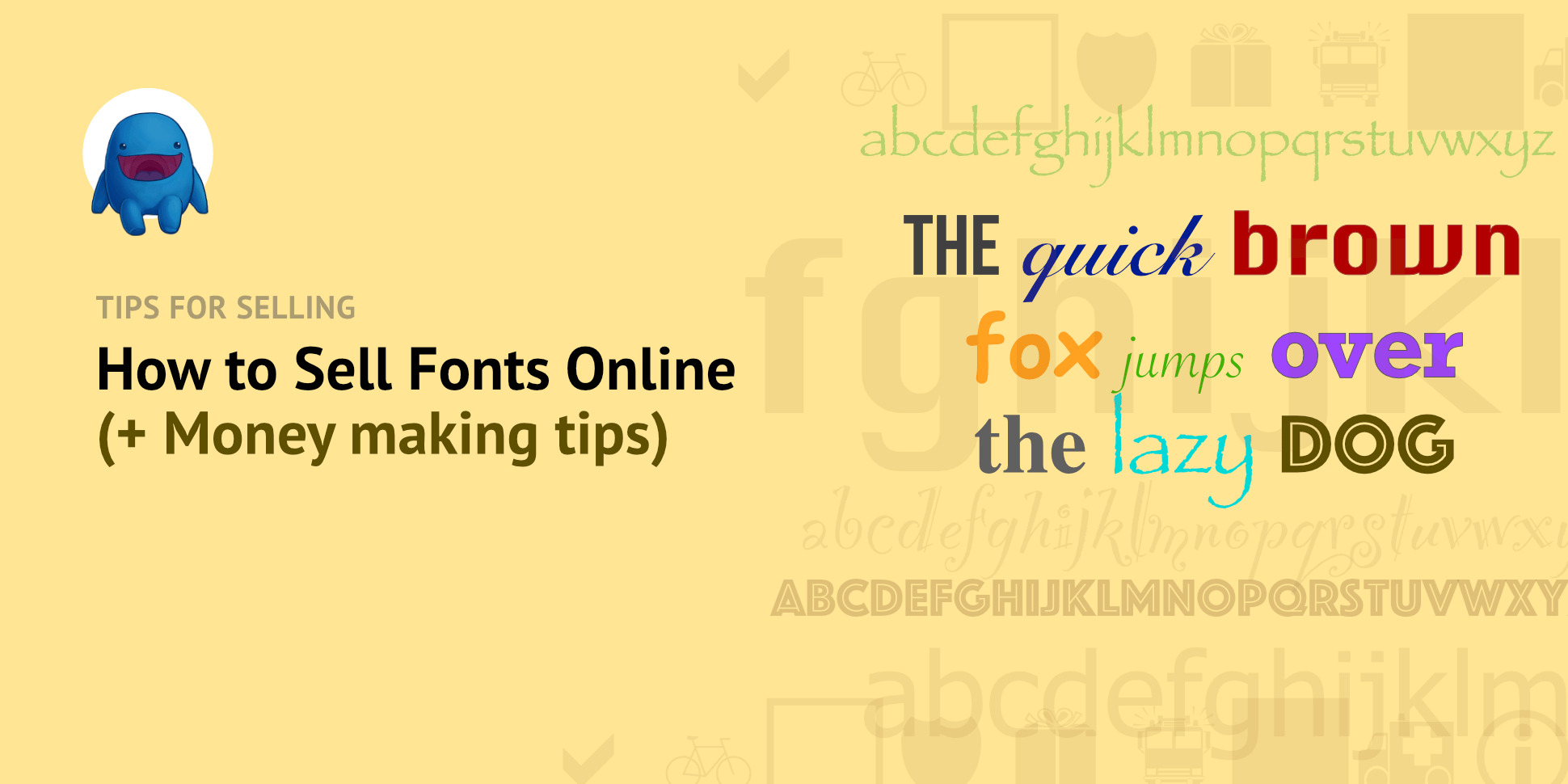 Are you looking for a way to sell your fonts online? Great idea. This is a fantastic way to help others with your design skills and generate passive income.
You've come to the right place. In this article we'll show you how to sell your fonts for free! You can easily start a business or side hustle with no overhead costs.
---
Start Selling for Free

The best way to build a business or side hustle with your fonts is to sell them on your own website.
In the past that was hard. You had to do your own web design. You needed a web developer or team of developers for eCommerce functionality. Or you needed to learn how to code. But not anymore.
🎉 You can build your own website and eCommerce platform with no coding required.
Two Examples
Here are beautiful sites selling some really cool looking fonts.
🤩 How'd they do it? With WordPress and Easy Digital Downloads.
Take full control and build your own font store with WordPress and Easy Digital Downloads (EDD).

About WordPress and EDD
Why use WordPress and EDD? Because you get power, flexibility and affordability.
Why WordPress?
WordPress is the best way to build your own website. It now powers more than 43% of the entire web. What!? 🤯 Yes. WordPress has the largest ecosystem of themes (templates), plugins, and professional service providers. This makes it powerful and flexible.
You can trust WordPress will always be ready to adapt, grow, and change with your business. It's as future proof as any web technology ever has been, or likely will be.
😭 Don't have a WordPress site? No worries! 😂 WordPress is free! Hard to believe, but true. The world's best and most popular website builder is open source. It's free and priceless. You can use it however you want. You just need a good web host.
Why EDD?
Just like you can trust WordPress, you can trust Easy Digital Downloads. EDD has a proven 10-year track record. More than 50,000 businesses trust EDD to run their digital stores.
EDD is perfect for selling fonts, PDFs, eBooks, software, and every digital-thing in between.
Why Not Other Solutions?
First, because most other eCommerce solutions are built for selling physical products and goods. Not digital products. You'll lose time with needlessly complicated setup steps for shipping, inventory, and logistic tools you don't need.
Sure, many of these solutions have added digital on, sometimes charging extra for it, but EDD is purpose-built from the ground up for digital products.
Second, because you can use EDD for free.
Free As In Free. No Overhead.
Most other eCommerce solutions only offer a brief free trial and then lock you into expensive monthly pricing. You can use EDD free forever. You can get started, and hone in your business model, with no overhead expenses.
As you grow, you can add features like Amazon S3 or DropBox integration, subscriptions, product reviews, and software licensing. Just grab an EDD Pass. Add what you want, when you need it. It's future proof and all up to you.
Take full control! Here's what the free version of EDD gets you:
Protected product files, only paying customers will have access to your digital downloads
Unlimited number of products
Full control over pricing
Shopping cart
Flexible checkout options
Discount codes
Customer management (basic CRM)
eCommerce reports
Import/export products and data with CSV
Stripe and/or PayPal integration
White label (full control over branding)
⭐️ What's stopping you from building your dream right now?
---
Step-by-Step Guide to Start Selling
After you've installed Easy Digital Downloads you'll have a new menu item called Downloads on your WordPress dashboard (left side).
🔍 Learn more about using and installing plugins here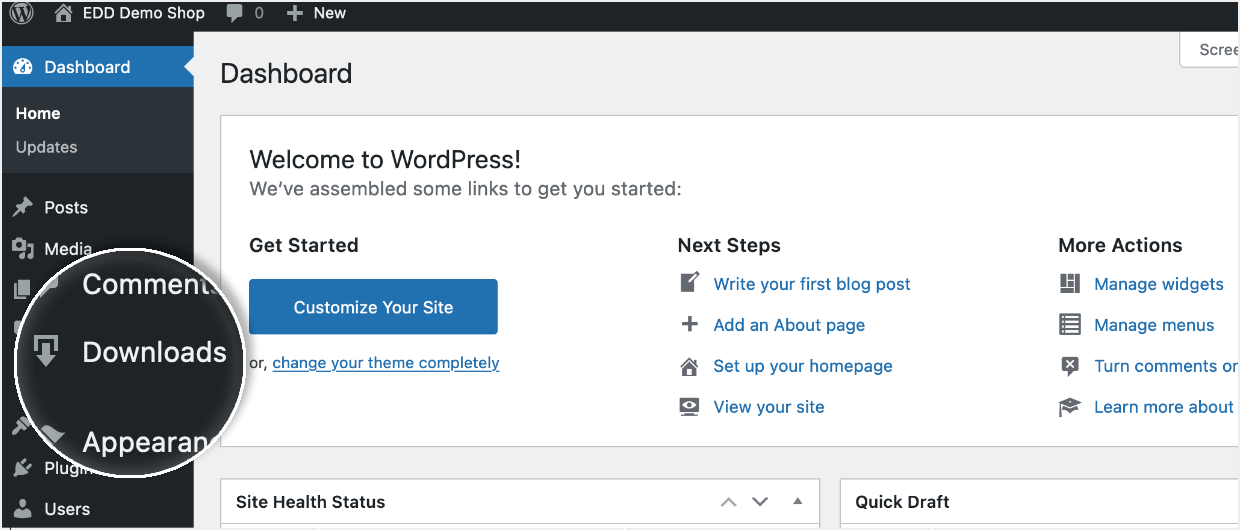 Digital products are called 'Downloads' in EDD.
First, hover over Downloads and click Add New.
Next, enter the name of your font. Give it a description. Be sure to provide detailed specs about the variations, weights, style, etc.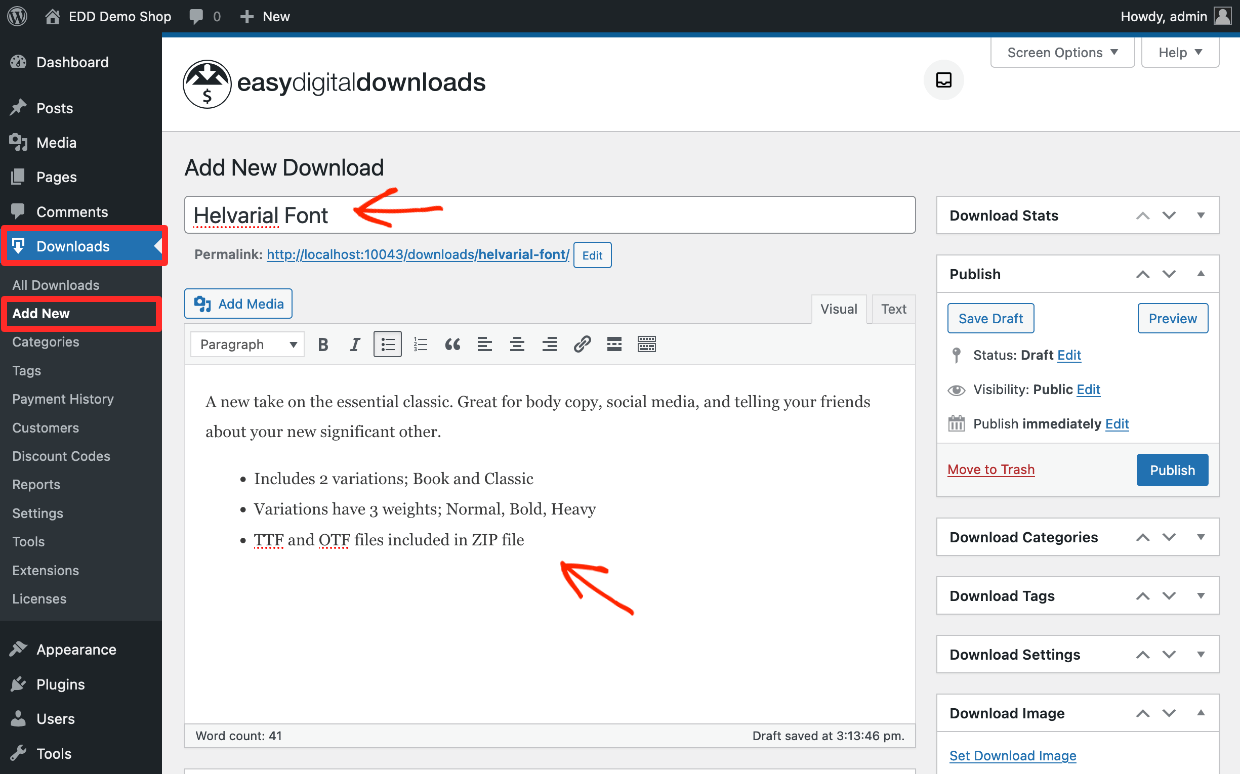 After that, give your font product a price.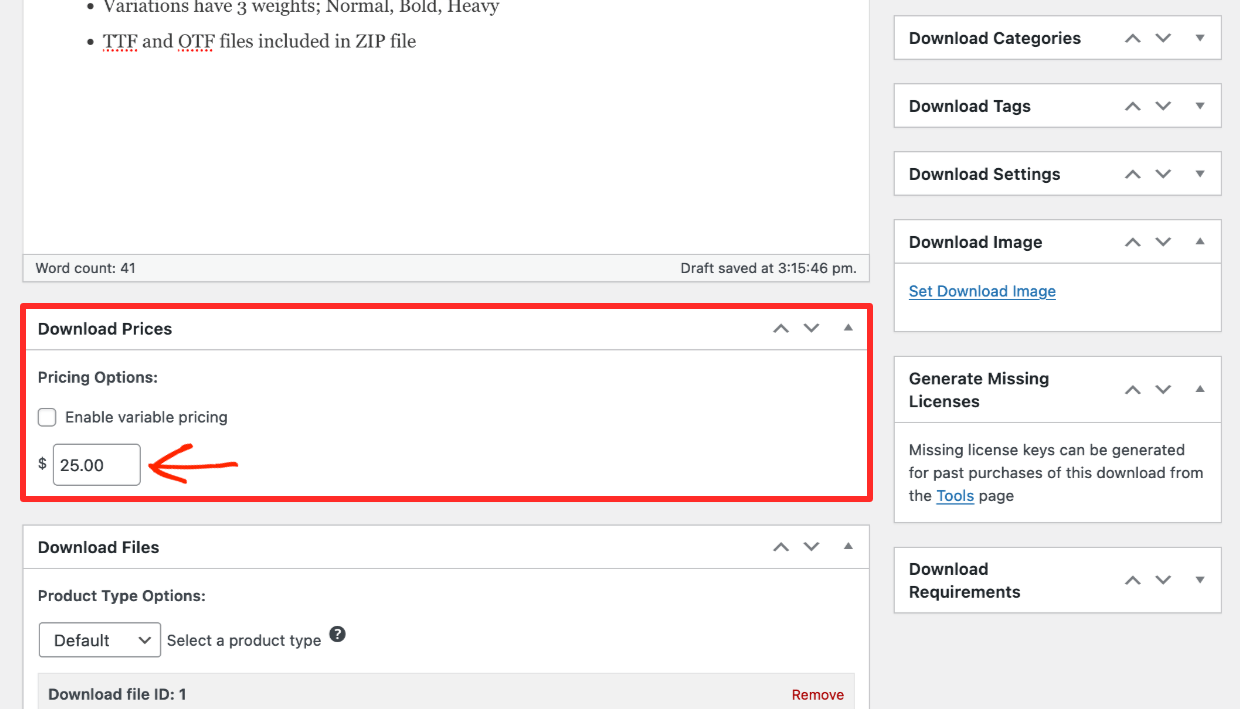 Next, we need to configure the Download File. This is the font file/s that the customer will get after purchase. Your customers get an auto-expiring link on their purchase confirmation page and confirmation email. This helps prevent piracy.
Under File Name type in a phrase that describes the product. We suggest, for this example, typing something like "My Font', or the 'Download Now'. This word or phrase will be a clickable link on the confirmation page and email.
Under File URL click Upload a File and upload your font file. We recommend selling it as a ZIP file.
Note: This download file will be protected from search bots and unauthorized file downloads (by non-customers). Suh-weet! 🥳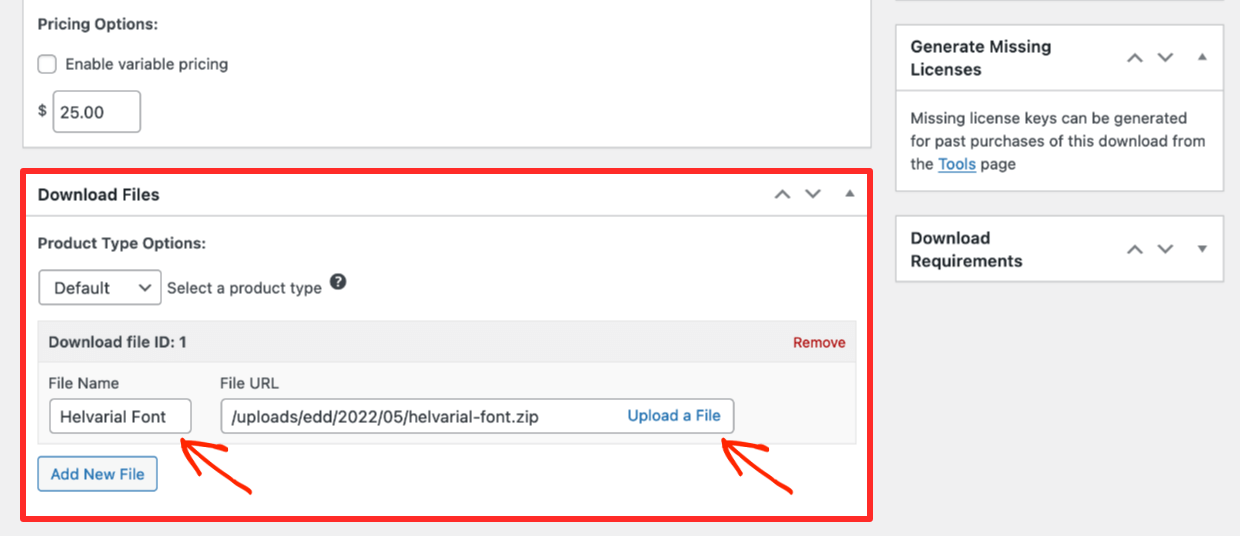 Product / Download Image
Last, you need to add an attractive Download Image. This is vital. It's what the customer sees while they are shopping. Make sure it looks nice. Try make the font as attractive as possible by using color and demonstrating how cool it is to use the font.
🔍 Check out our guide for making product images (it has free templates too!)
Once you have a JPEG or PNG image ready, go under Download Image and click Set Download Image.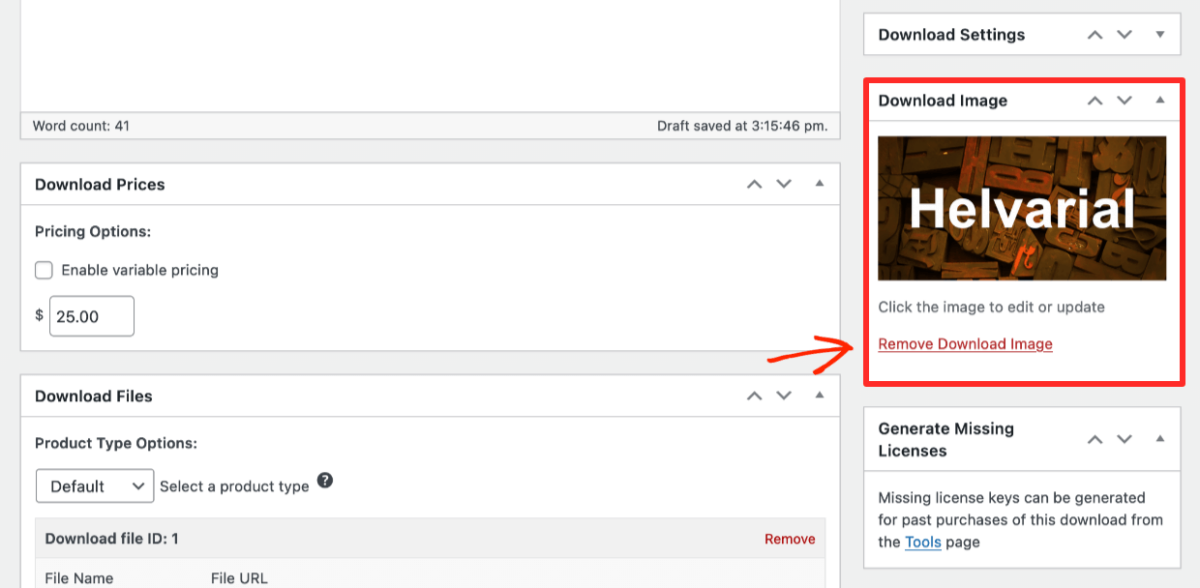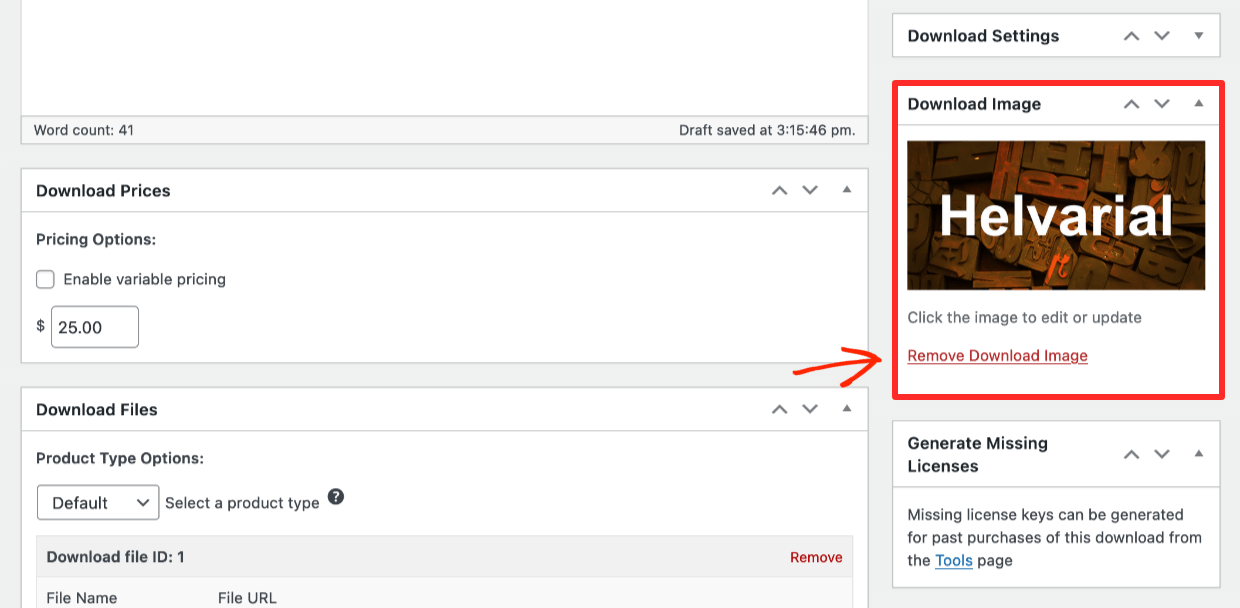 After that…it's ready. Good work! That was easy! Click Publish.
Let's see the page as the potential customer will see it.
Click on View Download on the top notification banner that appeared after you hit publish.

You'll see your font (Download, Product) on your website's frontend. This is the product page or download page. In our example we are using the free Astra theme. Your site's look and style will vary depending on which WordPress theme you have.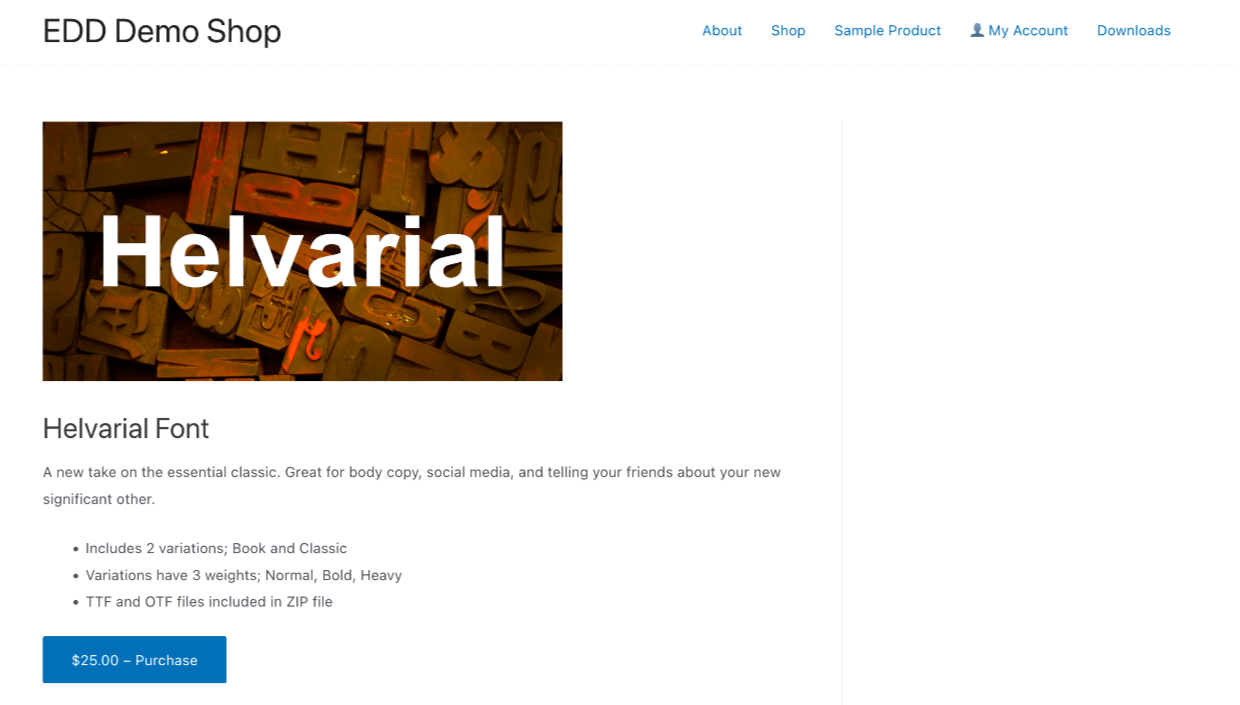 Set Up A Payment Method
Last, you need to set up a way for customers to pay you!
We recommend using Stripe. It's easy to use and has great features. With Stripe you also can set up Apple Pay or Google Pay buttons. If Stripe is not available in your country, or you need other currencies, PayPal or one of our other gateways are good options.
Learn more and get started with:
What the Customer Sees
When a customer makes a purchase they'll be taken to a confirmation page with a download link. They also get a purchase confirmation email that looks like this:
The preset text for this email works great. Or, you can customize this email all you want under Downloads > Settings > Emails > Purchase Receipts.
The 'My Download' link that you set up above is what the customer uses to grab their new font. The link provided expires after 24 hours.
You can change the link expiration time to be whatever you want
You can easily reissue a download link at any time
🎉 It's that easy to set up your own digital eCommerce shop with EDD! Start for free, use it free forever, or add features with a Pass when you need to. You're in the driver's seat.
---
Marketing Tips for Selling Fonts

It's sad but true. Just because you've made something useful, unique, and beautiful, doesn't mean people will find it and buy it.
Here are some tips to get started marketing and promoting your fonts.
Find A Niche
There are lots of people making fonts. And worse, quite a few places giving fonts away for free.
One good way to deal with this challenge is to make fonts designed to serve a certain market segment, or niche. For those that are not graphic designers – which is, news flash – the majority of your audience in most cases, the need for special fonts may not be obvious. It may not be a felt need.
However when non-designers see a really bold font that communicates something more than the ever-useful and beautiful Helvetica, something is more likely to click.
They'll say: "Oh, I like that, no, I need that".
Some niche ideas:
Quirky hand-drawn lettering for unique ads or social media graphics
Christmas fonts
RTL fonts (right-to-left languages like arabic or hebrew)
Retro-fonts that communicate a certain era or mood
Once you have a few fonts (products) selling well in one niche, you can always build out from there and add another, then another.
Coexist
There are pros and cons to selling your fonts on a marketplace (or with resellers).
The main pro is that the marketplace (most likely) already gets a lot of website traffic. If you don't have an audience yet, this is appealing.
The main con is that they charge lots of high fees, the more you make, the more they take. As you begin to grow, you'll want to skip those fees.
🔍 Click here for a detailed pro/con analysis of marketplaces
One strategy for this dilma is to do both! At least early on.
You can take the goods and the bads from both. Consider making your own website and store, and also list products on popular font marketplaces or type foundries (distributors/resellers).
Popular marketplaces include: Etsy, Creative Market, Envato, FontShop, or FontSpring

Many font sites are owned by the famous international conglomerate Monotype / Linotype; including MyFonts (myfonts.com), and fonts.com
Here are some ideas how to make the best of both worlds:
Only sell a small selection of your fonts on the marketplaces, and attempt to get customers to visit your website for more products. Consider offering a discount for the first purchase on your store.
Offer add-ons when customers purchase from your store instead of a marketplace, like how-to videos, or additional versions.
Offer a special bundle or annual subscription that is only available on your website.

EDD has powerful extensions for making this easy:

Recurring Payments to handle subscriptions, free trials, and automated billing
All Access to bundle products by categories for special group pricing, or even an all-access pass to all your products
Show The Font In Use
A great way to make your fonts downright irresistible is to demonstrate their use in a nice design or mockup.
Your font is nice, and it looks OK sitting there against a plain white background. But it will look even better in a colorful design, or photo.
Show your font in action on a t-shirt with a clever message. Or show your font in a colorful social media post, or on a coffee mug.
Demonstrating the font in use helps your potential customers imagine how they could put it to use. This makes them far more likely to purchase.
Lead Magnets (Freebies)
I like free stuff. You like free stuff. So do your potential customers!
One proven way smart entrepreneurs get traffic to their websites (online stores) is with lead magnets. A lead magnet is just a desirable resource, you give away for free, in exchange for an email address.
Pro tip: create and give away as freebies holiday-themed fonts. This offers two great advantages:

1: People are searching for holiday fonts during certain times of the year, you can focus your marketing efforts to seasonal moments and be more likely to get traffic.

2: They'll only use your free font for that limited holiday-themed use, and not all year long, making them more likely to purchase a premium font from you!
You could make a free font, or maybe that's too much work, and if you don't want to give away fonts. In that case, you could give away a resource that teaches customers about fonts. Here are a few ideas:
Make an infographic or PDF with a brief history of fonts and type making
Make a document, PDF, or eBook about how to select and pair fonts
Make a video, podcast, or PDF about the parts of a typeface and how and why designers make custom fonts
🧲 Click here for a guide on making lead magnets to grow your email list
Pro tip: use lead magnets with your blog posts (read below).
Promote With Your Blog
You have a powerhouse marketing tool ready and waiting right on your website.

🥁💥 Your blog!
Don't overlook or underestimate the power of your blog to bring traffic to your site. You can't make any sales if you don't have any visitors to your site. One of the best ways to get traffic to your website is writing search engine optimized (SEO) blog posts.
How often do you search Google or Bing to answer a question, solve a problem, or learn something new? Only like 500 times a day, amiright!?
Your blog posts can be what people find when they search.
What do you write about? What you love, know, and care about. Which, if your making and selling fonts, should be graphic design and typography.
Here are some content ideas:
Write reviews of your favorite design and type design apps, websites, and tools
Give a crash course in how fonts work, educate people on what things like; ascenders, descenders, ligature, and stems are. Cover what sans-serif and serif fonts are. Describe leading and kerning. The more they know about type, the more they'll appreciate your products.

This also will establish your credibility and authority on font design and graphic design.

Teach people how to select and pair fonts
Give away (or link to) freebies, resources for business owners
Share On Social Media
Imagine or research your ideal customer. Where do they 'hang out' on the web?
Are they creatives looking for inspiring visuals on Instagram?
Maybe they're looking for some laughs on TikTok?
Or are they looking for a solution to their problem on LinkedIn?
Start with one social media channel where you think the largest amount of well suited potential customers are. Then build out from there.
What should you post? Just show your fonts in action, as described above in the 'Show the Font In Use' section. Create striking designs with lots of color that perfectly highlight your fonts. Not sure what to share? Here are some ideas:
Famous or inspiring quotes
Seasonal greetings
Riffs on memes with your own personal design modification (using your font)
Ask people what they think the best font is (doubles as market research)
Should I Say Font or Typeface?
Should you say 'font' or 'typeface' when marketing or promoting your fonts?
Generally, you should say 'font'. But it depends on your audience. There may be times to use both terms.
Typeface – A group of characters and letters that have a cohesive design. A group of fonts.
• Example: Arial
• Example: Roboto

Font – A specific style, width, and weight within a typeface (group).
• Example: Arial, bold, size 18.
• Example: Roboto, Medium, Size 24
When To Use 'Font'
You should use the words font/fonts most of the time on your store, website, blog, and social media. It's the word most people use when searching. Most people use the terms interchangeably.
Use the word 'font' in:
Titles
Product descriptions
Categories and tags
URLs / Links / Permalinks
Most copywriting
When to Use 'Typeface'
You can opt for the word 'typeface' if your audience is graphic designers getting technical. Even when you do this you may want to sprinkle both words throughout to make sure everyone knows what you are talking about.
A good place for using the word typeface is in places where you are describing details of the use of your product, if your font/typeface has different styles/widths/weights.
Product details
Specifications
FAQs
Documentation
---
Technical Tips for Selling Fonts


There are lots of font file formats out there. Different file formats are used and ideal for different devices, print or websites.
Upload and Sell Fonts as ZIP Files
No matter which file formats you use, we recommend selling your products as ZIP files. ZIP files offer the highest chance of success and compatibility. ZIP files are most likely going to:
Be an allowed file type for uploading to your web server
An allowed file type for your store or website
Able to be download by the highest percentage of your customers
Ensure customers download the file (some file types are opened/previewed in the web browser and not downloaded unless specified, leading to confused customers)
🔍 Click here for more details on why (and how) to use ZIP files for selling
How To Create Fonts
This article is focused on how to sell your fonts or typefaces after you've created them.
Still working on your new font? Don't know how to start? No problem. 🙌
If you love graphic design and typography, you're in luck, there are tons of great resources for making fonts on the web. Here are a few:
Font Marketplaces
If you do want to coexist (sell on your own site and a marketplace or two) here are links to some popular places to sell fonts.
💸 😼 Remember, these platforms will take a large cut of each sale.
Using WordPress and want to get Easy Digital Downloads for free?
Enter the URL to your WordPress website to install.
---
Conclusion
Nice! You've learned how to sell your fonts online. We're confident EDD can help you build and continue to grow your business.
Best of luck as you help others make beautiful things with your unique fonts and graphic design skills!
We have a lot more resources for digital creators like you. What do you want to learn about next?
Be sure to subscribe to our newsletter or follow us on Facebook and Twitter to get our latest resources for digital creators.