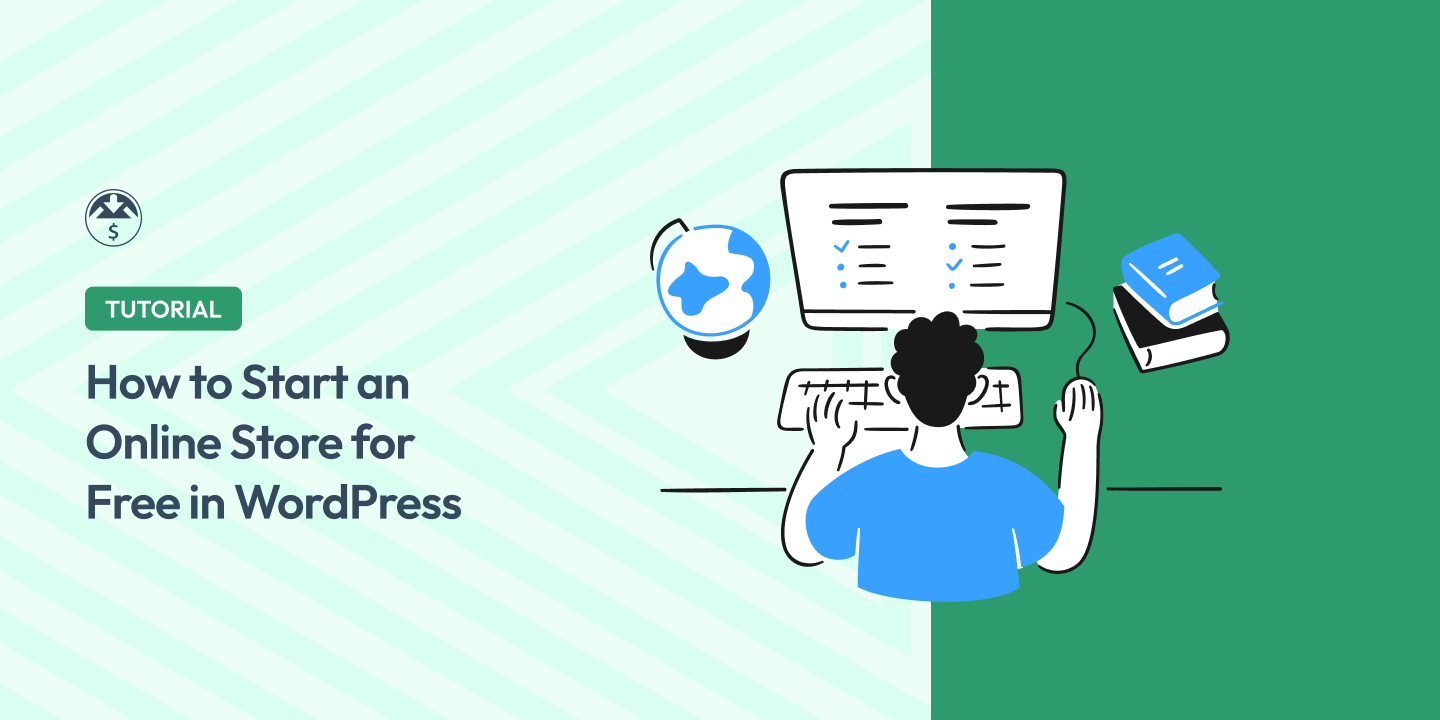 Do you want to start an online store for free in WordPress?
While many e-commerce platforms charge upfront fees or subscription costs, there's a cost-effective alternative that doesn't compromise functionality or flexibility: WordPress and Easy Digital Downloads (EDD).
You only have to pay for a domain name and hosting, both of which are incredibly inexpensive. Plus, you can upgrade to premium options as needed.
🔎 In this article, I'll cover:
Why Start an Online Store With WordPress?
WordPress is the world's most popular Content Management System (CMS), renowned for its user-friendliness, vast plugin ecosystem, and extensive customization options.
Easy Digital Downloads(EDD) is the best WordPress e-commerce plugin for digital selling. It seamlessly integrates into the WordPress framework, transforming it into a robust e-commerce platform specifically designed for selling digital products. This includes software, eBooks, music and video files, and much more.
This combination offers several advantages:
User-Friendly & Customizable. Both platforms are designed with ease of use in mind, allowing you to create and manage your online store without extensive coding knowledge.
Scalability & Flexibility. As your business grows, your WordPress + EDD store can scale to accommodate increasing product offerings and traffic.
Extensive Plugin Ecosystem. WordPress boasts a vast library of plugins, including marketing, SEO, and analytics tools, to enhance your store's functionality.
SEO-Friendly. WordPress is inherently SEO-friendly, offering plugins like AIOSEO to optimize your store for search engines.
Community Support. Being an open-source platform, WordPress has a vibrant community offering support, resources, and tutorials. EDD also has a dedicated support team and plenty of online documentation. This makes it easy to start an online store for free even without coding or web development knowledge.
How to Start an Online Store for Free
Now let's get into the step-by-step tutorial of how to start an online store for free in WordPress.
Note that you'll need to pay for a domain name and hosting to take your site live. But these are typically incredibly inexpensive, with plenty of options to choose from depending on your specific needs and budget.
Step 1. Get Your Domain & Hosting
To start, choose a reliable hosting provider like SiteGround, which offers affordable Managed EDD hosting plans specifically optimized for WordPress and EDD stores.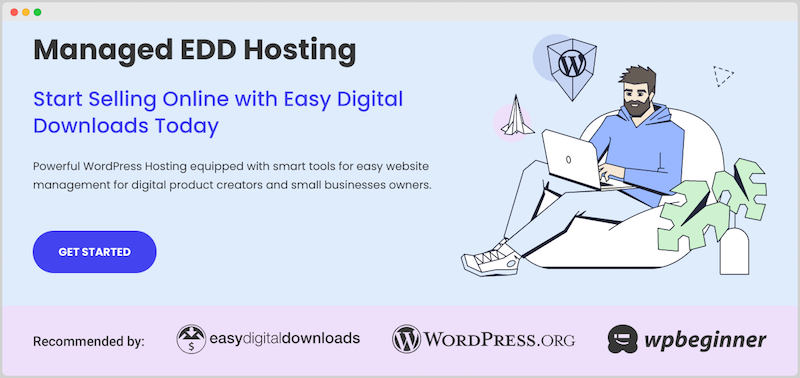 Each plan includes:
WordPress pre-installed & a setup wizard
Free SSL certificate
Easy Digital Downloads plugin
Growth tools (WPForms, MonsterInsights, AIOSEO, etc.)
Register a domain name that reflects your brand and is easy to remember. There are a handful of inexpensive and useful domain registration services you can use. For more info, check out WPBeginner's guide on how to register a domain name.
Once you have both, you'll need to install WordPress. Most hosting providers offer one-click WordPress installation, including SiteGround. Alternatively, follow the manual installation process provided by your hosting provider.
Step 2. Install Easy Digital Downloads
Next, you'll need to install your e-commerce plugin. If you're selling digital products, Easy Digital Downloads is the best e-commerce solution for adding a full shopping cart to your site.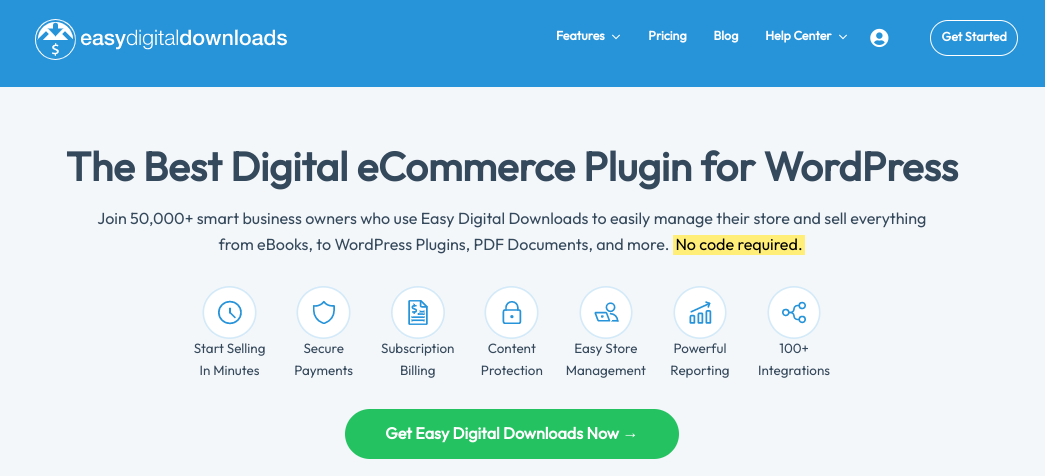 There's a feature-rich free plugin available from WordPress.org. EDD Lite also comes pre-installed with SiteGround Managed EDD hosting plans.
To install EDD Lite, you can go to Plugins » Add New and search for "Easy Digital Downloads". Then select Install Now, followed by Active Plugin.
If you're selling physical products, the WordPress WooCommerce plugin is a solid alternative.
For more advanced features and premium extensions, you can upgrade to EDD Pro.
There are four pricing tiers to choose from. If you're serious about starting and growing your online business, I recommend the All Access Pass.
Learn more about EDD Free vs Pro.
💡 Feel free to refer to these guides:
Step 3. Configure Your E-Commerce Store Settings
Once you've installed and activated your EDD plugin, you can configure the settings.
Go to the Downloads » Settings page from your WordPress dashboard.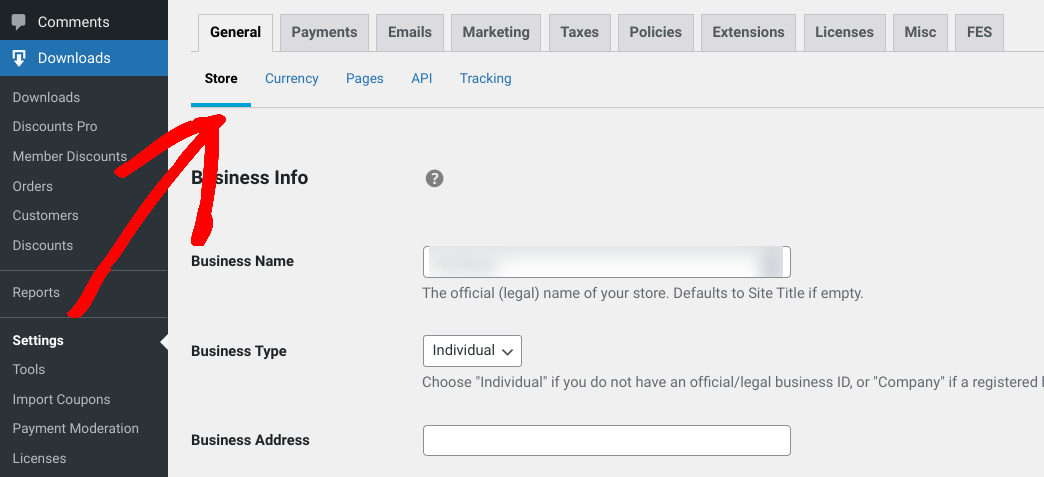 Alternatively, upon activation, you can click Get Started to launch the Onboarding Setup Wizard.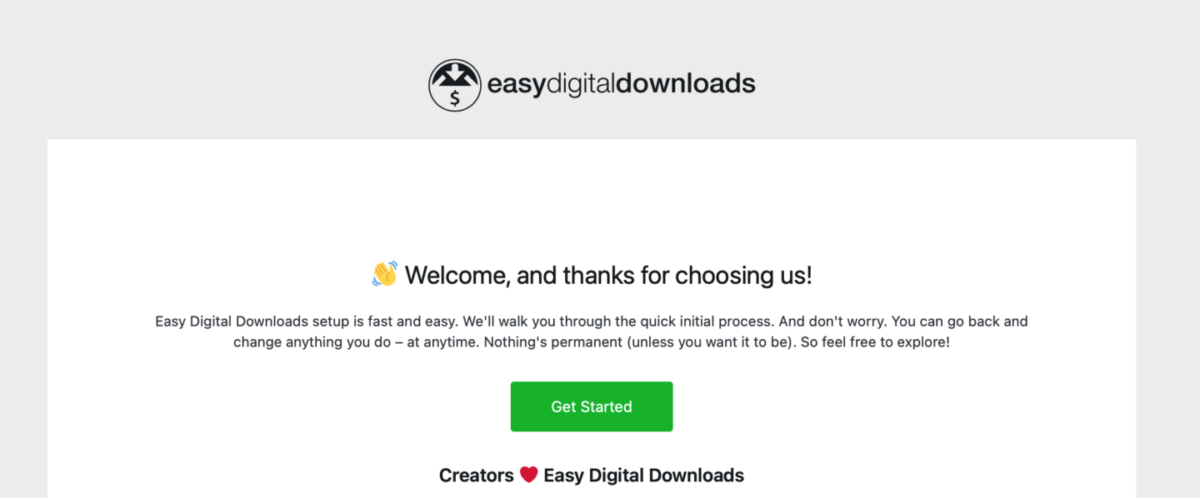 Then you can follow the prompts to go through the general setup process and settings. For instance, you can add information about your online store, including its name and location. You can also choose your currency settings.
To accept credit cards and other types of online payments, you also need to set up a payment gateway. Navigate to Downloads » Settings » Payment Gateways to set up your preferred payment options.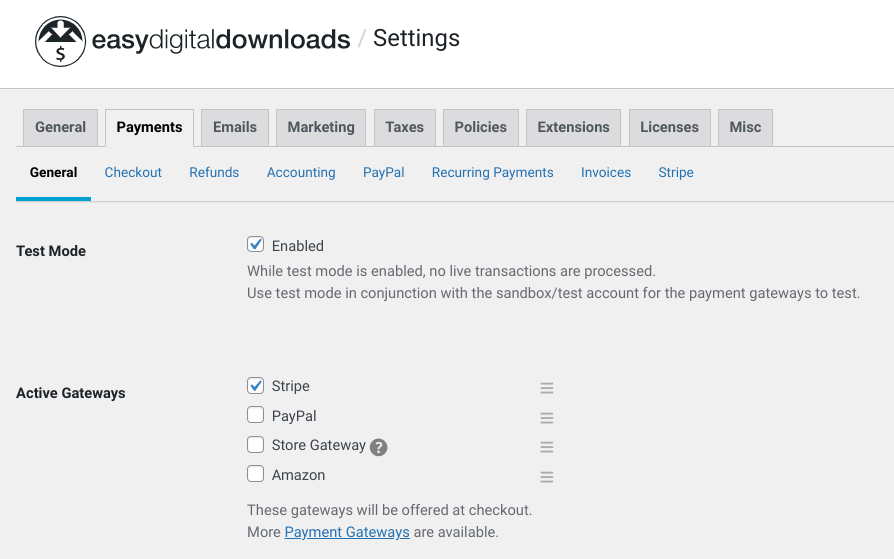 Easy Digital Downloads supports various payment gateways like PayPal, Stripe, and more. I personally recommend Stripe Pro because it lets you offer multiple payment methods on your WordPress website.
Step 4. Customize Your Store
Use WordPress themes and EDD customizations to personalize your store's appearance and match your brand identity.
First, you can add or delete pages as you see fit. EDD automatically creates a checkout page for your e-commerce store. Beond that, you can add and customize your store's theme.
Easy Digital Downloads comes with multiple free themes you can use for your online store: Vendd or Themedd. Alternatively, you can go to Appearance » Themes and select a theme that suits your store's aesthetics: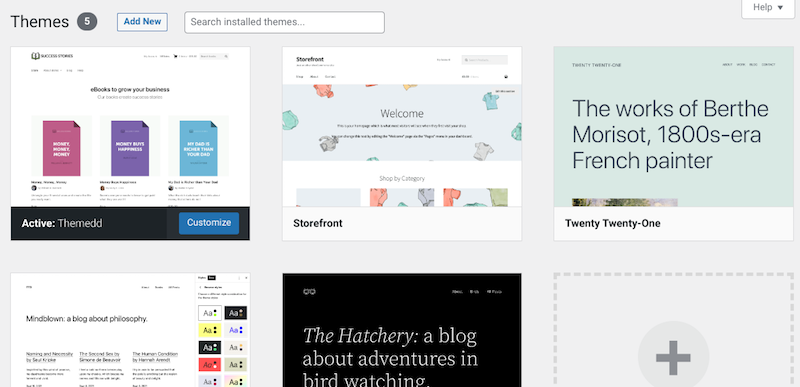 Many themes are compatible with Easy Digital Downloads.
💡 Check out 15+ eCommerce Themes (Free & Paid)
Next, you can customize your store and its theme. Access the Customizer to modify colors, fonts, and layouts to align with your brand.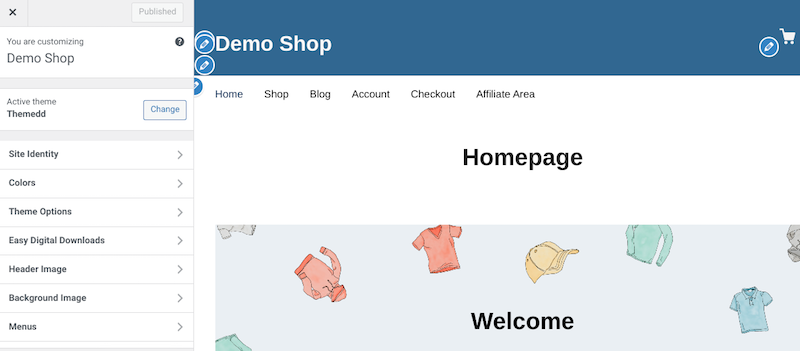 If you want to use pre-designed templates or a drag-and-drop page builder, you can also use add-ons like SeedProd. This and similar plugins let you easily customize and build your WordPress site using a visual editor.
Step 5. Add Products
Now it's time to add products to your e-commerce website. You can create product pages with detailed product descriptions, pricing, and download links.
In the WordPress dashboard, go to Downloads » Add New.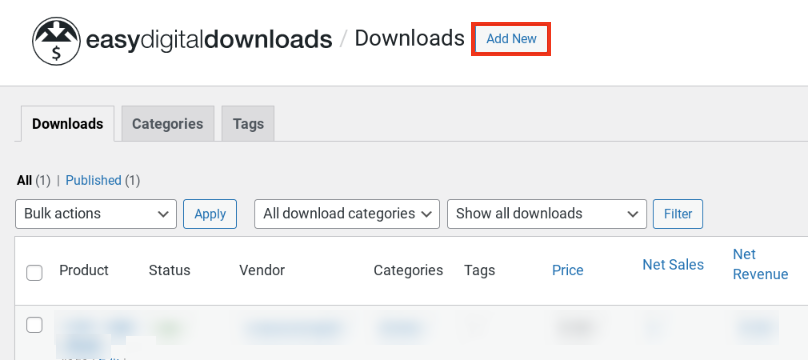 Then you can add a product name and description:
Next, enter the price for the digital product under Download Prices:

Under the Download Files section, you can upload the file (File URL) and enter the download link text (File Name):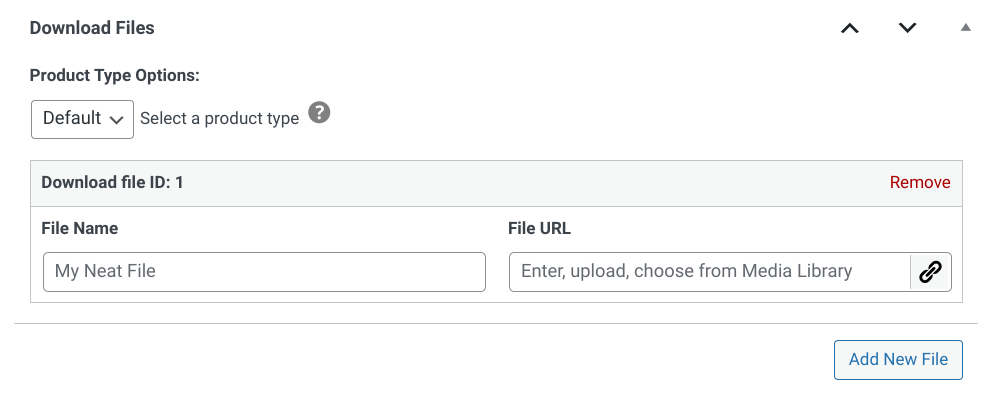 To the right under Download Image, add a featured image to appear on the shop and product pages: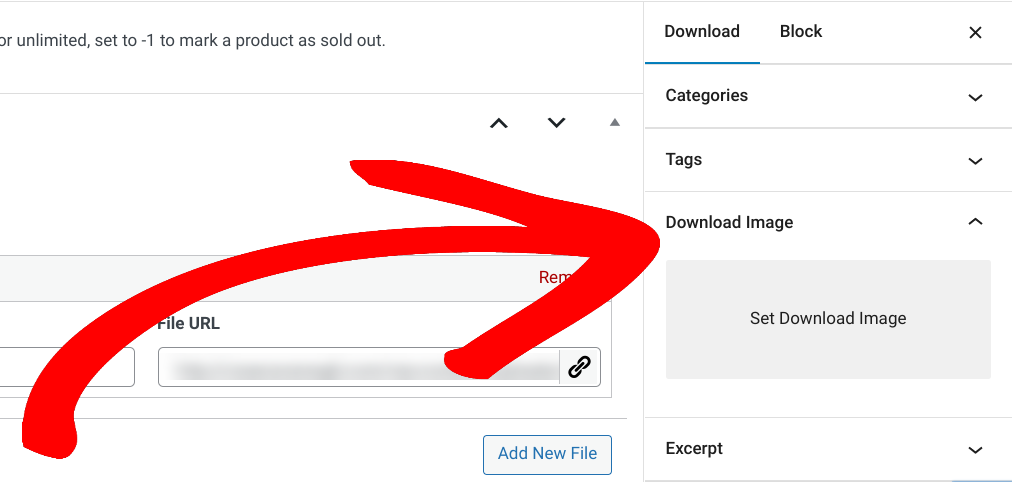 When you're done, click Save draft and Publish. Click View download to see how the product page looks.
The exact process for adding products may vary depending on what you're selling. For more detailed guidance, you can check out the following guides:
Step 6. Optimize & Promote Your Online Store
Once you've built out your store and customized it to your liking, the only thing left to do is to start optimizing and promoting it.
Easy Digital Downloads comes with a ton of built-in functionalities as well as extensions and add-ons to help you. There are also multiple methods you can use to help market your online store.
Start by utilizing social media marketing, email campaigns, and Search Engine Optimization (SEO) techniques to attract potential customers and drive traffic to your store.
To enhance your store's visibility, install an SEO plugin like All In One SEO (AIOSEO).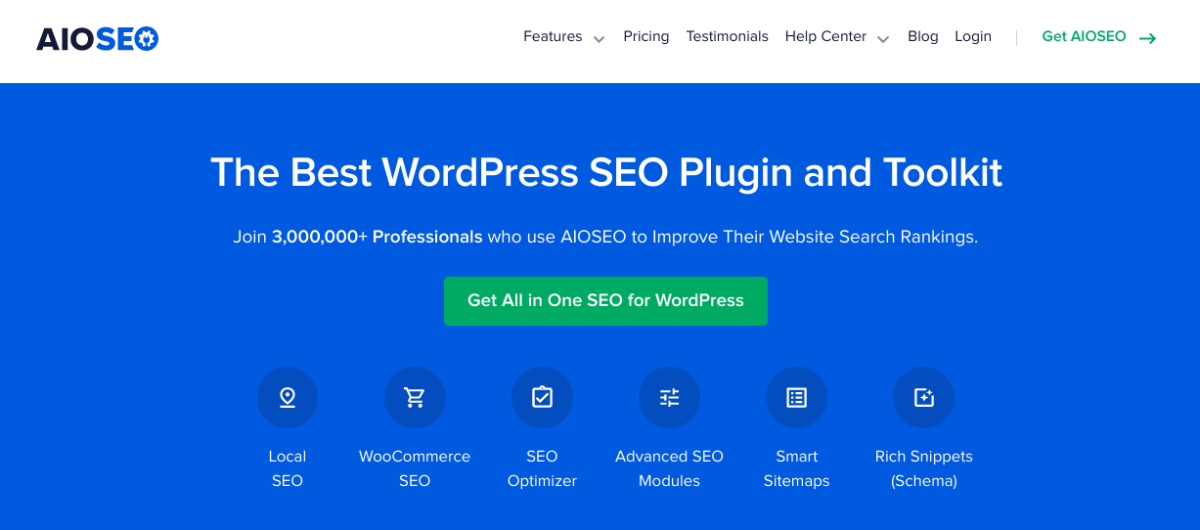 I also recommend using MonsterInsights to set up Google Analytics and track your store's performance.
For more useful tools, check out the best WordPress plugins for e-commerce sites.
FAQs About Starting an Online Store for Free
Let's wrap up with some frequently asked questions.
Are the costs involved in setting up a WordPress + EDD store?
While it's almost entirely possible to start an online store for free, there are some mandatory costs with taking your site live. The only costs involved are web hosting and domain registration.
WordPress hosting plans typically start at around $5 per month, while domain names range from $5 to $15 per year. Everything else is optional. For instance, you can purchase premium themes, WordPress e-commerce extensions, and more.
Do I need coding experience to set up a free online store?
No, both WordPress and EDD are designed for beginners and user-friendliness and can be set up without coding knowledge.
Are there limitations to using the free version of EDD?
The free version provides robust features but lacks certain advanced functionalities available in paid extensions (recurring payments, software licensing, etc). However, it's sufficient to start and run a basic online store.
Can I sell physical products with EDD?
While EDD is primarily designed for selling digital products, there are extensions available that allow you to sell physical products as well. If you plan to only sell physical products, you may want to set up a WooCommerce store.
How can I get support for WordPress and EDD?
Both WordPress and EDD have extensive documentation and community forums where you can find answers to your questions. Additionally, SiteGround offers 24/7 customer support for its Managed EDD hosting plans. Easy Digital Downloads also has a dedicated support team.
Start an Online Store for Free
WordPress stands out as an exceptional platform for building websites of various kinds, and when paired with the Easy Digital Downloads plugin, it becomes an excellent solution for those who want to start an online store for free.
Want to upgrade your online store for access to more features and extensions?
What's next? Learn how to use e-commerce automation to save time & money.
📣 P.S. Be sure to subscribe to our newsletter and follow us on Facebook or Twitter for more WordPress resources!