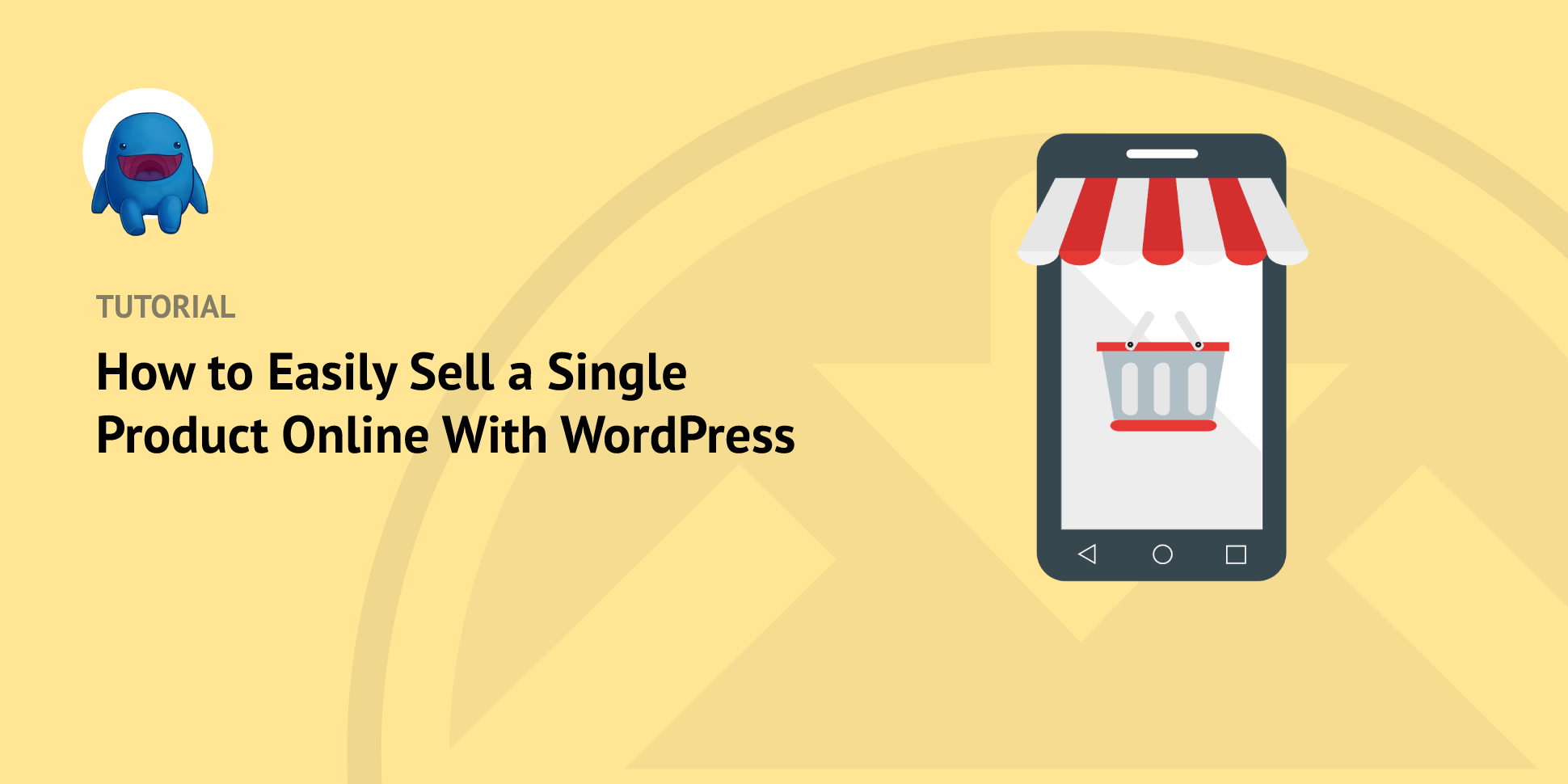 Do you want to learn how to sell a single product online with WordPress?
It's incredibly easy. WordPress offers an array of features that makes building an effective eCommerce website quick and simple. You just need the right eCommerce plugin.
🔎 In this article, we'll cover:
Why Use WordPress to Sell a Product Online?
WordPress is one of the most popular solutions for building websites. Powerful, customizable, and easy to use, WordPress is ideal for creating a site to sell a single product online (or multiple). Not only is it easy to set up and manage your online store, but it also offers several advantages that make it a great choice when selling products online.
You can easily customize the look and feel of your store with a range of themes and plugins. Additionally, you can integrate payment gateways such as PayPal or Stripe so customers can easily purchase items from you.
When you use an eCommerce plugin like Easy Digital Downloads, WordPress makes adding product information, descriptions, images, and more incredibly simple – all without any coding knowledge.
With the right web host, WordPress also offers excellent scalability and performance capabilities. This is especially important when selling products online. This means that as your store grows and traffic increases, WordPress will be able to handle all the extra load put on it with ease.
There are other eCommerce platforms you can use to sell a single product online, such as a marketplace like Etsy or Amazon. However, these options can be limiting in terms of customization. They also tend to charge transaction fees.
Having your own website gives you complete control over how the store looks and operates. You can customize the appearance and functionality to create an experience tailored to your needs, brand, and customer base.
How to Sell a Single Product Online With WordPress
Ready to get started? In this step-by-step tutorial, we'll show you how to sell a single product online using WordPress.
Note: For this tutorial, I'll assume you already have a WordPress website set up and running. If you don't have one yet, I recommend SiteGround's Managed EDD Hosting. It's the simplest way to create a WordPress website and eCommerce store!
Step 1: Get Easy Digital Downloads
Easy Digital Downloads is a popular eCommerce WordPress plugin that makes it easy to sell a digital product online:

It's an excellent WooCommerce alternative if you don't sell physical products. With Easy Digital Downloads, you can set up a store with individual items that customers can purchase. You can also create bundles of products and offer discounts and coupons. The plugin includes powerful features such as automated emails, multiple payment gateways, detailed reporting and analytics, and more.
There is a free version you can use to sell a single product online. but if you want the full suite of features and access to premium addons, I recommend upgrading to a premium license. Click here to learn more about EDD Free vs. Paid.
Note: If you don't want to add a full shopping cart system to your WordPress site, another plugin you can use to sell a single product online is WP Simple Pay. Follow this guide for step-by-step instructions.
Setting up a store with Easy Digital Downloads is simple. You can simply install the plugin and configure the settings to your needs. If you buy the pro version, you can download the plugin from your EDD account under File Downloads.
Alternatively, you can get the free plugin from the WordPress Plugin Directory. To upload it to your site, go to Plugins » Add New » Upload Plugin » Choose File:

If you need help installing the plugin, here is a great tutorial.
After you activate the EDD plugin, a Downloads menu item appears on your WordPress dashboard: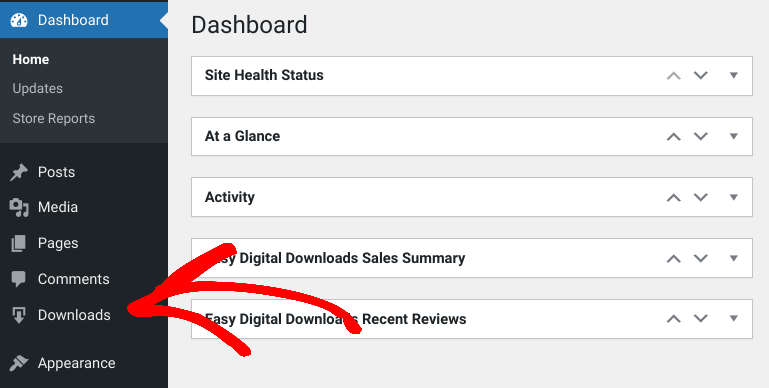 You can also select a high-quality WordPress theme for your digital store under Appearance » Themes.
Under Downloads » Settings, you can enter your business details, choose a currency, and more: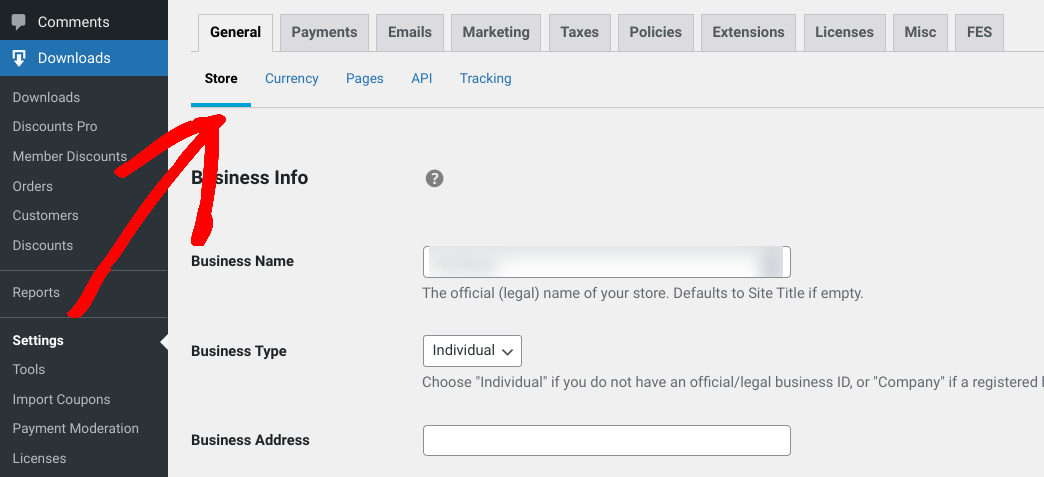 You can use these guides for more detailed instructions setting up the plugin/your store:
Step 2: Configure Your Payment Gateway
Next, you must set up a way for customers to pay you. You can choose your default payment gateway under the Payments tab: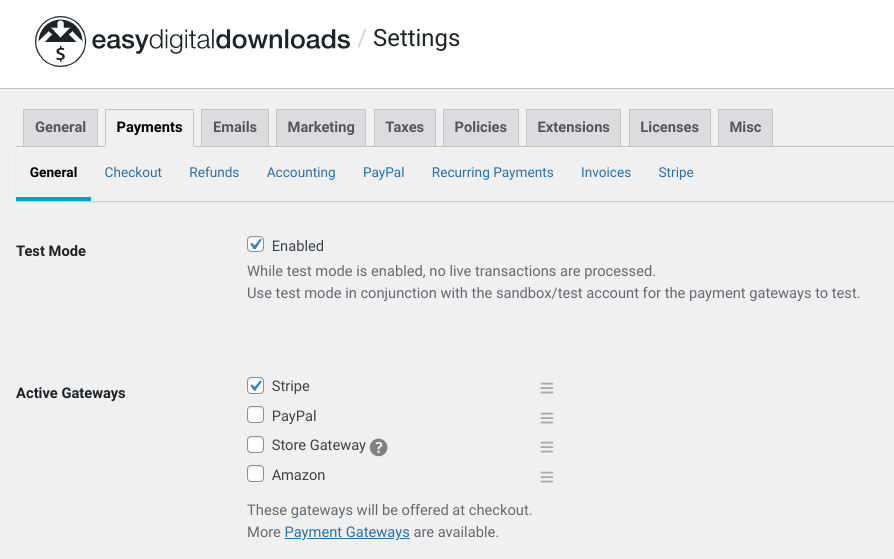 The payment method options that are available depend on your EDD plan. The free plugin lets you connect to Stripe to accept credit card payments. However, if you have a premium license, you can choose from additional payment options, like PayPal Commerce, Authroize.net, etc.
Once you select your gateway, click on the Save Changes button at the bottom of the screen.
You can use these links for more guidance:
Step 3: Create a Download to Sell a Single Product Online
Once you set up your store and connect a payment gateway, the next step is to add the product you want to sell. EDD refers to any digital product as a 'download'. To add a new product, go to Downloads » Add New:

On the next screen, you can name the product and add a description: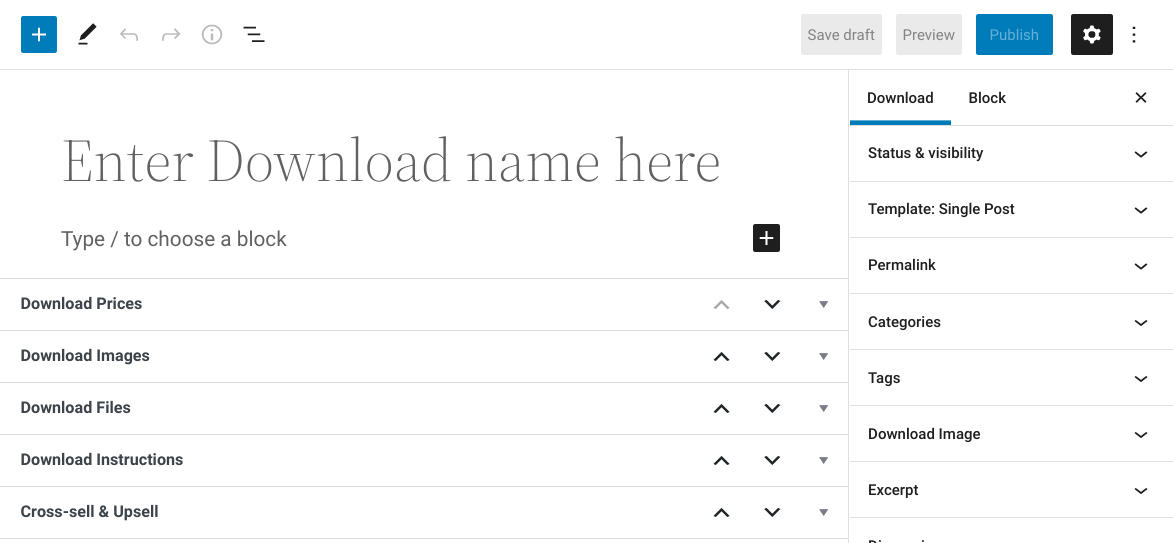 I'll create an invoice template as an example. You can use the description text field to highlight the benefits of your product and include any product data or technical details.
Next, under Download Prices, you can enter the amount you want to sell the single product online for: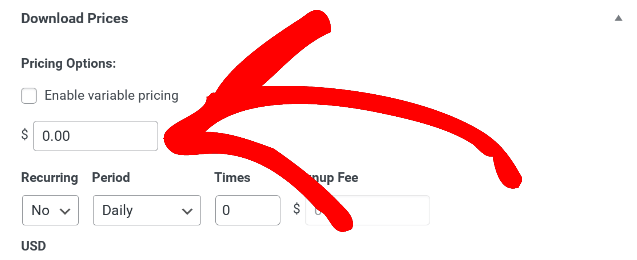 Under the Download File settings, you can add the file for customers to download.
In the File Name field, enter a phrase that describes the product. This is the clickable link text used on the confirmation page and email. Under File URL, select Upload a File (the link icon) and upload your file: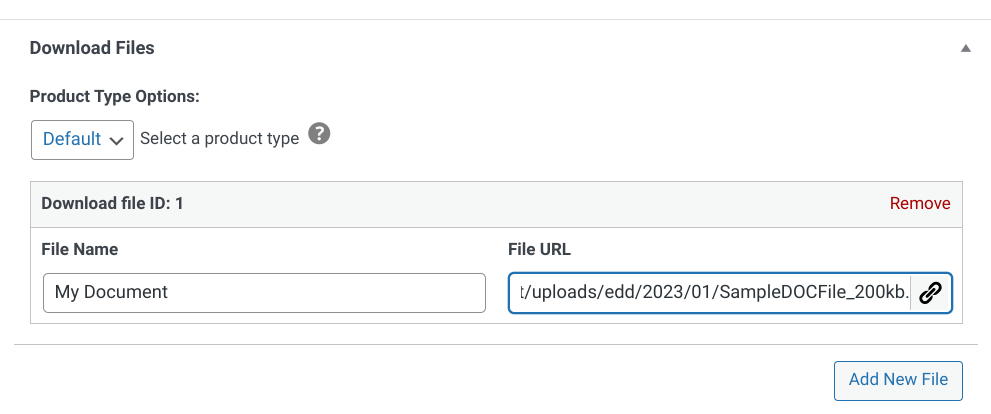 To the right, you can add an attractive Download Image: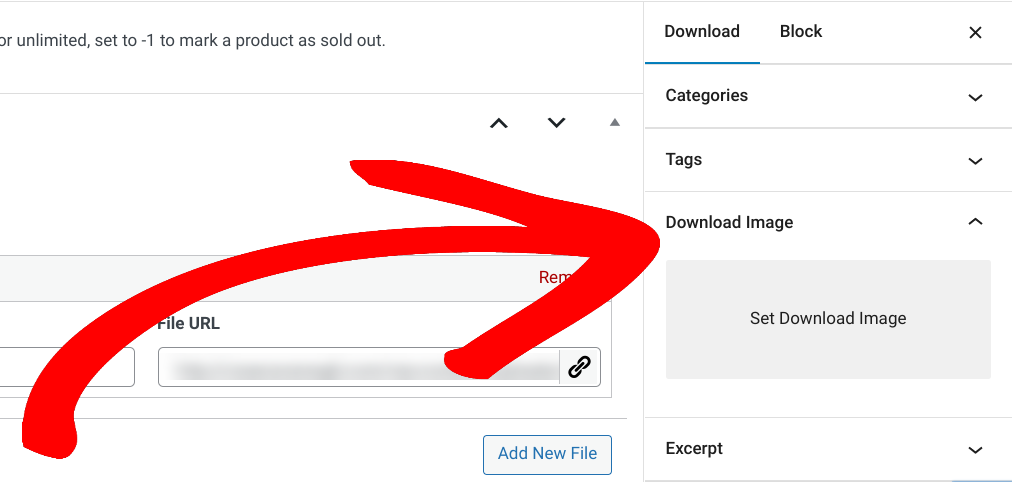 When you're done, you can select Save draft/Preview to see how the product page looks on the front end of your site: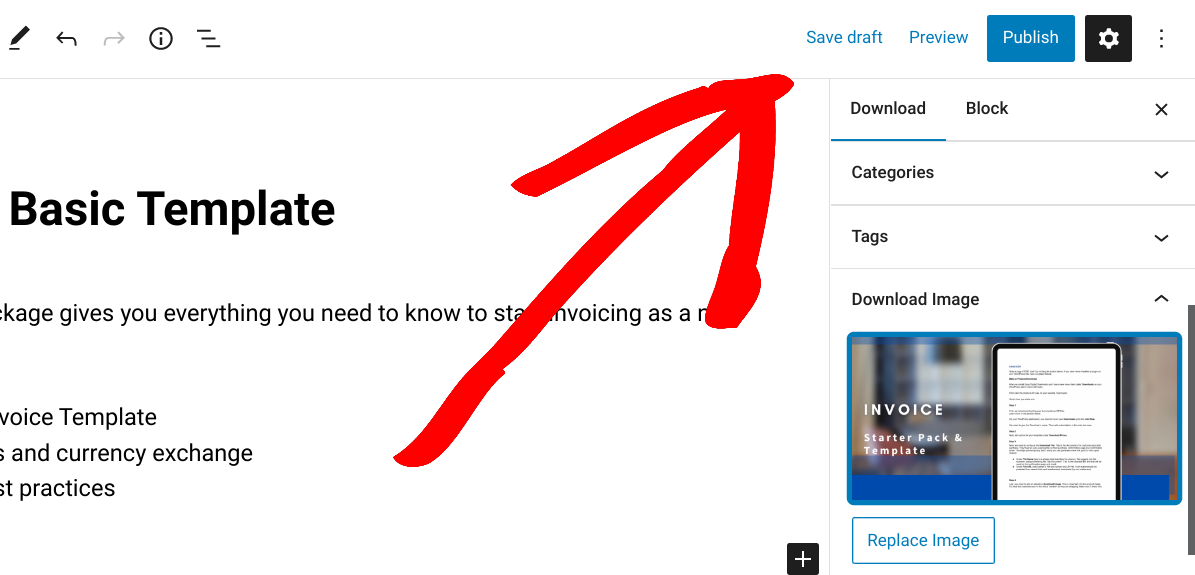 If you're satisfied with it, you can click Publish to start selling your single product online!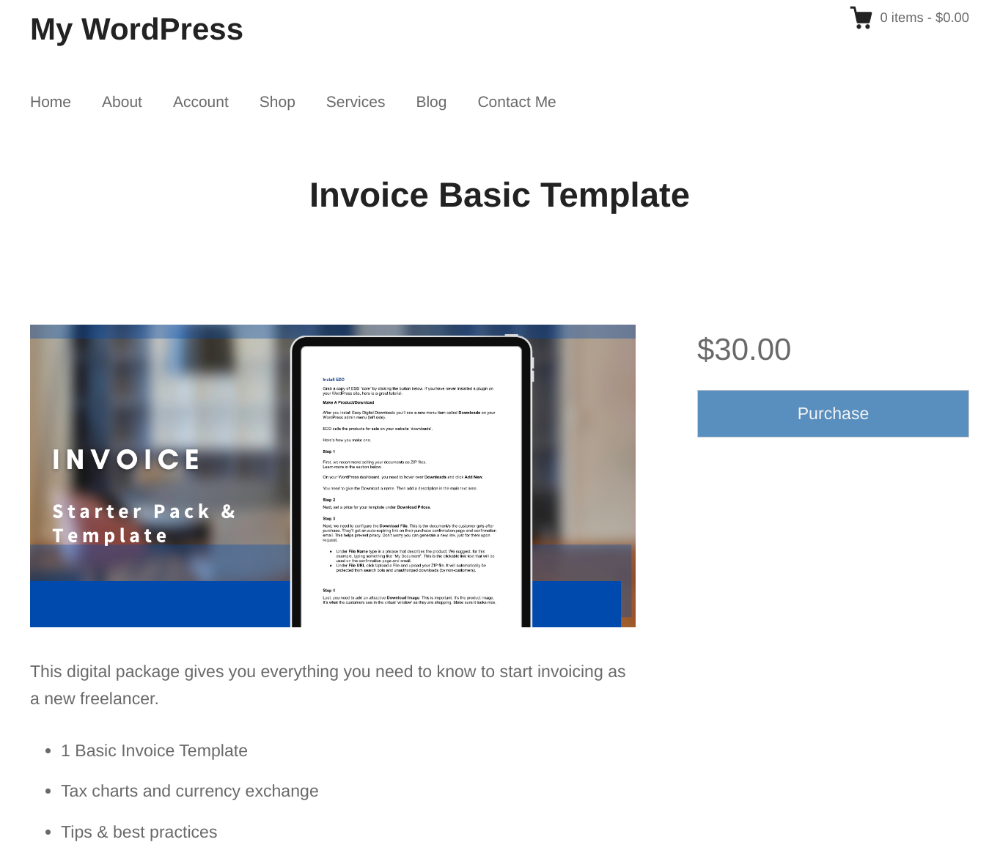 Then you can begin sharing and promoting your product. EDD comes with a variety of extensions that can help with this, including addons for email marketing, social media, and SEO.
Get EDD to Sell a Single Product Online
WordPress provides an intuitive platform with powerful features that make it a great choice for setting up an online store. With its flexibility, scalability, and ease of use, you can easily sell a single product online.
After you get your hosting, the only thing you need is to download an eCommerce plugin like Easy Digital Downloads (EDD):
eCommerce without limits!
That is our promise. Most eCommerce solutions limit your creativity
…not Easy Digital Downloads!
📣 P.S. Be sure to subscribe to our newsletter and follow us on Facebook or Twitter for more WordPress resources!