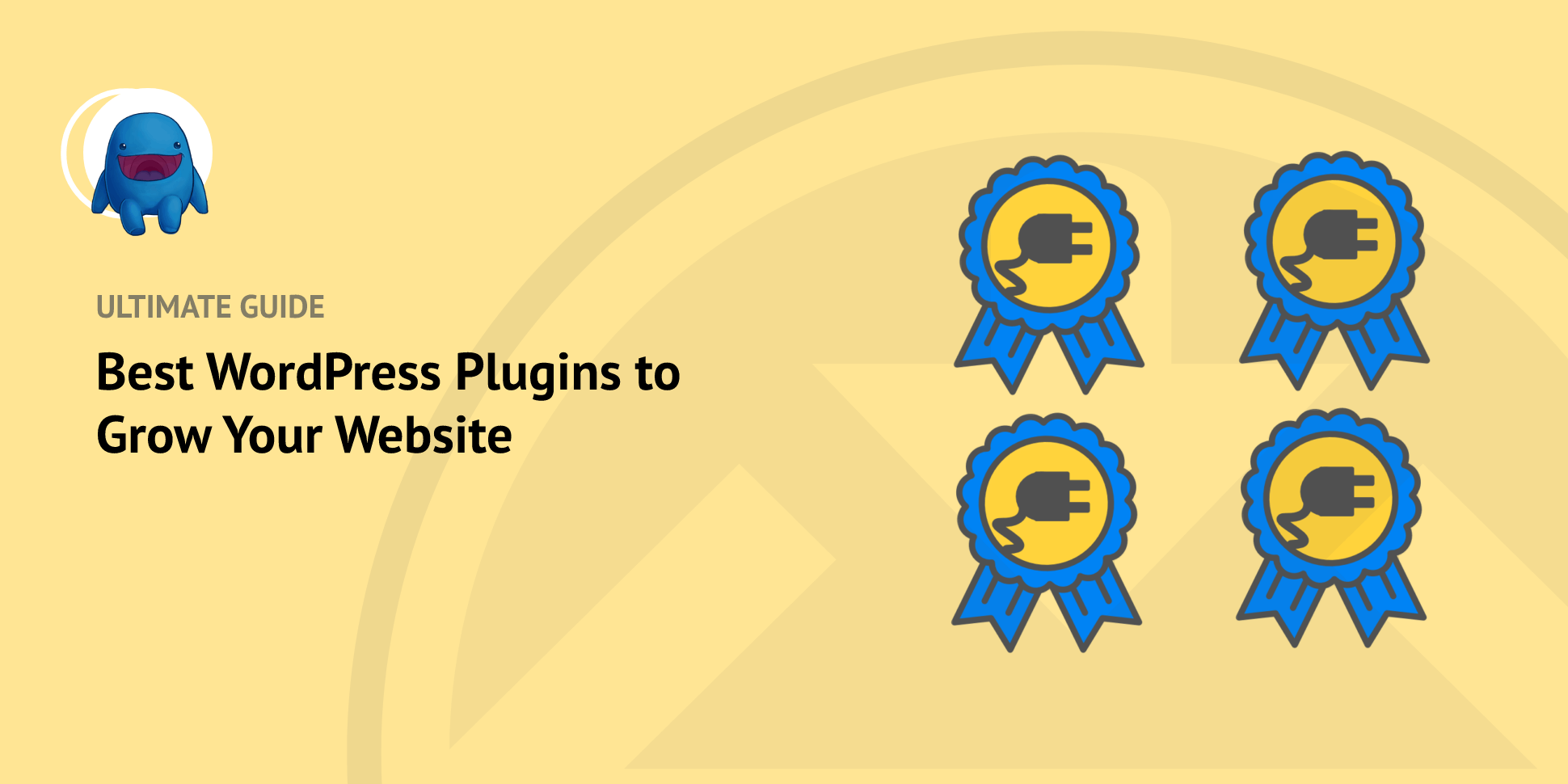 Looking for fast ways to grow your WordPress website? A good plugin can do amazing things for your online business.
One challenge is that there are more than 60,000 free WordPress plugins available on the WordPress.org plugin directory. Yikes! We'll narrow down that list down and share our picks for the best WordPress plugins.
In this guide we'll share some of the most trusted and popular plugins that help make your website fast, secure, and easy to browse. This leads to more and happier customers.
Most of these are free, or offer free and paid versions.
Pro Tip: You can check the support forum for any free WordPress plugin by clicking on the View Support Forum button on the lower right side of the plugin page. Look around at recent posts to see how responsive the developers are and how happy the users are.

🔽 Let's get to it!
---

First, are you using Google Analytics on your website? If not, stop everything and get started! Few things are more important.
You need to be able to measure your website's performance so you can learn about what your visitors are doing and make improvements. All smart entrepreneurs and business owners do this.
Use MonsterInsights Lites to easily connect Google Analytics (GA) to your WordPress (WP) site. Unlike other plugins that connect GA to WP, MonsterInsights:
Is trusted by 3 million professionals
Gives you reports and insights right inside your WordPress dashboard / backend
Don't have a Google Analytics account yet? No worries. They are free. Click here to learn how to set one up and connect it to your site with MonsterInsights.
Pro Version
When you see how much MonsterInsights helps you grow your business you'll likely want to add pro features like ecommerce tracking, popular post tracking, customizable dimensions tracking, and page speed reports. Click here to learn more or get started now!

Every website needs a form builder. There are tons of uses for them; your contact forms, surveys, polls, customer feedback, or even order forms.
WPForms is the best and easiest to use contact form plugin for WordPress. The numbers speak loudly. There are 5 million active installations and more than 10,000 five-star reviews.
Why WPForms?
Visual builder – Use the simple drag and drop builder to make effective forms.
Pre-built Templates – Choose from a huge library of templates to make it even easier to build a form. Just find the one most like what you need and customize it.
Reliably built and maintained – It's mobile friendly, fast (it won't slow your website down) backed by great support, and has integrations with the most popular email marketing services.
Pro Version
Like millions of others, you'll likely love WPForms and want to access pro features like survey tools, smart conditional logic, and entry management. Your submissions (entries) are stored in the Lite Connect cloud with the lite version. Get WPForms Pro here.
Alternative: Formidable Forms is a great option, especially for certain advanced customized use cases.

Just because you build a website doesn't mean people will visit it. How do you attract visitors to your site? One of the best ways is with search engine optimization (SEO).
When you create WordPress pages and write blog posts, they have to be both helpful to the reader and structured so that search engines can easily crawl them and rank them. The higher you rank, the more likely it is people will find your site in a Google search.
All In One SEO (AIOSEO) is the best WordPress SEO plugin. It gives you full control over your SEO and makes it easy to get ranked. All without any custom coding! This SEO plugin is trusted by more than 3 million websites. It's perfect for business owners and bloggers.
You don't need to be an SEO expert, just use the built-in TruSEO score. It gives you an easy-to-understand analysis and a checklist of achievable improvements for your page content.
You don't have to know how to do crucial things like format meta descriptions, XML site maps, or schema markup. AIOSEO handles all that for you.
AIOSEO integrates with webmaster tools like Google Search Console and Analytics, Microsoft Bing, as well as many others. It also integrates with popular social media platforms.
Upgrade AIOSEO
Go premium to add advanced features like headline analyzer, WooCommerce integration, and advanced SEO modules. Click here to get started.
Alternative: Yoast SEO is also a very popular SEO plugin.

Next, another very important thing you may need is a way to sell your digital creations! Easy Digital Downloads (EDD) turns your WordPress site into a full-featured eCommerce store in just a few clicks. No coding needed.
Unlike other eCommerce solutions, EDD is purpose-built for selling digital products (also called virtual products, downloadable products, or simply downloads). There's no better way to sell eBooks, graphic templates, documents, fonts, or software. Any digital file!
Sell unlimited products
Integrate with any WordPress theme
Accept credit cards with Stripe, PayPal, or other payment gateways

(You can add Apple Pay and Google Pay buy-now buttons with Stripe)

Have full control over the customer experience (unlike marketplaces and many solutions)
EDD is trusted by 50,000+ businesses of all sizes
EDD Passes
Use it free forever or add pro features like email marketing integration, subscriptions, or product reviews with an EDD Pass.
Get Managed Easy Digital Download Hosting
Your eCommerce site needs to be secure and ready for spikes in traffic. Save time and frustration by using a managed EDD web host. SiteGround now offers three powerful managed hosting plans. All plans include:
EDD preinstalled
Free SSL and CDN
Migrator tool
Email
WordPress auto updates
Daily backups
Enhanced security with a web application firewall (WAF)
Learn More or Get Started with EDD Managed Hosting
CDN (Content Delivery Network) – This is when your large files like images or video are automatically distributed to a network of servers around the world. Website visitors, when loading large files on your website, will pull from the closest server. It makes your pages load faster.
Alternative: WooCommerce if you're selling physical products.

SeedProd is a drag and drop WordPress builder plugin. You can use it to make beautiful landing pages, coming soon pages, or an entire WordPress theme. All with no frontend coding skills needed!
Unlike some visual builders or page builder plugins, SeedProd is fast and won't slow down your site.
It's great for business owners because the visual building tools allow total control over the user experience. Get great results in minutes or hours, instead of taking weeks or months when with a web developer. Plus you can re-use elements and define presets for colors, fonts, styles, and blocks.
SeedProd offers pre built templates
It integrates with popular email marketing and CRM platforms
Get the Basic or Plus version for custom landing pages, maintenance pages, coming soon pages, etc.
To get the full Theme Builder opt for the Pro or Elite plan
Alternatives: other popular page builders include Elementor, Divi, and Beaver Builder. Not all of them offer the same capabilities to build a full custom theme.

You may be sending emails to spam, junk folders, or not even getting them sent out at all…without even realizing it! 😱
When you have a form builder or ecommerce plugin you'll be sending thank you emails, confirmation emails, and the like. WordPress uses the default PHP mail function to send emails. Too often web hosts don't have their servers properly set up for this, or even block PHP mail because hackers abuse it.
It's better to use SMTP to ensure the emails get through. You don't need to worry about any of the techy stuff. Just install the WP Mail SMTP plugin. You'll be good to go.
SMTP (Simple Mail Transfer Protocol) – An established communication system for sending emails. PHP mail sends from a web server. SMTP email sends from an email server. It's more reliable.
Here's an article explaining how to fix common email issues. It's a bit involved.
You might just want to go with the "Elite" version of WP Mail SMTP because you get white glove setup. An email pro will simply install and configure everything for you so email just works. You'll also have access to priority support if anything happens in the future.
Leave email deliverability to the pros! 😌

You work hard to get people to visit your site. But most of them don't make a purchase or opt in to your email newsletter. 😭
Make the most of each visitor to your website with OptinMonster. More than 1.2 million websites use OptinMonster to grow their email list or increase sales.
OptinMonster is a user-friendly way to do popups, sliders, welcome mats, and even fun spin wheels that attract attention and are proven to increase conversions.
Opt-in forms and campaigns are easy to customize with a drag-and-drop editor
There are options to target and personalize the messages
Recover abandoned shopping carts
There are many case studies on their website that demonstrate how effective OptinMonster can be. Read a few!
OptinMonster is a stand-alone SaaS/platform, but they have a WordPress plugin. If you set up an account from inside the plugin, there is a limited free version.

If your website is slow, you have many problems:
Google may penalize you and rank you lower in search results
Site visitors may be annoyed, you lose trust, the don't perceive your brand as high quality
Site visitors may get frustrated and leave
WordPress can sometimes be slow, as all CMS websites can be. Each page is being dynamically loaded. You fix this with caching.
CMS – Content management system – database-drive websites like WordPress, Drupal, or Shopify.
Caching – Generating static HTML and CSS files of your web pages that load fast.
WP Super Cache is a powerful and free caching plugin to speed up your website. Install it and it will automatically serve site visitors fast-loading static pages, unless they are logged in.
Alternatives: Other great options for caching and speed are W3 Total Cache and WP Rocket.
Pro Tip: Many WordPress web hosting providers will already be using one of these or their own caching solution. Check with your hosting support team before using one of these.

Sucuri is the best WordPress security plugin. They provide a powerful web application firewall. If you run an online business you should be securing your site.
Sucuri will protect your site from malware, DDoS attacks, XSS attacks, brute force login attacks, comment attacks, and whatever new-fangled things come along. They also offer a CDN option.
Pro Tip: 🔐 While you're thinking about security. Consider trying the WP Activity Log plugin. It lets you know what has happened on your website. Track logins, content changes, and setting changes so that you can do security checks or know how something went wrong.
Alternative: WordFence is another popular alternative for WordPress security.

It pays to be prepared for disaster. Especially when it's easy to be prepared.
Are you backing up your website? Is your web host? Even if your web host is backing up your website you might want to also have your own plan. UpdraftPlus makes that user-friendly. It's the best WordPress backup plugin.
With UpdraftPlus you can backup your website to GoogleDrive, Amazon S3, or DropBox. Then you'll have more options and peace of mind, even if your web host has problems.
The premium version adds more backup location options like Microsoft OneDrive, Azure and Google Cloud Storage. Pro also adds incremental backups, support for multisite, and database encryption.
Alternative: BackupBuddy is another popular and trusted option for site backups and restores.

PushEngage is the best push notification plugin for WordPress. It also works on non-WordPress sites.
Send notifications to website visitors when you publish a new blog post, or your product goes on sale, or when they abandon their cart.
Target and segment the notifications by the visitors behavior (actions), the date, the location, their browser or device, and more.
Check out the WordPress plugin or get started.

Shared Counts is the best way to do social sharing buttons on your WordPress site.
It shows a count of all the shares that have happened either on each social media network, or a total count. This builds trust with site visitors and potential customers (social proof).
Social Proof: A way of describing the social 'phenomenon' where people are influenced when they see other people are purchasing the product (and happy with it).
There are many paid options for this type of feature, but we think Social Counts is the best in terms of quality code and site speed/performance.
🤝 ⬇️ While you're thinking about social media, be sure to check out Smash Balloon.

Smash Balloon is the best plugin for sharing social media feeds on your website. 1.7+ million websites trust them. Getting social media feeds on your site requires a lot of APIs to work. Their team is on top of all that and also provides great technical support.
Their plugins are reliable, require no technical knowledge, and are mobile friendly. See how easy it can be! They have 5 separate plugins or you can get them all in one all access bundle.
There are limited free versions of Smash Balloon for social sharing (Twitter, YouTube, Social Photos and Social Posts) on the WordPress.org Plugin Directory.

One fun way to get a bunch of visitors, email subscribers, or social media followers is to offer a giveaway. People love prizes, games, and free stuff.
RafflePress is the best and easiest way to do this on your WordPress site. You can create a giveaway campaign with their drag and drop builder. Save time by using one of their templates.
RafflePress gives people an incentive to visit your site, provide their contact information, and even share your site with others. Go viral!
There is a free version called RafflePress lite. If you want more powerful features like email verification, notifications, entry export or giveaway landing page, then choose a RafflePress Pro, Growth, or Ultimate plan.

Sometimes when you have a WordPress site, and you need to integrate it with a third party app, like FaceBook, Google Tag Manager, or an ad network. This is often done by putting little code snippets or scripts in the header or footer (PHP files).
If you want to do this quickly and easily, and not hire a web developer, use Insert Headers and Footers.
It's trusted by more than a million websites to put a bit of Javascript or HTML on your site without risking breaking stuff by editing essential WordPress PHP files. Sometimes it's a life saver!

SearchWP is the most advanced and best search plugin. WordPress's default search functionality is not all that great. It only searches through your main page and post content.
SearchWP goes big by indexing everything including text, PDF documents, tags and categories (aka custom taxonomies), custom post types, and even WooCommerce products.
Control search relevance settings with a visual interface
Access reports on what people are searching to improve content discoverability
Use the free SearchWP AJAX plugin to get search results as you type, without page reload, like on Google search bars
Best of all it integrates with all major WordPress plugins including Easy Digital Downloads, WooCommerce, Advanced Custom Fields (ACF), Toolset, BigCommerce, bbPress, and many more.

MemberPress is the 'all in one' membership plugin for WordPress. If you are selling content as your product, you'll likely want to use this. What do we mean by content-as-product?
Online courses (LMS)
Subscriber-only content
Member restricted content
Content behind a paywall
Drip content (released over a timed schedule)
LMS (Learning Management System) – a web-based system for creating, storing and presenting educational content.
MemberPress has features to make content faster; a course builder, pricing page templates, quizzes, and tools for content protection (from non-paying visitors). It integrates with all popular email marketing platforms to stay in touch with customers and potential customers.
Alternative 1: You can sell content restricted to paying customers with Easy Digital Downloads as well. This is usually done as an add-on for other types of digital products or for more informal training. Check out this article on digital courses to decide which plugin to use.
Alternative 2: LearnDash is another popular WordPress LMS plugin.

Smart entrepreneurs and business owners are always looking for ways to automate routine tasks to save time and money. You'll be amazed how many ways there are to do this.
Check out the Uncanny Automator. Choose from 80 platforms and 400 triggers and actions to automate (and remove human error) from routine tasks. You can also connect two WordPress sites and have them 'talk' to each other. All without writing code.
WPBeginner describes it as; "Zappier, but for WordPress".
There is a free version of Uncanny Automator plugin on WordPress.org with basic automation options.
Check out the Easy Digital Download / Uncanny Automator recipes here.
Setting up an affiliate marketing program is a proven way to increase traffic and sales on your website. AffiliateWP makes it easy to set up your own program. This makes your program customizable and lets you control overhead costs.
In affiliate marketing you recruit happy customers, bloggers, and like-minded content creators to share about your products on their blogs, websites, and social media. If, and only if, they refer a paying customer, you pay them a commission. Click here to learn more about how it works.
AffiliateWP provides simple tools for each step:
Recruiting affiliates
Approving or rejecting affiliate applications
Monitoring reports
Providing self-serve resources for your affiliates, and
Paying affiliate commissions (there's no better way to pay than their Payouts Service)
Alternative: Easy Affiliate is another established and trustworthy affiliate program plugin.

Need to accept payments on your website? WP Simple Pay is an alternative to Easy Digital Downloads, WooCommerce, or MemberPress. It's for sites where you don't need a full online store or shopping cart, just simple payment forms.
Easily collect payments for services, single products, or donations. Any business owner can use it without any knowledge of code.
WP Simple Pay is the best eCommerce plugin for simple payments with Stripe
Add other non credit card payments like Apple Pay, Google Pay, ACH debit and Buy Now, Pay Later with Klarna and Afterpay/Clearpay
It works with 135+ currencies, and alternative payment methods including Alipay, iDeal, giropay, SEPA, Bancontact, Przelewy24, and FPX.
Set up subscriptions, installment plans, or even free trials
Some of these features require a Pro or Elite license. Get started for free or learn more about the pro plans.

WooCommerce is the most used WordPress eCommerce plugin. There are more than 5 million websites running this plugin. Woo is designed for selling physical products like t-shirts and soap. It can also sell digital products.
If you're selling software or mostly digital products, we recommend EDD. If you're selling mostly physical goods, WooCommerce is a great option.
To make sure your online store has fast load times we recommend a managed host. Our pick for that is BlueHost Managed WooCommerce Premium hosting. You get Woo pre-installed, and a server that is perfectly configured for you. The Premium plan comes with more than $1,000 worth of extensions for email marketing, subscriptions, JetPack Premium, and bookings.
Pro Tips:
Alternative: Easy Digital Downloads for selling software, digital marketplaces, or mostly-digital stores. WP Simple Pay for simple selling sites that don't need a full store and shopping cart.

You worked hard to build your website and constantly keep working hard to attract visitors with great content. But the majority of them leave your website without taking any action.😭
One way to get them to make a purchase or sign up for your email list is FOMO (fear of missing out).
TrustPulse is a stand-alone app for adding FOMO notification banners to your website. These notifications automatically display and tell your visitors that others just took action. Visitors will see when others make purchases and want to get in on it.

ThirstyAffiliates is a link shortener, cloaker, and manager. It's great for affiliate marketing.
Make links that are short and easy to read
Create links that are easy to remember
Cloak links so they don't have referral numbers or information in them
Automatically replace keywords on your website with affiliate links (this saves a lot of time!)
Alternative: Pretty Links is a well-established plugin for short links and affiliate links.

Sugar Calendar is the best calendar plugin for WordPress. The code is rock solid, lightweight, and won't slow down your site.
Sync Google Calendar feeds with calendars on your website
Display calendars in widgets or on pages with shortcodes, format the display settings for any country, region, or time zone
Upgrade to Professional or Ultimate to:
Alternative: The Events Calendar is a popular free alternative with many paid extensions.

WPML (WordPress Multilingual) is the best plugin for WordPress to handle translations or localization. WordPress doesn't have the best support for multiple languages by itself.
WPML supports 40 languages, and you can add your own or your own variations (for example Canadian French in addition to, or instead of, French)
It provides an interface for managing translations:

Provide special access to internal team members to perform translations on a post-by-post basis, or
Use on of their many partner organizations to get translations made as a service
WPML allows you to improve your search engine visibility all over the world.
Alternatives: You may want to check out two similar plugins; TranslatePress and Polylang

PublishePress makes a suite of plugins for managing the editorial and publishing process. If you create a lot of content as a news site, online magazine, or even a unique comic book or short story website these tools can help you succeed.
Manage edits, approvals, and workflows with their Revisions and Checklists plugins
Get detailed permissions controls for team members with Capabilities and Permissions
Plan, organize and schedule content with core PublishPress plugin
You can even serialize a novel or group content pieces into ongoing series with the Series plugin
There are feature-limited free versions of many of their plugins on the WordPress.org directory.

Antispam Bee is a great plugin for blocking junk and spam comments on your WordPress blog. Spam comments look bad and can even be a security risk.
Turn on Antispam Bee and you won't have to worry. It will block unwanted comments automatically with a variety of parameters: timing of the comment, language, region, or a previous commenters marked as spam.
It also offers a visual report on your WordPress Dashboard.
Alternative: Akismet is a popular anti-spam tool that can be used instead of, or alongside, Antispam Bee.
---
Bonus Tools
In addition to our top 27 WordPress plugin suggestions, we also recommend these tools for digital creators and sellers.
Constant Contact – We recommend Constant Contact for your email marketing platform. It's an established and trustworthy company that still innovates. It's both powerful and easy to use. It integrates with most WordPress plugins, including Easy Digital Downloads, WPForms, and WooCommerce. Click here for a great article comparing popular email platforms.
Nextiva – Our suggestion for a cloud-based (VOIP) phone system for your business. Focus on building your business and let Nextiva handle phone calls with features like call forwarding, automatic attendant, fax, and toll free numbers. Plus get modern analytics!
Pro Tip: Add a phone call button to your website, without code, for free, with the WP Call Button plugin. It's one great way to make the most of your new phone system!
Alternatives: Ring Central or Ooma
LiveChat – This is a fantastic solution for adding chat to your business or ecommerce website. It's easy to add and won't slow down your website. LiveChat integrates with most popular CRM and email marketing tools. They also have a mobile app to do real-time support on the go!
Pro Tip: LiveChat is the same team behind ChatBot.com. This is an AI chatbot that provides automated responses. You can integrate LiveChat with it. This enables the chatbot to start conversations and hand them off to a human team member when the time is right. All with no code.
Alternatives: Sendinblue Chat or HubSpot Chat
TablePress – TablePress allows you to make beautiful and useful tables without any code. This is especially useful if you're not using the Gutenberg Page Editor. Either way, it provides a great way to make, edit, store, and organize tables. There are premium extensions to add functionality like enhanced responsive layout, row filtering, or adding sweet buttons for tasks like copy/paste, print, or export to CSV/PDF.
Envira Gallery – The gold standard in WordPress for making attractive photo galleries. There is a limited lite (free) version as well.
Grammarly – Grammarly is a fast-growing and powerful app for improving your writing. The free version checks your spelling and grammar, while offering suggested improvements. The Premium version adds plagiarism detection, tone adjustment, and other suggestions.
AdSanity – If you run ads on your website it can be hard to manage them. AdSanity is a beginner-friendly, yet powerful, ad rotator plugin. It provides great tools for keeping stats and has great tech support.
ACF (Advanced Custom Fields) – If you need to organize content or data in a custom way on your site you need ACF. A good example use case is the Detroit Zoo Animals page. Animals are organized by their location in the Zoo, categories (or taxonomies) like mammal, and region where they live natively.
EWWW / Easy IO – You want your website to run fast. Fast sites are easy to use and display professionalism. This builds trust with visitors and potential customers. The EWWW Image Optimizer (Easy IO) helps you achieve this by serving your images from a fast CDN server and offering optional tools for compressing your images (making them smaller while keeping them nice looking and sharp). It also has lazy loading, where images are only loaded when needed as a visitor scrolls down the page.
WP Control – WP Control is a helpful and powerful utility plugin. It allows you to clean up and control many WordPress settings that are otherwise hard to find or change. Controls include disabling comments, disabling Gutenberg, and removing HTML content from comments (which can help keep your website safe!)
Missed Scheduled Posts – Have you ever scheduled a WordPress post only to have it not publish at the planned time? Frustrating. The team at WPBeginner (the largest and best free WordPress tutorials and resources site) have solved this issue once and for all!
Autonami – A powerful marketing automation and CRM solution for WordPress. It's built by the WooFunnels team who know a lot about lead generation and converting site visitors into customers. With Autonami you can organize customers, build relationships with them, send automated campaigns, and manage cart abandonment. It can take the place of several marketing plugins to save you time and money.
---
Conclusion
There you have it! You've skipped sifting through the giant piles of available plugins and learned about the best WordPress plugins for digital creators. We know these plugins can help you improve your site and grow your business. Best of luck out there!
We have a lot more resources for digital creators. What do you want to learn about next?
Be sure to subscribe to our newsletter or follow us on Facebook and Twitter to get our latest resources for digital creators.