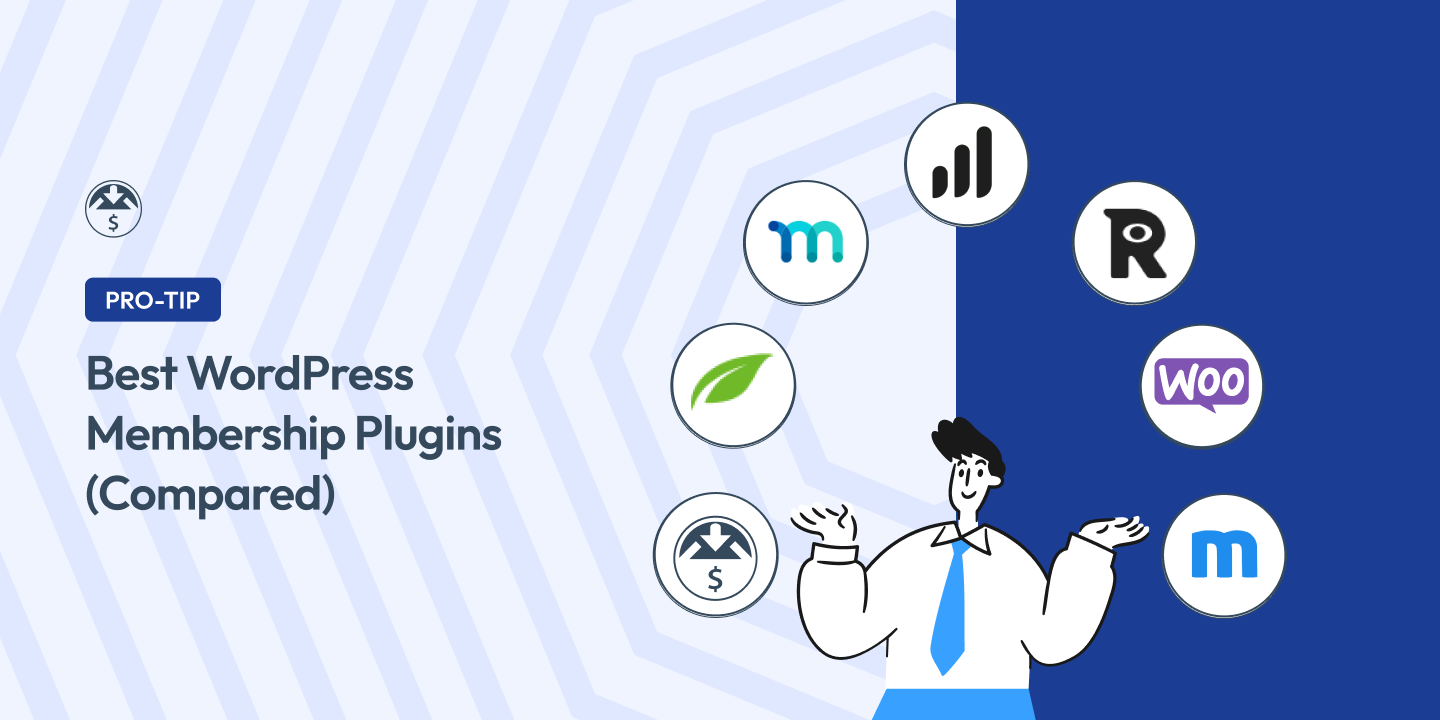 Looking for the best WordPress membership plugins to use for your website?
If you are running a WordPress site and looking to enhance user engagement, boost revenue streams, and create exclusive content, membership plugins are the answer. WordPress offers a plethora of membership plugins that cater to diverse needs and requirements.
🔎 In this article, we'll cover:
Benefits of WordPress Membership Plugins
Membership-based websites can provide numerous benefits to your online presence. No matter what type of website you run, such as a blog, e-commerce store, or educational platform, WordPress membership plugins can have a significant impact. Some compelling reasons to consider using a membership plugin on your WordPress site include:
Exclusive content. WordPress membership plugins allow you to provide exclusive content, products, or services to your members. Restricting access to certain areas of your site enables you to offer unique benefits to your loyal subscribers and safeguard it from non-members.
Monetization opportunities. Membership plugins help you monetize your website. You can create premium membership tiers that offer additional features, content, or discounts, attracting members willing to pay for these added perks.
Recurring revenue streams. Running a website with membership plans allows you to generate recurring revenue. Monthly or yearly subscriptions can provide a stable income stream and contribute to your website's financial sustainability.
Content dripping & course progression. For educational websites, membership plugins often offer content-dripping capabilities. You can release course material progressively, ensuring learners stay engaged and motivated throughout their learning journey.
Enhanced security. The best WordPress membership plugins come with built-in security features that protect your premium content from unauthorized access.
A WordPress membership plugin empowers you to create a dynamic and profitable online community. From generating recurring revenue to fostering user engagement, these plugins offer a plethora of benefits that can significantly enhance your website's success.
What to Look for in Membership Plugins
Choosing the right WordPress membership plugin is a critical decision that can significantly impact the success of your membership-based website. To ensure you make the best choice, there are a handful of essential factors to consider, including:
Ease of use. The best plugins offer a user-friendly interface and intuitive setup process. It should be easy for you to create membership levels, manage content restrictions, and handle member interactions without technical expertise.
Content protection. Ensure the plugin offers robust content protection features, allowing you to restrict access to specific pages, posts, or custom post types based on membership levels.
Payment gateway & email marketing integrations. Verify that the membership plugin supports popular payment gateways, like Stripe and PayPal, to enable seamless and secure online transactions. Similarly, it's smart to find plugins that integrate with your preferred email marketing services to facilitate efficient communication with members.
Reporting & analytics. Opt for a plugin that provides detailed reporting and analytics on member engagement, churn rates, and revenue data to inform your business decisions.
Support & documentation. It's best to look for membership plugins that offer comprehensive documentation, tutorials, and reliable customer support to assist you in case of any issues.
Compatibility with themes & plugins. Check to ensure the plugin seamlessly integrates with your current WordPress theme and other essential plugins to avoid conflicts and ensure smooth functionality.
7+ Best WordPress Membership Plugins
Ready to learn more about your membership plugin options? Below are some of the best WordPress membership plugins to consider!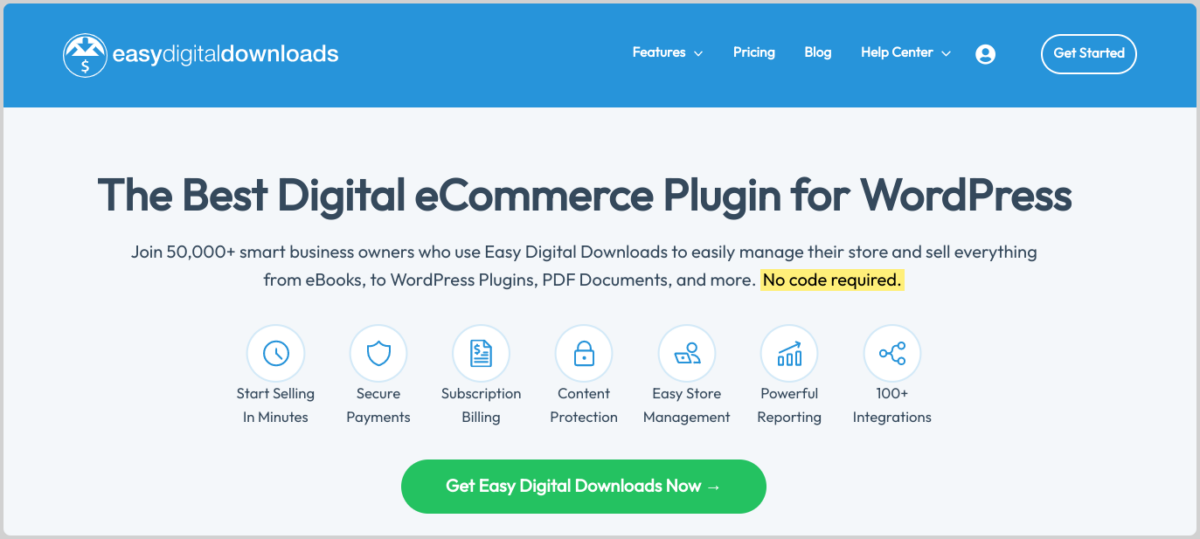 Easy Digital Downloads is the best digital eCommerce plugin for WordPress. It streamlines the process of selling digital products, managing licenses, and protecting your content and/or downloads. This includes software, eBooks, PDFs, audio files, videos, and so much more.
In addition to a complete, built-in shopping cart system, Easy Digital Downloads lets you create discount codes to increase conversions, accept recurring payments & subscriptions, and restrict file downloads based on a range of factors, such as membership/access levels.
Easy Digital Downloads integrates smoothly with various payment gateways. There are also a handful of premium extensions you can install and integrate with your EDD store that help you easily sell membership content. This includes Restrict Content Pro, which is another one of the best WordPress membership plugins included in this list.
🔑 Key Features
Sell unlimited digital products & file downloads
Members-only digital products/downloads
Full shopping cart system
Ability to accept Recurring Payments
Restrict file downloads by time/access level
Integration with popular payment gateways (Stripe, PayPal, Authorize.net, etc.)
Library of extensions to expand e-commerce functionality (Purchase Rewards, Content Restriction, Wish lists, & more)
Pricing: There is a free EDD Lite plugin available. However, pricing for plans that include Content Restriction, Restrict Content Pro, or other membership-related addons & features start at $399 per year.
eCommerce without limits!
That is our promise. Most eCommerce solutions limit your creativity
…not Easy Digital Downloads!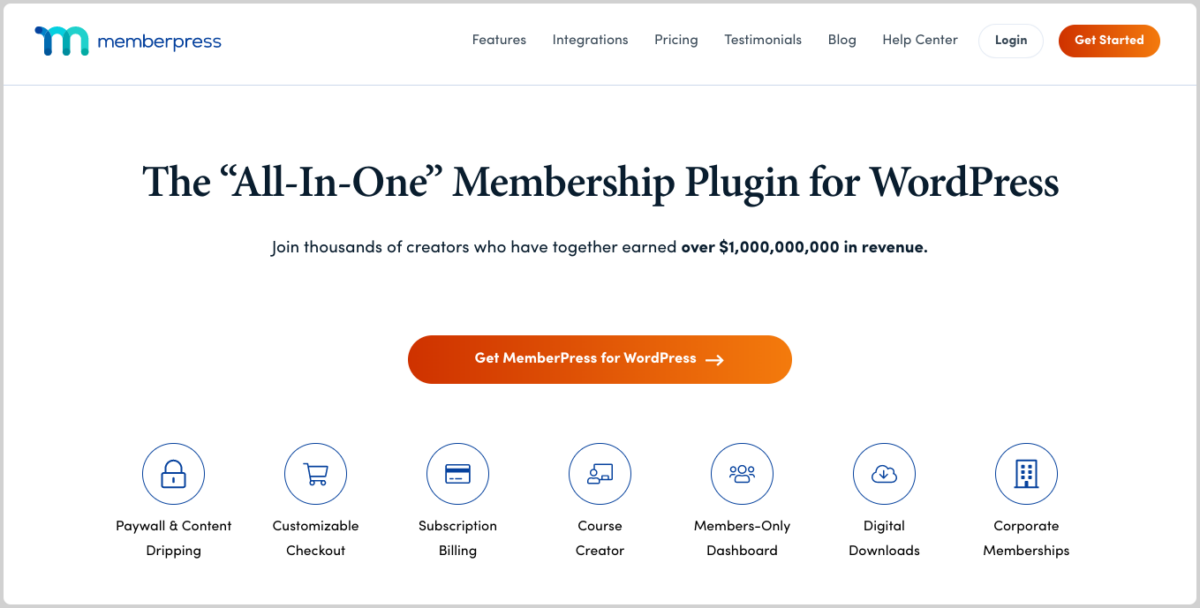 Another one of the most popular WordPress membership plugins is MemberPress. With its easy setup and powerful features, you can use it to create membership levels, restrict access to content, and manage digital products effortlessly.
Offering seamless integration with payment gateways and email marketing services, MemberPress ensures a smooth and secure membership experience for your WordPress users.
🔑 Key Features
Unlimited memberships & member subscription levels
Content dripping & upgrade paths
LMS/Drag-and-drop course builder
Dynamic pricing pages
Content restriction rules & access controls
User profiles & user registration forms
Integrations with BuddyPress, bbPress forums & other community building tools
Discounts & coupon codes
Support for multiple payment options & gateways
Widgets, REST API & shortcodes
Email marketing integrations (Contact Contact, Mailchimp, GetResponse, etc.)
Customizable checkout
Pricing: Pricing for MemberPress plans starts at $179.50 per year.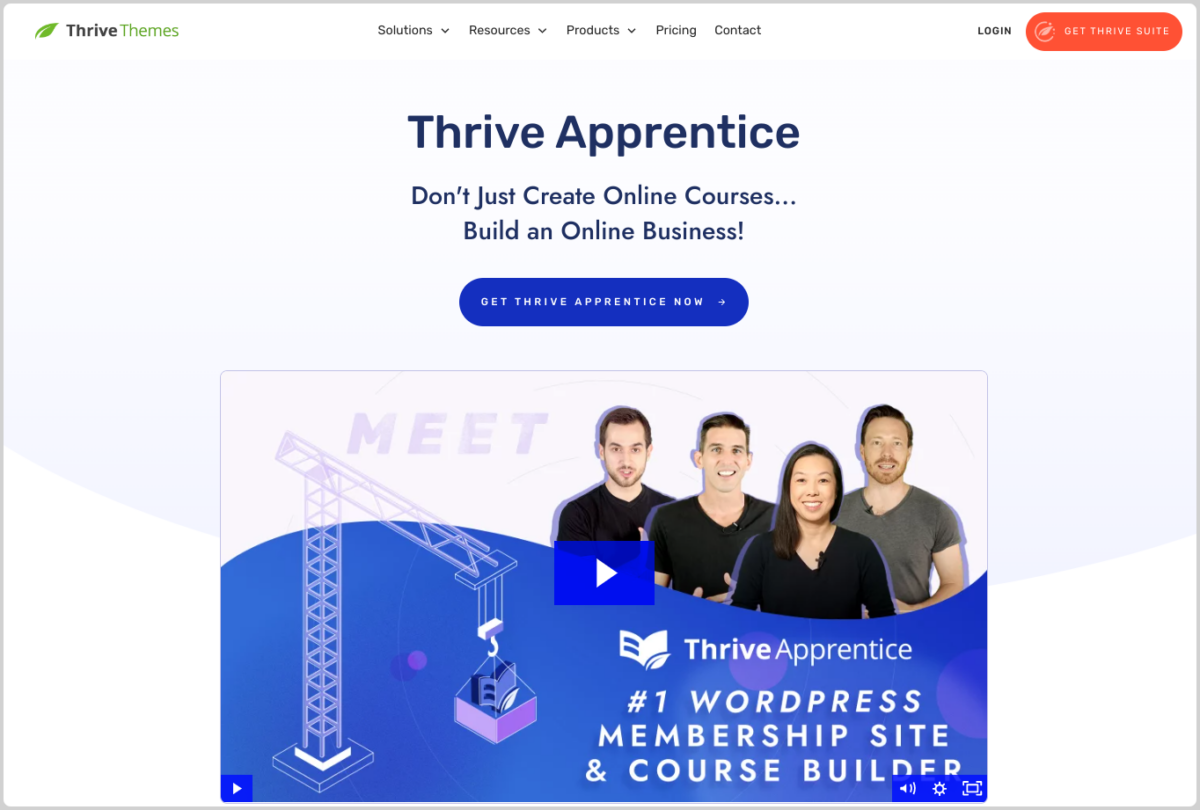 Thrive Apprentice is a specialized WordPress membership plugin designed explicitly for creating captivating e-learning platforms. With Thrive Apprentice, you can build and manage online courses with ease.
Its user-friendly interface allows you to organize your course content, create modules, and track learners' progress effortlessly. The plugin also offers content-dripping capabilities, enabling you to release course material gradually and keep learners engaged throughout their learning journey.
🔑 Key Features
Drag & drop editor
Online course builder
50+ course templates
Course progress tracking
Content dripping
Interactive quizzes
Customizable certificates & rewards
Setup wizard
Membership management dashboard
Detailed reporting
Pricing: Thrive Apprentice plans start at $149 per year. You can also purchase Thrive Apprentice as part of the Thrive Suite bundle for $299 per year.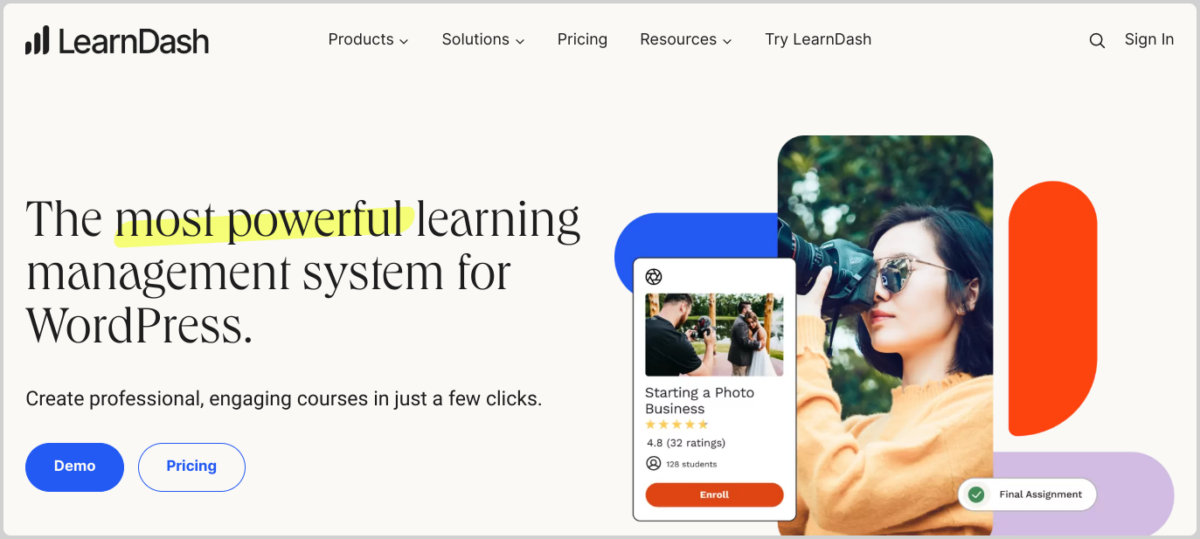 If you're looking to transform your WordPress website into an e-learning platform, LearnDash is a plugin worth checking out. This powerful Learning Management System (LMS) plugin enables you to create and sell online courses, quizzes, and assignments.
This tool offers an intuitive, sophisticated solution for creating an online environment and controlling access to courses based on a handful of factors. You can utilize its comprehensive reporting and analytics tools to track learners' progress and refine your teaching strategies.
🔑 Key Features
Complete LMS
Advanced drag & drop course builder
Quizzes & other interactive learning materials
Access controls & permissions
Certificates & user badges
Frontend user profiles
One-time fee or subscription-based courses
Support for popular payment integrations (PayPal, Stripe, 2Checkout, etc.)
Detailed reporting
Easy setup
Drip content
Integrations with EDD, MemberPress, WooCommerce & more
Automatic email notifications
Pricing: LearnDash plans start at $199 per year.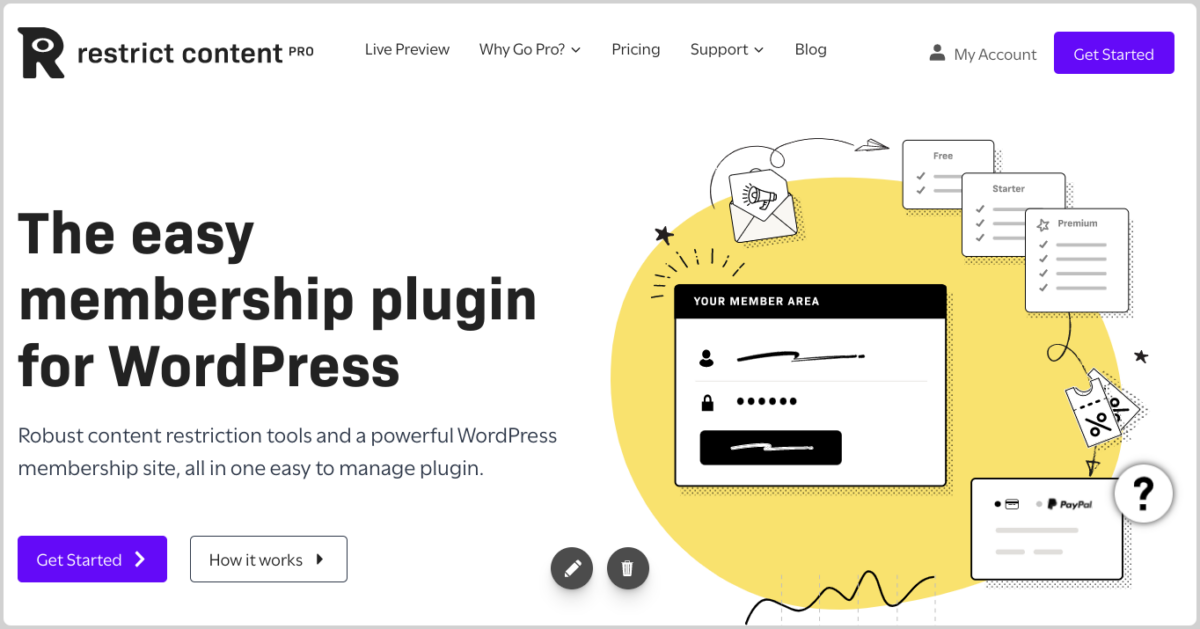 As I mentioned earlier, Restrict Content Pro is one of the best WordPress plugins that you can use to create a membership website and sell various levels. To get the most value out of it, you can install and integrate Restrict Content Pro Member Discounts with an Easy Digital Downloads plan.
However, if you don't need a full shopping cart system or plan to sell digital products, you can also use it as a standalone tool. It's an excellent member plugin for restricting access to your pages, posts, and other content types in WordPress based on user roles.
🔑 Key Features
Restrict access to pages & posts
Unlimited membership levels
Easy setup
Integration with popular payment gateways (Stripe, PayPal, Braintree, etc.)
Free, trial & premium subscription levels
Simple membership management
Complete integration with Easy Digital Downloads & WooCommerce
Member email automation
Discounts & promotional tools
Pricing: Restrict Content is a freemium plugin. In addition to the basic, free plan, you can upgrade to a paid plan starting at $99 per year.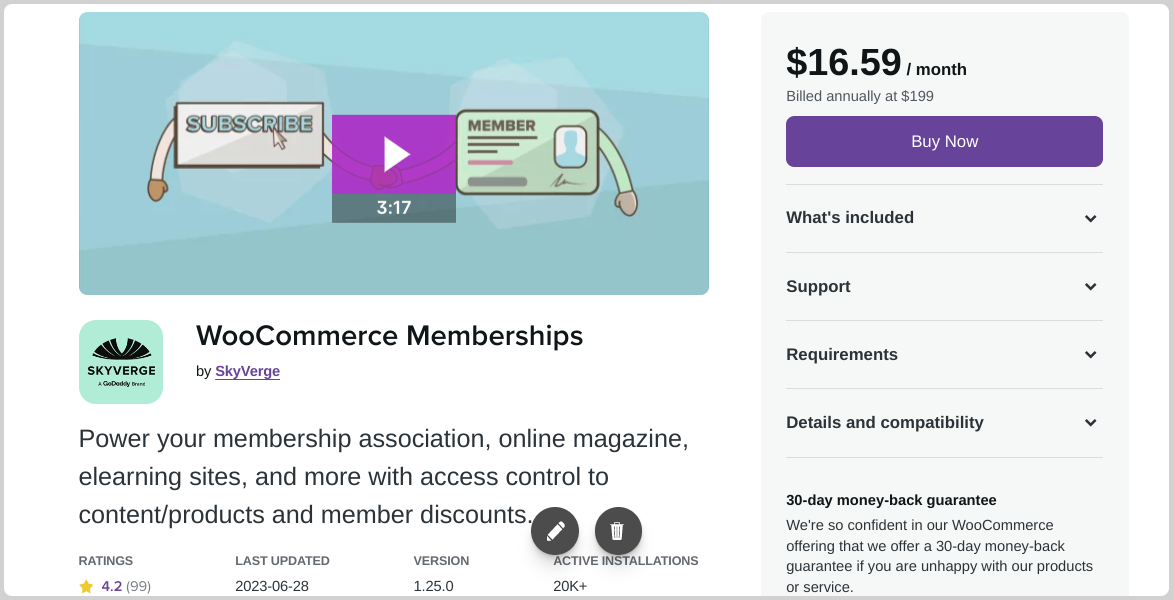 Easy Digital Downloads is the top WordPress plugin for selling digital products. However, if you offer mostly physical goods and run a WooCommerce store, WooCommerce Memberships may be the best option for you.
This premium extension lets you easily grant exclusive access to products, discounts, or downloadable content based on membership levels. This seamless integration with WooCommerce allows you to monetize your products and build a loyal customer base.
You can restrict access to content based on one-time payments or recurring payments. It also comes with drip content features and seamless integration with email marketing tools, such as Constant Contact.
🔑 Key Features
Membership system for WooCommerce stores
Flexible membership & subscription management
Content dripping
Manual membership assignments
Special member discounts & rewards
One-time or subscription-based payments
Integration with WooCommerce Subscriptions
Import/export member data
Pricing: While WooCommerce itself is free, the WooCommerce Memberships premium addon costs $199 per year.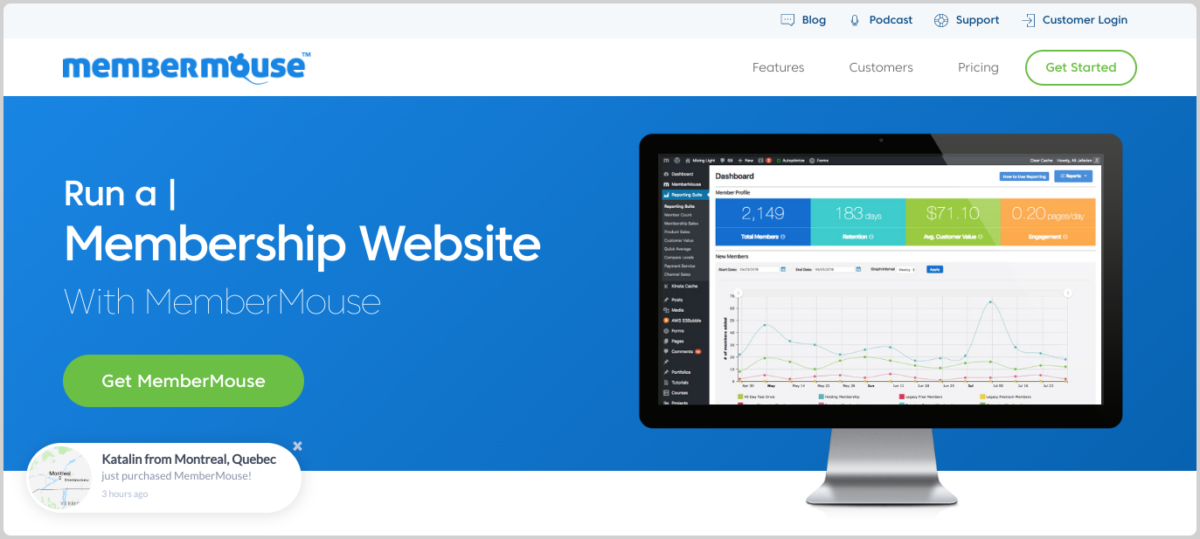 Rounding out our list of the best WordPress membership plugins is MemberMouse. This intuitive tool simplifies membership management with its user-friendly interface. You can utilize its advanced features, such as drip content, one-click upsells, and affiliate program management, to boost engagement and generate more revenue.
As one of the most powerful and scalable membership plugins for WordPress, MemberMouse probably isn't suitable for beginners. However, it's a great option if you run an enterprise-level website and are looking to grow and scale your business.
🔑 Key Features
Unlimited memberships & subscriptions
Standalone products
Content protection, restriction & monetization
Unique SmartTag™ features for creating personalized member experiences
Drip content
Integrations with marketing & communication tools (bbPress, ActiveCampaign, Mailchimp, AWeber, Zapier & more)
Advanced reporting
Automatic overdue payment management
Support for popular payment gateways (Stripe, PayPal, ClickBank, etc.)
One-click purchase links
Free & paid trials
Built-in push notifications
Pricing: MemberMouse plans start at $199.50 per year.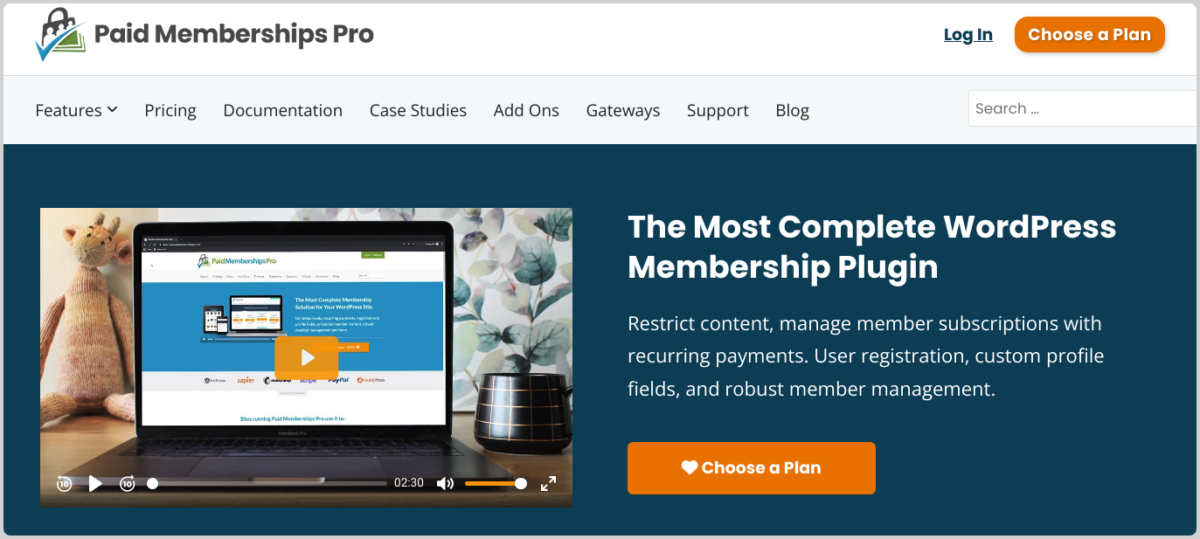 It's tough to create a list of the best WordPress membership plugins without mentioning Paid Memberships Pro. Paid Memberships Pro offers an extensive range of membership features and customization options. Tailor membership plans, manage recurring payments, and protect exclusive content effortlessly. Its developer-friendly approach makes it a preferred choice for businesses of all sizes.
Unlimited membership levels
Content restriction
Flexible & recurring payment options
Drip content
Trial memberships for premium content
Coupon codes
Automated email notifications
Member reports & analytics
Extensive integrations with third-party plugins and services to enhance functionality, including email marketing platforms, affiliate programs, & CRM tools
Pricing: Paid Memberships Pro is a freemium plugin. Paid plans start at $247 per year.
FAQs: Best WordPress Membership Plugins
Let's wrap up with some frequently asked questions about the best WordPress membership plugins.
Can I use multiple membership plugins on my website?
While it's technically possible, it's not advisable to use multiple membership plugins simultaneously. They might conflict with each other and lead to functional issues. The better option is to choose the best WordPress membership plugin based on your specific type of business and website.
Are there free WordPress membership plugins available?
Yes, some membership plugins offer free versions with limited features. Examples include Easy Digital Downloads and Restrict Content. However, for advanced functionalities, it's recommended to opt for premium versions.
Which are the best WordPress membership plugins for e-learning websites?
Both MemberPress and LearnDash are top choices for e-learning websites, providing robust course creation, quizzes, assignments, and learner progress tracking.
What are the best WordPress membership plugins for selling digital products?
Easy Digital Downloads is the best WordPress membership plugin for selling digital products and files. In addition to a full shopping cart system and e-commerce solution, you can use EDD to install and integrate premium extensions, such as Restrict Content Pro, to help create and sell members-only content.
Get the Best WordPress Membership Plugins
Choosing the right membership plugin is crucial for maximizing your website's potential. Whether you aim to build an e-learning platform, a social network, or an online store, each of the best WordPress membership plugins mentioned in this article offers unique features and benefits.
By getting an Easy Digital Downloads pass, you can get a complete eCommerce solution and the Restrict Content Pro extension all in one plan! Grab your pass below to get started:
📣 P.S. Be sure to subscribe to our newsletter and follow us on Facebook or Twitter for more WordPress resources!