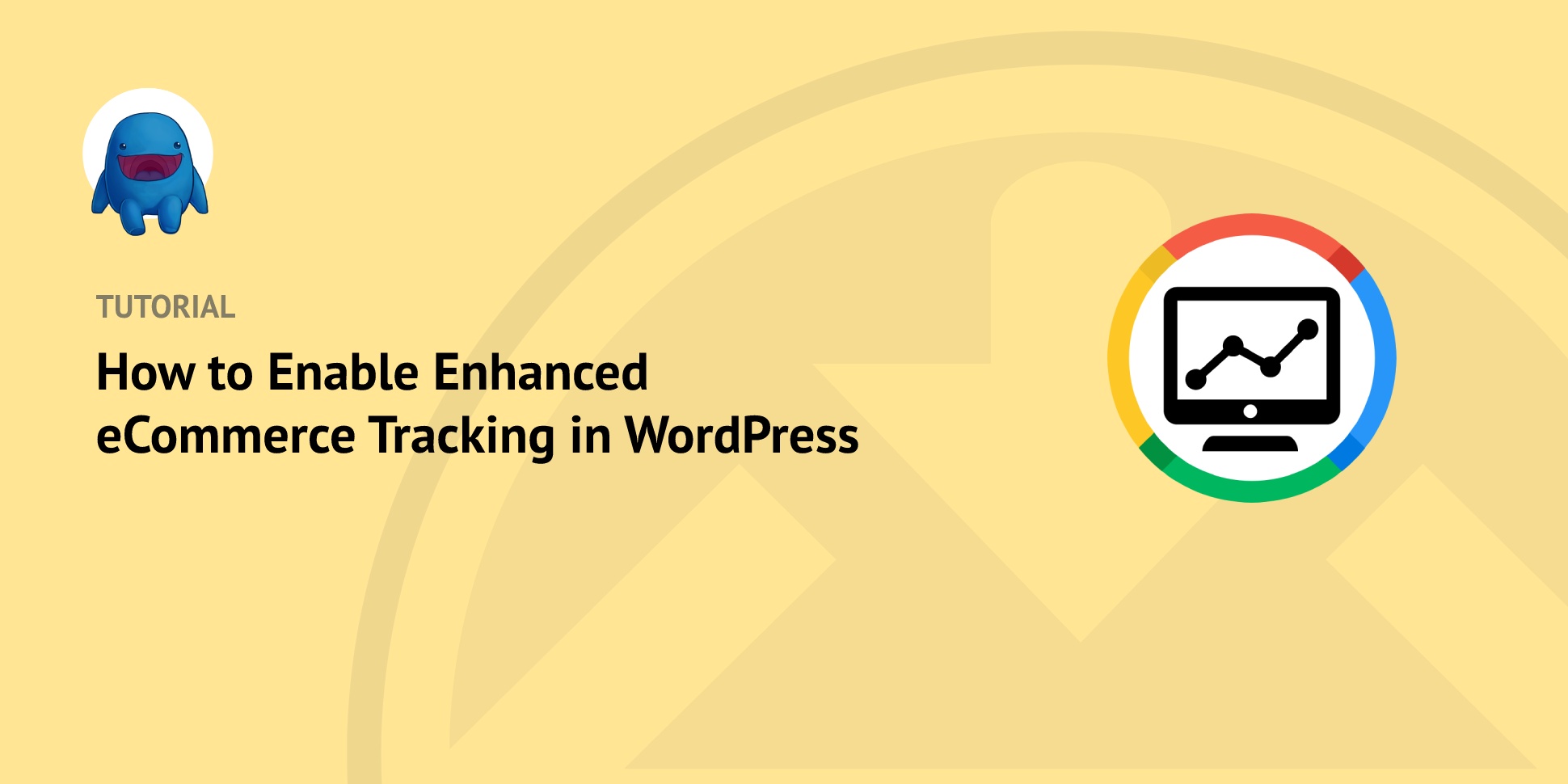 As an online store owner, one of the best decisions you can make is to enable enhanced eCommerce tracking in WordPress.
These analytics can help you collect key eCommerce data on customer behaviors. You can use this information to make decisions and improvements that help drive conversions, optimize the customer experience, and maximize profits.
Plus, WordPress plugins like Easy Digital Downloads and MonsterInsights make doing so quick and easy.
🔎In this post, we'll cover:
Why Is eCommerce Tracking Important?
If you're unfamiliar, eCommerce tracking refers to the process of collecting data related to user behavior on your online store. This information can help you understand how shoppers interact with your products and site. For example, it could tell you which pages they do or don't visit, where your traffic sources come from, etc.
The data gathered from eCommerce tracking can help you make better, more informed business and marketing decisions. You can use it to:
Optimize promotions
Enhance the customer experience
Drive conversions
Identify trends and patterns
Target segments to maximize value
Boost sales
The right tracking tools can help you make data-driven decisions that improve your store's performance. The key is choosing the platforms and plugins that integrate seamlessly with WordPress.
How to Enable Enhanced eCommerce Tracking in WordPress
Enhanced eCommerce tracking is a feature in Google Analytics (GA) that lets you collect detailed data on customer shopping behavior. As the top Google Analytics plugin for WordPress, MonsterInsights is the best tool to integrate these reports with your eCommerce store.
In the following step-by-step tutorial, we'll show you how to enable eCommerce tracking for WordPress. Note that you'll first need a WordPress website (with a plugin such as Easy Digital Downloads or WooCommerce) and a Google Analytics account for that site.
Step 1: Enable Enhanced eCommerce Tracking in GA
The first step is to enable enhanced eCommerce tracking in Google Analytics. If you're using Google Analytics 4, you can skip this step.
Otherwise, open your Google Analytics account and select your website. Next, click on Admin tab in the left-side menu followed by Ecommerce Settings: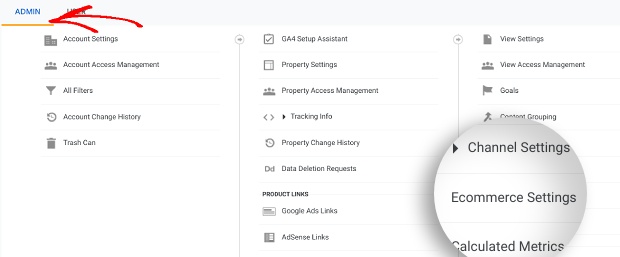 On the next screen, click both the sliders for Enable Ecommerce and Enable Enhanced Ecommerce Reporting from off to on:

This enables the enhanced eCommerce tracking functionality. When you're done, select the Save button.
Step 2: Install the MonsterInsights WordPress Plugin
If you don't already have it, the next step is to install the MonsterInsights plugin on your WordPress site:

As we mentioned, MonsterInsights is a WordPress plugin that lets you easily connect your eCommerce site to Google Analytics. It also integrates seamlessly with Easy Digital Downloads.
There are multiple MonsterInsights pricing plans to choose from. We recommend grabbing a Pro plan to use all of the features, including the enhanced eCommerce tracking tool.
After you purchase your plan, you can download the plugin from your account area. Next, navigate to Plugins » Add New » Upload Plugin from your WordPress dashboard:

After you select the MonsterInsights plugin file, click on the Install Now and Activate Plugin buttons.
Step 3: Connect MonsterInsights to Google Analytics
Once you've installed and activated the MonsterInsights plugin, you'll need to connect it to Google Analytics. You could enter the tracking code manually. But connecting your site to the plugin is much quicker and easier.
To get started, select the Connect MonsterInsights and Setup Site Analytics that appears in the top notification bar: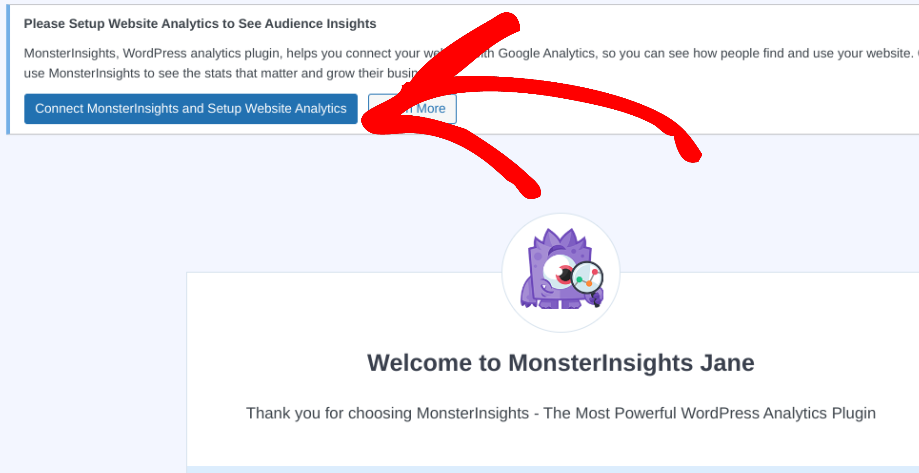 Click on Connect MonsterInsights: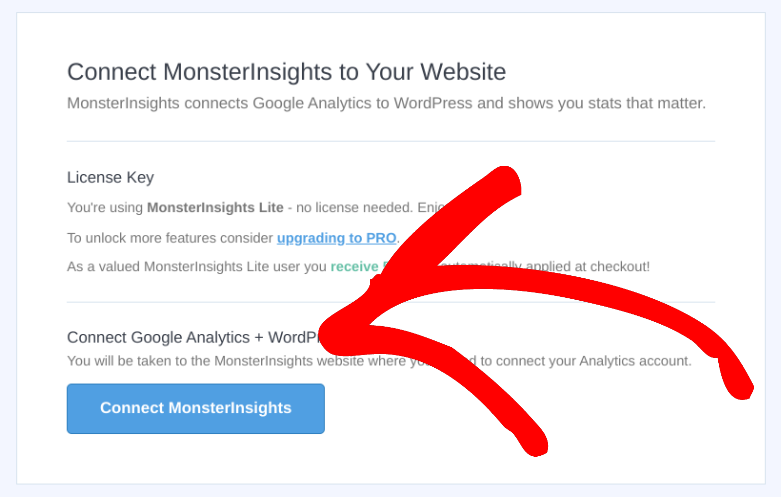 Next, you can select a Google account to sign in with: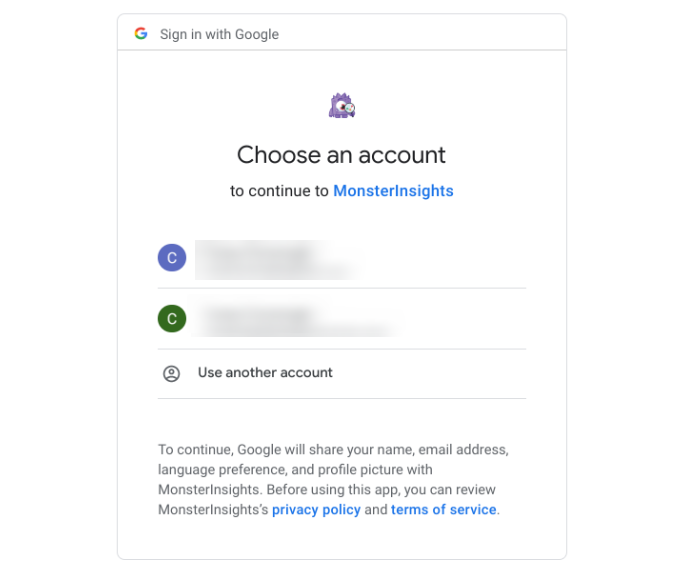 Select Allow to confirm the plugin's permissions: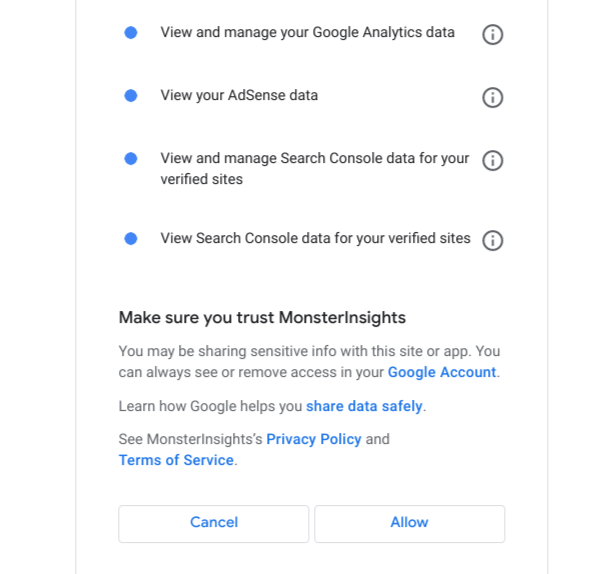 Next, you can select the website (property) to connect your account. When you're done, click on Complete Connection: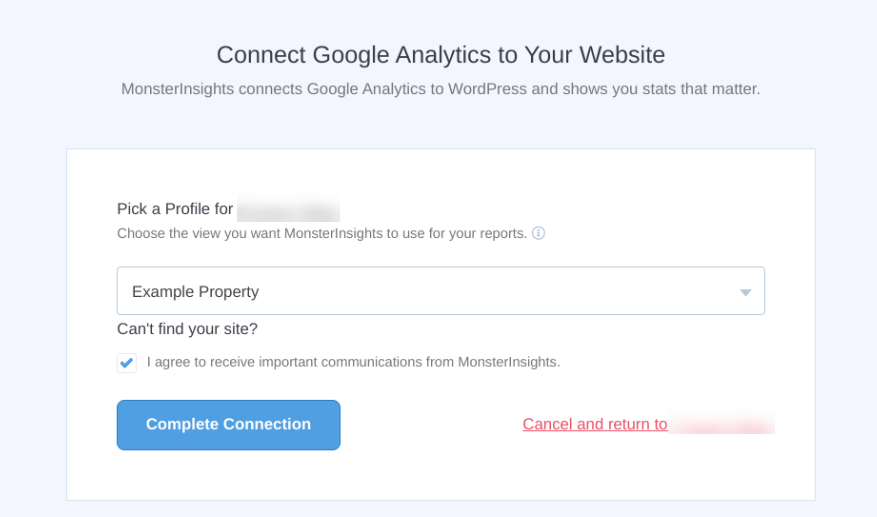 On this screen, you can choose who can view the reports and other settings. Click on Continue to proceed.
Step 4: Add the MonsterInsights Extension
Once you have the MonsterInsights plugin installed and connected to your Google Analytics, the next step is to install the Monsterinsights eCommerce addon. This is the tool that lets you enable enhanced eCommerce tracking in WordPress.
From your WordPress dashboard, navigate to Insights » Addons » eCommerce and click on Install: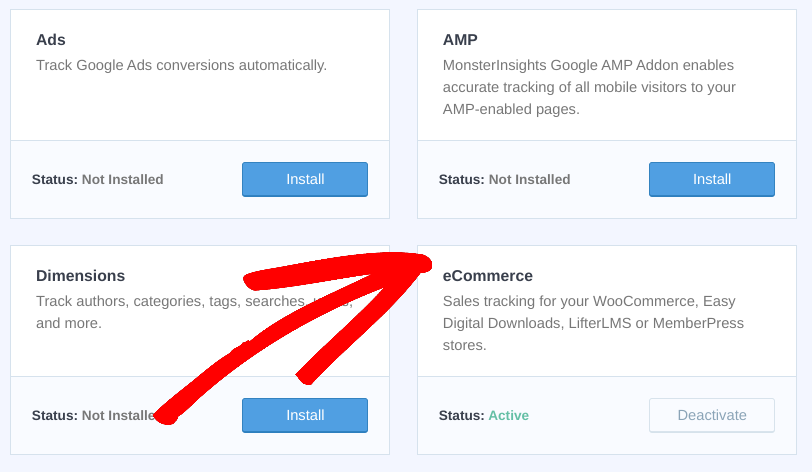 With this addon installed, navigate to Insights » Settings » eCommerce. Then click to turn on the Use Enhanced eCommerce setting: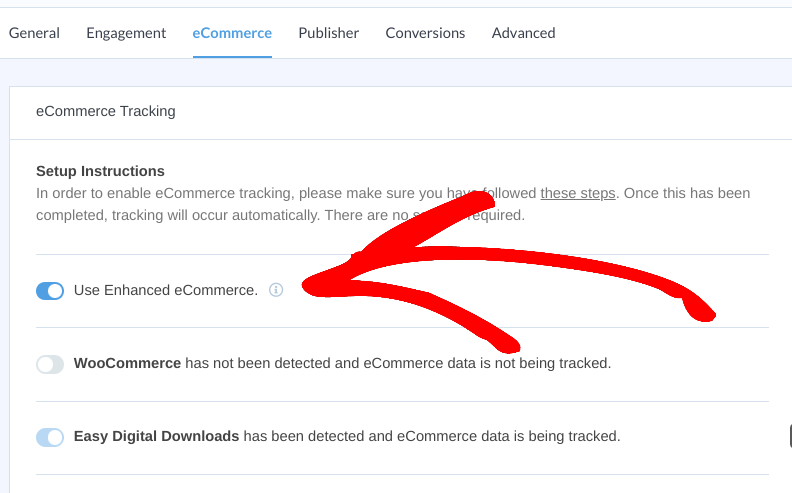 On this page, you can also enable the eCommerce tracking features for the WordPress plugin you're using. For us, it's Easy Digital Downloads. There are also options for WooCommerce, MemberPress, etc.
When you're done, click on the Save Changes button at the top of the screen.
Step 5: View and Track Your Enhanced eCommerce Reports
You've now successfully enabled enhanced eCommerce tracking in WordPress. Now the only thing left to do is access, view, and monitor your reports.
You can do this within WordPress at any time by going to Insights » Reports » eCommerce: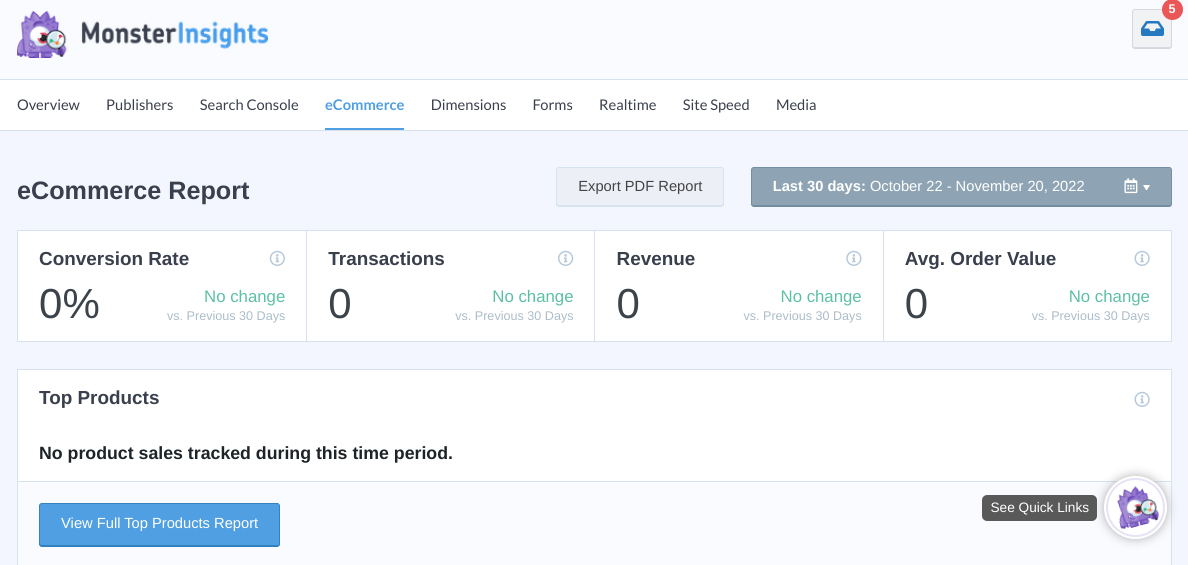 You'll be able to find metrics and analytics for:
Conversion rate
Transactions
Total revenue
Avg. order value
Abandoned checkouts
Total add to carts
And more
Note that it may take a day or two for this data to populate, especially if you're new to Google Analytics. You can also export the data into a PDF and filter it by date.
If you're using Easy Digital Downloads, you can combine this data with the EDD reporting tools (Downloads » Reports). Here, you can find a variety of sales performance, conversion tracking, and checkout behavior data.
You can also install the MonsterInsights User Journey addon to easily track customer behavior on your digital products store. To learn more, check out How to Create a Customer Journey in Google Analytics.
Enable Enhanced eCommerce Tracking in WordPress
When you're running an online store, it's important to closely monitor data and analytics. When you enable enhanced eCommerce tracking in WordPress, this becomes a lot easier to do. You can get detailed reports directly from your dashboard to help make data-informed decisions.
Download Easy Digital Downloads and MonsterInsights to get started! For more ideas on how to track eCommerce analytics, refer to 10 eCommerce Sales Reports to Keep an Eye On.
Be sure to subscribe to our newsletter and follow us on Facebook or Twitter for more WordPress resources!