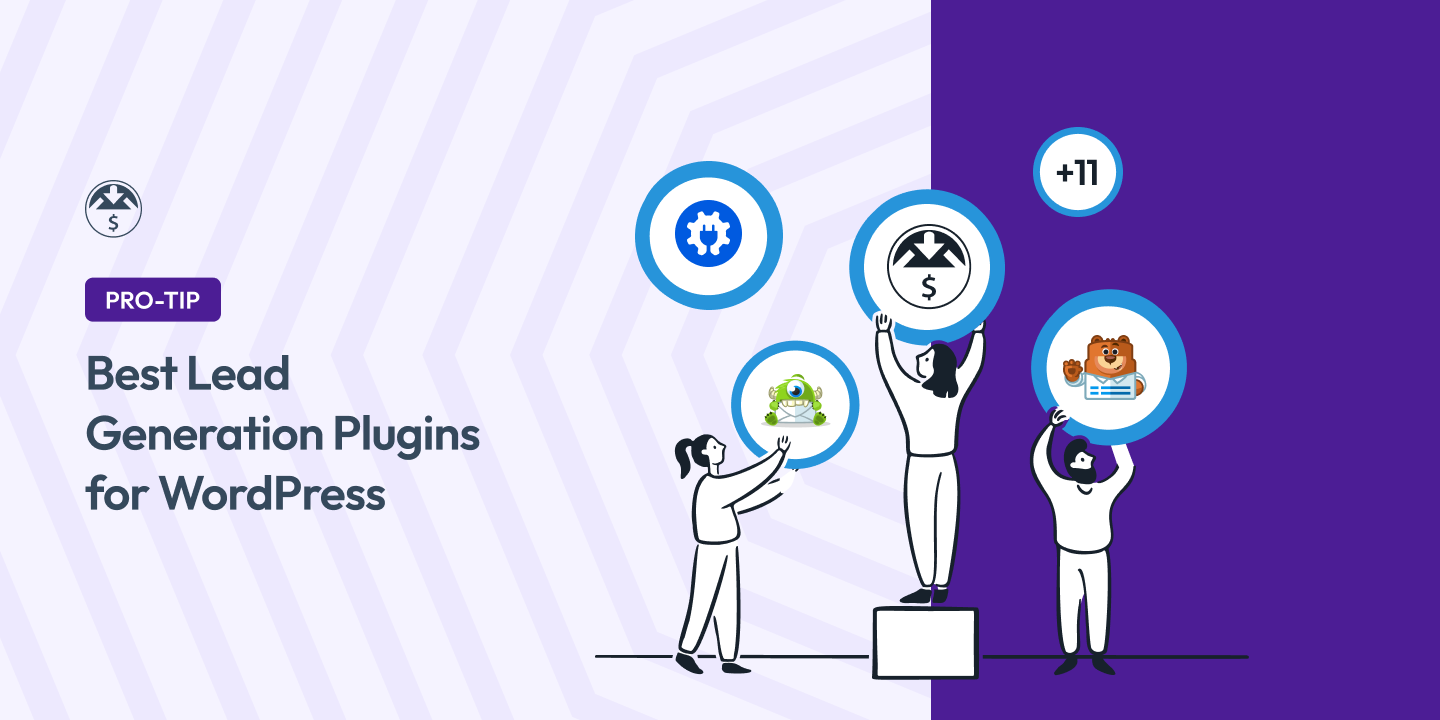 Are you looking for the best lead generation plugins for WordPress e-commerce sites?
You have plenty of options to choose from. Whether you're a seasoned online merchant or just starting, lead generation plugins can help you attract, engage, and convert potential customers.
The right tool will seamlessly integrate with your WordPress website to enhance your lead generation efforts and drive your business forward.
🔎 In this article, we'll cover:
Why Use Lead Generation Plugins?
Running a successful e-commerce site takes more than just listing products. You need to engage your visitors, encourage them to take action, and build relationships that lead to repeat business.
In the competitive world of e-commerce, capturing leads is key. Leads represent potential customers who've shown interest in your products or services.
Effective lead generation plugins can help you:
Capture visitors' attention
Gather valuable customer data
Boost sales
Nurture relationships
Convert leads into loyal customers
Lead generation plugins empower you to create captivating forms, pop-ups, and calls to action that entice visitors to subscribe, sign up, or make a purchase. With features like A/B testing, advanced targeting, and integration with email marketing tools, these plugins help you optimize your approach and maximize conversions.
11 Best WordPress Lead Generation Plugins
The best lead generation plugin to use on your WordPress site depends on a handful of factors, including the type of site you have, the specific functions and features you're looking for, and your budget.
WordPress Lead Generation Plugins (Compared)
With all these factors in mind, we've rounded up a list of some of the best lead generation plugins for WordPress, including both free & paid options.
Lead Generation Plugins
Free Plan
Price🛒
Best For💡
OptinMonster
✅
$9 – $49/mo
Conversion-optimized toolkit
WPForms
✅
$49.50 – $299.50/yr
Lead generation forms
Easy Digital Downloads
✅
$199-$999/yr
Downloads/freebies as lead magnets
PushEngage
✅
$9 – $49/mo
Push notifications
RafflePress
✅
$39.50 – $199.50/yr
$499.50 (one-time)
Giveaways, contests & gamification
TrustPulse
✅
$5 – $39/mo
Building trust & social proof
SeedProd
✅
$39.50 – $239.60/yr
Coming soon pages
AIOSEO
✅
$49.60 – $299.60/yr
Search engine visibility
MonsterInsights
✅
$99.50 – $399.50/yr
Data-driven insights
Thrive Leads
✖️
$99/yr
Lead generation forms
HubSpot
✅
Varies by product/plan
All-in-one marketing/CRM platform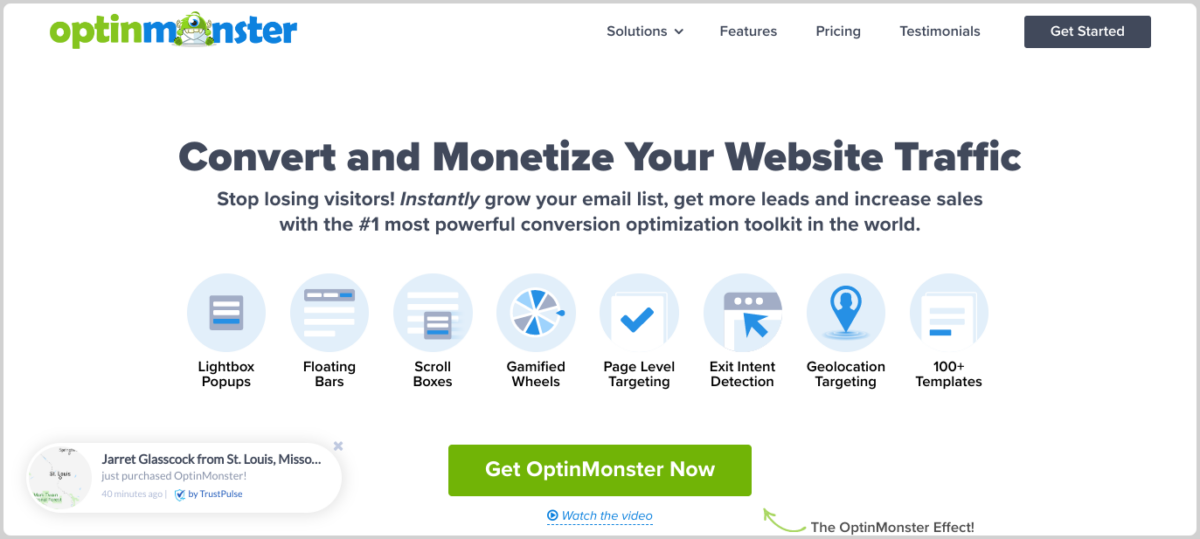 OptinMonster is one of the most popular and widely used lead generation plugins for WordPress. Between its exit-intent popups, floating bars, and gamified spin-to-win campaigns, OptinMonster offers versatile tools to engage visitors and prompt them to join your email list.
It comes with an intuitive drag-and-drop form builder for creating eye-catching pop-ups, slide-ins, and more. Plus, OptinMonster's advanced targeting options help you display the right offer to the right audience to increase the likelihood of conversions.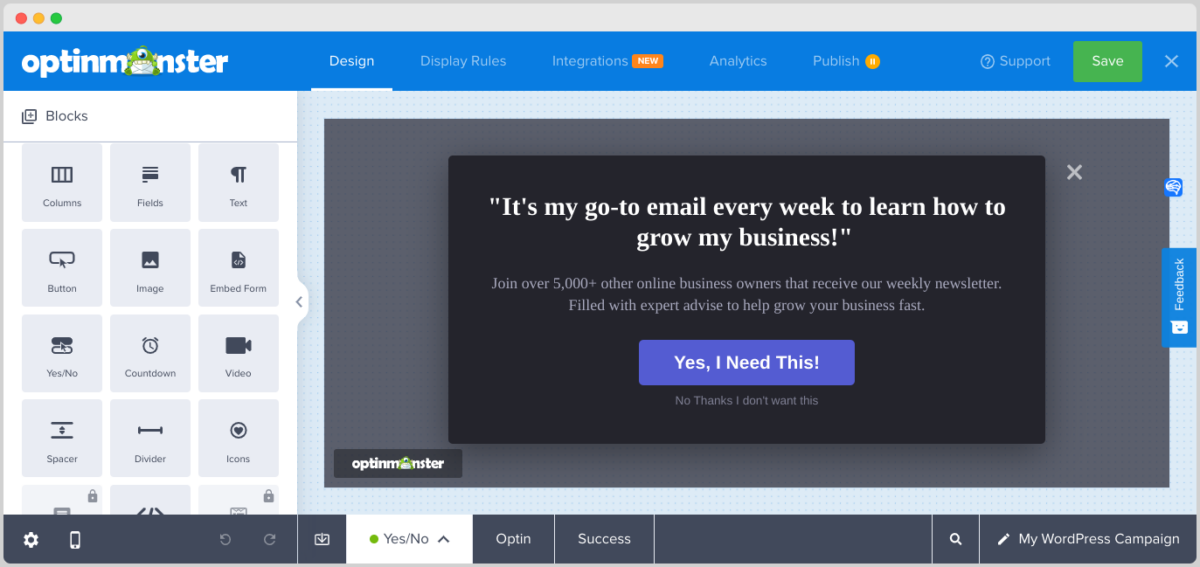 Additionally, it integrates with third-party email marketing tools, including GetResponse, Mailchimp, and Constant Contact.
🔑 Key Features
75+ Customizable templates
Drag & drop visual editor
Coupon wheel campaigns
Lightbox popups
Floating bars
Slide-ins
Exit-intent technology
A/B testing
Page-level targeting
Built-in analytics
Retargeting & personalization
Pricing: There is a free OptinMonster popup builder plugin. Premium plans start at $9 per month.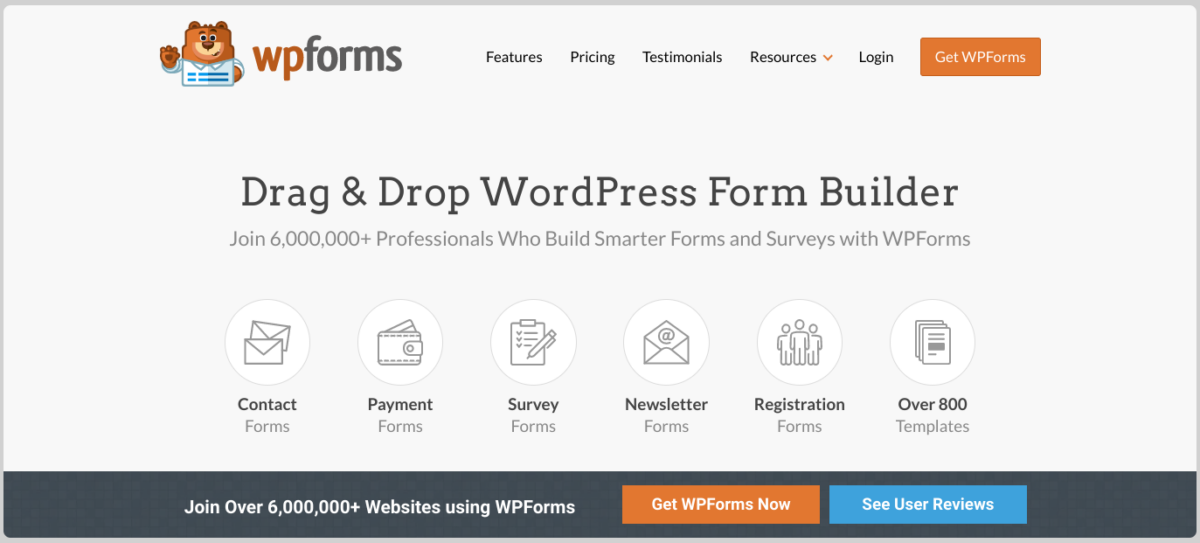 As the best contact form plugin, WPForms is an excellent lead generation tool. It lets you easily create and embed lead generation forms across your WordPress site via drag-and-drop editor.
You can use it to create contact forms, surveys, subscription and registration forms, and so much more. It also comes with advanced features. For instance, you can leverage conditional logic to ensure your visitors see only the content that's relevant to them.
Another advantage of WPForms is that it integrates with email marketing services and CRM tools. This includes GetResponse, Mailchimp, AWeber, and more.
🔑 Key Features
Drag & drop form builder
6+ million installations
Pre-built form templates
Lead Forms addon to create multi-page forms
Embeddable lead generation forms
Integration with page builders like Elementor & Divi
Newsletter signup forms, user registration, order, survey & more
Sidebar widgets
Email notifications & alerts
Ability to collect payments via PayPal, Stripe, etc.
Pricing: There is a free, Lite version of WPForms. Plans with premium features start at $49.50 per year.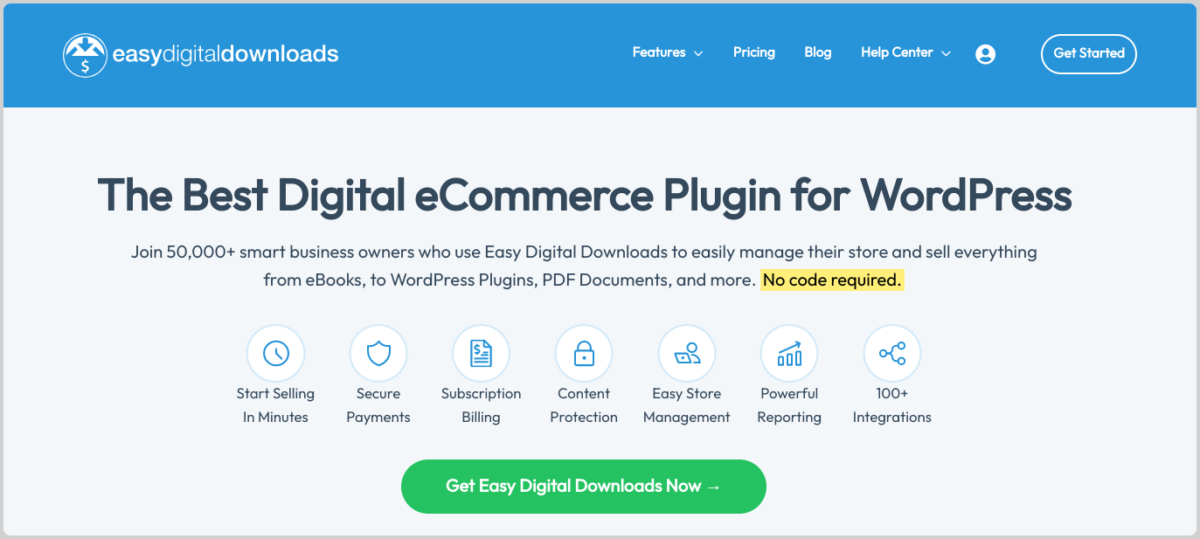 Easy Digital Downloads is the best plugin for digital e-commerce. You can use it to sell documents, files, webinars, eBooks, software, and so much more.
If you're looking to increase sales for your digital products and grow your email subscribers, the Free Downloads extension for Easy Digital Downloads is a game-changer. It lets you attract potential customers by offering freebies in exchange for their email addresses.

For instance, you could offer a free download, like an eBook or template. These lead magnets can increase email opt-in submissions and boost sales.
🔑 Key Features
Freebies & lead magnets
Full shopping cart system
Compatible with all e-commerce WordPress themes
Integrates with email services & marketing tools, including Zapier, AWeber, etc.
Download & lead tracking
Support for OptinMonster & other popup builder plugins
Secure online payments
Order, customer & store management
Subscription billing
Content restriction
Pricing: A free version of Easy Digital Downloads is available. However, to get Free Downloads and other extensions, you'll want a premium version. EDD Pro plans starting at $199 per year.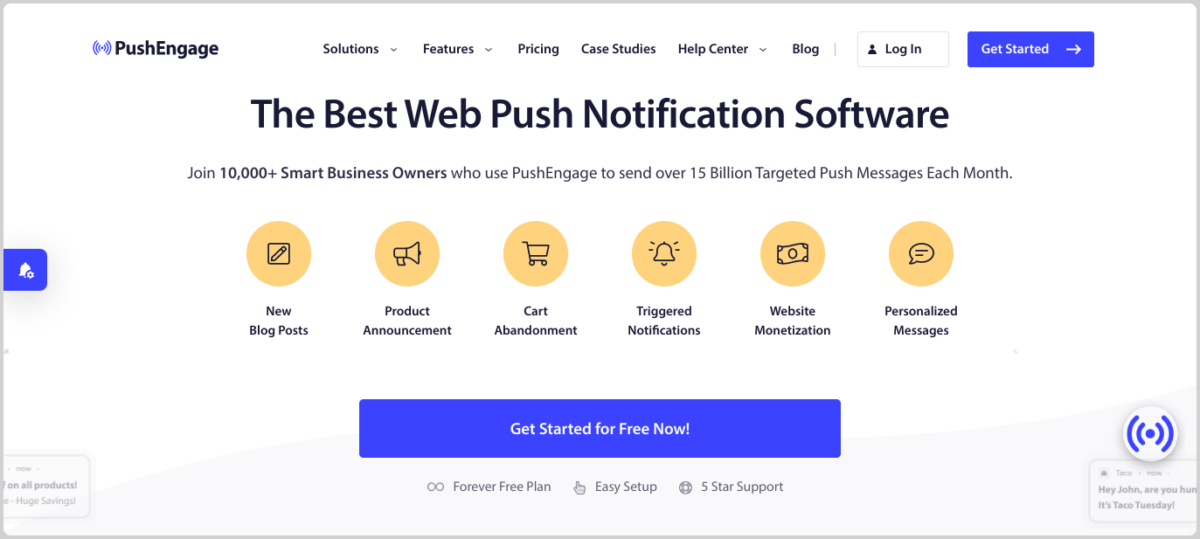 Want to incorporate push notifications into your engagement strategy? PushEngage is one of the best lead generation plugins you can use. This powerful tool lets you create and send targeted push notifications directly to your visitors' devices to attract them to your site.
PushEngage offers an intuitive solution for converting users and reducing cart abandonment. You can set up automatic notifications for certain events, such as when you publish a new blog post or release a new product.
You can add coupon codes within the notification to further engage visitors and motivate them to complete their transactions. Additionally, you can customize the notifications by adding images, emojis, buttons/links, and more.
🔑 Key Features
Customizable push notifications
Abandoned cart notifications
Coupon codes
Price drop alerts
Dynamic segmentation
Drip campaigns
A/B testing
Interactive messages
Detailed analytics
Pricing: PushEngage is free for up to 200 subscribers. Paid plans start at $9 per month.

Running giveaways can skyrocket engagement, which is why RafflePress is one of the best lead generation plugins for WordPress. It lets you easily create and manage contests and encourage visitors to participate and share your site with others.
This popular giveaway plugin comes with a drag-and-drop builder and templates that are easy to use, even for beginners. You can quickly and seamlessly create viral giveaways to help generate leads and drive traffic to your e-commerce site.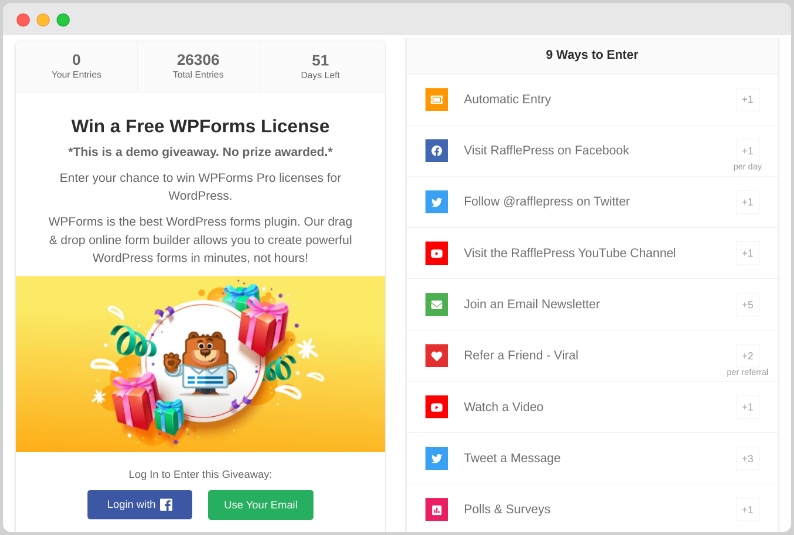 RafflePress is a robust tool for gamifying lead generation efforts. In addition to customizing and sharing contests, you can incorporate rewards as added incentives for user participation.
🔑 Key Features
Custom contests & giveaways
Drag & drop builder
Customizable contest page templates
Tools for promoting viral sharing
Engagement gamification
Integrations for social media & email marketing campaigns
Tracking & retargeting
Landing pages
Refer-a-friend feature
Email verification
Success tracking
Fraud protection
Pricing: RafflePress plans start at $39.50 per year.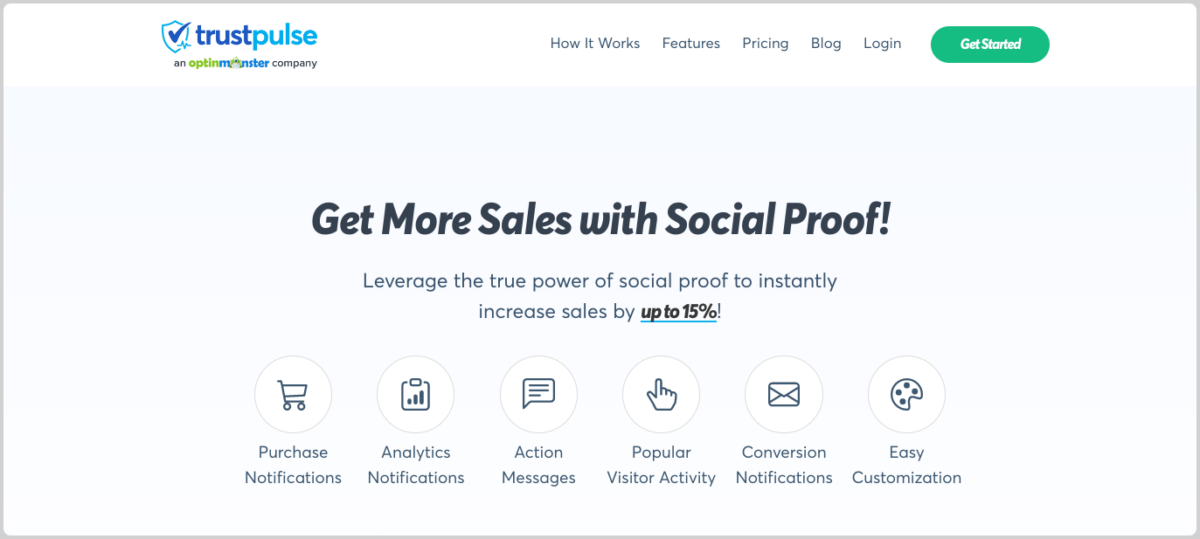 Earning trust is paramount in e-commerce. And TrustPulse is one of the best lead generation plugins to help facilitate that.
TrustPulse capitalizes on the psychological phenomenon of social proof. It displays real-time notifications of recent customer reviews and activity, such as purchases or sign-ups. This helps boost credibility and encourage potential customers to take action.
It's also an excellent tool for creating a sense of urgency.
🔑 Key Features
Real-time notification automation
Easy setup
Seamless integration with WooCommerce & EDD
Smart targeting with advanced rules & timing controls
Flexible design options
Actionable analytics
Pricing: TrustPulse premium pricing starts at $5 per month (billed annually).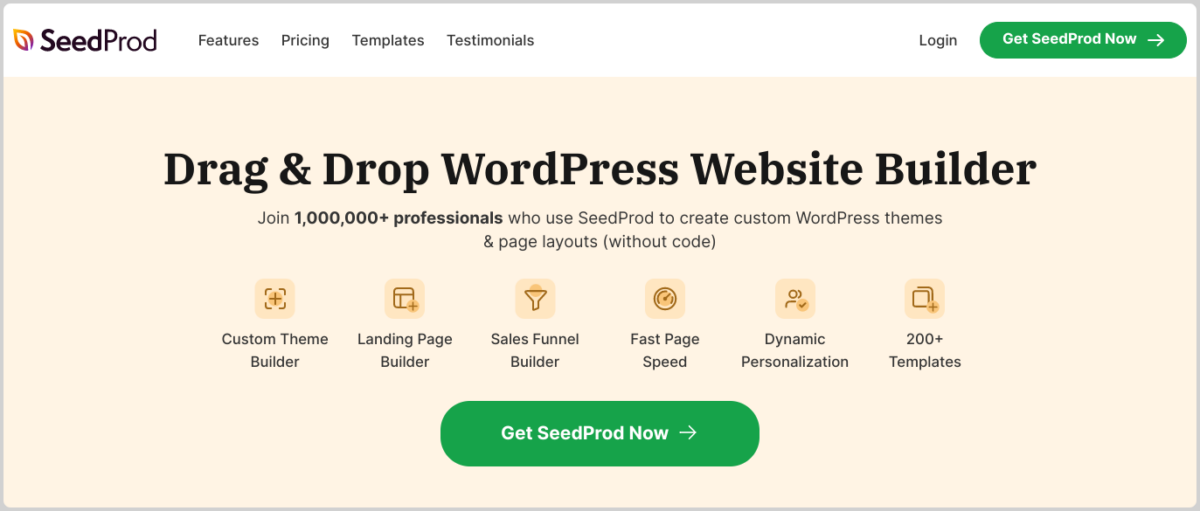 Another one of the top lead generation plugins for WordPress to consider is SeedProd. As the best WordPress landing page builder, SeedProd helps you build anticipation for a new product or launch. You can use it to capture leads from your site via coming soon pages.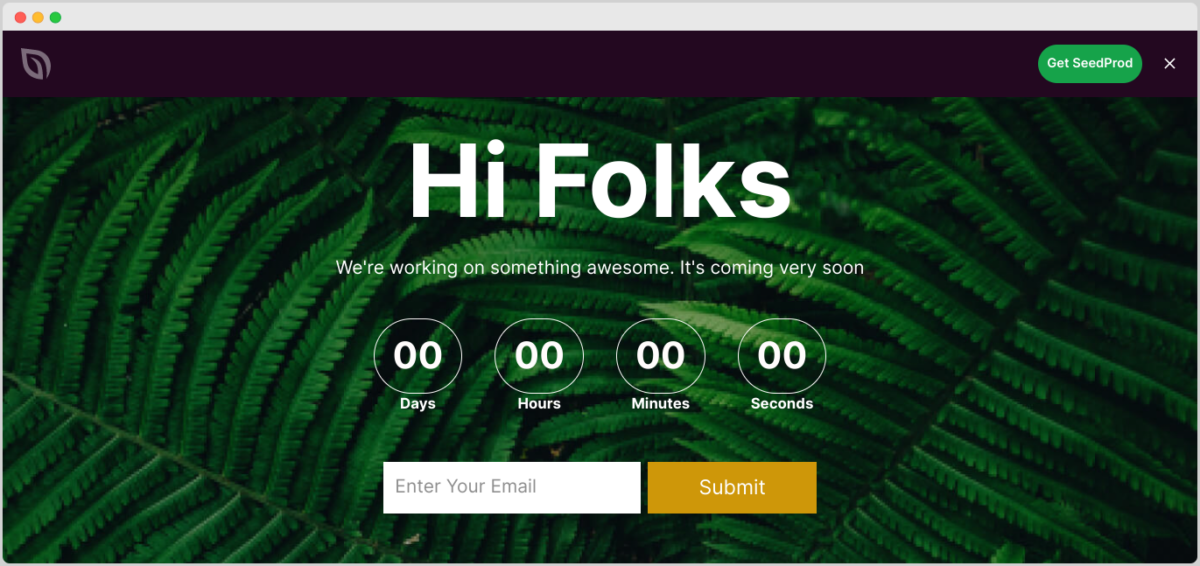 This powerful lead generation tool is beginner-friendly and comes with a wide variety of pre-built templates, blocks, and sections. You can use the visual drag-and-drop editor to build stunning layouts and landing pages that are optimized for generating leads and driving conversions.
🔑 Key Features
Frontend drag & drop website builder
Coming Soon pages
Pre-designed templates, blocks & sections
Seamless integration with EDD, WPForms, WooCommerce & other plugins
Countdown timers
Distraction-free landing pages
Lead capture forms
Social share buttons
Pricing: You can download a free version of SeedProd to use its most basic features. A premium plan starts at $39.50 per year.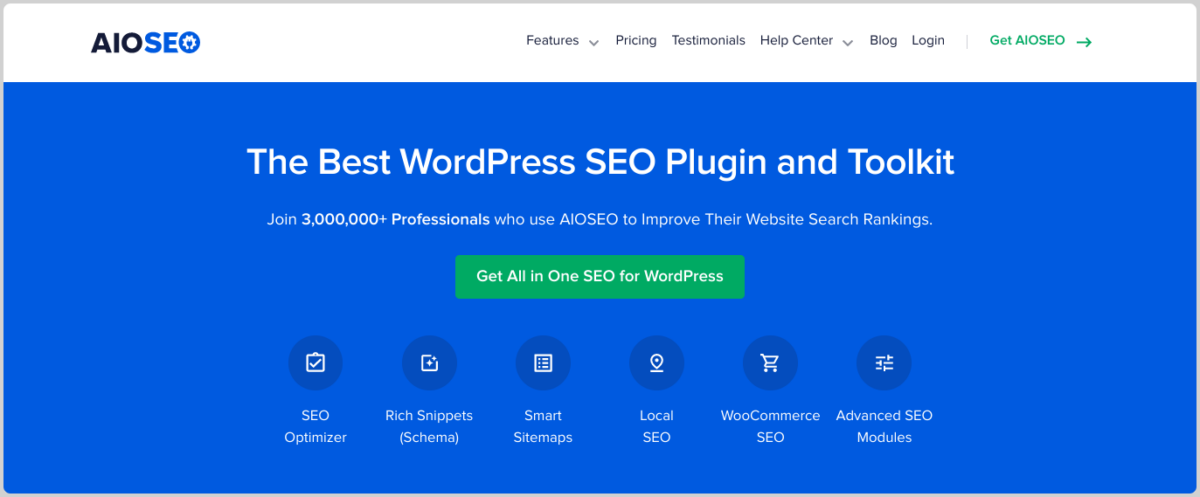 Search Engine Optimization (SEO) is a crucial aspect of online success. All in One SEO (AIOSEO) is one of the best lead generation plugins for improving search engine visibility and ensuring your e-commerce site attracts organic traffic.
The content optimization plugin can help you optimize your WordPress pages and posts to target specific keywords. This helps ensure you're positioning your content and offerings infront of the right audience.
AIOSEO provides SEO-related suggestions and guidance as you write. Plus, it helps track the readability of your content in real-time.
Features such as the Headline Analyzer help with crafting engaging headlines that generate clicks and drive traffic to your site.
🔑 Key Features
Content optimization with actionable SEO checklist
Beginner-friendly
Headliner analyzer
TruSEO score with detailed on-page analysis
Tools for generating rich snippet schema markup
Smart XML sitemaps & RSS sitemaps
Integration with WooCommerce, ChatGPT, etc.
Pricing: There is a free version available. Premium pricing starts at $49.60 per year.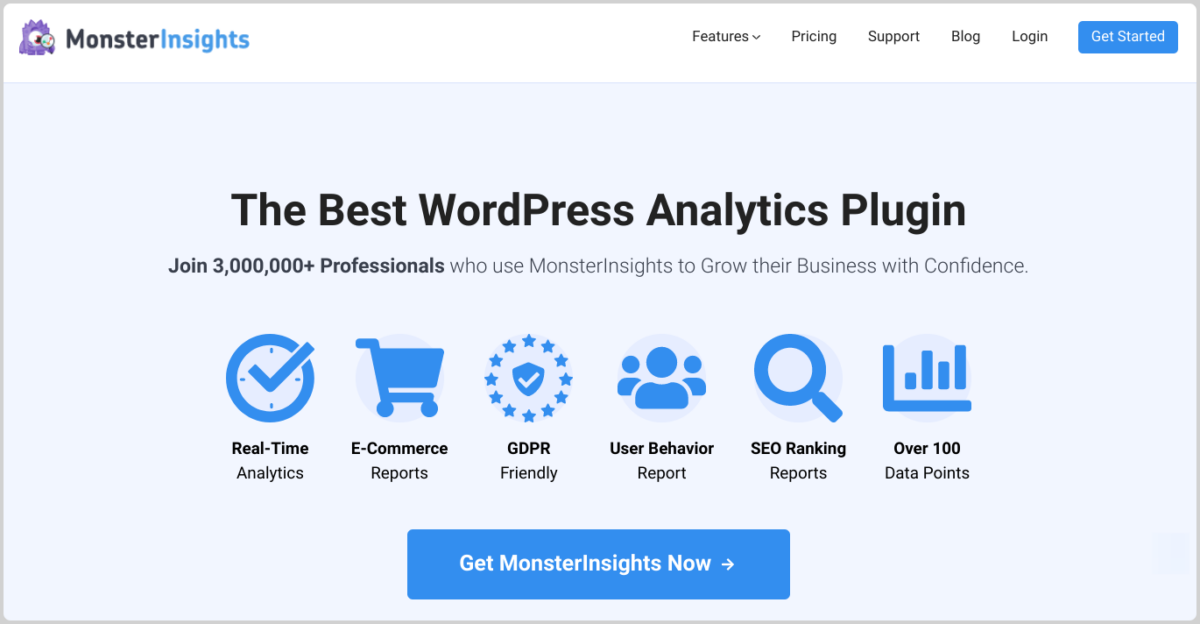 Understanding user behavior is crucial for optimization. MonsterInsights is the best analytics plugin for WordPress.
It helps you delve into your site's analytics, offering insights that guide your lead generation strategies. With its e-commerce tracking, you can analyze which products are resonating most with your audience.
You can use this plugin to keep track of which files and digital assets are performing best and generating the most leads. Additionally, you can use the insights to identify which lead magnets are underperforming and make adjustments accordingly.
🔑 Key Features
Data-driven insights from Google Analytics & Google Search Console
Lead magnet tracking
Clear & actionable reports
Site performance tracking (links, CTA buttons, pages, etc.)
No coding or scripts
Automatic file download tracking
Real-time analytics & reporting
eCommerce data
Pricing: There is a free version of MonsterInsights. However, to unlock most of its features, you'll want to upgrade to a professional license, which starts at $99 per year.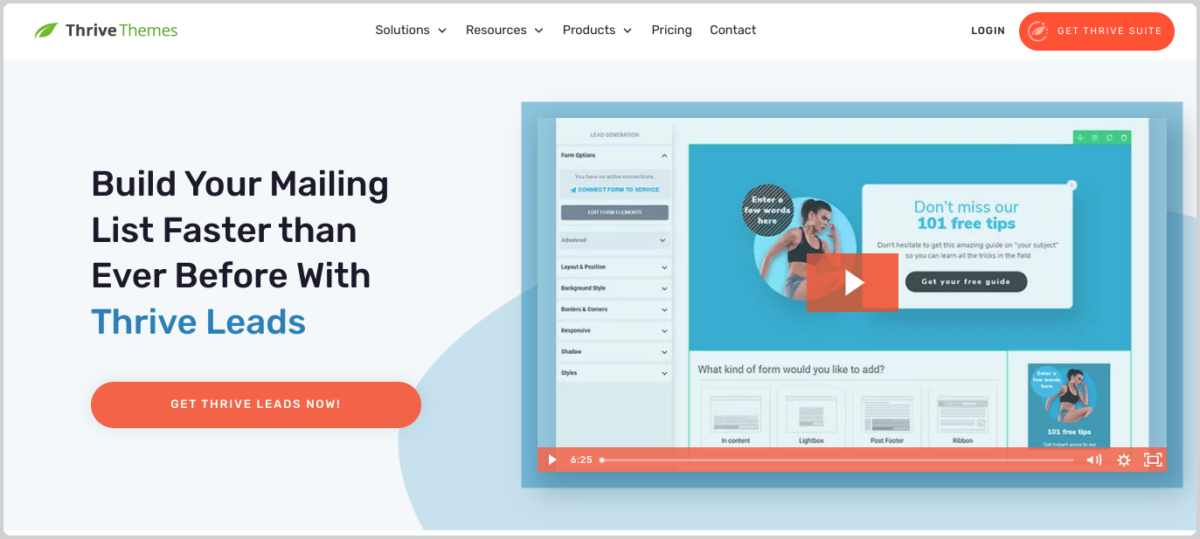 Thrive Leads is designed for one purpose: boosting conversions. With its impressive selection of opt-in form types and targeting options, you can create highly effective lead generation campaigns. It boasts a user-friendly interface that makes creating and managing lead generation forms effortless.
Part of the Thrive Themes suite, Thrive Leads is WordPress popup plugin that can help you customize opt-in forms and use them to grow your email list. This includes slide-ins, lightbox popups, and more.
🔑 Key Features
Pop-up form builder
Drag & drop editor
OnSite retargeting & geolocation targeting
Pre-made lead generation form templates
A/B testing
Actionable reporting & insights
Popup lightbox, in-line forms, slide-ins, and more
Fullscreen filler overlay
Pricing: You can purchase Thrive Leads for $99 per year. Alternatively, you can get a Thrive Suite license for $299 per year, which includes Thrive Leads as well as other Thrive Themes products & tools.

Rounding out our list of the best lead generation plugins for WordPress is HubSpot. Renowned for its comprehensive marketing solutions, HubSpot offers an all-in-one solution for online businesses. Its WordPress plugin makes it easy to create lead capture forms and manage the journey of your e-commerce customers.
If you're looking for a simple, straightforward solution for your small business, this may not be the best option. It's a robust platform with a wide variety of tools and features. However, if you want a lead generation plugin that can connect to other marketing and CRM solutions, it's worth checking out.
🔑 Key Features
Lead capture forms (pop-up, dropdown, slide-in, etc.)
Drag & drop editor
Inbound marketing tools
Customer Relationship Management (CRM) integration
Email marketing, live chat & chatbots
Integration with WPForms & OptinMonster
Lead segmentation
Page-level targeting
Pricing: The HubSpot WordPress plugin is free. However, to utilize all the lead generation features and CRM tools, you'll need to purchase a premium plan. Pricing varies.
What Is the Best Lead Generation Plugin?
The best lead generation plugins to use depend on several factors. They include the type of site you have, the kind of forms/magnets you want to create, and your budget.
Different tools are best for different use cases. All around, the best lead generation plugins for WordPress are OptinMonster and WPForms. They're versatile, powerful, reliable, and come with a wide range of features and tools suitable for nearly any type of website.
If you're selling digital products, the best lead generation tool is Easy Digital Downloads & its Free Downloads extension. On the other hand, if you're looking for the best B2B lead generation plugin, HubSpot is a quality option.
FAQs About Lead Generation Plugins
Let's wrap up with a few frequently asked questions about lead generation plugins for WordPress.
What does lead generation mean?
Lead generation refers to the process of identifying and attracting potential customers, known as "leads," who've shown interest in a company's products or services. The goal of lead generation is to gather contact information from potential customers, such as their email addresses or phone numbers.
How does lead generation work?
Lead generation works by attracting potential customers through various online channels, such as social media, search engines, and email marketing.
By offering incentives like discounts, free trials, or informative content, businesses capture the contact information of interested visitors. This information is then used to nurture leads through personalized emails and targeted advertisements, guiding them through the sales funnel.
How do I calculate lead conversion rates?
The lead conversion rate is calculated by dividing the number of leads by the total number of visitors, then multiplying that by 100%.
Can I use multiple lead generation plugins?
Yes, you can combine different plugins to address various aspects of lead generation, such as pop-ups, forms, and notifications. However, it's important to verify that the tools you select are compatible with one another. Most lead generation tools included in this list integrate seamlessly together.
Get the Best Lead Generation Plugins
Lead generation is a crucial component of e-commerce success. With the right WordPress plugins at your disposal, you can capture and nurture leads, resulting in higher conversion rates and increased revenue.
Not sure where to start? Download Easy Digital Downloads to get the Free Downloads extension and integrate with other WordPress lead generation plugins:
Then you can follow these guides to start converting visitors into customers:
📣 P.S. Be sure to subscribe to our newsletter and follow us on Facebook or Twitter for more WordPress resources!