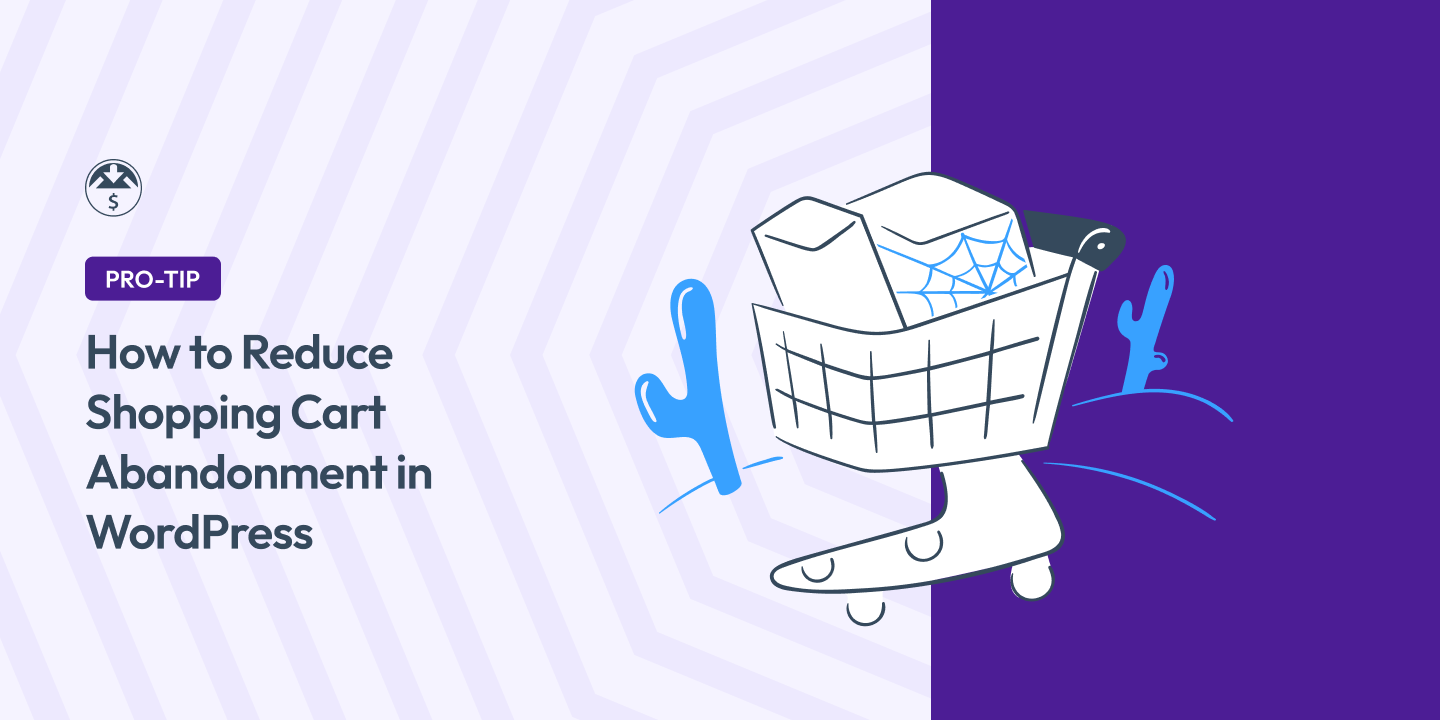 Want to learn how to reduce shopping cart abandonment in WordPress?
If you're running an online store, you likely understand the frustration of potential customers abandoning their carts without completing the purchase.
This can significantly impact your conversion rates and revenue. Fortunately, there are effective ways you can reduce and prevent cart abandonment.
🔎 In this article, we'll cover:
What Is Shopping Cart Abandonment?
Generating leads is only one component of a successful online business. Once you attract users to your site, you need to ensure you're minimizing reasons for them to leave.
Shopping cart abandonment is when potential customers add items to their online shopping carts but don't complete the purchase. It occurs when visitors leave an e-commerce website after initiating the checkout process but before finalizing the transaction.
In other words, they abandon their carts before making a successful purchase.
This can be a significant concern for store owners and online businesses as it leads to lost sales and potential revenue. Understanding the reasons behind shopping cart abandonment and implementing strategies to reduce it is crucial for improving conversion rates and maximizing profits.
Reasons for Shopping Cart Abandonment
Recent research shows that about 70% of all digital shopping carts don't make it to the checkout. Why is that?
There are a few common reasons. According to the above research, the top reasons behind shopping cart abandonment include:
Unexpected fees & costs (shipping costs, taxes, etc.)
A lengthy, complicated checkout process
Lack of trust indicators (secure payment options, testimonials, etc.)
Technical issues (slow loading times, website errors)
Sometimes, cart abandonment rates can be attributed to something as simple as shoppers forgetting they had items in their cart. The more you know about shopping cart abandonment rates and reasons, the easier it becomes to resolve the issue.
Measuring Cart Abandonment Rate & Metrics
Measuring shopping cart abandonment involves tracking and analyzing various metrics to understand the extent of the issue. There are some common methods used to measure shopping cart abandonment.
One is to use the abandoned cart rate. The abandonment rate is calculated by dividing the number of completed purchases by the total number of initiated checkouts and subtracting the result from 1.
For example, if 100 customers initiated the checkout process, but only 60 completed the purchase, the abandonment rate would be 1 – (60/100) = 0.4 or 40%.
You can use web analytics tools like MonsterInsights and Google Analytics to gain insights into cart abandonment. Advanced e-commerce tracking reports help you monitor your cart abandonment rate:

MonsterInsights makes it easy to set up a conversion funnel. This means you can set up conversion goals and funnels to track the percentage of visitors who drop off at each step of the checkout process.
Analyzing the steps in the conversion funnel can help identify specific stages where customers abandon their carts. By tracking the progression of visitors from adding items to the cart to completing the purchase, you can pinpoint the areas that need improvement.
How to Reduce Shopping Cart Abandonment
Now that we understand more about what cart abandonment is and why people abandon shopping carts, let's dive into ways you can avoid it. Below are some key tips and strategies to reduce shopping cart abandonment in WordPress.
Note that most of this post focuses on Easy Digital Download stores and digital selling. If you're an online retailer that mostly deals with physical products, you'll probably want to focus on WooCommerce plugins and tutorials. If you have a WooCommerce store, check out this helpful guide on recovering cart abandonment sales in WooCommerce.
1. Get Easy Digital Downloads
Easy Digital Downloads (EDD) is the best WordPress plugin for digital selling:

You can use it to sell software, eBooks, PDFs, documents, audio/video files, and so much more. It also comes with tons of features and automation tools that can help you build a secure, optimized online store that delivers a smooth, seamless shopping experience for your customers.
EDD can help you with nearly every aspect of your e-commerce site. This includes email marketing, reporting and analytics, retargeting, and so much more.
There is a free/Lite version available. However, I highly recommend upgrading to EDD Pro so you can access the extensive collection of premium extensions. For instance, you can use Recapture to help recover abandoned carts.
An EDD pass gives you a lot more functionality and optimization tools to help enhance your online store, improve your checkout, and increase conversions. Throughout this post, I'll demonstrate more ways EDD can help prevent and recover abandoned carts.
2. Optimize Your Website's Performance
A slow-loading website can be a major deterrent for potential customers. Bottom line: Nobody likes waiting for pages to load, especially when they're ready to make a purchase. To reduce cart abandonment, focus on optimizing your WordPress website for speed.
There are a few methods you can use to achieve this. For instance, you can compress images and use caching tools to enable faster loading on your site.
However, one of the most important things you can do to ensure quality performance is to choose a reliable hosting provider, like SiteGround's Managed EDD Hosting:
You want a host that is optimized for handling the unique needs of e-commerce sites. Each SiteGround plan includes everything you need to build a secure, optimized store for WordPress.
💡 The Ultimate Guide to Boost WordPress Speed & Performance
3. Create a Seamless Checkout Process
A complicated and time-consuming checkout process is a major contributor to shopping cart abandonment. To encourage customers to complete their purchases, it's essential to create a hassle-free checkout.
In addition to product pages, Easy Digital Downloads automatically creates an intuitive cart page and checkout page for you: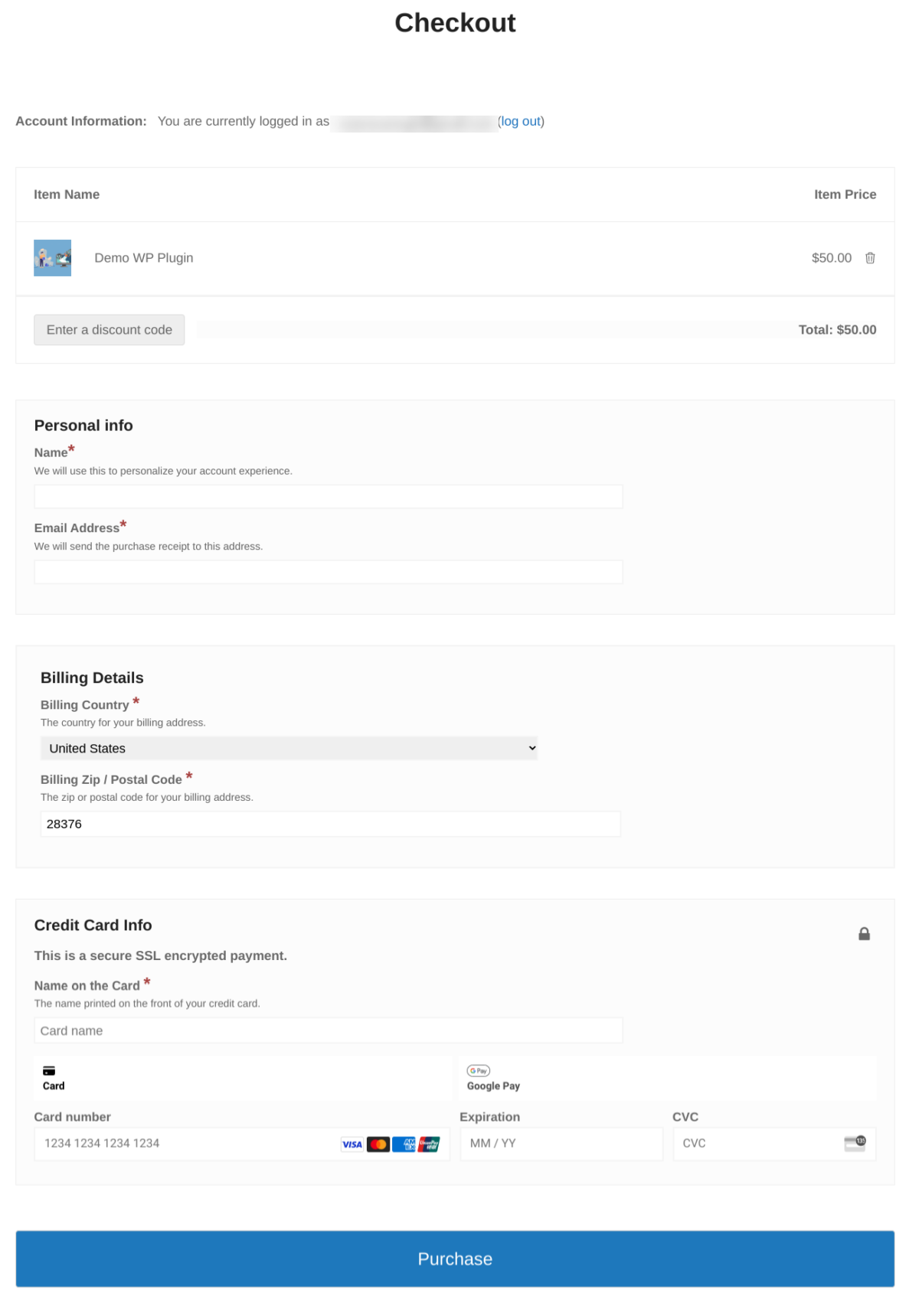 There are various ways you can enhance and customize your checkout to reduce abandonment further.
One option is to enable guest checkout. Not every customer wants to take the time to create an account, even if it's a quick process. Giving shoppers the option to checkout as guests can reduce friction and save time.
Another helpful strategy is to auto-fill fields on the checkout page. With EDD Pro, you can set up GeoIP location detection support so that the billing ZIP/postal code automatically populates into the appropriate field: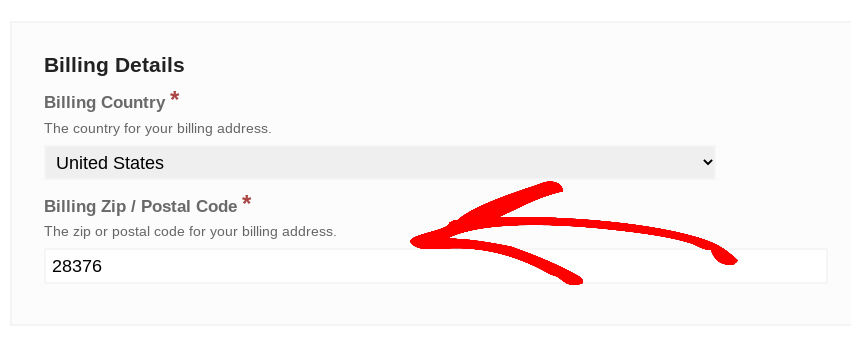 You can use Checkout Fields Manager to add custom fields to the default checkout template. This can help you eliminate any unnecessary steps.
4. Offer Multiple Payment Gateways
An important aspect of optimizing your checkout process and reducing cart abandonment is offering multiple payment gateways.
Different customers have different preferences when it comes to payment methods. Some customers may prefer using credit cards, while others may prefer digital wallets or alternative payment methods.

By accommodating various payment options, you enhance the overall customer experience. Also, integrating popular and trusted payment gateways, such as PayPal, Stripe, or Amazon Pay, instills confidence in customers, as they'll likely recognize these platforms and trust their security measures.
This is another excellent reason to use Easy Digital Downloads. It lets you offer a wide range of payment options and save payment details for a faster checkout.
| Gateway | EDD Free | EDD Paid |
| --- | --- | --- |
| Stripe | ✅ | ✅ |
| PayPal | ✅ | ✅ |
| Amazon Payments | ✅ | ✅ |
| Braintree | ✖ | ✅ |
| Authorize.net | ✖ | ✅ |
| Stripe Pro | ✖ | ✅ |
| Apple/Google Pay | ✖ | ✅ |
| PayPal Commerce Pro | ✖ | ✅ |
| SOFORT Banking | ✖ | ✅ |
| Coinbase | ✖ | ✅ |
| ClickBank Gateway | ✖ | ✅ |
| MultiCurrency | ✖ | ✅ |
| EDD Wallet | ✖ | ✅ |
| Check Payment | ✖ | ✅ |
5. Use an Exit-Intent Popup
An exit-intent popup is a type of popup that appears when a user shows the intention to leave your site. Typically, it's indicated by their cursor movement toward the browser's close button or address bar.
These popups are designed to capture the attention of visitors who are about to abandon your website and present them with a compelling offer or call-to-action (CTA) to encourage them to stay or complete their purchase: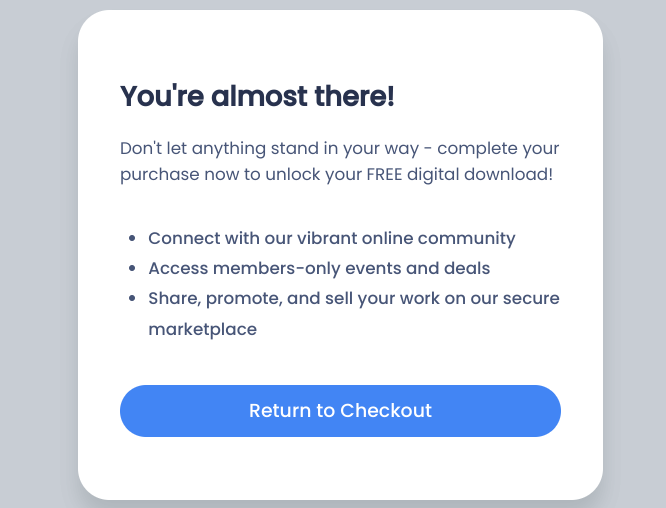 One of the best tools you can use for exit-intent popups is OptinMonster. It lets you choose from tons of templates and personalize them to fit your specific needs.
6. Send Abandoned Cart Email Reminders
Sending cart abandonment emails is an effective strategy to reduce shopping cart abandonment in WordPress.
By reminding online shoppers of their abandoned carts and providing incentives or personalized offers, you can encourage them to return and complete the transaction.
If you use EDD, there are a handful of ways to send automated e-commerce emails. The Conditional Emails addon lets you create and send automatic emails when certain events occur, like when a user abandons their cart: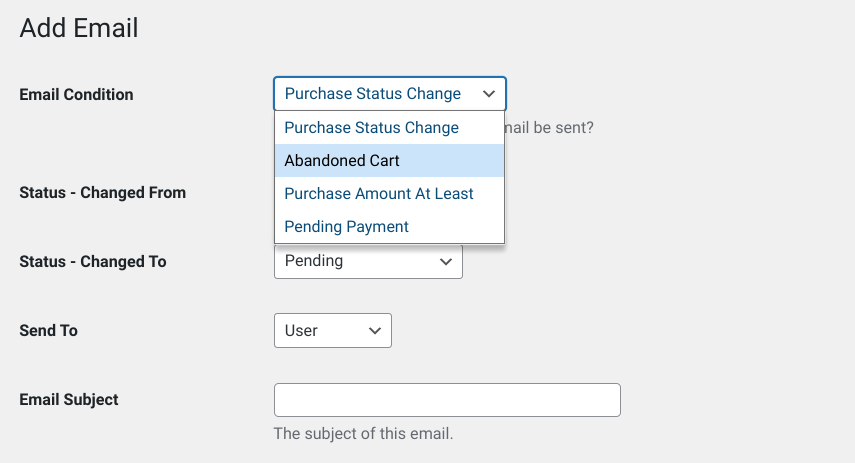 7. Build Trust & Credibility
Building trust is essential to alleviate concerns and encourage customers to follow through with their purchases. As I mentioned, one way to do this is to use secure payment gateways, such as Stripe and PayPal.
Another way you can build trust and establish credibility is to use social proof, such as customer reviews and testimonials. Using an addon like EDD Reviews makes it easy to display genuine reviews on your site to showcase positive experiences: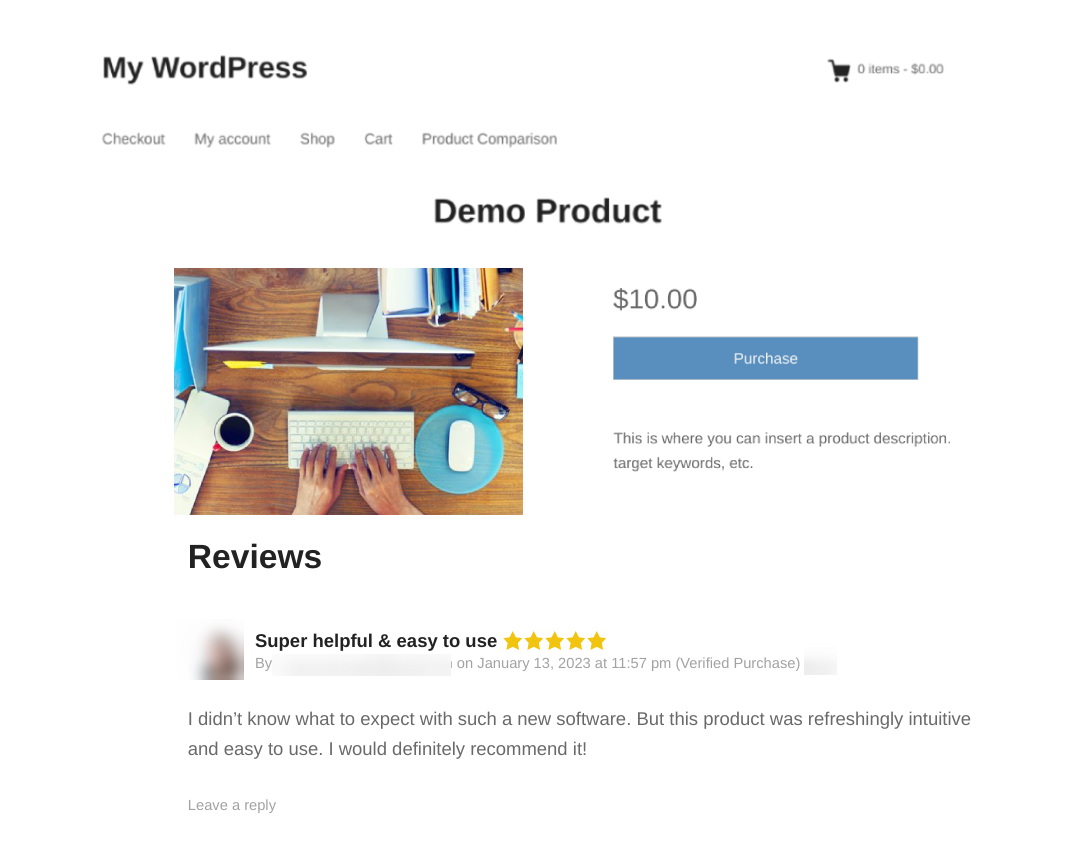 TrustPulse is another powerful social proof tool you can use to reduce shopping cart abandonment: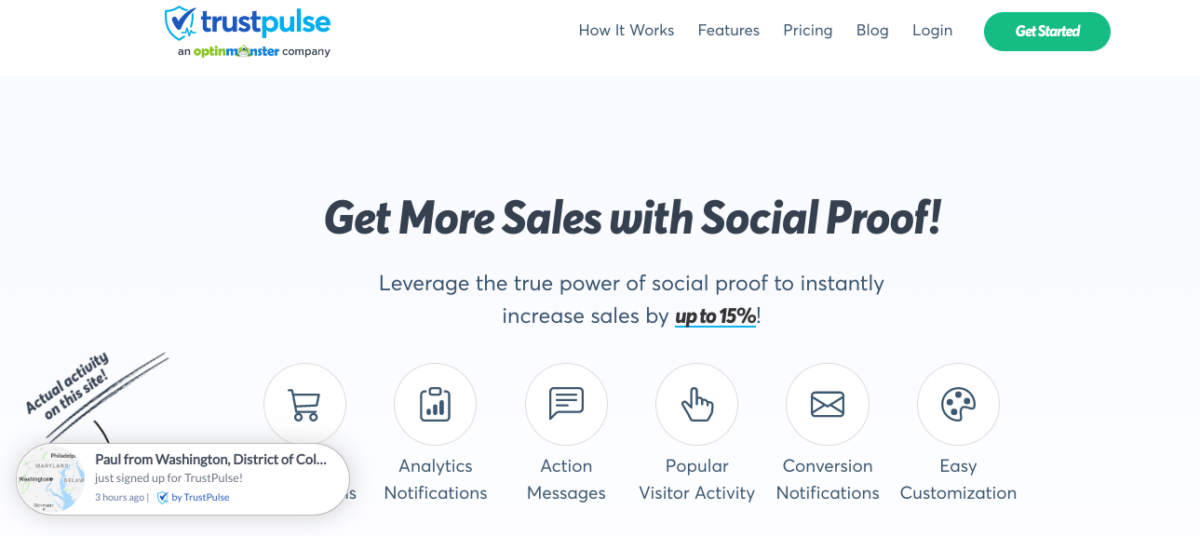 TrustPulse notifications can be configured to show the recent activity of customers in real time, including purchases or downloads.
By highlighting the frequency and immediacy of these actions, you create a sense of urgency for potential customers. This urgency can motivate them to complete their purchase without hesitation, as they don't want to miss out on a popular product or limited-time offer.
8. Offer Discounts & Incentives
Another effective strategy to reduce shopping cart abandonment is to offer incentives and discounts. These can motivate customers to complete their purchases.
You can create a sense of urgency by offering limited-time rewards, promotions, or coupon codes in exit-intent popups or abandoned cart recovery emails: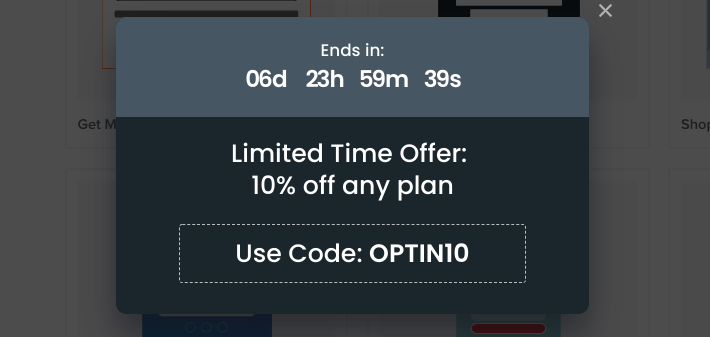 You can also send follow-up emails or offers to shoppers who abandoned their cart with a free download offer. This can encourage customers to make a purchase before the offer expires.
🏷 How to Set Up Discounts & Coupons in WordPress
FAQs About Shopping Cart Abandonment
Let's wrap up with a few FAQs about cart abandonment in WordPress.
How can I track shopping cart abandonment on my WordPress website?
To track shopping cart abandonment, you can utilize various analytics tools like Google Analytics. Set up goals and funnels to track the percentage of users who abandon their carts at each step of the checkout process. Follow this guide to learn how to track e-commerce analytics in WordPress.
Are there any WordPress plugins available to reduce cart abandonment?
Yes, there are several plugins available for WordPress that can help you reduce cart abandonment. Some popular options include Easy Digital Downloads, OptinMonster, and TrustPulse.
Is it possible to reduce shopping cart abandonment to zero?
While it's challenging to eliminate shopping cart abandonment entirely, implementing the strategies mentioned in this article can significantly reduce the abandonment rate. Regularly monitor and optimize your website to continuously improve your conversion rates.
Use EDD to Prevent Cart Abandonment
Reducing shopping cart abandonment is essential for improving your e-commerce store's conversion rates and increasing revenue. By optimizing your site's performance, streamlining the checkout process, and building trust, you can significantly reduce cart abandonment and maximize your sales.
If you haven't already, download Easy Digital Downloads to enhance your online store and start taking steps to reduce shopping cart abandonment in WordPress:
📣 P.S. Be sure to subscribe to our newsletter and follow us on Facebook or Twitter for more WordPress resources!