---
Do you want to learn about using GeoIP detection and how it can help enhance your WordPress website?
If you're an eCommerce store owner, your ability to reach and convert customers from around the world influences your online business success. GeoIP detection can help enhance your shoppers' experience based on the visitor's IP address.
But in order to implement it correctly, it's important to understand what it is and how it works.
🔎 In this beginner's guide, we'll cover:
What Is GeoIP Detection & Why Use It for eCommerce
GeoIP is a geolocation technology that allows you to identify the geographic location of a website visitor based on their IP address. IP addresses are unique identifiers assigned to every device connected to the internet, and they can be used to determine the user's approximate location.
Using GeoIP, you can make it easier to display content, products, and pricing specific to the user's region. This is an excellent way to create a more personalized experience for shoppers based on the different countries or timezones they're visiting from.
GeoIP detection can also facilitate a smoother checkout process by enabling eCommerce websites to offer pricing and payment options in a specific country. Additionally, it can be incredibly helpful when it comes to taxes. Taxes will automatically be applied based on the location of the user (if relative).
How to Add GeoIP Detection in WordPress
Ready to get started? In this step-by-step tutorial, I'll show you how to add GeoIP detection in WordPress using Easy Digital Downloads.
Don't have a WordPress site yet? Sign up for SiteGround's Managed EDD hosting to get your online store up and running on the open-source Cotnent Management System (CMS) in no time!
Step 1: Get Easy Digital Downloads
If you haven't already, the first step is to get Easy Digital Downloads (EDD):

This popular WordPress plugin is a WooCommerce alternative that provides a complete eCommerce solution for selling digital products and downloads. It helps build, manage, and optimize every aspect of your online store. It's also beginner-friendly. You don't need to have any experience working with HTML, CSS, JavaScript, PHP, etc.
There is a free version available. However, I recommend purchasing a premium license, as this gives you access to otherwise paid add-ons and advanced functionality.
Also, a premium EDD Pro plan that includes the EDD Stripe Pro payment gateway. This payment gateway is required for GeoIP detection.
🔎 Learn more about EDD Free vs Pro
Once you install the EDD Pro plugin on your WordPress website, you can follow the onboarding wizard to get your store set up: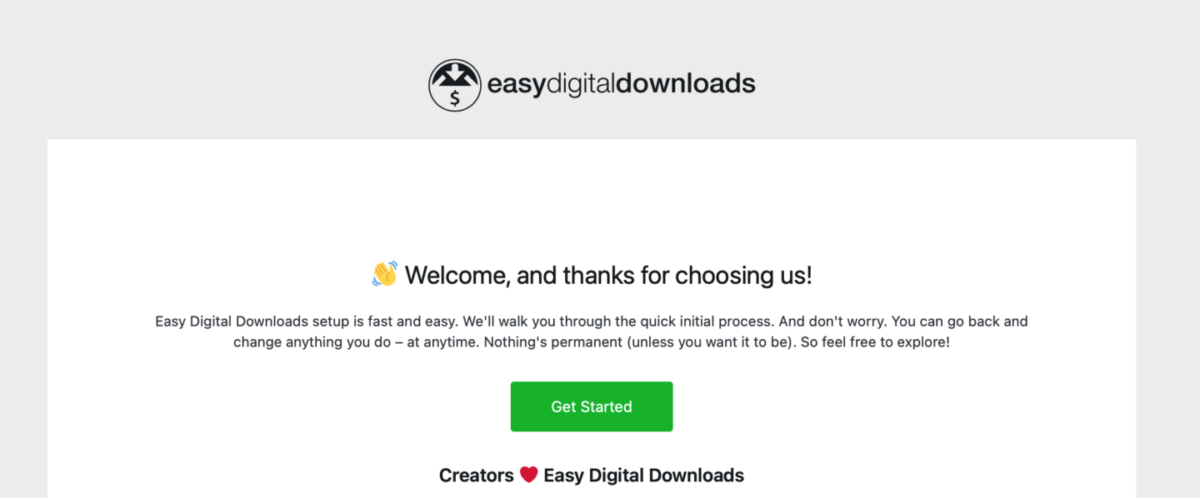 If you need help, you can refer to our EDD Quickstart Guide.
⚙️ Please note that to use the GeoIP detection feature to auto-populate location information, you'll also need EDD 3.1.1 or higher.
Step 2: Configure the Stripe Pro Payment Gateway
During the setup process, the onboarding wizard will prompt you to connect to Stripe. You can also do so by going to Downloads Settings » Payments » Stripe: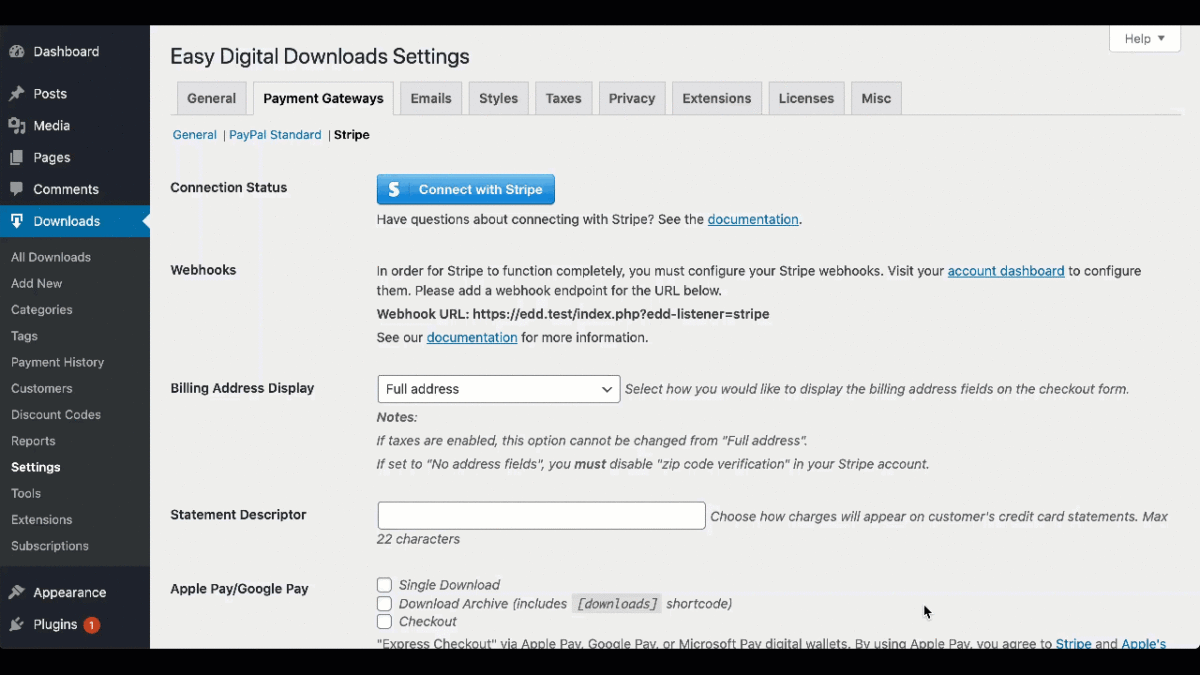 You can also follow our guide on configuring Stripe with EDD. You can upgrade to Stripe Pro by installing it under Downloads » Extensions: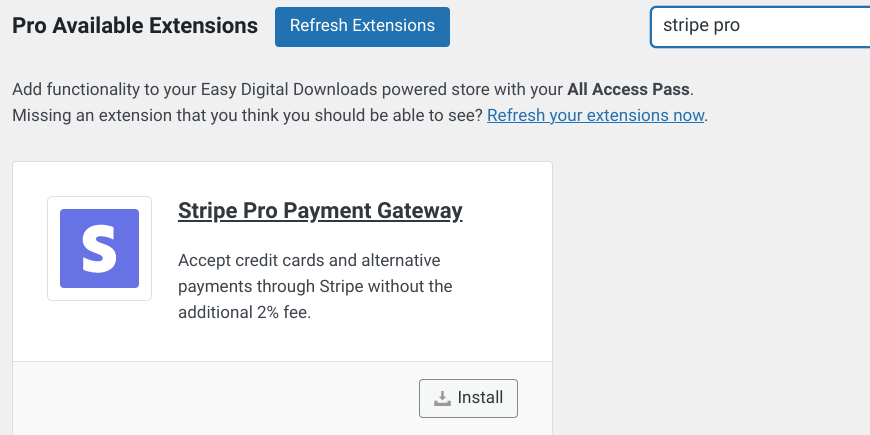 To configure the settings, you can click on the gear icon in the top right-hand corner of the extension box. This will bring you to the WordPress page to view and change the plugin settings.
Step 3: Preview & Test GeoIP Detection at Checkout
Once you have your store and Stripe configured, the GeoIP detection feature should automatically work. EDD creates a checkout page for you.
To ensure that it's working properly, you can visit your store from the front end and add an item to your cart. On the checkout page, scroll to the Billing Details section: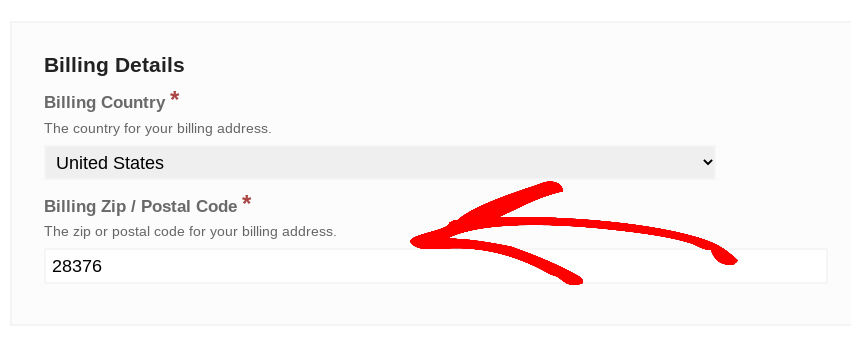 The Billing ZIP/Postal Code should populate on its own based on your location. That's it!
FAQs About GeoIP Detection
What is GeoIP detection & why use it for WordPress sites?
GeoIP detection is the process of identifying the geographic location of a website visitor using their IP address. It can be useful for WordPress websites as it allows them to provide a more personalized experience for users based on their location, resulting in increased conversions and a better overall user experience.
Do I need a premium EDD plan to use GeoIP detection?
Yes, you will need a premium EDD plan that includes the EDD Stripe Pro payment gateway in order to use GeoIP detection.
Is GeoIP detection necessary for all WordPress websites?
No, GeoIP detection is not necessary for all WordPress websites. It depends on the nature of your website and whether or not customizing content, pricing, and payment options based on location would be beneficial for your users.
What is geolocation?
Geolocation is the process of determining the physical location of a device or user using GPS, Wi-Fi, or other location-based technologies. This method provides more accurate geolocation data but requires the device to have visitor's location services enabled.
Use EDD for GeoIP Detection in WordPress
Incorporating GeoIP detection into eCommerce websites can lead to a better user experience and increased conversions. Thanks to Easy Digital Downloads Pro, you can add it to your checkout page in just a few simple clicks! Download EDD today to get started!
eCommerce without limits!
That is our promise. Most eCommerce solutions limit your creativity
…not Easy Digital Downloads!
Want even more ways to create a personalized experience for your shoppers? Learn how to incorporate SEO tailor and email marketing campaigns and landing pages to your eCommerce audience!
📣 P.S. Be sure to subscribe to our newsletter and follow us on Facebook or Twitter for more WordPress resources!