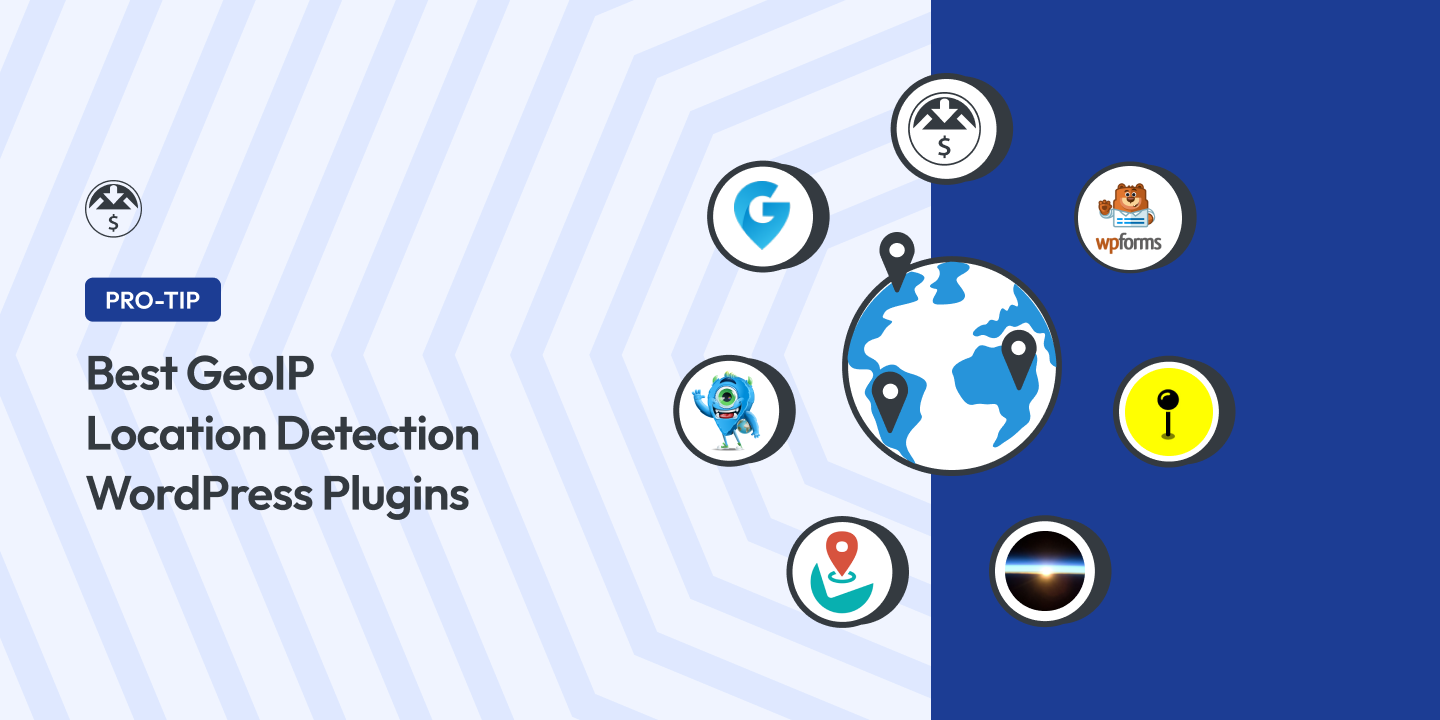 Trying to find the best GeoIP location detection plugins for WordPress? This guide can help.
Geolocation data helps online business owners detect a user's location. You can use geolocation information to tailor your e-commerce store's offerings based on different regions. It can also make it easier to enhance the user experience on your site and get shoppers through the checkout faster.
🔎 In this article, we'll cover:
Why Use Geolocation WordPress Plugins
Geolocation plugins for WordPress help you gather location-based data about your WordPress website visitors. There are a few different types. The two most popular are geoIP detection and geotargeting plugins.
✅ Check out this Beginner's Guide to GeoIP Detection in WordPress
GeoIP location detection plugins are designed to identify the geographical location of website users based on their IP addresses. These plugins provide information such as the user's country, city, region, latitude, and longitude. The primary purpose is to gather geolocation data, which can be used for:
Personalizing content
Displaying targeted offers
Providing location-specific services
On the other hand, geotargeting plugins go a step further by allowing website owners to customize and target their content based on WordPress users' geolocation. These plugins enable you to create rules or conditions that determine which content should be displayed to visitors from specific countries, regions, or cities.
GeoIP location detection plugins focus on identifying the location of website visitors. Geotargeting plugins provide additional functionality by allowing you to customize and target your content based on the visitor's geolocation.
The best WordPress geolocation plugin depends on what you want to use it for.
When choosing a WordPress plugin for IP geolocation, consider factors like ease of use, compatibility with your WordPress version, support and updates, and user reviews. Additionally, ensure that the plugin you select complies with privacy regulations and respects user consent regarding data collection and processing.
Summary: Top GeoIP Detection Plugins for WordPress
🔌 GeoIP Plugin
💸 Pricing
💡 Best For
Easy Digital Downloads (EDD) Pro
$399/yr
Digital e-commerce sellers wanting to add location auto-detection & completion to checkout forms
WPForms Pro
$199.50/yr
Adding address autocomplete functionality to submission & contact forms
GeotargetingWP Pro
$8-$169/month
Delivering personalized content based on a user's location
Geolocation IP Detection
Free
Detecting IP addresses & redirecting visitors to country-specific pages or websites
Geo Controller
Free;
$15/month to $349/yr for premium
Creating rules for location-based content and redirects based on user's geolocation
GEO my WP
Free;
$49/yr to $159/yr
Integrating with popular mapping services like Google Maps and OpenStreetMap for geolocation-based search
iQ Block Country
Free
Restricting access to site based on location
7 Best GeoIP Location Detection Plugins
Ready to learn more about the best GeoIP location detection plugins for WordPress? Below is a list of some of the top options, including their key features and pricing details.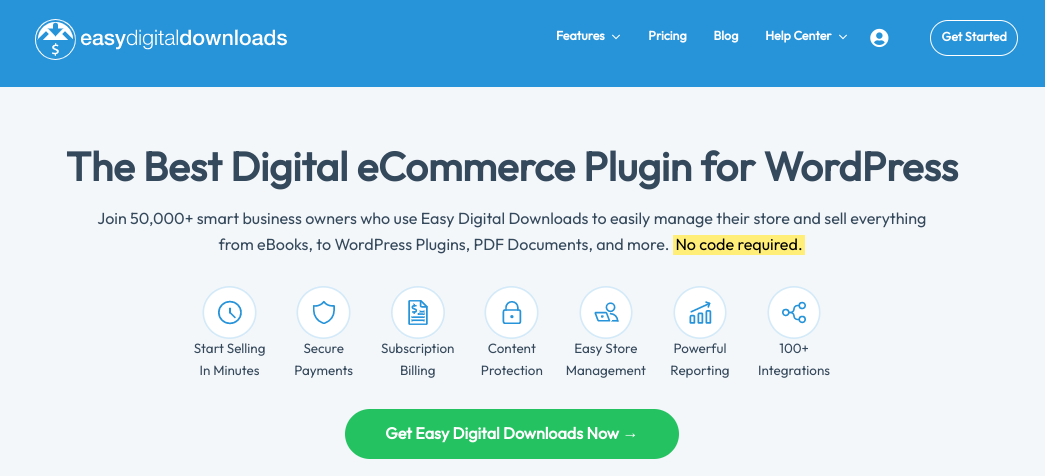 Easy Digital Downloads (EDD) is a powerful e-commerce plugin ideal for selling digital products and downloads. It includes GeoIP location detection support via Stripe Pro. This plugin lets you detect the country code and city of your website visitors.
This GeoIP support functionality auto-detects the visitor's IP address and automatically fills in the billing ZIP/Postal code field on the checkout page: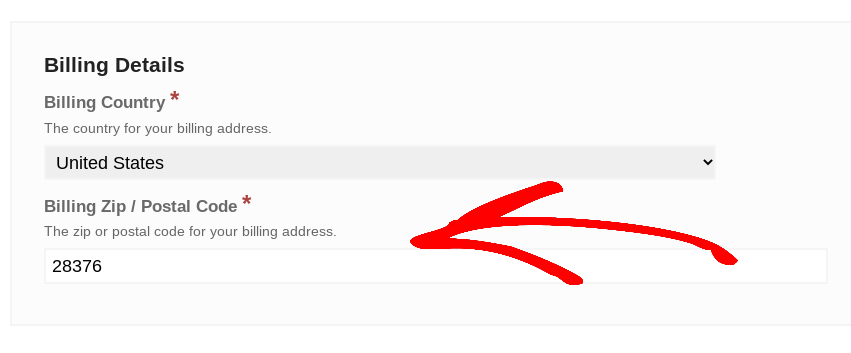 This helps get your shoppers through the checkout faster and eliminates the need to manually enter their information. The geolocation information can be helpful if you need to configure region-specific tax rates.
Another benefit of using EDD Pro is that it's incredibly easy to set up and use. From the moment you activate it, you can follow the Onboarding Wizard to get your store set up within minutes.
There is a free version of EDD available. However, to utilize the GeoIP support, you'll need to upgrade from EDD Lite to a Pro plan that includes the Stripe Pro payment gateway, which means the Extended Pass (or higher). An EDD Pro pass gives you access to dozens of premium add-ons that can help enhance and optimize your e-commerce site.
Learn more about EDD Free vs EDD Pro
🔑 EDD Key Features
Complete e-commerce solution for digital selling
GeoIP support at checkout
Autodetection & autofill/complete of billing ZIP
Library of premium extensions
Conversion & optimization tools
Option to Lock Downloads to IP
💰 Pricing: EDD Pro plans start at $199/year, but you'll need an Extended Pass ($399/yr) or higher. All plans include a 14-day money-back guarantee.
Please note that if you're an existing EDD user, you'll need version 3.1.1 or higher to use the GeoIP detection feature.
eCommerce without limits!
That is our promise. Most eCommerce solutions limit your creativity
…not Easy Digital Downloads!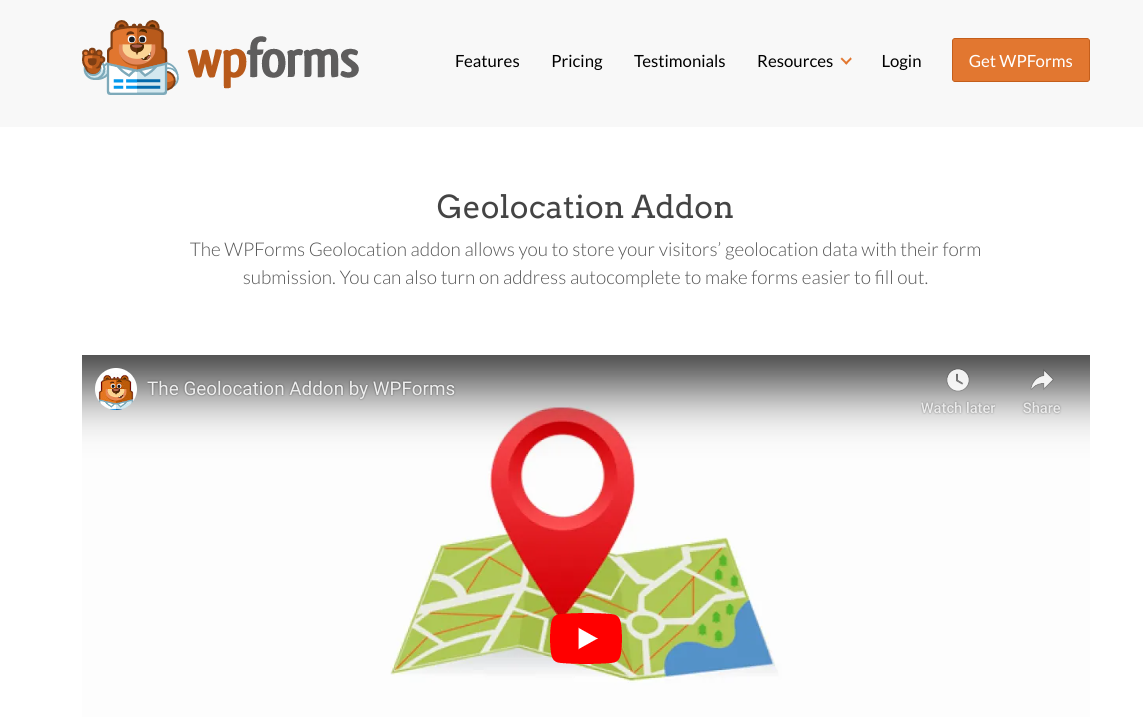 WPForms is the ultimate form builder for WordPress that, similar to EDD, can double as a geolocation plugin. Its intuitive drag-and-drop builder enables you to effortlessly create diverse types of WordPress forms for your website.
With the WPForms Geolocation addon, you can enhance your forms with two exceptional geolocation features: address autocomplete and address auto-detection.
As users input their address, the geolocation map dynamically adjusts to showcase their precise location. Users can also manually select a point on the map to modify the address within the corresponding field. The address autocomplete feature seamlessly integrates with the Google Maps API or the Mapbox Search API. By incorporating this feature into your forms, you can greatly simplify the form-filling process, reducing instances of form abandonment.
🔑 Key Features
Address detection & autocomplete
Drag-and-drop form builder
Integration with Google Maps API & Mapbox Search API
Over 600 form templates
Form landing pages
Secure payment forms
💰 Pricing: WPForms Pro, which includes the geolocation and address autocomplete functionalities, is available for $199.50 per year.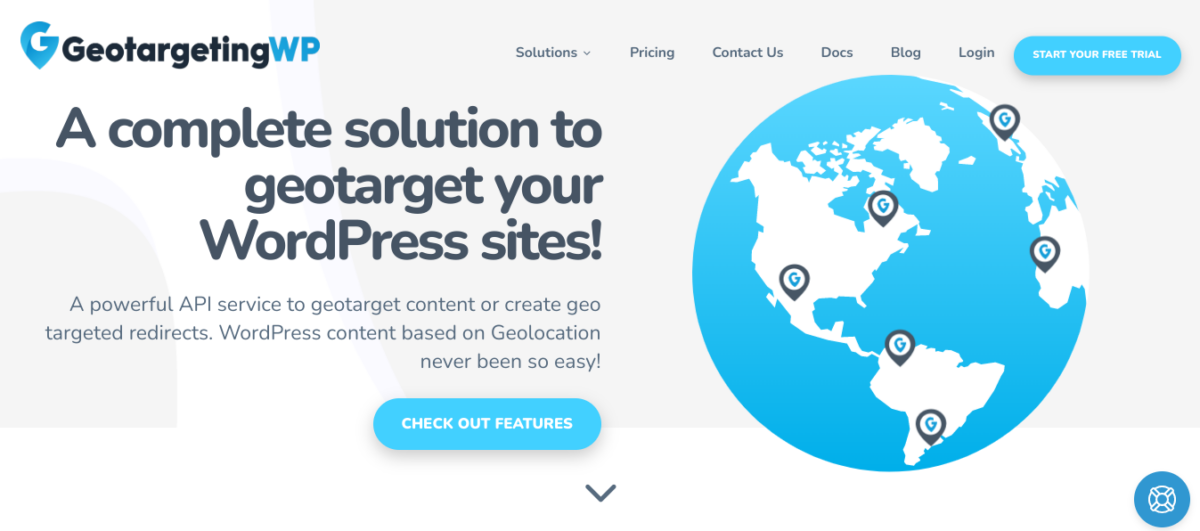 GeotargetingWP Pro is a powerful geolocation plugin that lets you tailor content based on users' specific locations. It's specially designed to cater to the needs of affiliate sites and online stores that require displaying different versions of their website to different users.
For instance, it lets you create rules to display targeted content based on a visitor's location. This can make it significantly easier for you to target specific regions or countries with personalized messages and offers.
With GeotargetingWP Pro, you can create custom campaigns tailored to specific regions, optimize your marketing efforts, and maximize conversion rates. It offers flexibility and extensive customization options.
🔑 Key Features
Geotargeted popups
Redirects
Content blocking
Geolocation-based content customization
IP/GPS location detection
Ability to create region-based shortcodesSupport for caching plugins via AJAX
IP or HTML 5 geolocation databases
💰 Pricing: GeotargetingWP Pro offers multiple plans ranging from $8 to $169 per month (when billed annually). They also have a 14-day free trial.

Geolocation IP Detection is a free WordPress plugin that provides valuable geographic location data that can be used for customizing content. You can integrate the data seamlessly into themes or other plugins. It comes with various usage options, including as a shortcode, in CSS body classes, or within customizations.
The plugin includes language translations for city and country names and lets you display different products or promotions to visitors from different countries. It's also easy to use and set up, making it a great option for beginners.
By default, Geolocation IP Detection utilizes HostIP.info as its primary data source. However, it also supports integration with any preferred geolocation data source, such as MaxMind and CloudFlare.
🔑 Key Features
Geolocation detection and redirection
Content customization based on location
Language translations for city & country names
Simple setup
Multiple geolocation data source integrations
Option to use shortcode or CSS body classes
💰 Pricing: Free.

Formerly known as CF Geo, Geo Controller is a freemium geolocation detection and customization plugin for WordPress. It enables you to detect the location of your website visitors based on their IP addresses and customize dynamic content to their geographic information.
With Geo Controller, you can create personalized experiences for your visitors, target specific regions or countries, and optimize your website's engagement. It provides a variety of shortcodes and widgets that make it easy to display or hide content based on the visitor's location. You can also use shortcodes to show specific information to visitors from certain countries or regions.
🔑 Key Features
Geolocation detection
Content customization
GDPR/EU/TAX location
Support for shortcodes, widgets, PHP, or JavaScript
Currency conversion
Geotagging for posts & pages
💰 Pricing: There is a free version of Geo Controller you can download. For more advanced features, you can also upgrade to a premium plan, which range from $15/month to $349/year.

GEO my WP is an advanced geolocation and mapping plugin for WordPress. It offers robust features to detect and leverage the geographic location of your website visitors.
With Geo My WP, you can integrate popular mapping services, customize geolocation-based search functionality, and enhance your website with location-aware features.
The plugin enables you to create custom search forms that leverage geolocation data. You can let visitors search for content, businesses, or points of interest near their current location. This feature is particularly useful for directory websites, real estate listings, or any website requiring location-based search functionality.
🔑 Key Features
Mapping integration (Google Maps, Bing Maps, and OpenStreetMap)
Geolocation and Proximity Search
Location-specific content, such as directories or listings
Extensions & addons
💰 Pricing: A free/Lite version of this plugin is available in the WordPress Plugin Directory. Premium GEO my WP plans range from $49 to $159/year.

Rounding out our list of the best GeoIP location detection plugins is iQ Block Country. This one is a bit different from others in the list.
IQ Block Country lets you block or restrict access to your WordPress site based on the visitor's country. This includes the entire WordPress admin area from the backend.
The iQ Block Country plugin is especially useful for enhancing security and mitigating malicious activities. For example, you can prevent access from specific countries or IP addresses associated with high-risk activities, ensuring the safety and integrity of your website.
🔑 Key Features
Country blocking
IP Address whitelisting
Geolocation database
Customized access messages
User tracking
💰 Pricing: Free.
FAQs About GeoIP Location Detection Plugins
What are GeoIP location detection plugins?
A GeoIP location detection plugin is a tool for WordPress that identifies the geographic location of website visitors based on their IP addresses. These plugins provide detailed information such as the visitor's country, city, region, latitude, and longitude.
Can I use GeoIP location detection plugins for eCommerce?
Absolutely! Many GeoIP location detection plugins integrate seamlessly with eCommerce platforms like Easy Digital Downloads. In fact, if you have an online store and sell digital products, EDD Pro comes with built-in GeoIP support. This means you don't have to use separate plugins for your eCommerce and geolocation detection needs; EDD gives you both.
Can I restrict access to my site using GeoIP plugins?
Yes, some GeoIP location detection plugins, such as IQ Block Country, offer features to restrict access to your website from specific countries or regions. These plugins allow you to create country-based blocklists, whitelist specific IP addresses, or display customized access messages for blocked visitors. With EDD, you can lock downloads to certain IPs.
Add GeoIP Support to WordPress Checkout With EDD
Implementing geolocation detection on your WordPress site can significantly enhance the user experience, provide personalized content, and streamline eCommerce operations. There are a handful of quality GeoIP location detection plugins to choose from.
However, if you're an e-commerce site owner offering digital products, the best option is Easy Digital Downloads Pro. Try it today to get started!
eCommerce without limits!
That is our promise. Most eCommerce solutions limit your creativity
…not Easy Digital Downloads!
📣 P.S. Be sure to subscribe to our newsletter and follow us on Facebook or Twitter for more WordPress resources!