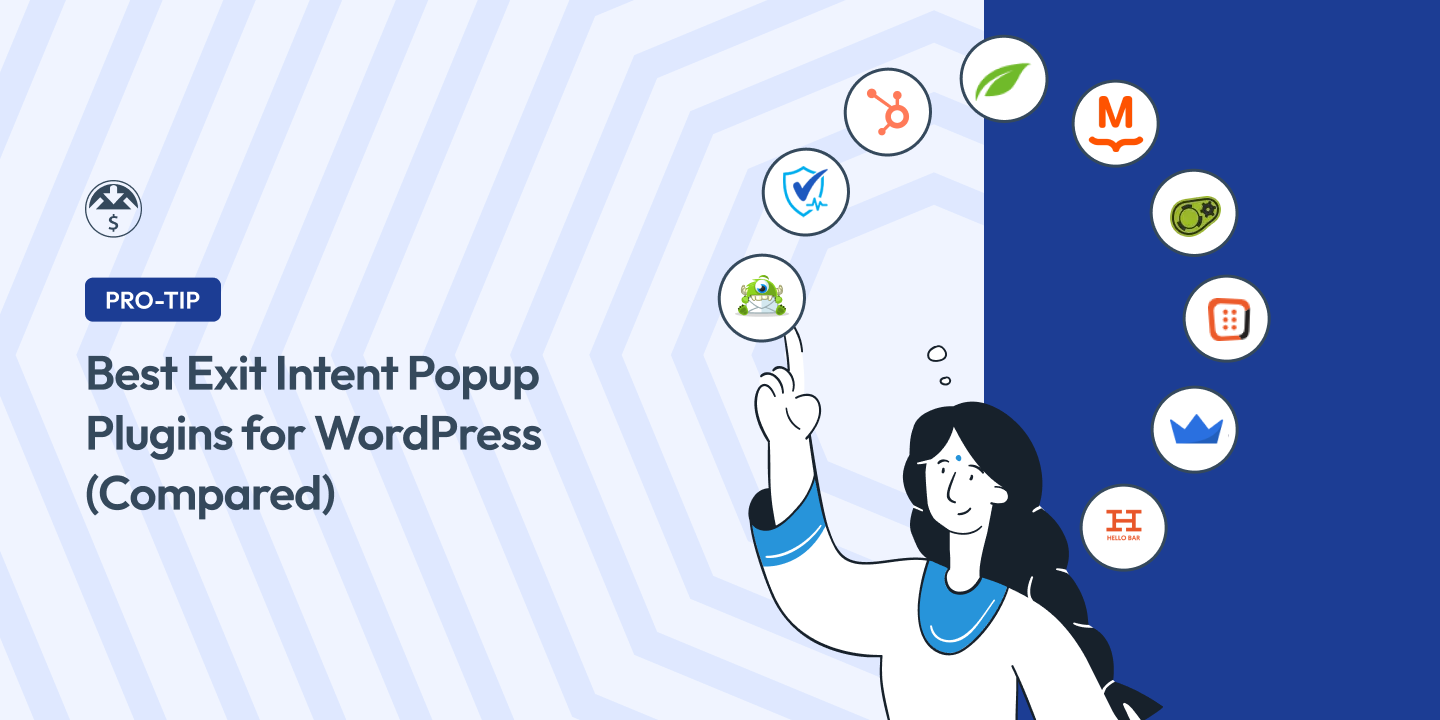 Are you looking for the best exit intent popup plugins for WordPress?
These tools can be incredibly useful for capturing visitors' attention and motivating them to perform a specific action. Installing one on your WordPress site can be an excellent way to recapture users before they jump ship.
There are also a handful of options to choose from. The best choice depends on your specific needs, business, and budget.
🔎 In this article, we'll cover:
What Are Exit Intent Popups?
An exit intent popup is a type of popup that appears when a website visitor is about to leave the site. It's triggered by the user's mouse movement toward the browser's close button or address bar: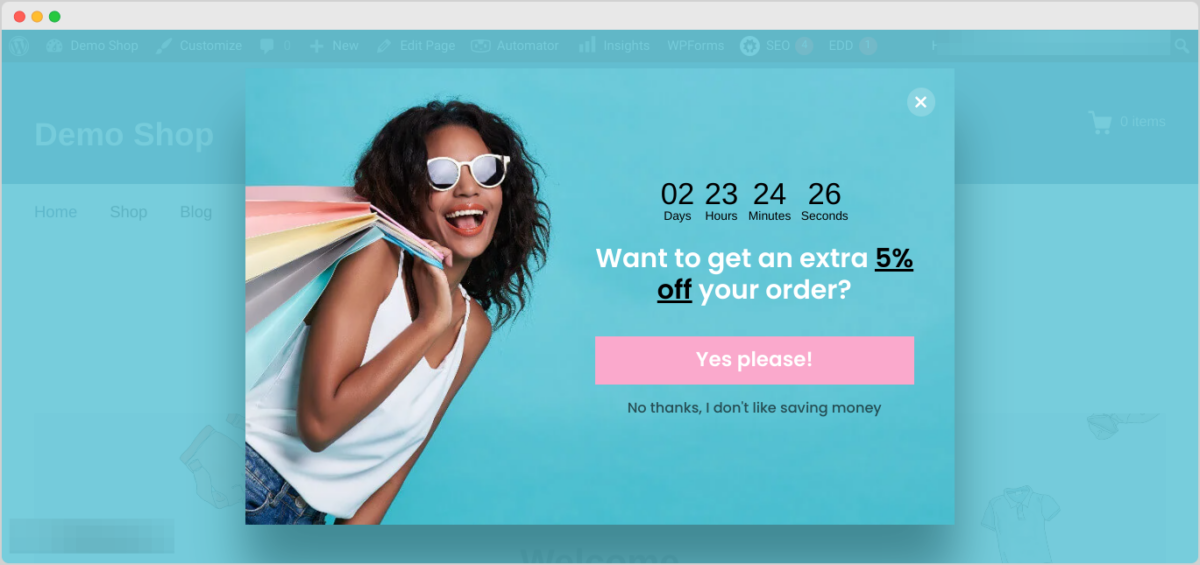 In the dynamic world of e-commerce, capturing the attention of visitors and converting them into customers is a perpetual challenge. With a myriad of distractions and alternatives just a click away, website owners must employ innovative strategies to engage their audience effectively.
Exit intent popups have emerged as a powerful tool in this endeavor. The strategically timed Calls To Action (CTAs) popup when leaving sites to present users with a final opportunity to stay, make a purchase, or subscribe.
Why Use Exit Intent Popup Plugins?
In the realm of WordPress, several plugins have been designed to implement exit intent popups seamlessly.
While exit intent popup plugins are useful for many different types of websites, they can be a game-changer for e-commerce stores. They address the issue of bounce rates and abandoned shopping carts by giving you a last-ditch chance to engage your leaving visitors.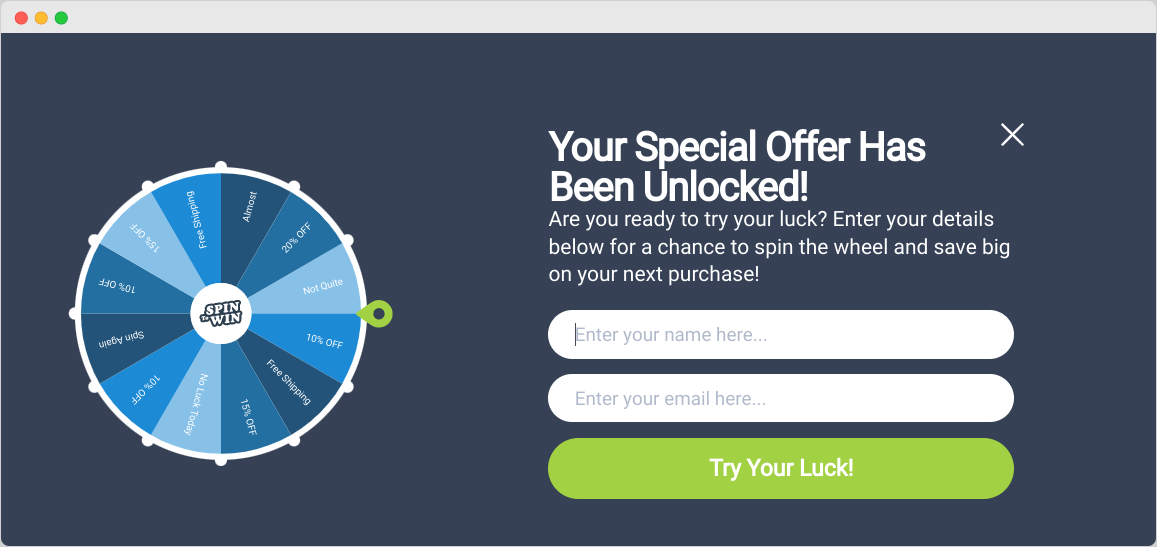 These plugins can create popups that serve various purposes. For instance, some of the most popular exit intent popup examples include offering exclusive discounts or special offers, showcasing new products, and capturing email leads for future marketing efforts.
The key lies in the timing and relevance of the popup's content. When executed correctly, exit intent popups can significantly boost conversions, reduce bounce rates, and amplify your e-commerce revenue.
9+ Best Exit Intent Popup Plugins for WordPress
Now that we covered the basics of what exit popups are and why they can be beneficial for e-commerce, let's get into the best exit intent popup WordPress plugins to use.
WordPress Exit Intent Popup Plugins Compared
Exit Popup Plugin
Free Version
Starting Price
Pros
Cons
OptinMonster
✅
$9/mo
– All-in-one solution
– Exit-intent technology
– Advanced targeting
– Limited features with free plan
TrustPulse
✅
$5/mo
– FOMO/On Fire notifications
– Real-time activity tracking
– Limited design options
– Social-proof centered
HubSpot
✅
$45/mo
– All-in-one marketing platform
– Advanced CRM capabilities
– Limited features & templates
Thrive Leads
✖️
$99/yr
– Variety of forms/templates
– Smart targeting & triggering
– Complex interface
MailPoet
✅
$9/mo
– Exit popup customizations
– Easy to use
– Built-in email functionality
– Fewer advanced automation features
Popup Maker
✅
$87/yr
– Click-based triggers & conditions
– Customizable design & visual editor
– No free exit intent popups
– Learning curve
OptiMonk
✅
$29/mo
– Dedicated to exit-intent technology
– Advanced behavior-based targeting
– Learning curve for advanced features
Sumo
✅
$39/mo
– Social sharing/welcome tools
– Customizable design options
– Busy interface
– Fewer advanced features
Hello Bar
✅
$29/mo
– User-friendly interface
– Various engagement tools
– Limited advanced features
– Less flexible design options
Let's take a closer look at each option in more detail.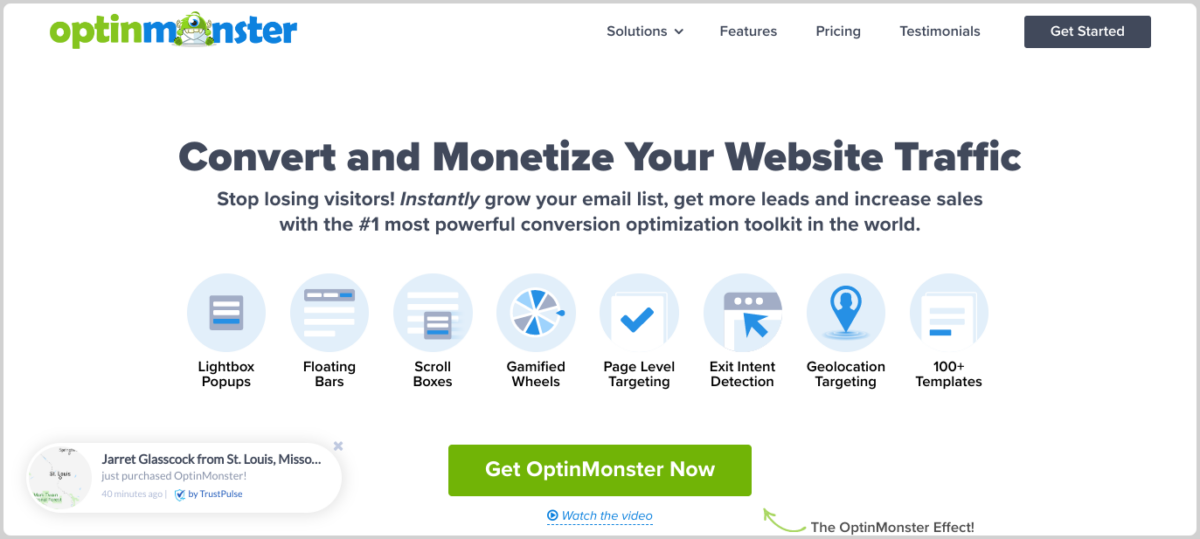 OptinMonster is a premium WordPress plugin that offers a suite of conversion optimization tools, including exit-intent popups. It provides a user-friendly drag-and-drop popup builder to create visually appealing and highly customizable popups. There's a wide array of popup templates, letting you match the design seamlessly with your branding.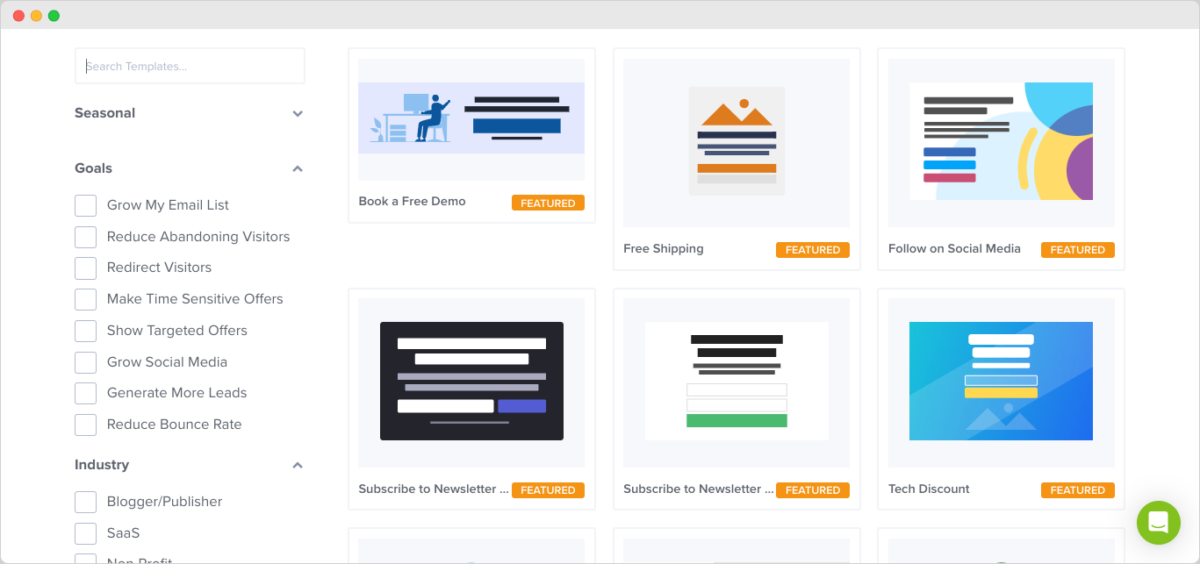 One of the biggest advantages of OptinMonster is its versatility. It's perfect for e-commerce websites because it integrates seamlessly with plugins like Easy DIgital Downloads (EDD) and WooCommerce. But OptinMonster's integration prowess extends beyond e-commerce platforms.
It effortlessly integrates with a ton of third-party email marketing services, CRM systems, and analytics tools. Connect OptinMonster with services like Mailchimp, HubSpot, Salesforce, and Google Analytics to consolidate your data and marketing efforts for a streamlined approach.
🔑 Key Features
Drag-and-drop popup builder
Exit-intent technology with behavioral triggers
A/B testing & analytics
Template library
Integration with major email marketing services
Advanced targeting options (page-level targeting, onon-site, device-based, user-based, geo-targeting)
Slide-ins, floating, lightbox & other popup types
Yes/No multi-step popups
Mobile-friendly popup campaigns
Customizable success messages
Animations & effects
Adblock detection
Best for: Businesses of all sizes with a budget for a complete exit intent solution; e-commerce sites looking for advanced targeting options and conversion optimization tools.
🏷 Pricing: OptinMonster offers a range of pricing plans, starting at $9/month (billed annually). It also has a 14-day money-back guarantee.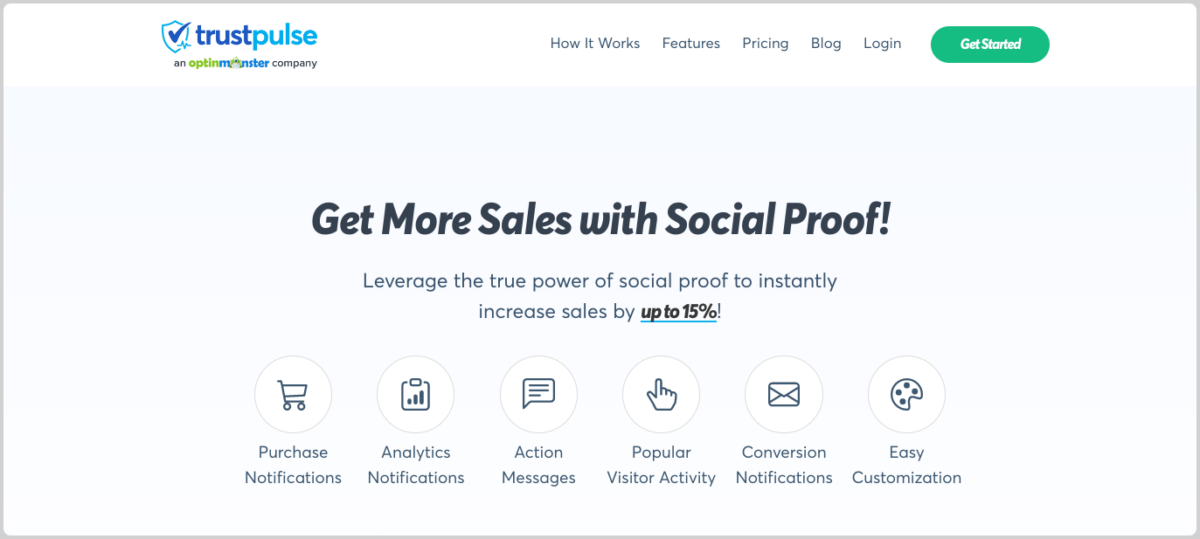 TrustPulse focuses on using social proof to drive conversions through exit-intent popups. One of the standout features is its real-time event tracking.
This lets you display a live stream of customer activity occurring on your site, such as purchases, signups, and registrations. These notifications are a great way to create a sense of urgency and leverage the fear of missing out (FOMO) effect.
TrustPulse is easy to set up and use on your WordPress site. You can use the smart targeting control options to determine who sees the notifications and when.
While this solution doesn't have as many advanced design options as other plugins on this list, it can be ideal for those looking for popups centered on social proof.
🔑 Key Features
Real-time customer activity notifications
Customizable popup designs
A/B testing for optimizing notifications
Integrations with popular platforms
Easy setup & integration
Best for: E-commerce sites aiming to boost credibility and urgency; businesses wanting to harness the power of social proof.
🏷 Pricing: Plans start at $5/month billed annually.

HubSpot offers a suite of marketing tools for lead generation, customer management, and analytics. While the core solution requires a paid plan, the free WordPress plugin lets you use popup forms, including exit intent ones, to generate leads and recapture users.
It's an excellent option if you already use HubSpot and want to seamlessly integrate with your CRM and email marketing tools. You can choose from a wide variety of form fields and types and customize it using the drag-and-drop editor. The plugin also makes it easy to choose which pages to display the popups on and configure the settings based on user activity.
🔑 Key Features
Drag & drop form builder
Embed, popup, dropdown banners, slide-in forms, etc.
All-in-one marketing solution
Integration with HubSpot's CRM & email marketing software
Customizable templates
Lead capture & segmentation options
Analytics & reporting
Best for: Current HubSpot users; businesses in need of a complete marketing solution.
🏷 Pricing: HubSpot offers a free WordPress plugin. For more advanced features, paid plans start at $45 per month.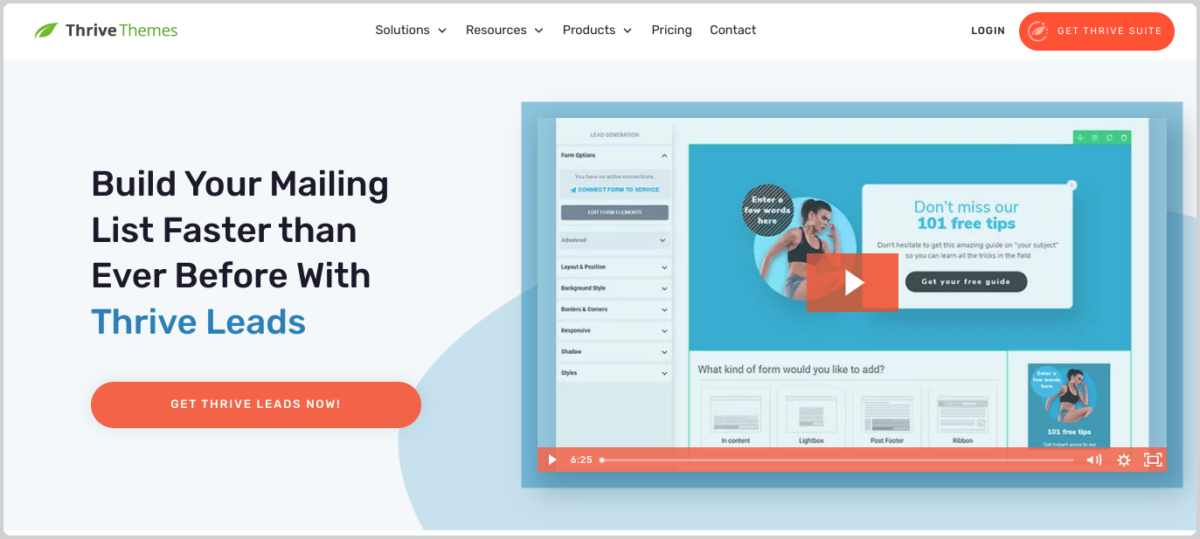 Thrive Leads is a conversion-based WordPress tool that excels at helping users build email lists. It offers a range of opt-inform types, including exit intent popups. You can also choose from a handful of customizable templates and build your popups with the intuitive builder.
This plugin, part of a larger Thrive Suite of tools, lets you show personalized offers to your users based on categories, tags, posts, and more. While it does offer advantaged targeting options, some of Thrive Leads' features can include a slight learning curve, which may not make it ideal for beginners.
That said, it's an excellent solution if you already use Thrive Themes or are interested in other tools such as Thrive Quizzes, Thrive Architect, etc.
🔑 Key Features
Opt-in form types & templates (lightbox, inline, two-step, slide-in, & more)
Smart targeting & trigger options
A/B testing
In-depth reporting & insights
Advanced targeting with SmartLinks
Integration with popup email service providers
Scroll map & content lock
Best for: Online sellers wanting to grow their email lists; marketers looking for in-depth insights and testing capabilities.
🏷 Pricing: Thrive Leads pricing starts at $99 per year for a single site license.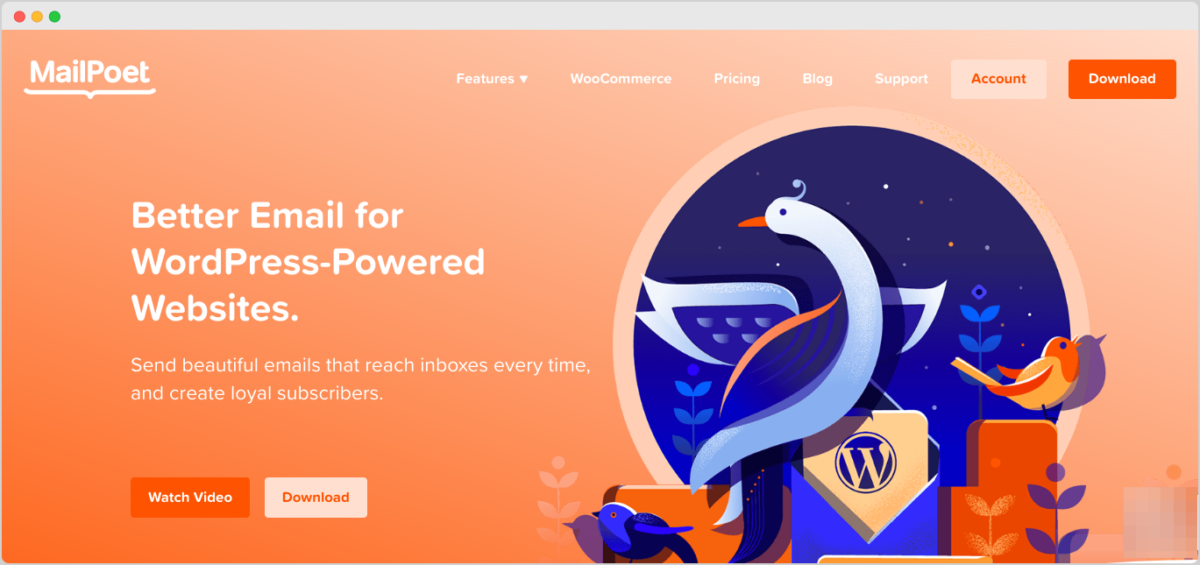 MailPoet is an all-in-one email marketing plugin for WordPress, offering features like email campaigns, newsletters, and exit-intent popups.
It makes it easy to build, send, and track email campaigns directly from your website's dashboard. While its primary focus is email marketing, MailPoet offers a unique feature that can be used effectively as an exit-intent popup plugin.
If you're already using MailPoet for email marketing, using it for exit-intent popups is simple. It's also incredibly user-friendly and cost-effective. However, if you require extensive customization and advanced targeting options for your popups, you might consider a dedicated exit-intent popup plugin with more robust features.
🔑 Key Features
Powerful email marketing solution
Exit intent popups to increase newsletter subscribers
Automated campaigns
Drag-and-drop builder
Subscriber management
Consolidated analytics
Best for: WordPress website owners prioritizing email marketing and simple popup solutions.
🏷 Pricing: MailPoet is a freemium plugin; premium version pricing starts at $9 per month.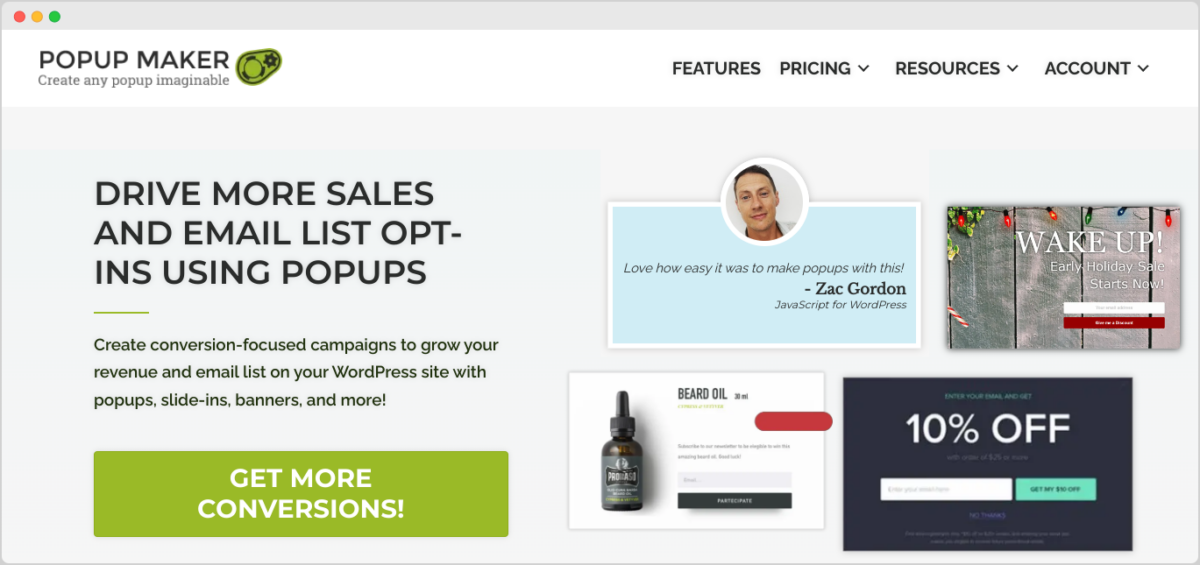 Popup Maker is a versatile popup plugin for WordPress. It comes with exit-intent triggers, advanced targeting options, and a variety of animations and effects. Known for its flexibility and customization options, this tool offers a visual editor and seamless integration with a ton of popular third-party services.
You can use it to create multiple popup types, including lightbox popups, banners, slide-ins, and more.
🔑 Key Features
Visual popup editor
Advanced targeting options
Popup triggers & conditions
Extensions & integrations
Developer-friendly
Custom animations
Analytics
Conditional logic
Best for: Versatile use cases where various popup types are needed; businesses seeking customization and extensibility.
🏷 Pricing: There is a free version of Popup Maker available. However, the exit-intent features require a premium plan, which start at $87 per year.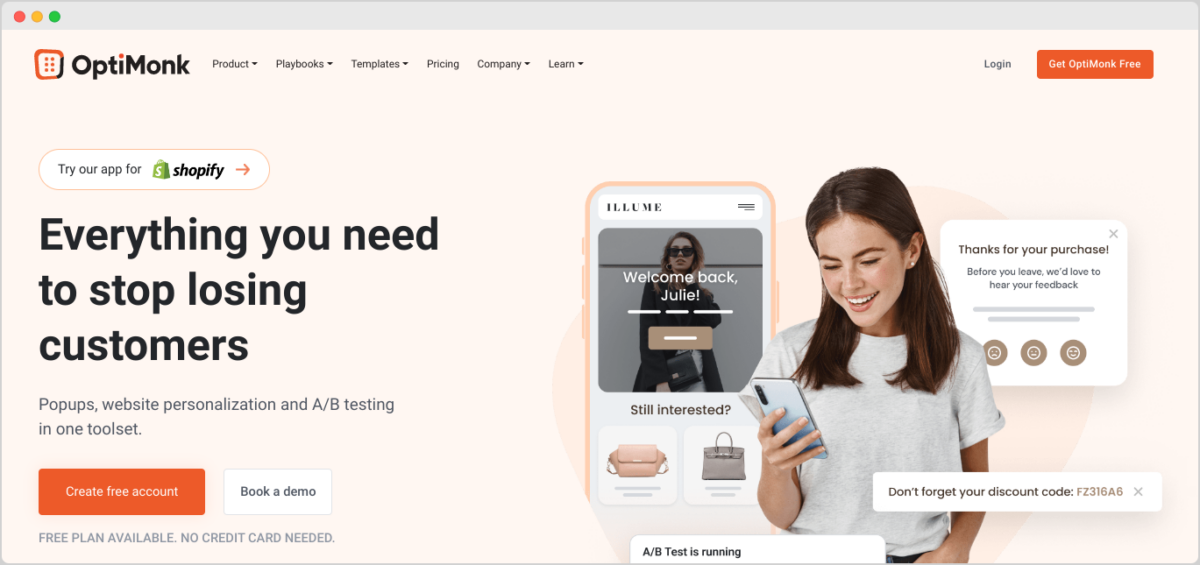 OptiMonk specializes in exit-intent popups and offers a suite of targeting and personalization options. It's designed to help you recover abandoning visitors and increase sales.
One of the things that make OptiMonk one of the best exit intent popup plugins for WordPress is its dedicated exit-intent technology and advanced behavior-based targeting. It also comes with upselling and cross-selling tools that can help you generate more sales and conversions.
🔑 Key Features
Dedicated exit-intent technology
Drag & drop editor
Popups with behavior-based triggers
50+ Customizable templates
A/B testing & analytics
Advanced targeting options
Upselling & cross-selling features
Best for: E-commerce businesses striving to recover abandoned carts & marketers looking for advanced targeting.
🏷 Pricing: There is a free plan available. Premium pricing starts at $29 per month when billed annually.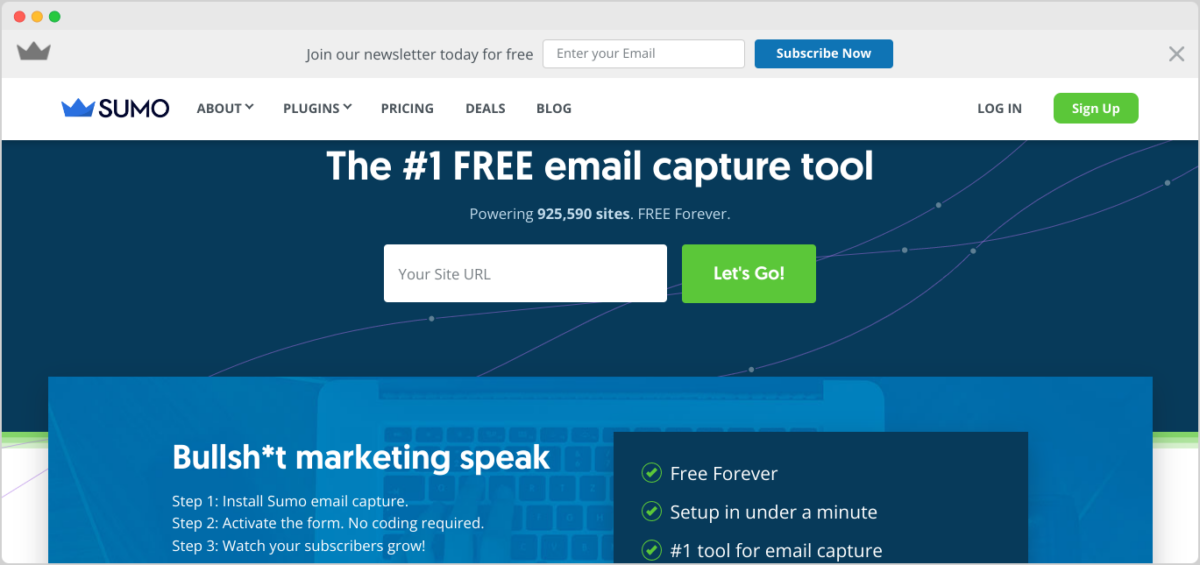 Sumo provides a suite of marketing tools for WordPress that can help businesses grow their email lists and increase conversions. The free List Builder plugin lets you easily create exit intent and other types of popups for your website.
It also provides premium plans for you to upgrade for more advanced features. You can use Sumo to create multiple types of opt-in forms and customize the design and styling of them with ease. This includes standard popup-building options, like adding text and images and changing colors.
🔑 Key Features
Exit-intent popups & other opt-in forms
A/B testing & reporting
Social sharing tools
Integrations with email marketing services
Customizable templates
Display rules & conversion tracking
Best for: Businesses looking for basic popup builder features with optional upgrades for other marketing tools.
🏷 Pricing: There is a free version of Sumo. But to remove the Sumo branding from popups and access more advanced features, you'll need a premium plan, which start at $39 per month when billed annually.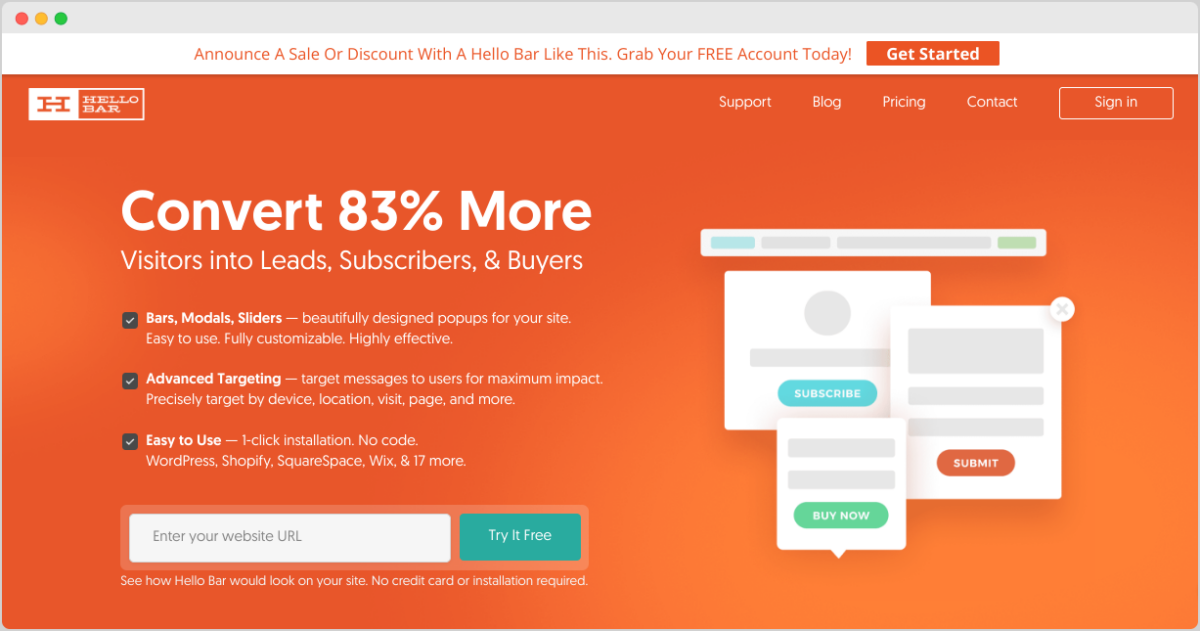 Rounding out our list of the best WordPress popup plugins is Hello Bar. This solution provides various website engagement tools, including exit-intent popups. It's designed to help you increase conversions and engage visitors.
It boasts a user-friendly interface and a variety of customizable design options. Hello Bar is a solid option for creating basic exit intent popups. Similar to Sumo, you'll need to upgrade to a paid plan to remove the plugin's branding.
🔑 Key Features
Exit-intent popups &other engagement tools
A/B testing
Integration with email marketing platforms
Design templates
Targeting features
Best for: Businesses looking for a simple, straightforward way to create basic exit intent popups.
🏷 Pricing: There is a free plugin available. Premium plans start at $29 per month when billed annually.
BONUS: Alternative Exit Popup Plugins
In addition to the above exit intent popup plugins for WordPress, there are a few more options to consider.
Elementor Pro: Elementor is a popular WordPress page builder plugin that also offers exit-intent popup capabilities. Suitable for users who want design flexibility and control, it features a drag-and-drop design interface, extensive widget library, integration with other WordPress plugins, and much more.
Poptin: This is a WordPress exit-intent popup plugin with a user-friendly interface, array of templates, and multiple integration capabilities. It can help with optimizing conversions and reducing bounce rates on WordPress websites.
Icegram: Icegram is a WordPress exit-intent popup plugin known for its simplicity and effectiveness. It excels in providing essential popup features that are easy to set up and manage, making it a solid choice for users seeking a straightforward solution.
Yeloni: Yeloni is a freemium WordPress exit-intent popup plugin with a focus on user engagement and lead generation. What sets Yeloni apart is its emphasis on gamified popups, offering interactive and attention-grabbing experiences for visitors.
While they're not as powerful or popular as the official plugins on the above list, we'd be remiss not to mention them.
What's the Best Exit Intent Popup Plugin?
When it comes to the best exit intent popup plugins for WordPress, OptinMonster undoubtedly takes the lead. Renowned for its unparalleled features and seamless integration capabilities, OptinMonster stands as the go-to choice for businesses seeking to optimize their conversion rates and engage visitors effectively.
Where OptinMonster truly shines is in its advanced targeting options. The plugin provides behavioral triggers that allow you to display popups based on user actions. This means you can present personalized offers, discounts, or messages that resonate with your visitors' behavior, increasing the chances of conversion.
The plugin also equips you with robust A/B testing capabilities, enabling you to experiment with different popup designs, triggers, and content. With insights from detailed analytics, you can identify which variations are performing best and make data-driven decisions to maximize your conversion rates.
FAQs About Exit Intent Popup Plugins
Let's wrap up with some frequently asked questions.
Are there free exit intent popup plugins available?
Yes, some plugins offer free versions with basic features. However, for more advanced features and customization options, investing in a premium plugin might be beneficial.
Can I A/B test my exit-intent popups?
Yes, many of the mentioned plugins offer A/B testing features, allowing you to compare different popup designs and triggers to determine which ones perform better.
How can exit intent popups benefit my e-commerce site?
Exit intent popups can help minimize bounce rates, reduce cart abandonment, promote special offers, and grow your email list, ultimately leading to increased conversions and revenue.
How does exit intent work on mobile?
With desktop computers, exit intent is often detected through mouse movements, such as when the cursor moves to close the browser tab. On mobile devices, where touch is the primary input method, exit intent detection typically relies on user behavior like tapping the back button, swiping to switch tabs, or attempting to close the browser.
Add Exit Intent Popup Plugins in WordPress
OptinMonster is the ultimate choice for businesses of all sizes seeking a comprehensive exit-intent popup solution. Its integration capabilities make it especially appealing to e-commerce sites utilizing platforms like Easy Digital Downloads and WooCommerce.
Don't have EDD yet?
📣 P.S. Be sure to subscribe to our newsletter and follow us on Facebook or Twitter for more WordPress resources!