---
Do you want to learn how to recommend products to customers based on their past purchases?
As an e-commerce business owner, it's a smart way to boost sales. Recommending products can help personalize the shoppers' experiences on your website and help you increase conversions in the process. Plus, with WordPress and Easy Digital Downloads (EDD), it's easy to do!
🔎 In this article, we'll cover:
Why Recommend Products to Customers?
Recommending products to customers based on their past purchases can provide several benefits. Here are a few reasons why it can be beneficial for both your customers and your business.
Improved customer satisfaction: By recommending related products that are relevant to your customers' interests, they are more likely to be satisfied with their purchase. They may feel that your business understands their needs and is offering products that will truly benefit them.
Increased sales: When customers are presented with best sellers and popular products that they are likely to be interested in, they are more likely to make a purchase. This can lead to increased sales for your business. Recommending products can be a great way to leverage cross-sells and upsells to boost the average order value on your site.
Enhanced customer loyalty: If a customer feels that your shop is providing them with personalized recommendations, they may be more likely to return for future purchases. This can help to build customer loyalty and a long-term relationship between your customers and the business.
Time-saving: When you recommend products to customers based on past purchases and items that are frequently bought together, it can save the shopper time and effort. Rather than having to search for specific products on their own, they can quickly find relevant products that meet their needs.
Data collection: By tracking a customer's past purchases, you can gain valuable insights into their interests and preferences. This data can be used to improve the customer experience, increase your conversion rate, and tailor future marketing efforts.
How to Recommend Products to Customers
Ready to get started? In this step-by-step tutorial, I'll walk you through how to recommend products to customers based on their past purchases using WordPress and Easy Digital Downloads.
I'll assume you already have a WordPress site up and running. If not, check out SiteGround's Managed EDD Hosting for an affordable, feature-packed plan!
Step 1: Get Easy Digital Downloads
If you're unfamiliar, Easy Digital Downloads (EDD) is a complete WordPress plugin that delivers an e-commerce solution. You can use it to sell digital products online, including eBooks, software, files, and much more. It's an excellent alternative to the WooCommerce plugin if you don't offer physical goods.

One of the key features is its wide range of extensions, including an addon for recommending products to customers. There is a free version available. However, I recommend upgrading to an EDD Pro plan (four pricing tiers available).
Once you select and purchase your plan, you can download the Easy Digital Downloads Pro plugin from your account dashboard. Then you can upload it to your WordPress dashboard under Plugins » Add New:

Remember to activate the plugin. For more guidance on installing the plugin and setting up your online store, you can use the following guides:
Step 2: Install the EDD Recommend Products Extension
The next step is to install the EDD Recommended Products extension: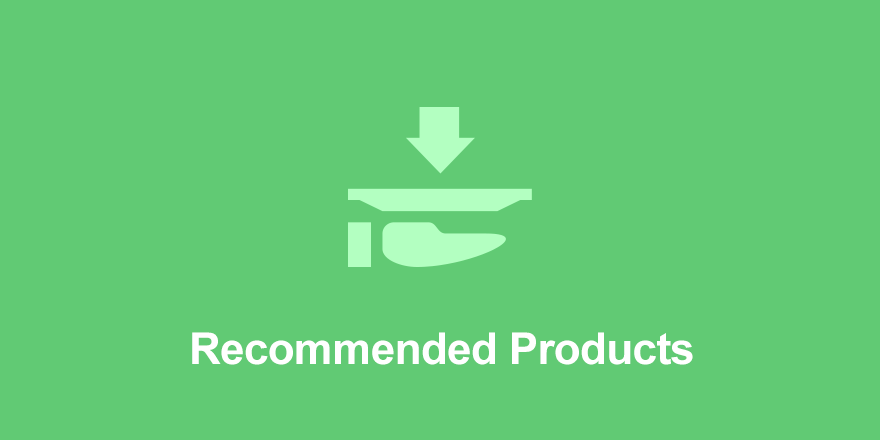 This tool lets you suggest products to customers that they are likely to be interested in based on their past purchases. The extension's functionality also includes detailed reporting and analytics features that allow you to track the effectiveness of product recommendations.
With Recommended Products for Easy Digital Downloads, you can easily display a selection of recommended products when customers view downloads or check out. You only need to select a couple of checkboxes to set this up.
These recommended products are not just random items. They're chosen based on your e-commerce store's previous sales history. Additionally, you have the option to manually update the recommendations by running the update script on the EDD Extensions Settings page.
The extension is easy to set up and use.
As long as you have a premium EDD license, you can install it directly from WordPress. To start, navigate to Downloads » Extensions, then search for it in the text field: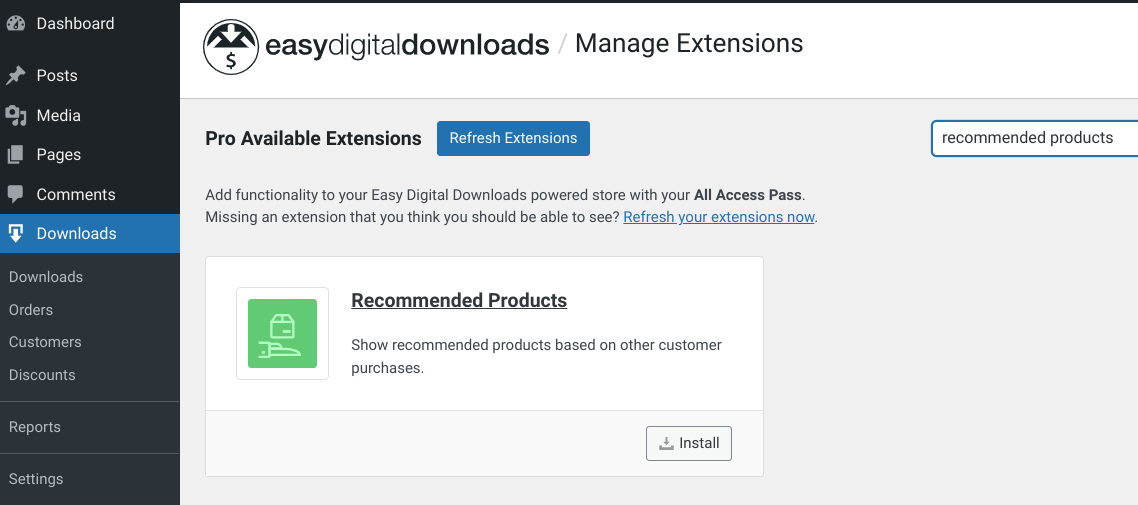 Click on the Install button. Then the toggle switch should automatically set to activate the extension: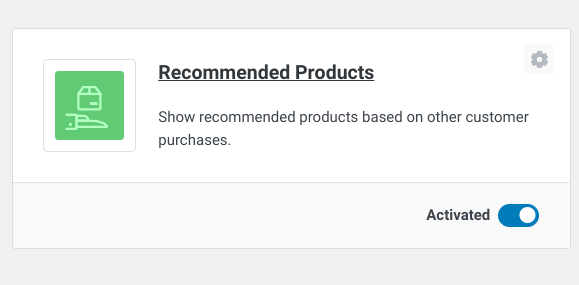 Step 3: Configure the Addon Settings
Once you activate the plugin, it's time to configure the settings based on your recommendation strategy. To do so, you can click on the gear icon in the top right-hand corner. Alternatively, you can go to Downloads » Settings » Extensions » Recommended Products: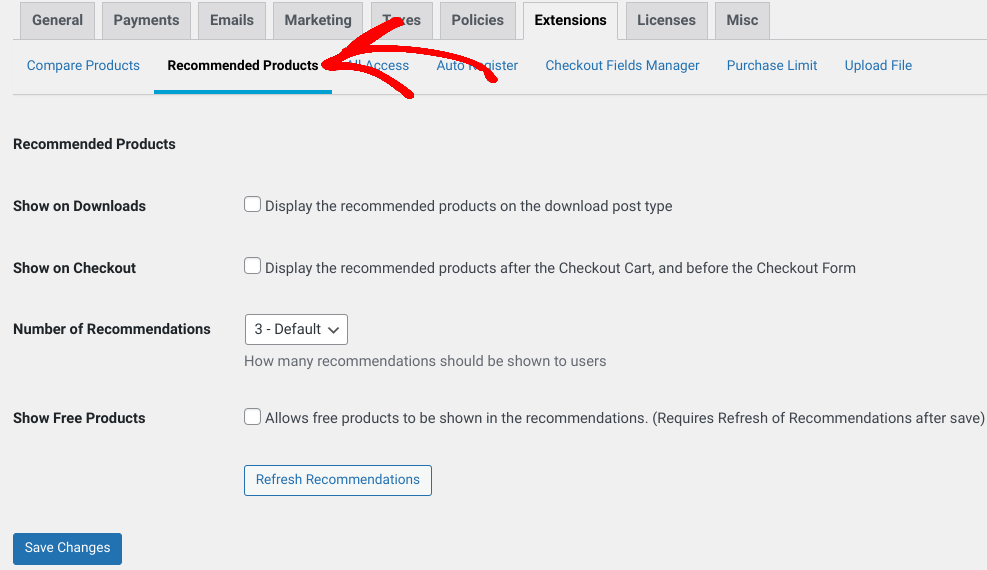 On this screen, you can configure a handful of settings:
Show on Downloads to display the recommended products on individual product pages
Show on Checkout to display them on the checkout page
Number of Recommendations to determine the number of products shown
Show Free Products to allow free products to be included (they're excluded by default)
When you're done, remember to select Save Changes.
💡If you need help configuring these settings, you can refer to our Recommended Products documentation. You can also use this doc to learn about the templates you can use with this add-on.
Step 4: Display Recommended Products to Customers
Now that you have configured the Recommended Products extension, you can display product recommendations on your WordPress site. In addition to the 'show' option you did (or didn't select) on the settings page, you can also insert the EDD Recommended Products shortcode in any post or page. you can also add a widget to a sidebar or footer.
To do this, you can add [recommended_products], then add the product IDs of which items you want to include. You can refer to our documentation for an example: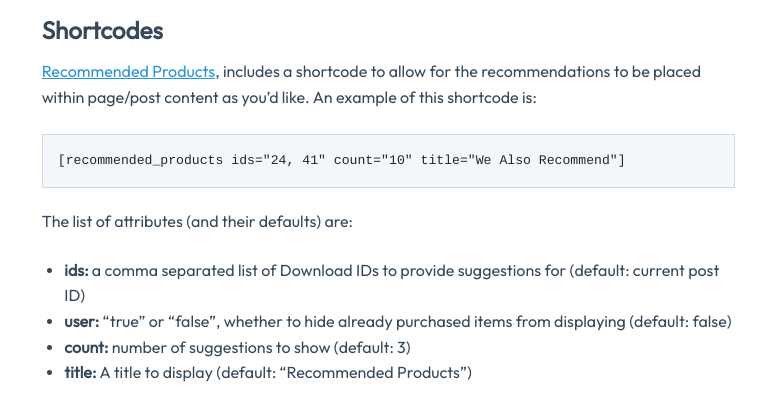 When you're done, you can preview how the recommended products element looks on your website: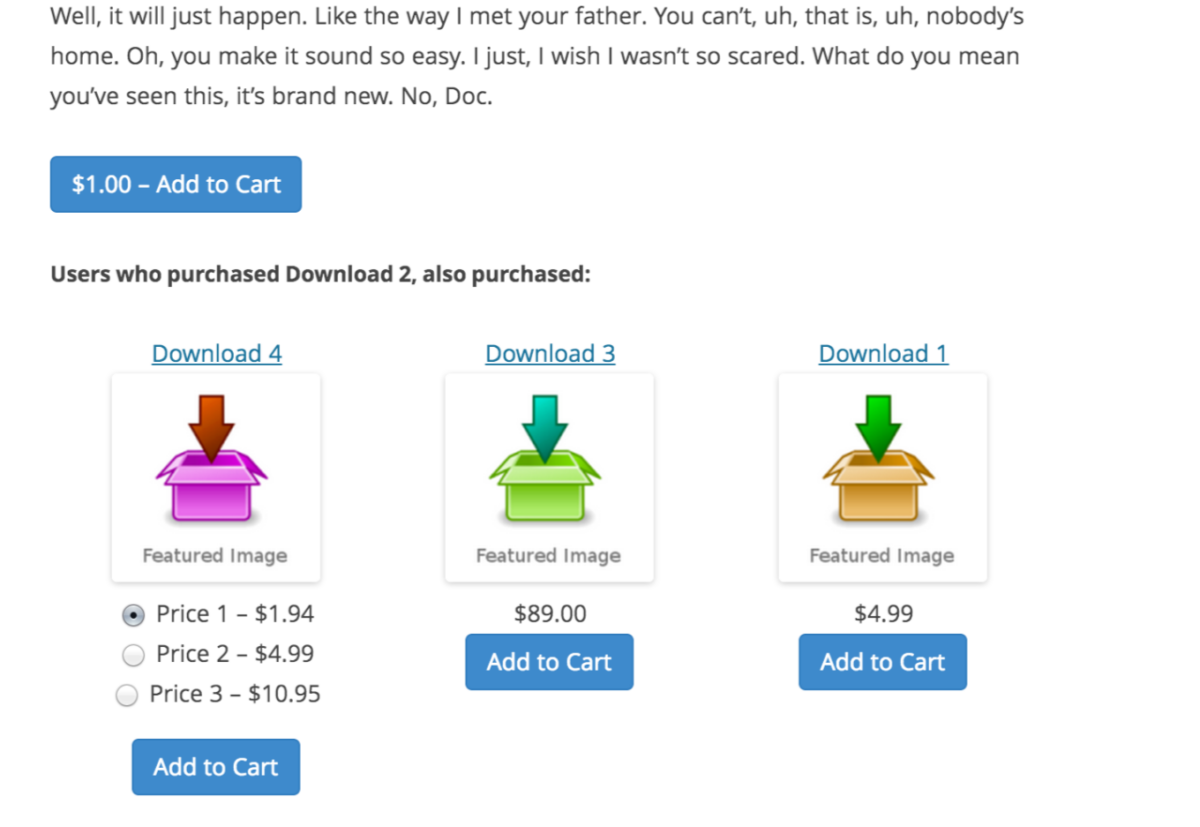 FAQs About Recommending Products to Customers
What does the EDD Recommended Products extension do?
When a customer makes a purchase on your site, the extension automatically analyzes their purchase history and other data to suggest products they may be interested in. You can show and recommend products to customers via their account page, on the checkout page, and in emails that are sent after their purchase.
Can I customize the recommended products that are displayed on my website?
Yes, you can customize the recommended products by configuring the settings of the Recommended Products Extension. You can recommend products to customers based on categories, tags, or other criteria.
Can I display recommended products on specific pages of my website?
Yes, you can use shortcodes to display recommended products on specific pages or posts of your website.
Use EDD to Recommend Products to Customers
Recommending products to your customers is a great way to enhance their shopping experience and increase your sales. With the help of the Easy Digital Download plugin and the Recommended Products Extension, you can effortlessly recommend relevant products to your customers on your WordPress website.
Click below to get started!
eCommerce without limits!
That is our promise. Most eCommerce solutions limit your creativity
…not Easy Digital Downloads!
📣 P.S. Be sure to subscribe to our newsletter and follow us on Facebook or Twitter for more WordPress resources!