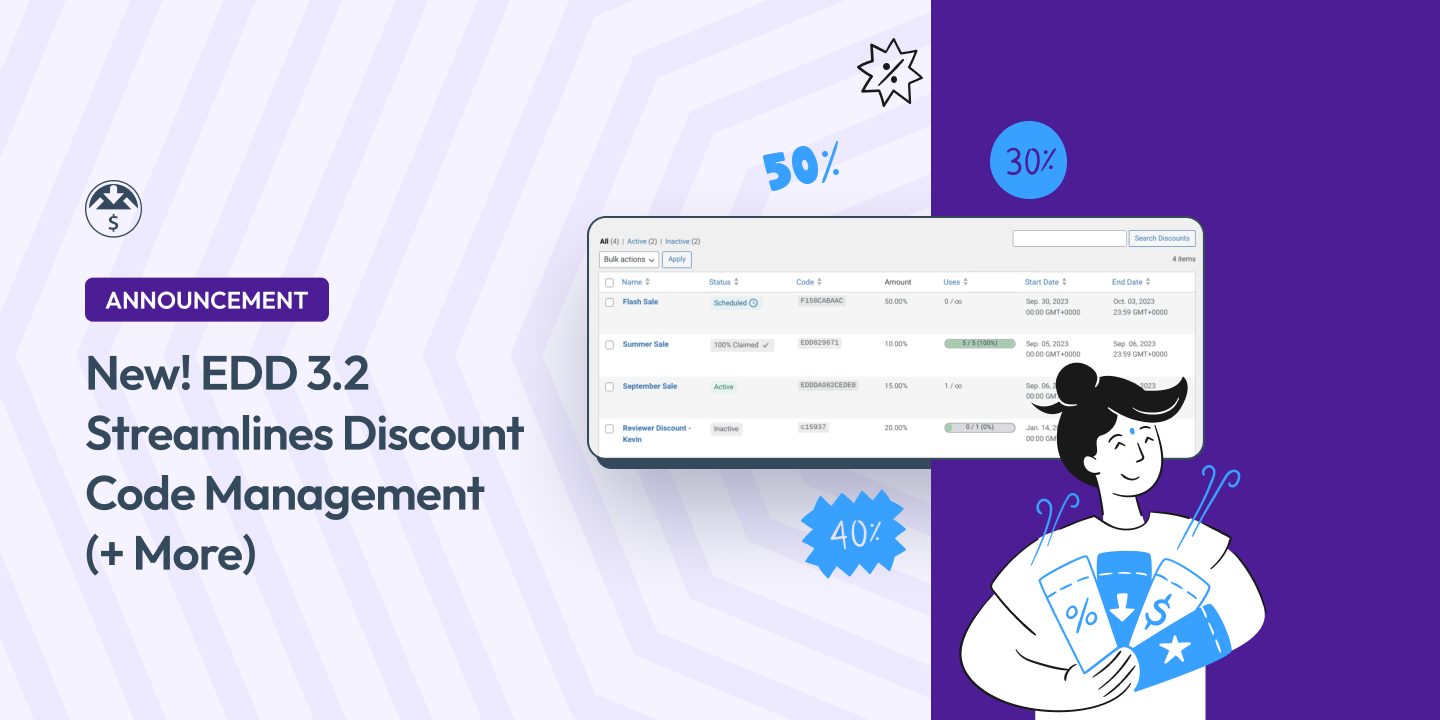 Discount codes are a great way to boost your e-commerce conversions & sales. Thanks to Easy Digital Downloads, creating and managing them just got easier than ever.
🎉 Today, we're excited to announce the latest version of Easy Digital Downloads: EDD 3.2!
This major update introduces a handful of impressive and long-awaited features, including:
Updates for Better Discount Management 🏷
Much of the focus of this latest EDD release has been on implementing solutions for better, quicker, and easier discount management. We're super excited about these changes and know you will be too. 😎
Improved Discounts List Views
The biggest updates included in EDD 3.2 are enhancements surrounding discount codes that help store owners more quickly and smoothly manage discount codes.
First, we updated the Uses and Status columns. When a discount code is limited, the Uses column now shows its maximum uses and how many times/the percentage it has been used. Codes with unlimited uses have an infinity symbol (∞):

In addition, Status is now its own column and gives you the following options:
Active
Scheduled
Inactive
Expired
100% Claimed
Rather than automatically categorizing maxed-out codes as Inactive, they're now labeled as 100% Claimed. This lets you quickly understand when it's time to archive a code..which brings us to our next EDD 3.2 improvement.
New 'Archive Discounts' Feature
With the release of EDD 3.0, it was not possible to delete discount codes that had been used. Though this was meant to help keep accounting in order, over time, the accumulation of codes can lead to a crowded and confusing discount area that's difficult to search and manage.
This latest EDD update includes a new Archive feature:

You can move a code from the main list to a separate Archive area. This helps you immediately clean up your discount area and save time.
Archived discounts cannot be used, and are removed from the default discount lookups to help improve performance. You also have the ability to unarchive and restore codes whenever needed.
Ability to Set Discounts for Product Variations
EDD 3.2 includes improvements for adding and editing individual discounts. One of the most notable is the option to set the Download Requirements for a new discount code to different variations of a product.
Previously, if you had variable-priced products, you could only apply the discount amount on the product as a whole, not the individual variations of it:

Now you can define a specific Price ID that the discount code is valid for. In other words, you can assign different discount amounts on different price variations of a product: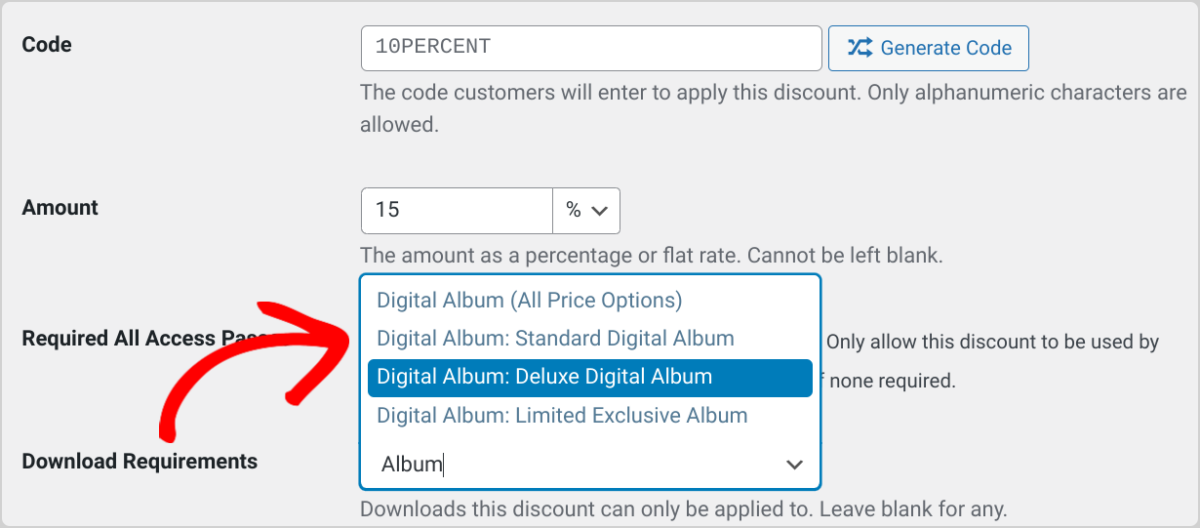 Let's say you're selling a digital album at three price variations (Standard, Deluxe, and Exclusive). Rather than only being able to use one discount for all three versions, you could set the amount according to the product price point. For instance, a 5% discount for the Standard album and a 15% discount for the Deluxe album.
Option to Include/Exclude Product Category
Another way EDD 3.2 can help you save time creating, editing, and managing discount codes is by letting you include or exclude a product category from a discount.

For example, if you have a lot of products that you want the discount to work (or not work) for, rather than selecting each individual download, you can just choose the entire category.
New Discount Code Generator
Another improvement included with EDD 3.2 is the new Generate Code button. This feature, available only to EDD Pro users with a Personal Pass or higher, is added to the Code field when you're creating a new discount: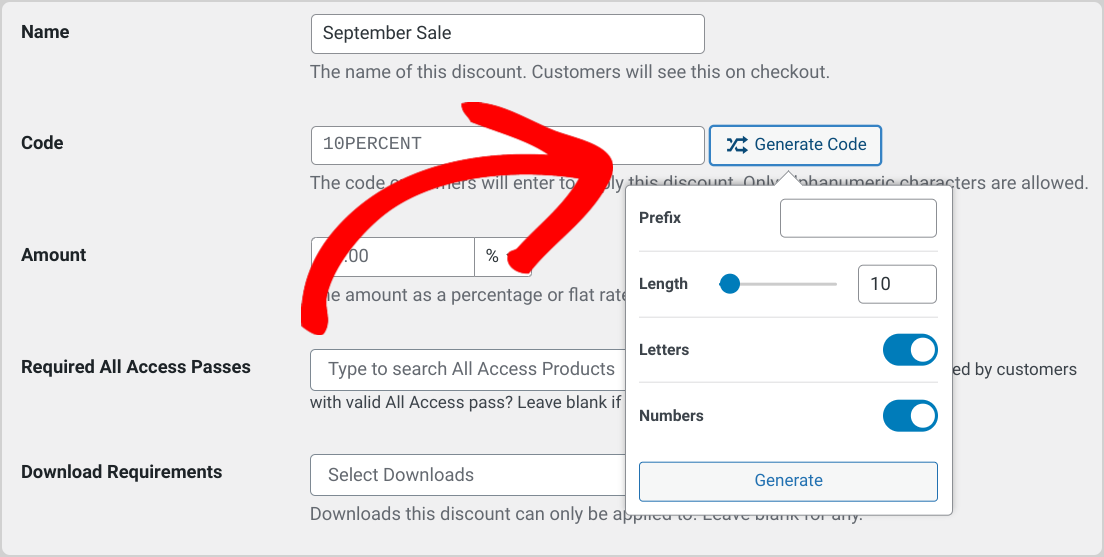 This tool has a password-like User Interface (UI). You can pick a prefix and length, and specify whether it should include letters and/or numbers. It automatically generates a unique discount code that hasn't been used on your site before.
Don't have a Pro plan yet? Learn how to easily upgrade from EDD Lite to Pro.
Order Dispute Handling Improvements🧾
EDD 3.2 also brings a few improvements to Orders — more specifically, dispute recording.
The new On Hold status is primarily used to automatically detect dispute payments.
When a customer disputes an order with their bank, the dispute goes to the payment gateway (such as Stripe or PayPal Commerce). The gateway then lets us know that it's a dispute record and to set the order On Hold.
On-hold orders can't have products downloaded, so those customers initiating the dispute can't access the files. This can help prevent fraudulent purchases on your site.
On the EDD View Order Details screen, there's now a note recorded that includes a Dispute ID linking to the gateway. You can use it to view details about the dispute, upload evidence, etc.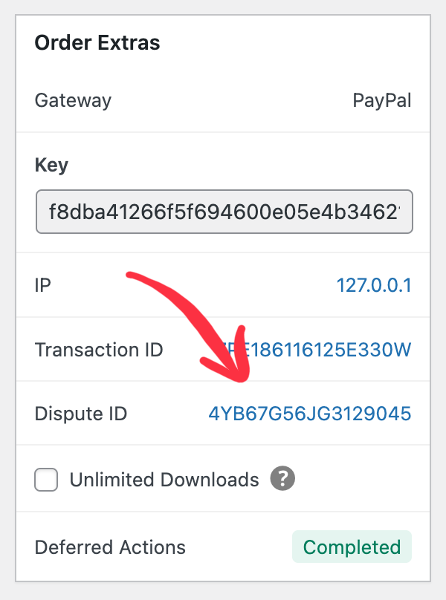 This is just the beginning of improvements we want to make to help give users better insight into order dispute handling directly within WordPress/EDD admin. Keep an eye out for more updates in the future!
New 'Service' Product Type Added 💻
In previous versions of EDD, users have been able to use the free Downloads As Services addon to sell something that doesn't have files. The extension gives you the option to hide the default 'No Downloadable Files' messages that otherwise display with these products.
With the 3.2 release, we merged this functionality into EDD Core. Now when adding or editing a download, you can simply select Services as the Product Type on the download page:

This feature is available to both EDD Lite and Pro users.
Other Big Changes & Updates ⚙️
Before we wrap up, there are a few more notable changes and updates worth mentioning.
We've been able to get up to 20% performance improvement in the EDD checkout and customer interactions. There were a few ways we did this. We optimized both our codebase and database. Additionally, we deferred the sending of purchase confirmation emails to slightly after the customer completes their order (to avoid blocking the purchase process).
AmazonPay is now officially deprecated. Stores with it enabled can still use it. But you'll see a deprecated-related message with the suggestion to move to Stripe or another gateway.
Easy Digital Downloads now requires PHP 7.4+/WordPress 5.8+ and is PHP 8.1 compatible.
The per-transaction fee for "Pay as you go" Stripe payments is now 3%. To remove "Pay as You Go" pricing, upgrade to and Extended Pass, and activate your license key.
Upgrade to EDD 3.2 Today 📣
The newest Easy Digital Downloads update is available to all users. If you already have a premium pass, you can update from right within your EDD-powered store, or visit your EDD account to get started with the update.
Don't have a license key yet? You can purchase one today!
Any questions, concerns, or comments? Don't hesitate to leave a comment below or contact our support team.
If you run into any problems, you can also check out Troubleshooting EDD Migration Issues.
📣 P.S. Be sure to subscribe to our newsletter and follow us on Facebook or Twitter for more WordPress resources!