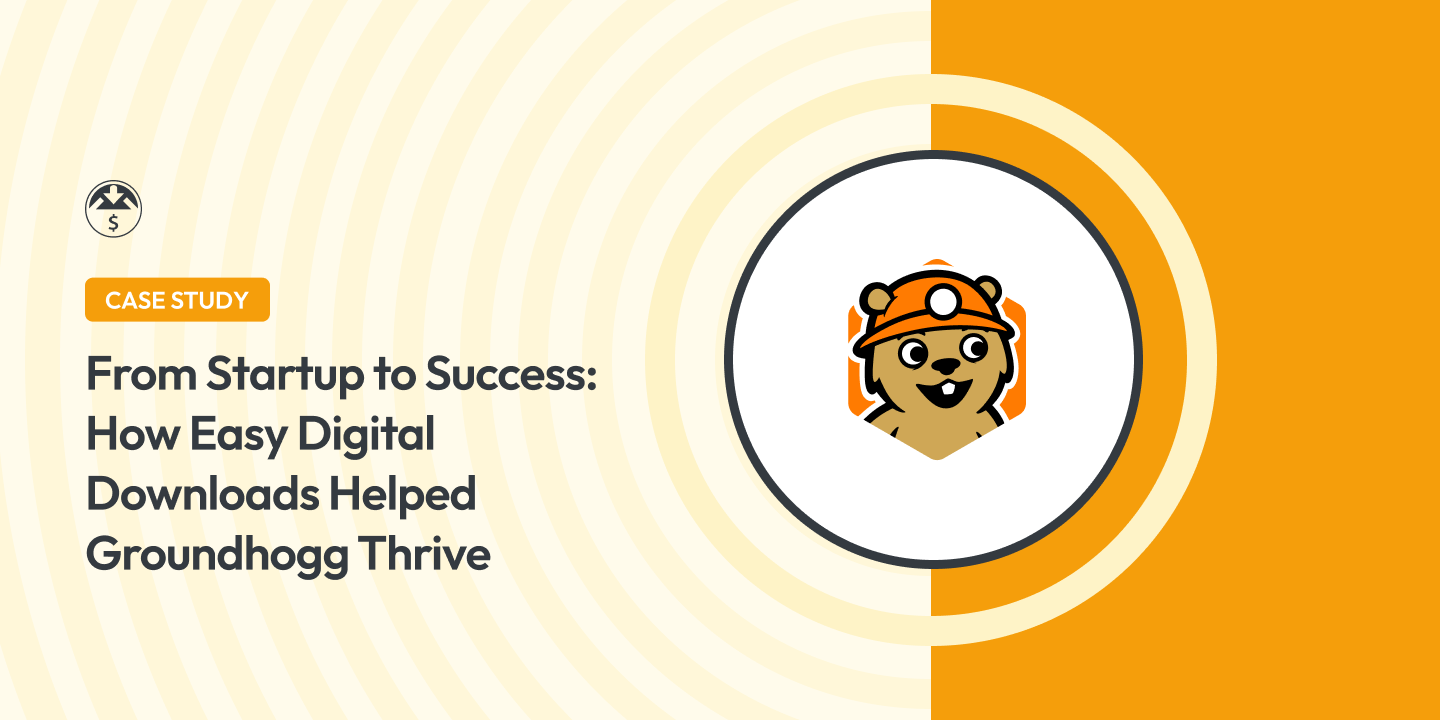 Easy Digital Downloads (EDD) helps thousands of online sellers start and grow their businesses. Our complete eCommerce solution is the ideal WordPress plugin for selling digital products, including software and plugins.
To showcase some of its power, we'll highlight how plugin developer Adrian Tobey utilized EDD to help grow a sophisticated and impressive network of WordPress marketing automation & Customer Relationship Management (CRM) tools.
Let's dive in.
Meet Adrian Tobey, Founder & Lead Developer

Adrian Tobey is the founder and lead developer of Groundhogg Inc., a suite of digital marketing and sales plugins for WordPress, including:
Groundhogg (CRM and Marketing Automation)
MailHawk (SMTP and Email Delivery)
HollerBox (Popups and Lead Generation)
FormLift (Infusionsoft Forms for WordPress)
WP Simple Chat (Live Facebook Chat Plugin)
Adrian utilized EDD as a crucial platform to optimize his online stores. He was initially drawn to Easy Digital Downloads back in 2018 while setting up his first store on FormLift.net.
Seeing other successful plugin developers using EDD, he recognized it as the optimal solution for his eCommerce needs. His primary aim was to increase sales of digital products and streamline the selling process.
"Ease of integration was paramount. As a developer building marketing tools, I need to be able to easily access data. Fortunately, EDD has always been very developer friendly."
The ease of integration with EDD, particularly for developers, allowed him to access vital data and make informed marketing decisions. Additionally, the ability to serve plugin updates through EDD and pull updates directly from GitHub provided a unique and efficient solution, reducing logistical overhead.
Key Results and Business Impact
The combined stores of Groundhogg Inc. (FormLift.net, Groundhogg.io, MailHawk.io, and HollerWP.com), have successfully served over 6,000 customers from more than 65 countries.
This impressive customer base has resulted in generating mid-six figures in revenue annually. Easy Digital Downloads has played a pivotal role in achieving these markable results.
Using EDD Add-ons to Enhance Online Selling Strategy
Adrian leverages various Easy Digital Downloads extensions to enhance his online selling strategy. For serving WordPress plugins, he uses addons like Software Licensing, GitHub Repo Integration, and Recurring Payments. Stripe Pro and PayPal Commerce provide secure and reliable payment processing.
"We heavily rely on our Groundhogg Integration with EDD to manage our customers and collect leads."
The integration of Groundhogg with EDD fuels effective customer management and lead collection. Groundhogg segments customers based on their purchase history and activity, facilitating targeted marketing campaigns for new products.
It also aids in excluding existing customers from sales and promotions intended for new customers. Groundhogg's drip email series successfully onboards new customers, reducing refunds and cancellations.
HollerBox is used to boost lead generation. An exit intent popup on the checkout page offers a 15% discount code, which has proven highly effective. The popup itself converts at 11%, and those who receive the discount code convert at approximately 25%, showcasing its value.
Groundhogg integrations include other tools backed by the same family company as EDD, such as MonsterInsights and AffiliateWP.
MonsterInsights is used to track and collect detailed web analytics, gathering key data about where customers come from and accurately project revenue. The MonsterInsights integration with EDD makes it super easy to correlate revenue with Adwords and SEO initiatives.
Affiliates play a vital role in Groundhogg Inc.'s inbound lead strategy. The seamless integration of AffiliateWP with EDD ensures proper revenue attribution and streamlined payout of affiliate earnings.
Adrian's Valuable Tips & Insights for Online Sellers
Based on his experience using Easy Digital Downloads, Adrian shares valuable insights to help others optimize their online selling:
Have a clear and generous refund policy to instill customer confidence and increase sales. Highlight a money-back guarantee wherever possible on the website.
Utilize the EDD Stripe Pro addon to avoid transaction fees and optimize payment processing.
Incorporate a few reviews on the checkout page to establish trust and credibility.
Consider creating multiple products instead of relying solely on price variations, particularly when selling plugin licenses. Price variations can limit integrations and reporting capabilities. Reserve price variations for updating product prices to ensure a smooth transition for existing customers.
Offer discounts generously, ensuring they provide value both for the business and customers.
Enhancing eCommerce Experiences with EDD
Easy Digital Downloads has been instrumental in empowering Groundhogg achieve results selling digital products online. By leveraging the various EDD add-ons and implementing effective strategies, they have successfully increased sales, streamlined processes, and provided a seamless user experience for their large customer base.
Adrian's experience and insights are valuable lessons for other online sellers looking to maximize their potential with Easy Digital Downloads. To learn more about Groundhogg's powerful and impressive suite of marketing tools, visit their website at https://www.groundhogg.io/.
You can also give Easy Digital Downloads a try and see for yourself how it can help take your eCommerce business to the next level!
eCommerce without limits!
That is our promise. Most eCommerce solutions limit your creativity
…not Easy Digital Downloads!
📣 P.S. Be sure to subscribe to our newsletter and follow us on Facebook or Twitter for more resources!