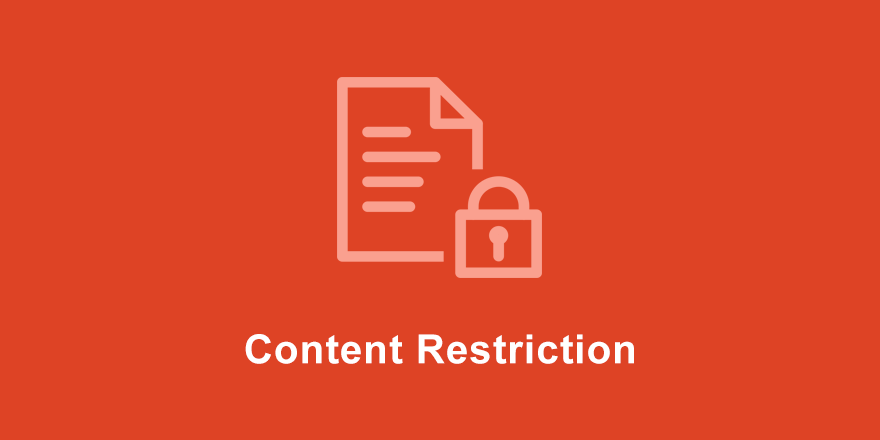 It's true, Easy Digital Downloads is the world's easiest way to sell digital downloads for free. Many of our users sell images, WordPress themes and plugins, eBooks, and even computer software in their digital stores.
That's great for those who need to distribute files, but what about our users who need to sell access to content? For example, what happens if your products are in the form of articles, or perhaps streaming videos? Thanks to the extensible nature of Easy Digital Downloads, we have the world's easiest solution for selling that too.
Let's have a look at the Content Restriction extension and how to use it to sell access to content alongside (or not) digital files.
What is Content Restriction?
The Content Restriction extension provides a straightforward process for restricting access to content based on purchases through Easy Digital Downloads.

A basic example of this functionality and its usefulness would be requiring that your site visitors purchase Product A in order to see a post that outlines important details about the product's usage.
Obviously, not every one of your site visitors would need to see that article. Likewise, depending on how sensitive the information is, Content Restriction may also play a role in preventing unauthorized users from being able to access vital information about the product.
This is just one use-case. There are several more situations where restricting all kinds of content becomes useful. While there is no way we can list them all, here are a few examples:
control viewing access to streaming video by embedding it into a restricted post
block access to bbPress support forums based on product purchases
hide links to free download items behind a paywall
and the list goes on
To fully understand the purpose of Content Restriction, it is important to understand what it is not. Next, we'll outline the difference between Content Restriction and a typical membership plugin.
Content Restriction vs. Membership Plugins
As mentioned above, Content Restriction is an extension of Easy Digital Downloads. That said, its foundation is rooted in the functionality of Easy Digital Downloads.
In a typical membership plugin, customers must purchase access to membership levels. Then, based on their membership level, they're given access to certain content or features. At its core, that makes the actual purchase of a membership level the product.
With Content Restriction, as it is based on Easy Digital Downloads, the Download entry is still the product that must be purchased and the access to content granted to the user is somewhat secondary.
So while Content Restriction has the ability to behave much like a membership plugin, it's more of a membership platform integrated into an online store.
Your product entries in Easy Digital Downloads remain the focal point for stats and reporting while selling access to content becomes a secondary possibility.
Content Restriction Example Use-case
The most straightforward way to sell access to content would be to restrict a WordPress post or page to the purchase of one or more products.
For example, you could have two separate products in your store; one product is an eBook while the other product, presented as an up-sell, is a 1-hour consultation session. Creating the eBook product entry can be done using Easy Digital Downloads' basic functionality. However, the consultation may need to be discussed and scheduled beforehand via email.
Perhaps the customer is required to fill out a special contact form to initiate the consultation and you are using a tool that easily embeds single contact forms into page content with a shortcode.
In order to not only make sure that customers who have purchased the 1-hour consultation have access to the form, but also that they have purchased the eBook which is directly related to the consultation focus, it is necessary to restrict the WordPress page displaying the contact form to users who have purchased both products.
Content Restriction is capable of doing just that.
With just that configuration, Content Restriction is able to restrict access to the consultation form based on the purchase of two specific Download entries.
Content Restriction even has a built-in [edd_restrict] shortcode that allows you to restrict just the content you want hidden while surrounding content remains visible to all users.
Of course, there are many more examples of where selling access to content is a desirable feature. With support for most WordPress post types, Easy Digital Downloads and Content Restriction is an easy way to have that functionality up and running in just minutes.
Additional Details
In the above example, I showed you how easy it is to sell access to content alongside a standard product. However, you do not have to sell a digital product at all.
As with any other product, a Download entry created specifically to grant access to content does not have to include a digital file. Your users can still add the product to their carts and complete the checkout process. They will also still be redirected to a purchase confirmation page for their order.
On the purchase confirmation page, a new section is added linking them directly to the content they have been granted access to.
The purchase confirmation page is also where they would normally find links to download their files. If there are no files to download, a message displays telling them so. To reduce confusion, you could even remove that message using Downloads As Services.
With the right approach, you can configure your store to include no downloadable files at all and only sell access to content.
Beyond the Download
Let Content Restriction open the door to more possibilities for your business.
Software developers, could you increase revenue by selling access to advanced development articles for your products? Musicians, perhaps your following is loyal enough to pay for viewing an embedded live stream of your talents?
Get creative. If you have questions about a use-case, feel free to ask us a question and we'll be happy to help you get started.