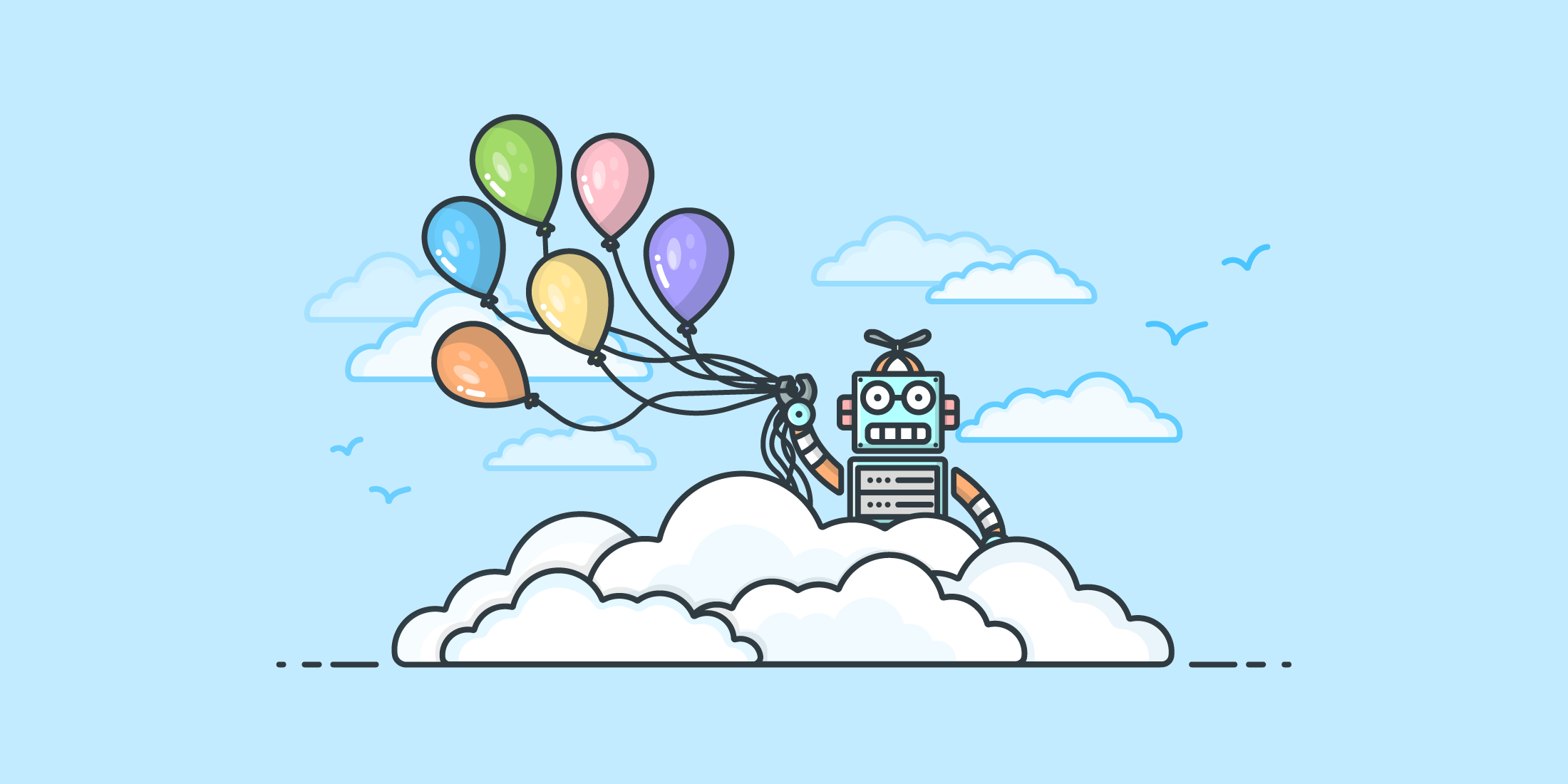 As computing moves increasingly away from traditional practices and more toward cloud-based systems, there continue to be ample opportunities for making money selling web-based services.
Of all the digital product types, web-based services, or SaaS (software as a service), offer customers a particularly unique benefit that pairs well with these trends: centralized, cloud-based usage. They are different in their value and utility than downloadable digital products, providing an ongoing, "all-in-one" experience that often calls for different considerations such as subscription pricing. Overall, web-based services can be an especially lucrative type of product to sell!
Are you looking to sell your own web-based service? Hopefully this post gives you some ideas and insights that can help you get started.
Pricing
Typically more advanced or specialized in nature, many SaaS products tend to be sold as premium products, justifying higher prices. Of course, it depends on the extent of your product; how advanced is it? What kind of need does it fill within the market? How much time, development, and expertise went into creating it? What kind of leverage do you have on your competitors? Does it integrate with other platforms? To what extent does it improve the lives or businesses of your customers? For example, what amount of money or time does it save the customer?
Pricing web-based services is more about value than anything else, as competing on price can do more to communicate a lack of confidence in the product, rather than generating more sales. At the same time, many SaaS products offer monthly subscription fees that are affordable enough for customers to feel comfortable committing to a long-term membership.
So, how do you settle on a number then? Let's take a look at some popular examples:
Productivity and web app integration service Zapier ranges from $0 to $250, depending on the customer's needs and usage. Certain features are restricted to more expensive membership plans, with significant discounts for annual memberships to encourage upfront payments.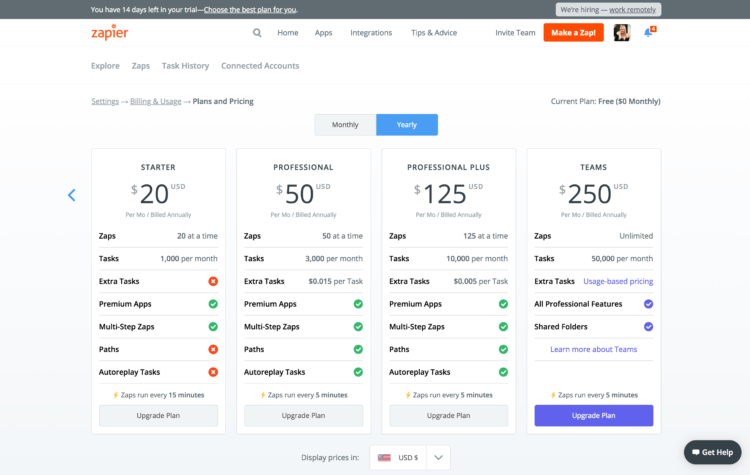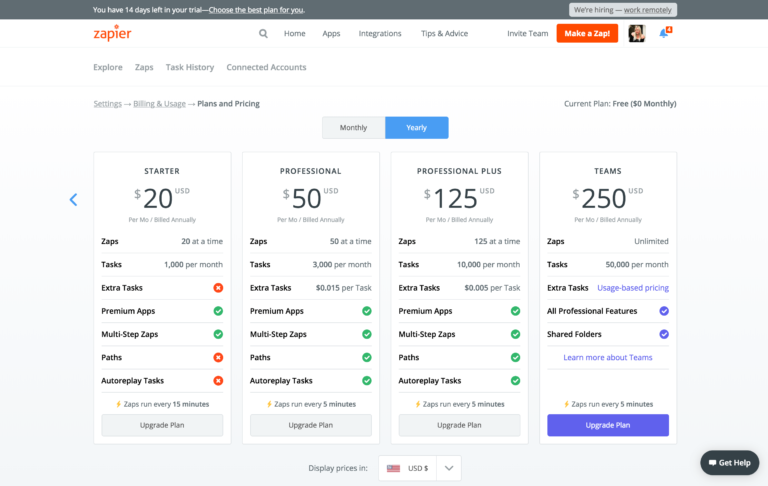 Multiple pricing tiers (Zapier)
Popular web app Basecamp uses a different strategy; users pay $99 for all-inclusive access, including all available features.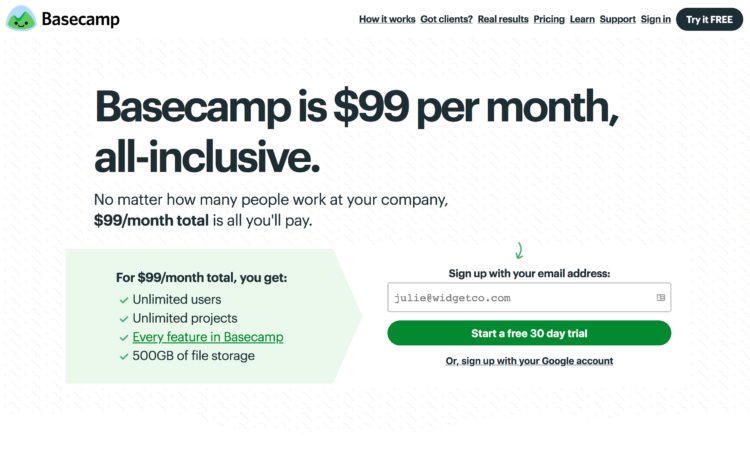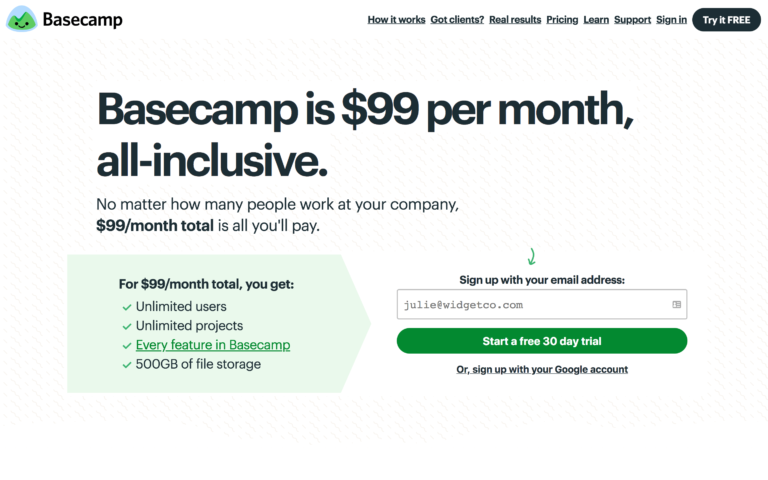 All-inclusive single-tier pricing (Basecamp)
Some SaaS companies offer conditional pricing that scales depending on certain factors. For example, MailChimp's Pro plan starts at $199/month plus an additional fee according to the number of subscribers, but they also offer free and low-cost ($10) versions.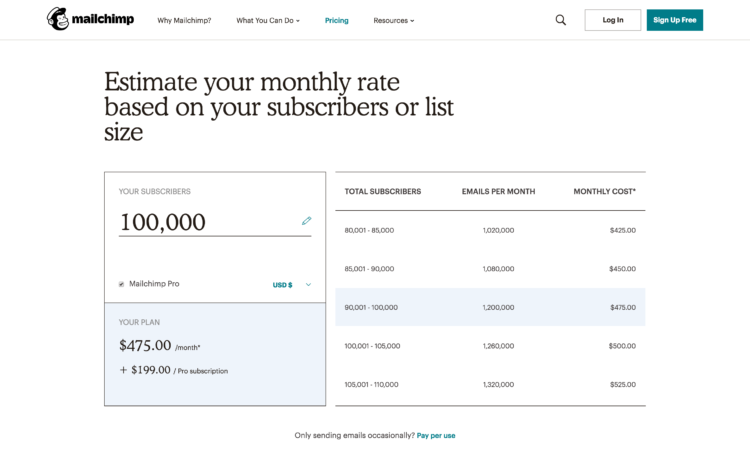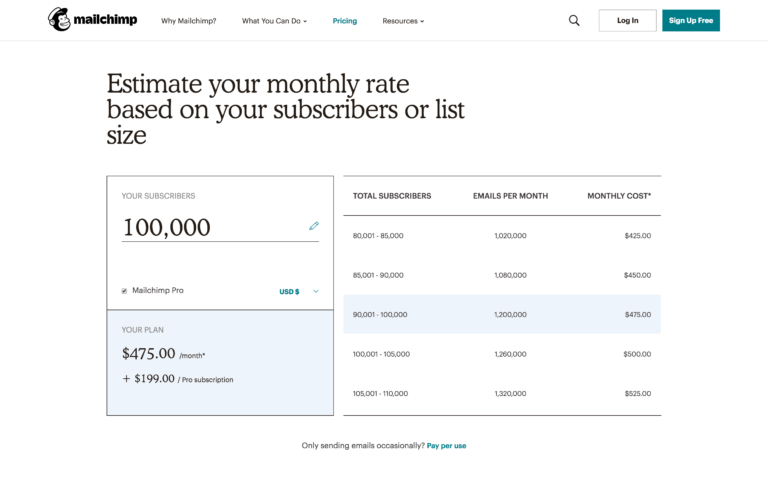 Conditional pricing option (MailChimp)
On the whole, SaaS products are usually sold at different monthly or annual pricing tiers; commonly this includes a personal use plan (ranging from $10-50), a mid-range plan ($40-100), and a pro plan ($100 and up). It may also include a free plan ($0), or an extended pro plan that works well for teams and businesses (often $200 and up).
Or, a SaaS product may be priced per user (with or without different tiers or plan options), as is the case with Google's G Suite: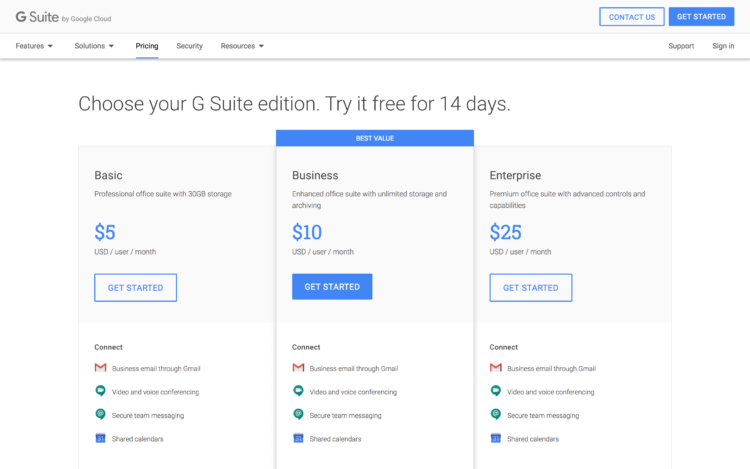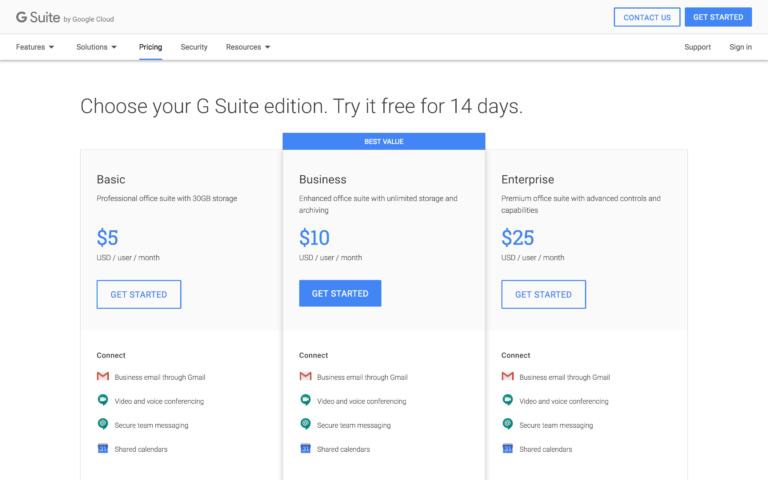 Per-user pricing tiers (G Suite)
Ongoing revenue
Perhaps more than any other type of digital product, web-based services are ideal for generating ongoing revenue in the form of memberships and subscriptions. Because using a SaaS product requires access of some kind, there are good opportunities for creating different membership tiers, increasing accessibility to a wider audience, while preserving premium content for high-paying customers, for example.
Alternately, when you're just starting out, one strategy is to offer an annual subscription fee. In comparison to monthly subscriptions, annual fees can bring in larger chunks of money right off the bat, giving you the resources to invest back into your business, hire people to help you, and rev things up more quickly.
Because the membership model is so commonly used, affiliate marketing can be particularly effective when it comes to selling web-based services. Each affiliate sale can bring in more than just the money from a one-off purchase; the results are ongoing. This means that the potential for increased revenue over time is especially good!
If you want to make additional revenue from selling SaaS products, there are a variety of avenues to explore. Consider offering upsells and add-ons, such as priority support, related products, or content and assets that can be used within, or in conjunction with the SaaS. One-to-one coaching, consulting, access to premium content, online events, and exclusive communities are also some options to think about!
Distribution
With many digital products, there are multiple channels for distribution and sales; however, web-based services are (by design) centrally hosted by an individual party. Having your own website with adequate hosting and scalable cloud storage is essential, as is structuring your website for membership management and content restriction (if applicable).
Other considerations
Marketing a web-based service can seem more abstract compared to dealing with downloadable digital products. What IS your SaaS anyway? How do you describe it? How do you market something intangible?
Well, communicating how your SaaS solves a certain problem can be more impactful than talking about the actual features themselves. Web-based services are exactly that: services. More accurately, they are a unique hybrid of product and service that requires a marketing strategy that addresses both.
Your SaaS must be more than a functioning product; it must be a well-maintained, regularly updated, and supported environment – a service-oriented experience for the customer. Providing great support is absolutely essential, as customer satisfaction drives SaaS revenue. If you stay focused on solving customer problems and making them feel truly valued, they will reward you with their long-term patronage.
I've learned that people will forget what you said, people will forget what you did, but people will never forget how you made them feel.Maya Angelou
When it comes to creating a product demo for your SaaS, free trials are the single most widely-used method. Screenshots and video demonstrations are helpful, but first-hand experience is the most effective way to showcase your SaaS in its true form. Consider shorter full-featured trials of 3 or 5 days, or a free version that gives customers all of the basic functionality and the time to explore it, too!
Web-based services have a bright future
About 5.6% of our audience at EDD is selling web-based services; they constitute our eighth largest segment! Along with all of the trends toward cloud-based computing and membership-based eCommerce, that speaks volumes about their viability as a profitable type of digital product – and should definitely inspire your confidence if you have a web-based service to sell.
With different considerations than other digital products (like more updates and ongoing support) come some different benefits, too (like recurring revenue from using the membership model), so deciding whether or not to sell web-based services is an entirely personal decision that depends on your goals and resources. But, with profit margins between 60-80% and favorable projections for the future, bringing your SaaS to life could be life-changing for you and your customers!
Are you selling web-based services? What are your favorite parts about it, and what are some of the obstacles you've overcome? We're eager to hear what you have to say, so leave a comment below!
Illustration by Jessica Johnston.