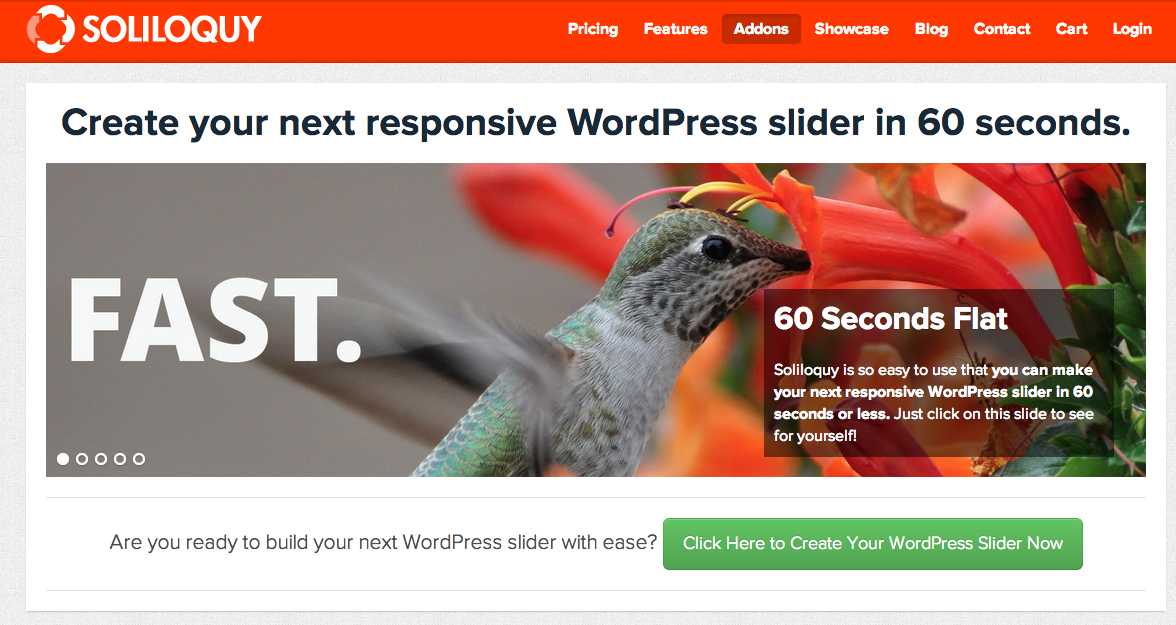 Soliloquy WP is the best responsive slider plugin for WordPress. Thomas Griffen, the creator of Soliloquy, was kind enough to answer a few questions about his use and love of Easy Digital Downloads.
What about Easy Digitial Downloads made you choose it as a platform to sell your plugin?
It's ability to be extended and customized to any situation. I had previously used Cart66 for Soliloquy, and after it taking down my site for nearly a week, I made the migration over to Easy Digital Downloads to handle everything. I have hooked, filtered, unhooked and the like in tons of areas of the plugin, and I love the results. The custom checkout page looks awesome, and my conversion rates have increased dramatically since switching to EDD. It's super easy to use and setup, and I wouldn't recommend anything else if you are selling digital downloads through WordPress.
Are there features in Easy Digitial Downloads that you find indispensable?
Hooks and filters. Every plugin should be using the core WordPress API in its ecosystem, and EDD does a superb job at this. There is always a hook or filter right where I need one to be. Because of that, I can turn EDD into whatever type of selling mechanism that I want.
How was your experience setting up and configuring Easy Digital Downloads for your site?
Migrating from Cart66 was a bit of a pain, but setting up EDD was really easy. It didn't take long to get my products in place, get discount codes ready and integrate other payment systems into the plugin. Pippin was right there to help with any issues that did pop up, and I was even able to contribute back to the plugin with some fixes of my own. You won't find anything easier to setup than EDD.
Are you using any Easy Digitial Downloads extensions? If so, which ones?
Sure am. I'm using the PayPal Pro/Express, Zendesk, Sharesale (which I built!), Email Templates and Manual Payments addons. They all rock and are an integral part of the success of Soliloquy. Each one plays a unique role and I am super grateful that they are available for me to use.
What's a feature you wish Easy Digital Downloads had but doesn't?
A Membership module. Membership is tough, but it makes sense to have a membership module available for those who buy the products. I built my own makeshift membership module for Soliloquy, and it would be great to have a generalized and distributable option for EDD sometime in the future.
After responding to these interview questions, Thomas was made aware of the Recurring Payments extension that provides integral membership features.