Simple Shipping
Easy Digital Downloads is built specifically for selling digital products, but some people love the plugin so much that they want to use it for selling physical products as well. For this reason, we have built the Simple Shipping extension that adds some simple shipping features to Easy Digital Downloads.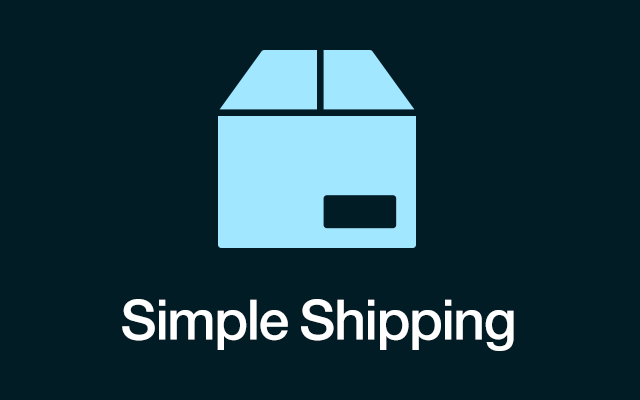 This extension is designed primarily for those people selling mostly digital products (as EDD is designed to do) with a few physical products on the site, perhaps DVD versions of your video downloads, or perhaps CDs of downloadable audio files. Perhaps even t-shirts to complement your digital brand.
With this extension you can easily collect shipping info from your customers during checkout, set shipping rates for domestic and international orders, and mark payments as being shipped or not.
Shipping can be enabled on a per-product basis and can even be enabled on a per-price basis for products with multiple price options.
To make shipping orders even easier, a new option to export all unshipped orders is also added to the Downloads > Reports > Export screen.
Running a marketplace? Simple Shipping includes complete support for our Frontend Submissions extension.
Requires Easy Digital Downloads v1.9 or Later.
Changelog
Version 2.1.5, May 11, 2015
Updated translation files
Fixed incorrect field label
Version 2.1.4, April 20, 2015
FIX: XSS vulnerability in query args
Version 2.1.3, January 9, 2014
Fixed an incorrect shipping amount when multiple items are purchased
Version 2.1.2, December 4, 2014
Fixed incorrect languages folder name
Added a .pot file
Version 2.1.1, November 28, 2014
Fixed error message with remove_shipping_fees() function
Version 2.1, November 25, 2014
Improved how shipping fees are applied. Fees are now separated out per-product
Added support for per-product cart fees coming in Easy Digital Downloads 2.2
Version 2.0.5, October 30, 2014
Fixed a bug that prevented the Enable Shipping field from being left unchecked in Frontend Submissions
Fixed an undefined index error on the Frontend Submissions submission form.
Version 2.0.4, October 9, 2014
Fixed an array to string conversion error message
Improved the UI of the "Mark as Shipped" checkbox in the View Order Details screen
Fixed a bug that would cause the Shipped status to get erased when updating a payment in some cases.
Version 2.0.3, August 19, 2014
Fixed an issue with the tax amount getting shown incorrect after changing the shipping address.
Version 2.0.2, July 22, 2014
Fixed a bug with customers being able to see the Mark as Shipped link on the receipt.
Version 2.0.1, May 22, 2014
Fixed a bug with shipping now being enabled on price options during FES submission
Version 2.0, May 22, 2014
Added support for Frontend Submissions, see announcement
Fixed a bug with domestic rates being calculated as international
Version 1.5.2, May 13, 2014
Fixed a bug with shipping rates getting set to international even when actually domestic
Version 1.5.1, March 17, 2014
Fixed a conflict with Recurring Payments, Software Licensing, and Purchase Limit with the variable price option rows.
Version 1.5, January 8, 2014
Now requires EDD 1.9 or later.
Updated for compatibility with EDD 1.9.
Added ability to edit shipping address.
Added ability to mark payments as shipped in bulk.
Version 1.4.3, Decemver 2, 2013
Fixed a bug with exporting unshipped orders.
Version 1.4.2 - October 23, 2013
Fixed an issue with admin sale notification formatting.
Version 1.4.1 - October 13, 2013
Fixed a bug with the shipping address not getting added to the admin sale notification email.
Version 1.4 - October 3, 2013
Fixed a bug with international shipping not being tracked correctly.
Update requires EDD v1.8 or later.
Version 1.3.8
Fixed a bug with the shipping state not getting recorded when shipping to the billing address and paying with a credit card.
Version 1.3.7
Fixed an issue with shipping being calculated when using a credit card form.
Improved checkout markup for better compatibility with EDD 1.7+.
Version 1.3.6
Fixed a bug with the shipping fields not being displayed correctly if taxes aren\'t enabled.
Version 1.3.5
Added Address, State, Country, etc, prefixed to View Order Details shipping info.
Version 1.3.4
Fixed a compatibility problem with taxes in EDD v1.6.
Made a few small improvements.
Version 1.3.3
Added support for deactivating the license key.
Version 1.3.2
Fixed a minor conflict with EDD Recurring Payments extension.
Fixed an issue with recording shipping address when using same address as billing.
Version 1.3.1
Fixed an issue with using the billing fields as the shipping address.
Version 1.3
Enhanced order export now includes all details about the purchases.
Version 1.2
Added an option to export all unshipped orders to a CSV file.
Version 1.1
Added shipping details to admin sales notice.
Added shipping details to PayPal so that the Print Shipping Label feature can be used.
Version 1.0
Initial release.