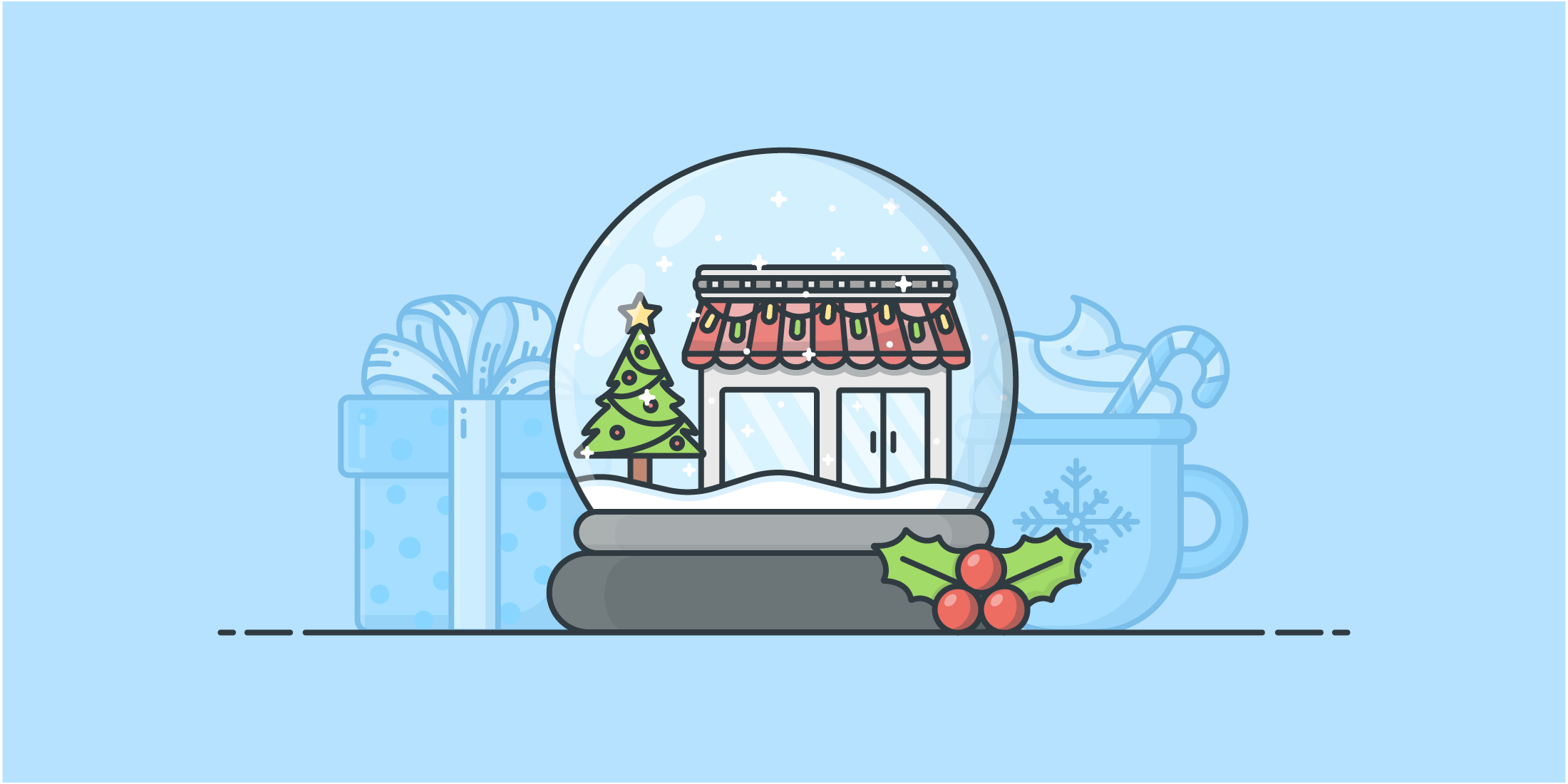 US retail eCommerce spending is projected to hit $135.35 billion this year, according to eMarketer, so there's no time like the present (no pun intended) to get your holiday sale promotions in gear!

If you run a digital business, November and December can account for as much as 20-30% of your yearly revenue. But, what helps to bring in that sweet holiday cash?
In this week's edition of The EDDit, we dig into 4 last-minute tips for running a successful sale promotion over the holidays.
1. Target past holiday spenders
One quick and easy way to boost your sales is to direct your marketing messages toward the very people who purchased from you during last year's holiday sale – or at least your existing customers. The holidays are not always the best time for experimentation; Shorter sale periods give you less time to work with and there's a ton of competition on the market.

Past holiday spenders are more likely to be receptive to this year's offers, and can provide a more reliable return on your investment, making your advertising and marketing budget stretch a bit further, too. You might even take it a step further and segment these customers by interest or price range, allowing you to tailor more effective campaigns to their needs.
2. Implement a gift-giving system
Why is everyone spending so much money around the holidays to begin with? Gifts are a huge part of it!

Many digital stores allow people to purchase products as gifts for others – and most eCommerce solutions have some kind of gift-giving plugin or add-on that you can use to add this functionality to your store.

However, sometimes the excitement of gift giving can get lost due to the intangible nature of digital products. Hey, you can't really wrap them, can you?

Well, Cymatics.fm did something interesting and offered an actual USB drive containing their product files: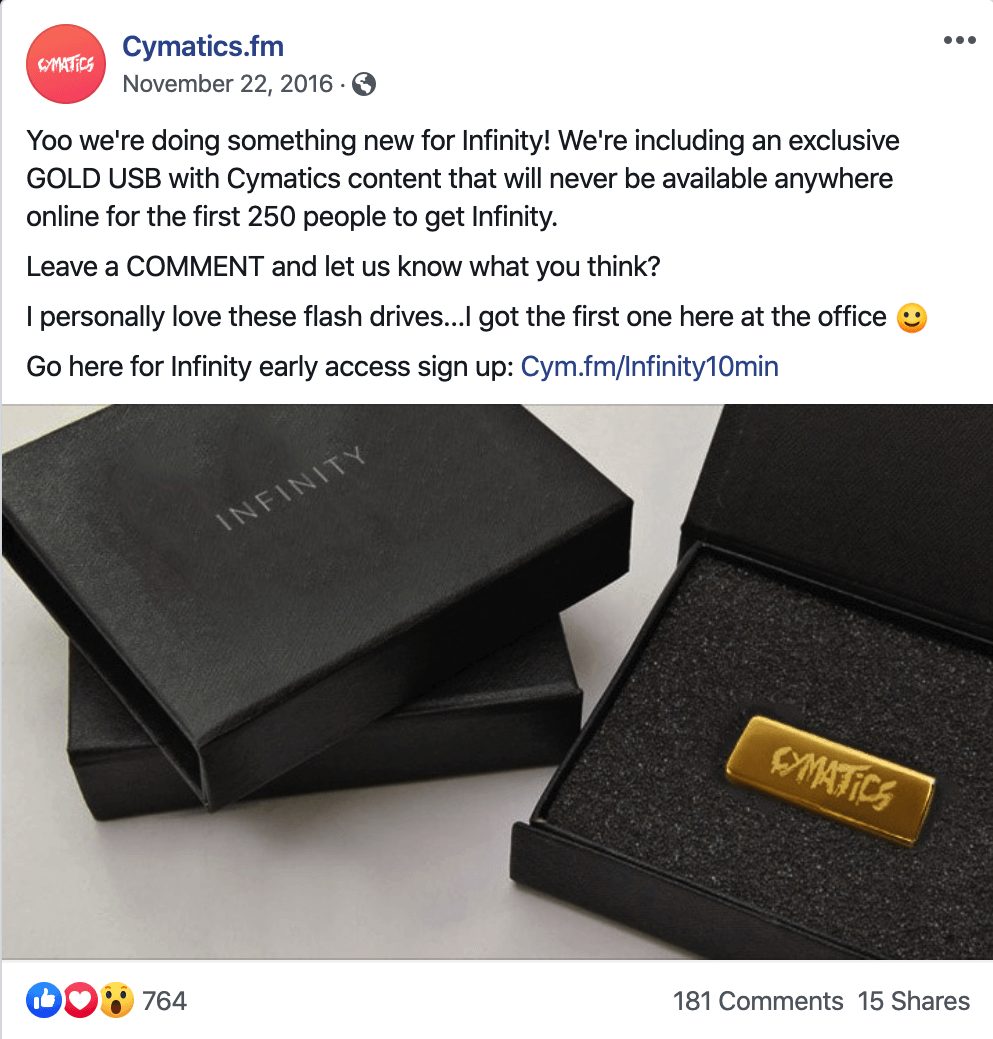 Obviously not everyone can get gold USB drives ready to go at the last minute, but you can create a holiday-themed email that gets sent to the gift recipient upon purchase. At the very least, this should contain the product download link, but it's a nice touch to add a custom message from the buyer and some festive imagery!
3. Slash prices instead of using coupon codes
If you want to make it extra easy for customers to grab a deal, you could manually adjust your product prices down to the sale price instead of requiring customers to enter a promo code at the checkout.

You might be thinking, "Why would I do that?"

Well, it might seem pointless when promo codes essentially achieve the same outcome, but anything you can do to reduce friction in the purchase process is a net positive. This can be especially effective during holiday sales, when customers are already more excited to spend!
4. Get festive!
Companies like Starbucks have been capitalizing on the festive holiday spirit for years with their holiday coffee cups. Why shouldn't you?

Tapping into the fun of the holiday season can be great for engagement – and better engagement means more sales!

Here are a few ideas for festive branding and engagement strategies:

Update your website and social media accounts with festive copy and imagery
Create a unique holiday-themed hashtag for your brand
Do a holiday countdown, featuring a new product or special offer each day
Share fun facts related to the holiday and/or relevant to your niche
Host live videos that showcase your products, spotlight customer success stories, or focus on holiday-themed topics
Create holiday-themed quote images or other shareable graphics
It's a great time for newsletters
There are so many ways you can directly and indirectly inspire customers to buy your products, but newsletters are one of the most effective and long-standing promotional tools. Consider sending a newsletter featuring holiday messages, interesting stories, gift guides, lists, or useful tips for your customers.

Trello sent out a fun email with a list of ideas for how to use the software in different ways:


Don't forget that customers love freebies! Adobe Stock gave away a free holiday-themed product in this newsletter: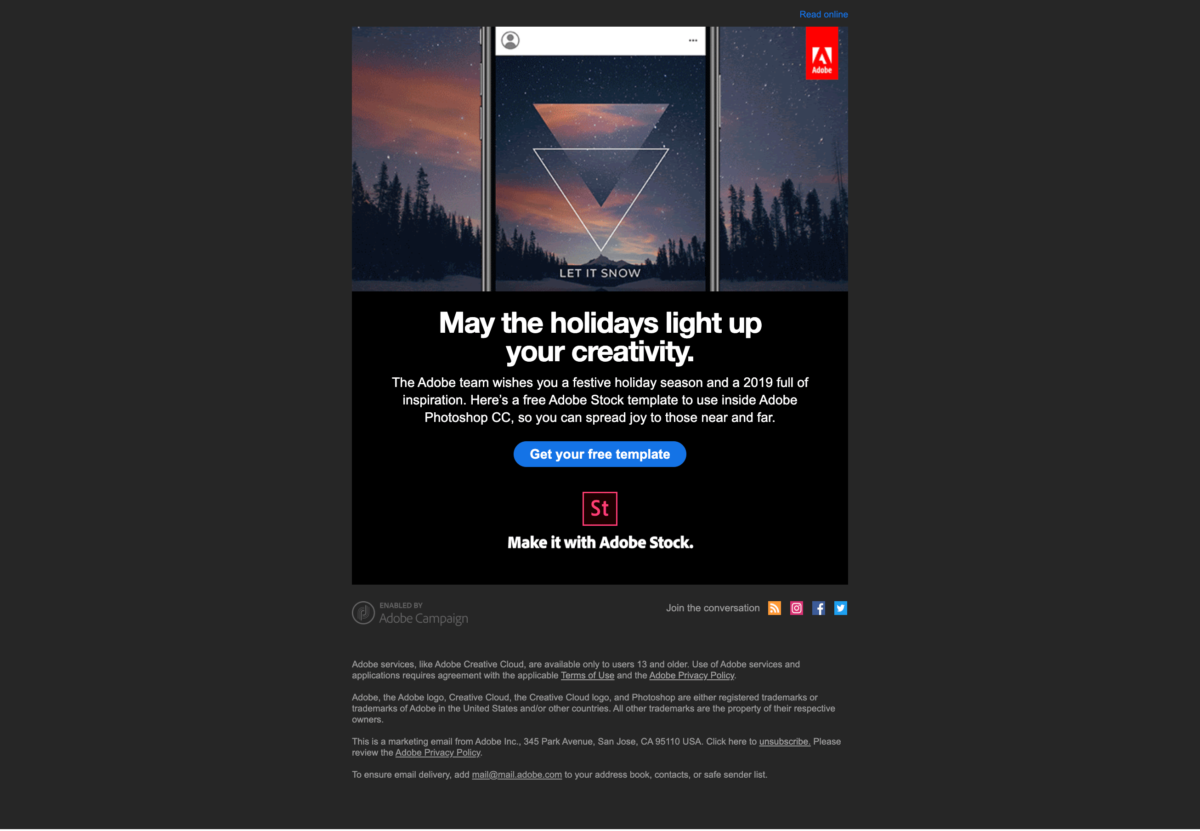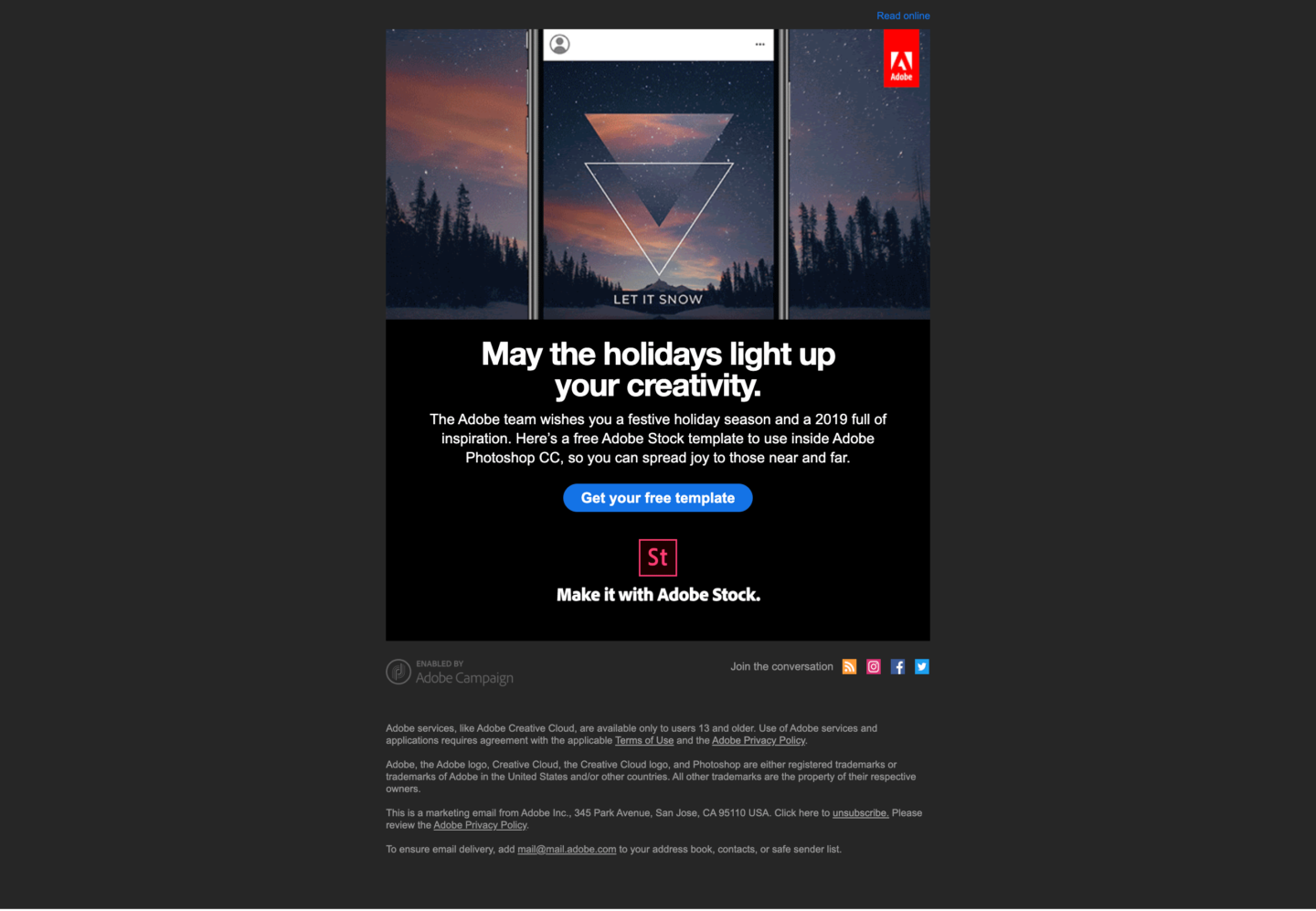 Giveaways get engagement
Holiday giveaways are particularly good ways to boost engagement and increase the reach of your promotions. Maybe you decide to give away a big ticket item and people can enter to win by liking, sharing, and/or commenting on the promotional post. This can get your brand in front of a lot more eyes.

Consider pairing your giveaway with some holiday-themed graphics that are eye-catching and easily shareable for maximum impact!

You could also offer extra goodies or a free product with any purchase of a promotional item. Certain customers will jump at the opportunity to get this extra value coupled with the holiday sale discount.
Watch your competitors
Hopefully this post has given you some ideas to run with, but if you're still looking for more inspiration, watch what your competitors are doing. There's no shame in taking ideas from their promotions and molding them to fit your own.
Whatever you choose, stick with it and be ready to give 100%!
What tips do you have to share when it comes to holiday sale promotions? Did we miss something in this post? Leave a comment below!