ClickBank Setup Instructions
The ClickBank extension for Easy Digital Downloads allows you to tie ClickBank products to products in your own Easy Digital Downloads store. When someone chooses to purchase an item from your Easy Digital Downloads store they're taken to ClickBank for the checkout process.
Note: This extension provides functionality to pay via ClickBank, this will not allow you to host your EDD store products on ClickBank's site.
After you have installed and activated the Clickbank extension, follow the steps below to setup the extension.
When utilizing the ClickBank gateway, no other payment gateways can be active at the same time.
Table of Contents
Set Up A Store On ClickBank
In order to use this extension you must have a ClickBank account. You may create one on their sign-up page.
Configure your ClickBank "Thank You" Page
Each product that you create on ClickBank will ask for a Thank You page.

This should be your Purchase Confirmation Page in Easy Digital Downloads. The default is is
http://yoursite.com/checkout-purchase-confirmation
but you can get your exact URL by navigating to the
Pages
item in your WordPress Dashboard and copying the link for your Purchase Confirmation page.

Create A Secret Key In ClickBank
Once logged into ClickBank, use the navigation in the top right of the page to go to Settings → My Site. At the bottom of that page is a box to create a Secret Key. Click the Edit button in the top right corner of that box.

Note: Keys must be all uppercase and not more than 15 characters.
Configure Easy Digital Downloads Payment Gateway
Navigate to
Downloads → Settings → Payment Gateways and enter your Secret Key and your ClickBank nickname that you entered when you created your ClickBank account.


Create Products In Easy Digital Downloads
When creating a new Download or editing an existing Download there will be new area in the right sidebar for entering the ClickBank ID number. This will tie your product to the ClickBank product. The single product page will be what ClickBank calls a "Pitch Page".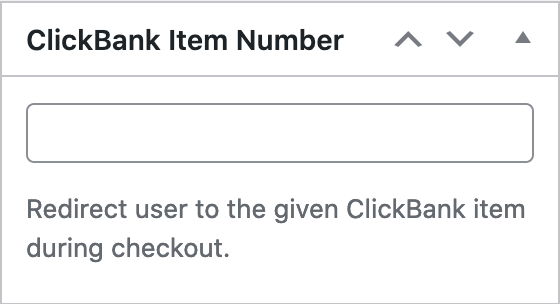 The ClickBank item number is a number you create when you make the product in ClickBank.

Note: Clickbank has a setting under Settings → My Site → Advanced Tools Editor called "Encrypt Transaction URLs". If this is enabled, this gateway integration will not work. Payments will not be created in Easy Digital Downloads if that box is checked. It must be disabled to work with this extension. Read more details here.