Extension License Key Settings
Table of Contents
Easy Digital Downloads is built to have extended functionality through paid extensions. In order for those extensions to easily get updates the store owner will need to enter a lisence key for each extension purchased.
License keys for purchased EDD extensions are entered under
Downloads → Settings → Licenses. When you make a purchase you'll be given a 32 character license key and a copy of the plugin. Install the plugin and go to the Licenses settings page and you'll see a box ready for your key. Here are some examples, with key status options.
Inactive
If your store has not tried to connect with a key, or you've removed the key, it can look like this.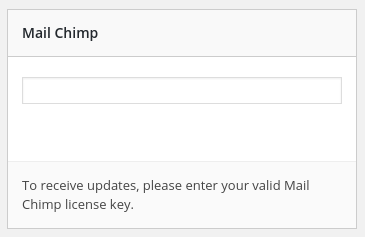 Active
Once you put in a valid key and press
Save Changes at the bottom of the page your key will be active for this web site. As long as you keep your license subscription active this key will work, you won't have to put in a new one every year. Once your key is activated it will look something like this: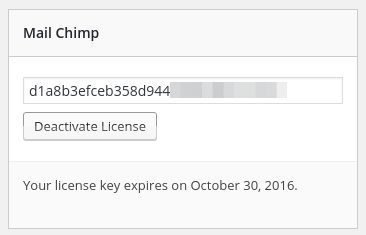 Activation Limit
Store owners can set how many sites may use a given key. If your key reaches its limit, the license box will have a notice saying "
Your license key has reached its activation limit. View possible upgrades now." It will look something like this: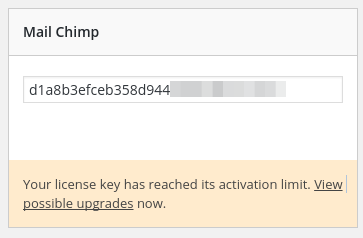 If your key for an EDD product has reached its activation limit you can log into the EDD web site and manage that.
Full documentation on key management is here.
Nearly Expired
When you purchase a plugin it comes with a license or a specific amount of time. When the license expires your product will continue to work, but you will lose benefits like support, updates, etc. To help prevent any amount of time outside support and updates, the EDD license page will show an alert in a blue bar that says
Your license key expires soon! It expires on [date]. There will also be a link to renew your license key. Example: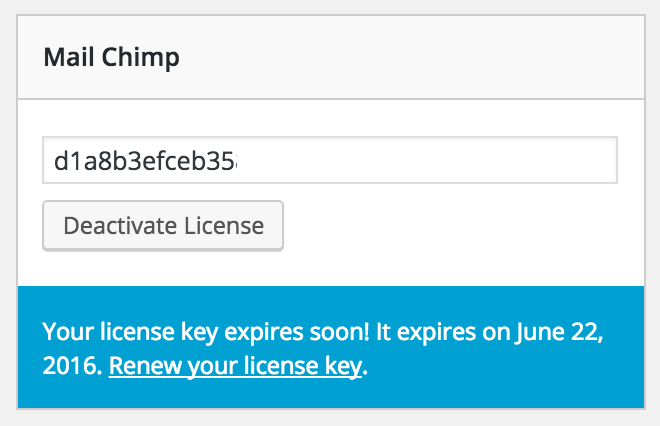 Expired
When your license key expires the license block will have a red bar containing the date it expired and a link to renew your license.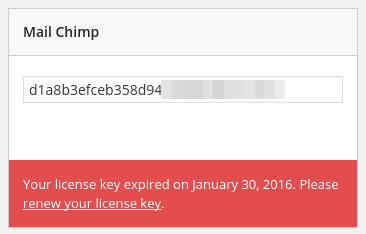 Disabled
If it appears that your license key has been stolen or is being fraudulently used in some way your key may be disabled by the store owner. If this happens contact the store owner immediately. When your key is disabled you'll be notified in the License box for that plugin, and be provided a link to support.

Common Questions
If my license is not active will the plugin stop working?
No, the plugin will continue to work. This should not be used as a reason to not stay current with your license however. There are may reasons to stay current:
If your license is not up to date you won't get updates for new versions of your plugin
At some point WordPress may change in such a way as to make the plugin not work. Updated versions will always work.
If there's ever a security issue, an active license will assure that you get the update as soon as possible.
An active license means you'll get prompt, helpful support.
If my license is not active will I still have access to support?
No, aside from pre-sale questions support is for people with active licenses.
If my license is not active will I get updates to the plugin?
No, plugin updates only work when a valid active license is in place.
What if it's for a serious security problem?
Plugin updates still only work when a valid active license is in place.
Can I use a single site license on my live site and my development site?
Yes, please open a
support request that includes the URL of your development site within the body of the message and we will add it as a licensed URL.
If the plugin works even without a valid license, why bother having licenses?
The plugin itself is a very small part of what a license purchase comes with. The license purchase actually purchases support and updates to the plugin.