Reviews may all be seen in the WordPress admin area under Downloads → Reviews. This document will walk you through the available actions you can perform from this screen.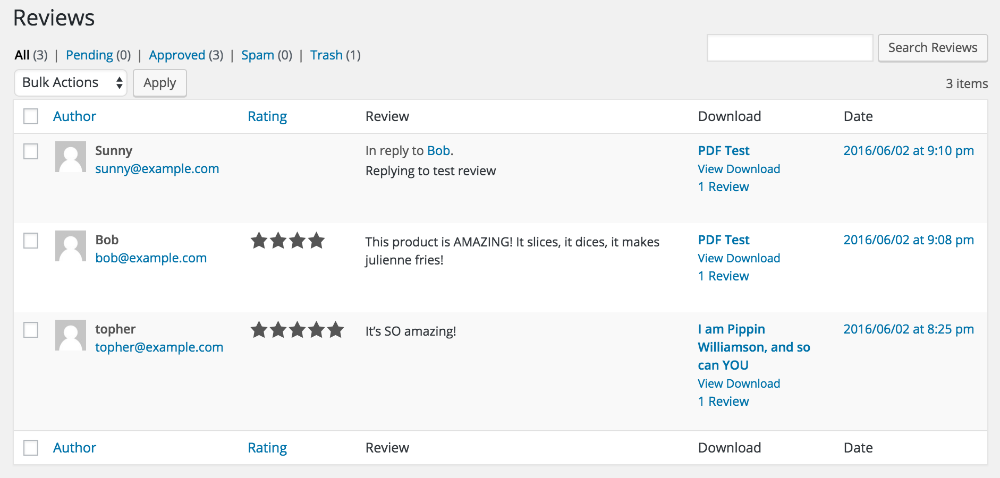 Overview
In the above screenshot, there are three reviews listed. Each row contains:
The name of the reviewer
Their email address
The content of their review
What Download the review pertains to with a link to that download and the number of reviews that exist for it
The date the review was created
Note: In the screenshot above, the first item says "In reply to Bob". That row is not considered a Review, but rather a reply to a review. The link on Bob's name goes to the reply on the public facing product page.
Managing/Approving Reviews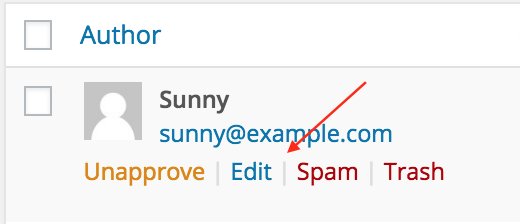 Sidenote about Review statuses: Reviews will require (or not require) approval the same way general WordPress comments do. You can control whether WordPress comments require approval under Dashboard → Settings → Discussion → "Before a comment appears". Whatever you choose there will also be used for EDD Reviews.
If you hover over any reviewer information, you'll see the options to Unapprove, Edit, Spam, or Trash. All reviews are sent through the same filters WordPress uses for comments, and the status will be set accordingly. Marking a review as Unapproved removes it from the front of the site, but does not delete the review.
Marking a review as Spam puts it into the Spam folder, and marking it as Trash puts it into the Trash folder, just like comments or posts.
Editing allows you to change the name, email, url, and content of the review. You may also change the status to Approved, Pending, or Spam, and also Trash the review.
Download Admin Page
On the admin page for each individual Download, you may close or disable reviews for that specific Download. In the right sidebar you'll find a meta box titled Review Status with a button for Disabling and a button for Closing. Disabling reviews will not show any reviews whatsoever. Closing reviews will display any existing reviews, but prevent new reviews from being submitted.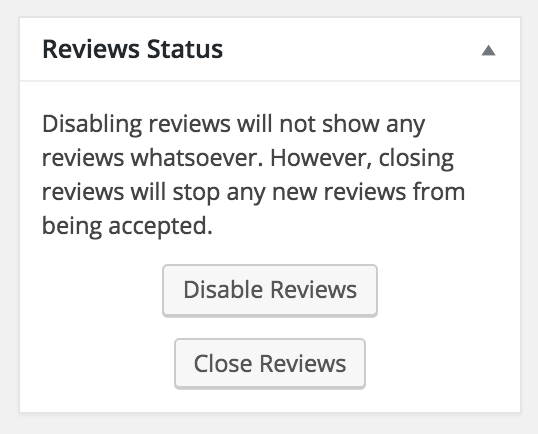 Additionally, on single Download admin pages you can manage all the reviews for that Download. You can view, unapprove, edit, spam, and trash any review. it also shows how many stars the Download got for each review.