Updating Easy Digital Downloads & Extensions
When installing updates there are a variety of steps that should be taken first.  Properly preparing for the updates can relieve both immediate and long term stress and help keep your site running smoothly.
For information about updating Easy Digital Downloads extensions, you can use this guide.
Staging
Before you update you should absolutely test the new software on a staging server.  A staging server is built exactly the same way as your live server, but no-one uses it for real business, so you can test new plugins, and new versions of plugins without worrying about crashing your live site.
Please read this document on
how to create and maintain a staging server.
Backups
Before updating plugins a production server you should make a backup of your entire site.  There are a wide variety of options here. You could simply grab a backup of your database and FTP your files to a backup location.  A better option is to use a backup plugin or service. These make it much easier and faster to make a backup, which makes it much more likely that you'll actually do it.
Free Options
WordPress.org has many many backup plugins available.  They have a variety of options and tools, feel free to experiment and find one that fits you.
Paid Options
BackupBuddy is a plugin with an optional storage service that has a great many options and comes with paid support.
VaultPress is both a plugin and a storage service and is owned by Automattic.
Regardless of method, please be sure to always make a backup of your entire site before updating any plugins.
Updating via WordPress Dashboard
On your WordPress Plugins admin panel you should see Easy Digital Downloads.  When there is an update available on WordPress.org the EDD section will turn pale orange, and have a red bar on the left edge.
There will be a link to update, like in the screenshot below.

Once you click it, a small updating spinner will appear, and then it will say "Updated!".
Then your update is finished.
Installing updates Manually
First go to the WordPress plugins repository at
https://wordpress.org/plugins/ and search for Easy Digital Downloads. Then click on the Easy Digital Downloads link.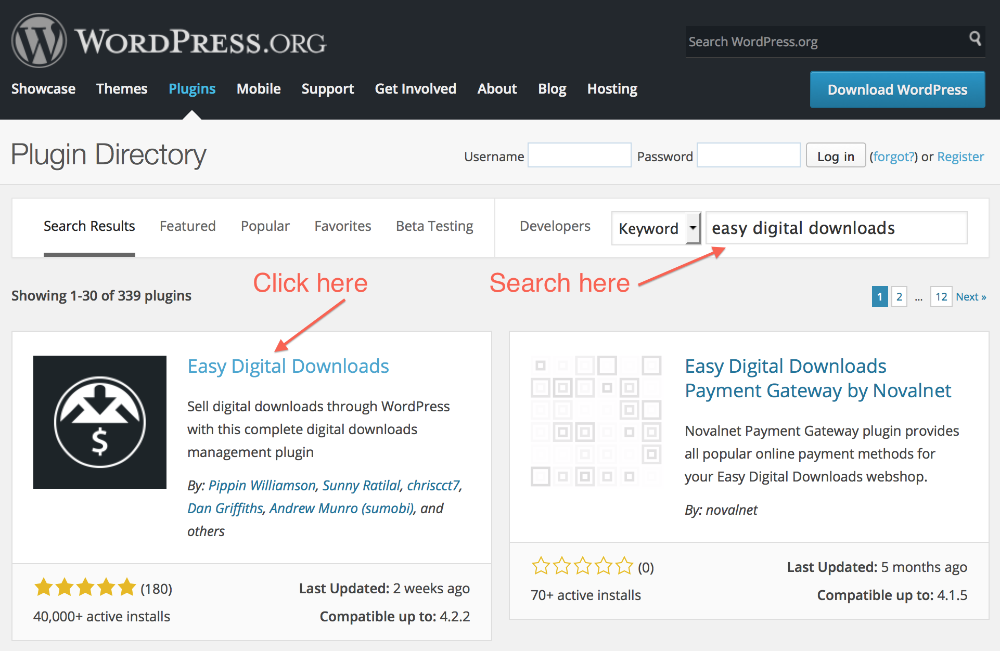 Then when you're on the Easy Digital Downloads page, click on the download link.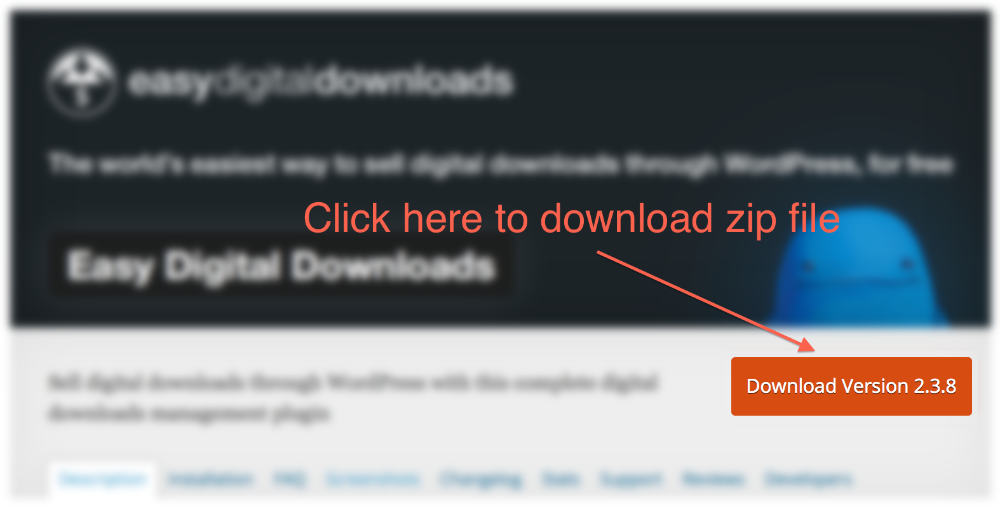 Once you have the zip file, open it (typically by double clicking it) and inside you'll file a folder called easy-digital-downloads. Use your favorite file transfer tool to copy that FOLDER (not merely its contents) to your server, and place it in /wp-content/plugins/
Then go to the plugins page in your WordPress site and you should see Easy Digital Downloads in the plugin list. Click the Activate link and you'll be ready to use the plugin.